If you live in a sloppy area, or you plan to grow your plant on a slope, there are certain factors you should consider, namely, erosion control and slope stabilization.
Ensure the plants are deep-rooted shrubs and trees, which help stabilize the slope and make use of more shallow-rooted ground covers, which will help to cover the slope.
Water will always find its way on a slope. On a more precise note, a good amount of it tends to run off before it soaks in, making the sloppy ground problematic for planting.
However, drought tolerant plants for slopes, such as sedum album, epimedium rubrum, sedum acre, armeria maritima, sedum oreganum, phormium tenax, etc.; will make things easier for you. These plants will do well under hot, dry, sunny situations.
Let's briefly discuss more about these drought tolerant plants that are ideal for sloppy areas!
Common Drought Tolerant Plants for Slopes
If you're living in a dry climate or want to minimize your bills on water, you need to use drought-tolerant plants, as it is one of the best and safest methods of conserving water.
Most localities resort to placing water bans whenever there is a climate change that causes extreme dry spells, forcing gardeners to resort to the best method, drought-tolerant plants. Below are the most common of them for slopes.
1. Sedum album 'Chubby Fingers.'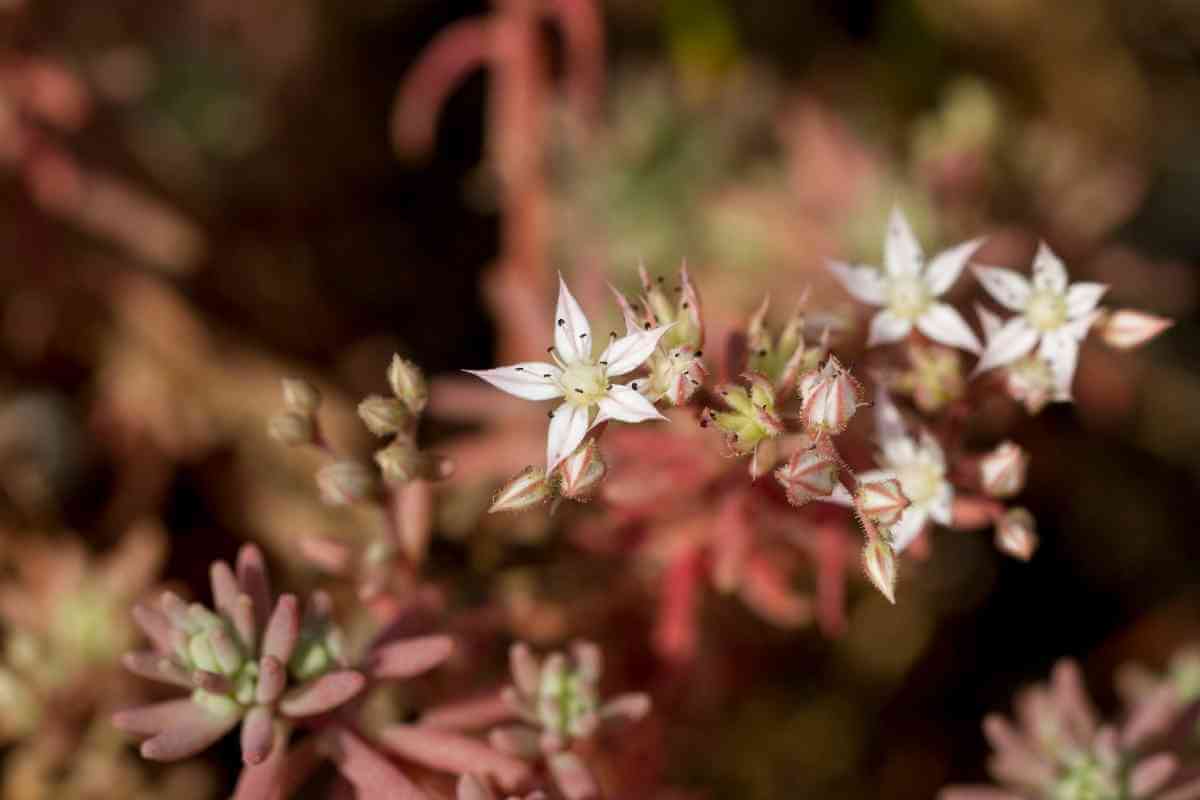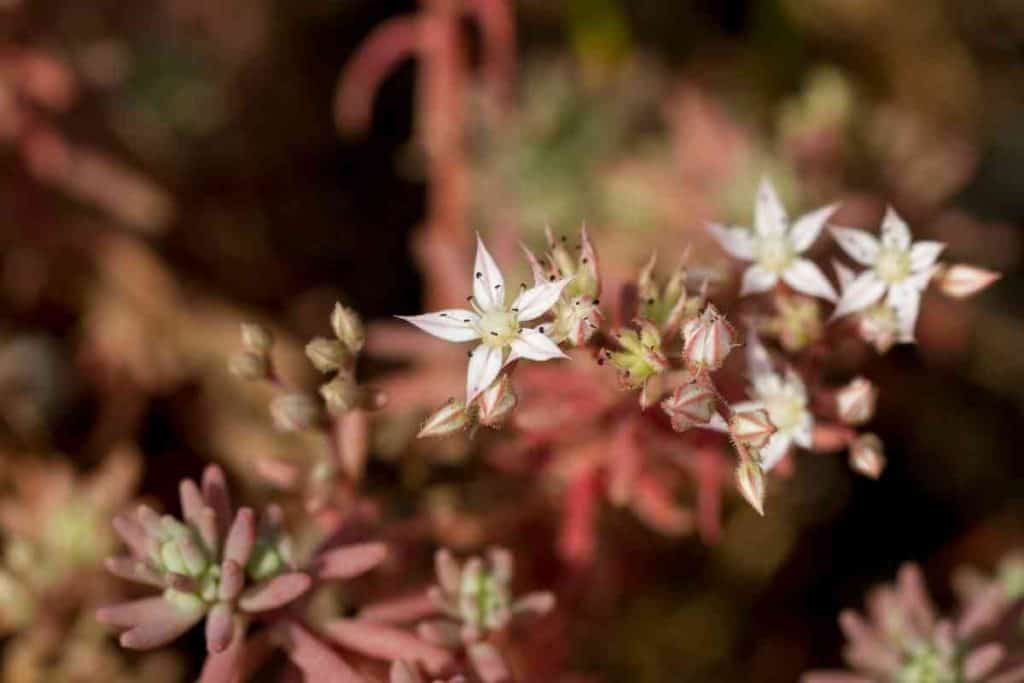 Also known as white stonecrop and worm grass, Sedum album 'chubby fingers' is one of the most widespread drought tolerant plants and a plant you can use for slopes. It is a perennial hardy plant that comes from the Crassulaceae family.
It is a low-growing sedum plant that features light pink to white flowers, produced from a 2-inch loose terminal panicle from mid-July to late August. Sedum album tends to spread because all of its small leaves or stem parts will root, thereby producing more plants.
Meanwhile, just like other sedum varieties, sedum album thrives under full sunlight and is perfect under well-drained, poor, arid soil.
Its leaves come in different shapes ranging from stalkless alternate, cylindrical to flattened, and change color from green to red, bronze, or brown in high light sites. It can be propagated through seeds, cuttings, and division methods.
2. Sedum Acre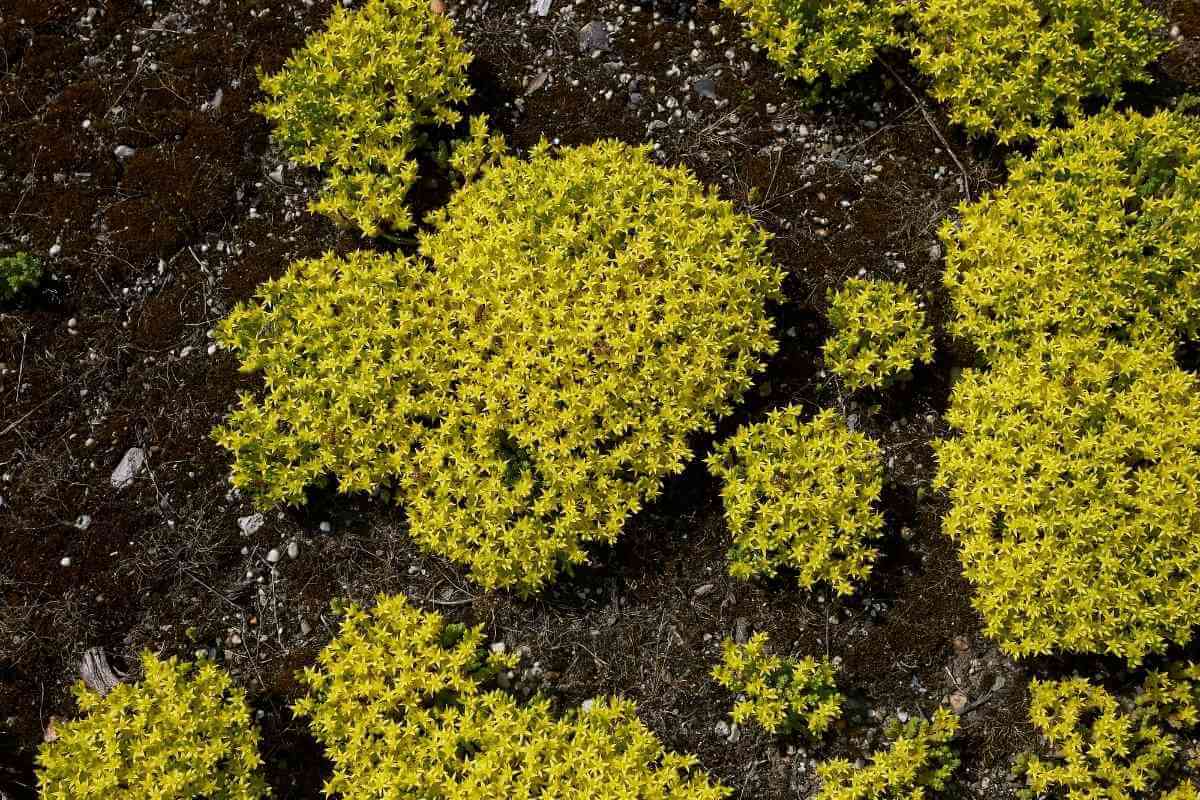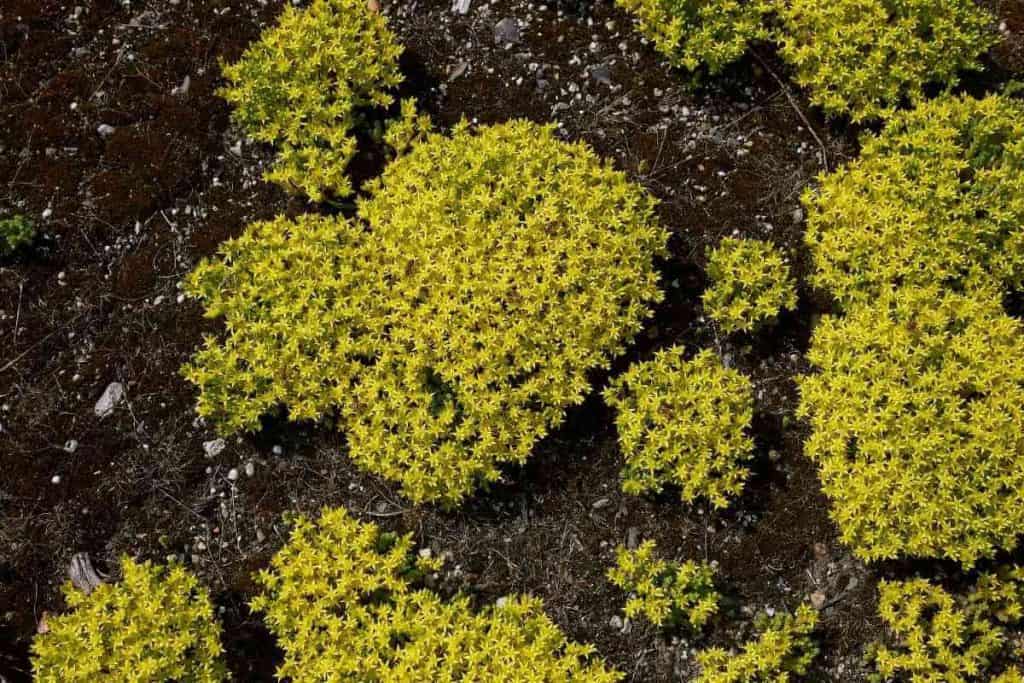 Also known as gold moss, sedum acre is a drought-tolerant plant for slopes and is a low-growing groundcover that falls joyfully above rocks and any other thing it comes across in the garden.
It is native to Europe and some parts of North America, where it has become famous for its ability to adapt as well as for its easy maintenance.
Every experienced gardener is well aware of the ease of care of the Sedum acre and its ability to accommodate other kinds of plants. A sedum acre is the best plant to grow if your yard features an alpine garden or rocky site. The plant thrives under full sun to filtered sunlight areas.
It grows up to 2 inches high, allowing it to vine unto hills, rocks, pavers, and containers with jam-packed leaves.
It has thick yet succulent foliage that overlaps alternately. Like other sedum varieties, there is no particular recommended care tip for sedum acre; you only need to watch it grow and enjoy its beauty.
3. Epimedium Rubrum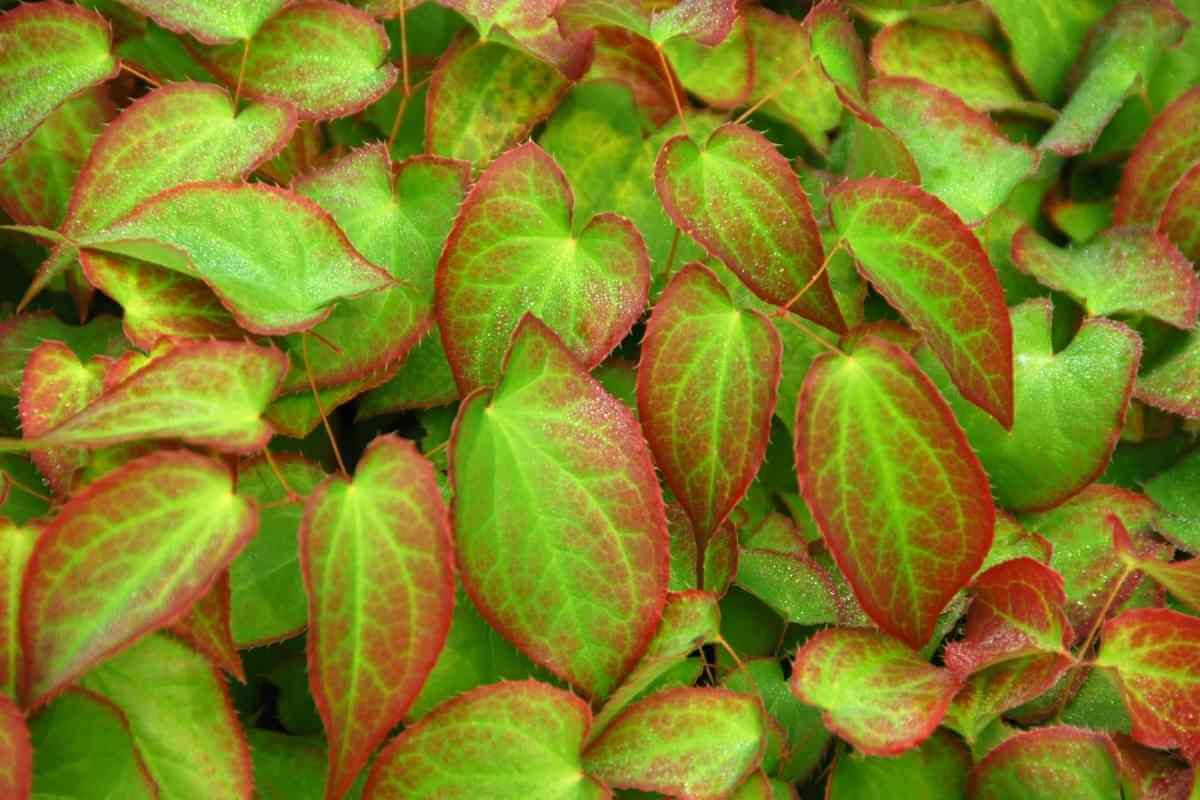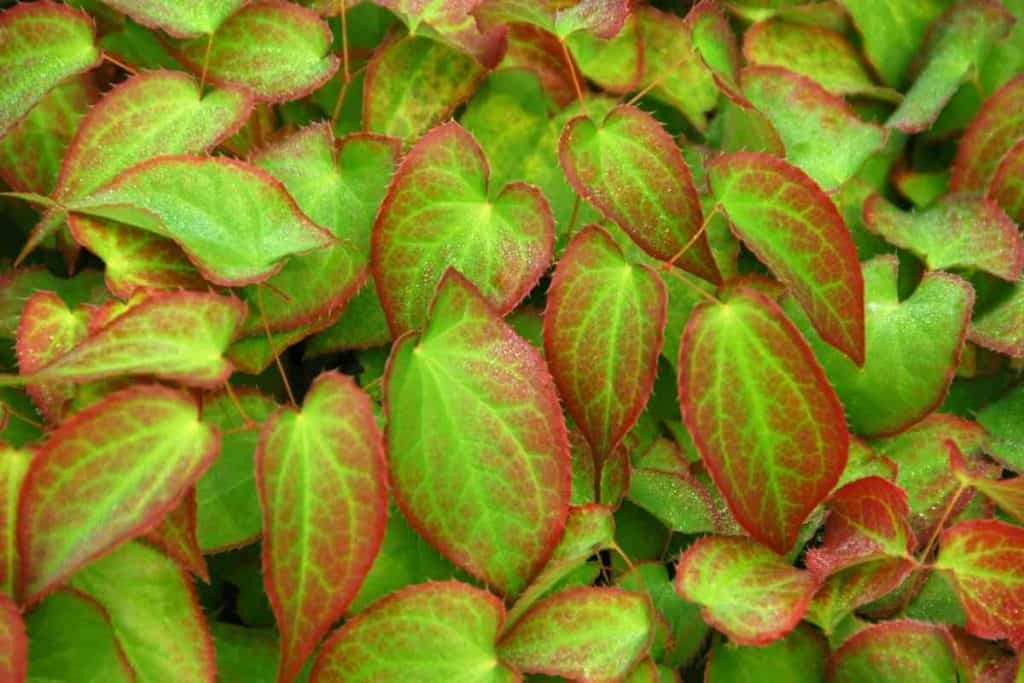 Popularly known as Red Barrenwort, epimedium rubrum is a drought-resistant plant that has its roots from Europe. It is also called Red Epimedium because it produces flowers that come in clusters during the spring season with creamy white petals featuring red sepals around them.
The red barrenwort enjoys spreading quicker than several other epimedium varieties yet grows without weed. It has foliage that is illuminating and heart-shaped leaves with a red tinge that appears during the spring or fall season.
The plant thrives under partial to full shade and prefers moderate to organic-rich soil that is soggy to dry and well-drained. Once it grows to maturity, it becomes a drought tolerant plant.
Make sure you trim old foliage during late winter. The epimedium rubrum is an artificial hybrid used best in shade borders, walkways, woodland settings, under trees, or rock gardens.
4. Armeria Maritima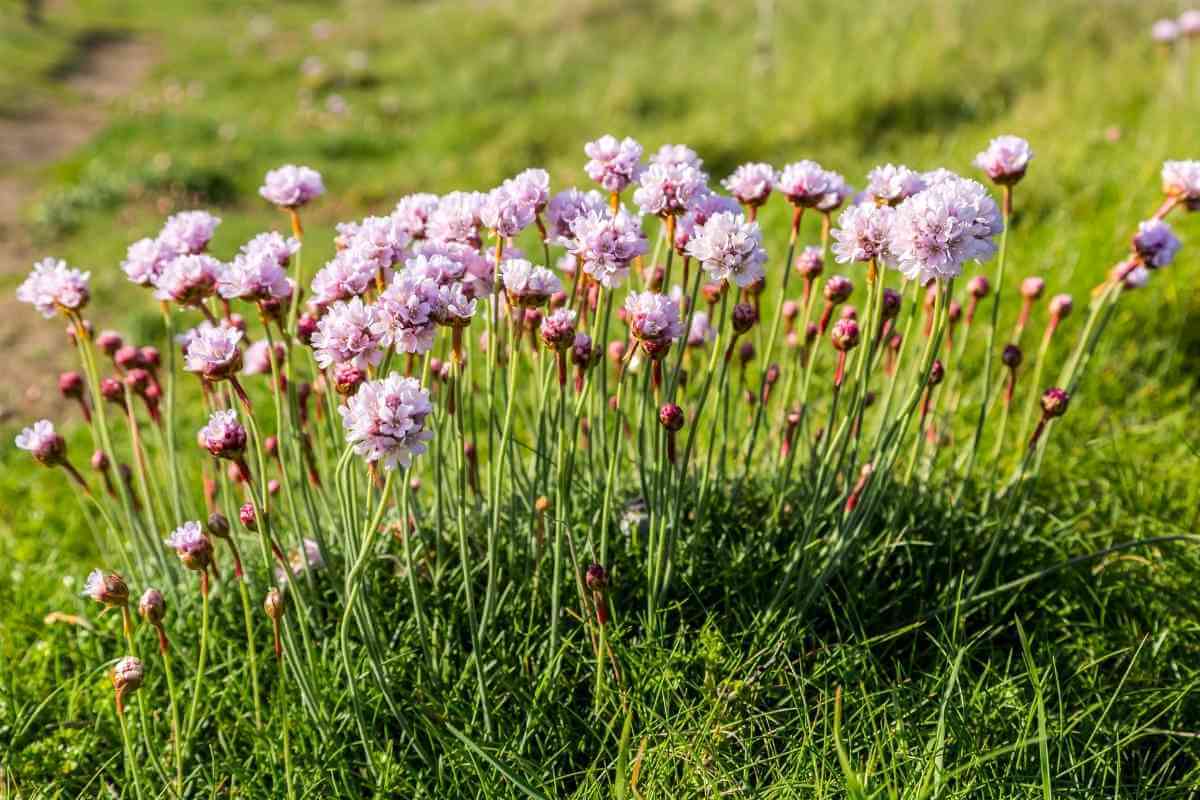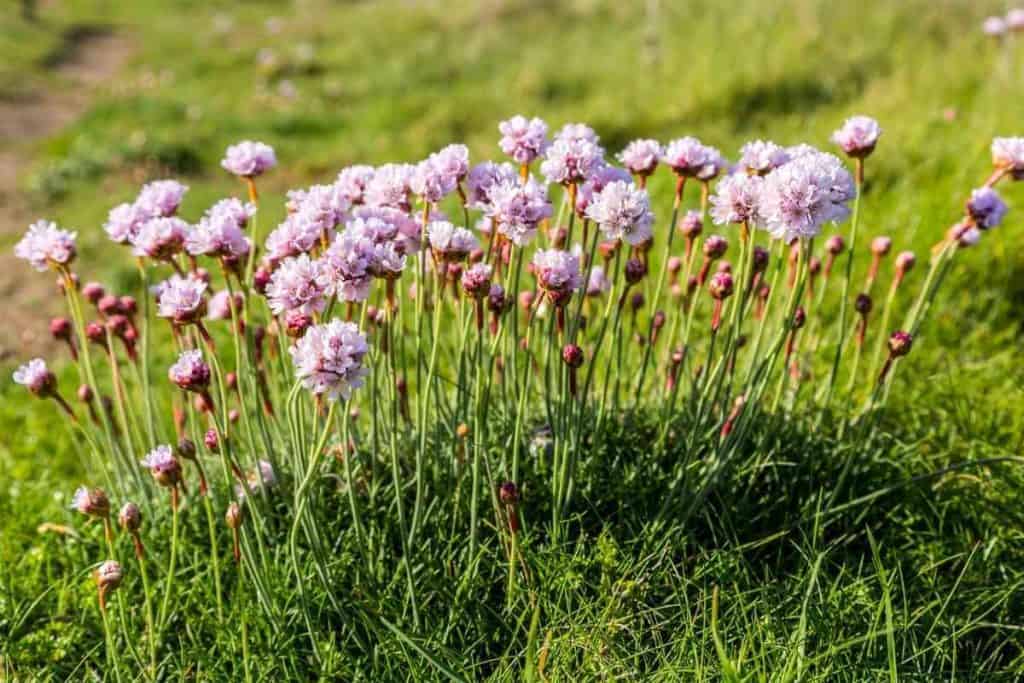 Popularly known as Thrift Pink or Sea Pink, Armeria maritima is a clustered, low-growing drought-tolerant plant that produces a thick, mounded tuft of rigid, straight, grass-like, dim green leaves of almost 4 inches tall. Its tufts can gradually spread to 8 to 12 inches wide.
Meanwhile, it produces little, pink to white flowers which blossoms during the mid-Spring in spherical clusters over slim, naked stalks that grows very much over the foliage to a height of 6 to 10 inches. Flower clusters have shades of purple, papery bracts.
Its name is a Latin word from the old French term armoires meaning cluster-headed dianthus. It has a particular epithet derived from the sea or coastal.
In its natural jungle, you can see Armeria maritima growing in salty environs across the coastal areas where several plants thrive; and that's how its name came about.
5. Thymus coccineus (Creeping Thyme)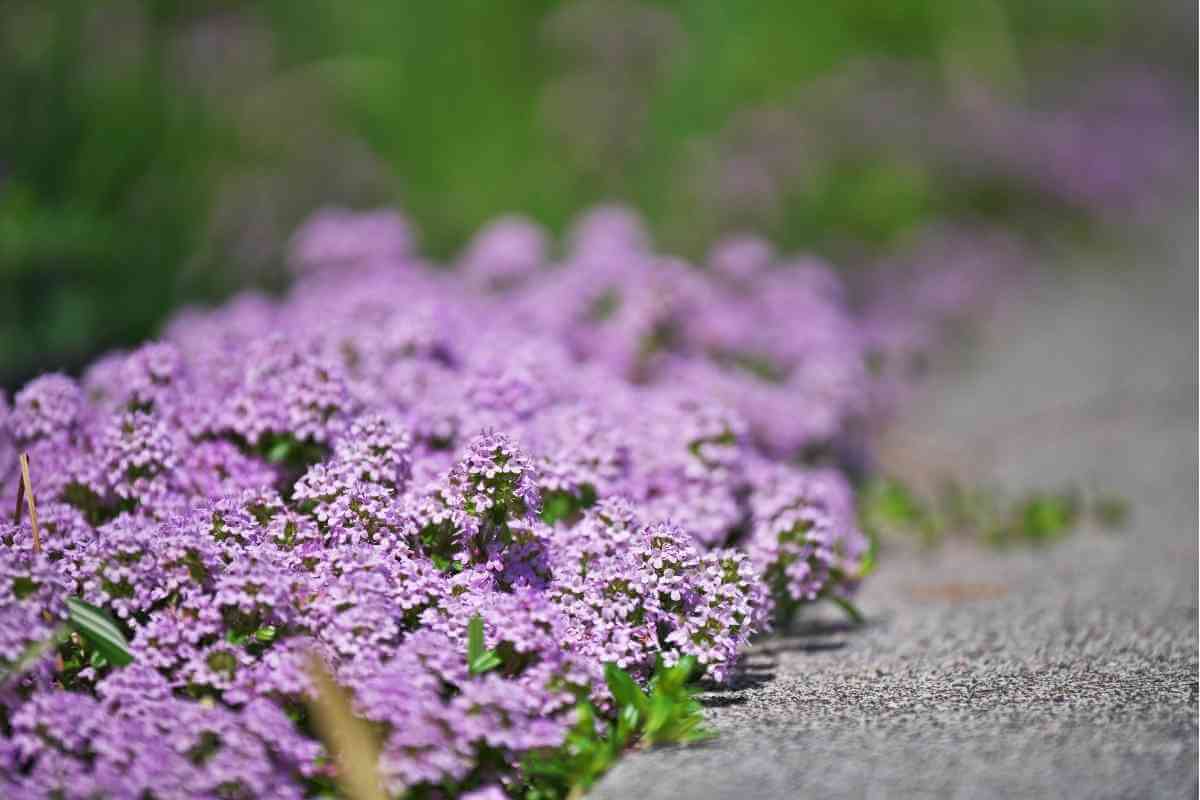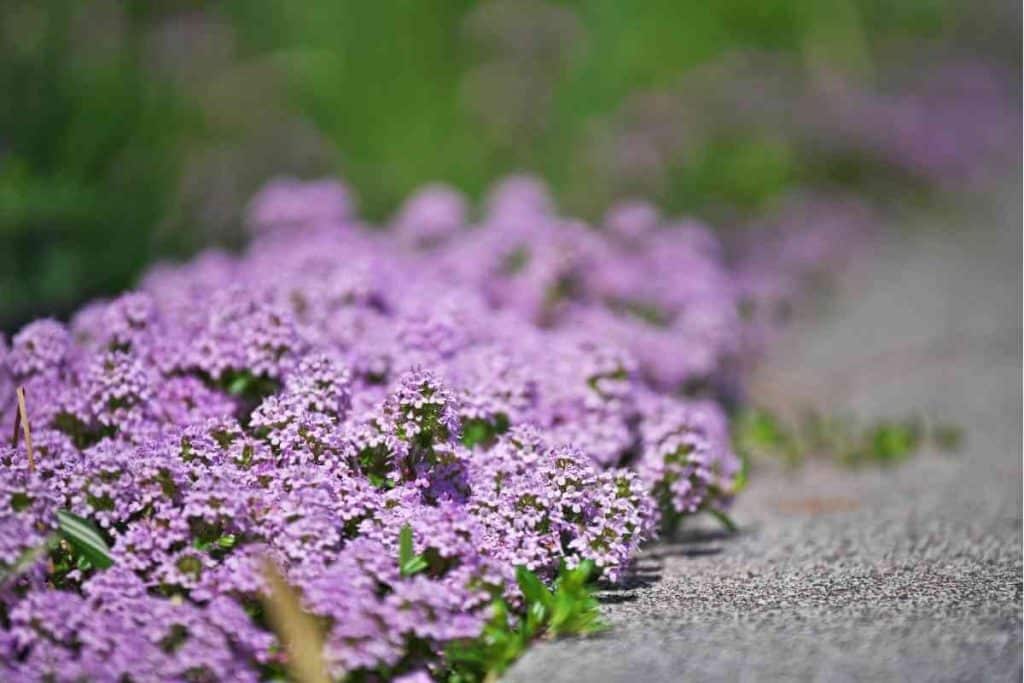 The term 'thymus' is coined from the Greek terminology 'thymos,' which is a term used for the thymus or Satureja species.
A genus of over 350 species, thymus coccineus, is an evergreen perennial, shrubs and subshrubs that is native to the dry parts of Eurasia. It is mainly grown because of its scenting foliage and for its gorgeous flowers.
Also known as red creeping thyme, wild thyme, or mother-of-thyme, it features lots of slender, woody stems that produce a flat mat of 2 to 3 inches tall alongside circular, glossy blue-green leaves of 1 to 4 inches. Aside from its flowers attracting bees, the plant bears no serious insect or disease problem.
Talking about flowers, they come in clusters of slender, tubular, deep pink color during the summer. The thymus coccineus is prone to root rot, especially when grown in soggy, poorly-drained soils.
The plant is best utilized as a little area ground cover or filler between stepping stones and tends to crawl on small rocks or ledges in the rock garden.
6. Phormium Tenax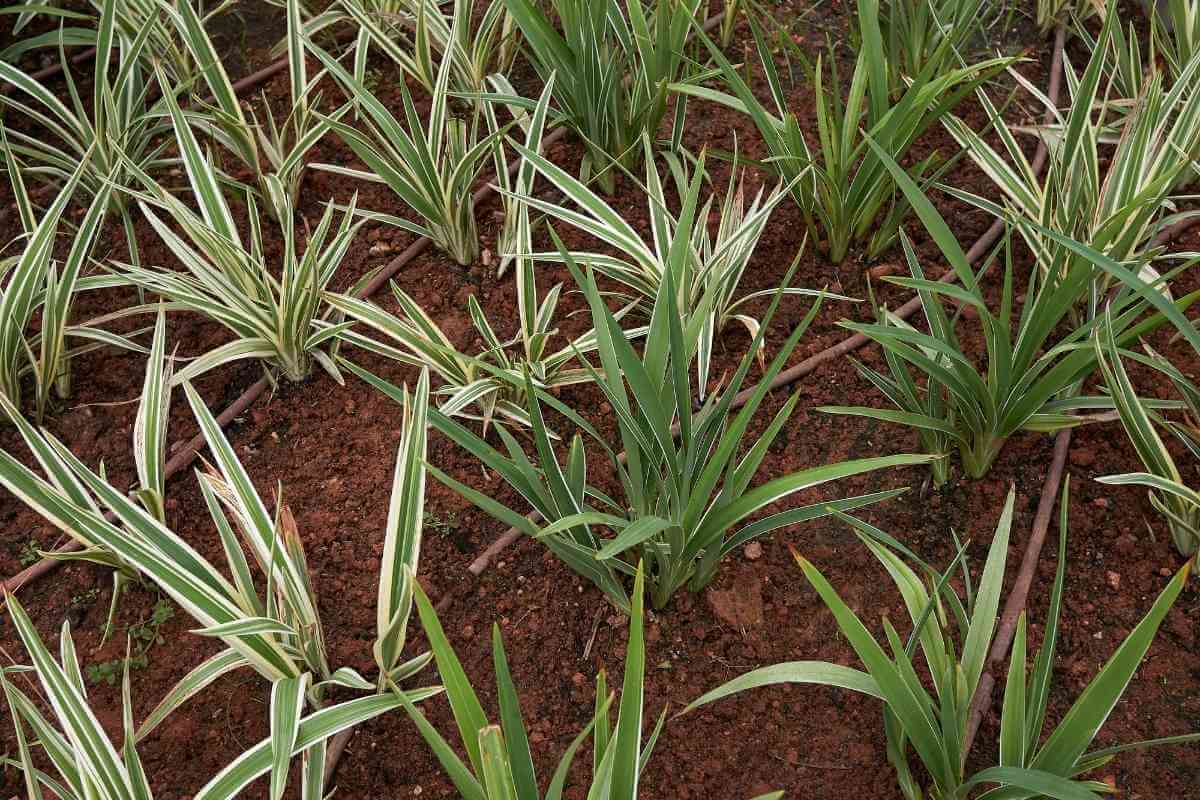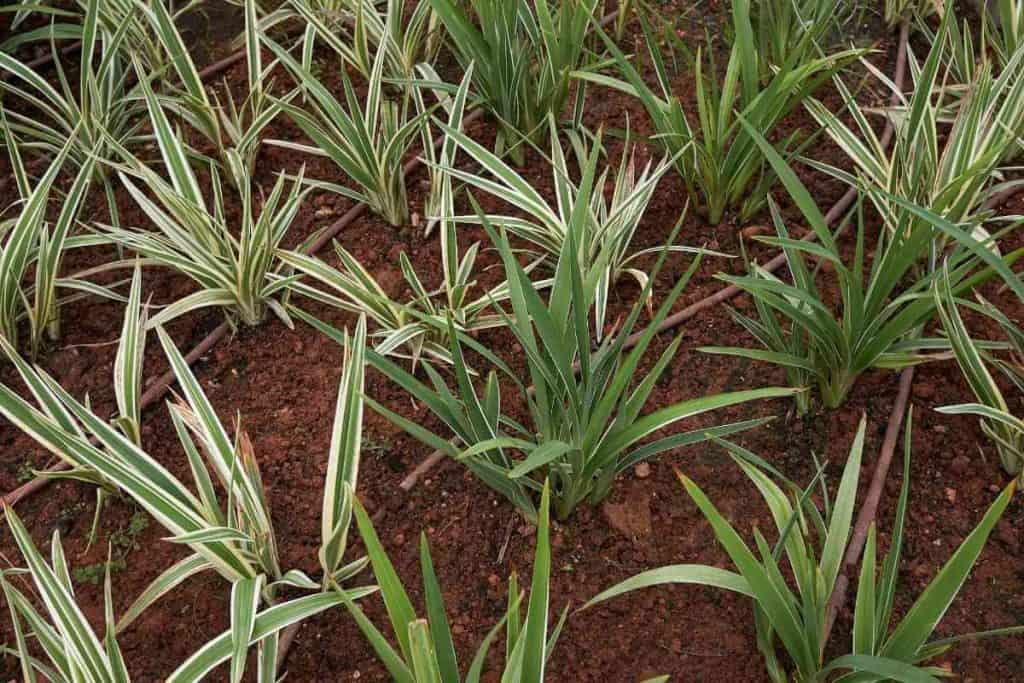 Popularly known as New Zealand Flax, the phormium tenax is another notable drought-tolerant species that can be used for slopes.
The plant is native to New Zealand, which explains where its name came from. It is an evergreen, clustering perennial plant that produces clumps and is primarily grown because of its beautiful foliage.
Phormium texas thrives under moderate, well-drained soil and requires full to partial shelter to do well. It is best grown in a pot, thereby offering considerable height and color contrast. Beware of insects like mealybugs and slugs, creating leaf spots that can damage the plant's foliage.
7. Sedum 'Purple Emperor.'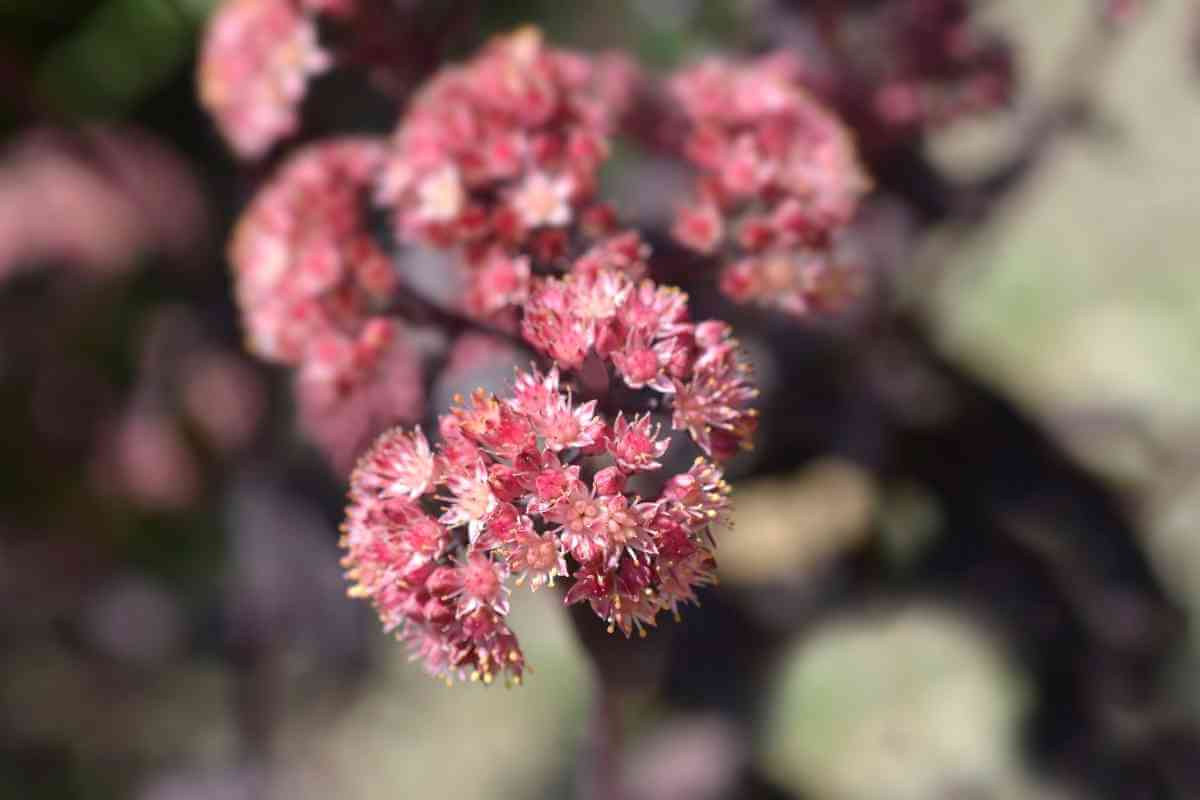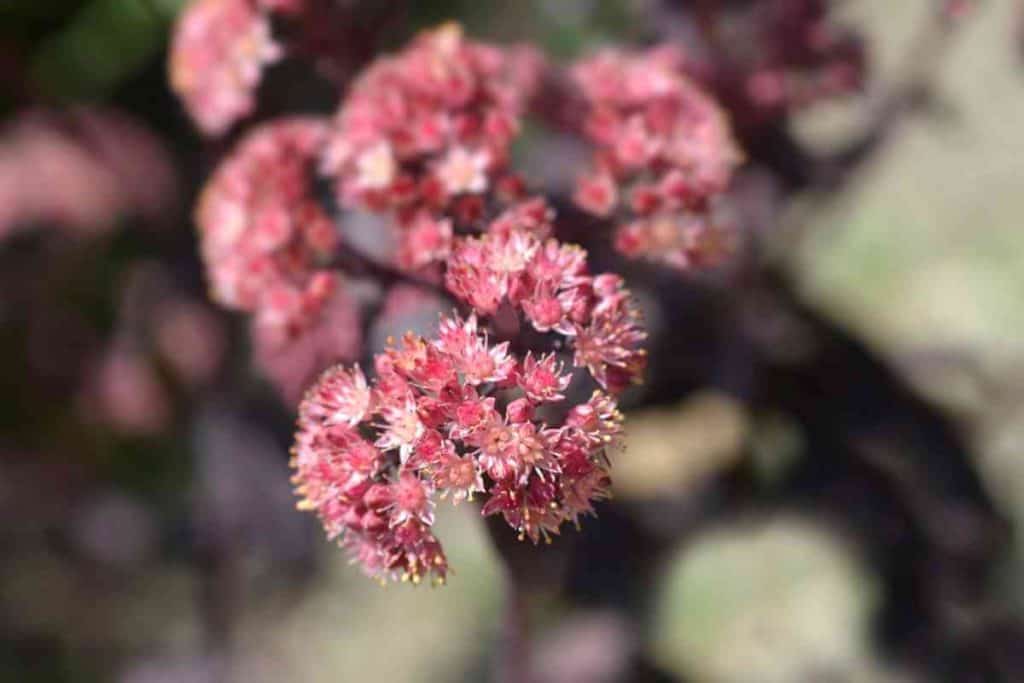 Another sedum species that is a member of about 400 species seen mainly in the hillside areas of North America and dry areas of South America, the sedum 'purple emperor' is a predominantly succulent plant.
It is a stubborn, drought-tolerant perennial plant that is both easy to grow and maintain and as well as star-shaped blooms.
Its flowers come in clusters producing blooms on fleshy-leaved plants that range from mat-producing ground covers to clump-producing upright mounds.
It is a hybrid perennial species that typically grows either uprightly or spreads clumps to almost a height of 15 inches. Its flowers attract butterflies and bees.
It may develop root rot in wet or poorly drained situations. The purple emperor is notably called stonecrops, as it is primarily found in the jungle growing on rocky or stony areas.
Be careful of pests like slugs, as it can be disastrous to the plant. The plant requires full sun conditions and moderate soil conditions. Trimming during the spring can lead to bushier or thicker stems.
8. Limonium latifolium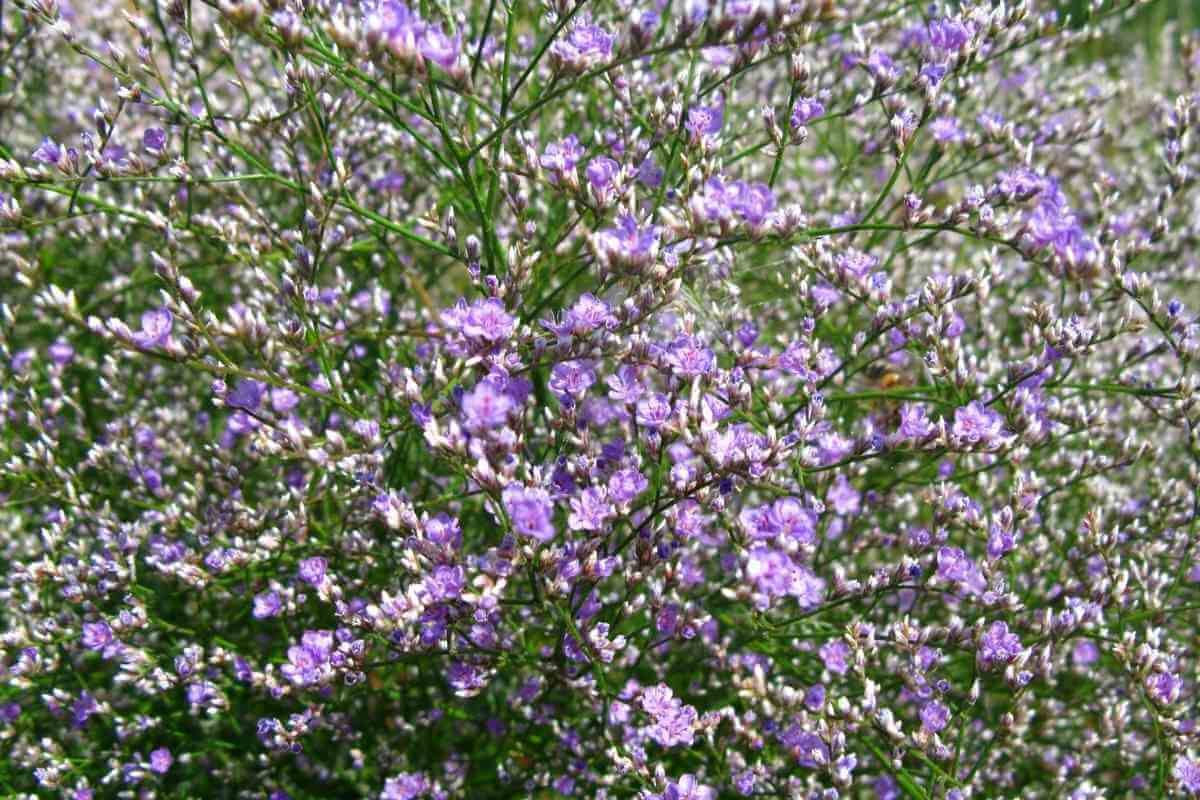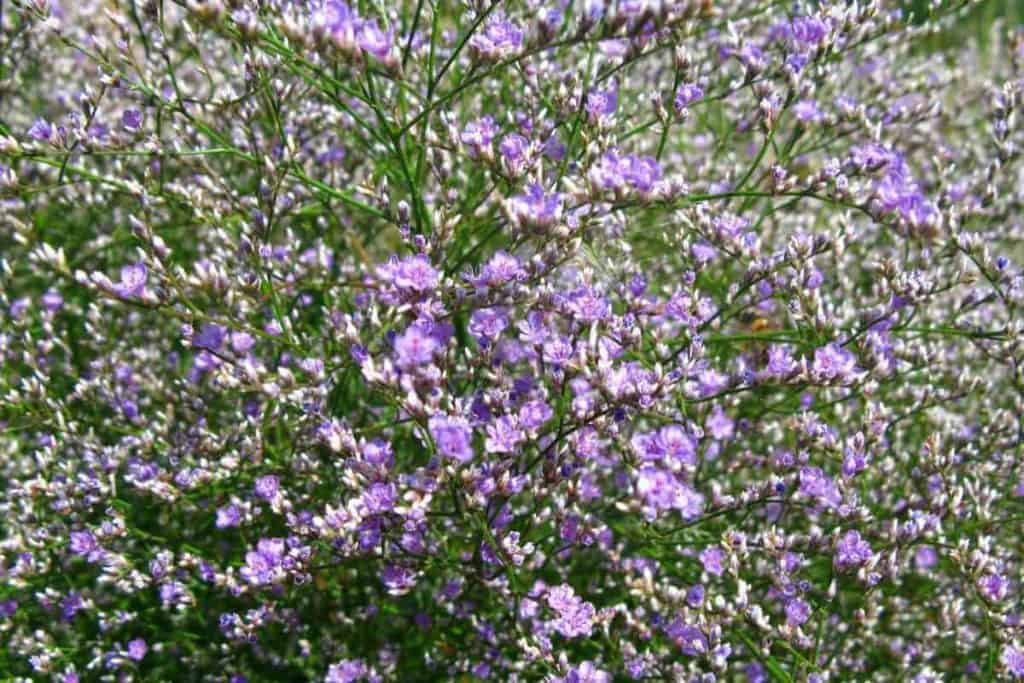 Popular known as Sea Lavender, Limonium latifolium is one of the best and most sought-after perennial plants you'll ever find.
It is a state of the act drought tolerant plant for slopes and is used as a cut flower, particularly for drying. The plant can also tolerate hot, dry sites immediately after it has matured.
Sea lavender creates a low mound of big, leathery green leaves that bears straight branching heads of slender, pale-blue flowers and gives a misty, cloud-like appearance. This plant tends to produce lots of stems, making them delicate and billowing. Its flowers attract butterflies.
Meanwhile, if you want your Limonium latifolium plant to dry, make sure its stem is cut just as the blooming starts to bud, and try to hand it upside down in a warm dark place.
The plant thrives under full sun exposure and prefers normal or sandy soil with neutral, alkaline, or acidic pH. It is an easy-maintenance plant.
9. Sedum Oreganum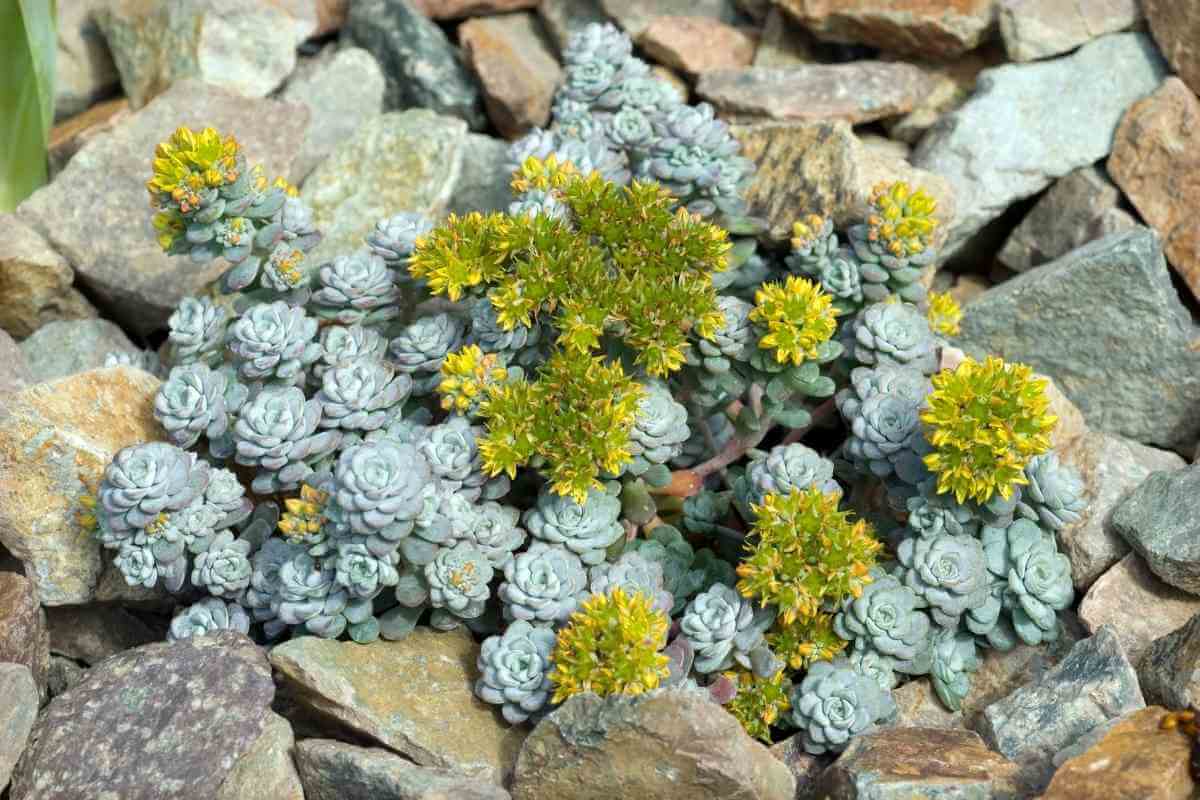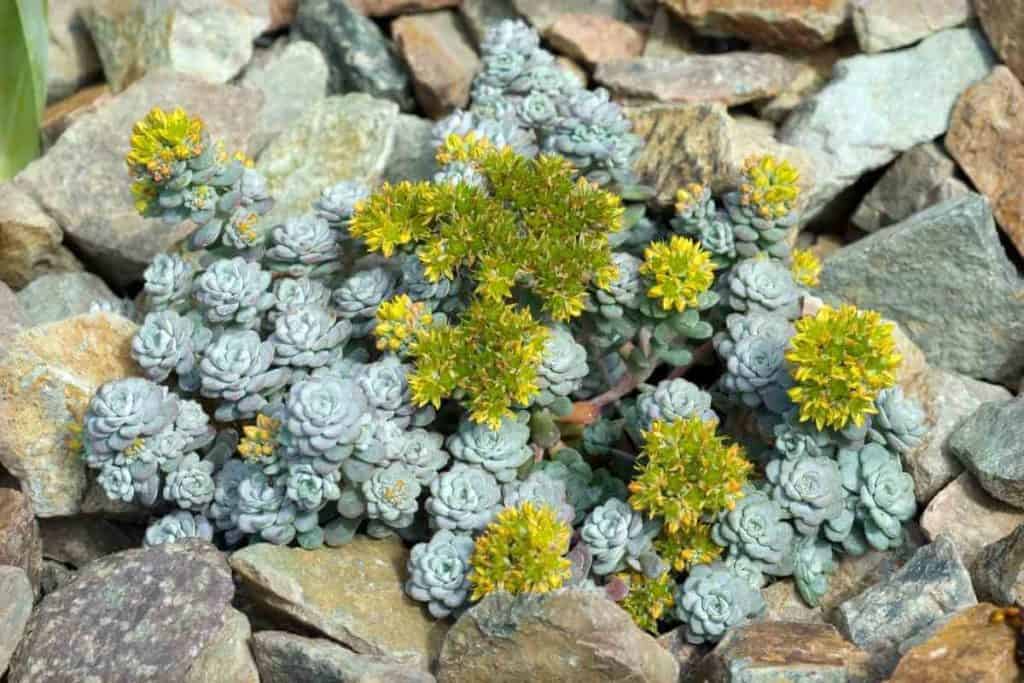 Just like other sedum species, sedum oreganum is a little but attractive succulent perennial. It is a drought-tolerant plant for slopes and features green leaves which change to red color shades in line with the appearance of star-like yellow flowers during the summer temperature rise.
Popularly known as Oregon Stonecrop, the sedum oreganum is particularly utilized for sowing in hot, dry areas in the garden and thrives in pots, alpine gardens, or planted troughs.
To get the best out of this plant, make sure you expose them to full sun and in sandy, well-drained, alkaline soil.
10. Sedum spurium 'Voodoo.'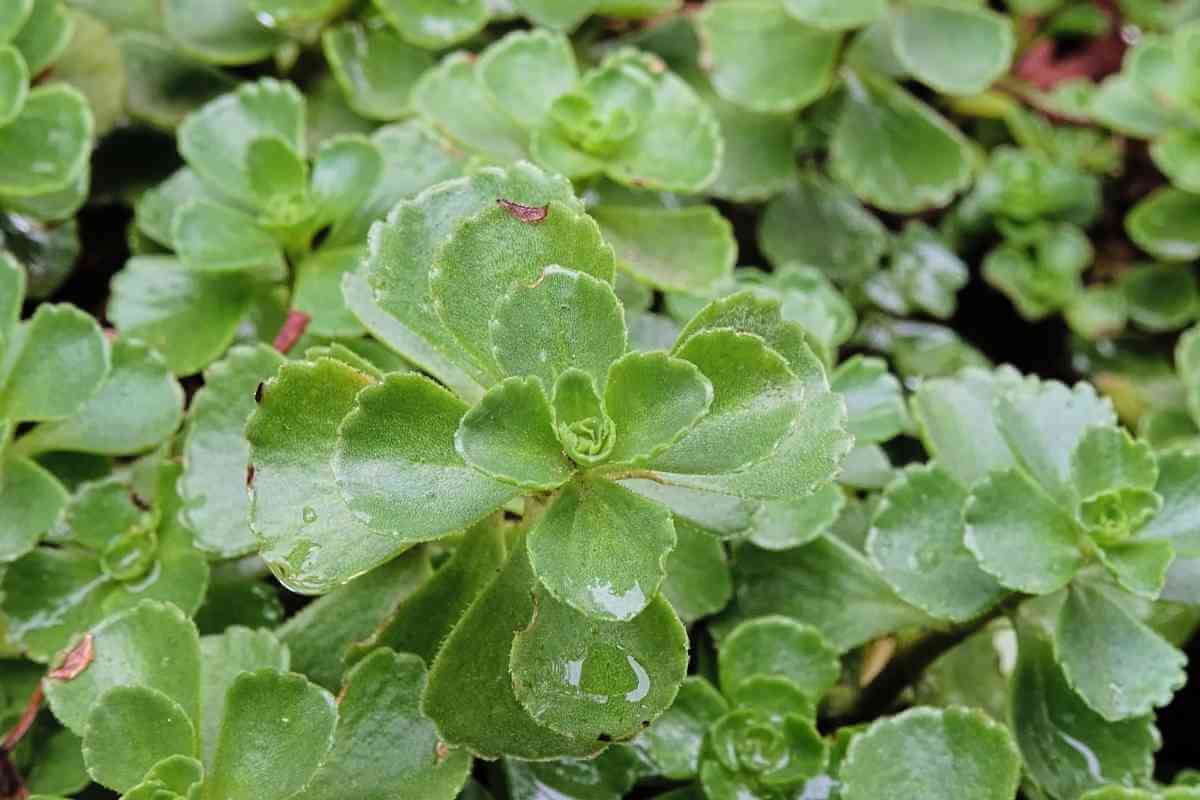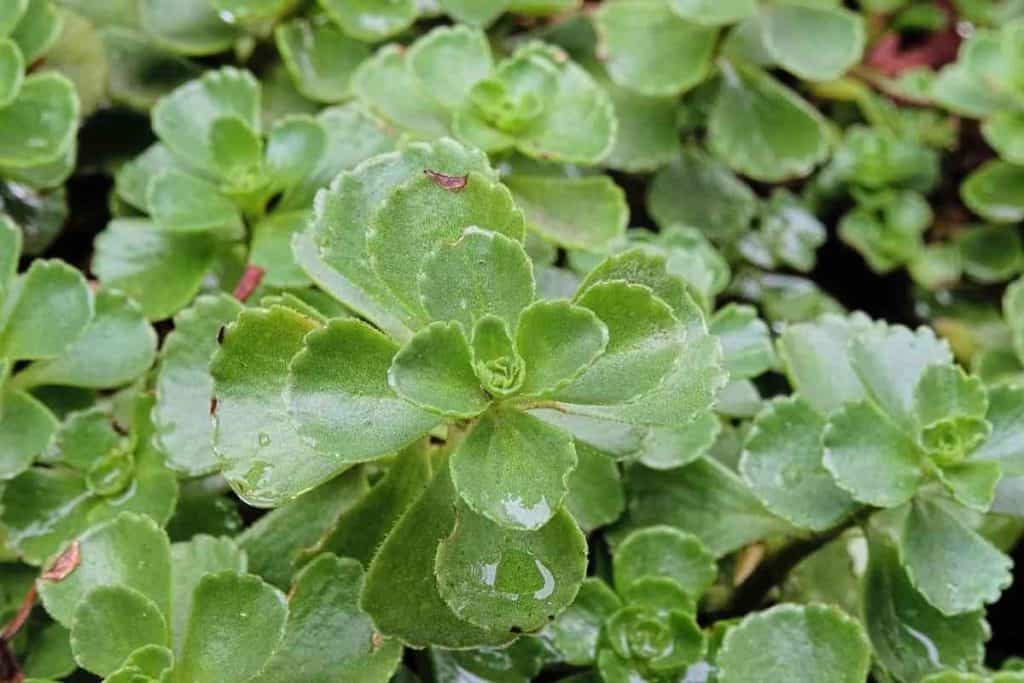 Popularly known as Voodoo Red Leaf Sedum, sedum spurium voodoo is a flashy, low water groundcover perennial, which causes a stare in the landscape as a result of its deep red, evergreen foliage, and pure rose-pink summer flowers.
It is a durable plant that does best in porous soils and under dry conditions. It also features flashy foliage that acts as great support for ornamental grass and other perennial plants with foliage.
The sedum spurium voodoo is best utilized during firescaping activities. It is a plant that draws butterflies and thrives under full sun conditions, and blooms during the summer season.
Recommended Posts: