The blue star creeper is a perennial herb discovered in 1810 by Robert Brown. Scientifically referred to as Isotoma fluviatilis, the blue star creeper is nature's perfect gift to lawns, pathways, rocky gardens, flower baskets, and wall drapes.
This low-growing mat is a quickly spreading groundcover plant that is loved by many because it is easy to plant and tend, has a healthy lifespan, and requires minimal water to flourish.
It is also drought, rabbit, and deer resistant, green all year round, and an excellent option to beautify the surroundings and limit weed growth.
The lavish carpet of lush deep green vegetation, with star-shaped pale blue toppings, is remarkable for its ability to be accompanied and co-exist perfectly with a host of other perennial plants.
Read on to see a host of the blue star creeper companion plants you should consider grouping.
Companion Plants for Blue Star Creeper
If one of your well-meaning friends is yet to utter the words "variety is the spice of life," then indeed, you would have come across it in a book.
However, how this albeit cliche but ever-relevant quote found its way to you is of minimal importance. What matters is the fact that it is right in all senses of it.
That you're here right now, reading this, probably means you're in search of the cultivated variety to add to your blue star creeper, to serve as a companion to it, for the sake of 'spicing things up.'
Here's a host of plants that have similar survival needs to the blue star creeper, and so would make terrific companions to the star plant.
Blue Star Creeper Companion Plants
1. African Daisy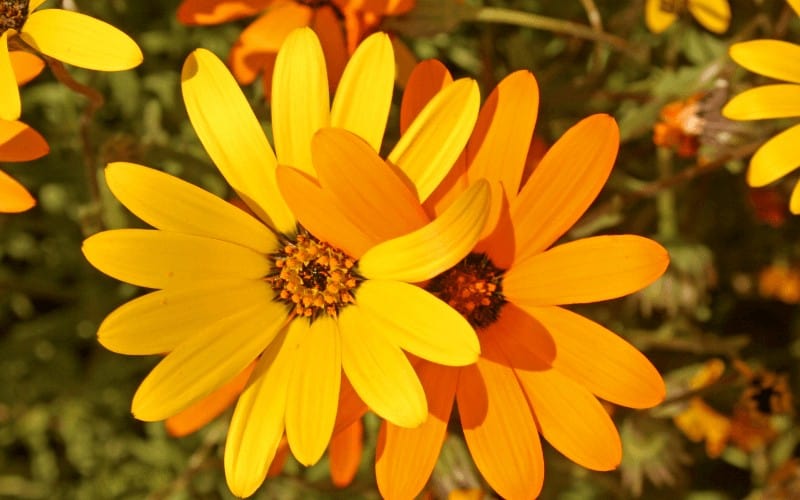 The African daisy known as osteospermum is a woody perennial. This plant of South African descent grows about 4 feet tall—just like most blue star creeper, it is known to produce tons of daisies in warmer or milder climates.
The daisy's flowers blossom in sunlight and come to denouement at dusk. And while they are considered drought-tolerant, rich soil and routine watering help them look their best.
2. Blue Mist Spirea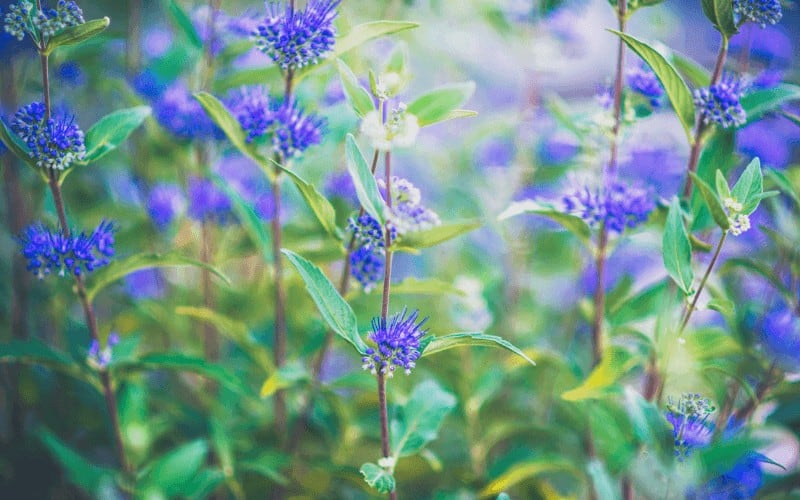 From the territory of Southern and Eastern Asia, the blue mist spirea is one known to wax about 3 feet wide and about 4 feet high.
Asides the two plants bearing the same colors for initials, they are both profuse summertime bloomers that stay full of life, deep into fall. Talk about a match made in heaven!
This companion (blue mist spirea), also known as Bluebeard, produces a tuft of pale blue flowers that attract butterflies, hummingbirds, and other supportive insects. Like all plants, the spirea requires water but is. However, drought tolerant once established.
 3. Candytuft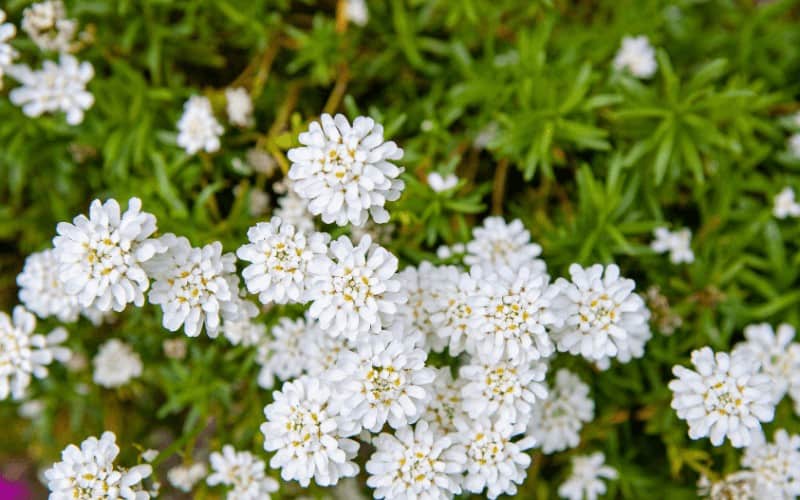 This two side by side is such a royal sight to behold. A dreamy fantasy of a vision in blue and white, their marriage makes the prettiest pathway plants. The candytuft plant, another woody perennial, is a European native that blossoms in early spring through summer, often reblooming in fall.
Often needing just about the same amount of sunlight as the star plant, the candytuft is one to compliment the blue star creeper in height as it grows between 7 to 12 feet in height.
But who says you can't trim to your preference? In fact, it is recommended that you do so at least once yearly, to hinder this blooming beauty from getting unnecessarily tall with spindly growth.
Use Blue Star Creeper as a ground cover around the base of the candytuft, and you might need some help convincing guests to step away from your garden.
4. Pink evening primrose plant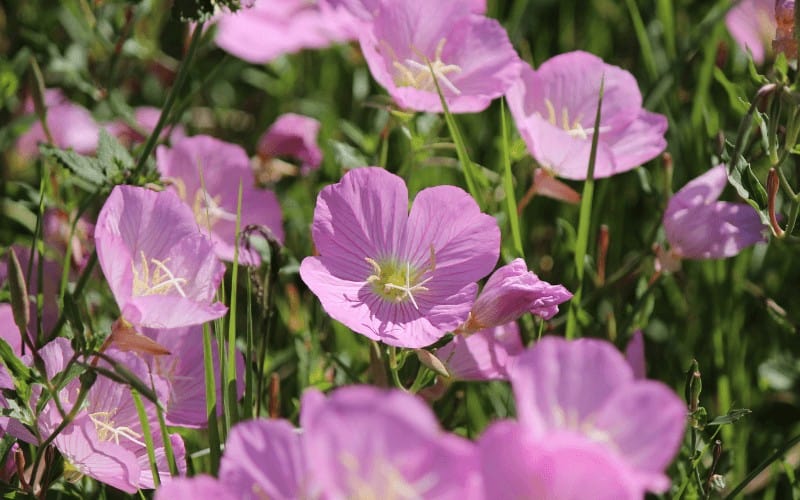 The pink evening primrose plant from the stables of South Eastern America is another highly suitable companion plant for the blue star, both on the grounds of aesthetics and survival compatibility.
The pink evening primrose plant is one dreaded by even some perennials, as it is wild with the tendencies to suffocate sister plants if not correctly cultured. However, the blue star is one with a tough skin, making a fine match for the wildling.
Again, in terms of beauty, they turn out absolutely breath-taking as most combinations of the colors blue and pink are known to do.
The two plants are in glory-mode between early spring through to late fall, are sun lovers that require a minimal amount of water to flourish — a perfect companion to the star plant, with minimal effort to reach maximum beauty.
5. Blue Star Creeper and Hydrangea Plant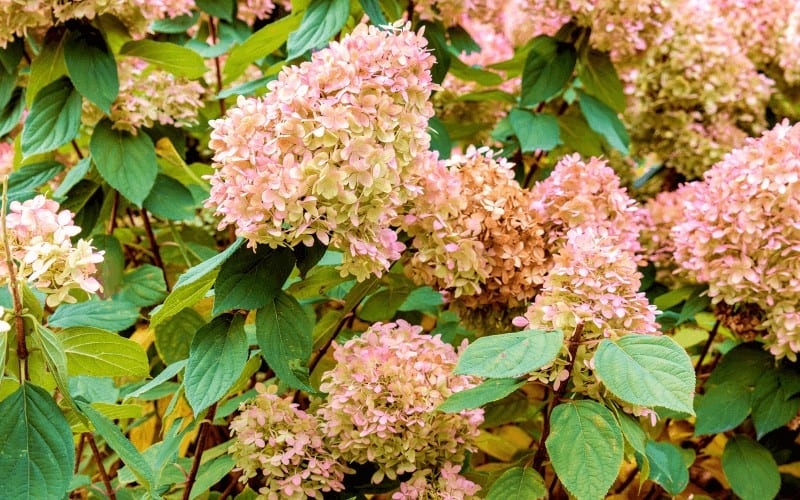 A first attempt at matching the blue star creeper with hydrangea, and you'll want to give it a prominent spot in your summer garden.
With its exaggerated flower heads, hydrangeas wear an old-fashioned charm in the summertime that's hard to shake off.
It is another low maintenance, non-soil Ph and soil type insistent, blooming in summer through fall but all year long green plant with enough hardiness, and needing just the right amount of sunlight to flourish.
Gift a loved one, a blue star creeper, and hydrangea draping from a flower pot, and they would never lose the memory of such a beautiful and thoughtful gesture.
6. Meadow Sage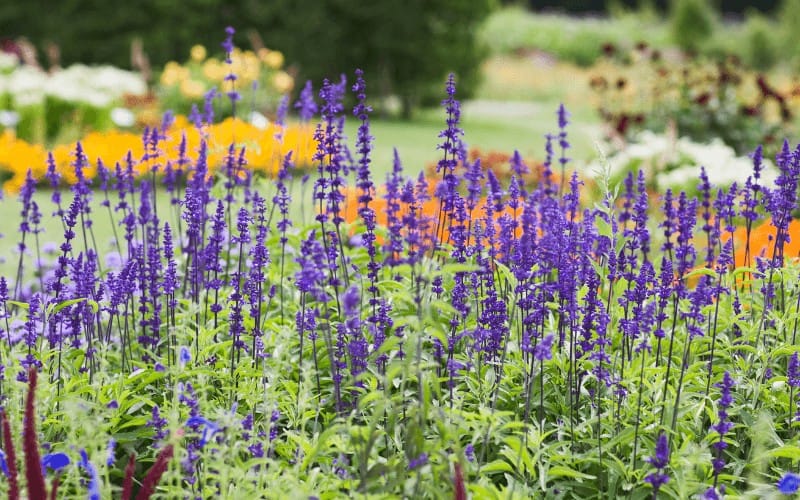 Scientifically known as salvia pratensis, the meadow sage belongs to the family of Lamiaceae, native to Northern Africa, Western Asia, and Europe.
The plant makes for an excellent blue star creeper companion as it also thrives well under full sun exposure, is easy to plant and maintain, blossoms finely. It thrives well regardless of the soil type, whether sandy, clay, or loamy, soil Ph: mildly acidic, alkaline or downright neutral.
The flower head size of the meadow sage is large, making up for the smaller size of the blue star creeper. Aesthetics wise, the deep blue color of the meadow compliments the whitish-blue of the star plant, making them deliciously good-looking soulmates.
7. Lavender plant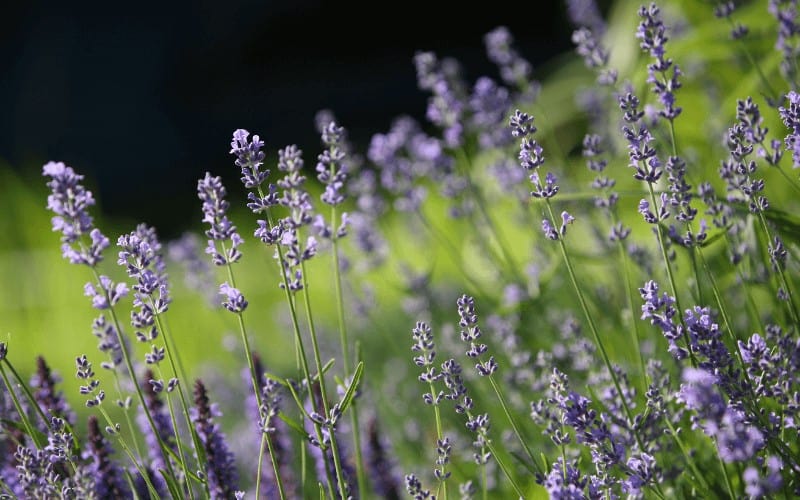 Its greyish-green foliage, with an abundance of fragrant purple flower spikes, is what makes lavender such a great choice to pair with the blue star creeper.
Picture these two for a second in a rock garden or along a pathway edge, exactly!
Growing 2 to 3 feet tall and wide (depending on the species), lavender is a plant of Mediterranean roots. It is easy to develop even—even outside its primary growing conditions, with a ton of beauty and health benefits, plus an insanely alluring fragrance to attract birds, bees, and butterflies.
It can perfectly accompany the blue creeper to be grown into a hedge, developed on the pathway border, draping over a rock wall, or growing in a vase.
8. Coreopsis Plant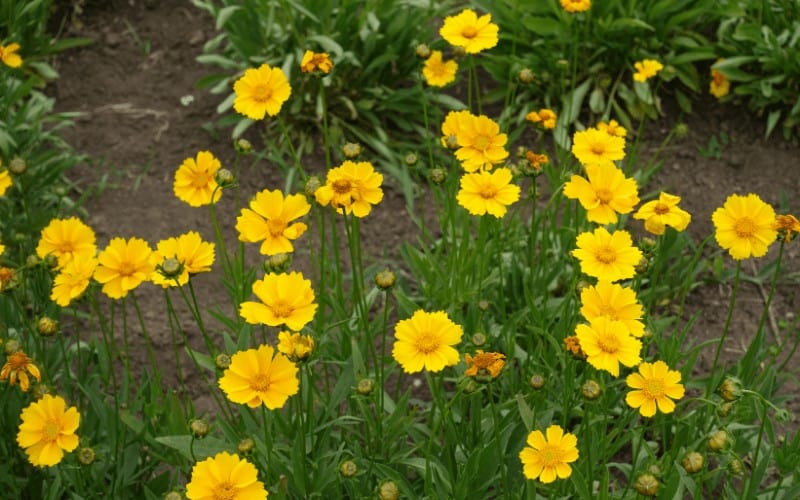 With over 70 species of them in existence, the easy maintenance, long-blooming, drought-tolerant, and sunny vegetation known as coreopsis, make wonderful blue star companion plant. Most of its varieties take origin in Native North America, while the others are from Central and South America.
The daisy-like flower ranging in colors from bright orange and yellow to pink and red is commonly referred to as 'tickseed' or 'pot of gold' by plant growers. In whatever color you get coreopsis, be rest assured it will blend magnificently with your blue star.
9. Sea Thrift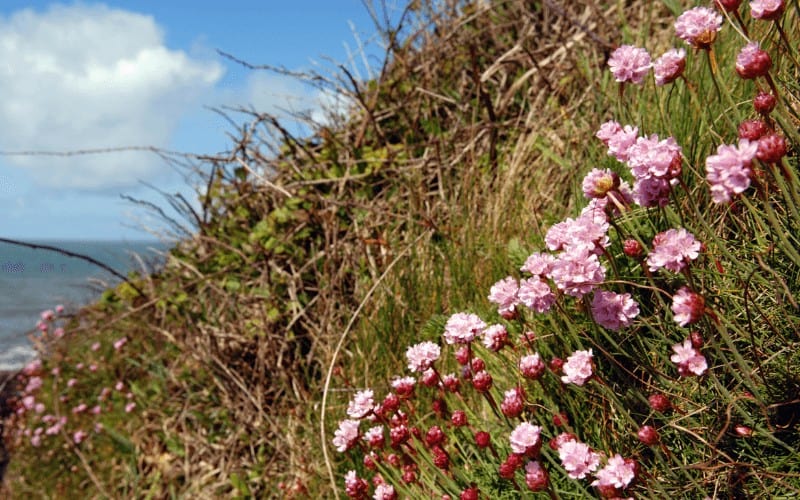 The sea thrift plant, otherwise known as Armeria maritima, is another evergreen perennial that adds light and contrast to the landscape and a graceful companion to the blue star creeper.
The plant blooms dense of grass-like green leaves with a slight tuft of pink to white flowers, atop of slim stalk that rises well above the creeper's carpet.
"A little beauty that is freakishly easy to grow, drought, deer, and rabbit tolerant, perfect for borders, flowerpots, and pathways."
10. Blue Star Creeper and Spanish Daisy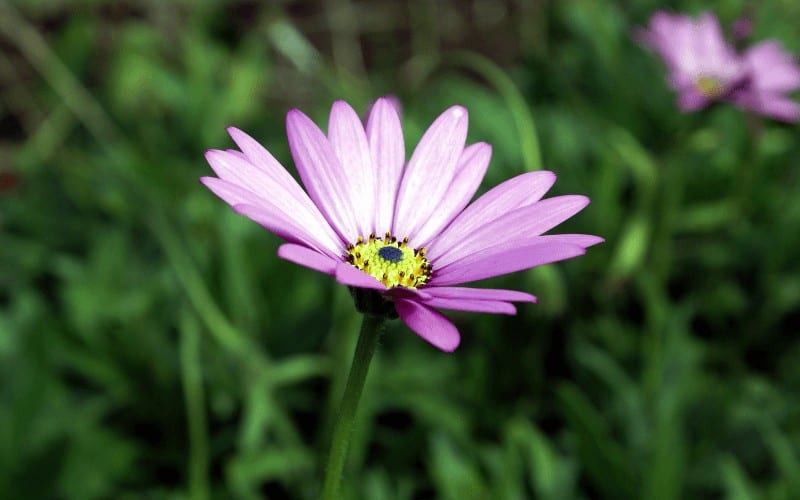 A huge bonus if you're a perpetual ground-covers lover. Native to Mexico and Central America, this rapidly-growing perennial is a great option to accompany your blue star creepers in covering the grounds of your lawns, borders, rock gardens, rock walls, and pathways.
However, the Spanish daisy does require a bit more work in the area of cleaning up your flowerbeds as lower foliage wither, but for the beauty, you will behold afterwards, it is worth the extra effort.
A companion needing similar conditions as the star creeper to reach maturity, deer, rabbit, and drought-resistant, perfection, you'll agree, isn't far from this.
Conclusion
Reaching a verdict on which companion plants to go with your blue star creeper will most likely come down to individual taste and preferences, or some curiosity-driven experimentation.
Nevertheless, having a few aesthetic and plant survival pointers in your back pocket will help ensure a successful selection of plants that thrive, as well as look amazing to behold together.
Foremost, you want to ensure that you select companion plants that have the same light, water, soil type, and soil Ph requirements, and life span, of course, as the star plant. From there, you can graduate to analyzing plant characteristics, ranging from plant shape, size, texture, color, etc.
By picking out the plant(s) related in two or more of the same categories and completing the plant in focus in features like color contrast, you'll be on your way to finding yourself excellent blue star creeper companion plants.
A winning choice, therefore, would be a low-maintenance, drought-resistant plant with the ability to thrive in full to partial sun.