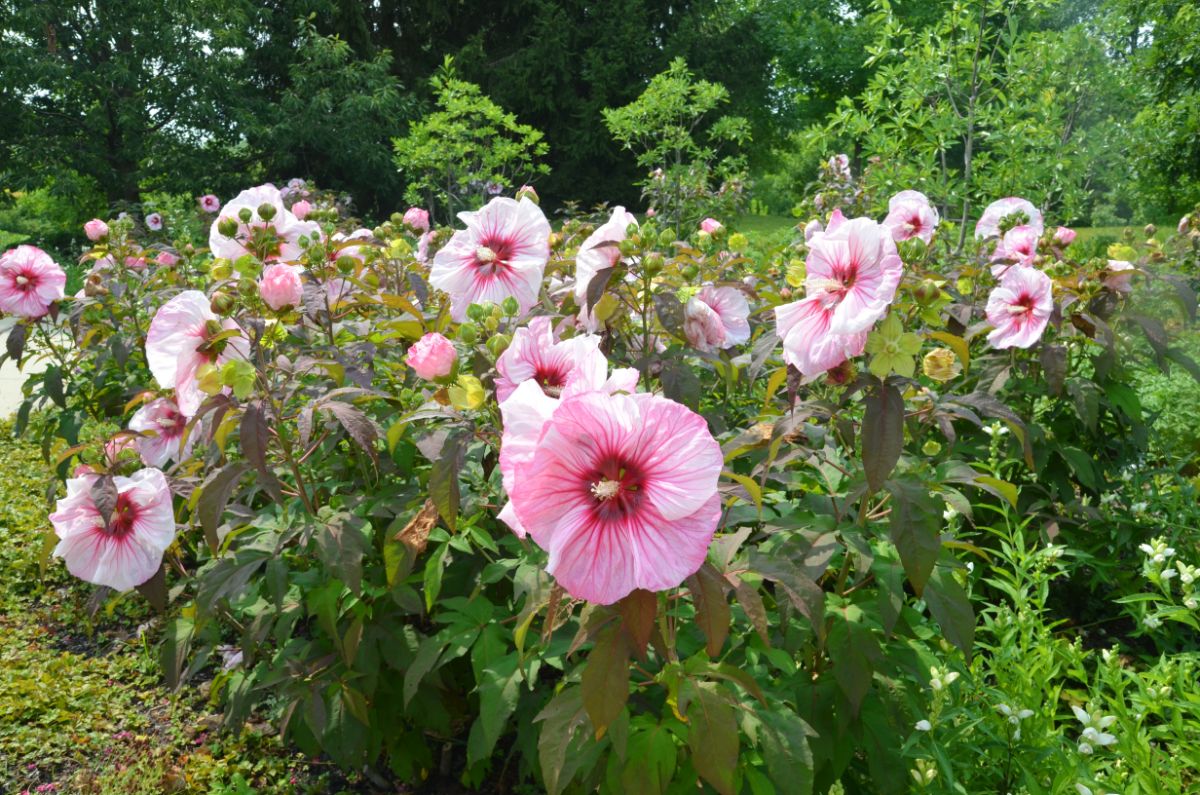 Hibiscus (genus Hibiscus) is a genus of flowering plant that belongs to the mallow family, Malvoideae, which happens to be a subfamily of Malvaceae.
The Hibiscus remains an evergreen plant with beautiful dark green, shiny leaves. Aside from making your gardens attractive, the plant holds a rich cultural significance for many people worldwide.
Let's take India, for example, where the Hibiscus is used to produce things like paper, canoes, ropes etc.
Hibiscus has also proven to be very useful in the kitchen. If you have never been privileged to have a taste of beverages made with a hibiscus specie or a meal prepared with ingredients made with Hibiscus, I think you should.
In this article, we will be discussing the perennial various hibiscus varieties and how to grow and care for them.
Jump to:
What is Perennial Hibiscus?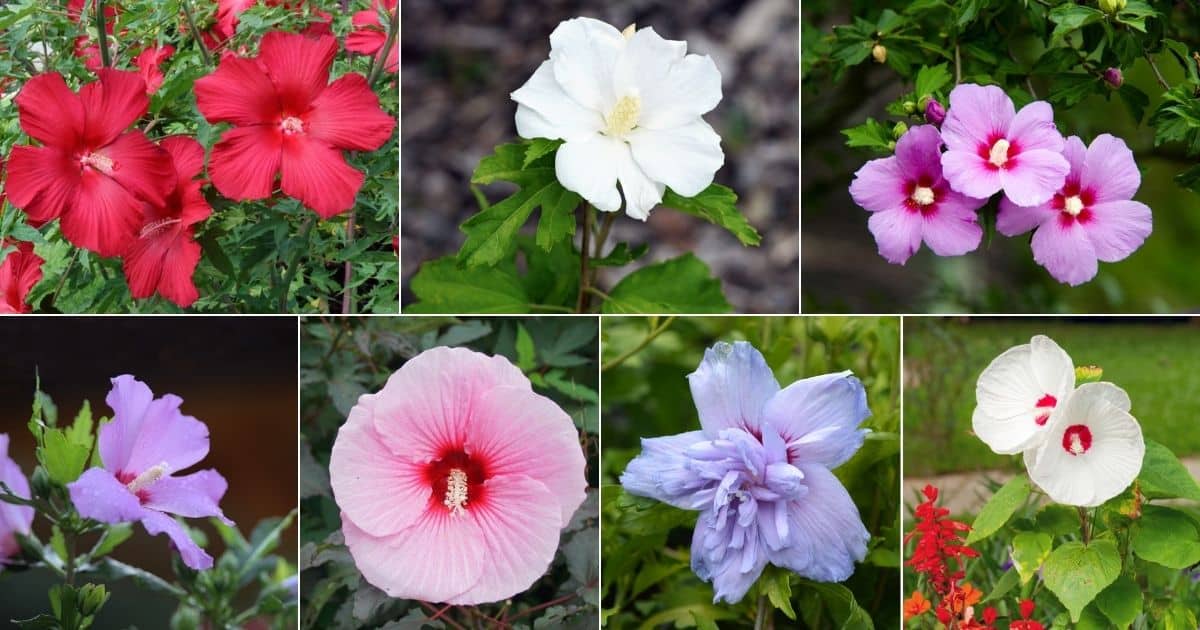 These are hardy hibiscus plants that can survive being grown in zones 4 to 9.
Depending on how well you care for them during the winter season, they will return again the following year. Perennial Hibiscus is a variety of grown hibiscus.
Hibiscus on its own comes in just two varieties - we have the hardy Hibiscus and tropical Hibiscus.
The difference?
No significant difference as both are known to be perennials, but, more often than not, we see the tropical being grown as an annual hibiscus in very cold climates.
Perennial Hibiscus Varieties
Perennial Hibiscus is no doubt a must-plant for your gardens.
Choosing which to plant can be very confusing, so we have outlined a list of 21 perennial hibiscus varieties in no particular order.
Shall we?
1. Summerific 'HolySummerific' Mallow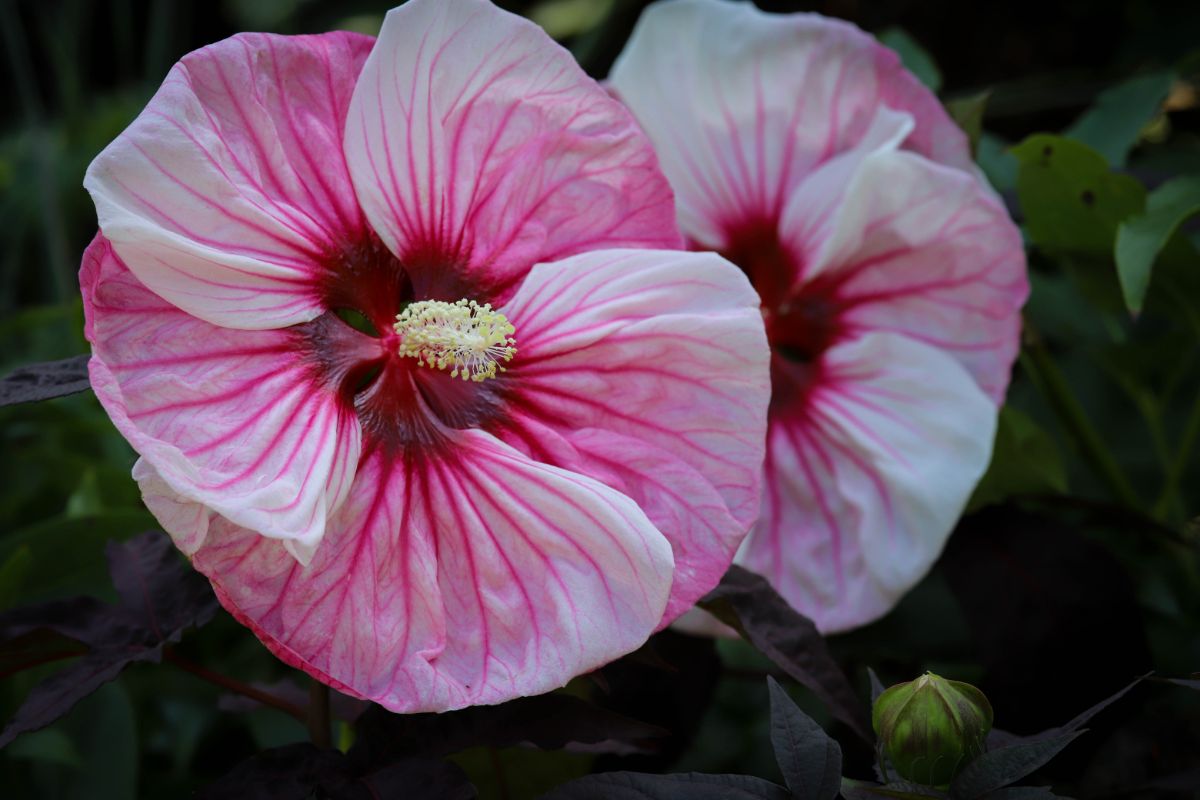 First grown in North America. The Holy grail is a unique perennial hibiscus plant with several awards and bestselling records to show for it.
It is off-dark foliage that is capable of holding up to 9 dark red flowers. It grows as tall as 50 inches and requires spacing of about 50 - 60 inches.
To ensure this plant grows well, see that it is grown on well-drained soil and gets exposed to sunlight for about 6 hours daily.
The Holy Grail bloom season is set at mid-summer and is sustained all through to the end of the summer season; then, bloom returns again during the early fall.
2. Summerific 'Berry Awesome.'
Let's first of all look at the aesthetics of this beautiful plant. The Berry awesome is no doubt a tall bunch of awesomeness. It has ruffled-up flowers that are colored lavender pink with contrasting cherry red eyes.
Its bloom period is mid-summer and lasts till the end of the summer season. The Berry awesome thrives better when exposed to sufficient sunlight.
It has a garden height of about 40 - 48 inches and needs a spacing of up to 50 - 60 inches when planting.
If not for anything, have this fabulous flower planted and relish in its sweet-smelling freshness.
3. Summerific 'Perfect Storm.'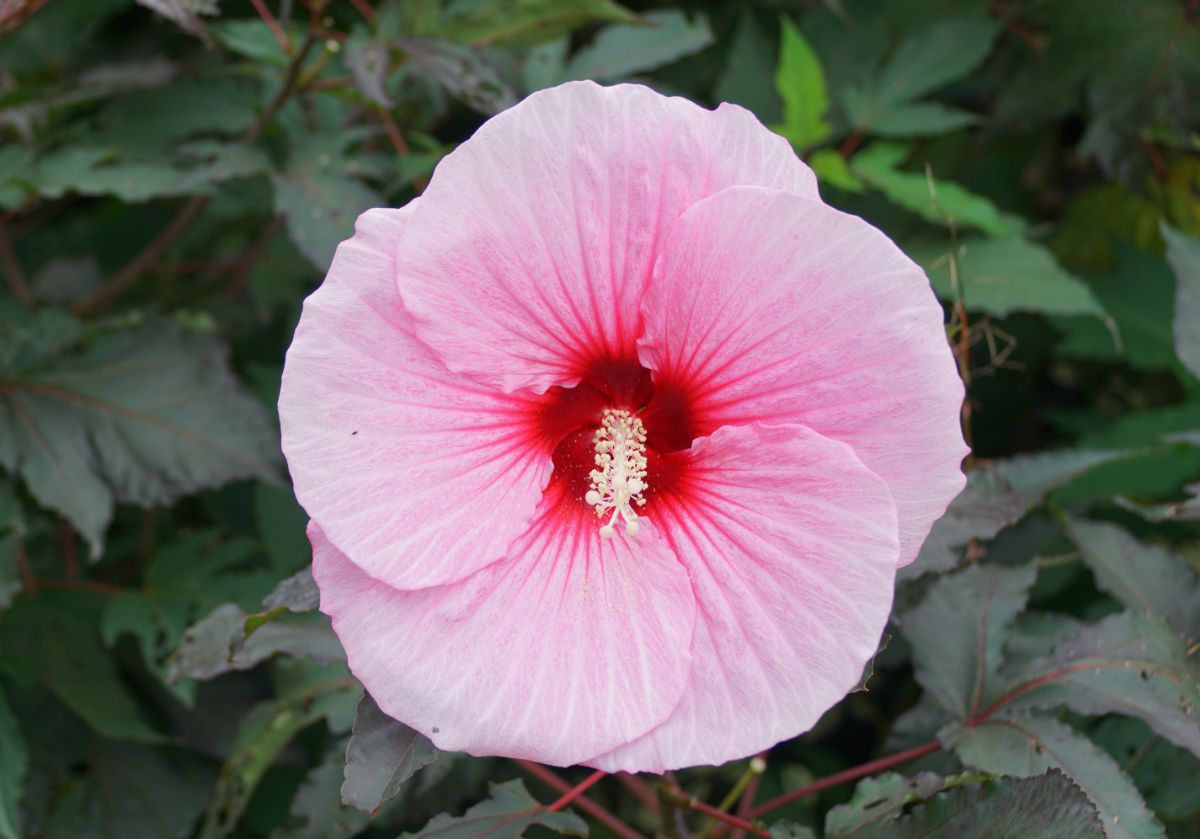 The perfect storm is a set of beautiful white flowers that spots an excellent red eye in the middle. They grow in a clump of purple foliage.
The plant has a garden height of about 36 inches and requires plant spacing of about 50 - 60 inches plus part sunlight and shade to thrive.
Its bloom time?
Mid-summer all through to summer end then, it takes a go at it again when it's early Fall. The Perfect Storm plant will equally fare well when planted in a reasonably large container.
4. Ruffled Satin (Rose of Sharon)
If we decide to talk extensively about the physical characteristics of this plant, we might not be able to exhaust it here. The first thing that comes to your mind when you see this plant is exquisite.
As the name implies, it has ruffled-up pink flowers with a beautiful burgundy-colored red eye in the middle. The flower petals overlap each other in a well-organized manner, forming a shape that looks like a cup.
Its leaves are smooth and shiny. The ruffled Satin requires ample sunlight and blooms from early to the end of the summer season.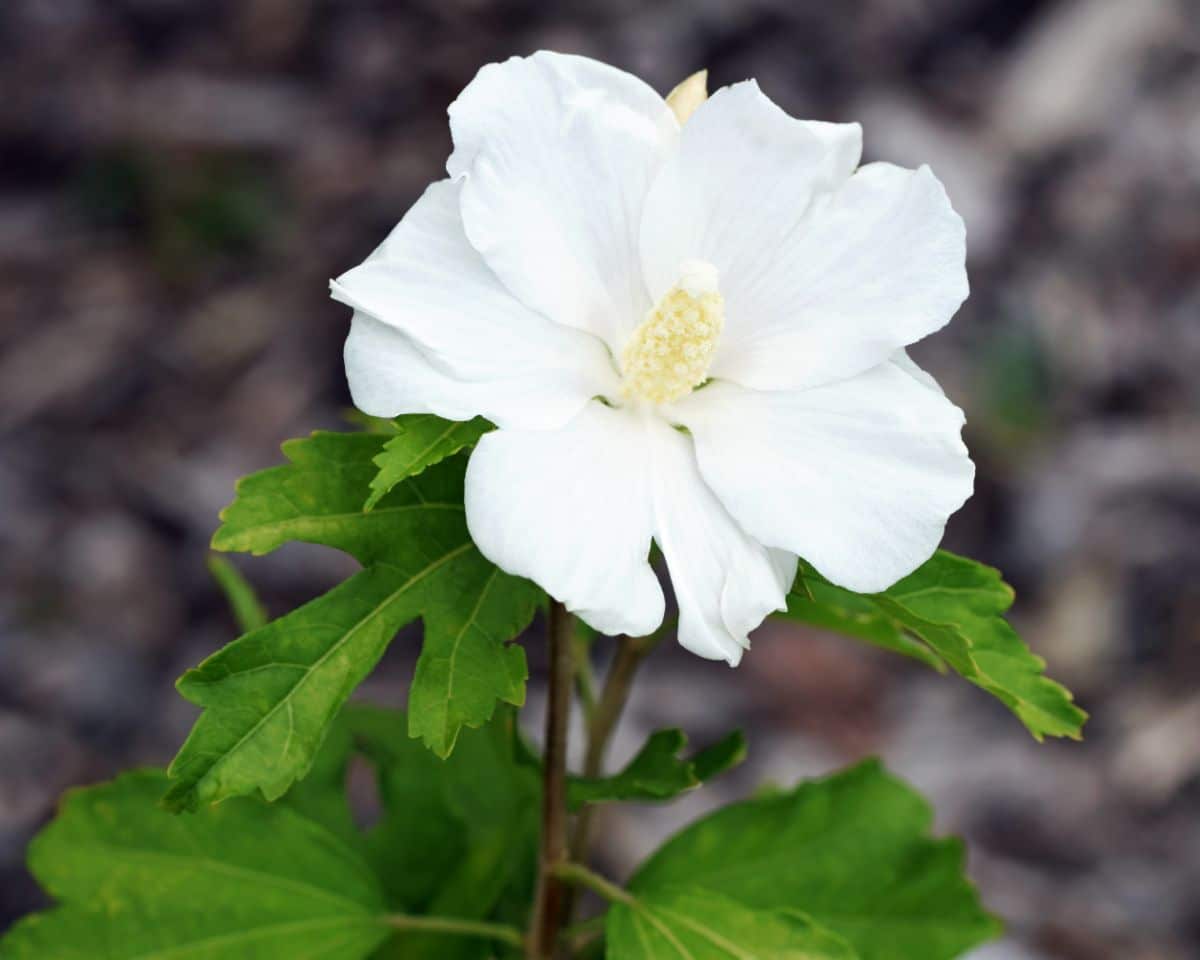 This plant gives an angelic white bloom all summer! The flowers are crisp white, and the foliage green.
The White Chiffons grow extremely large; their fluffy centers lighten up your gardens at night during summer.
As an added advantage, the fluffy centers of the plant see to the fact that it does not set too many seeds like they are known to do. This is why you will find the chiffon plant grows in a well-rounded manner with very soft stems.
They will require full sunlight and, if grown well, can have a garden height of more than 100 inches.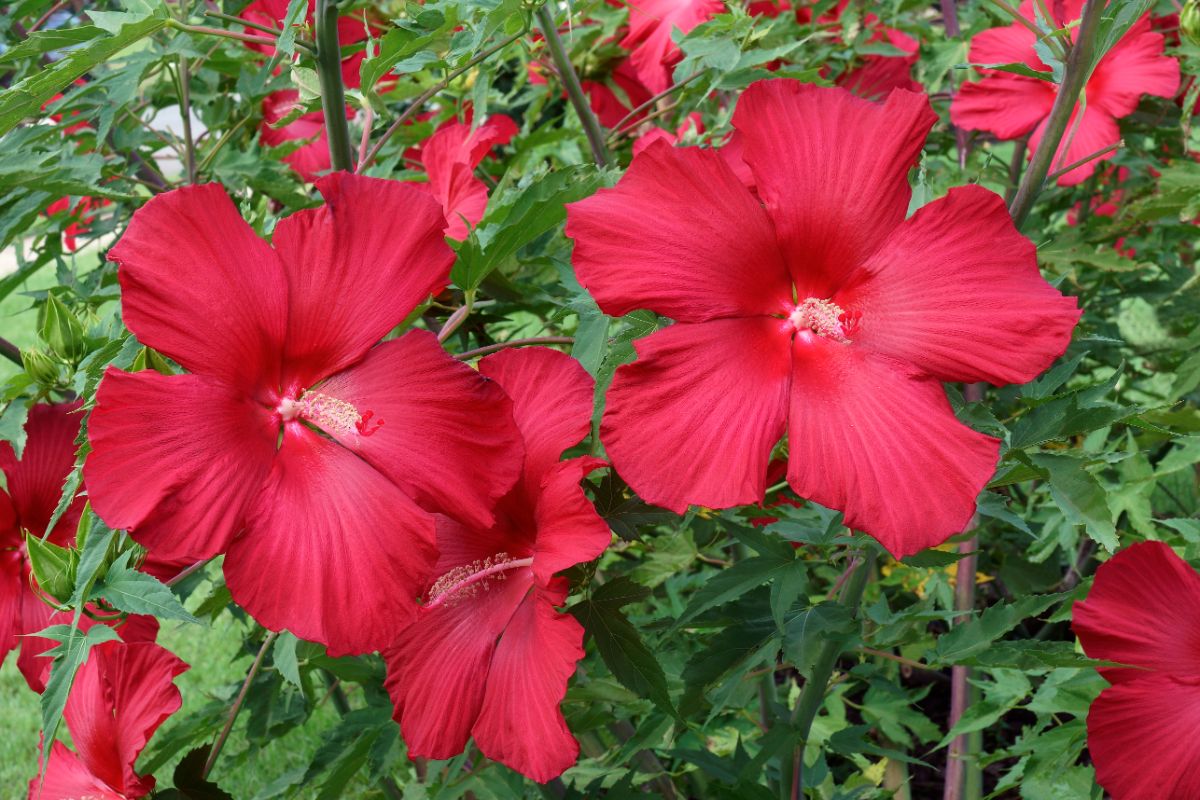 This Hybiscus plant dates back to the year 1955 when it was hybridized by Robert Darby, a renowned plant breeder.
The Lord Baltimore plant does not set seeds as it is sterile. It has green foliage with flowers slightly overlapping and some ruffled petals.
At maturity, they are expected to get as tall as 5ft and spread 3fts away.
It was named after Benedict Calvert, who was the 4th Baron of Baltimore at the time and Governor of Maryland in the United States.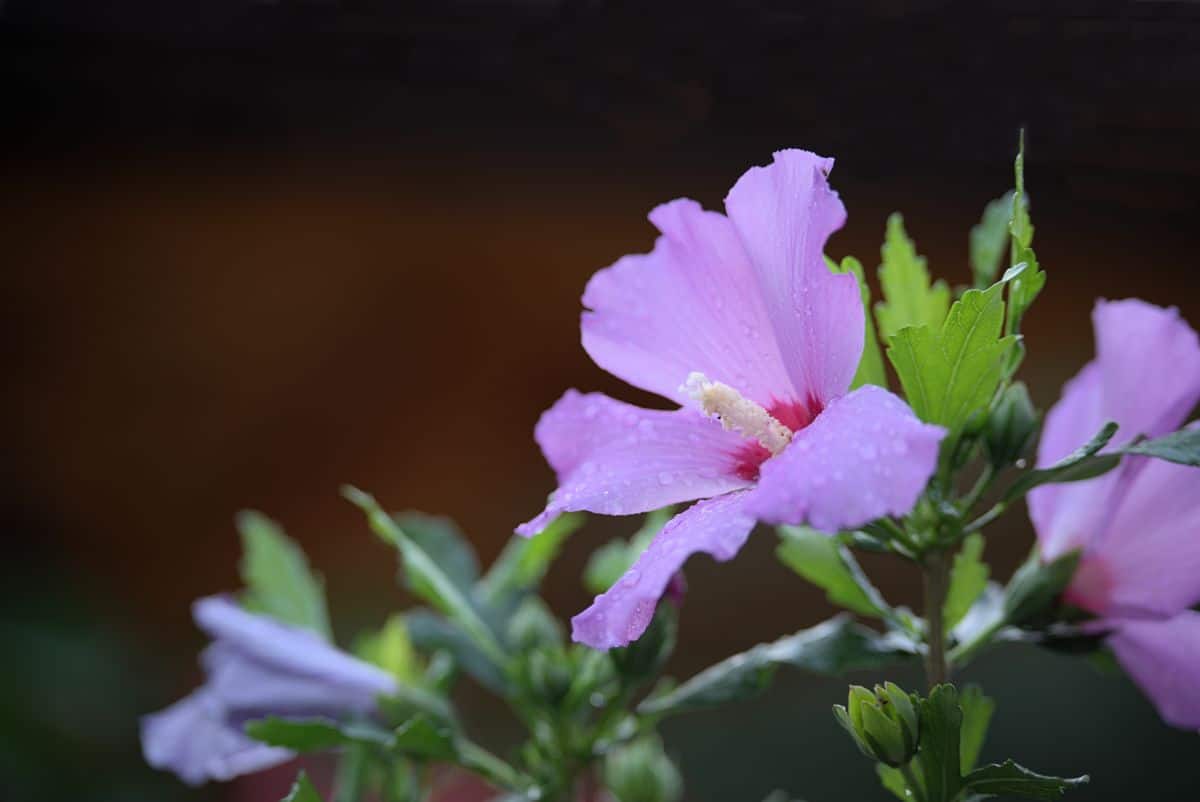 The Purple Pillar is not like any plant that you have seen before. This beautiful purple flower with green foliage has a lot of awards in its coffers, one of which is the 'Direct Gardenin' Association Award.'
It will do very well when planted under full sunlight and, here's the best here's apparently, the one feature that stands this plant out from the many others; it takes up very little space!
Now, I know we must have heard that in the analysis of other plants, but the Purple Pillar is different. The plant systematically grows in the pattern of a narrow column, unlike a wide one like most others.
This makes it take up little space as it grows, spreading just about 9m with 16 inches in height. The plant is an excellent choice if you are looking to beautify your small space.
8. Sugar Tip (Rose of Sharon)
With creamy white and bluish-green foliage plus fluffy pink flowers, the Sugar Tip plant is a show stopper anytime, any day.
It equally saves space and looks colorful in every season - from Summer to Spring and Fall. The bloom period lasts all summer long, and it has a garden height of about 60 - 72 inches.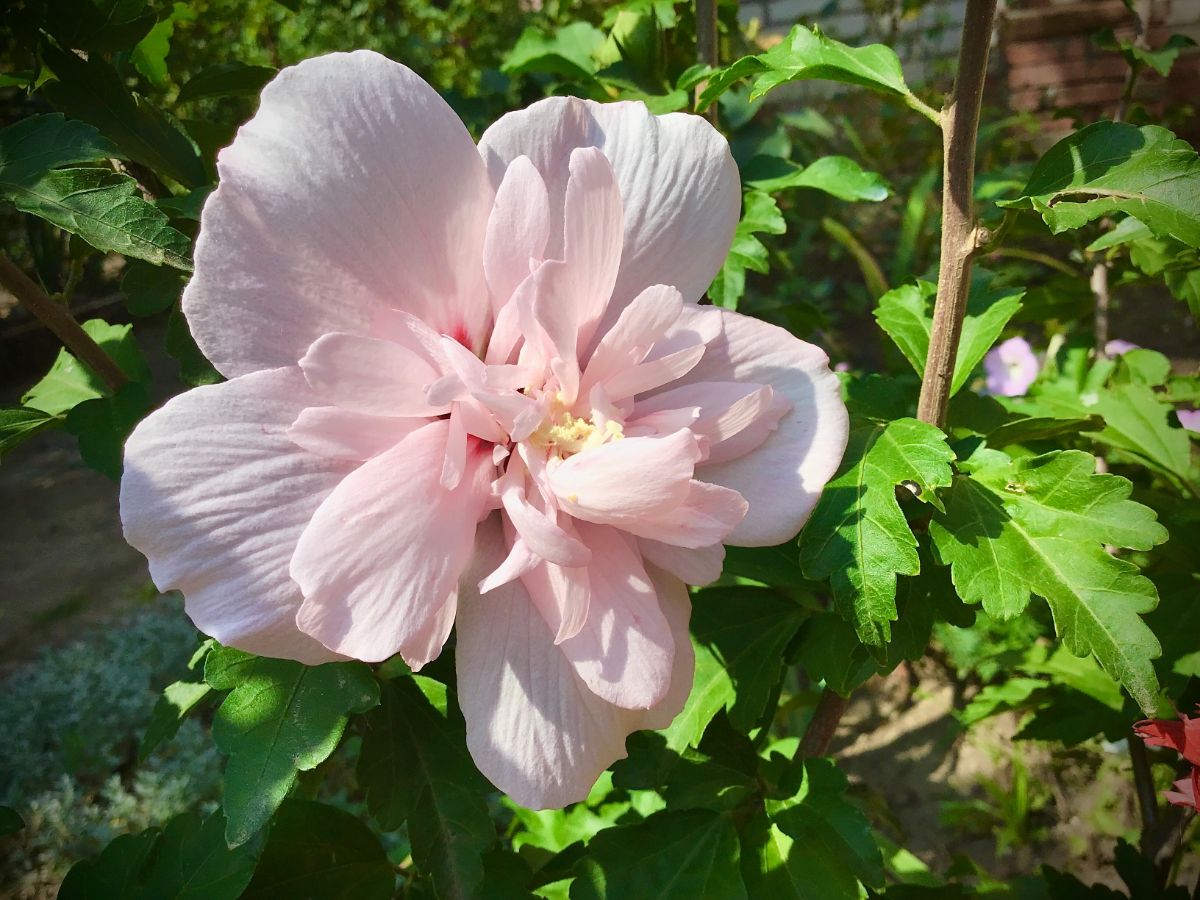 The Pink Chiffon has very similar qualities to other chiffon plant variants, but the difference lies in its vast and super soft flowers. When it blooms, your gardens get a burst of beautiful pink colors.
Like most perennial hibiscus plants, sunlight is a must for their growth, and they have the potential of a garden height of more than 100 inches.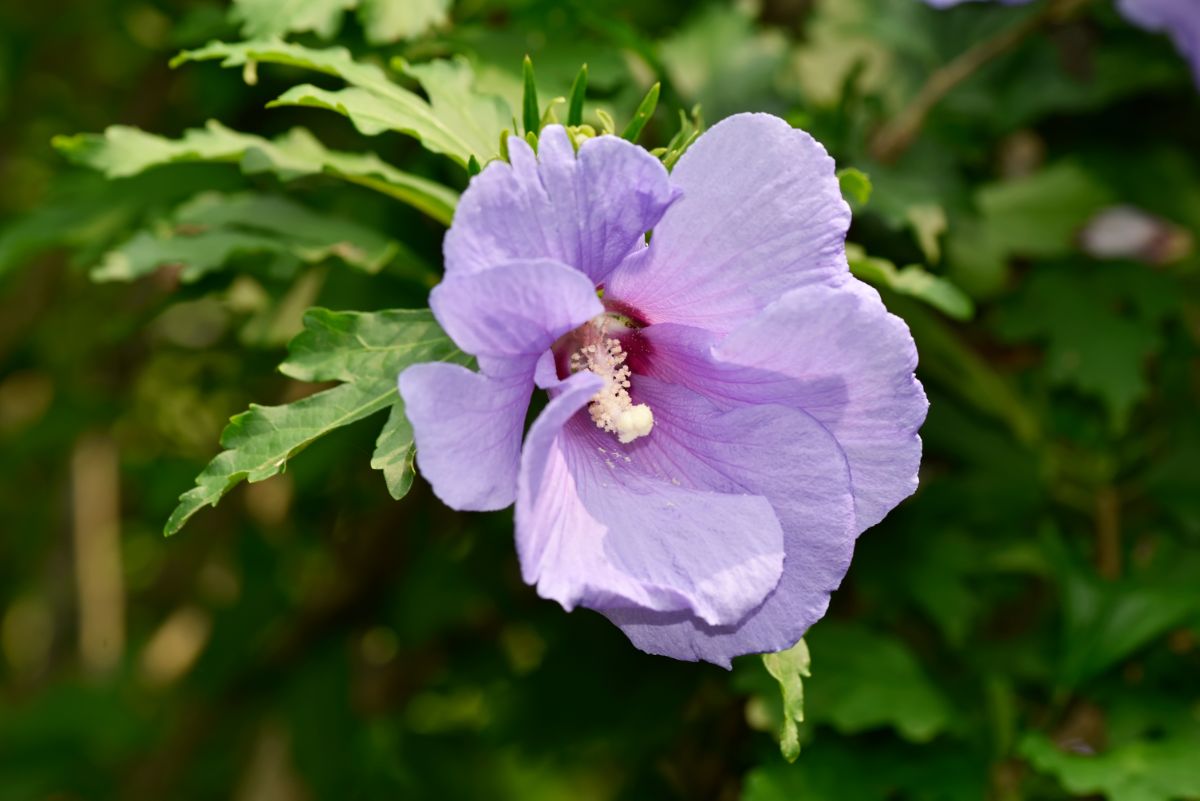 A blue-purple-colored flower with green foliage, this plant is one of the very few blue-colored Rose of Sharon plants that have got no seeds.
The plant blooms all summer long and does not require frequent pruning. Have them planted in a site where they can have ample sunlight as they grow.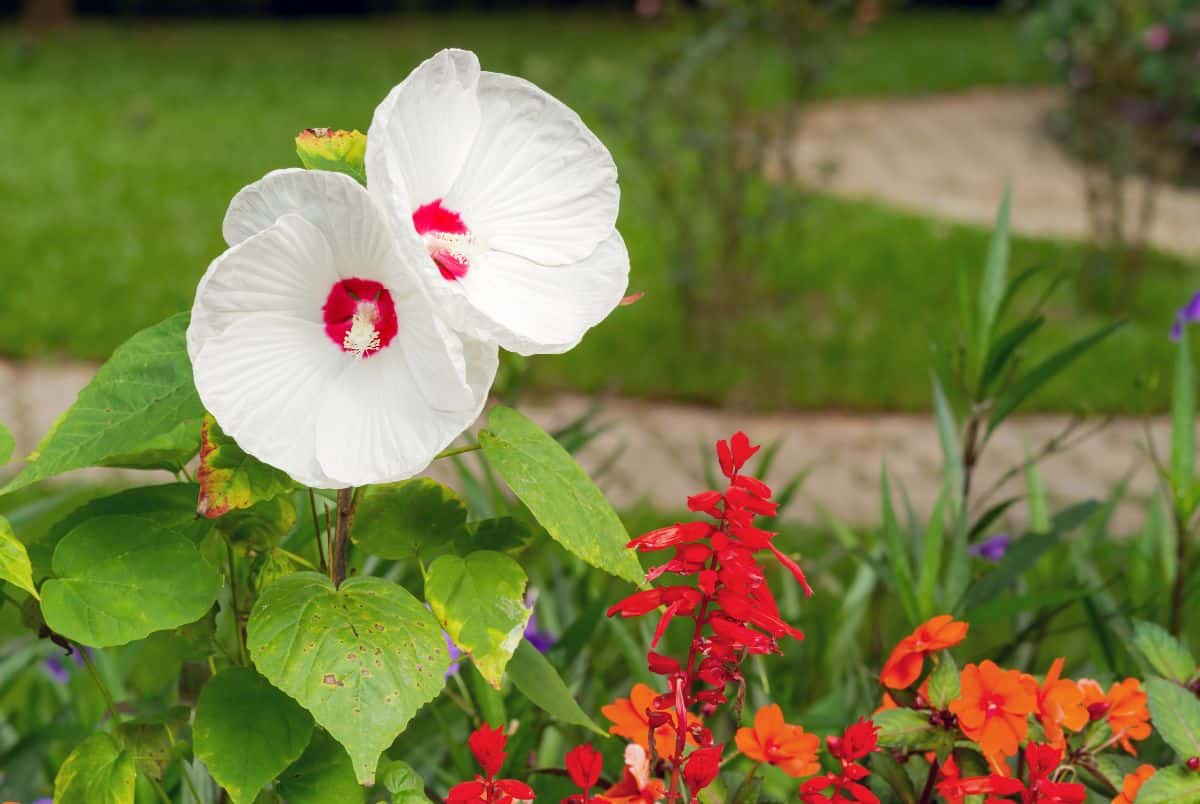 We begin the Luna series with this fantastic cream-colored plant with beautiful dark red eyes.
The Luna White is very easy to grow and stays hardy up to zone 5. Its bloom season comes at May end in which you will see it spread as wide as 2ft, growing as tall as 3ft.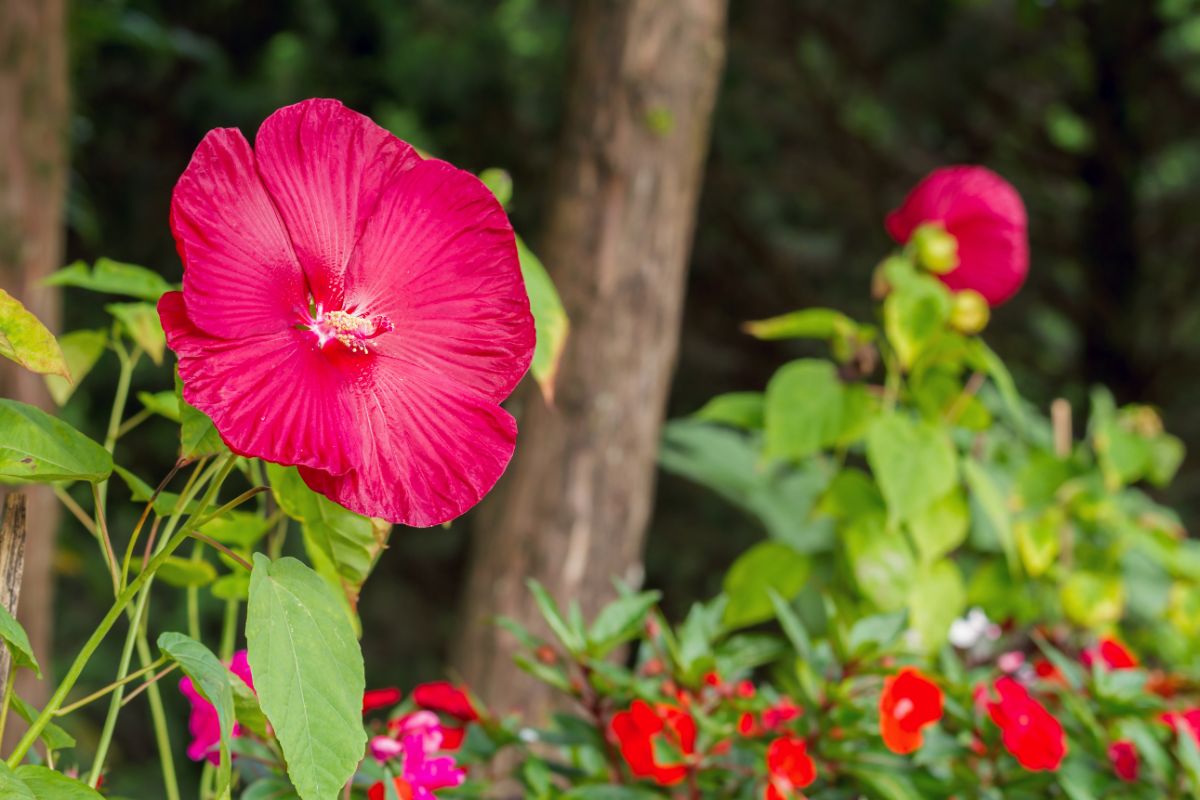 As the name suggests, it's a red affair with this plant. The Luna red flower is red with the tendency to grow 8 inches large and has lovely overlapping petals.
It prefers full sunlight and blooms from midsummer sustaining all through late Fall.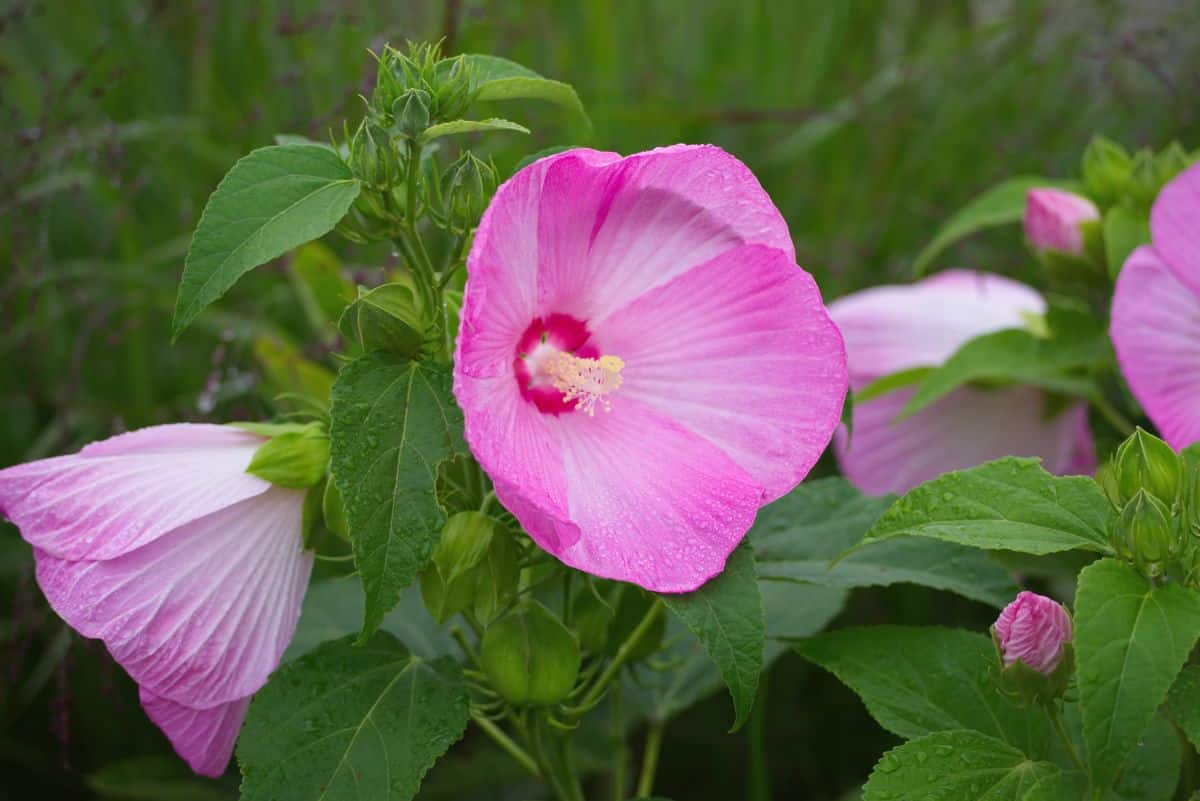 The way this plant transitions from light pink to cream-white in all 5 of its petals is one sight to behold. The plant was first developed by PanAmerican Seed.
At maturity, they can get as tall as 3ft and spread as wide as 2ft. This plant tends to self-seed, so to prevent that, the foliage is cut back after the bloom.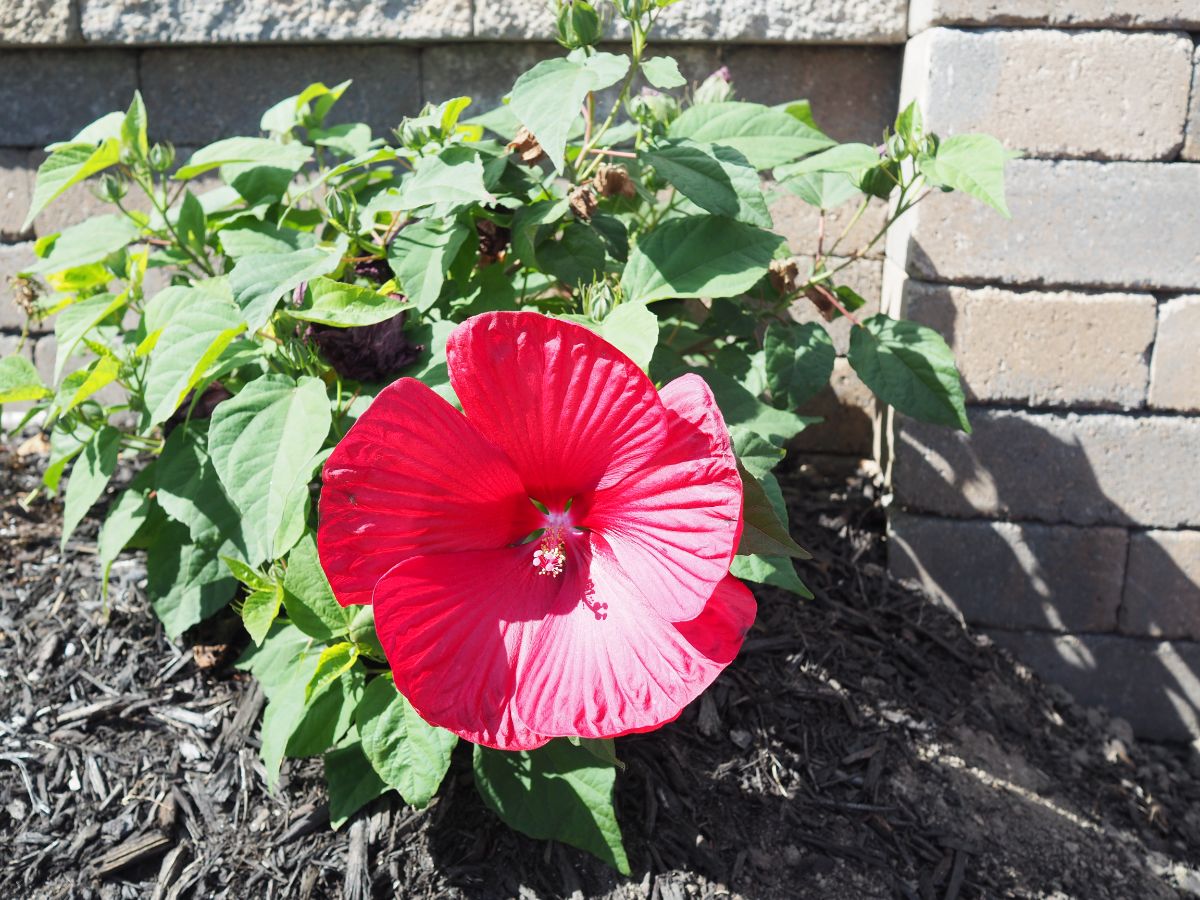 Developed by Kevin Hurd, a hybridizer at Walters Gardens. The Midnight Marvel is a red crossbreed plant between 'Cranberry Crush' and 'Summer St'rm'. '
The plant has dark purple foliage, which turns orange in Fall, and flowers with lovely textured petals.
Midnight Marvel grows bushy mounds that do not survive the winter season, so it is advised that you keep them protected with thick winter mulch during their early years of growth.
Pale pink with purple streaks and with deep purple foliage, the Starry Night flower is one that cannot be missed. Its bloom season occurs in mid-summer and sustains till the last frost.
Grow under full sun, and be sure to provide some winter mulch in frigid regions.
This semi-doubled, pale violet-blue flower with an enchanting lacy middle and reddish purple eye peering by the side is one plant your garden needs for a facelift.
The Chiffon series, and not just the blue chiffon alone, was bred by an English man named Roderick Woods. The blue chiffon has a round habit with the tendency to grow as tall as 12ft and spread up to 6ft wide.
With the way it beautifies the garden from midsummer up until the Fall season, it's really no surprise why it won the Garden Merit Award from RHS.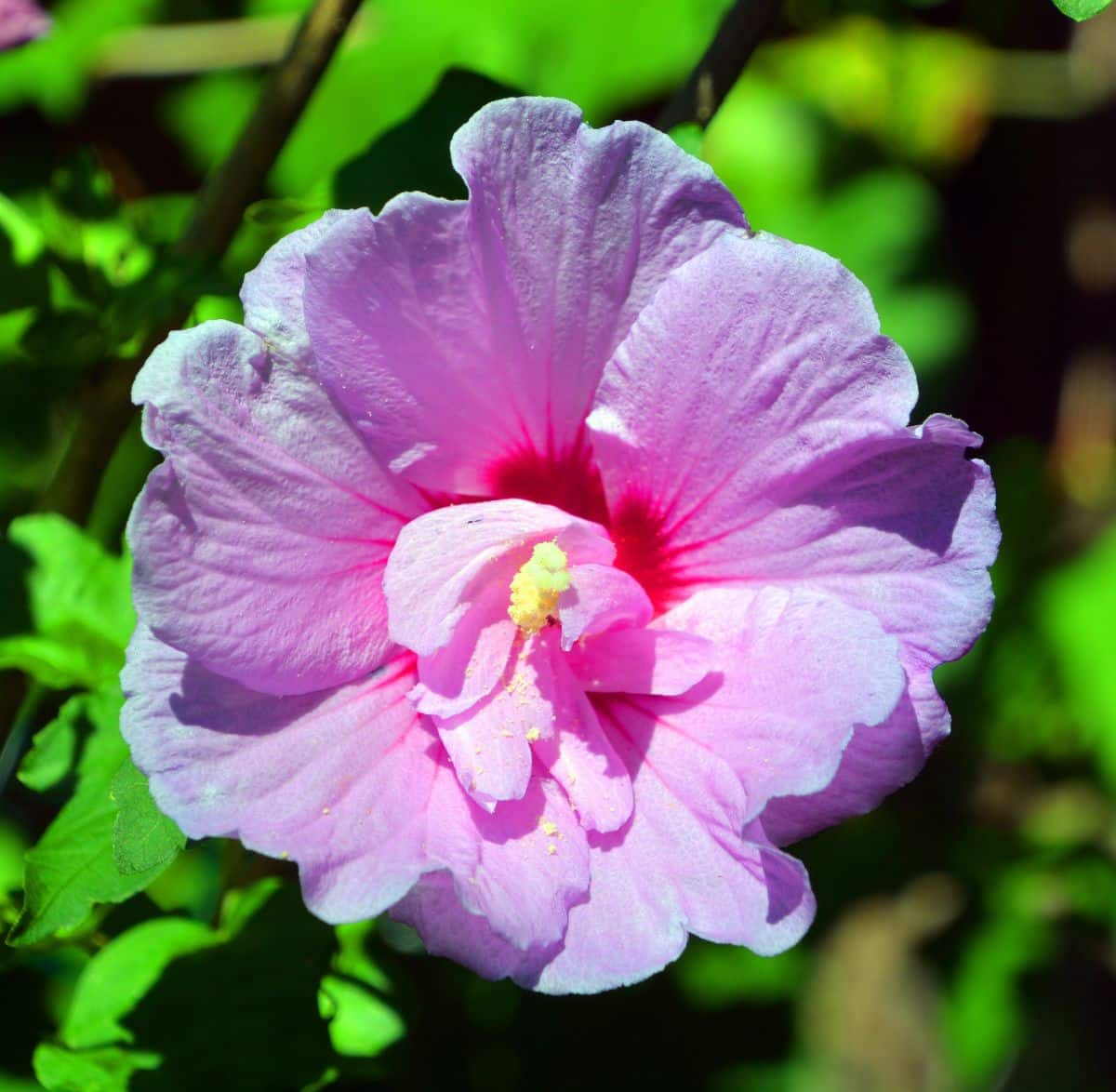 When it's summer, the Minerva produces plenty of lush flowers. Its bloom period is always a sight to behold.
The pink lavender has a sharp red eye that splashes color mildly unto its petals with an ivory stamen contrasting with the colors of the flower, making it a beautiful sight for sore eyes.
First introduced by the US National Arboretum, the Minerva needs full sun and well-drained soil to grow well. An added advantage is that you can save space by growing them in containers.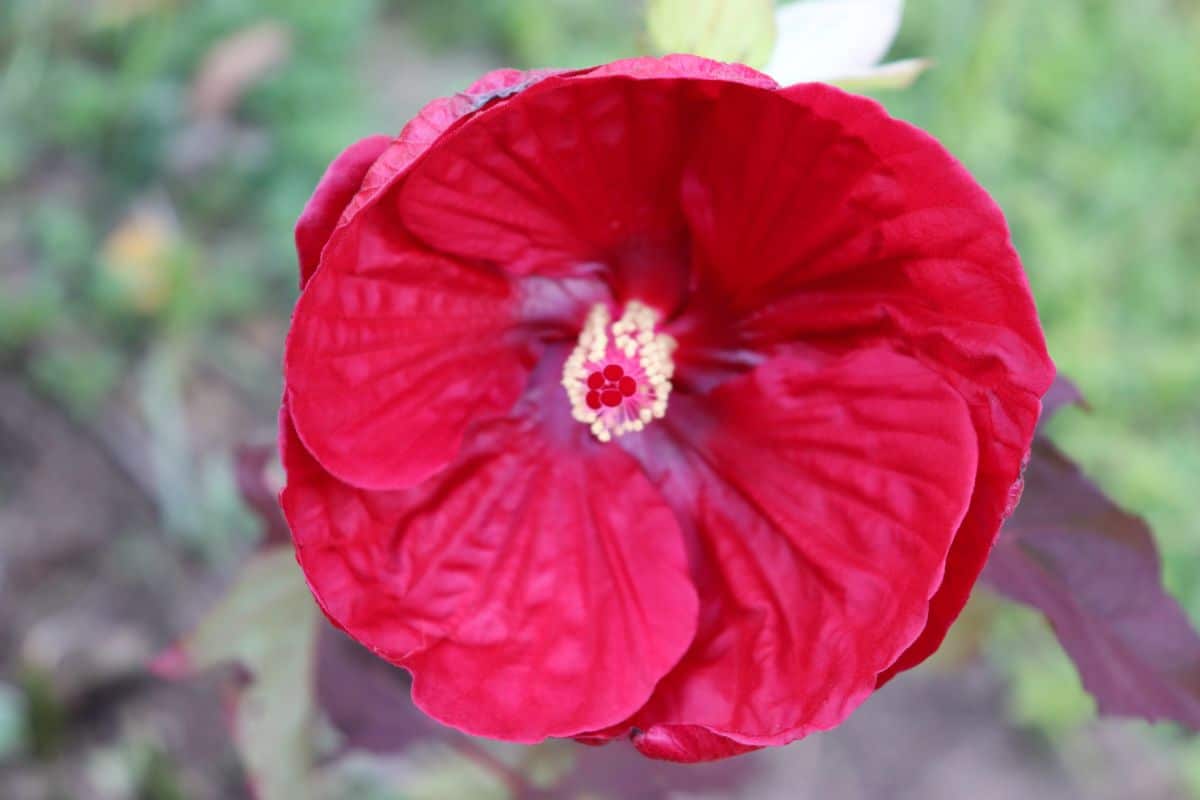 A deep green, heart-shaped foliage with nearly black flowers. As the vintage wine grows, it forms an upright stature, spreads up to five feet wide and grows as tall as 4ft when mature.
The vintage wine, according to Walter Garden breeders, is no doubt an upgrade on the Lord Baltimore series.
Nicknamed the 'goddess of love,' Aphrodite is one plant you cannot help but fall in love with. It has pink petals that sizzle as the breeze blows, with a blood-red eye in the middle.
The Aphrodite can get as tall as 10 feet and grow as wide as eight feet when they mature.
It is a hardy plant in every sense of it; it thrives in most soil types and can be pruned down to a comfortable size for you. Have it planted in full sun for its well-being.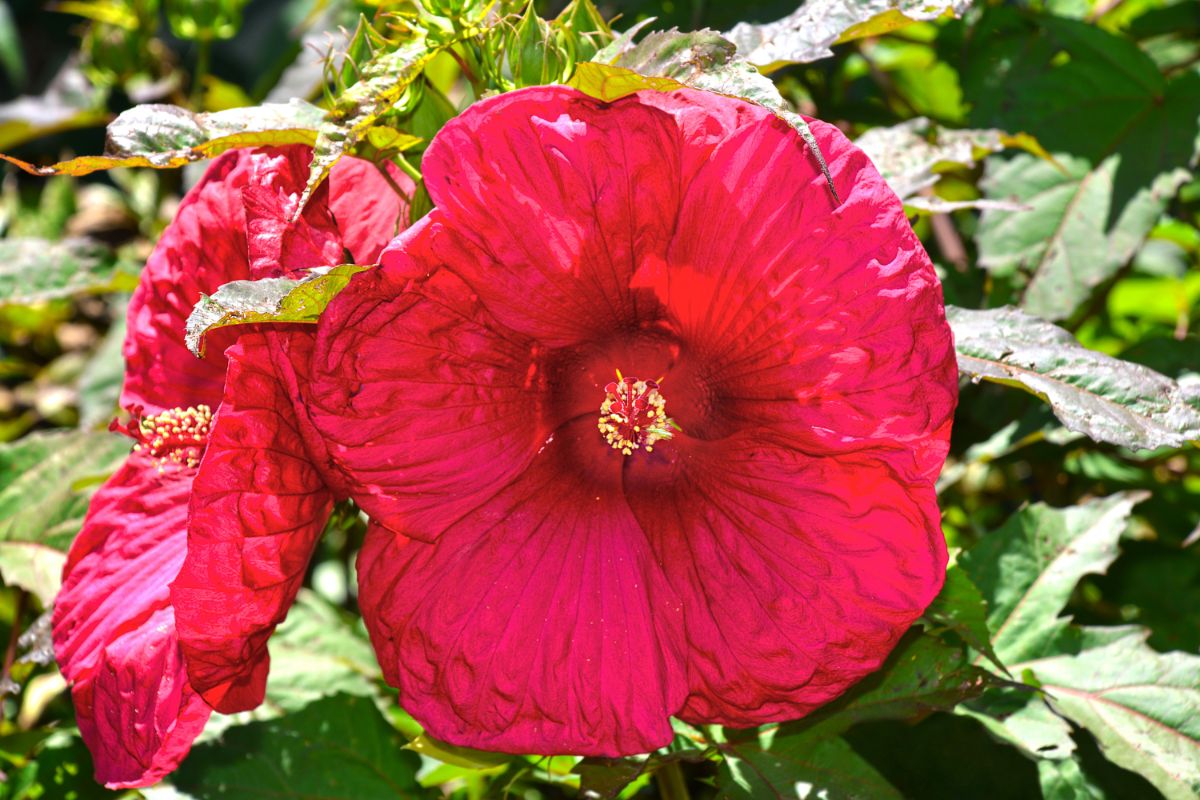 Another masterpiece from the stable of the Walter Gardens, Michigan. Mars madness is from the pack of the Summerific series.
It is colored Fuschia with a deep red halo at the center. Mars madness is quite a large plant and can grow up to 8 inches wide. As a result, it cannot be planted in containers as it takes up much space.
The bloom period kicks off in late July and sustains all the way to the first frost.
Having the plant pruned just before bloom season and exposing it to full sunlight is a step in the right direction. So, is your garden ready for some madness?
Lil Kim is known as the dwarf of all variants of the rose of Sharon plant.
It is really not called a dwarf or 'Lil Kim for nothing; the plant is just about half the size of the standard rose of Sharon.
It has bright white flowers with green foliage, and each of its stems is stacked with flower buds that showcase these flowers' evident red eye.
The plant requires ample sunlight to grow well, plus it has the capacity to attain a garden height of about 48inches.
This dwarf plant, called the Lil Kim, was first developed by a Korean doctor known as Kyung - Ku Shim. The rose of Sharon is very popular in Korea, so popular that it is seen as a treasured national flower.
Growing the Lil Kim, particularly, is advantageous as the plant takes up very little space.
How To Grow And Care For Perennial Hibiscus
As with every other plant, the perennial Hibiscus has its own peculiar way of being grown; plus, there are some care tips you must know about to sustain the plants year in and year out.
Planting Location Tips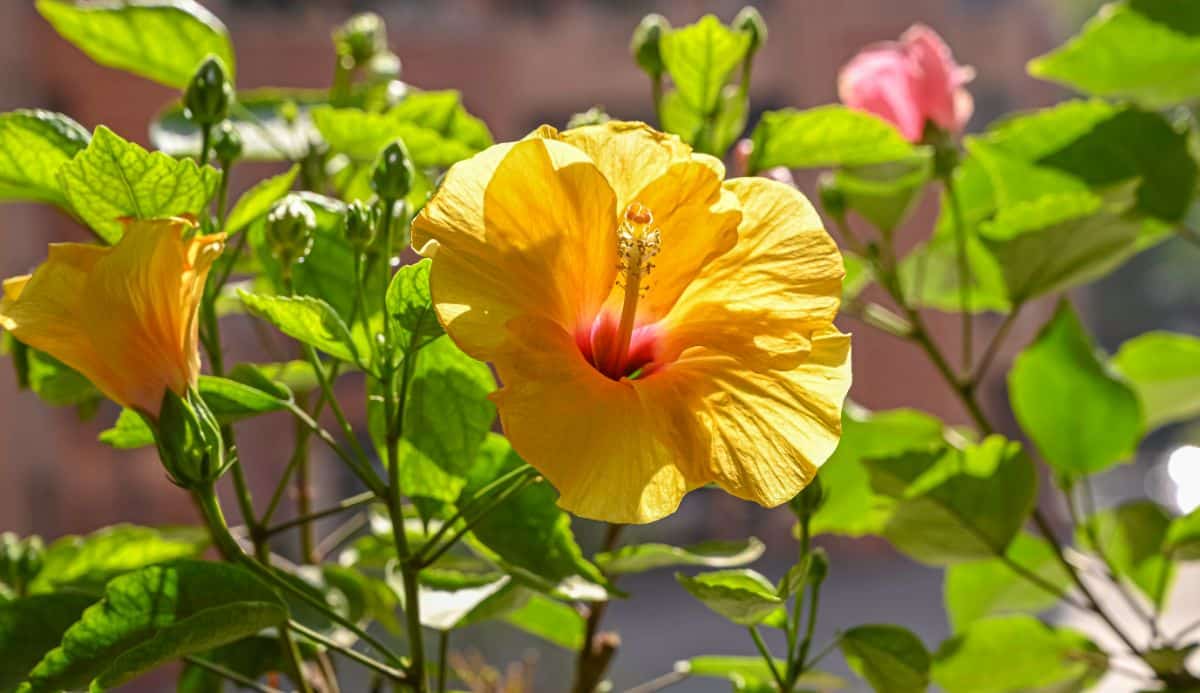 Generally, Hibiscus is not known to be a problematic plant. As long as you follow the right process, you should not have anything to worry about.
When planting the Hibiscus, put into consideration the fact that these are sun-loving plants. They require a great deal of sunlight in order to spring forth those beautiful, shiny and smooth flowers that we so love them for.
Therefore, a factor that into your planting spot decision process and makes the right choice.
For emphasis' sake, the right choice of a planting site would be one in which the plants can get 6 hours of sunlight daily, at the very minimum.
Soil Needs
Hibiscus really does not require any kind of special soil. Bring forth any well-drained soil, and you are good to go. Waterlogged soil is a starter pack for failure in your planting journey.
The reason is simple; We all know that the Hibiscus plant requires a great dose of water as it grows, but then the root requirements are the direct opposite; they cannot stand water, hence the need for well-drained soil for them.
Confused as to what kind of soil counts as a well-drained one? Sandy or loamy soil are safe choices for you.
Furthermore, your plant will do well if you feed the soil in which they are grown and the necessary nutrients they need to thrive, like; manure and compost.
Have the organic matter, i.e., manure and compost, mixed with the soil before planting, then water immediately. Not to worry, the soil would ensure it gets drained in record time. See that the plant is watered daily, especially in the early weeks.
One last thing though; as you plant, see to it that the soil covers the whole root ball for maximum effect.
Hibiscus Spacing Requirements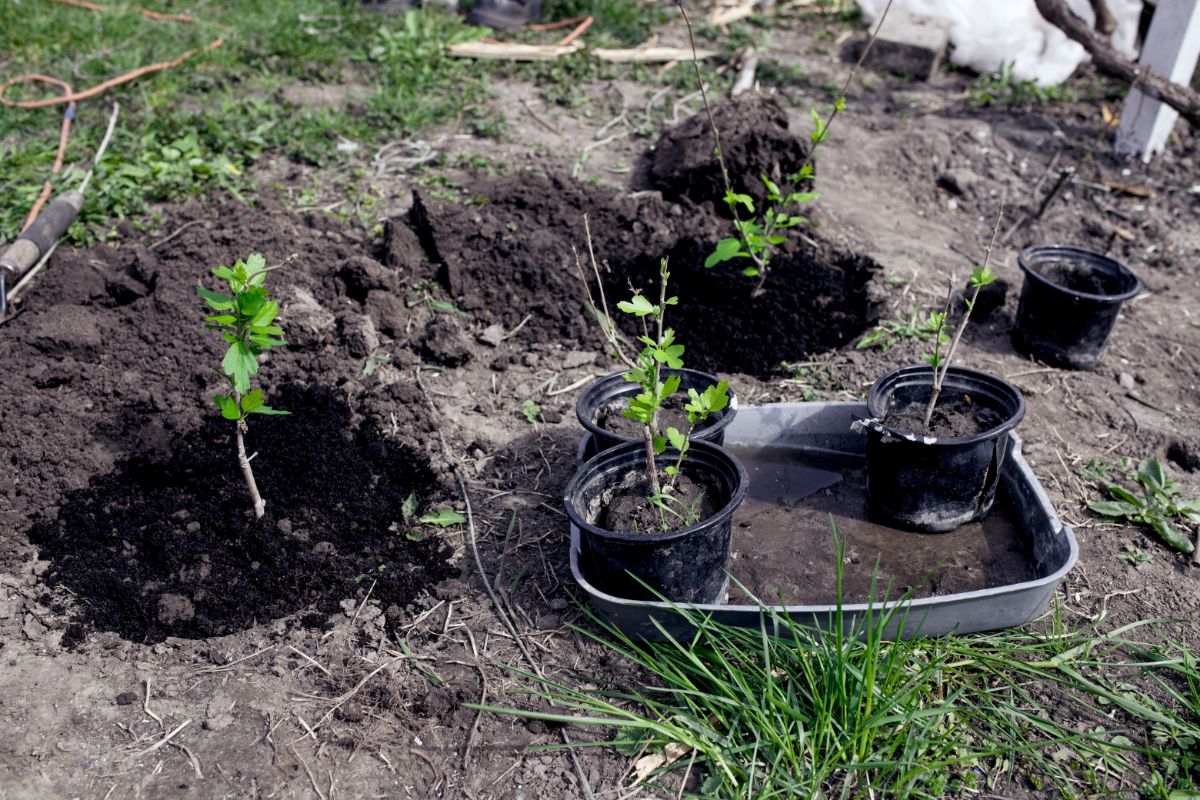 No mincing words here; the hibiscus plant requires ample space for growth.
Just in case you didn't know, the hibiscus shrubs have the potential of growing as tall as 8 feet high and many feet wide.
Therefore, you need a very spacious environment to carry out this project effectively.
Because of their tendency to spread wide, there is a need to have them planted at least 4 ft away from each other.
It is also advised that you plant Hibiscus close to a wall for Hibiscus plants that develop wood-like stems. You can equally place a stake to support those non-wood ones for proper balancing since they are prone to stay bent out of shape.
Moisture Needs
Hibiscus needs the most water in the early weeks and during their period of bloom. The risk of leaving your Hibiscus plants to dry out is very grave. You will experience a drop in its foliage and stiff-looking dead plants.
To prevent this, have it watered and, at the same time, see that the water drains out and does not sit in for long to avoid the root rotting.
Pruning The Plant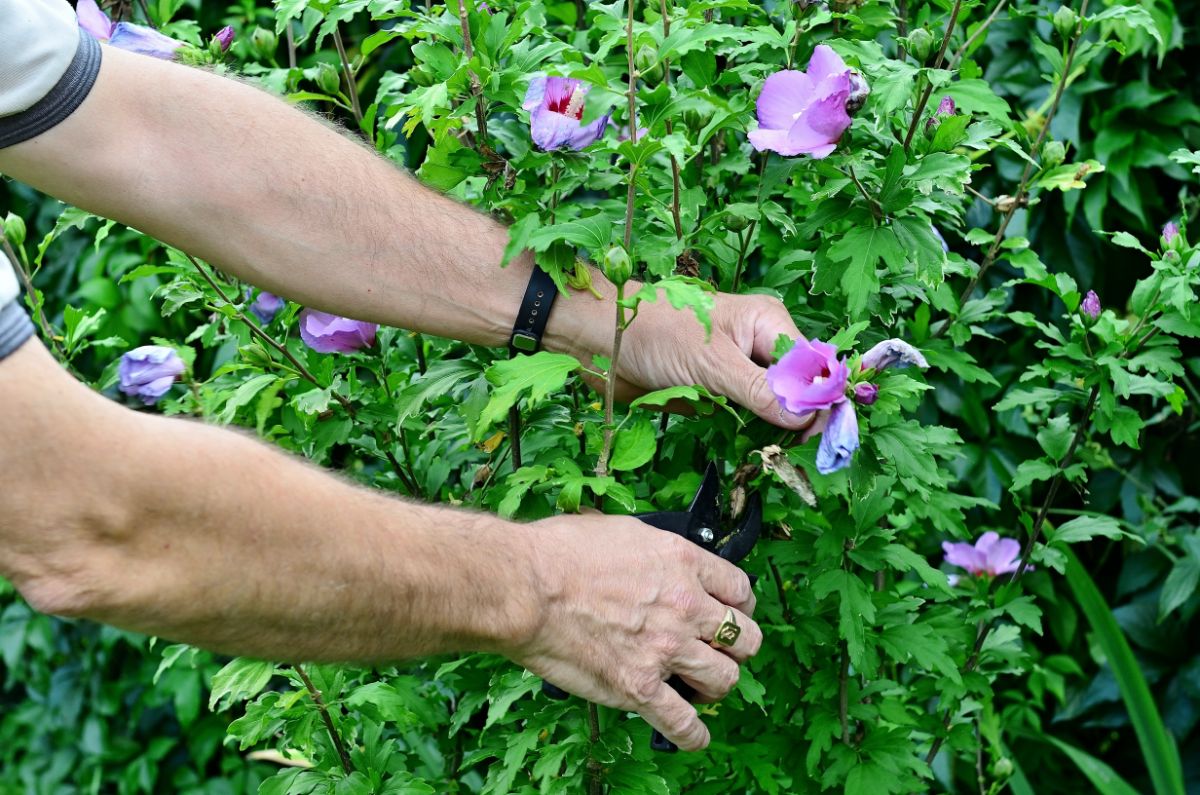 The benefits of pruning include more supple flower stalks and branching.
Pruning keeps your plants looking neat and tidy and also accelerates the rate at which the next bloom occurs.
For effective pruning, have the exercise done in early spring and cut down on the plant by one-third.
Fertilizer Needs
The application of fertilizer guarantees adequate nourishment for the plant. To this end, you are required to apply fertilizers at the base of the plant directly at least once a week or month, depending on the type of fertilizer you are using.
In summer, though, a potassium-dense fertilizer is advised, and in winter, a drastic reduction in the rate at which you water and fertilize the plant is expected.
A moderate fertilizer application is still the best as too much phosphorus can lead to the death of the plant, and too little application would see them nutrient starved.
Frequently Asked Questions
Do You Cut Back Perennial Hibiscus?
You should. Cutting back helps to eliminate dead stems and branches in order for more flowers to emerge.
The best way to do this is by cutting back down about 6 inches from the ground, preferably around late winter or early spring.
Where Should I Plant Perennial Hibiscus?
Most Perennial Hibiscuses fare better under full sun and part shade conditions. You should have them planted in a site where at least 6hours of sunlight would be guaranteed. You should also have them planted close to a fence for the necessary support.
What Hibiscus Can Survive Winter?
Hardy ones, most definitely. Completely hardy ones are found in USDA zone 5 - 9. These set of Hibiscus can scale through temperatures as low as 20°F
Conclusion
Looking for flowers to electrify your landscape or make your gardens come alive? Perennial Hibiscus is your best bet.
You can be assured of some luscious, colorful flowers as long as you employ the simple care tips and techniques above.