If you are looking for a plant that will add color to your indoor space, you can trust philodendron squamiferum to offer you even more than that. Also known as hairy Philodendron, this unique plant is a reasonably rare species from the philodendron family and is easy to care for.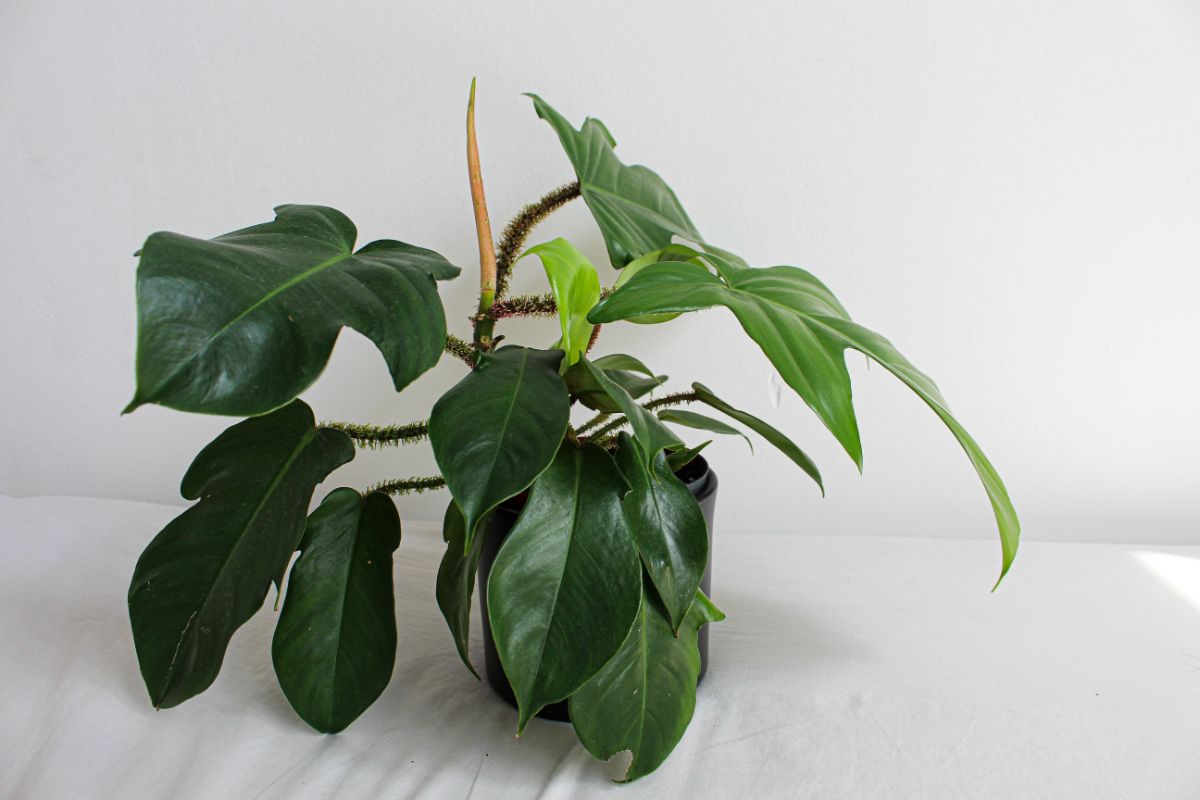 Thanks to its stunning foliage, it has become a popular option among gardeners as a houseplant. However, suppose you want the plant to produce an optimal result.
In that case, you must provide the best growing condition possible, including well-draining good quality potting compost, fertilizing once every month, and keeping it at room temperature. Back to that later.
Jump to:
Essential Facts About Philodendron Squamiferum
| | |
| --- | --- |
| Common Names | Hairy Philodendron, Red Bristle Philodendron |
| Scientific Name | Philodendron squamiferum |
| Family | Araceae |
| Plant Type | Aroid Epiphyte |
| Mature Size | 15 to 20 feet tall |
| Sun Exposure | Partial shade; Bright, indirect light |
| Soil Type | Coarser, lighter, well-drained, rich in organic matter |
| Soil pH | Moderate to Slightly acidic (5.6 to 6.5) |
| Bloom Time | Every May to July, once a year |
| Flower Color | Nil |
| Hardiness Zones | 9 to 11 |
| Native Area | Rainforests of French Guiana, Suriname, and Brazil |
| Toxicity | Very toxic to both humans and pets |
Also known as Hairy Philodendron, the philodendron squamiferum is a perennial plant famous for its thick and leathery foliage. Native to French Guiana, Suriname, and northern Brazil, the plant will thrive in high-humidity conditions. It will also do best in bright indirect light.
The squamiferum is a unique perennial that resembles species like Philodendron bipennifolium, Philodendron pedatum, and its relative Monstera deliciosa. This plant has a unique feature, including stems covered in fuzzy red hair, botanically called pubescence. It is most notably called Hairy Philodendron.
Last update on 2023-03-21 / Affiliate links / Images from Amazon Product Advertising API
The Philodendron squamiferum is more than just an indoor plant; you can grow it outside in some climates. It is hardy in USDA zones 9 to 11.
In its native habitat, there is no restriction to how tall the plant can grow, and it germinates upward to extremely high trees. Its leaves are petiole terete and ruddy, reaching 10 to 15cm long, 3 to 4mm thick, etc.
What Is So Unique About Philodendron Squamiferum?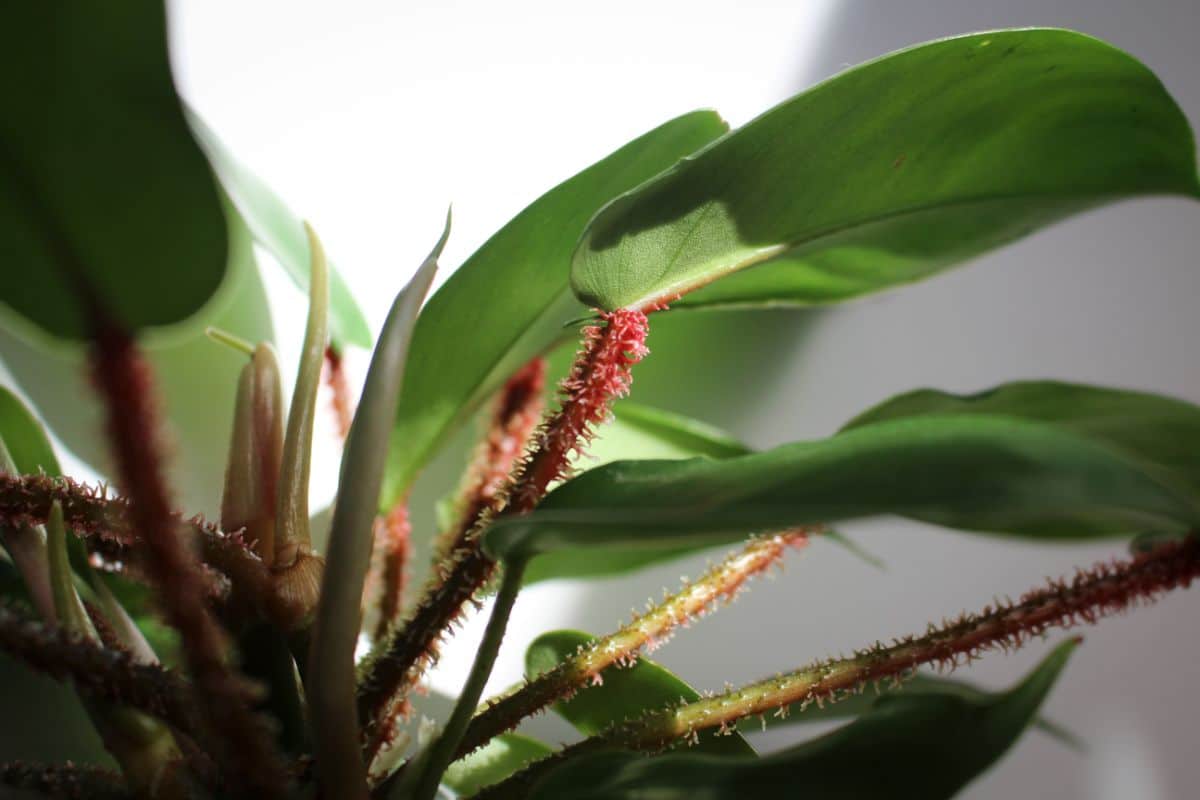 Many enticing features come with Philodendron squamiferum. Still, their most unique feature is fuzzy hair covered in red stems, otherwise scientifically known as pubescence.
Both the leaves and stalks are eye-catching, making them famous and the favorite among many gardeners or enthusiasts.
Philodendron Squamiferum Grow and Care Guide
Light Needs
The philodendron squamiferum is a tropical plant that grows naturally under trees in its native habitat. Hence, if they must thrive indoors, you must imitate its jungle conditions by growing them in a spot that attracts bright but indirect light.
In other words, you must ensure they stay out of direct sunlight, especially in summer when the sun is strongest. The squamiferum can tolerate some medium light; hence, it will do well in the same spot throughout the year.
Soil Needs
Given that the philodendron squamiferum is epiphytic, it hates tight soil mix. So, its roots need good aeration to grow, requiring a light and porous potting mix. In other words, the best soil for this plant is a mix of coco coir, sphagnum moss, well-draining potting soil, and some orchid or pine bark.
It is a combination that will enhance a fast-draining mixture with enough air around the roots. Adding some perlite/vermiculite or gravel can enable more soil drainage.
Sphagnum moss and coco coir best retain moisture, while you can enhance water drainage from the pot with perlite and gravel. Therefore, mix these soils using regular potting soil to ensure the soil mix is light and airy.
Watering Conditions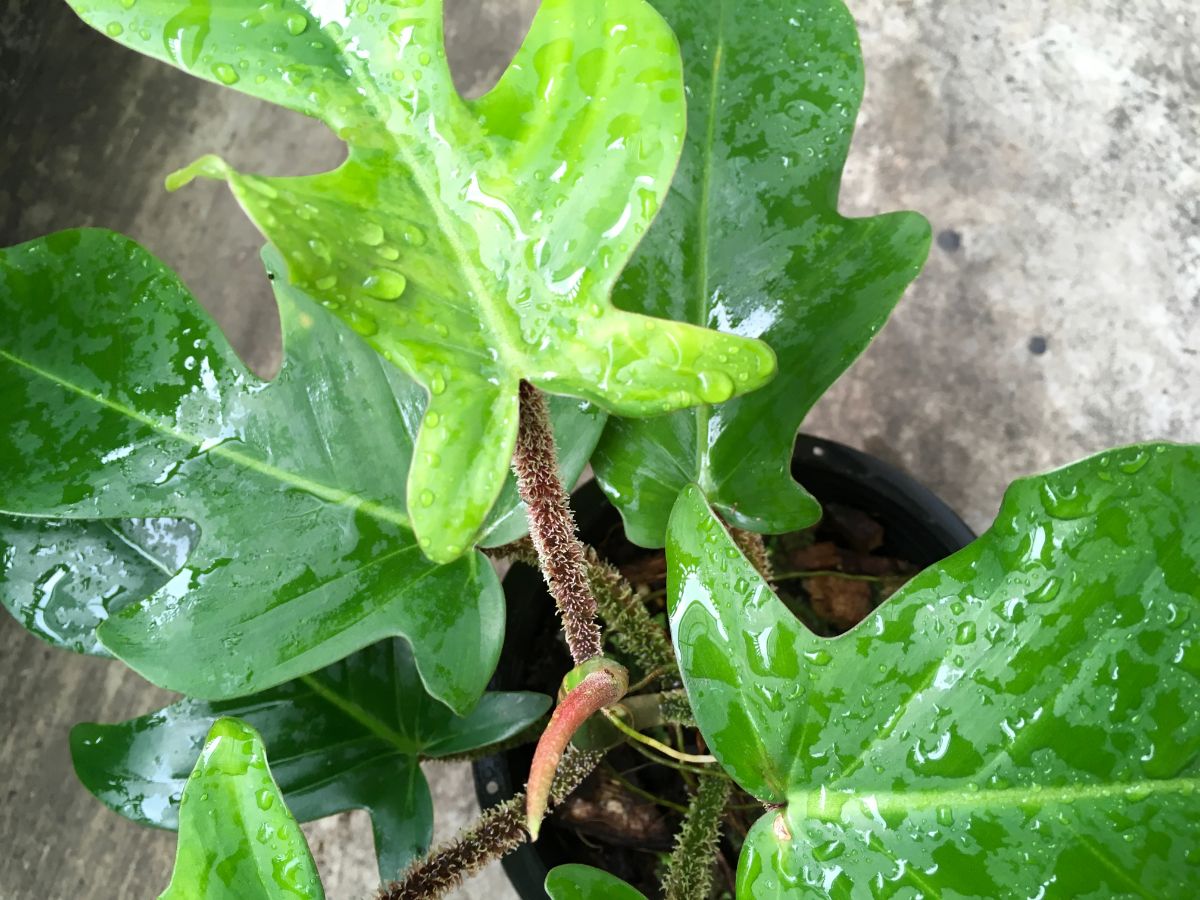 Philodendron squamiferum needs watering at least once per week on hot days during the summer. However, in colder periods during winter, you can reduce this routine to once every 12 days.
This watering schedule tells you a lot about this plant's low watering needs and its susceptibility to overwatering. Hence, it is best to keep moisture level in control.
Again, when watering the squamiferum, you must wait for the first few inches of the soil to dry to ensure that it doesn't retain excess water in the ground. So, you must avoid stagnant water by providing enough drainage holes in the pot to help prevent root rot.
Temperature/Humidity Needs
If you want your philodendron squamiferum to do well, you must provide it with the suitable temperature it needs to thrive. It requires a temperature within 70 to 80 degrees Fahrenheit (21 to 26 degrees Celsius).
It would be best to prevent it from experiencing temperature droughts and ensure it is as far as possible from heat vents. In terms of humidity requirements, Philodendron does best in moderate to high humidity to ensure proper growth. Ensure you keep the humidity levels at around 40% to 90%.
Fertilizing Needs
The best way to feed this plant is by diluting a Philodendron squamiferum fertilizer to half with water and applying it to your plant once per month or as required.
Don't overfeed because it could damage the plant and result in immediate death. Again, ensure you feed them only in the growing season and cease fertilizing once winter approaches.
Most philodendrons do well when you apply with an equal fertilizer ratio of nitrogen, phosphorus, and potassium (NPK). Ensure you inspect its label for accurate information.
With time, there will be a high level of fertilizer salt in the soil of the container philodendron. You can reach them out at this point by constantly draining water on the soil. Ensure it is done repeatedly for a week.
Pruning Needs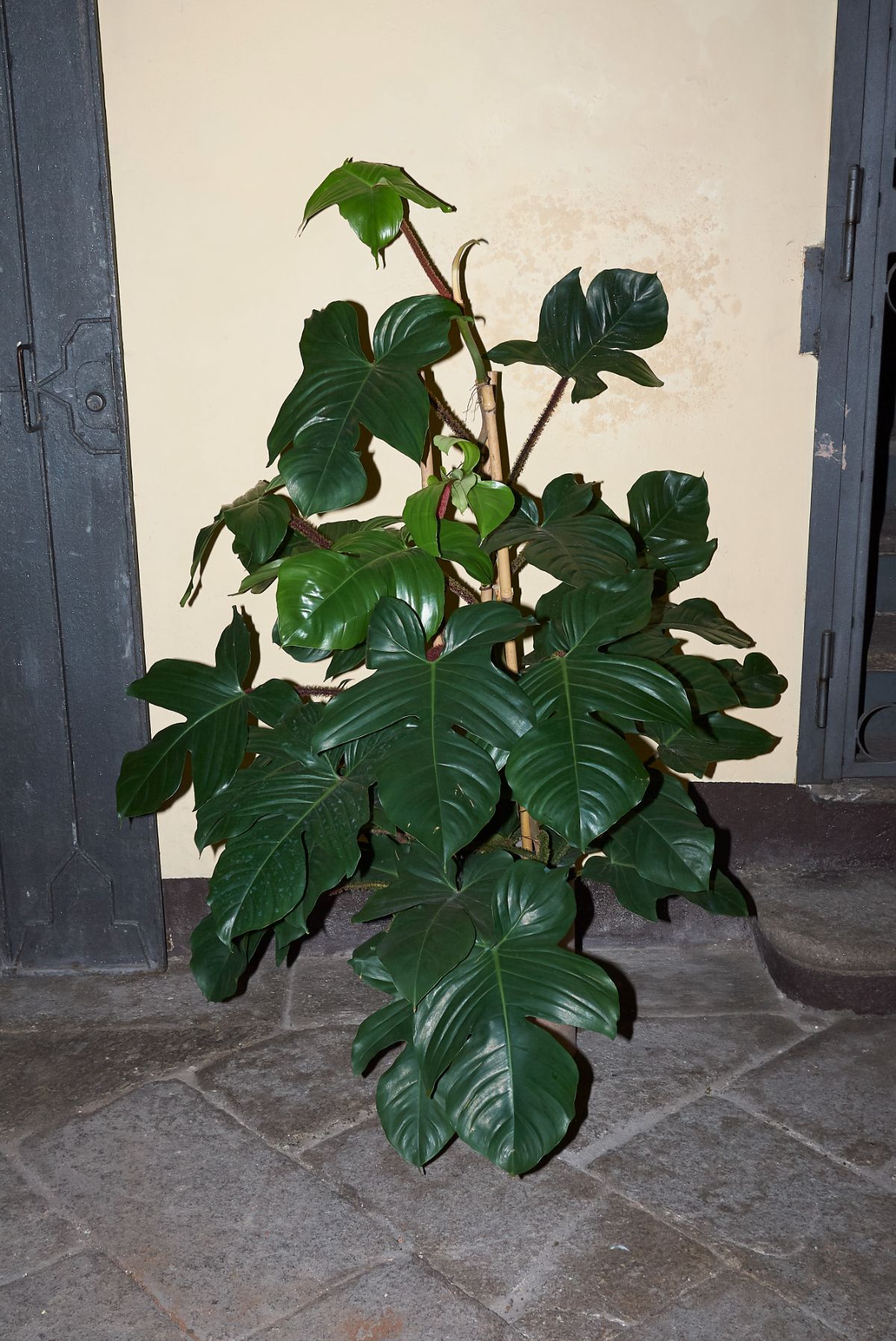 Most gardeners trim and prune to improve a plant's beauty; however, several benefits can be derived when you do both regularly. Keeping your philodendron squamiferum clean and dry will prevent unwanted microbial growth and possible pest attacks.
Again, by misting and then wiping down each leaf, you'll be doing a better job of keeping germs and dust at bay. Eliminate dead leaves and take care of excessive growth because if your philodendron squamiferum becomes very tall, it will not be easy to groom.
Potting & Repotting
A time will likely come when your philodendron squamiferum will outgrow its pot. There are sure signs that will tell you when to report, such as when there's a lack of new growth, the plant dries out too fast if you water it, and more. All these are signs that your plant is getting root bound.
When this happens, move the plant into a large new pot. The best thing is to get the next size up and report during the spring and summer months, and if you're someone that sticks to detail, you can try it in the evening.
Water the plant regularly and allow it to adjust to its new pot for a few days before you place it on a routine maintenance schedule.
Common Philodendron Squamiferum Varieties
Apart from philodendron squamiferum, other species and varieties have similar looks and features. However, even though they are of the same genus or family, there must be one or two things that make each of them stand out.
Monstera Deliciosa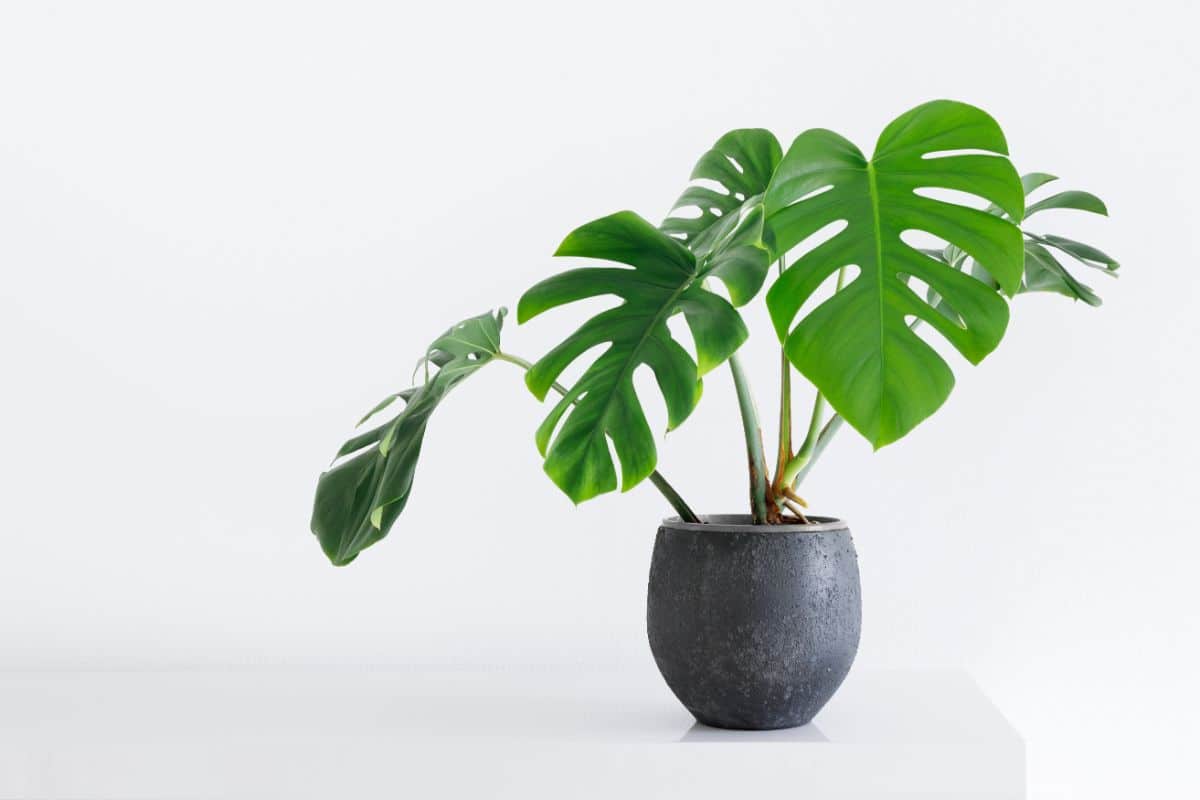 It is generally seen as the monster of them all and is a giant plant standing at a staggering 15 feet tall indoors and 20 to 25 feet as an outdoor plant. Even though it is commonly known as Split-leaf Phildodendron, the monstera deliciosa is not mainly from the philodendron family.
It has similar fenestration as the squamiferum but with just over five splits when fully established. It has an almost identical appearance to its siblings, including Monstera borsigiana, Monstera that constellation, and Rhaphidophora tetrasperma species. However, there are one or two differences between them all.
Philodendron pedatum
It is a parent specie of the hybrid philodendron Florida ghost. In other words, the squamiferum is like the mother plant, while pedatum is the father of the Florida ghost that is the favorite of many gardeners and plant enthusiasts.
With a more careful watch, you will discover that they feature similar oak-shaped leaves with the same five lobes. Like other alpha male qualities, the largest leaves ego title is associated with the pedatum when they are fully established.
Philodendron Florida Ghost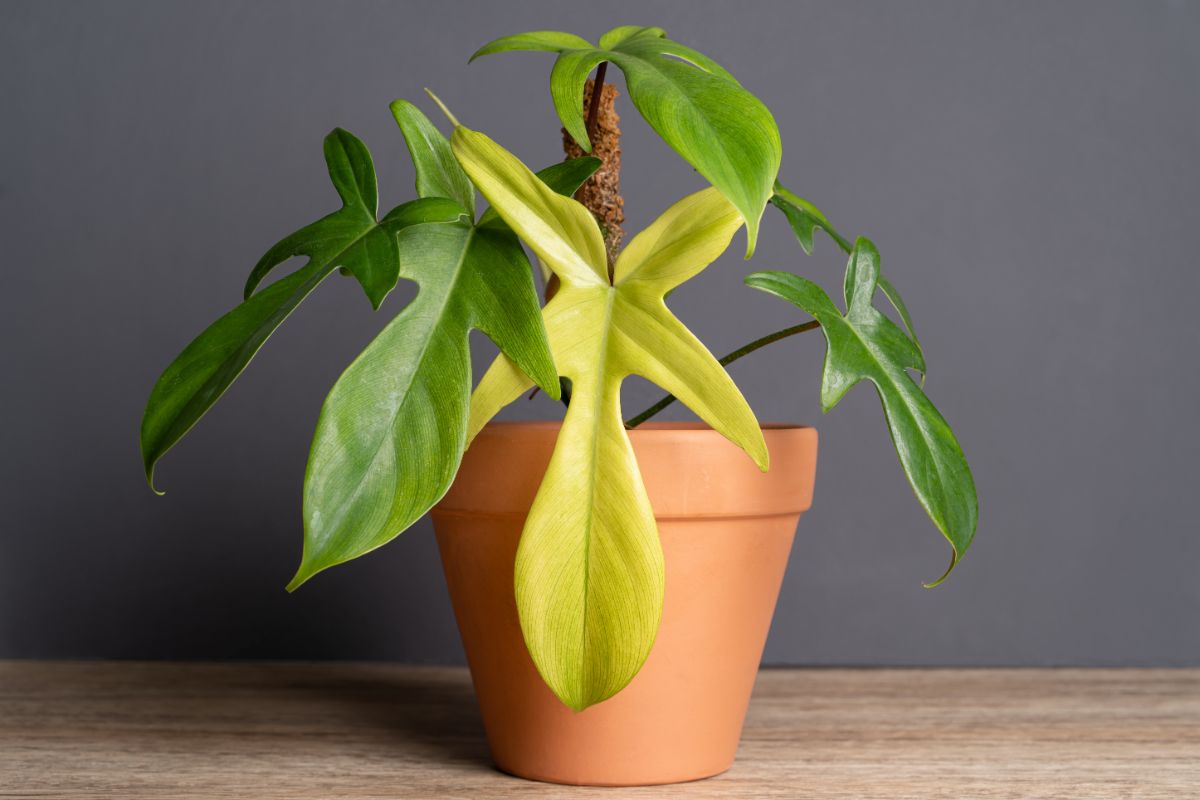 It is generally considered the princess of every oak-shaped Philodendron. The Florida Ghost is a beautiful and evergreen philodendron species that results from the squamiferum and pedatum.
Propagation of Philodendron Squamiferum
It is easy to propagate the philodendron squamiferum, and it requires two methods of propagation: stem cuttings and air layering. The following are the various steps for reproducing this unique plant;
Stem cuttings Method:
The best time for stem-cutting propagation of philodendron squamiferum is during the warmer periods of the year.
1. The first action is to sterilize your shears. Then, use it to cut a 5-6 inches long stem from just below a leaf node, leaving just two or three leaves at the top and eliminating the leaves underneath.
2. To carry out the water propagation, fill a glass of water and place the cutting inside. Replace the water every three to four days and position the mirror in a well-lit space. It will take about two to three weeks for the cutting to start growing roots, and immediately after the seeds have sprouted, you can grow the cutting in the potting mix.
3. Following the soil propagation method, put the stem cutting directly into the potting mix and water thoroughly as required. Once the roots are emerging, move the plant to a larger pot and continue to feed them appropriately.
Air-Layering Method:
Air-layering is another easy method of propagating the philodendron squamiferum. You can do this if you want the roots to develop while the cutting is still attached to the mother plant.
1. Find a node and wrap some sphagnum moss around it.
2. Place a plastic bag around to maintain the moistness of the moss, and you'll see the roots developing in a few days.
3. Immediately the seeds are up to two inches long, remove the cutting and move it to a new pot.
Is philodendron squamiferum Toxic?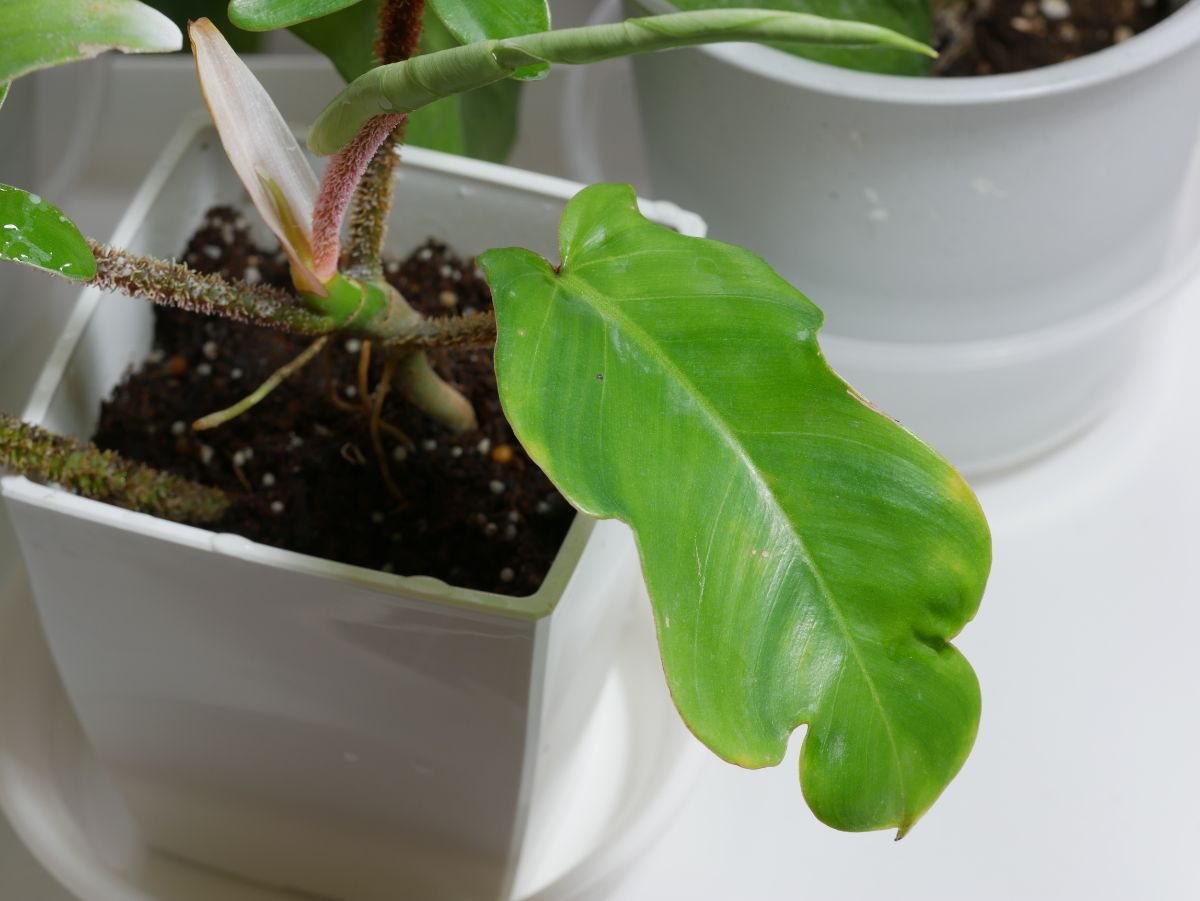 Philodendron squamiferum is very toxic to humans and pets. It is a common phenomenon with almost every philodendron specie.
It has a high amount of calcium oxalates that could cause severe health issues if ingested or in contact with it. Therefore, it requires proper handling if you must avoid any form of repercussion.
Common Philodendron Squamiferum Diseases & Pests
The philodendron squamiferum is among the few species of aroids and philodendron varieties that need less watering. Overwatering it can cause root rot. However, it doesn't mean you should starve it of water, as underwatering is an easy invitation for all pests.
Fungus Gnats & Root Rot
This disease is most commonly a resultant effect of overwatering. Inadequate drainage containers and overwatering can result to root rot. Immediately the moist soil starts to decompose; it will be prone to bacterial and fungus attacks like fungus gnats.
Once you discover this sign, remove the plant from the pot and wash it using clean water. Then, sprinkle a considerable amount of apple cider vinegar on its roots before moving it to a new potting mix and medium with proper drainage.
Spider Mites
This particular disease is most commonly caused by underwatering, which causes the plant's leaves to become dry and invite spider mites that will settle in. you can control this disease by wiping the leaves using a clean, damp cloth and checking the soil to ensure there is moderate moisture.
Frequently Asked Questions
Is Philodendron squamiferum a fast-growing plant?
You can consider the philodendron squamiferum a fast-grower that can do best in any shady area of your home or office.
Does Philodendron squamiferum a climbing plant?
The squamiferum is a climbing plant that will require an added moss pole or stake for support. Meanwhile, this Philodendron displays its lobed foliage and red hairy stems while growing.
Is Philodendron squamiferum rare?
Yes, the squamiferum specie is a rare and terrific houseplant from the tropical rainforests of South America, thanks to its unusually long, red stems covered with soft, fuzzy red hairs.
How do I get my Philodendron squamiferum to bloom?
The easiest and most common way of getting your squamiferum to produce flowers is by pollinating it by hand.
How often should I mist my Philodendron squamiferum?
To increase humidity levels, you can mist your squamiferum leaves about twice a week.
Conclusion
Despite the growth and guide highlighted above, it is essential to note that philodendron squamiferum is very easy to care for and grow.
With the right growing conditions, you can expect it to fill your home or office corner with the shiny display of its beautiful leaves and gorgeous flowers, amongst other stunning features.