Pink pinstripe calathea ornata is a gorgeous plant featuring pink stripes on its large green leaves. So, it is perfect for experienced gardeners. Despite its beauty, this plant can sometimes be tricky and challenging to care for. Several people have struggled to keep a calathea healthy, not to mention alive.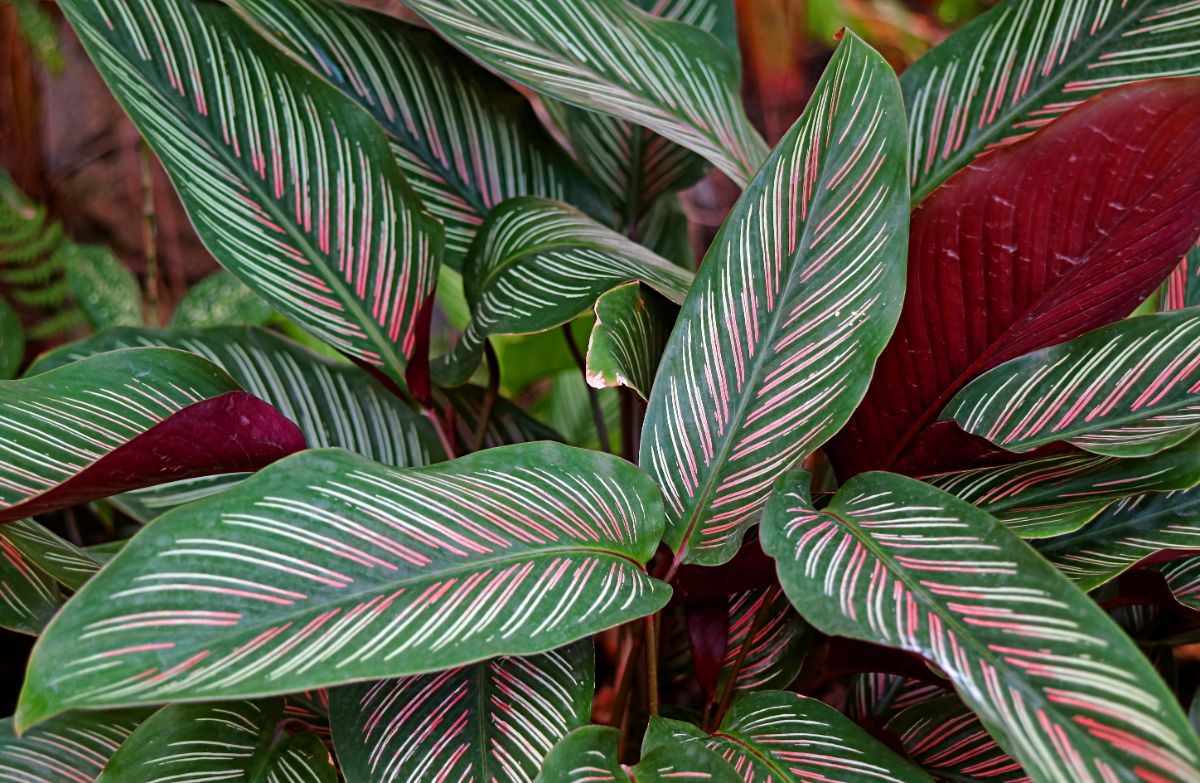 Like every other calathea, pink pinstripe requires extra care and attention to keep it happy and healthy. It will thrive in high-quality soil, bright indirect sunlight, humid environment of around 65°F to 85°F, and requires water by balancing dryness and moisture.
These are an approximation of the growing conditions in its natural habitat. Here's a detailed pink pinstripe calathea ornata growing guide that will show you how to properly care for this plant.
Let's get started!
Jump to:
Essential Facts About Pink Pinstripe Calathea Ornata
| | |
| --- | --- |
| Common Names | Calathea Ornata, Pinstripe Calathea, Calathea Sanderiana, the Peacock Plant, Zebra Plant, Cathedral Plant |
| Scientific Name | Goeppertia Ornata |
| Family | Marantaceae |
| Plant Type | Foliage, large |
| Mature Size | 1.5 to 2 feet (24 to 36 inches) high and wide as a houseplant |
| Sun Exposure | Bright, indirect sunlight |
| Soil Type | Loamy, moist, but well-draining soil |
| Soil pH | 5.0 to 6.5 (mildly acidic to neutral) |
| Bloom Time | Rarely flowers indoors |
| Flower Color | Rarely flowers indoors |
| Hardiness Zones | 10 to 12 |
| Native Area | South & Central America, Africa, West Indies |
| Toxicity | Non-toxic to most humans and pets |
Pink pinstripe calathea ornate is a natural tropical species with different beautiful colors that earn it the name 'Pinstripe plant.'
This plant is native to Africa, the West Indies, Thailand, Central America, and South America. Calathea species are of more than 300 other species alongside numerous hybrids and popularly grown species on the planet.
Also called Calathea ornata, the pink pinstripe plant features beautiful leaves with colorful patterns on the side and red or purple underside. An exciting aspect of this plant is its oval, vibrantly-colored leaves. However, these colors may vary based on the specific type and growing region.
Last update on 2023-09-24 / Affiliate links / Images from Amazon Product Advertising API
Indoor calathea ornatas feature green leaves with violet bottoms. This unique plant can reach around 2 feet high and spread, making it perfect as an indoor container plant. Even though the ornate look simple, it needs a little care to keep them healthy.
They can even survive outdoors on a patio, porch, or deck with the ideal climate and growing conditions. Indoor calathea can add value to your home's coziness and general visual appearance.
Also called the peacock plant often looks like a prayer plant, as its leaves rise and fall as the sun rises and sets (as a person raises hands in prayer).
Pink Pinstripe Calathea Ornata Growing Guide
Light Needs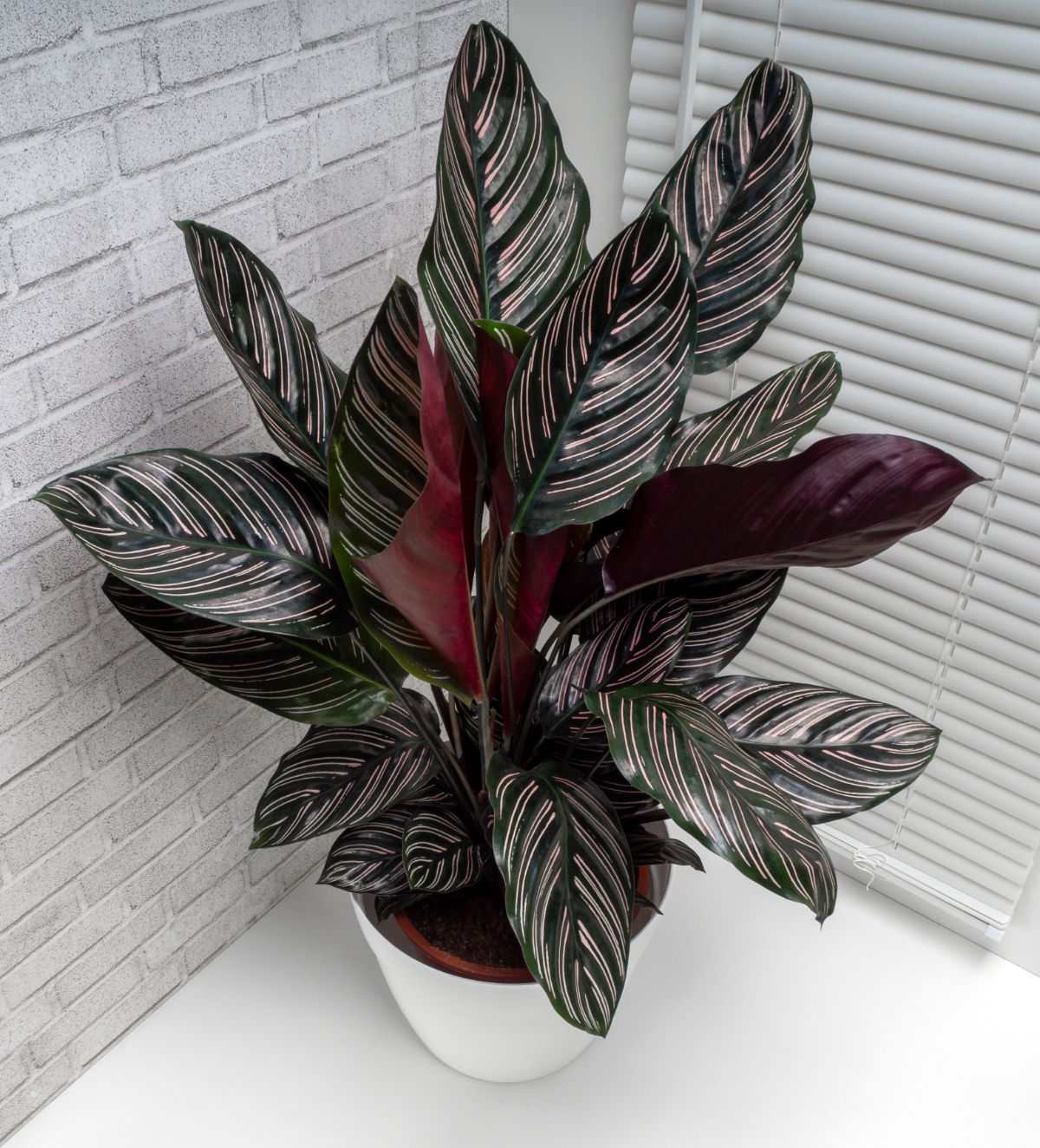 In its tropical habitat, pink pinstripe calathea ornata grow on the ground under shady trees. It is their best sunlight exposure; hence, ensure they receive low to medium sunlight indoors all day. You can place them in a bright room alongside a thin curtain or some shade and keep them happy.
A big south-facing window is perfect, as that is where it will benefit from medium indirect sunlight for the significant part of the day.
If you allow your pink pinstripe to become too exposed to direct sunlight, it will cause the sensitive leaves to start fading and get sunburned. So, indirect sunlight in a low to medium bright spot is the best location for your calathea plants.
Soil Needs
Pink pinstripe plant loves a rainforest-like area, so you must always keep their soil slightly moist. In this case, we recommend peat-based soil. Since peat is not always a sustainable medium, you can opt for an alternative such as coconut coir, which also saves up moisture effectively.
Don't allow your soil to become compact clumps by adding enough potting soil and a little perlite, which keeps things light and airy.
Also, a plastic nursery pot with drainage holes underneath is ideal for your pink pinstripe as it drains out excess water, thus, preventing root rot yet retaining needed moisture.
Water Needs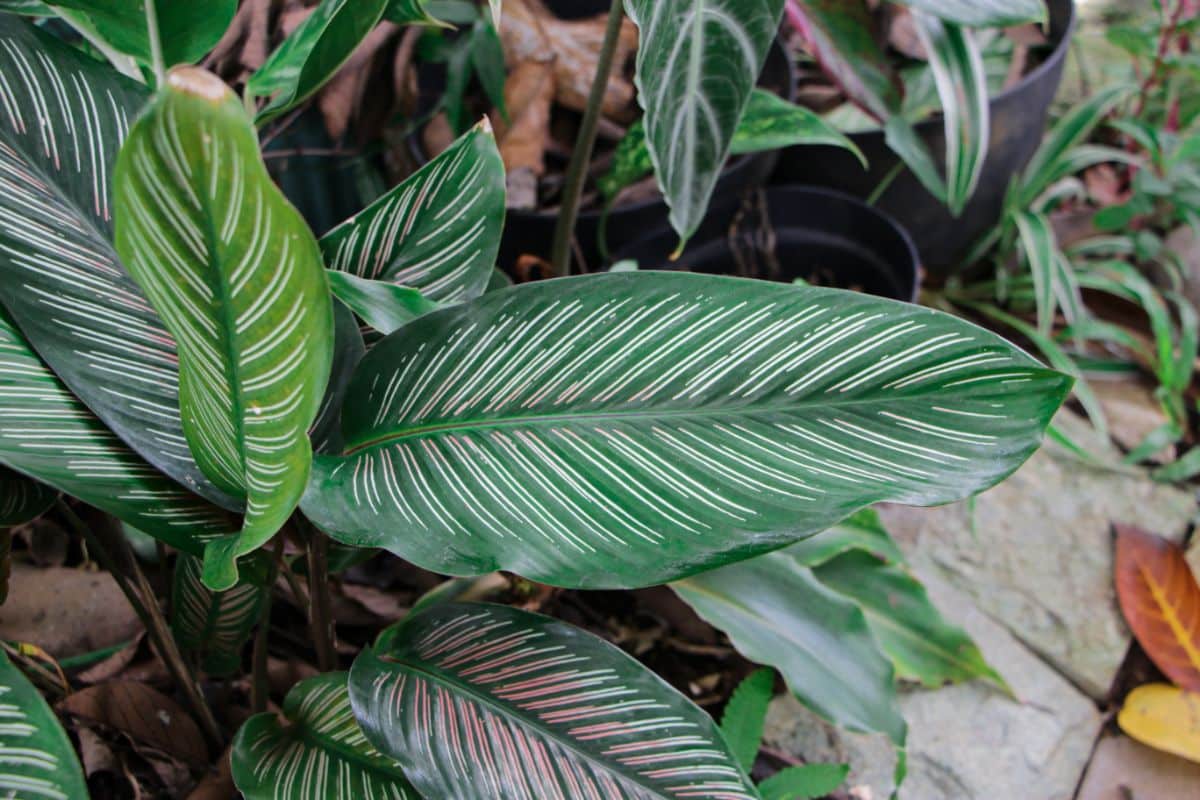 Pink pinstripe calathea ornata thrives best in moist soil, not soggy or waterlogged soil. If your plant sits in water too long, it can cause root rot. If you overwater your plant, it causes waterlogging and results in the suffocation of roots, which prevents them from getting enough air circulation.
However, the calathea ornata cannot tolerate drought, so it needs regular watering. Supplying distilled water will be helpful during irrigation since the plant may be affected by salts, chemicals, and ions that come with the tap water.
If you underwater these plants, they will be upset, and subsequent drooping of leaves and even death of the plant.
Temperature/Humidity Needs
Since pink pinstripe naturally thrives in warm areas, it will not do well in cold or drafts. In other words, you must not place them close to windows or doorways prone to freezing at night. Average room temperature is suitable and ensures it doesn't go below 60°F (15.5°C).
Humidity-wise, the calathea ornata enjoys a moist, wet, and humid atmosphere. So, you must imitate its tropical conditions; you must provide it with a high humidity level. Keeping a humidifier close to it will enhance a higher humidity level.
Fertilizing Needs
The best fertilizer for your pink pinstripe calathea ornata is a regular houseplant, and you should feed it during its growing season, often from late spring to early fall.
Only fertilize during the growing months and when the plant is not developing new foliage. Always dilute your fertilizer to half-strength or less to avoid root rot damage.
Potting & Repotting Tips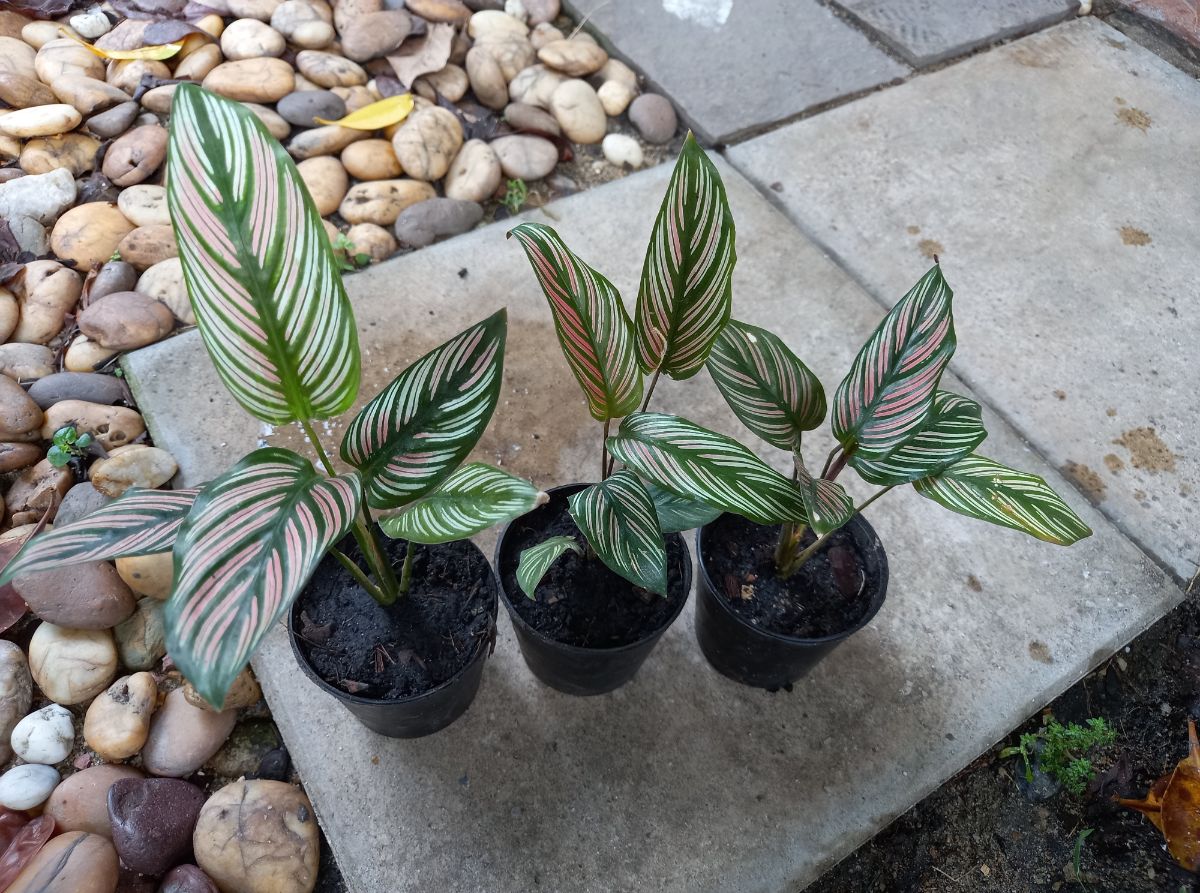 The ideal pot for pink pinstripe is one with enough space for root growth and drainage holes underneath. Given that it is an upright and deep-rooted plant choose a pot with vertical depth. Ensure the pot is deep and heavy enough to stabilize and support the plant.
Since calathea ornata don't like to get root-bound, ensure you report it once a year or two, depending on its growth pattern. To know if a plant is root-bound, check to see if roots are making their way out of their drainage holes.
Use a pot the next size up from its current pot with good drainage. Also, check for unhappy-looking or stunted growth and if the roots have started to slip out from their pot.
Then, check if the roots are all heavily coiled around the outside of the soil. Try repotting in the growing season (spring and summer).
Pruning Needs
If you notice brown leaves on your pink pinstripe calathea, there's nothing to worry about, as it is normal. you only need to prune back your plants. Remove brown leaves as they show up with sharp and sterilized pruning shears.
You can also use your fingers to pick them off. Meanwhile, pruning helps to maintain the calathea ornata's overall height, and pruning off dead growth will help to keep a lovely growth pattern.
Propagation of Pink Pinstripe Calathea Ornata
Unlike several other plants, stem cuttings cannot propagate pink pinstripe calathea. The best method of propagating this calathea specie is by division, which you'll do by dividing at the root level. In other words, you must separate your calathea ornata once it has begun to grow a new plant from its roots.
You'll know if it is growing a new plant in the same pot when you find new stems popping up from the soil away from any existing branches. It differs from fresh leaves on the same plant as fresh leaves grow from existing stems.
Stems on the same plant tend to stick together. Your plant can also develop fresh stalks, often popping out from the soil close to any existing stems.
Toxicity
Pink pinstripe calathea ornata is non-toxic to cats and dogs. However, they must not be allowed to ingest it as it can cause some degree of vomiting and other discomforts in them.
Common Pink Pinstripe Calathea Ornata Problems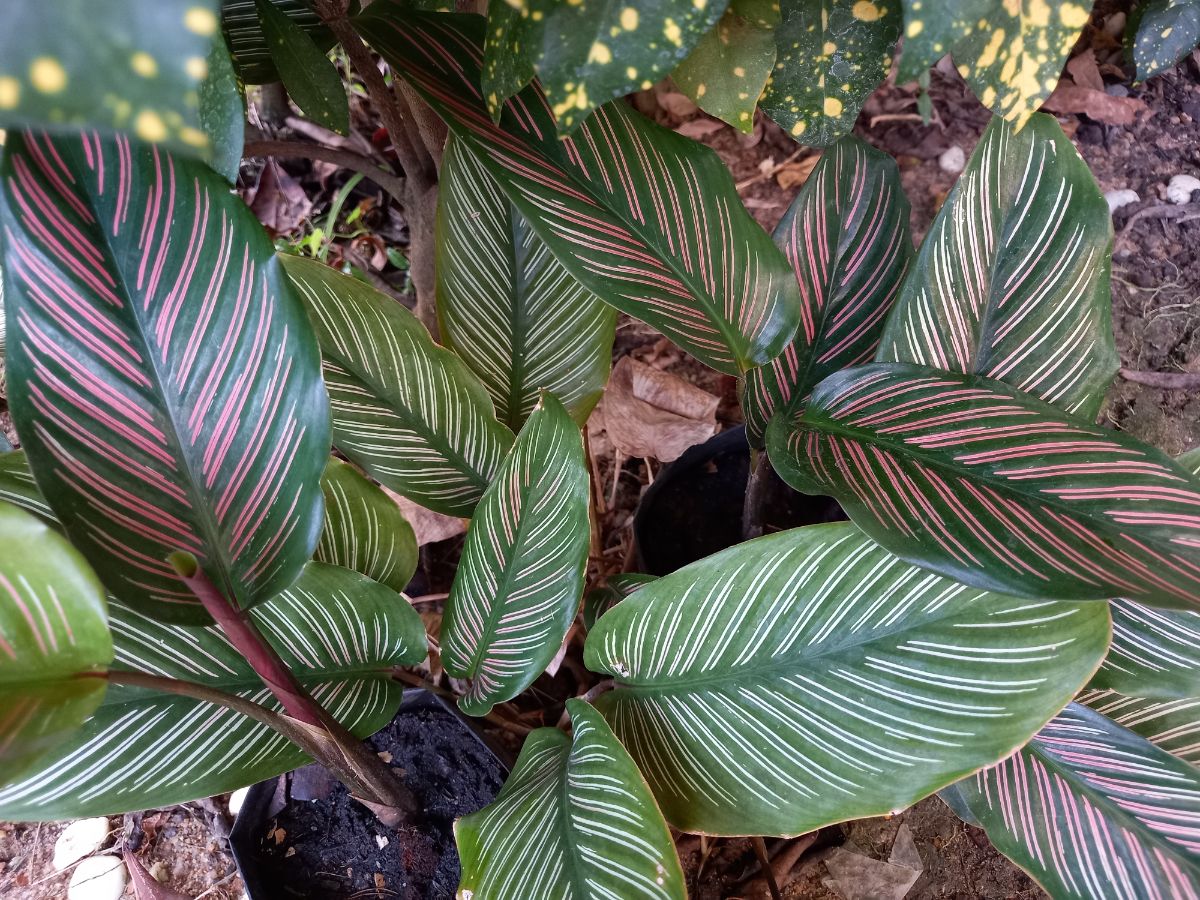 Despite the attractive nature of the calathea ornata, there are specific problems that trouble it. You must take note of these common problems and deal with them as necessary to avoid further disasters to your lovely plants. Below are some of the most common issues associated with pink pinstripe calathea ornata:
Curling Leaves
If you notice your calathea ornata leaves curling at the edges, you must take the plants to a warm, humid area and away from direct sunlight.
Brown edges
If your home is too dry without some extra humidity, it will cause your calathea ornata to develop brown edges. So, planting a humidifier close to the plant will help to prevent and control this issue.
Yellow Leaves
Old leaves can cause yellow leaves, which is a normal phenomenon in this case. Under- or overwatering can also cause yellow leaves, as is excessive sunlight and overfertilizing. So, you must control and correct these conditions. Just prune them back or allow them to fall off.
Spider Mites
If you notice small webs underneath your plant's leaves, it is caused by spider mites. It causes your plant leaves to look dusty and dull, and you must control it by maintaining high humidity levels and applying neem oil as a preventive spray.
A mixture of alcohol and water can also do the trick by spraying both sides of the leaves and wiping them off using a paper towel.
Frequently Asked Questions
How fast do calathea ornata grow?
Calathea ornata is a reasonably slow-growing plant. They often sacrifice leaves to grow new ones, making overall growth a slow process.
What kind of soil does calathea require?
Calathea loves moist soil, but do not allow your plant to sit in soggy soil. Keep your soil dry, which is why you must dip a finger into the soil to see if it feels dry before re-watering. We recommend a mix of 50% potting soil, 20% orchid bark, 20% charcoal, and 10% perlite.
How do you make calathea ornata bushier?
You can make your calathea plant fuller and bushier by pinching back the stems.
Do calathea close at night?
What makes calatheas more enticing is their ability to close their leaves at night and unveil them in the morning, which is how they earned the nickname 'living plant.' They close and open thanks to the small joint between the leaf and stem.
How long does calathea take to grow?
Unlike other common indoor plants like the Golden Pothos or Spider Plant, the calathea houseplant is slower in growth and can reach a maturity of up to 2 feet in one year, and then growth stops.
Conclusion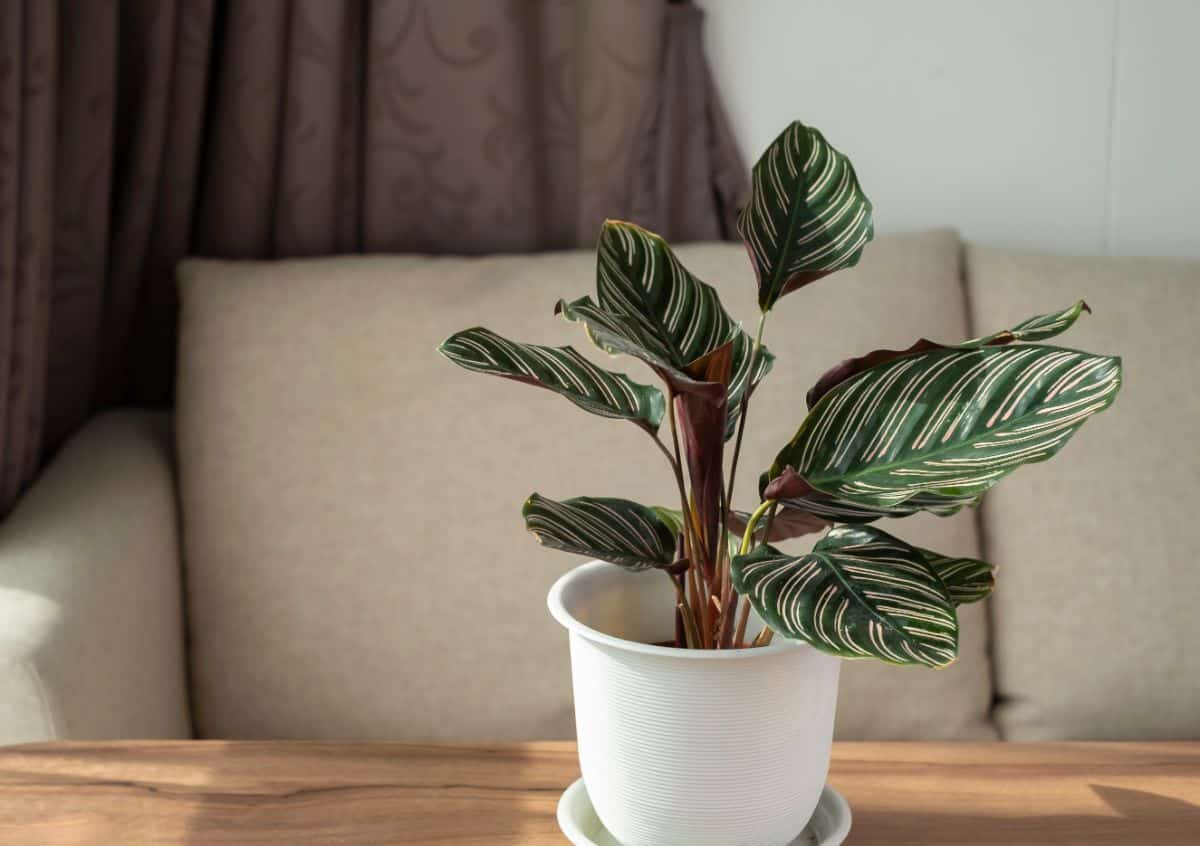 Although it is a lovely plant to grow indoors, it can be fussy. Its essential growing guides, including keeping the soil moist, humid environment, low to medium, indirect sunlight, etc., will help you to recognize signs and provide solutions to help them stay healthy.
However, as long as you follow these guidelines, it will not cause you too much of a headache.