Think no further than purple hostas if you're looking for a plant that is not tricky and hard to grow and maintain.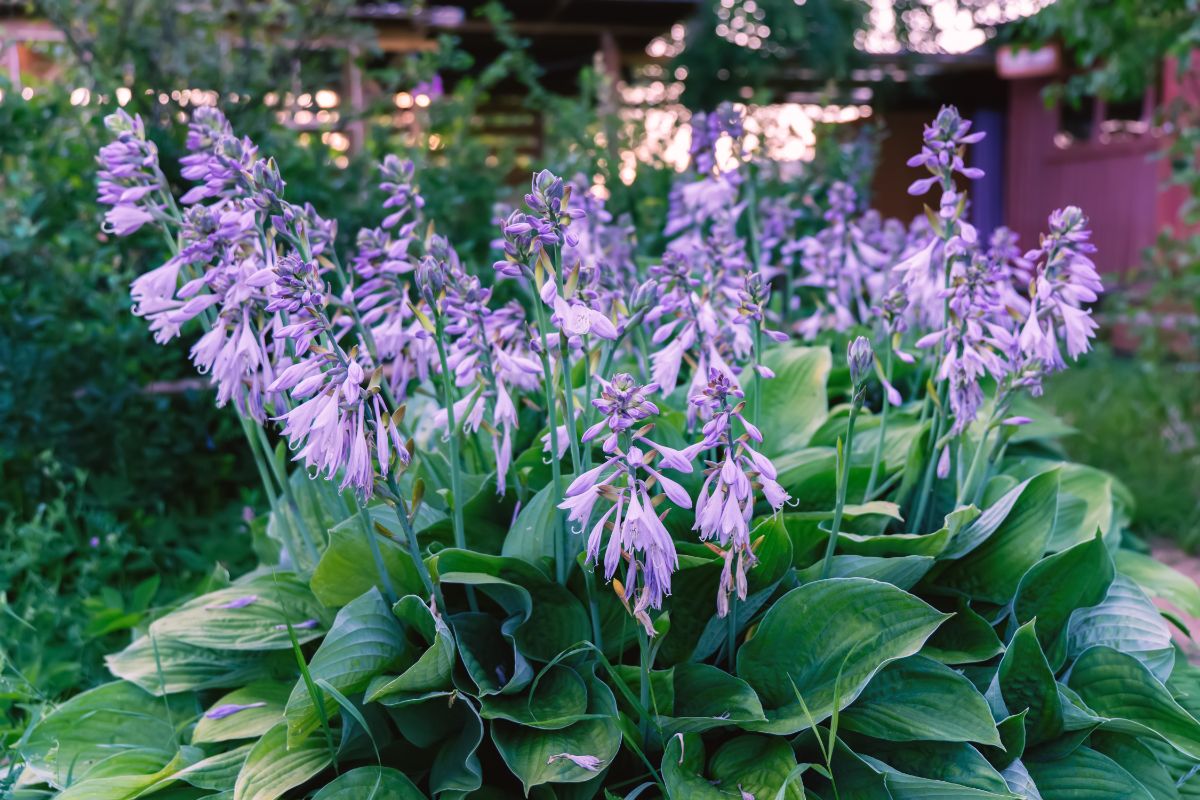 Apart from its stunning color and size, this plant is reliable, has a durable span, and, as we mentioned earlier, is very easy to grow. Additionally, it is very resistant to critters and enticing to hummingbirds.
There're so many exciting things about purple hostas, but you have to play your part in providing the best conditions they require to thrive if they stay healthy and strong.
Such conditions include partial to full shade, well-drained soil, potting medium with drainage holes, and soil with fertile and rich organic matter.
More on that later!
Jump to:
Facts About Purple Hostas Plant
| | |
| --- | --- |
| Common Names | Purple Hostas, Purple Plantain Lilies or Funkia |
| Scientific Name | Hosta 'Stirfry' |
| Family | Hostas species |
| Plant Type | Perennial, Foliage Plant |
| Mature Size | 18 to 36 inches in height, 32 to 36 inches in spread |
| Sun Exposure | Partial Shade, Full Shade |
| Soil Type | Moderately Rich, well-drained soil |
| Soil pH | Slightly Acidic to Neutral |
| Bloom Time | Mid to late summer |
| Flower Color | Purple with white stripes and petal edges |
| Hardiness Zones | 3 to 9 |
| Native Area | Asia – Japan, Korea, and China |
| Toxicity | Toxic to humans and pets |
Also known as Purple Plantain Lilies, the purple hostas has many exciting features, including sizes, heights, textures, and colors. But its interesting part is that it has a stunning purple flower that appeals to every plant enthusiast, and the fact that it is straightforward to grow and maintain.
Last update on 2023-09-24 / Affiliate links / Images from Amazon Product Advertising API
This plant is perfect for several gardens, including patio, container, border, rock, and shade. It also has a smooth texture and is narrow to ridged and heart-shaped. It is also a cold-hardy specie that can reach up to 18 to 36 inches in height and 32 to 36 inches in spread.
Even though it is most famous for its attractive foliage, Hosta' Stirfry' (scientifically called) produces charming blooms from mid to late summer. Unlike traditional hosta varieties, which have pale lavender or soft white flowers, purple hosta grows rich purple flowers edged and striped in snowy white.
While some people may see this plant as being boring or typical (just green and white), they can't deny that it is a charming influence on every home or garden.
Meanwhile, growing and caring for hostas is neither tricky nor complex. So, if you want to see them flourish, you must follow the growing guide below;
Purple Hostas Growing Guide
General Tips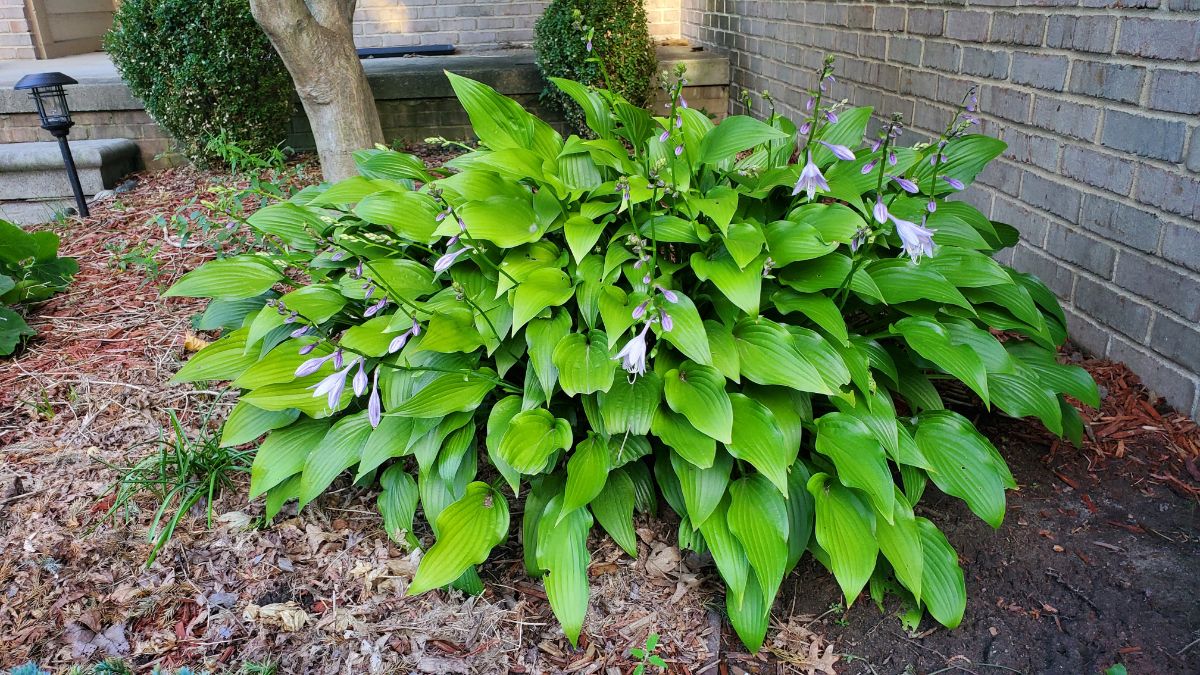 Also known as funkia, purple hostas are perennial hardy plants in zones 3 to 9. They thrive in rich, well-drained soil in part to full shade conditions, although sometimes you can bring them out to take early morning sun. Due to their size varieties, you can use them in gardening containers.
You can grow them as little beauties in shady rock gardens, pots, and as borders. Some gardeners grow them in mass or as a single, stunning specie.
They can bring out the beauty in your Zen Garden or a workhorse for an area where some other plants have failed. Purple Hostas can take some years to become fully established.
Light Needs
Purple hostas do well when planted alongside ferns and other shade-tolerant woodland perennials. In other words, you will need to place them beneath large shade trees, such as pine trees or maple trees, along the north side of the house or between buildings dominated by shade.
Shade gardens or herbaceous perennial gardens are excellent growing grounds for purple hostas. You have to get creative with your garden design for hostas, and as we discussed earlier, they are great companion plants for almost every shade-loving plant.
The Purple Plantain Lilies can thrive under trees thanks to their shallow root system. If you are planting them beneath trees, ensure you don't damage the tree's fibrous roots and feeder roots, as it can alter the tree's health. Too much light can cause your plant's color to become dull.
Soil Needs
As long as most hosta varieties are concerned, they can tolerate almost different soil kinds, including the purple hosta.
However, you must ensure the soil is well-draining. The plant does best in rich and fertile soil; therefore, try to amend your preferred option using a little organic compost for extra nutrients.
If you are planting your hosta specie in a container or pot, you must ensure you choose a style that features proper drainage holes underneath the pot. Meanwhile, the best soil pH for your purple hostas should range from slightly acidic to neutral.
Watering Conditions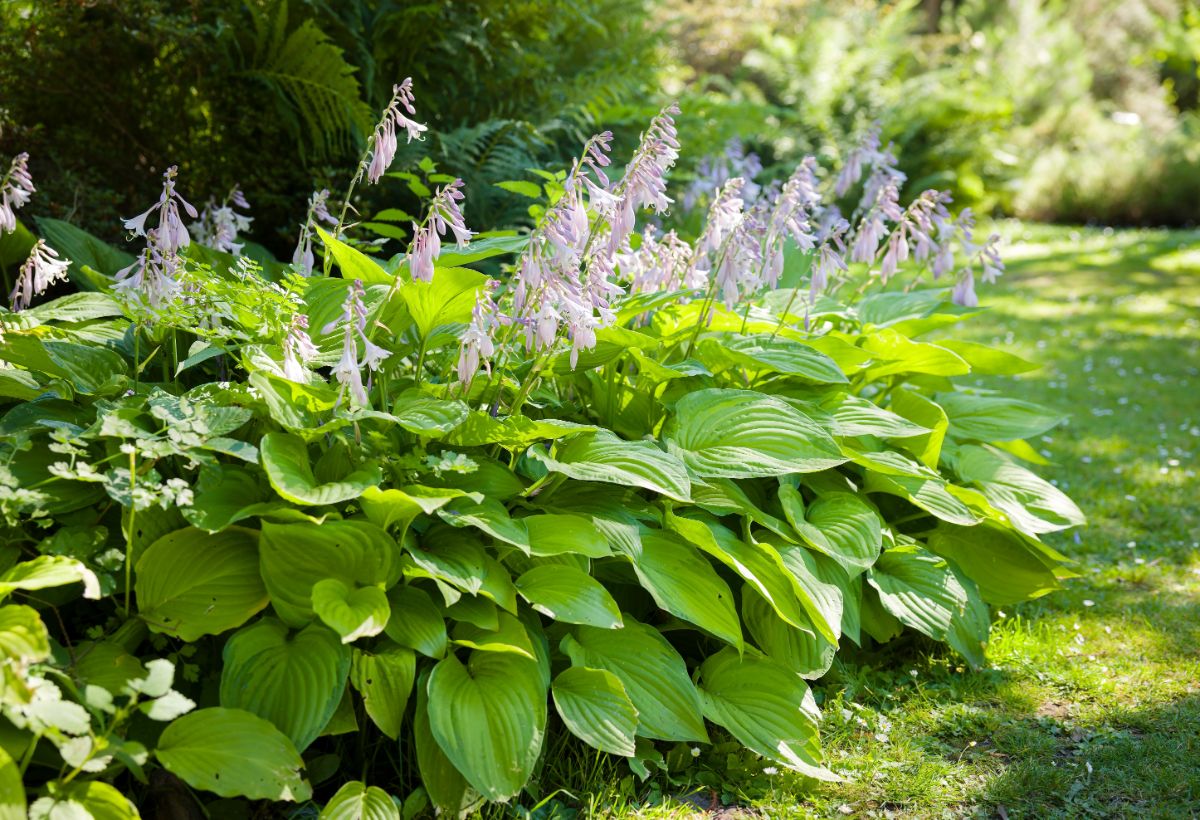 Purple hostas are not water-loving plants and will only require some water during drought periods. Since they are not sun-growing species, there's no need to water them, given that their natural position already has some cold temperate.
Giving them extra water would mean overwatering them to avoid potential diseases like root rot.
Temperature/Humidity Needs
Purple hostas do not feel incredibly picky about their temperature or humidity and can survive wide ranges of environments. In other words, it can survive temperatures as low as -40 degrees Fahrenheit.
It will require no less than six weeks of temperatures below 42 degrees Fahrenheit to remain dormant for the winter.
Fertilizing Needs
Hostas varieties do best if you use complete, balanced slow-release fertilizer every spring, including purple hostas.
However, ensure you carefully follow the label guidelines when applying to avoid mistakes. But for newly grown plants, it would be best to use a granular fertilizer rather than a liquid fertilizer.
The best time to feed your purple hostas is after the last frost to prevent encouraging new growth while there is still a chance for frost temperatures.
Doing so will prevent you from making any needless mistakes. Spray fertilizer into the soil when it is time to feed. When you need more plants, dividing your hostas is the best solution.
Pruning Needs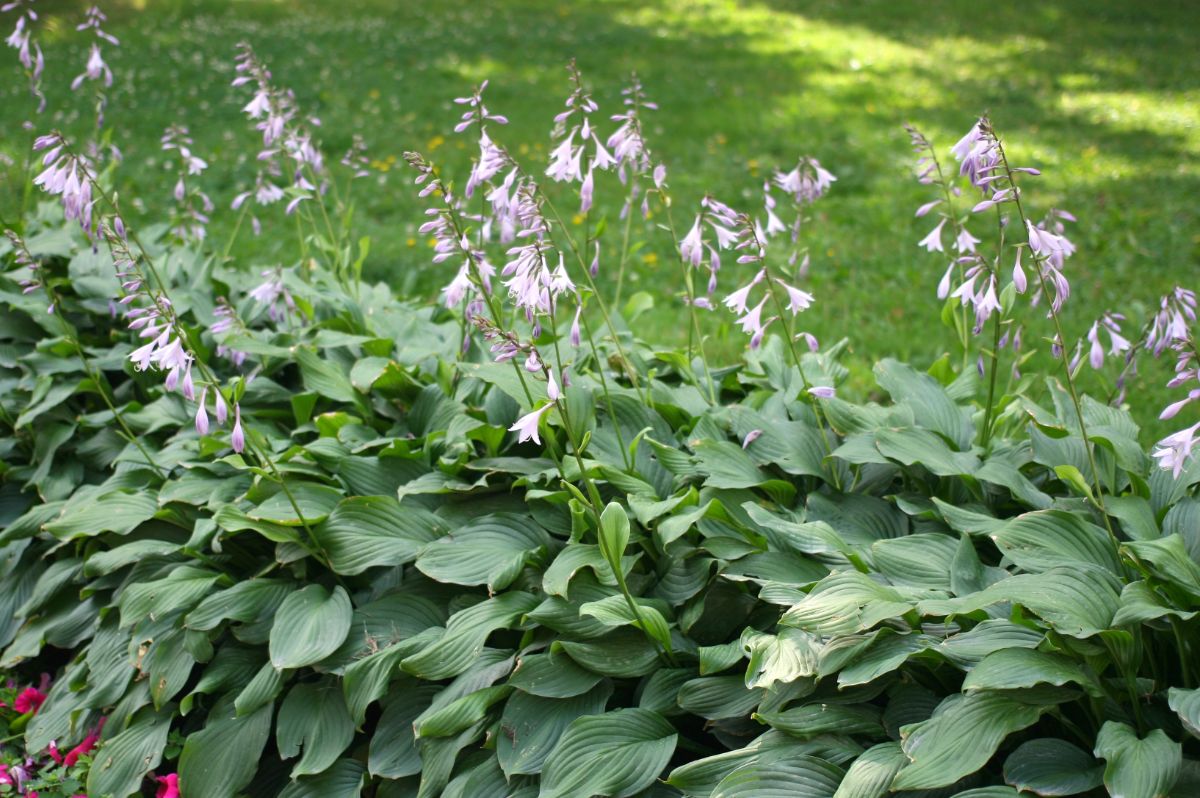 Before you prune your purple hostas during the fall, you must be patient for as long as possible. Some hosta species grow a lovely golden fall color, which can be enjoyed late into the season.
So, it would help if you waited until there were some light frosts, thus, making the process easier as the plants die back and the leaves wither.
Several gardeners allow the foliage to die naturally and refuse to trim down their hosta species. However, it might work perfectly for the smaller types, but for those with larger varieties with thick leaves, huge dead leaves that persist through the winter may not appeal to some. So, you must choose your aesthetic threshold as a garden.
Winter Mulch
It would be best if you protect your purple hostas against winter. If you have shredded leaves on hand, top-dress your plants during the fall, as it helps keep your soil rich and lively during leave decomposition.
Propagation of Purple Hostas
Propagation is the process of producing offspring or multiplying by the parent plant. It can also be called the reproduction or procreation process. If you want to multiply the quantity of your purple hosta in your garden, the best way is to divide a healthy mother plant during early spring or fall.
You can quickly propagate your hostas by gently digging up the root ball and dividing it into smaller sections, including roots and leaves. Then, replant them in a fresh pot or the ground and water them regularly until it becomes fully mature.
Common Purple Hostas Pests & Diseases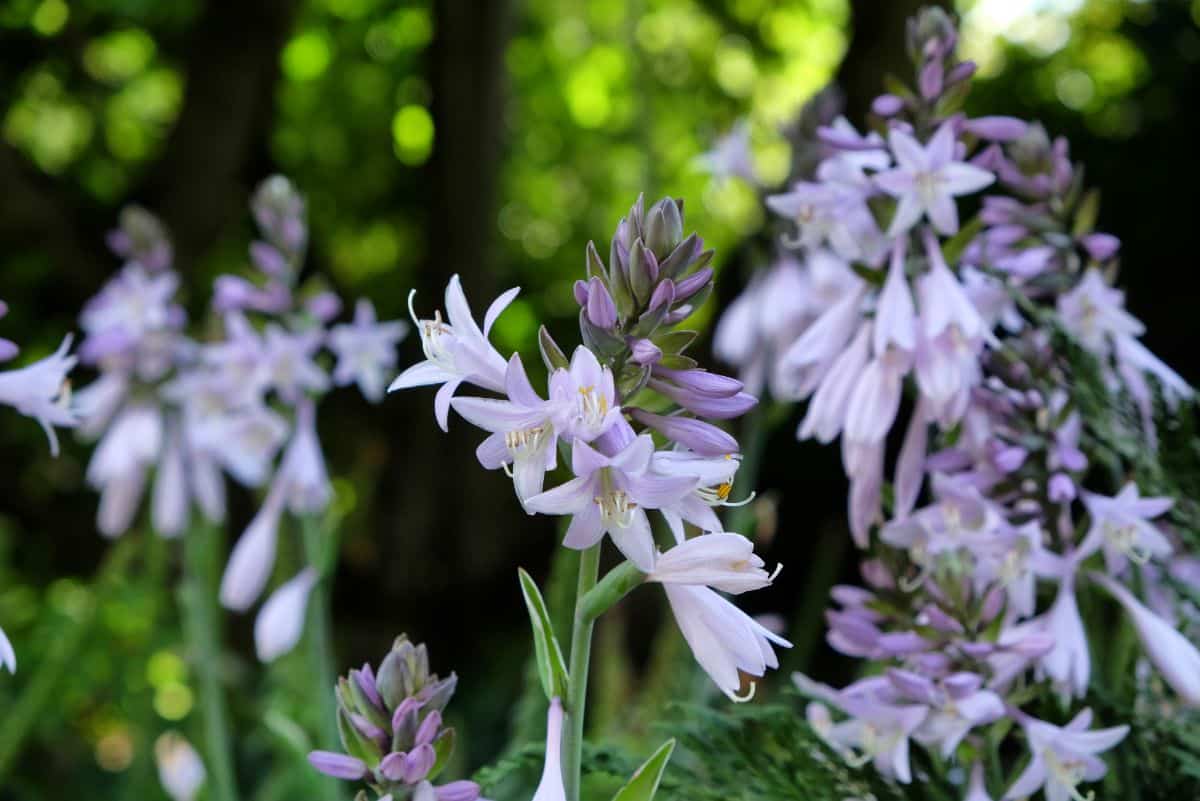 Pests
Even though purple hostas are lovely perennial plants that are easy to grow and maintain, common pests can trouble their development. The most notable include slugs and snails that chew gaping holes in the plant's leaves, ultimately killing it if you don't control them.
Ensure you always eliminate any snail or slug you find by picking them off or using a slug bait for severe cases.
Additionally, deer can feed heavily on your plant's leaves and even wipe out the whole plant just in a single feeding. Therefore, it would help if you grow hostas near your home, where the disastrous effects of deer are significantly reduced or non-existent.
Diseases
With proper care, your purple hostas will stay disease-free. One of the most common hosta diseases is a fungal issue called petiole rot, which causes the yellowing and browning of leaves. It results from the fungus Sclerotium rolfsii, which loves warm wet weather.
Inspect young plants for this disease, as it is incurable. Other possible conditions that can destroy your hosta species include crown rot and southern blight. But proper care will prevent them from affecting your plants.
Where to Buy Purple Hostas
Purple hostas are available online. You can purchase several online shops, including Thompson & Morgan, Suttons, and Primrose.
Some of these shops can do home deliveries and render expert horticultural advice. You can also buy them from any of the local garden nurseries at cheaper rates of around $20 to $30 per package, and they are available in stock.
Frequently Asked Questions
How long do hostas take to grow to full size?
Smaller and more vigorous hosta varieties will take about 3 to 5 years to reach their full potential. While for the more giant and slower-growing types, it can take up to 5 to 7 years to grow to full size. However, soil quality and moisture availability have significant roles to play in this.
How many years do hostas live?
With proper care, hostas can live up to 30 years or over.
How long do hostas take to grow from seed?
Typically, hostas seeds will sprout between 7 to 14 years of planting. However, it largely depends on temperature. Germination has been reported to take as little as 2 to 4 days with potting mix temperatures of around 80 degrees.
Do hostas die back in winter?
By winter, hostas tend to enter their dormancy stage, and their leaves completely die back. Therefore, you mustn't do anything with the plants over winter, as they are completely hardy, and there's no need to bring them inside or protection from frost.
Do hostas come back every year?
Since hostas are perennial plants, they will always return bigger and better yearly, especially with proper care.
Conclusion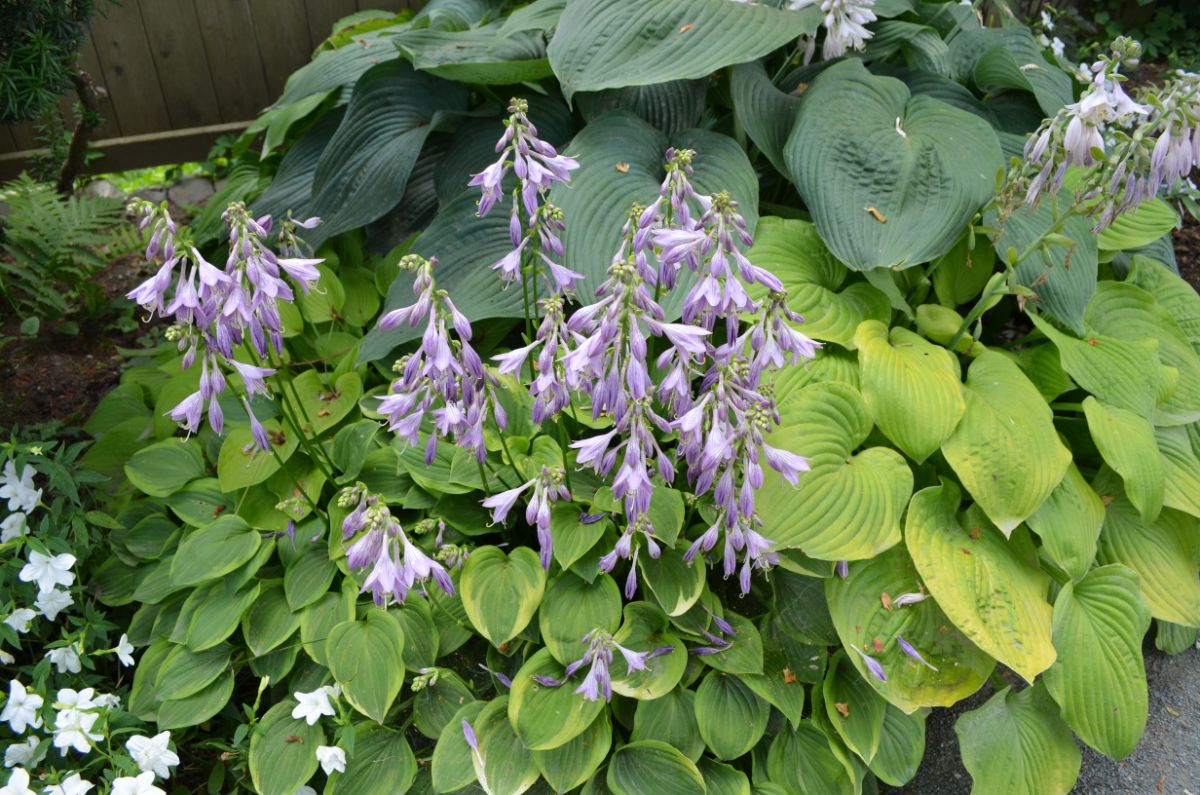 Purple Hostas are among the favorites of several gardeners and plant enthusiasts, especially given their beautiful blend of colors and easy-to-grow nature.
They can perfectly complement other plant species. However, for the best result, it would be best to provide them with adequate care through the growing guides highlighted above.