Few perennials can produce quite the attractiveness that purple perennial flowers bring to a garden. A purple perennial is just one of the few ornamental plants that can give your garden a vibrant feel and appearance. This plant produces beautiful flowers that add some color to your flower garden and its environs.
There's something unique about purple flowers: their vibrant color or their elegance on plants such as purple perennials. But whichever one it is, you can hardly deny that the strong representation of flowers added to the beauty of purple color makes purple perennial flowers highly rated anywhere they are.
Finding the perfect blend of color for your flower garden is necessary, especially considering that there are many natural species and cultivars of purple perennials to pick from. Therefore, we've compiled a list of our favorite purple perennial flowers you can plant, including Allium, African daisy, Vervain, German bearded iris, Pasqueflower, etc.
Jump to:
What Are Purple Perennial Flowers?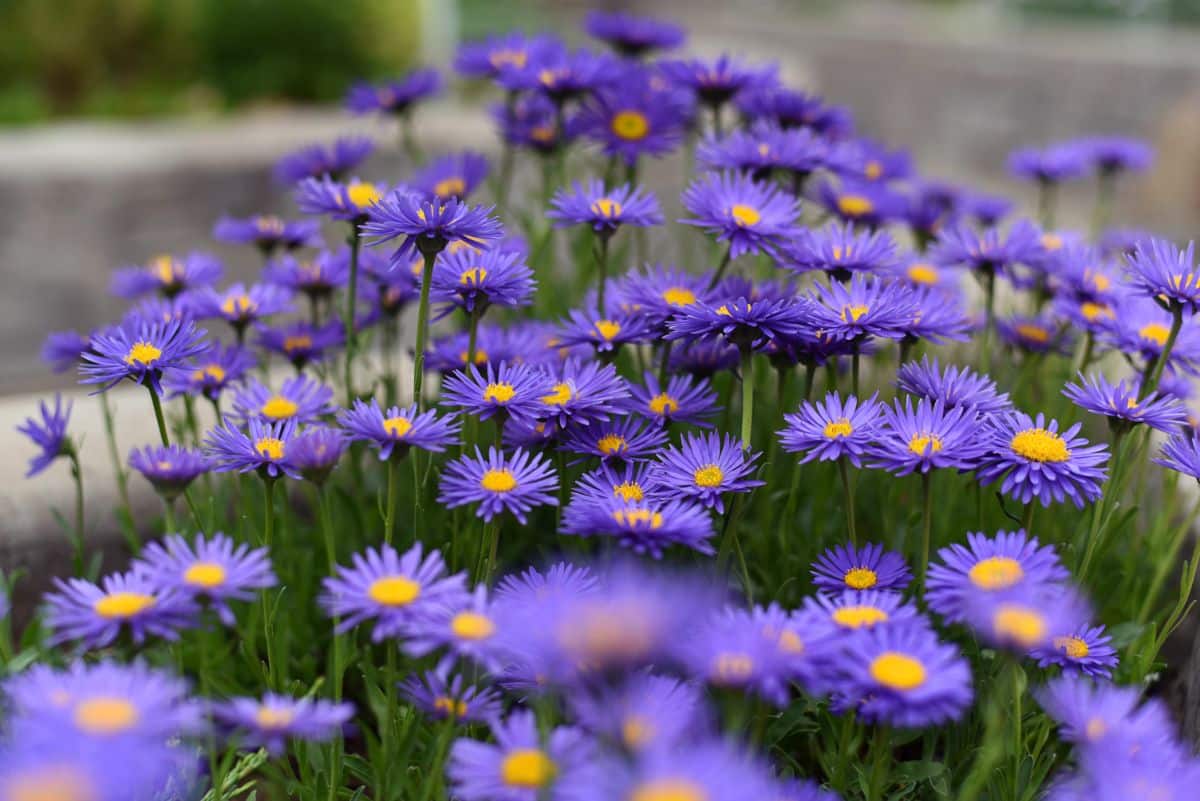 Purple is a prevalent color as long as flowering perennials are concerned. It is a strong color, which cannot be argued given that Pantone Color Institute declared a shade of purple known as Ultra Violet as the Color of the Year, referring to it as "complex and contemplative".
This institute stated that the purple color has long been a sign of "unconventionality and artistic brilliance", and you can see why it is considered to be so when it displays so much beauty and elegance in your garden.
Purple perennials exude power and aura in the landscape and add depth, richness, and attraction to any garden.
Purple perennial flowering plants are of different varieties ranging from purple-flowering groundcovers to giant purple perennials. This can be categorized by size into three groups: tall purple perennials, medium height purple perennials, and dwarf-sized purple perennial flowers.
Purple perennial flowers are instrumental in adding pops of color to your garden, as they blend nicely with several other colors.
Another exciting part is that they come back year after year. Let's briefly highlight 25 of the best purple perennial flowers for a bright garden and their growing tips.
Purple Perennial Flowers for a Bright Garden
If you want to bring some purple into your garden or landscape, we have provided 25 of the best purple perennials.
It's left for you to fit them properly into space, as some are either big, medium, or small. Most are easy-growing plants but are all beautiful. Let's get on with them then.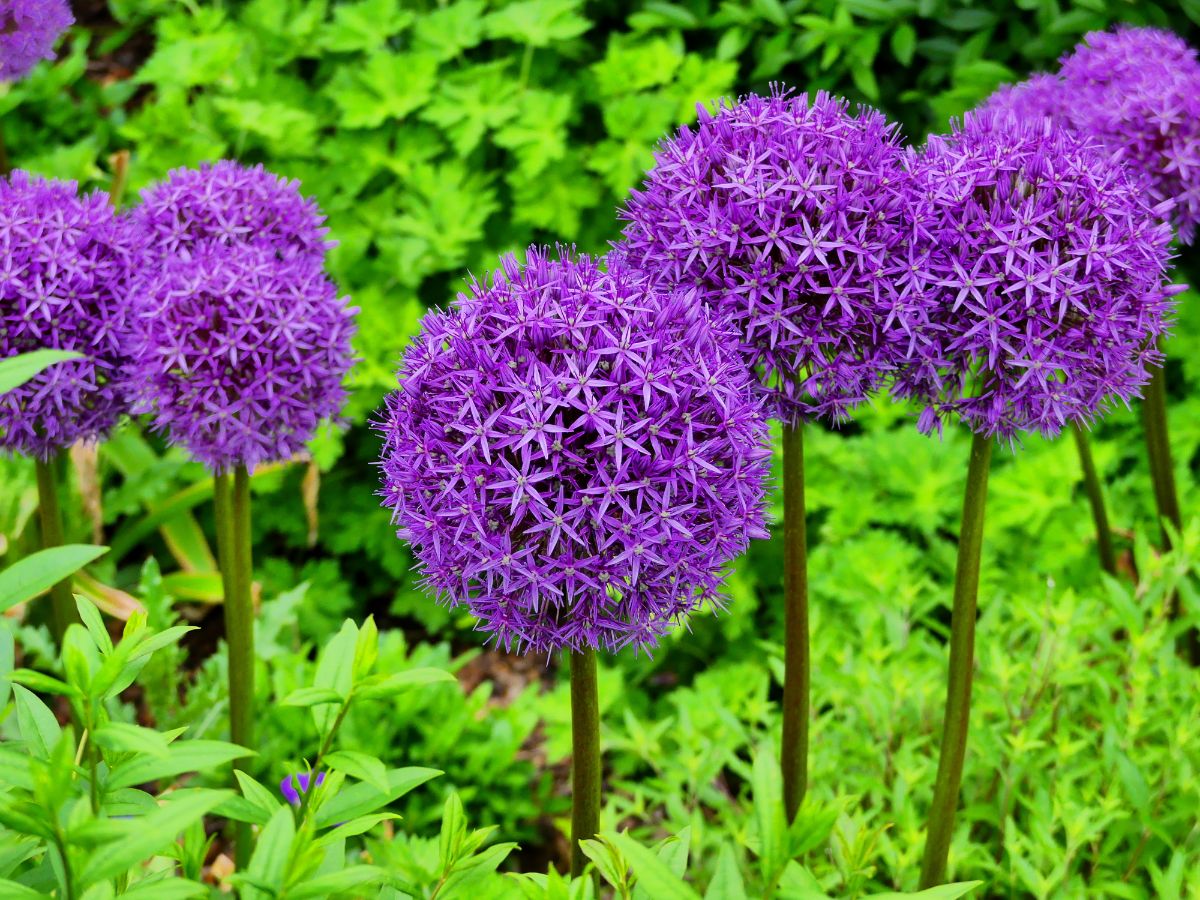 At the top of our list is one of the most decorative purple perennials that can give your garden a vibrant feel and appearance, otherwise known as Allium.
Most popularly referred to as Ornamental Onions, this purple perennial species produces globe-shaped, purple flowers, which grow on a tiny stalk.
Allium flowers during the late spring or early summer are a perfect way to close the vacuum between spring blooming and summer blooming perennials.
It thrives under full sun in moderate to poor moist and well-drained soil but does not allow the ground to stay moist in the winter season, as it could be disastrous to your plant.
Again, ornamental onions can grow as tall as 12 to 36 inches in height and 18 inches wide, but their growth rate depends on the cultivar. This specie produces bigger clumps every year, and also, depending on its cultivar, it is hardy to USDA zones 3 to 8.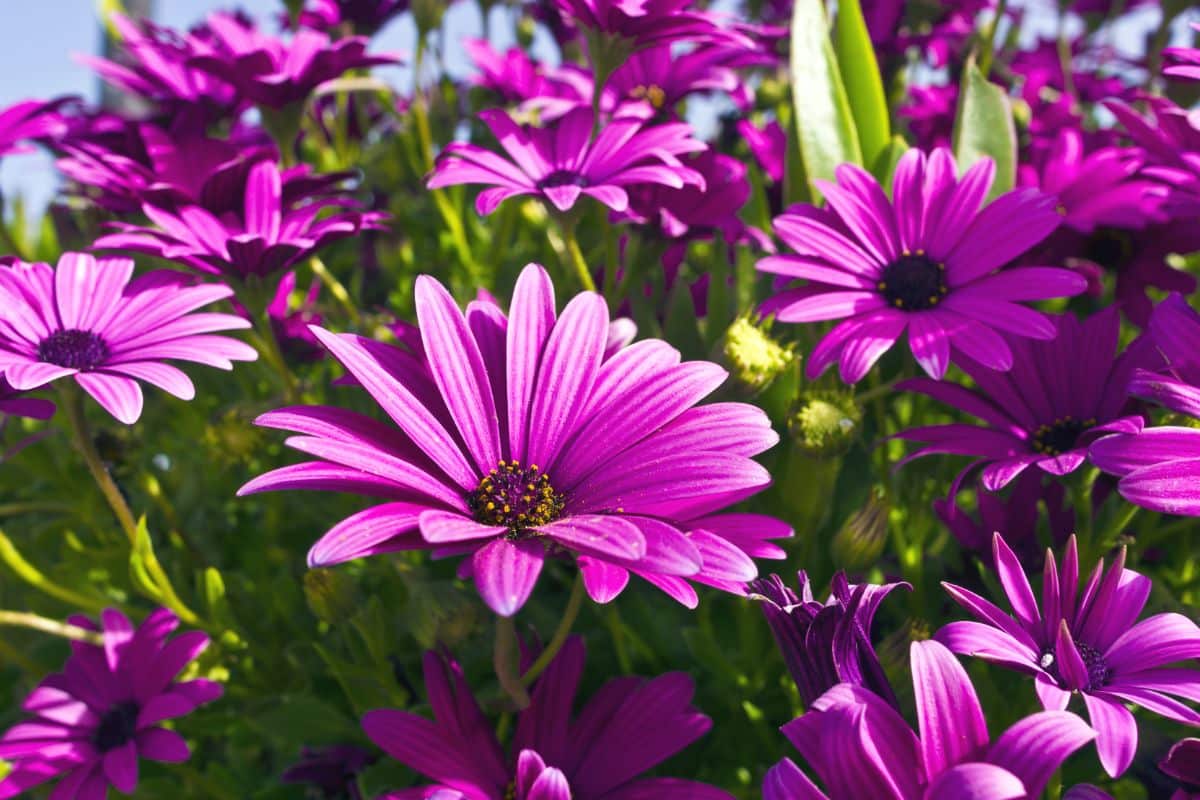 Originated from South Africa, another great ornamental purple perennial flower for a bright garden is African Daisy. It is an evergreen perennial which produces rich lavender flowers.
Its beautiful flower color varies from white and pink to peach faded into its petals, but the colors depend on the time of the year and flower type.
The Osteospermum specie tends to produce bloom during the mid-summer, and once it is mature, it will produce its vibrant colors from spring to fall. During its tender stage, it will require frequent watering, but once it is matured, it can endure long periods without water, but that doesn't mean you shouldn't give it a little water in extensive drought seasons.
However, you must not overwater since the African daisy is susceptible to root rot during the watering routine. Meanwhile, the Osteospermum can grow as tall as 1 to 3 feet tall, thrive under full sun, and is hardy to zones 10 to 11.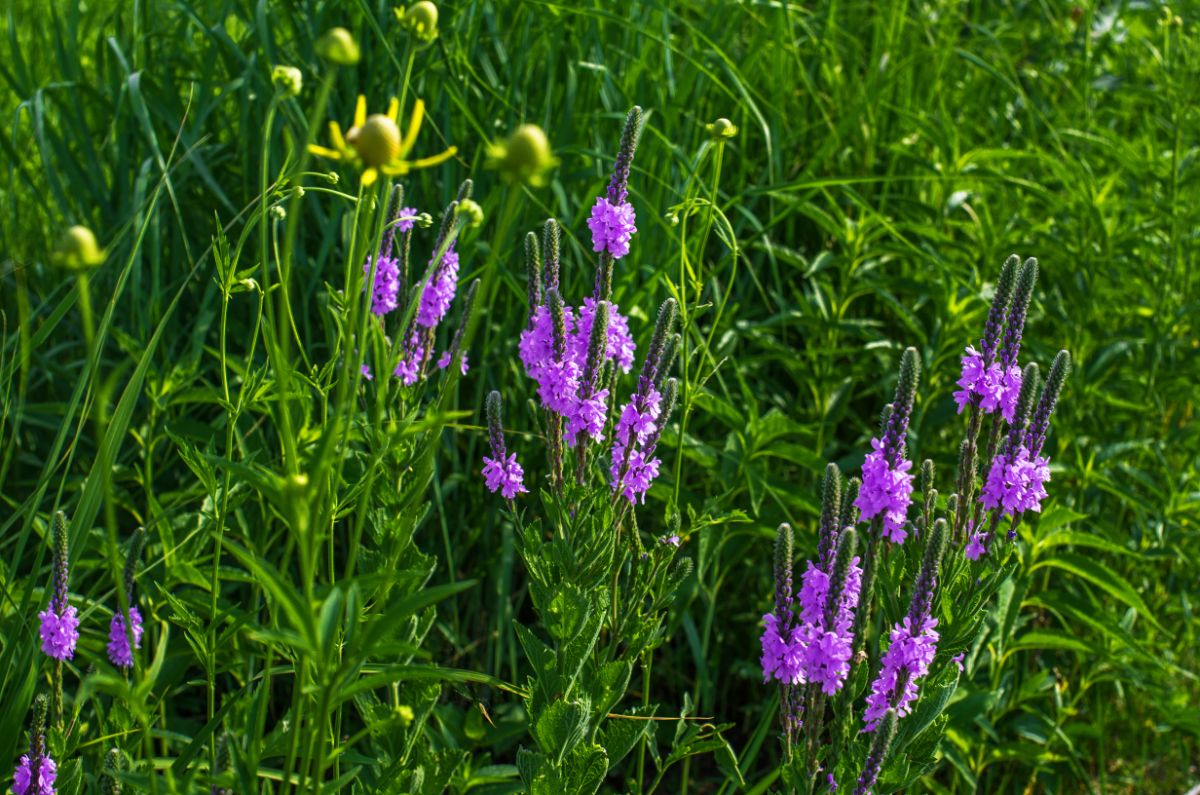 Are you looking to add a North American native perennial specie with purple flowers to add beauty and brightness to your garden or landscape? You can trust Vervain to give you the best ornamental features as well as produce the gorgeous blooms you have ever desired in a perennial.
It is one of the most giant-framed purple perennial flowers any perennial can ever produce. Even with its tall frame, the flowers still emit some ornamental features to the garden and stand out at any point in time above others. It will grow up to 4 to 5 feet tall and prefers full sun.
However, these species can be extremely difficult to locate in the nursery trade, but you can easily begin planting from seed. It is resistant to deer but is attractive to pollinators like bees, which feed on its nectar.
Meanwhile, Verbena stricta is hardy to -30 degrees F, and its airy flowers are giant-framed yet stately in the garden or landscape.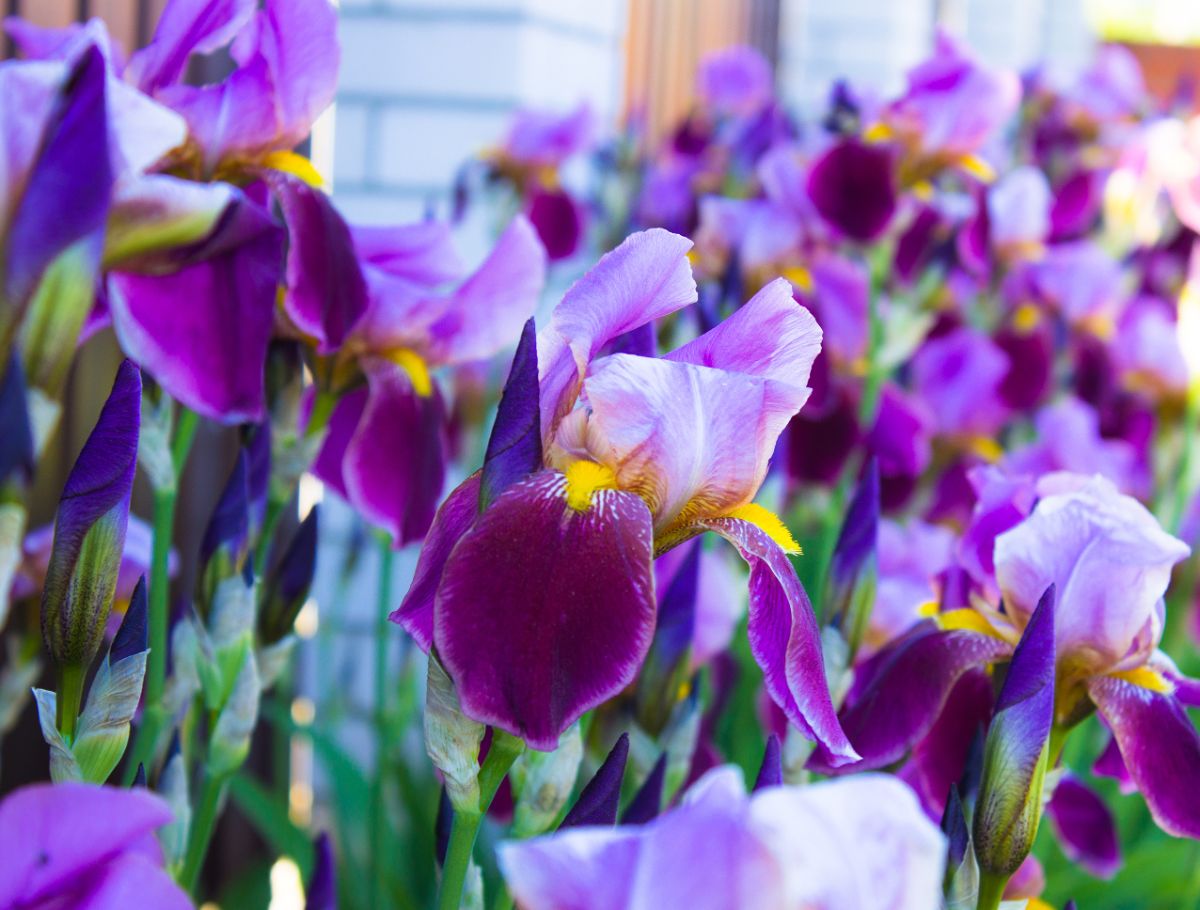 If you want a colorful flower garden, the German Bearded Iris must be at the top of your list. It has different colors like that of a rainbow, but the most beautiful of them all is violet or purple color.
Iris germanica, as it is scientifically called, has several varieties that will fulfill your passion for adding purple flowering perennials to your flower bed or landscape.
This purple perennial species does best in full to partial sunlight and is as tough as nails. However, you must avoid sowing its rhizomes too profoundly to prevent them from rotting. German bearded iris specie is resistant to deer, and amongst all the deer-resistant purple perennials, it is the easiest to grow.
It is a very great ornamental plant for any vibrant garden and is full hardy to temperatures of around -40 degrees Fahrenheit. The iris germanica can grow as tall as 2 to 3 feet high and is an early spring bloomer that can survive little to no attention.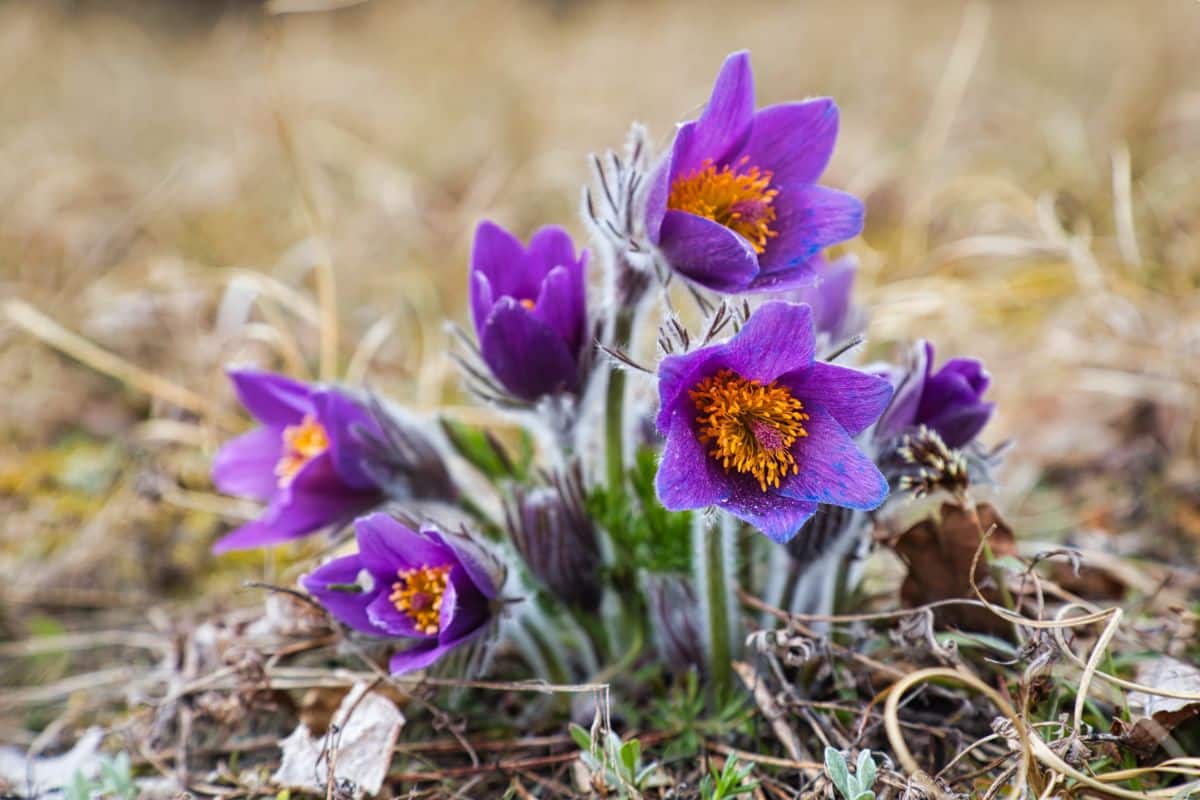 Another gorgeous purple perennial flower that will add beauty and color to your garden is Pasqueflower. It produces large blooms with huge light purple petals and a yellow center that will help fill up unnecessary spaces, be it in your flowerbed, rock garden, borders, or even wild-looking cottage garden.
The Pulsatilla Vulgaris is somehow related to the more popular anemone and is native to pine forests and meadows of England, where it grows on sunny slopes in the area of soil that is rich in calcium.
Pasqueflower is a rare species in the jungle but now has several varieties you can grow in your garden: Pulsatilla Vulgaris Grandis and Pulsatilla Vulgaris Rubra.
However, if you want to add some burgundy to your palette, you can opt for the Pulsatilla Vulgaris Rubra variety.
However, the pasqueflower purple perennial species generally produces a bright flower rising above a bit of bush of pinnate leaves and provides a decorative, eye-catching, and architectural outlook in a garden.
This specie can grow as tall as 9 inches and 1 foot tall and prefers full sun. The best type to grow it is during the spring season and in chalk, loam, or sandy, well-drained soil. The soil, meanwhile, can be neutral, alkaline, or acidic. The Pulsatilla Vulgaris is hardy to USDA zones 4 to 8.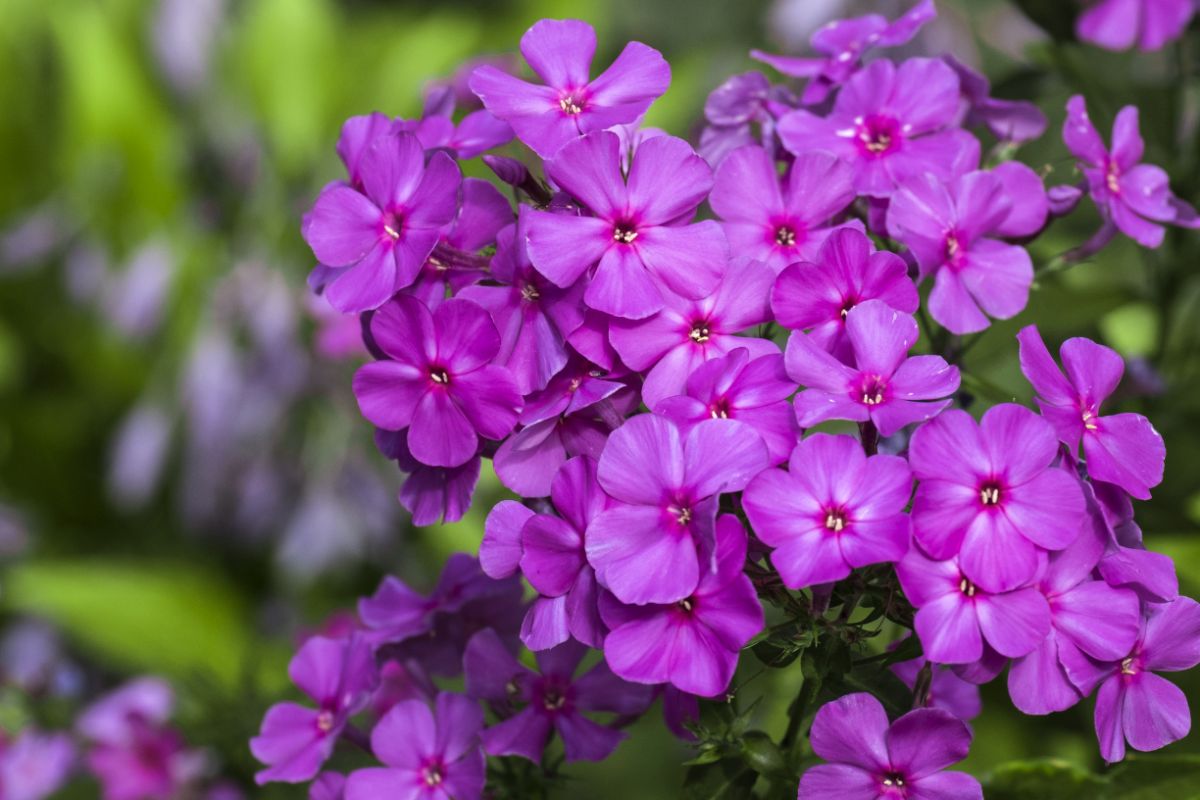 If you are looking to add a little bit of color flavor to your garden, then you must not look past the Phlox paniculata. It is a classic for adding natural beauty to its landscape. It comes in different purple colors of Phlox like Flame Blue or Blue Paradise, which gives your garden an added flair.
It is one of the tallest species amongst the purple perennial varieties, as it can grow up to 2 to 3 feet in height. It features round flower globes and thrives under full sun. The Phlox perennial specie is quite attractive to deer and produces flowers from mid-summer to fall.
If you want this plant to produce more flowers, make sure you regularly deadhead them and pinch the stems back by a third during late spring for an increment of the branch.
Meanwhile, the Phlox paniculate is hardy down to -30 degrees Fahrenheit and draws pollinators like butterflies, hummingbirds, and bumblebees, amongst others.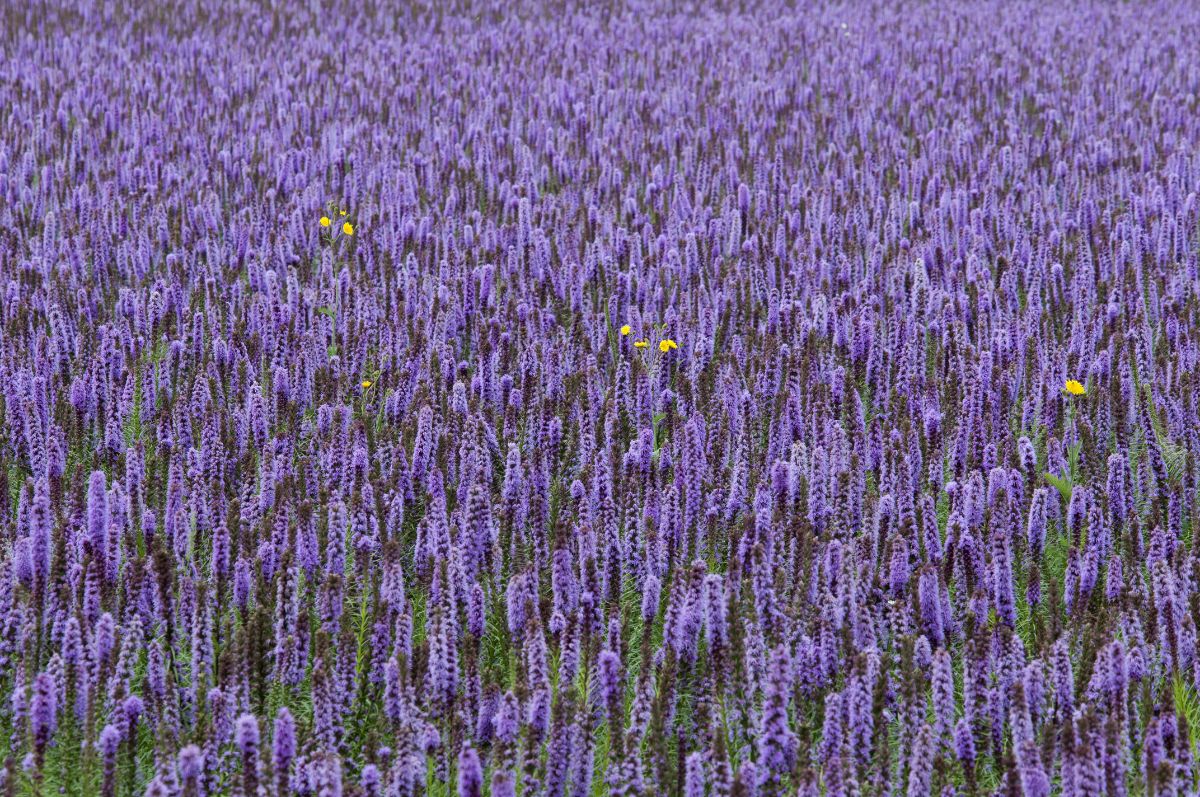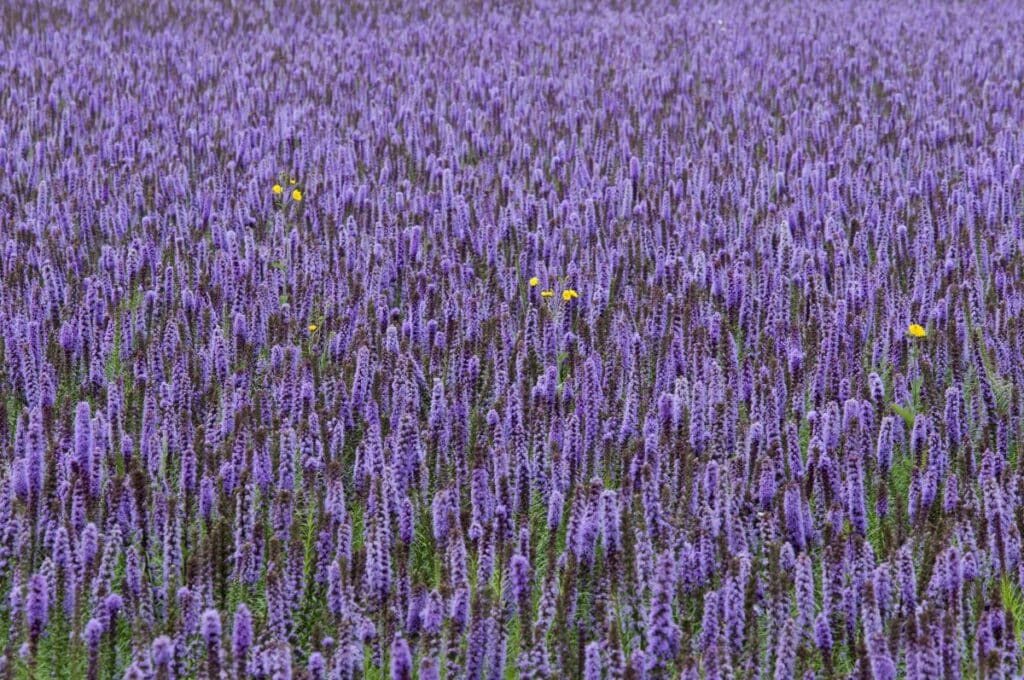 Anise Hyssop is a taller purple perennial flower featuring scenting bluish-purple blooms. In other words, it does not only add beauty to your garden but also makes the garden classy by giving it a charming fragrance, thereby earning its nickname fragrant giant hyssop.
It is an edible plant featuring a licorice flavor and can serve as a medicinal supplement.
Also known as blue giant gossip, the Agastache foeniculum is made up of sweet nectar, which draws pollinators like bees. However, it is resistant to deer but attractive to hummingbirds. If you want your anise to grow healthy, then you must grow them in well-drained alkaline soil with a pH of about 6.5.
This specie loves to seed in a fresh and clean bed that is free from any form of weed or roots. During its early stage, regular watering is essential, but as it becomes established, reduce the watering routine because, at this point, it becomes drought-resistant. Meanwhile, anise desires full sun to partial shade and is hardy to zone 4 to 8.
8. Dalmatian Bellflower (Campanula portenschlagiana)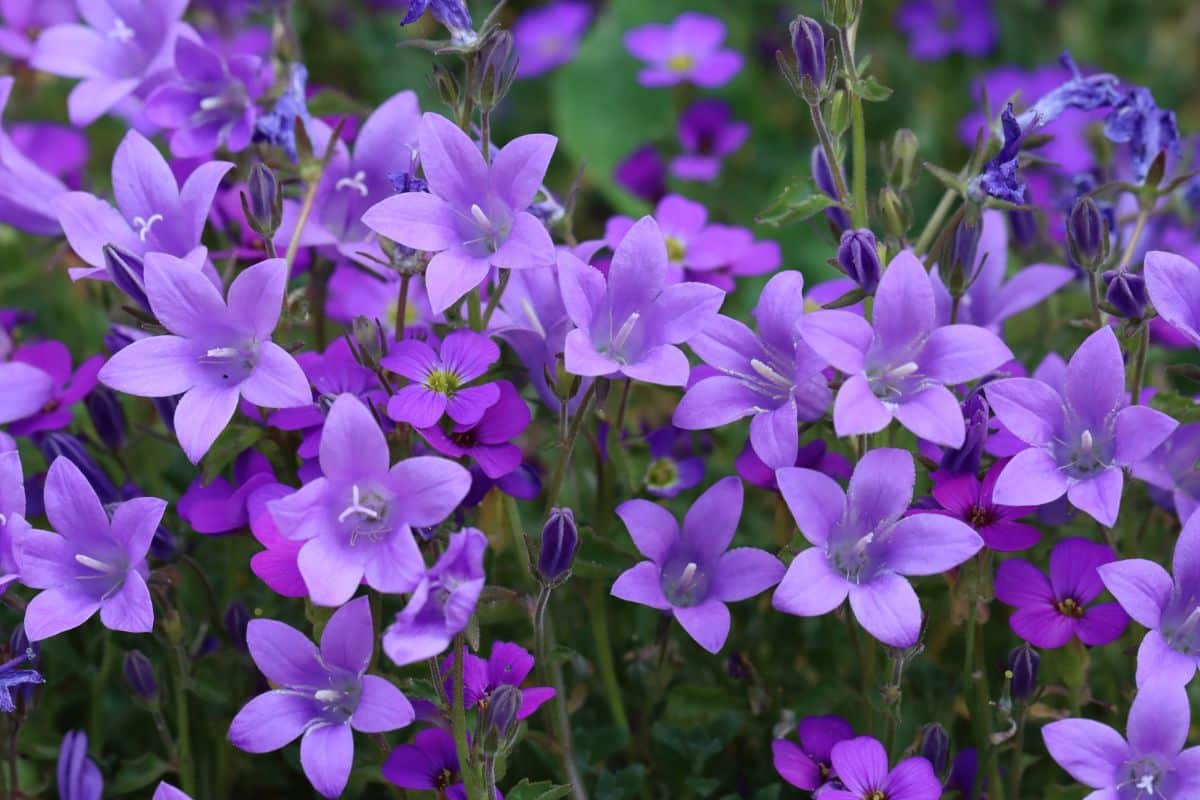 Thanks to the Dalmatian Bellflower, you can introduce a little Alpine to your landscape. The Campanula portenschlagiana is a mountain perennial that produces bell-shaped blooms of a bright bluish-purple tint.
Meanwhile, it is a purple flowering plant that can grow as many flowers as possible to the extent that you'll be confused into thinking that it is a purple carpet in your back garden. Even though it is among the shortest purple perennial plants, it is a great trailing plant cascading down old containers and draping over walls.
It can also spread in rock gardens, informal and cottage gardens, and patios or for pots on terraces, and its width stretches much more than its height, hence making it an excellent prospect for groundcover.
Dalmatian Bellflower thrives under full sun or partial shade and is short at 8 inches to 1 foot tall, as well as hardy to USDA zones 3 to 9.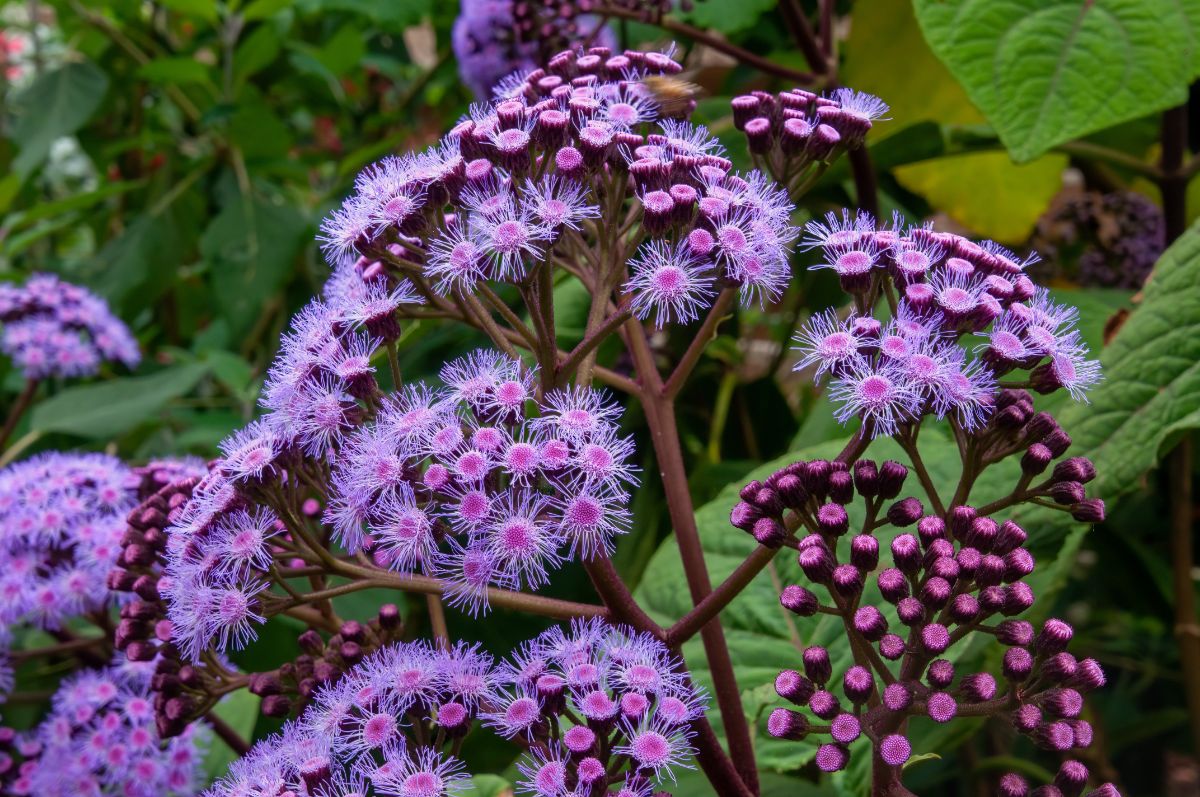 One of the most beautiful purple perennial plants to add to your garden or flowerbeds is Mistflower. It is a trendy specie common producing clusters of fuzzy purple flowers on a short stem rooted over gorgeous triangular-shaped foliage.
Conoclinium coelestinum, as it is scientifically called, is an attractive plant that will survive partial shade but does best in full sun in as much as it is adequately watered. It prefers moist, well-drained soil and can survive almost any type of soil.
Mistflower specie has a moderate height of around 1 to 3 feet and produces flowers from mid-summer to frost season. It is hardy to USDA zones 5 to 10.
Meanwhile, this plant is invasive because it tends to trail rapidly, thereby producing a dense groundcover. This purple perennial specie will provide a shade of purple to slightly shaded nooks in your landscape.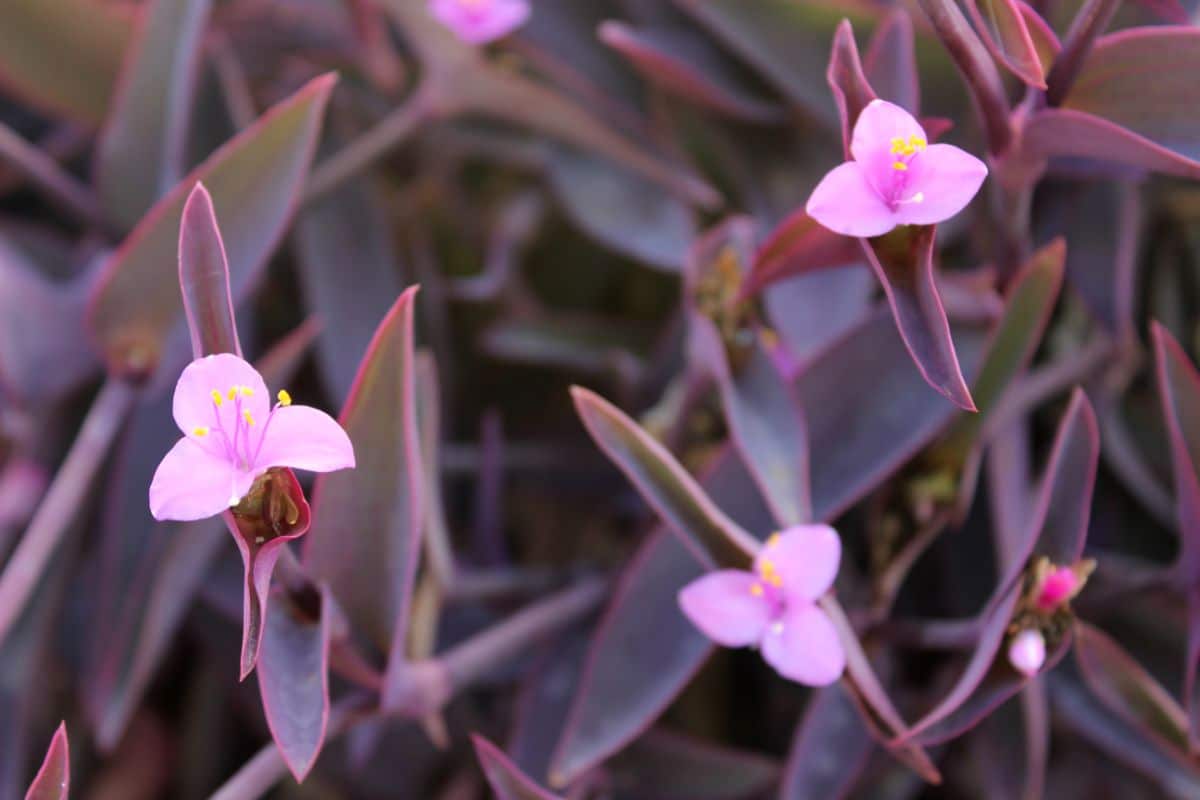 The Purple-leaved Spiderwort is one of the most beautiful purple perennial flowering plants that can add beauty and elegance to your flowerbed. It doesn't only have purple leaves but also produces several shades of purple flowers, earning it the nickname "Purple Queen".
Tradescantia pallida specie is a rapid-grower, hence is perfect for groundcover to give color to the perennial garden or flowerbed. It is a vining species (which is why it is called Purple Wandering Jew) that can spread to almost 45 inches and a height of just 8 inches, thus indicating that it is a dwarf perennial variety.
Also known as Purple Heart, the Purple-leaved Spiderwort features deep purple foliage that produces slender pink flowers. It thrives in moist, well-drained soil but can survive extended drought periods. It prefers full sun to partial shade and is USDA hardy to zone 10 to 11.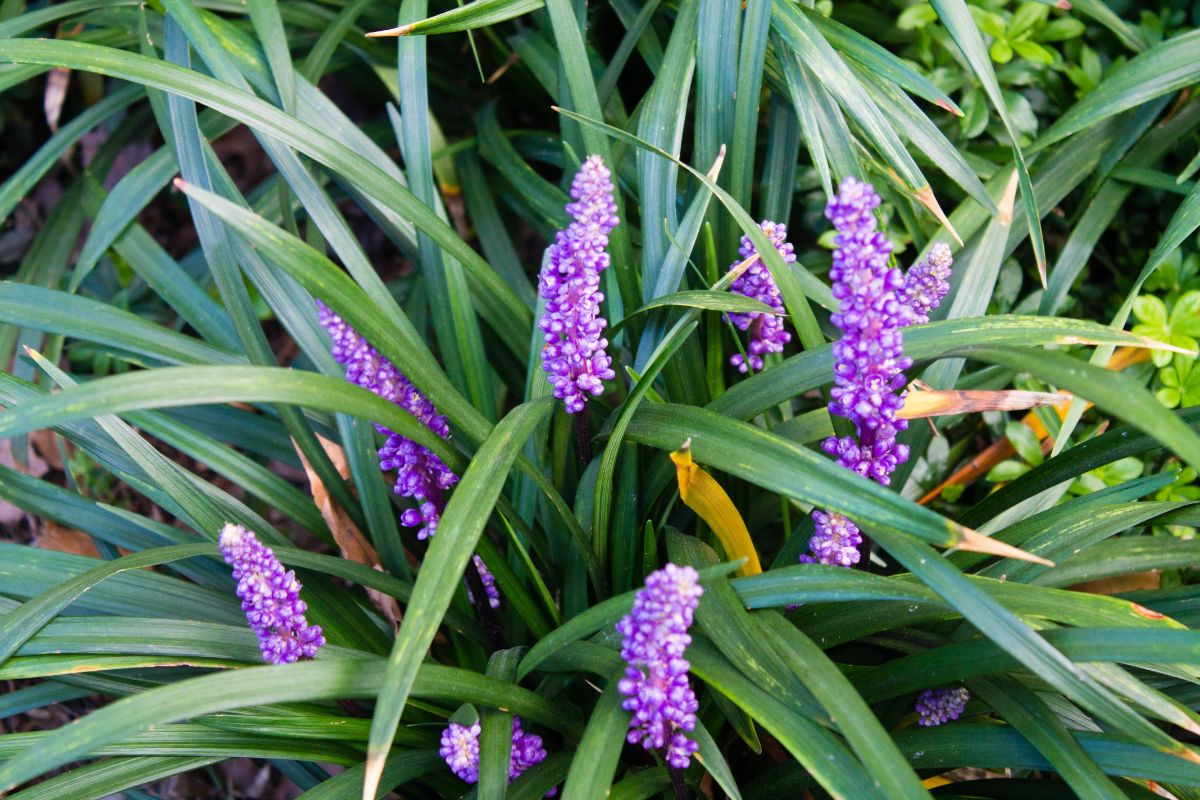 You will surely get the best out of your garden when you try out a long lavender flower to the long, gorgeous leaves of the lily turf.
What you will get is a very stunning decorative border that will catch anybody that steps foot around the area. Such is the beauty of the Lily Turf that you couldn't afford to let it go missing in your garden.
Though it is small purple perennial specie, it is a tuberous plant that will create dense clusters that look like Armenian grape hyacinth, scientifically called Muscari armeniacum, found in the woodland jungle across the Northern Hemisphere. Therefore, this plant is perfect for those that want a feel of countryside wilderness or an elegant border.
The liriope Muscari specie also makes a good combination with other plants in flowerbeds and as an underplant for roses and other tuberous plants. Once it has been established, it will produce black berries of a conical shape and will continue to beautify the garden well into late fall.
Lily turf species thrives in any light condition, be it full sun or partial shade, and can even tolerate full shade.
However, it is a dwarf plant of about 12 to 18 inches tall and is hardy to USDA zones 5 to 10. It prefers to be grown in clay, loam, or sandy soil moist and well drained with a neutral or acidic pH.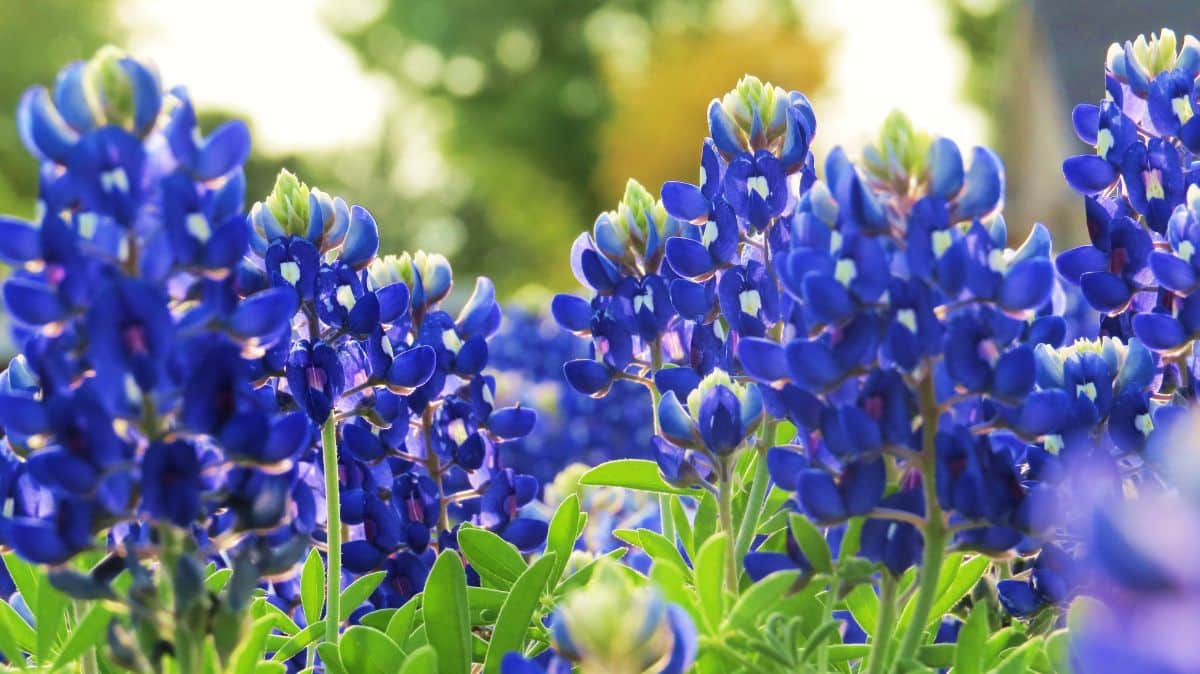 This purple perennial variety is a lupine specie that is very common among gardeners for several reasons. It comprises clusters of vibrant bluish-purple blooms and light green foliage. The most exciting feature of these blooms is their different bright colors and their rapid-growing abilities.
Bluebonnet thrives under full sunshine and will require about 6 hours of sunlight each day. As much as they can survive under partial shade, it will not produce the kind of healthy flowers they bear when in full sun. However, in hotter regions, it would benefit significantly in afternoon shade.
Native to Southern North America, the Lupinus species can tolerate drought periods. Hence too much moisture is not necessary. You can use only water once a week or two. The plant is hardy to USDA zones 4 to 8 and is as short as 12 to 24 inches in height.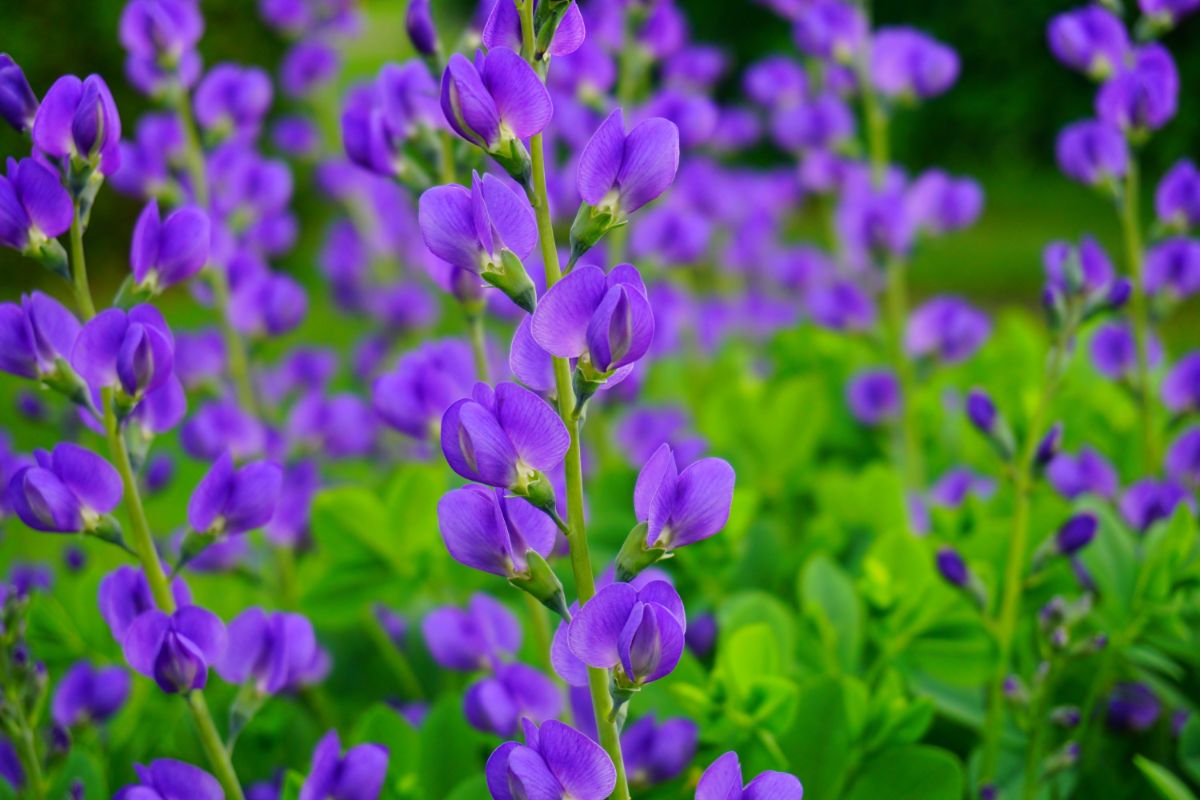 False Indigo is an incredible early-flowering perennial that will add some needed elegance to your garden or flowerbed.
At the turn of every spring season, the large bumblebees pop open the lidded flowers. These bees happen to be among the few bees strong enough to unveil the flowers and pollinate them.
As long as the false Indigo is concerned, it is not attractive to deer, which is an added benefit. The Baptisia australis species produces spikes of purple-blue blooms. However, false Indigo has other varieties that produce different colors ranging from yellow, burgundy, and white.
This specie can grow as a giant flowering perennial plant that can grow as tall as 3 feet when grown in full sun and with winter hardiness down to -40 degrees Fahrenheit. However, the Baptisia australis lack a significant extended blooming period but feature beautiful foliage.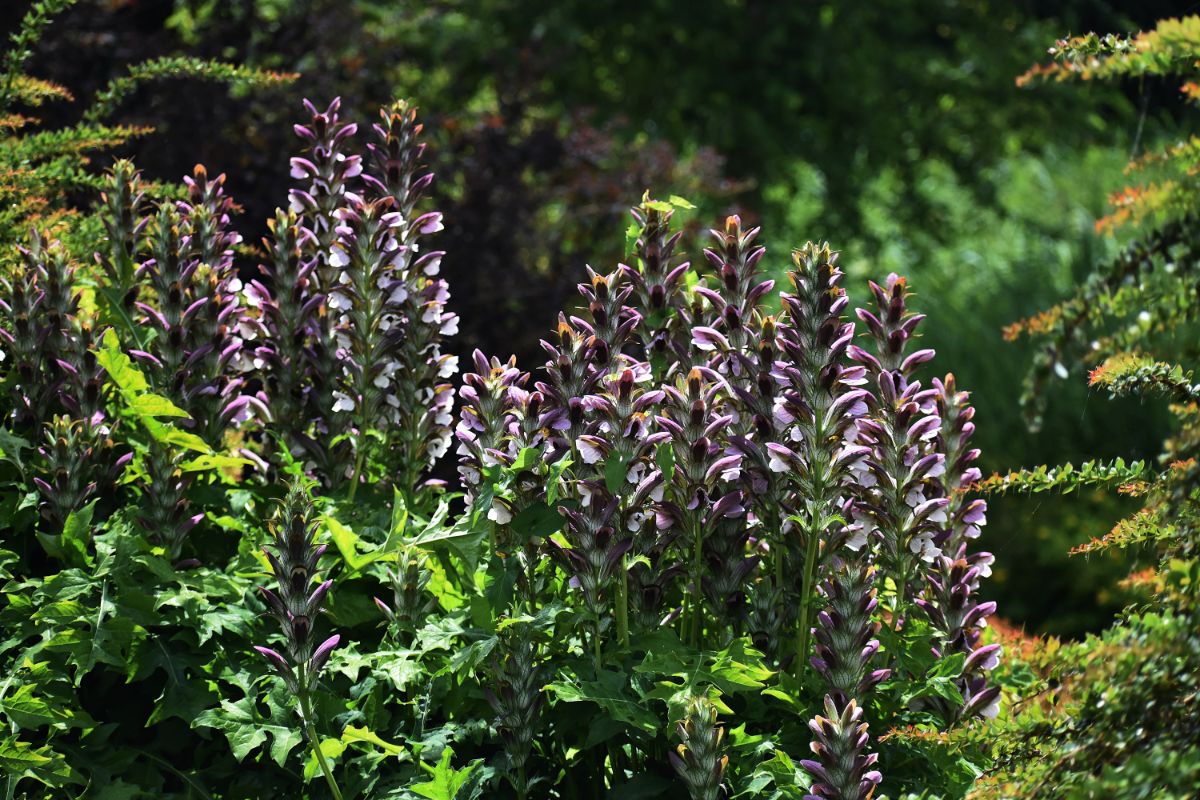 Are you looking to add a huge perennial plant with purple flowers to your garden or flowerbed? The perfect plant for you is Bear's Breeches. It features big, bold, spine-covered leaves complimented with 3-foot giant spires of hooded blooms each summer.
Bear's Breeches does best in full sun and produces flowers that can last for several months. Meanwhile, this specie is winter hardy to -20 degrees Fahrenheit and needs ample space in your garden.
Thanks to the several spines, the plant is resistant to deer and rabbits. The acanthus Mollis is gorgeous with its large spiny leaves and hooded flowers.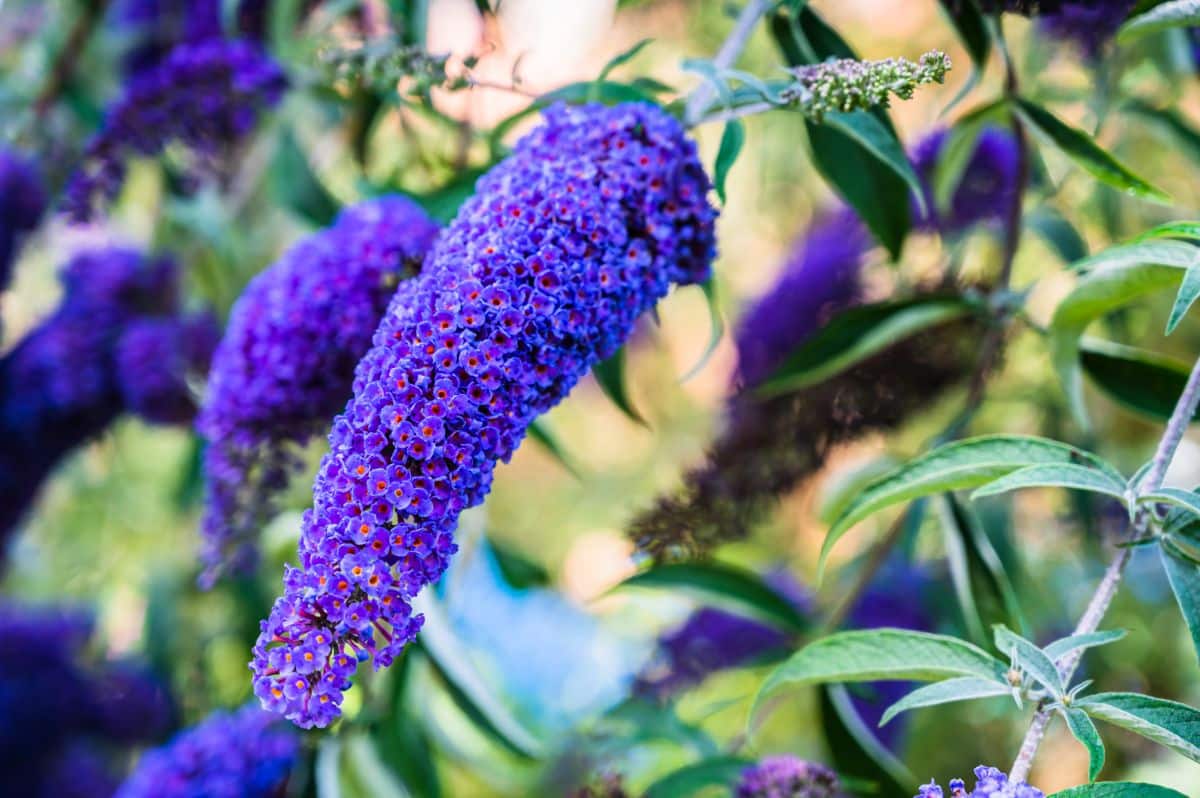 Another purple perennial plant that is worth adding to your garden to give it the elegance you desire is Butterfly Bush.
It is an easy-to-grow perennial that produces beautiful flower spikes. Meanwhile, these flowers are available for sale in different colors, including multicolor, even though they can be invasive in certain states.
However, Butterfly Bush is so attractive that it draws all kinds of pollinators to your garden, including butterflies and hummingbirds. It is a perfect addition to any garden thanks to its beauty and ability to survive any harsh condition. This specie can survive partial shade but produces best under full sun.
It can survive any soil condition as long as it is in a well-drainage system. However, unlike some other purple flowering perennials, the buddleja specie requires regular weekly watering and can grow as tall as 15 feet in height. Native to Southern Africa, this specie is hardy to zones 5 to 9.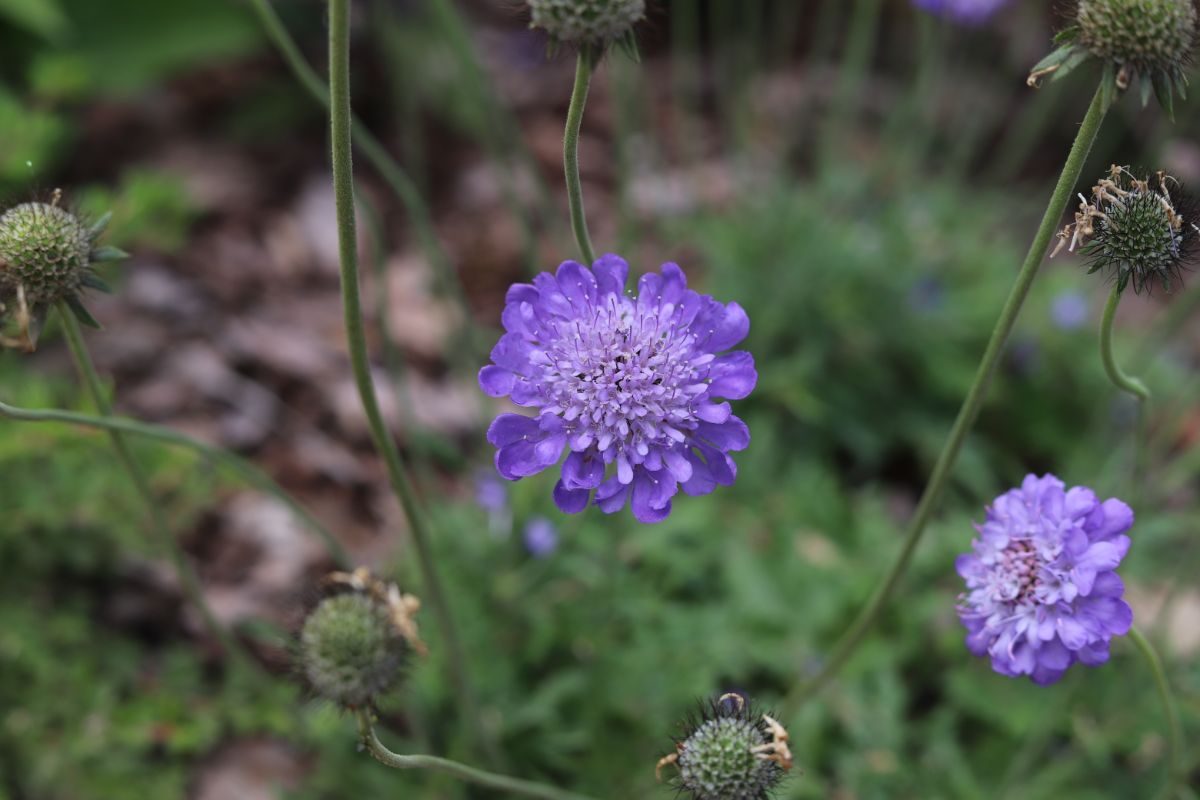 You might think of it as blue because of its name, but the Pincushion Flower is a light, pastel purple-colored perennial flower, almost like Lavender. It is a trendy plant, especially considering how easy to grow it is coupled with the fact that it continues to produce flowers in abundance.
It tends to produce wide varieties of blooms with multiple small petals that unveil on the long stems and the gray-green foliage at the mound, perfectly setting them off.
This flowering plant is most suitable for the jungle, or prairie display of your choice, whether you are planning to place it in borders, flowerbeds, or around pathways of your small corner of purple paradise.
The pincushion flower can be planted in containers and rock gardens, especially if you want to enjoy the partial jungle display we all desire. This specie thrives in full sun, loam, chalk, and sandy soil that is well-drained and resistant to frost. It is also hardy to zones 3 to 9 and can only grow up to 12 to 18 inches tall.
As far as coneflower is concerned, it is a popular prospect among most perennial beds, whether yellow perennial flowering varieties or purple flower-producing species. It has become more widely renowned for producing huge daisy-like flowers that are not elegant but also durable.
Purple Coneflowers survive in almost any soil but are more productive in humus-rich, well-drained soil and under the full sun for about 6 to 8 hours per day. If you live in southern climates, you can opt for afternoon shade since the hot sun can fade the beautiful flowers.
This species is hardy in USDA zones 3 to 9 and produces flowers from early to mid-summer until the arrival of the frost during the fall. It will help if you deadhead its faded flowers to keep them healthy throughout the summer.
18. Aster 'Wood's Purple' (Aster Dumosus)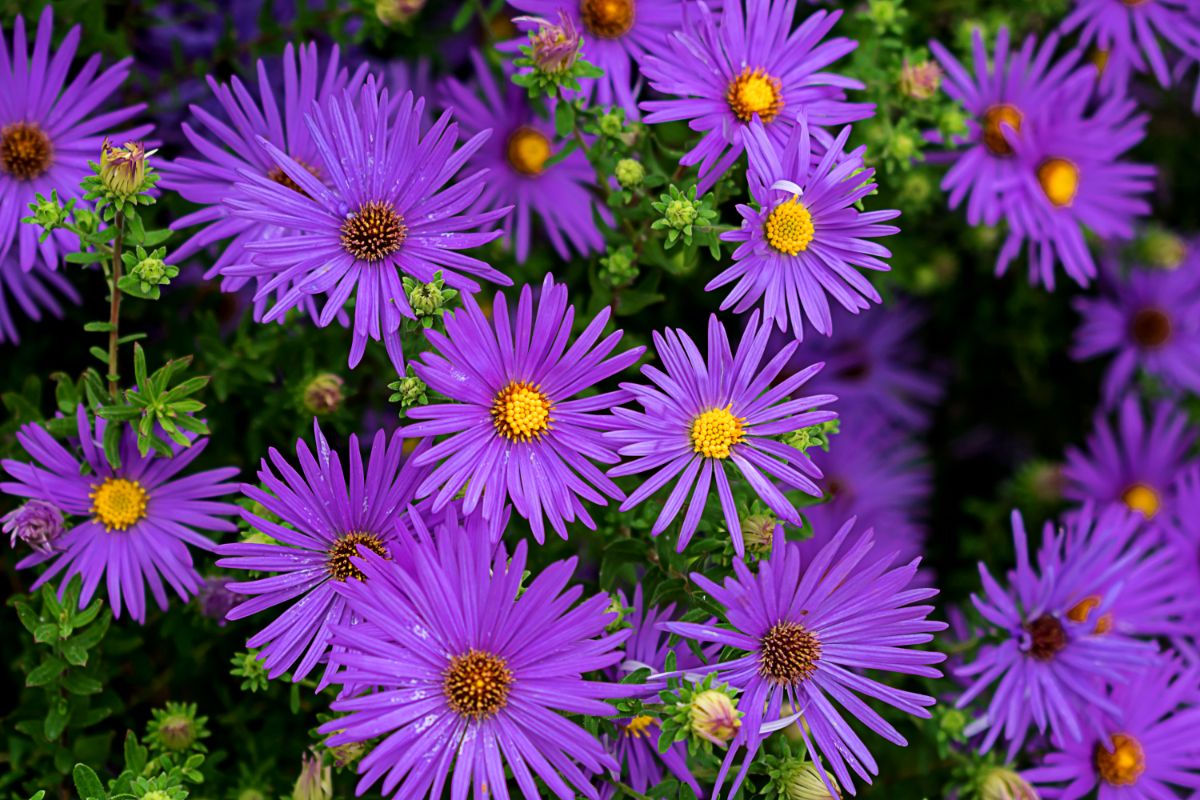 The blooming of this purple perennial plant is out of this world, as it brings incredible elegance to any garden with its abundance of flowers. Aster is a Latin word for Star, thus showing the uniqueness the Aster 'Woods Purple' brings to your landscape, coupled with the fact that it is a beautiful purple color.
Even though it is a short specie of about 12 to 18 inches tall, the aster dumosus features glossy dark-green leaves setting off the multi-petaled star-like, bright purple flowers. This makes it a great prospect for borders, flowerbeds, and several informal gardens.
Meanwhile, the aster species also draws pollinators like butterflies and even birds. It prefers full sun or slightly shaded areas and survives in almost every soil type, clay, loam, chalk, or even sand based that is moist and well-drained. It blooms from late summer to mid-fall and is USDA hardy to zones 4 to 8.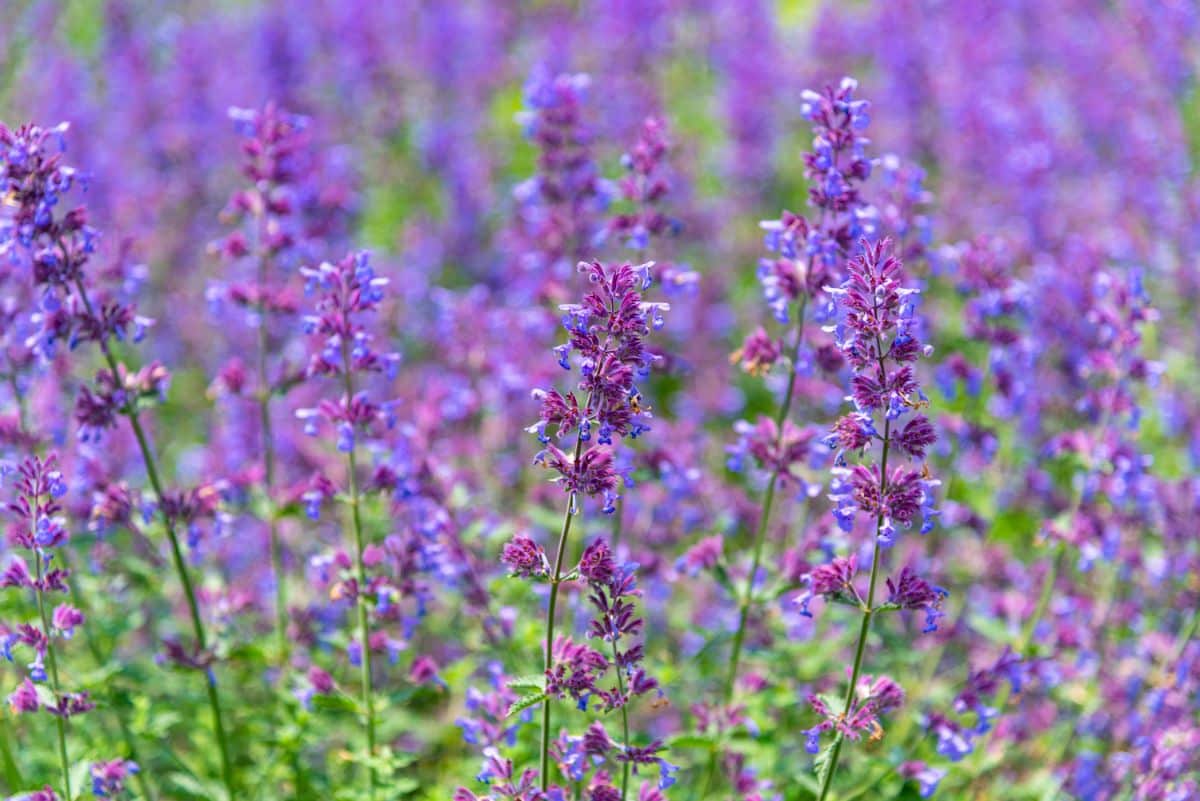 Catmint is another beautiful purple perennial flower from the mint family that can serve as an herb. It is an easy-to-grow plant that is resistant to pests and deer. Even though it is a short plant, it has a rapid growing ability and can survive almost any climate as well as grow anytime from spring to fall.
The flowers and leaves of the catmint perennial species can also be used to prepare tea and serve as medicine for cough, congestion, and even menstrual cramp. This specie also attracts cats, which has similar effects as catnip, yet catmint possesses a tasty, minty flavor.
It thrives under the full sun but can survive partial shade. It can also thrive in well-drained humus-rich soil, yet some varieties can grow in different types of soil. At their tender stage, these plants will require much water, but when it is established, it remains drought-tolerate. It can grow up to 3 feet tall and is hardy to zones 4 to 8.
20. Tatarian Aster (Aster tataricus)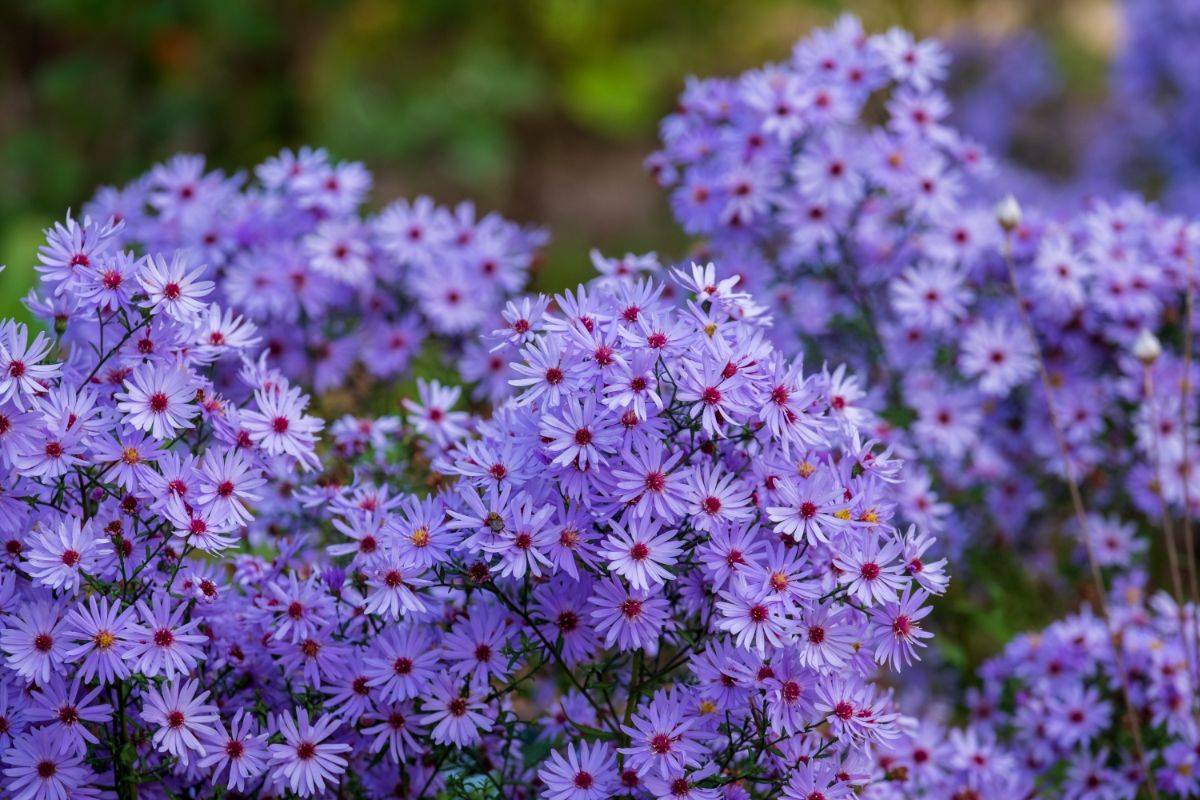 Tatarian Aster is the favorite perennial of almost every gardener out there. It is a late-blooming plant that produces purple blooms that are as tall as 6 feet in height. It comes in different clusters of little, pale purple blooms that attract different kinds of pollinators, especially when no other thing is blooming in the garden.
Meanwhile, the Tatarian aster prefers full sun and doesn't need any staking. It is hardy to -40 degrees Fahrenheit and is very attractive to pollinators. It doesn't require much water after it has been established, as that is when it will become drought-tolerant. Make sure you use moist, well-drained soil of any type.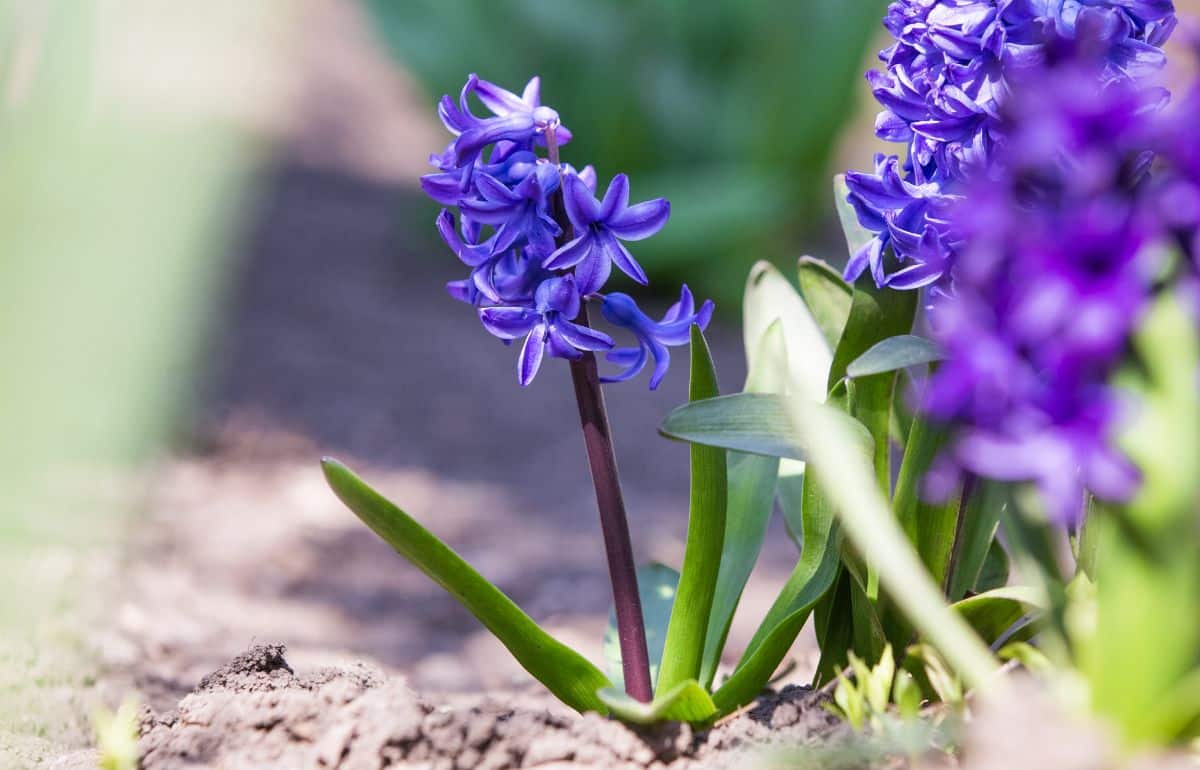 Suppose you are looking for a purple perennial flower that has both lovely fragrances and produces iconic, lush, abundance inflorescence. In that case, you must look no further than the Hyacinth 'Miss Saigon'. This perennial species offers the deepest purple in its gorgeous waxy blooms, making it the most stunning purple spring blooms you'll ever find.
This plant is particularly perfect when used in simple glass with some water; however, it can brighten up any flowerbed, container, pot, gravel garden, or rockery with its elegance and guile.
It has poisonous bulbs, which you have to prune from the ground, dry, and preserve in a cool, dry place after it has bloomed, then replant during the fall.
Hyacinth 'Miss Saigon' prefers full sun or partial shade, can tolerate any soil type be it chalk, clay, sand, loam, alkaline, acidic, or neutral soil, as well as it is well-drained. It is USDA hardy to zones 4 to 8 and is a short perennial of about 6 to 10 inches.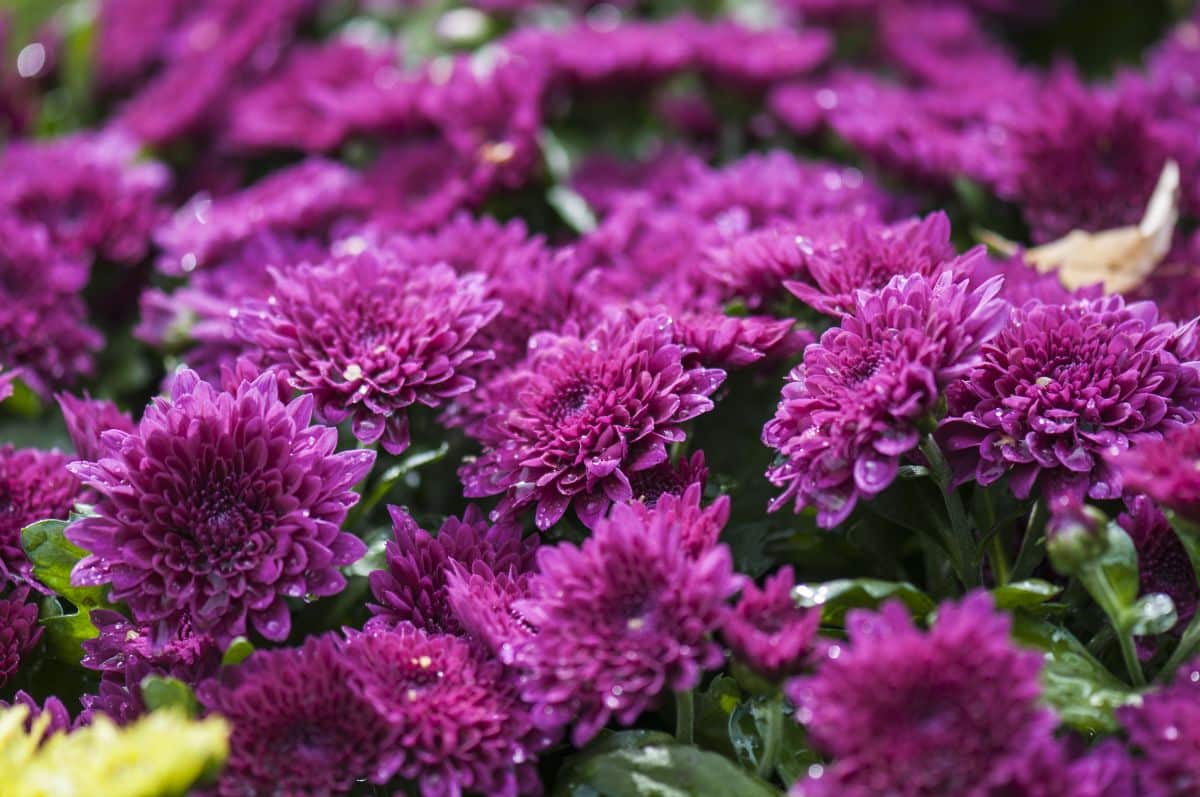 Popularly known as mums, chrysanthemums are purple perennial flowers featuring lively clusters of petals on every bloom. If you don't have this specie during the fall or winter season, then you're missing a lot. It is available for purchase in several grocery shops whenever it is in complete bloom.
However, if you want to get the best out of these mums, then the best time to plant them is during the spring. The plant is a giant species that can grow up to 3 feet in height and make for a perfect filler plant to add color during autumn. However, mums require enough sunshine and frequent watering.
Ensure you apply sufficient water to moisten the soil but avoid overwatering them. If you want to buy for your home, you can opt for those with unopened buds to enable them to produce flowers throughout the season. Primarily native to China, the chrysanthemums are hardy to zones 5 to 9 and annual in others.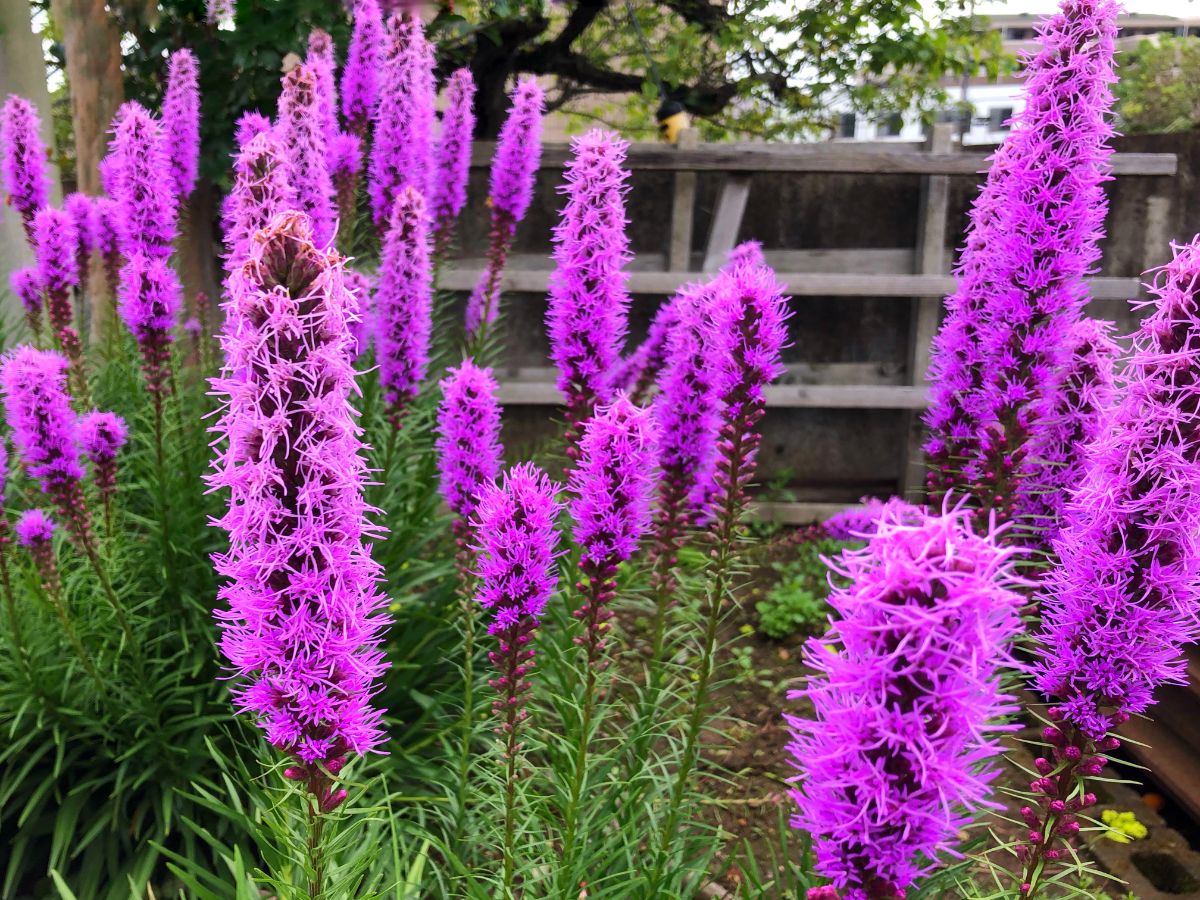 Native to North America, the blazing Star is one of the most beautiful purple perennials that attract pollinators such as butterflies and bees.
It produces 12-inch-tall flower spikes that grow from slender, strap-like leaves every summer. The flowers open one after another down the stem, thereby giving the specie an extended flowering time.
The Liatris spicata prefers full sun and is produced from a bulb-like structure, otherwise known as a corm. It is easy-to-grow specie, resistant to deer, and produces purple blooms that are perfect as cut flowers. This plant is hardy to -40 degrees Fahrenheit.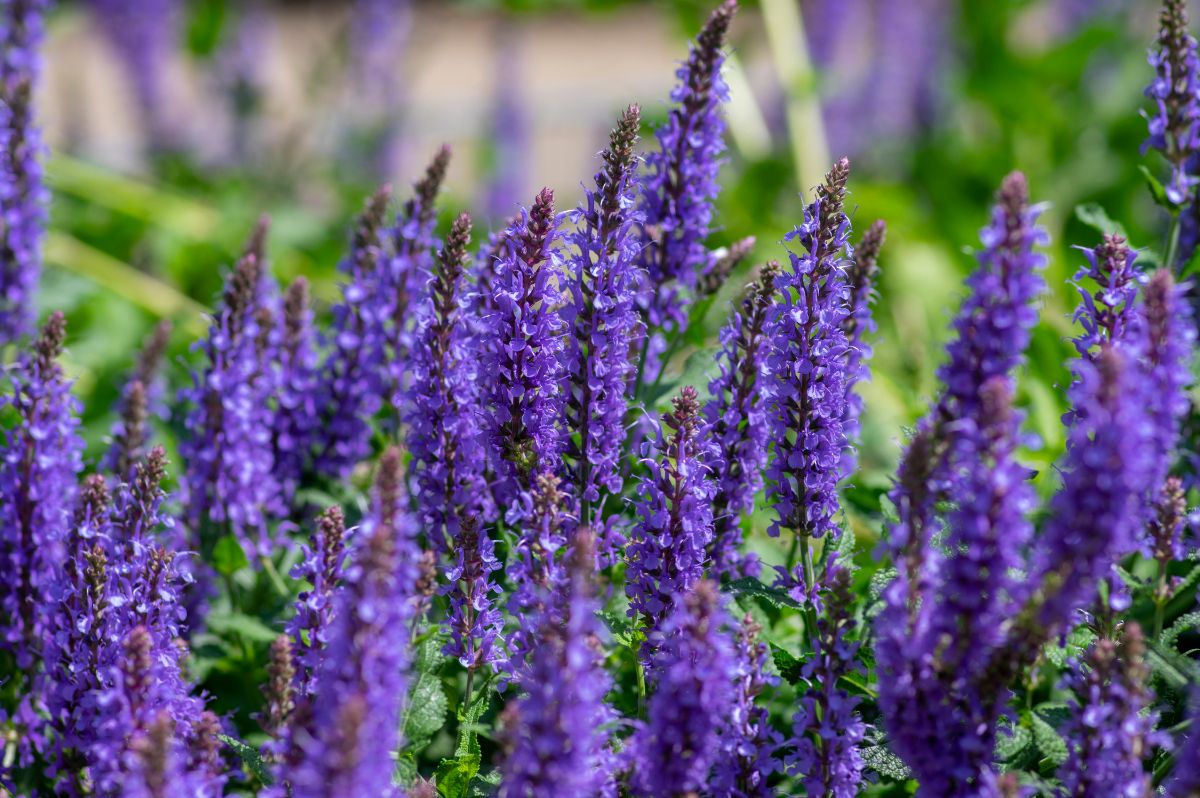 Salvia offers another wonderful purple flowering perennial addition for a bright garden. Blooming throughout the summer, this specie prefers hot, sunny, and dry garden beds.
It produces a slender spike of blooms with square-shaped stems, showing that the plant is from the mint family. It blends well with most other species in the garden.
However, salvia nemorosa needs deadheading to ensure the blooms keep coming for months. Its 18 inches of purple flowers are so beautiful yet are resistant to deer.
Salvia surely deserves to be in any garden as it has several purple-blooming varieties that are worth growing, such as Cardonna and Amethyst. They are mainly hardy to -30 degrees Fahrenheit.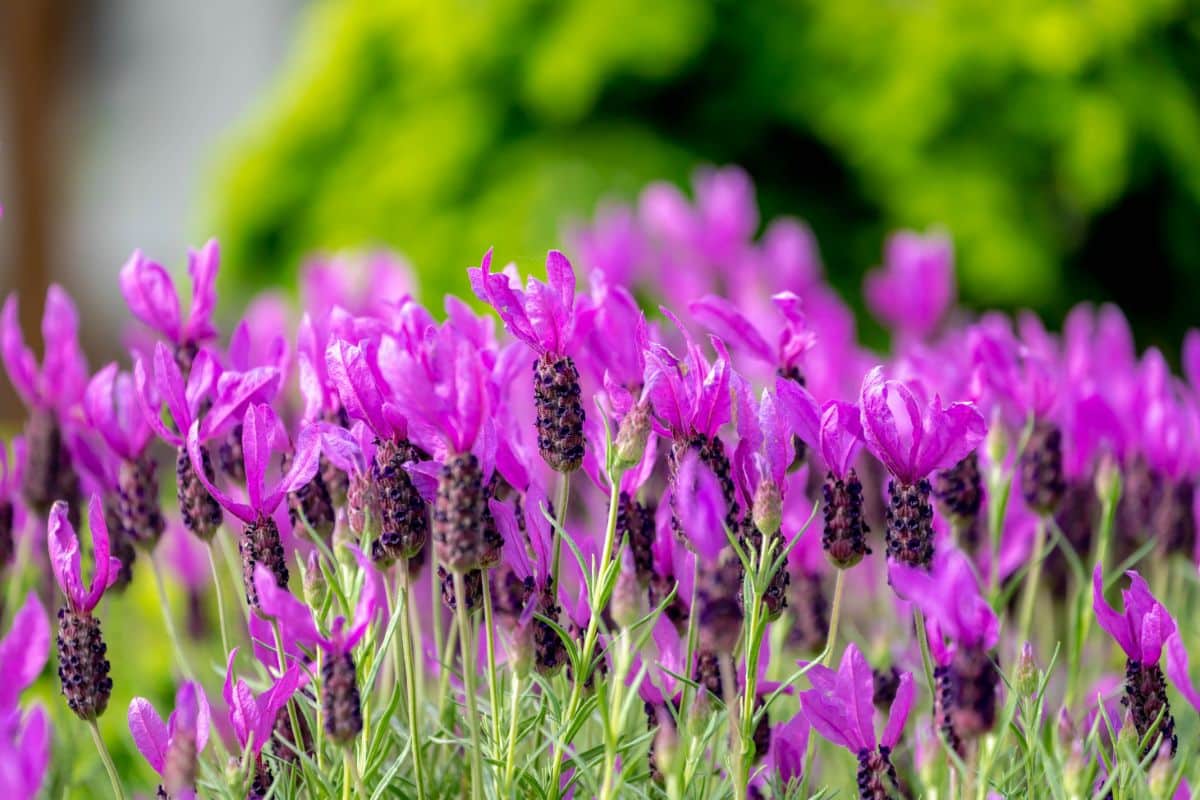 The last but not the least on our list is Lavender, which is unsurprisingly among the smallest in size. However, it is one of the most popular plants with purple blooms. It has a charming fragrance and essential oil content, which explains why it is relatively more expensive than many others on this list.
Lavandula species are deer resistant and prefer both full sun and well-drained soil. This plant has several species and types on offer; however, it would be best if you pick those hardy in your region.
You can choose to go for Lavandula x intermedia 'Phenomenal' and 'Grosso', which are most gardeners' favorites.
Purple Perennial Flowers Key Growing Tips
Almost every (if not all) purple perennial flowering plants are very hardy; therefore, they don't require much attention. They are all drought-resistant to drought and heat, and while most are resistant to deer and other animals, others attract deer.
A closer look at our top picks of purple perennial flowers above will tell you that they all prefer full sun even though they can survive under partial shade. Enough said! Let's quickly run through the vital growing tips for purple perennial flowers for a bright garden.
Natural Habitat/Lighting Tips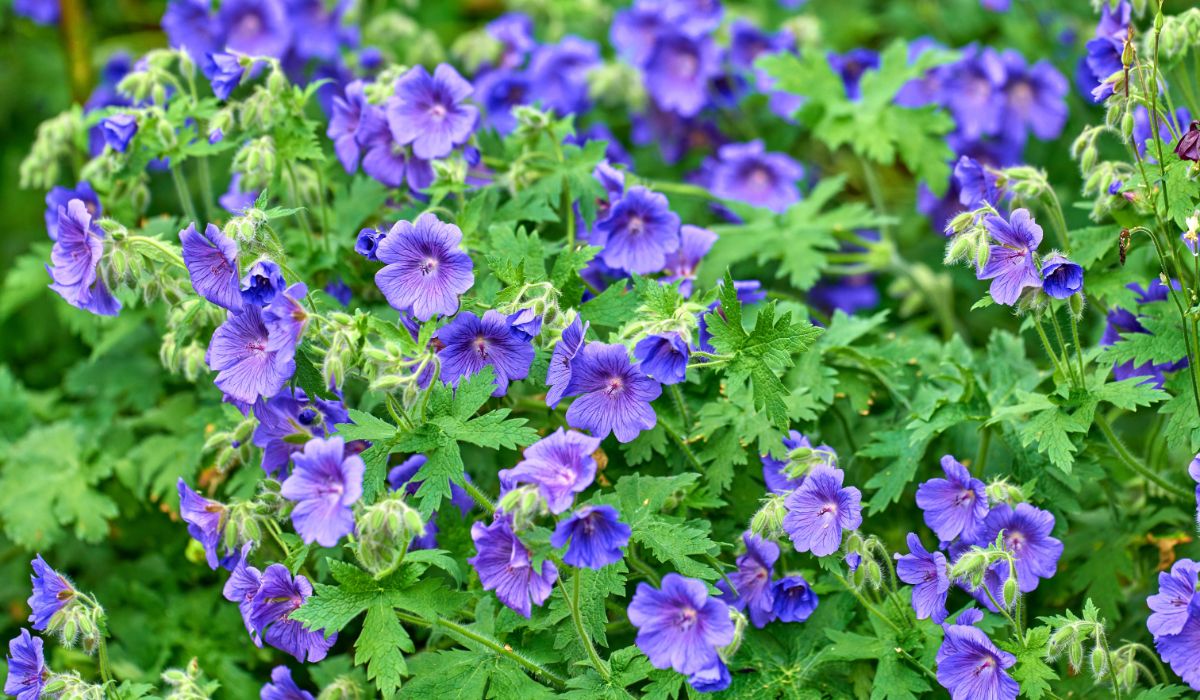 Almost all purple perennial flowering plants have their natural habitat in Northern America or South Africa, which is a hot climate. In other words, they survive under the heat of sunlight from their native geographical location or jungle.
Therefore, if you want to get the best out of these purple beauties or maintain their healthy states, then there is a need to imitate their natural jungle conditions. This can be achieved by growing them in an area that has access to full sun or partial shade at the very least (depending on your climate).
But if you are keeping them in partial shade, you must bring them out to receive sunlight for at least 6 to 8 hours.
Soil Tips
Purple perennial flowers can survive almost every soil, be it loamy, sandy, clay, etc., as long as it is well-drained soil. However, you can keep the soil a little moist, especially immediately after planting, to make the plant grow healthy.
Watering Tips
Purple perennial flowers are highly drought-resistant plants and hence do not necessarily require water to survive, especially if grown in the ground. In its natural jungle, wild, or desert, they survive long stretches without water, except for rare periods where they experience rainfall, maybe during the winter.
Therefore, it would be best to water them sparingly (if you must water them at all). The best time to water them is once after planting to help them grow, but after they are established, reduce the watering routine.
During a long dry spell in April or May, you can water moderately and ensure the pots has well-draining holes to dry out water quickly to avoid waterlogging.
Temperature & Humidity Tips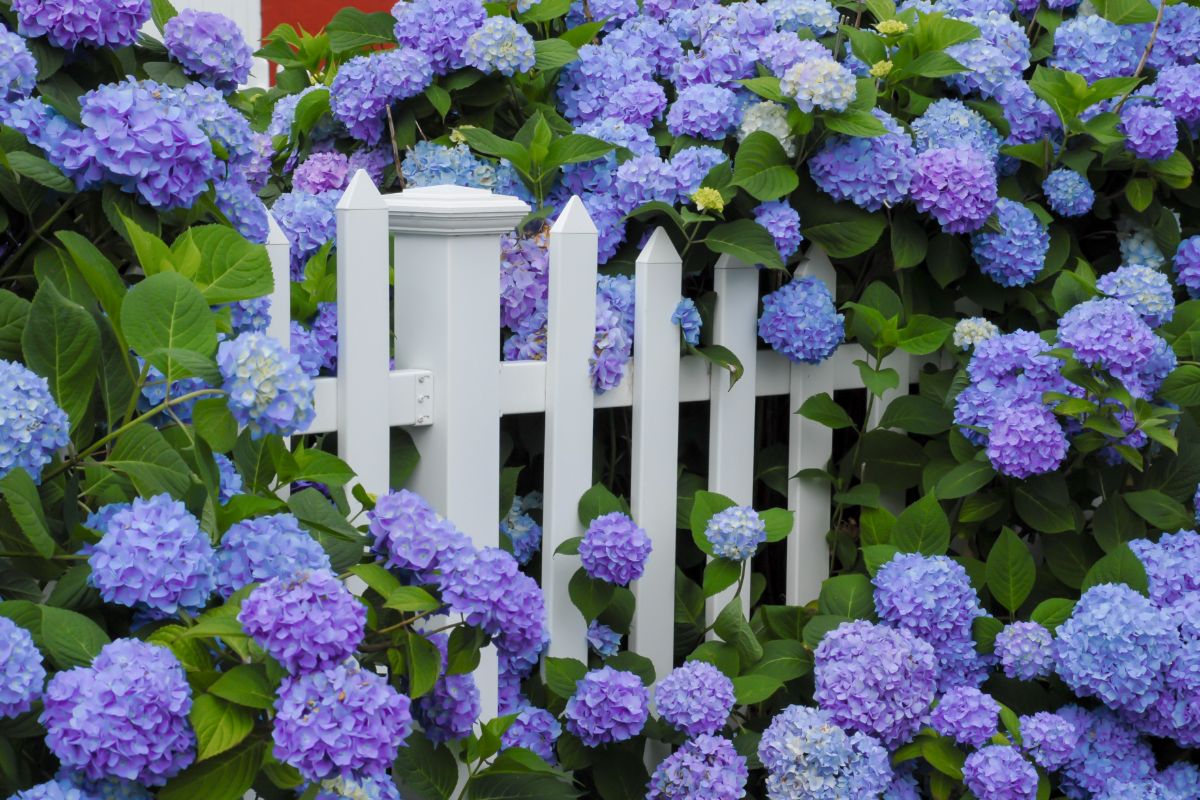 Purple perennial flowers are notorious for their hardy life in their tropical environment; hence, they don't mind extreme temperatures when the soil permits too much rain or snowmelt to drain out.
However, the proper humidity of your purple beauties is in a dry place with many air circulations.
Temperature-wise, purple perennial flowers require temperatures between 40 to 70 degrees Fahrenheit. Most times, they will need cold temperate to help their roots germinate properly. Hence, whenever you notice some chill in the atmosphere during the fall, you can start your planting.
Fertilizing/Nutrient Tips
Purple perennial flowers do not require too many nutrients to survive. After all, in their natural jungle or desert, they hardly see any source of nutrients but still survive. However, during the spring, you can apply a low-nitrogen fertilizer (6-10-10) around the plants to aid their healthy growth.
Do not apply too much nitrogen or any other type of fertilizer because instead of producing flowers, these plants will encourage foliage. Another good fertilizer for these perennial beauties is bone meal.
Potting & Repotting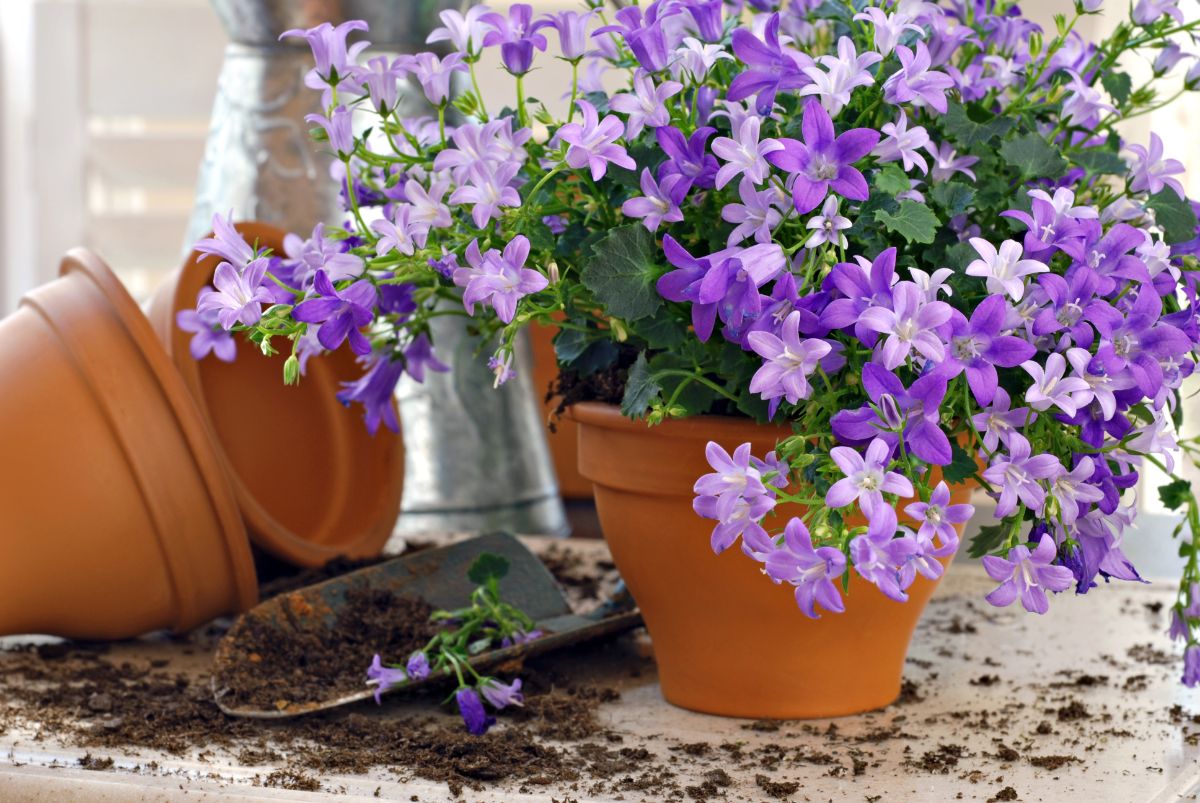 Even though growing purple perennials in pots is not a common method, you can try planting them in large pots and adopt the use of a loose, soil-free potting mix while leaving the tops of the rhizomes exposed. In pots, perennials don't require overwatering.
In colder regions, you will have to move the pots to a sheltered area for the winter to enhance the plants' healthy state or even survival. Transplanting and dividing, in this case, need to be done more often (yearly) than those grown in the garden.
Propagation of Purple Perennial Flowers
There are different types of purple perennial flower propagation, but the most common and recommended method is the division method.
This is because it helps yield more plants for your garden while keeping your existing plants healthy and vigorous. Below is the propagation by division process;
·  In late summer, uproot the rhizomes using a shovel and shake off every loose soil. Any flower stalk that is still present at this time can be gotten rid of.
· Gently remove or pull the rhizome cluster apart into groups. Ensure each group possesses a foliage fan; you can prune the foliage at an angle, allowing just 3 to 6 inches of leaves.
· Monitor the root sections carefully, and prune off every soft, rotten area using a good pruner. Ensure you trim the roots back past any borer tunnels—you can even experience lively worms that should be destroyed.
· Replant every root section and only just cover the rhizome. There should be the spacing of at least 12 inches apart roots; they will rapidly occupy the spaces. Water thoroughly upon planting, then weekly until frost arrival. Fresh foliage growth may start developing in late summer and fall, and the plant will thrive when it comes back in the spring.
Frequently Asked Questions
What is the easiest purple perennial flower to grow?
Most purple perennial flowers are easy to grow, but amongst them, we have the easiest: purple coneflower, bearded iris, daylily, etc.
What is the hardiest purple perennial flower?
Most purple perennial flowers are very hardy, but among them, the hardiest include; clematis (full to partial sun), daylily (full to partial shelter), dianthus (at least 6 hours of sun), etc.
What is the best time of year to plant perennials?
Generally, the perfect time to grow perennial flowers is during the spring and fall. If you grow them during this period, you will be increasing their chances of staying healthy and strong. This is because, during the spring, you have warmer soil, plenty of rainfall, and a greater number of days with more sunshine, which is best for the plants.
What purple flowers come back every year?
If you are looking for a purple perennial flower that returns every year, you must go for the best of them all, Salvia (May Night Sage). It produces flowers in the spring and again in late summer if deadheaded properly. It does best in clay soil and is very tolerant to drought, as well as draws pollinators.
What is the most popular perennial flower?
The most popular and most cultivated perennial flower is Hemerocallis (Daylily).
Should you deadhead perennials?
Most gardeners might not deem it necessary; however, there's no denying that the deadheading of perennials benefits both the plants and the garden. From the general outlook, deadheading perennials give the garden a cleaner, more polished look.
What are those tall purple flowers called?
They are called Gladiolus (Gladiolus hortulanus). Gladiolus flowers are popularly known for their height, growing as tall as sunflowers.
What are small purple flowers that bloom in early spring?
Few small purple perennials bloom in early spring, but none produce flowers as early as Muscari, which is a bulb with early blooming purple flowers accompanied by a lovely fragrance. Because of its small nature, it will be perfect for mass plantings and will naturalize over the years. Meanwhile, the muscari bulb is resistant to deer.
Conclusion
Purple perennial flowers bring a burst of color to your garden or landscape and blend well with the surrounding greenery. Their beautiful colors will plant different feelings of romance, royalty, or even femininity, depending on the combinations.
Purple perennial flowers make for extraordinary and gorgeous scenery and add plenty of character to your landscape. Some flowers not only come with beautiful colors but also lovely fragrances. Therefore, you have everything you're looking for with purple perennial flowers. You can make your choice from the above listed to brighten your garden.