Are you looking for a unique effortless plant that will bring vibrancy to your garden? Look no further than Rattlesnake Calathea, one of the most popular and beautiful houseplants with a moderate size and stunning leaves.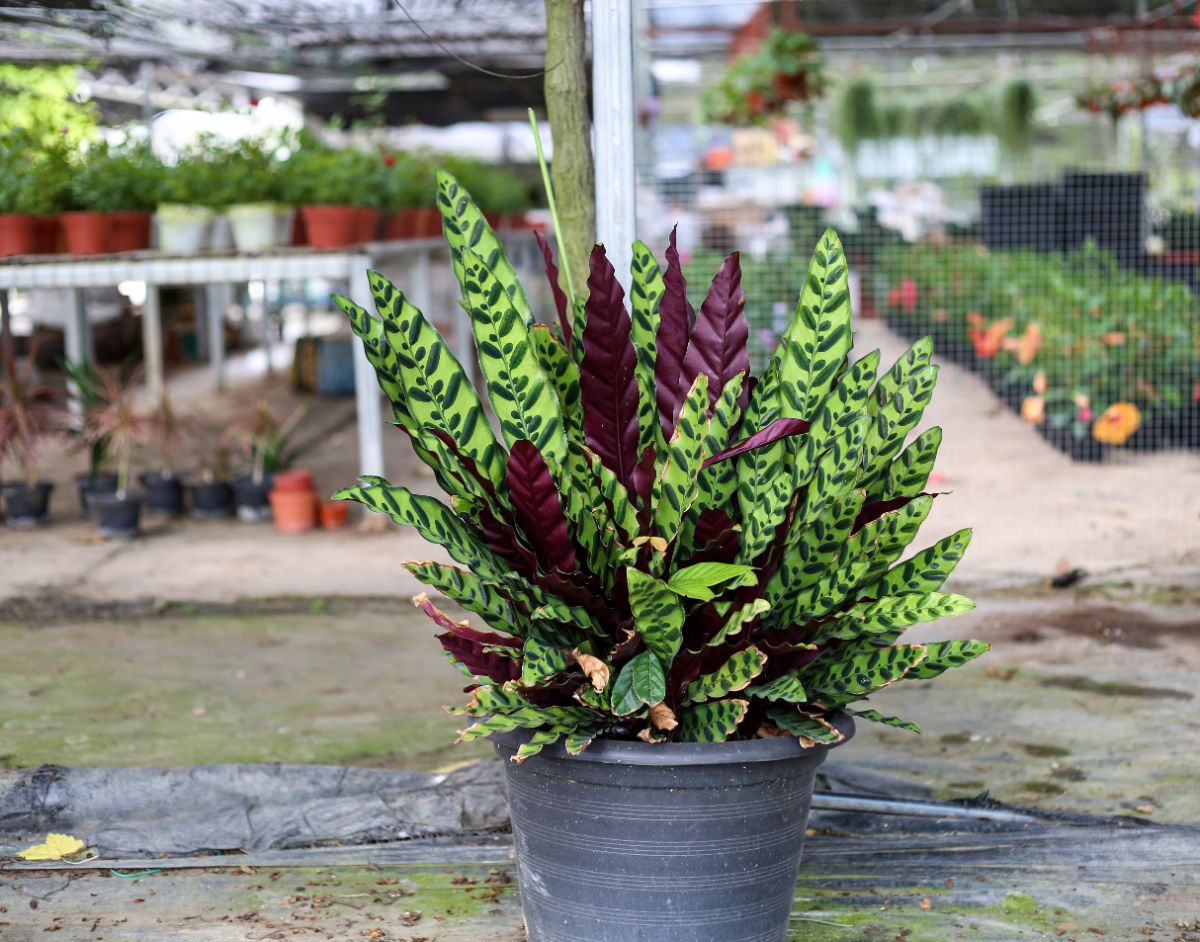 Although sometimes it can be tricky to nurture, you'd be rewarded with an impressive appearance with the right growing conditions.
Rattlesnake calathea requires well-aerated soil with good drainage for optimal growth. Also, ensure you keep the soil moist in active growth season, providing bright sunlight and adequate temperatures of around 65 to 75 degrees Fahrenheit.
Here's a detailed rattlesnake calathea growing guide that will teach you how to take care of this plant the right way.
Let's get started!
Jump to:
Essential Facts About Rattlesnake Calathea
| | |
| --- | --- |
| Common Names | Rattlesnake Plant, Rattlesnake Calathea, Prayer Plant |
| Scientific Name | Calathea lancifolia, Goeppertia insignis |
| Family | Marantaceae |
| Plant Type | Perennial |
| Mature Size | Up to 30 inches tall, 20 inches spread |
| Sun Exposure | Bright, indirect sunlight |
| Soil Type | Well-aerated, good-draining soil |
| Soil pH | Acidic, Neutral (6.0 to 7.0) |
| Bloom Time | Spring |
| Flower Color | Yellow |
| Hardiness Zones | 11b to 12b |
| Native Area | Brazil & some South American regions |
| Toxicity | Non-Toxic to humans and pets |
Also known as Prayer Plant, the rattlesnake calathea is an evergreen perennial from the Marantaceae family. Native to the rainforests of Brazil, this stunning plant features long, pointed leaves with scaly variegated patterns that look like a rattlesnake.
This stunning foliage plant has narrower leaves than several other calathea varieties, alongside dark and light green colors, wavy edges, and purple underneath.
Again, like other calathea species, one of the enticing features of the rattlesnake calathea is that it closes and unfurls its leaves following the rhythms of nightfall and sunrise.
This prayer plant is one of the most popular indoor plants thanks to its compact growth nature and can grow up to 2 feet.
Even though they hardly flower indoors, they tend to produce small, yellow flowers when planted outdoors. The plant does best under high humidity and is non-toxic to humans and animals.
Rattlesnake Calathea Growing Guide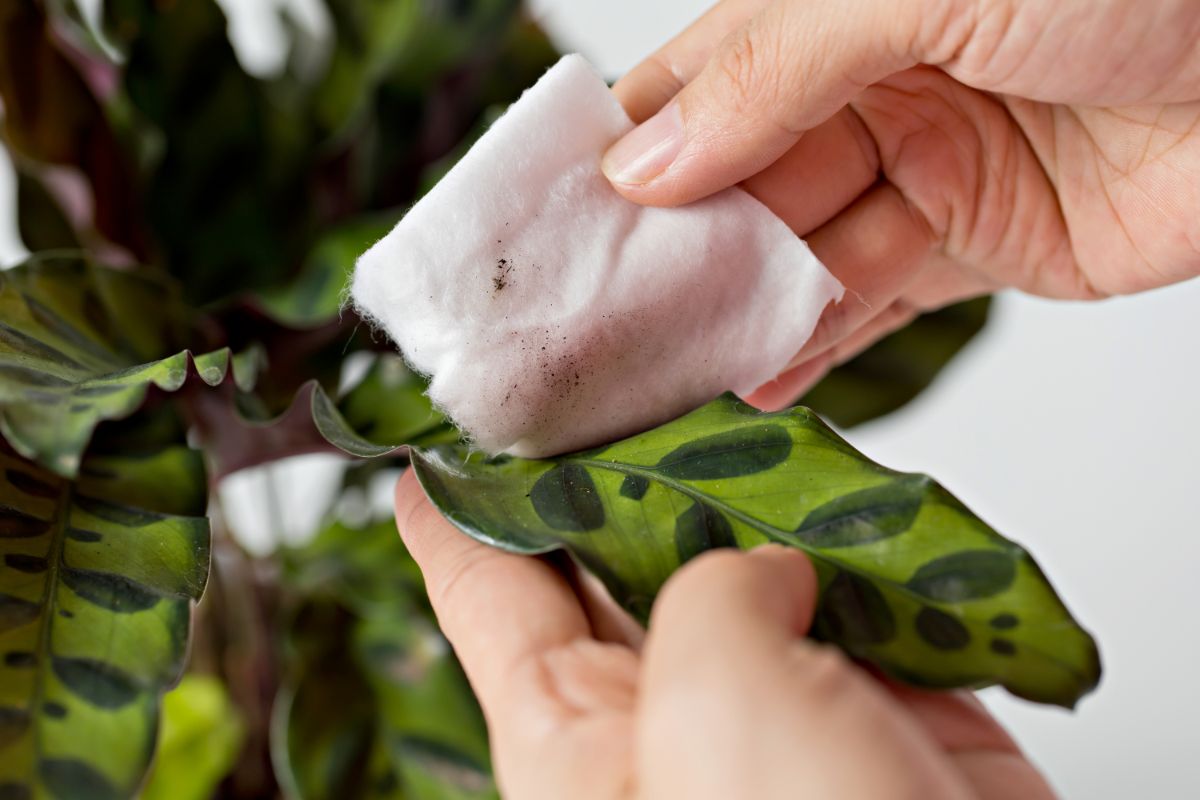 Generally, the rattlesnake calathea is not seen as the most excellent option for a beginner gardener since it has particular heat, light, and moisture needs. However, your extra effort will be beneficial when you witness the gorgeous leaves it grows.
Given that the rattlesnake plant features large leaves, the best treatment for it is commercial leaf shine. But it will only result in the browning of leaf tips; therefore, it would help if you stick with a simple damp cloth to remove any dust or debris.
Again, even though this unique specie grows in shaded outdoor landscapes in Hawaii and some parts of southern California and Florida, you can most significantly grow it as an indoor plant in greenhouses or terrariums.
It is a tropical native plant that requires sufficient heat and high humidity to do well. Below are the critical growing guides and care for rattlesnake calathea.
Light Needs
In its natural habitat, in the shady tropical forests, the rattlesnake calathea thrives in medium, indirect light. In other words, it will survive only a small amount of direct sunlight in the early morning hours, but ensure you keep it away from direct midday or afternoon sun.
If you expose this prayer plant to excessive sunlight, it can cause its leaves to become scorched and subsequently cause it to lose its stunning patterns. Even though it can tolerate low, indirect light, it will not produce the growth you expected, as its growth rate will become stunted.
Soil Needs
Like other calathea species, the rattlesnake calathea prefers well-draining soil. You must ensure you keep it moist but don't allow it to sit in water.
The best soil should be light sandy soil or a potting mix of two parts peat moss and one part perlite. This plant thrives in slightly acidic or neutral pH levels and avoids alkaline soils.
Water Needs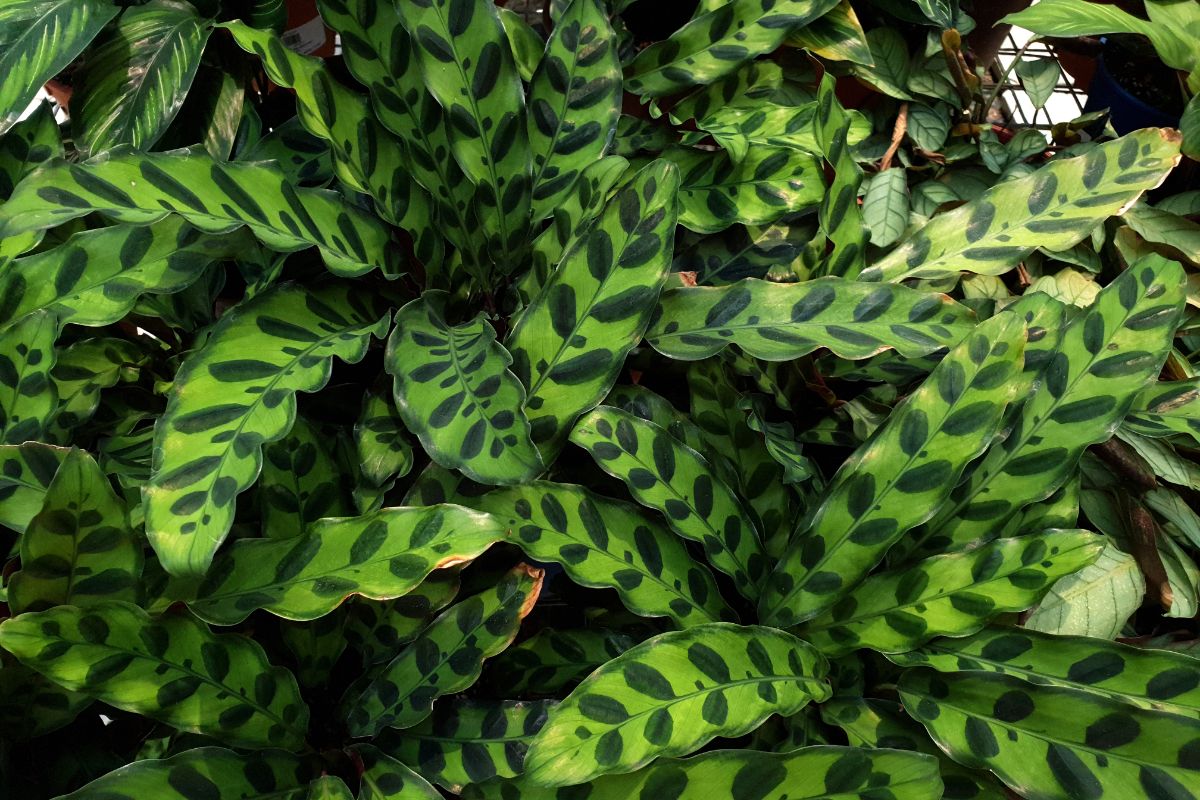 Your rattlesnake plant needs regular watering to keep moist, especially in the warm growing season. The best time to water these plants is once every week during spring and summer, depending on their growing conditions.
Ensure you let the top layer of soil become dry to the touch before giving them another thorough watering.
Reduce your frequency during the winter months, and only water when the top layer of soil is fully dried to the touch. Remember that the calathea rattlesnake is most commonly sensitive to overwatering or underwatering.
Temperature/Humidity Needs
For optimal expectation, you must keep your rattlesnake calathea plant in a highly humid environment. A good example is your bathroom or kitchen area. Again, given that this plant prefers a warm atmosphere, between 65°F to 85°F, it would help if its indoor temperature stayed above 64°F.
Anything below that amount will cause your plant's leaves to start browning or curling. Ensure you keep them from cold drafts or sudden temperature changes.
Also, your plant needs a highly humid environment, so if your area is dry, you can regularly mist the plant using lukewarm water. You can also mist it every day or use a pebble tray.
Fertilizing Needs
Just as underfeeding is not advisable, overfeeding is bizarre. Your rattlesnake calathea will do best when you feed it monthly using a balanced liquid fertilizer. It will boost lush foliage in the spring and summer seasons.
However, it is prone to root burn from too many mineral salts. So, we advise you to flush your plant's soil every few months with filtered or distilled water.
Potting & Repotting Tips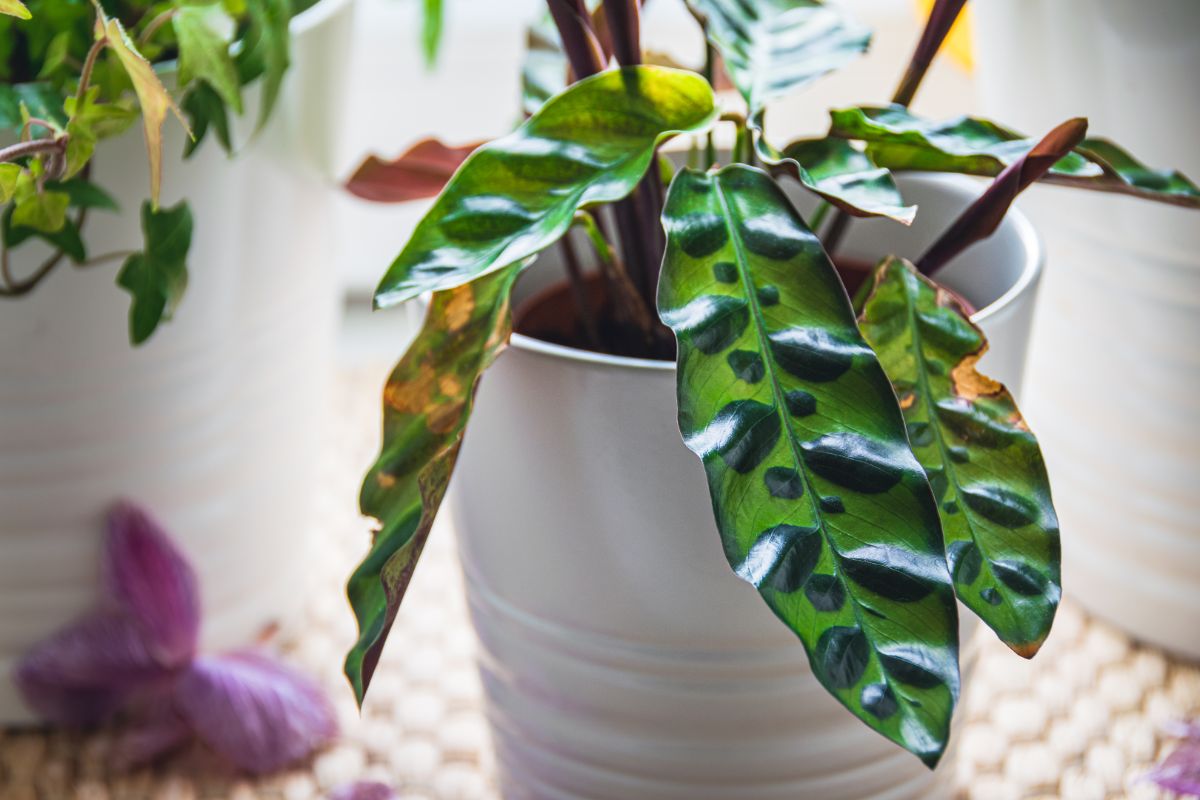 Since rattlesnake calathea grows from rhizomes and new offshoots to the mother plant's sides, it will eventually occupy a pot as a more comprehensive plant. This plant will rise to the size of the pot with one or more rhizomes; therefore, allowing it to grow as a grouping of rhizomes in a single pot will require finding a wider pot.
This plant likes to be a little root-bound, so if it must grow faster, you have to choose a pot at least 2 inches wider in diameter than the current container.
A well-drained ceramic or plastic pot with proper drainage is a good option. Ensure you report every second year or when roots come from the drainage holes underneath the container to the next pot size up.
We recommend a self-watering pot system for your calathea, as it helps to control the watering and avoid watering problems.
Again, ensure you only move your plant to a large pot from a smaller one if you want to boost its growth rate. Just move to the next size in line because if the pot is huge and has too much steady moist soil, it will cause root rot.
Pruning Needs
Whenever you find your rattlesnake calathea developing brown leaf tips and edges, it would help if you prune them. Brown leaves result from underwatering and will hardly recover their green hue, even though new ones will sprout looking fresh and green as long as you remedy any neglect.
If you want to trim off spent leaves, we suggest you use a sterilized pair of scissors or garden snips by wiping them down using rubbing alcohol or hydrogen peroxide. Prune off the brown areas, or cut as far down the leaf stalk as possible if an entire leaf requires removing.
Rattlesnake Calathea Varieties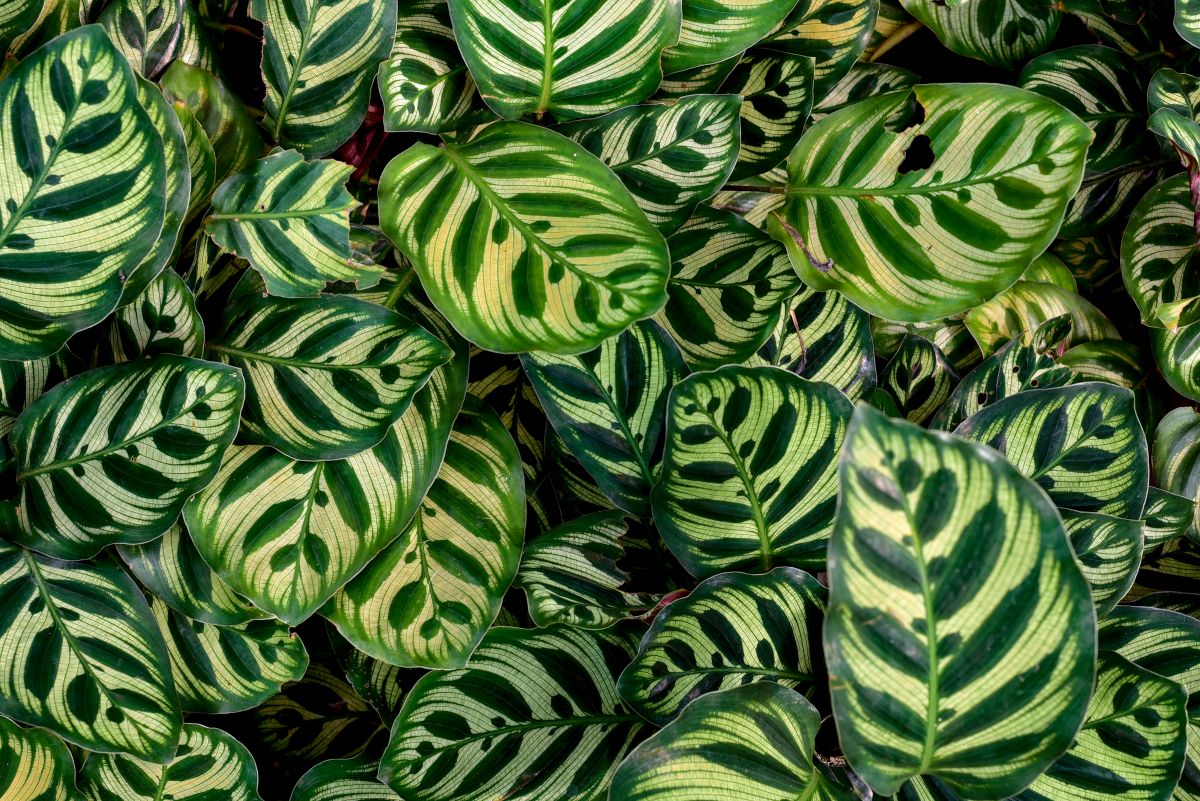 There are wide ranges of rattlesnake species that you can grow alongside your rattlesnake calathea, and they require the same care and growing guides. They include;
Goeppertia majestic is an enormous 3-foot variety featuring broader egg-shaped leaves, green with thin color stripes.
Goeppertia makoyana (cathedral windows, peacock plant) is a 40-inch-tall plant featuring broad, showy leaves resembling a peacock's tail.
Goeppertia micans (prayer plant) is a 12- to 16-inch tall plant featuring leaves that fold together during night hours.
Goeppertia zebrina (zebra plant) is a 3-foot-tall plant featuring light green leaves striped with darker green.
Propagation of Rattlesnake Calathea
The easiest propagation method of rattlesnake calathea is by division. Start by placing the divisions in separate pots in a shady location, and cover them with plastic bags. And the best time to divide the plant is during repotting process.
Immediately after you see new growth, remove the plastic bag. Then give your new plants the necessary care and growing requirements you used for the parent plant—adequate sun, moist but not soggy soil, suitable temperature, high humidity levels, etc.
Common Rattlesnake Calathea Pests and Diseases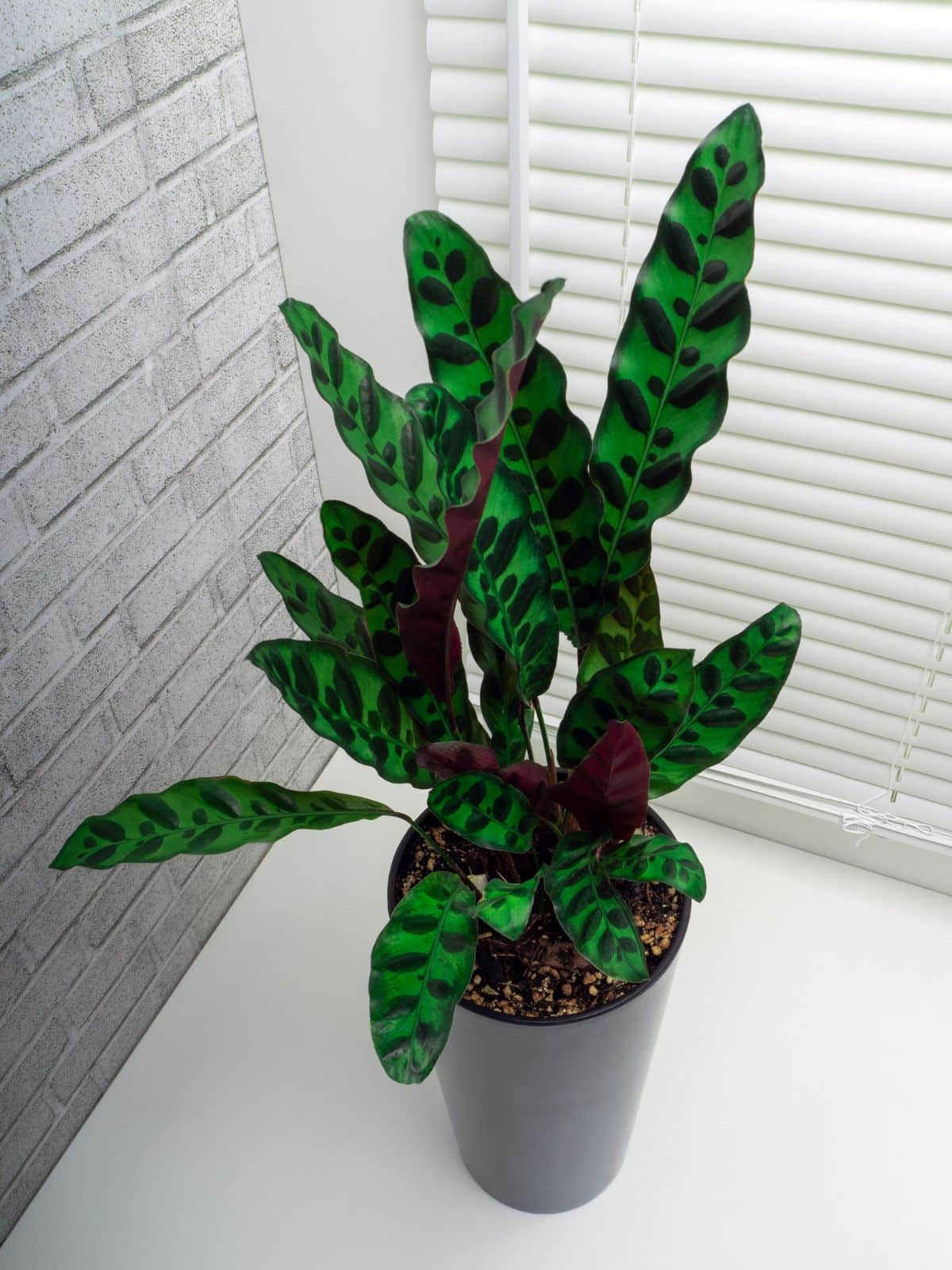 Even though rattlesnake calathea is a stunning plant that will make a great addition to every home office, it can be tricky to care for, which is why you must be extremely mindful of its growing conditions.
However, you can still encounter a few problems along the road, including the following;
1. Leaf Color or Pattern Fading
If your rattlesnake plant receives excessive direct sunlight, it will display green spots on its leaves. Meanwhile, insufficient light can cause the leaf-spotted markings to fade. This problem makes lighting a key factor when growing rattlesnakes.
2. Limp or Rotting Stems
Limp or rotting stems in rattlesnake calathea could be caused by either overwatering or drafts. If you overwater your plant when there's a drop in temperature, it results in limp stems, and rotting stems occur when the plant sits in the water.
Move the plant to a warmer spot without extreme temperature changes to see how it fares.
3. Leaf Edges Turning Brown
Ensure you enhance humidity around the plants. Brown leaf edges signify that the plant requires more humidity in its environment. Additionally, too much dry air can lead to the curling of foliage.
Frequently Asked Questions
How fast do rattlesnake calatheas grow?
Rattlesnake calatheas can grow up to 2 to 3 feet tall and spread; hence they need enough space. They will reach their maximum size with the proper care after just a few years.
How big does a calathea rattlesnake get?
Rattlesnake calathea can grow to a mature height of about 30 inches tall. It features a rosette and clumping growth style, effectively lending itself as a potted plant with different container types and suitable drainage hole applications.
Do rattlesnake plants close at night?
Like other Marantaceae species, the rattlesnake calathea closes up its leaves at night and re-opens them in the morning. Watch them closely as night approaches; you'll discover their leaves gradually lifting.
Why is rattlesnake calathea called a prayer plant?
The rattlesnake calathea is called a prayer plant because the leaves permanently close up at night, like a pair of praying hands.
Why is my rattlesnake calathea standing up during the day?
The reason why the rattlesnake calathea stands up during the day is to capture the light. During the day, rattlesnake leaves drop and take up a more horizontal position to receive more light. Meanwhile, the green part of the leaf will be facing the light source. This process is called nyctinasty.
Conclusion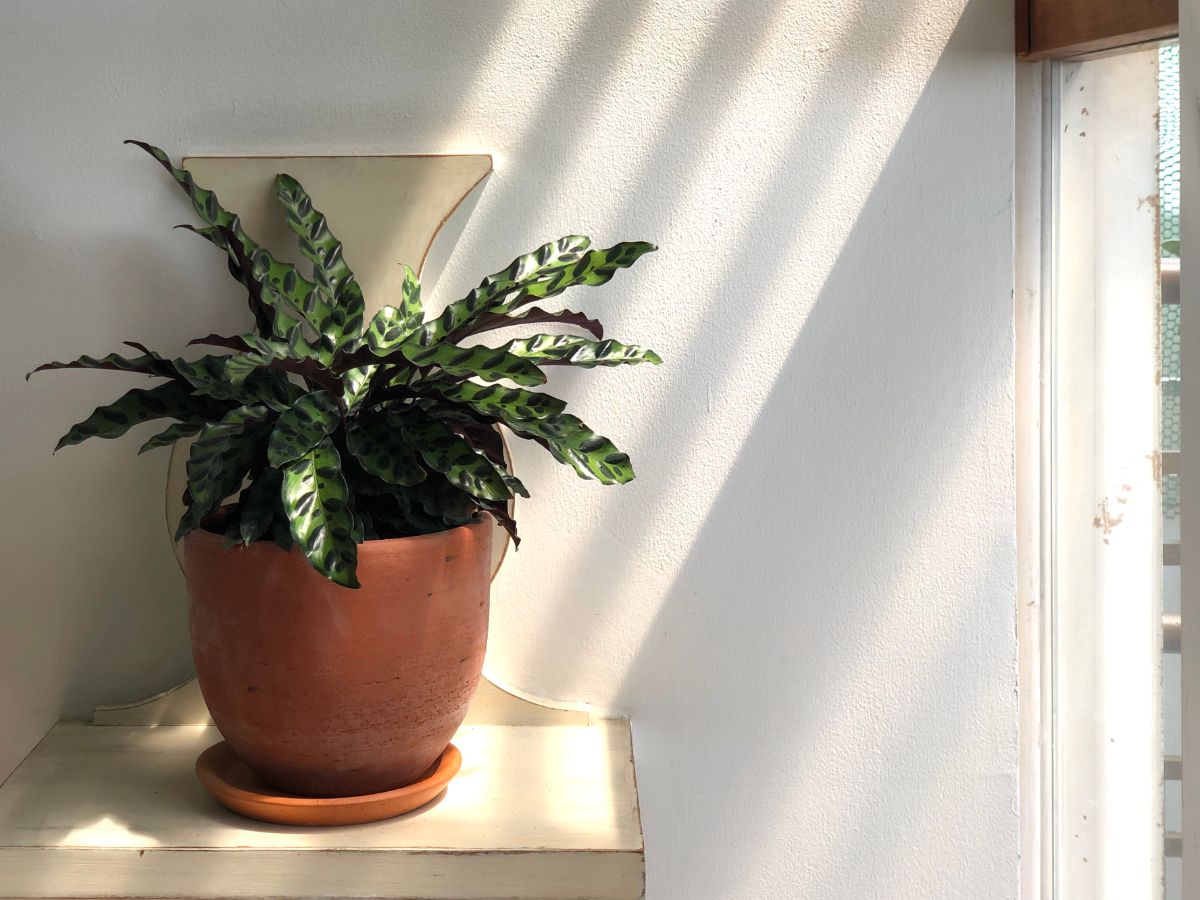 Rattlesnake calathea is a great plant to add to your garden collections. But it is a pretty tricky plant to grow. However, if you give it the right growing conditions, you should expect one of the most stunning and attractive plants you've ever seen. Happy gardening!!!