Rhododendron is one of the liveliest plants you can grow indoors and in your garden. It is part of the Ericaceae family that consists of over 1,000 species, ranging from little shrubs to tall trees. Its name is coined from two Greek words, 'Rodon' meaning rose and 'Dendron' meaning tree.
As its name implies, it grows in tall, hardy bushes that have clusters of beautiful flowers. Rhododendrons produce vibrant flowers during the spring, and their leaves remain even through the winter season, thereby making them the perfect evergreen for your landscape.
There're several rhododendron varieties including rhododendron Elviira, rhododendron blue peter, nova zembla, Rhododendron Boule De Neige, rhododendron Windsong, rhododendron bow bells, etc.
In this article, we will be talking about the 15 most popular types of rhododendron plants. Let's get started!
Most Common Rhododendron Varieties
Like we earlier stated, there are over 1000 Rhododendron species, ranging from little shrubs to tall trees. For beginners who don't have complete knowledge of philodendrons, we've highlighted some of the most notable varieties of rhododendron amongst them.
Meanwhile, most of these rhododendrons are easy to care for and, at the same time, beautify their environs.
1. Rhododendron Elvirra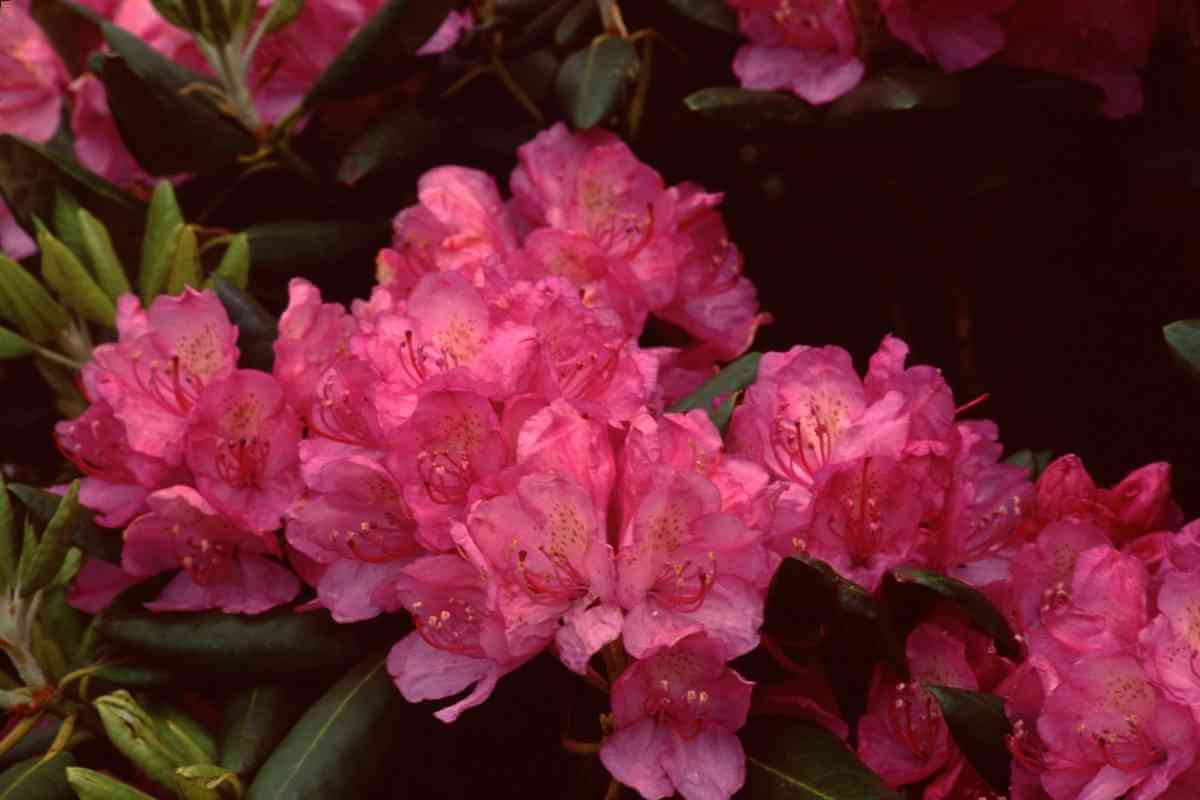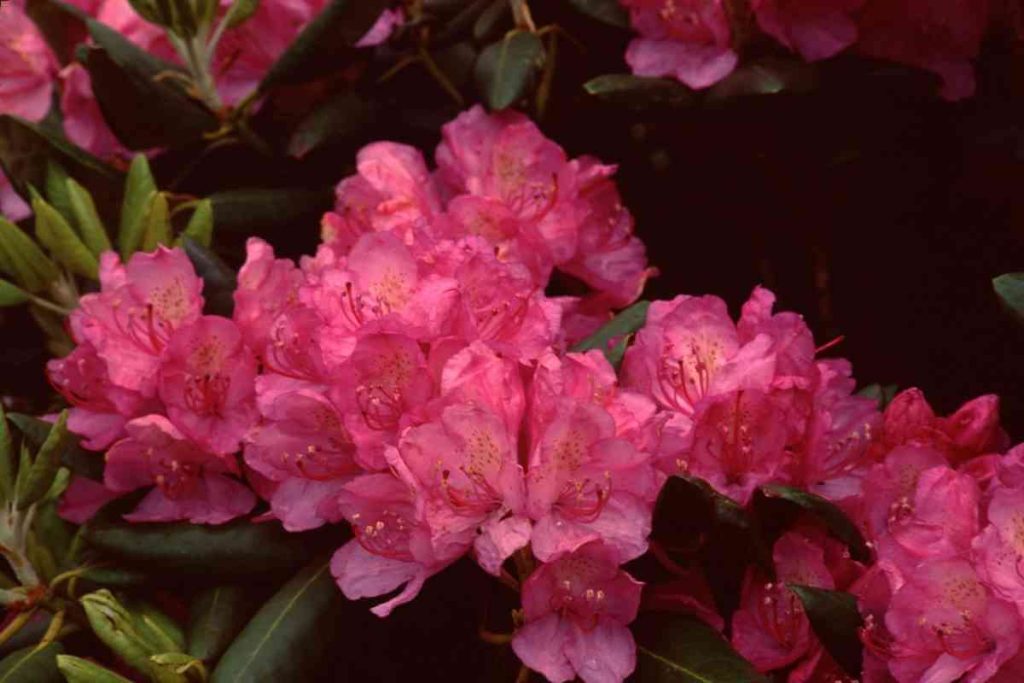 Featuring flowers that bloom during spring, the rhododendron Elvirra is an easy maintenance evergreen plant.
It can develop to a height of up to 2ft tall and 2ft wide, making it an ideal prospect for borders and mass planting. The Elvira features cherry-red colored flowers that have the shape of a trumpet.
It also smells nice. Due to its evergreen nature, the Elvirra can remain a green-colored plant throughout the winter season.
However, you need to ensure you cultivate it with a well-drained, highly acidic, and organic soil, as it is very significant in its survival bid.
2. Rhododendron Boule De Neige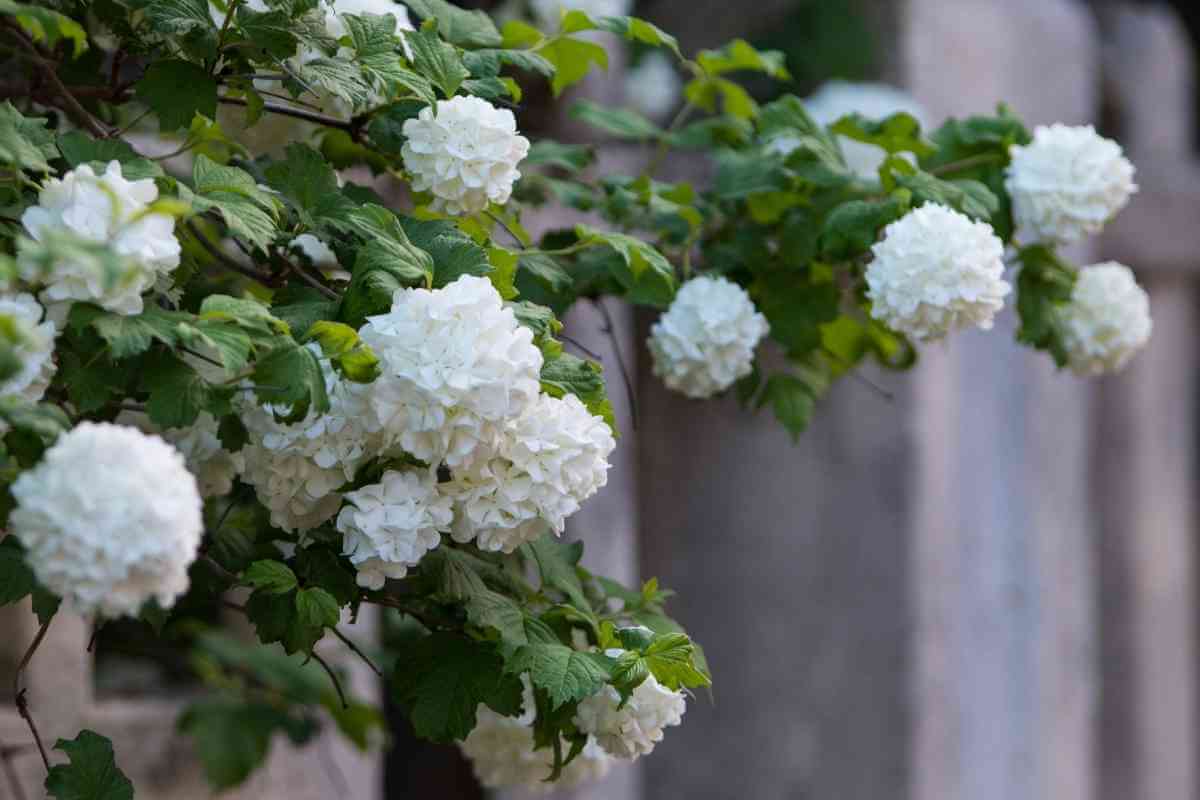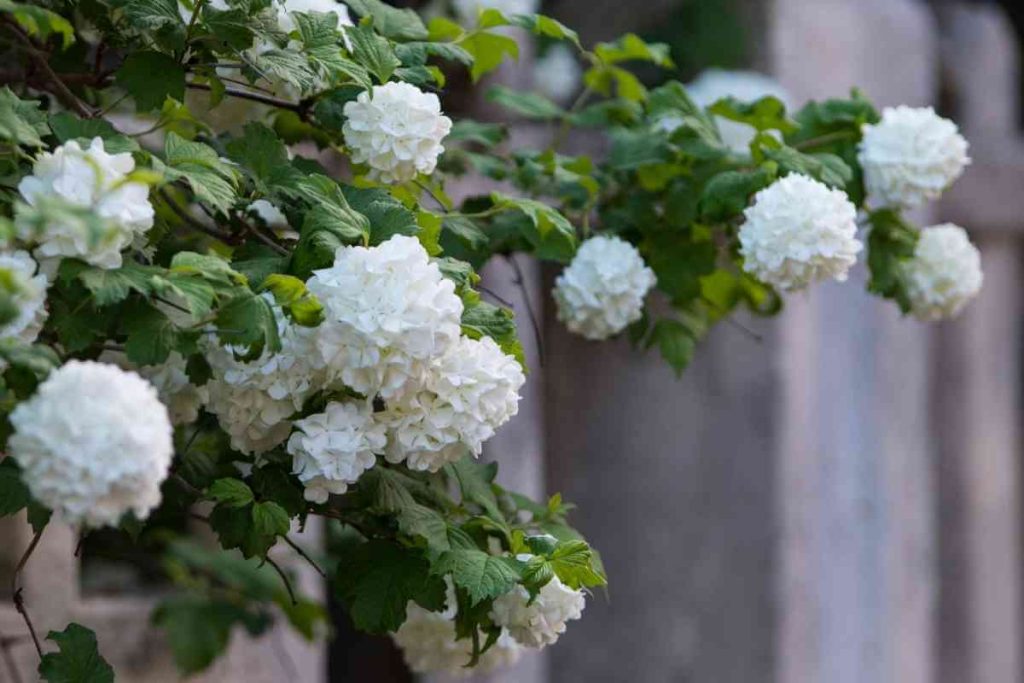 Rhododendron Boule De Neige is a variety of philodendron that is compact, thick and bulbous, and can grow up to 4 meters. It produces a rare kind of blooms that features pink-colored buds and pure white flowers, which have touches of brown and yellow, thereby making it have an art-like feel.
Also, the flowers of the boule de Neige rhododendron variety have the shape of a funnel, and due to its unique size and beautiful color, you can see this rhododendron in parks, cemeteries, squares, theme parks, and so on.
When growing this plant, you should beware of any stagnant water, as it might cause damage to your plant.
3. Rhododendron Blue Peter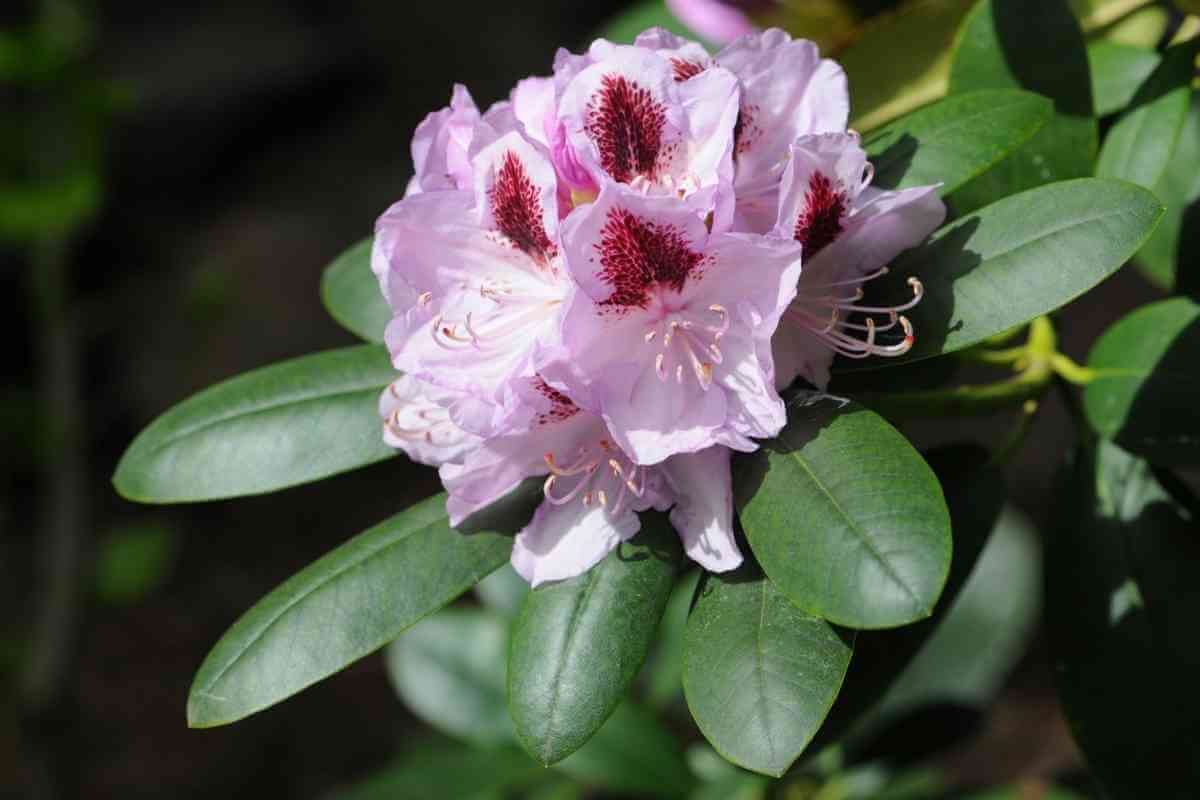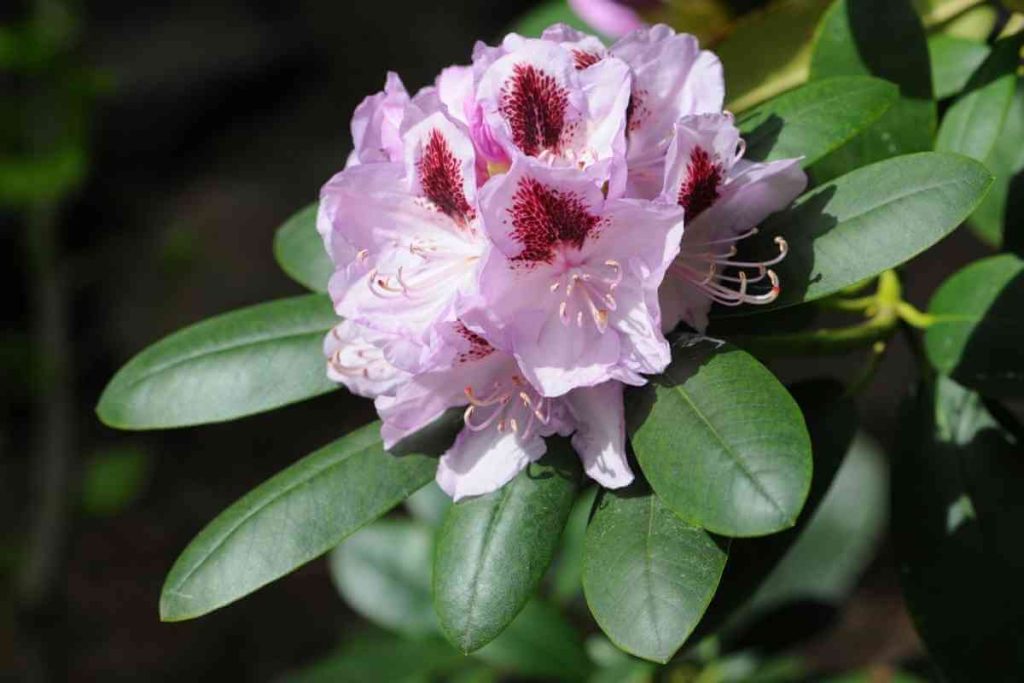 It doesn't matter if the blue peter rhododendron is an evergreen or deciduous or both; what matters is that it is one of the most beautiful and easy-maintenance rhododendron varieties.
It features very straightforward leaves, beautifully colored with dense hair underneath, always standing erect, and can grow up to 3 meters high.
The blue peter rhododendron thrives in moist but well-drained, acidic soil rich in humus and can tolerate both the heat of the sun and the cold winter season.
It features blooms that are violet-blue and is either tubular, bell-shaped or like boule de Neige, funnel-shaped. Meanwhile, its flowers can either grow in groups or on their own and feature frilled petals.
4. Rhododendron Bow Bells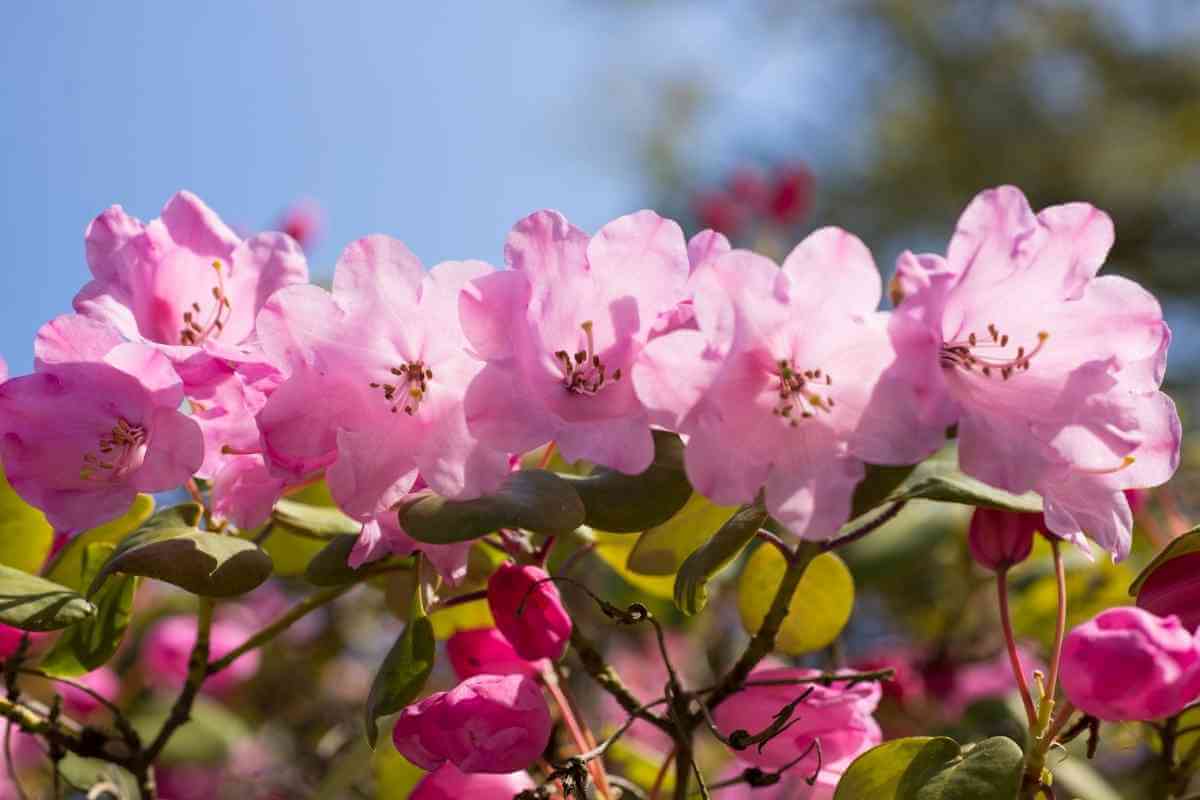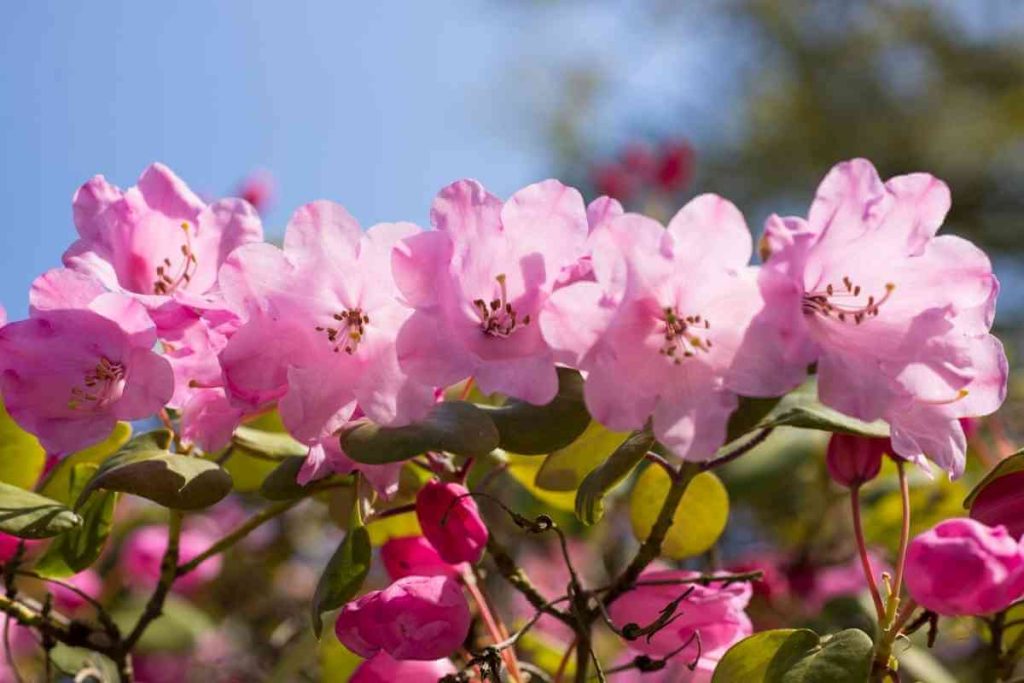 This type of rhododendron is an evergreen shrub that grows gradually and in an upward trajectory. In ten years, the rhododendron bow bells can only grow as high as 3ft tall, thus showing its extremely slow growth nature.
They produce flowers that grow in loose clusters and have the shape of a bell; hence, where its name came from.
The best soil for bow bells is rich humus, leafy, acidic soil, and it will thrive in a partly sheltered area. This variety is categorized under zone 4 of winter hardiness and is best utilized as hedging and screens.
The bow bells feature dense, colorful hair underneath, while the buds are pink colored, but once open; it changes to pale pink.
5. Rhododendron Windsong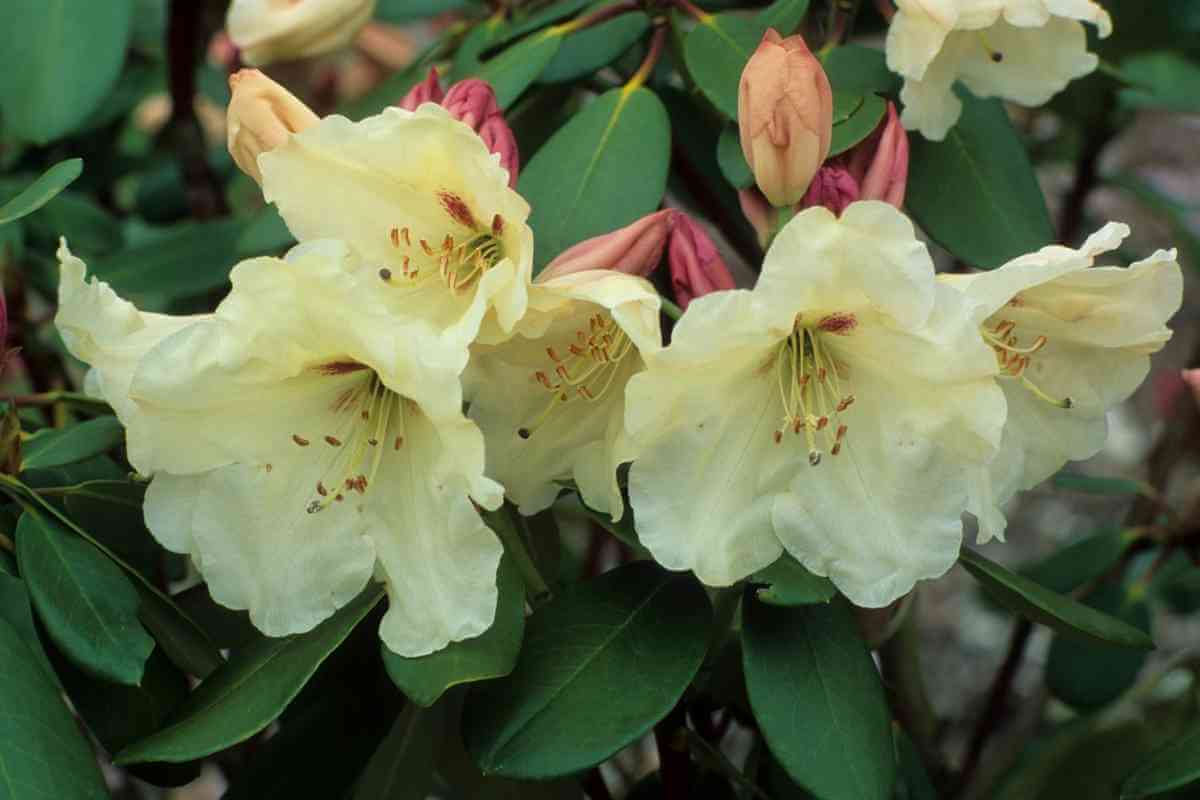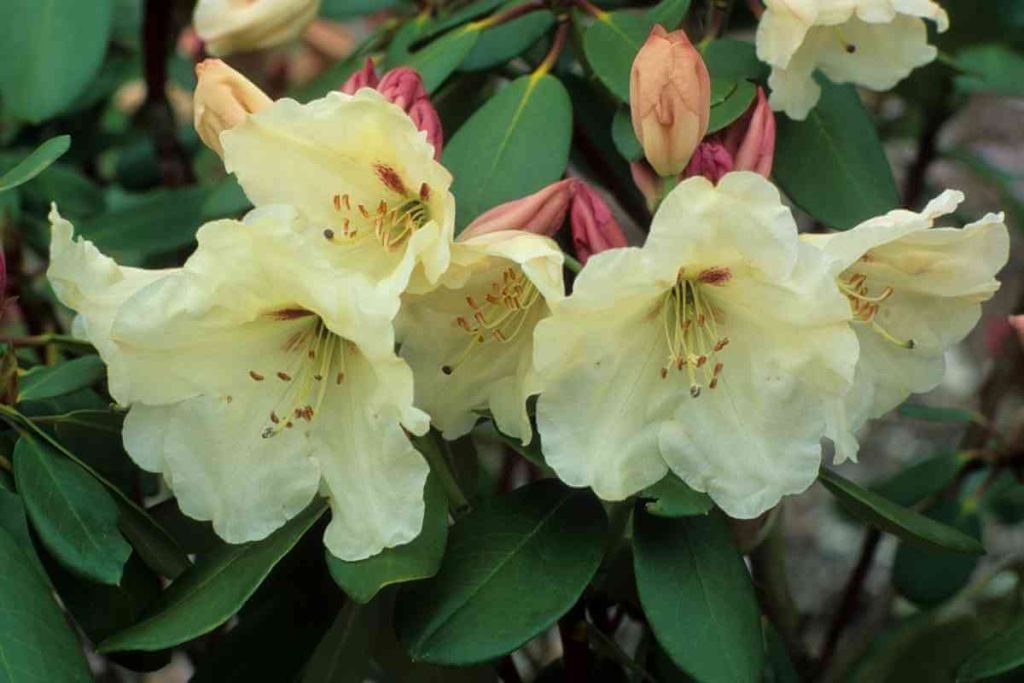 Like some other rhododendron varieties, the rhododendron Windsong is a slow-growing evergreen shrub that can only grow as high as 4ft in ten years.
It features strange, lush yellow flowers that form a beautiful cluster with its glossy green-colored leaves. Its buds are nectarine pink in color, but it changes to white once it blooms.
However, several of the amateur flowers will still retain much more of their pink color. The Windsong thrives in a shaded area and can't withstand anything more than four hours of direct sunlight every day.
In other words, it can remain inside trees as long as the trees do not have surface roots.
6. Rhododendron Black Satin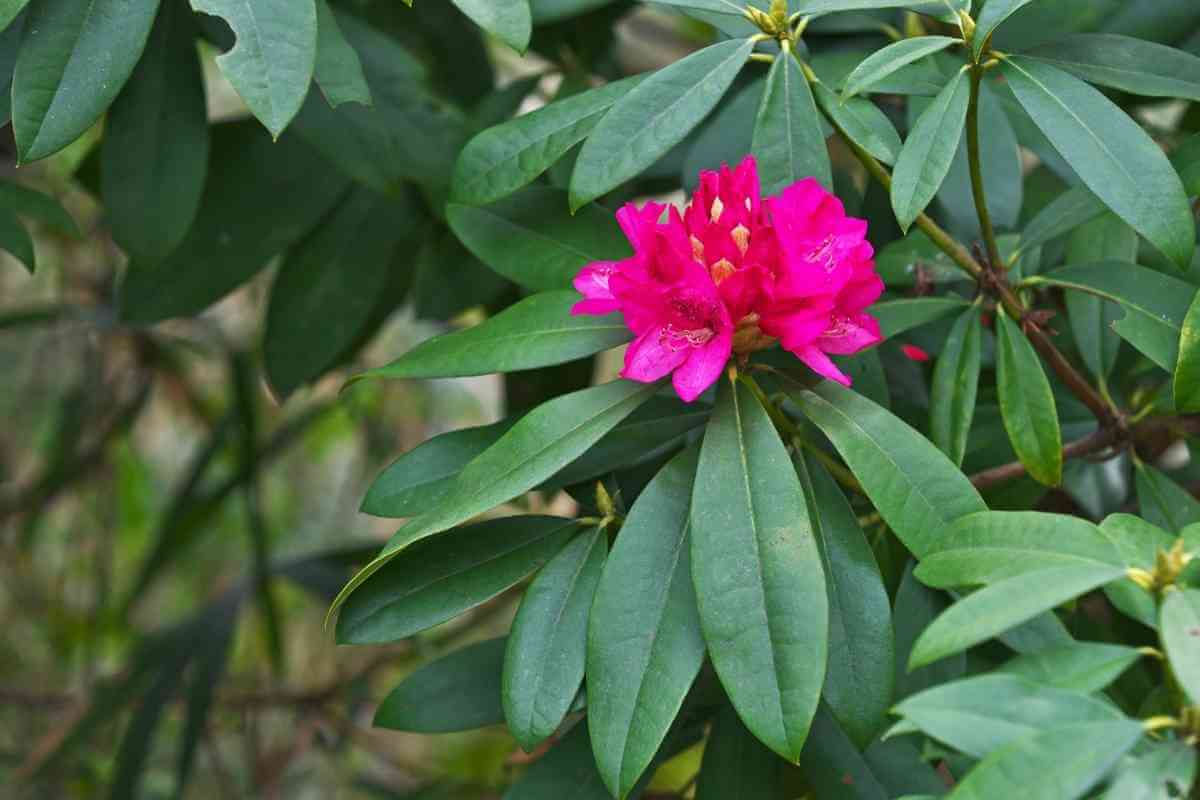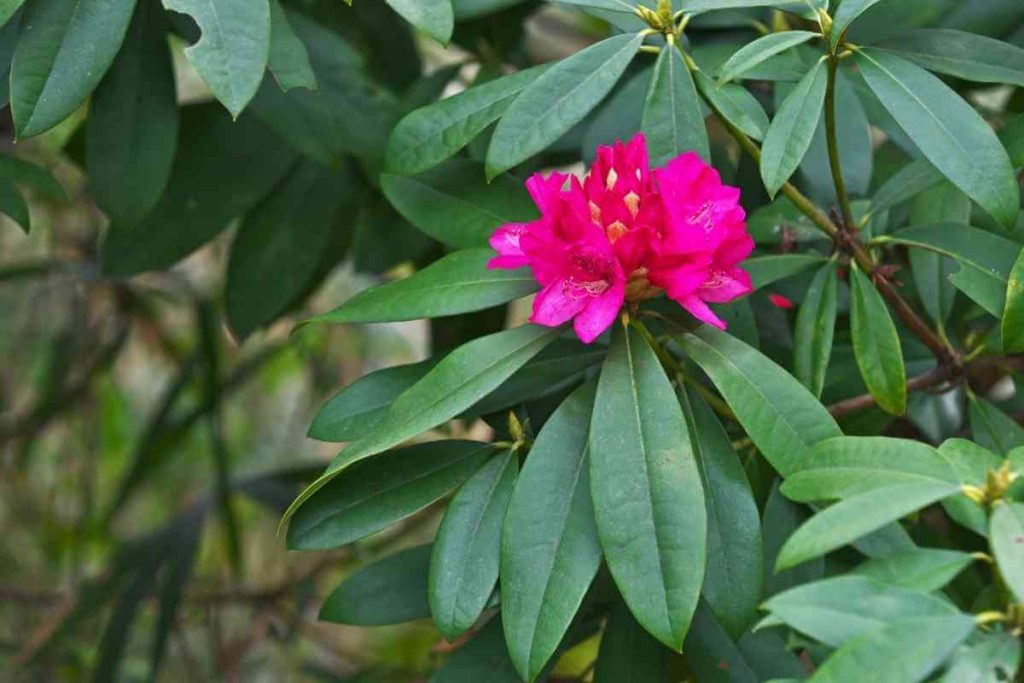 This type of rhododendron, like some others, is an evergreen shrub as well as a gradual grower that can only grow as high as 6ft. Also, just like the bow bell variety, its flowers have the shape of a bell and feature a bright pink color as well as coal-black colored foliage.
Rhododendron black satin features black leaves that are very small yet dense, thereby causing the blooms to pop in your garden. The black satin grows best in moist yet acidic and well-drained soil.
They do better when placed against buildings and slopes and keep it in an area where it can be protected from the drying winds from the south or west.
7. Rhododendron White Angel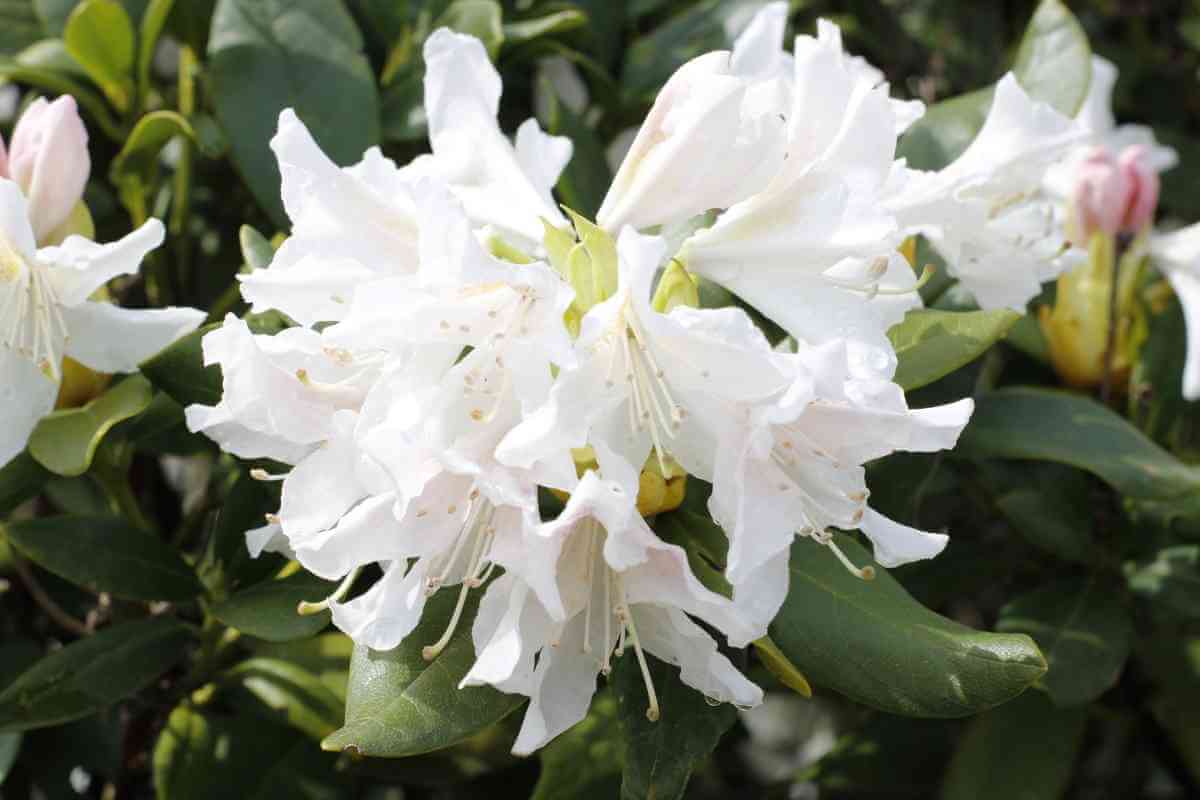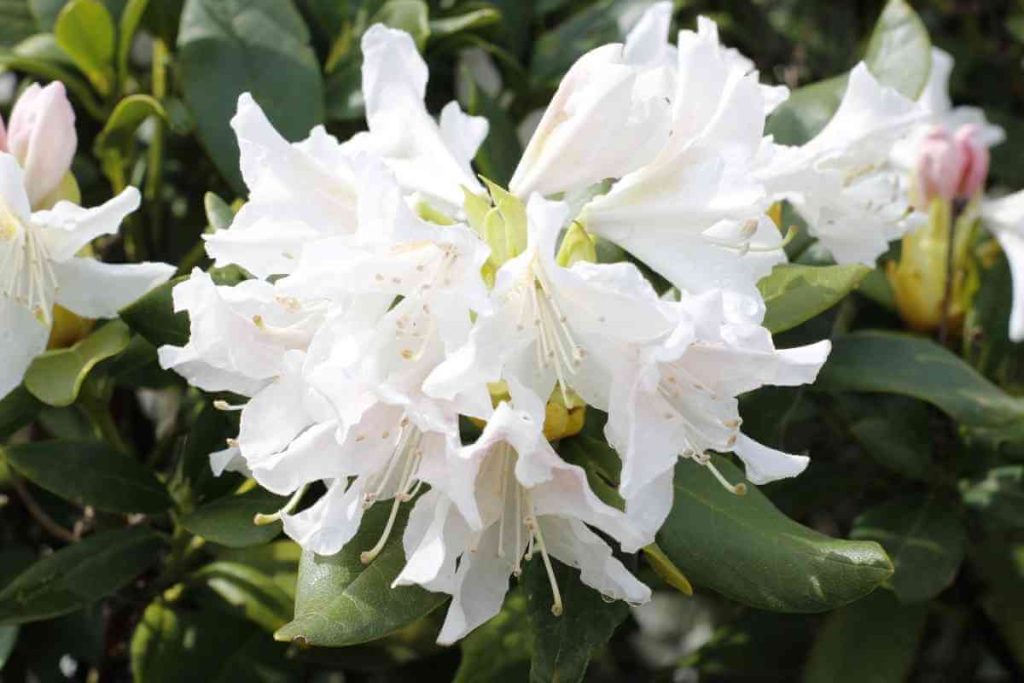 It is one of the lowest and easiest maintenance rhododendron varieties. However, the white angel is a semi-evergreen shrub that produces many blooms from mid-April and can only grow up to 6ft tall.
The most special and interesting thing about this variety is that it is more compact than other varieties.
The rhododendron white angel also produces flowers that have a vase-shaped crown. It features durable, showy pink buds and white flowers, which open in extreme or partial shade.
This variety thrives in sandy or clay soil, and ensure you prune it once it has completed its blooms for the season. It will make your plant look vibrant.
8. Rhododendron Nova Zembla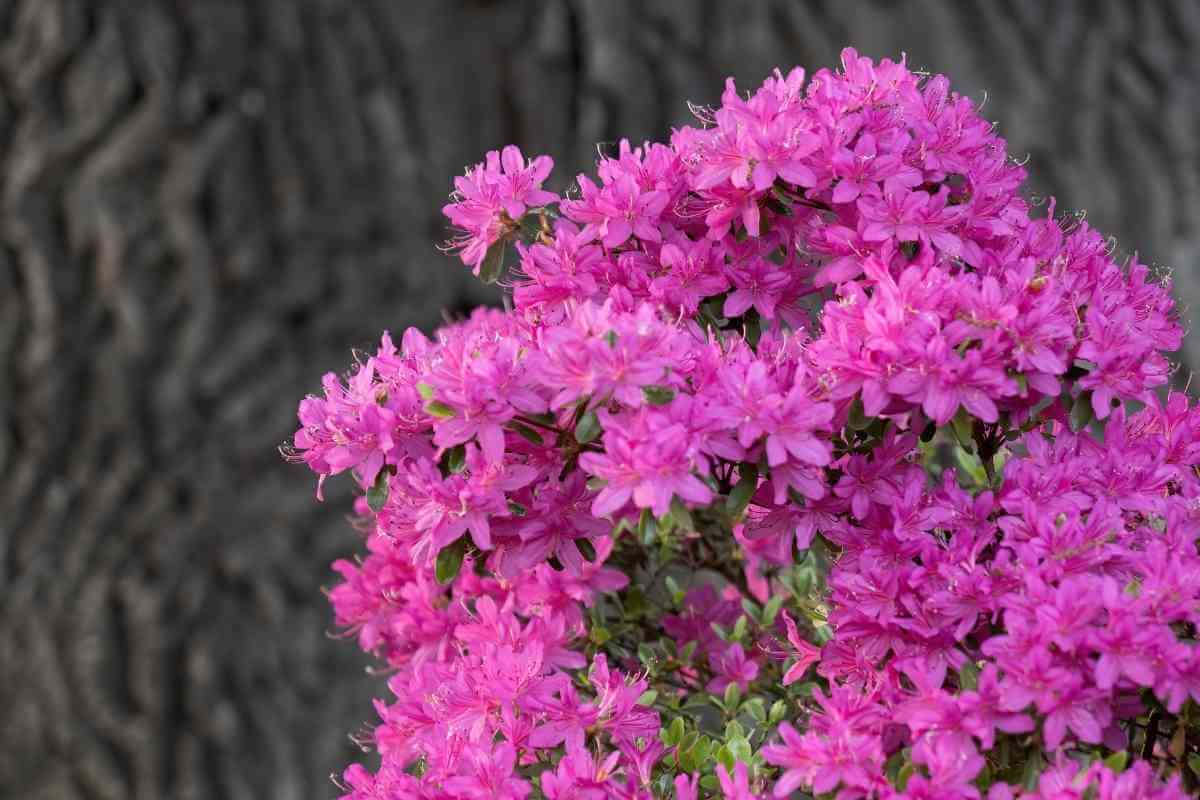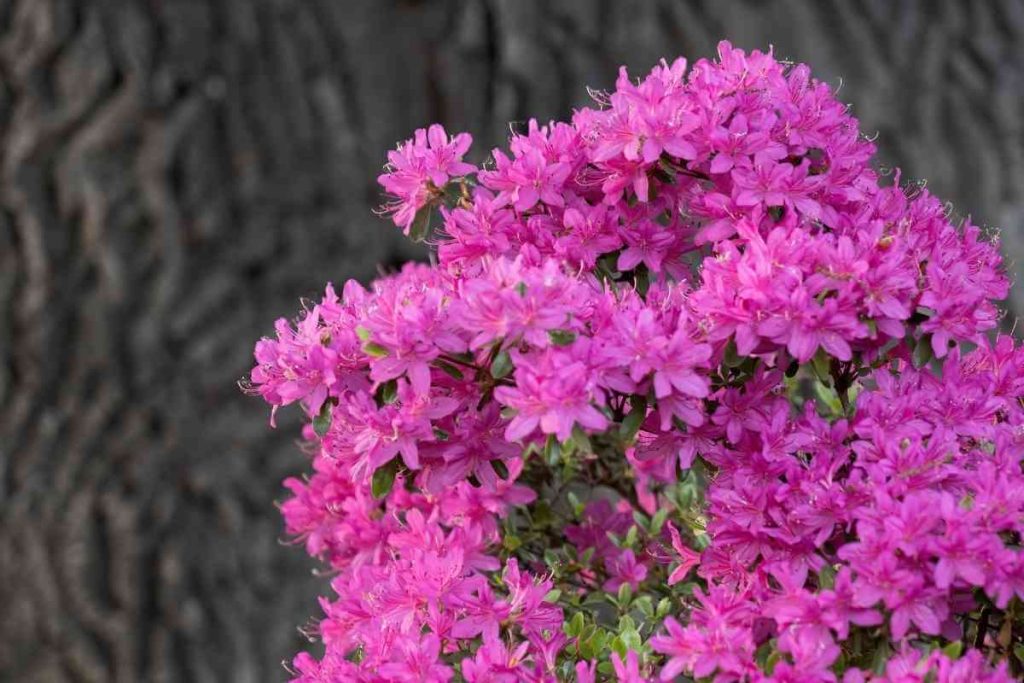 Rhododendron Nova Zembla variety is a widely renowned rhododendron, especially for its vibrant red flowers and astounding size.
Unlike other dwarfish varieties, the nova zembla is an evergreen shrub that can grow as tall as 8ft and as wide as 7ft. It features trumpet-shaped flowers that produce in very big trusses, even though they can grow independently.
It produces a cluster of crimson blooms to a sheltered corner in your garden and can be used as a hedge. The nova zembla thrives in a well-drained, acidic, and damp soil.
And to get the best out of it, sow it in a hole two times as wide and only as deep as the root ball. Because of its shallow roots, this variety will not produce the best result if you bury it deep.
9. Rhododendron Catawbiense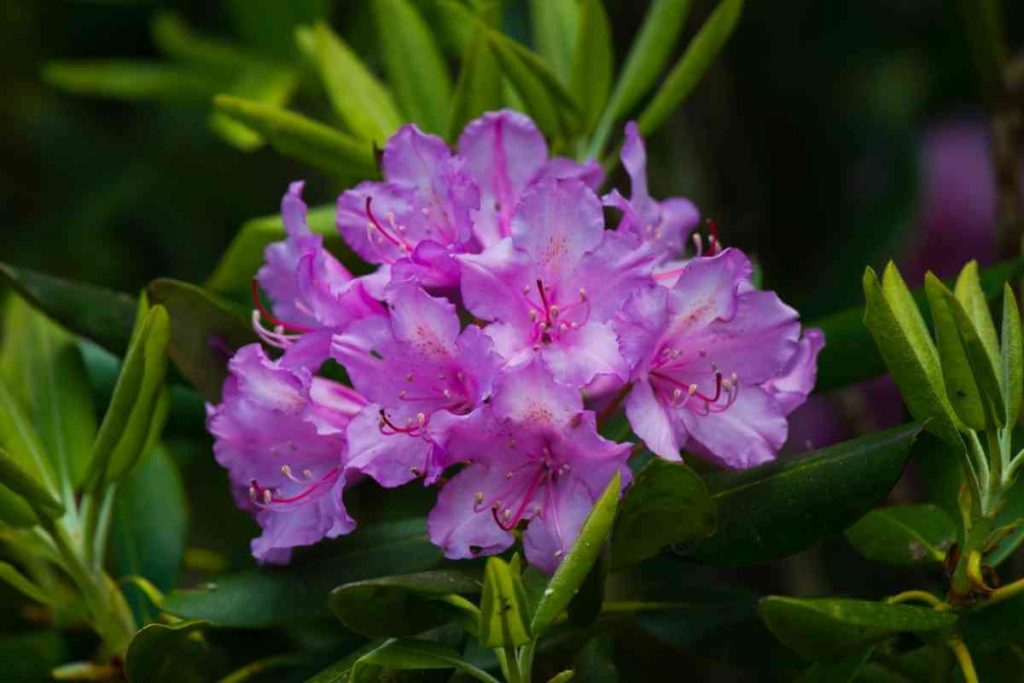 Also called Catawba Rhododendron Bush, the Catawbiense variety is an evergreen shrub, and grows extremely bushy, hence its name. It can grow as tall as 8ft and as wide as 6 feet. Its flowers feature different colors ranging from white, pink, red, or even purple.
It has flowers that are notably seen around the southern Appalachians. However, they are very hardy around several other regions.
The Rhododendron Catawbiense thrives when you utilize them along hedges or fences, as well as when you plant them together in clusters.
10. Rhododendron P.J.M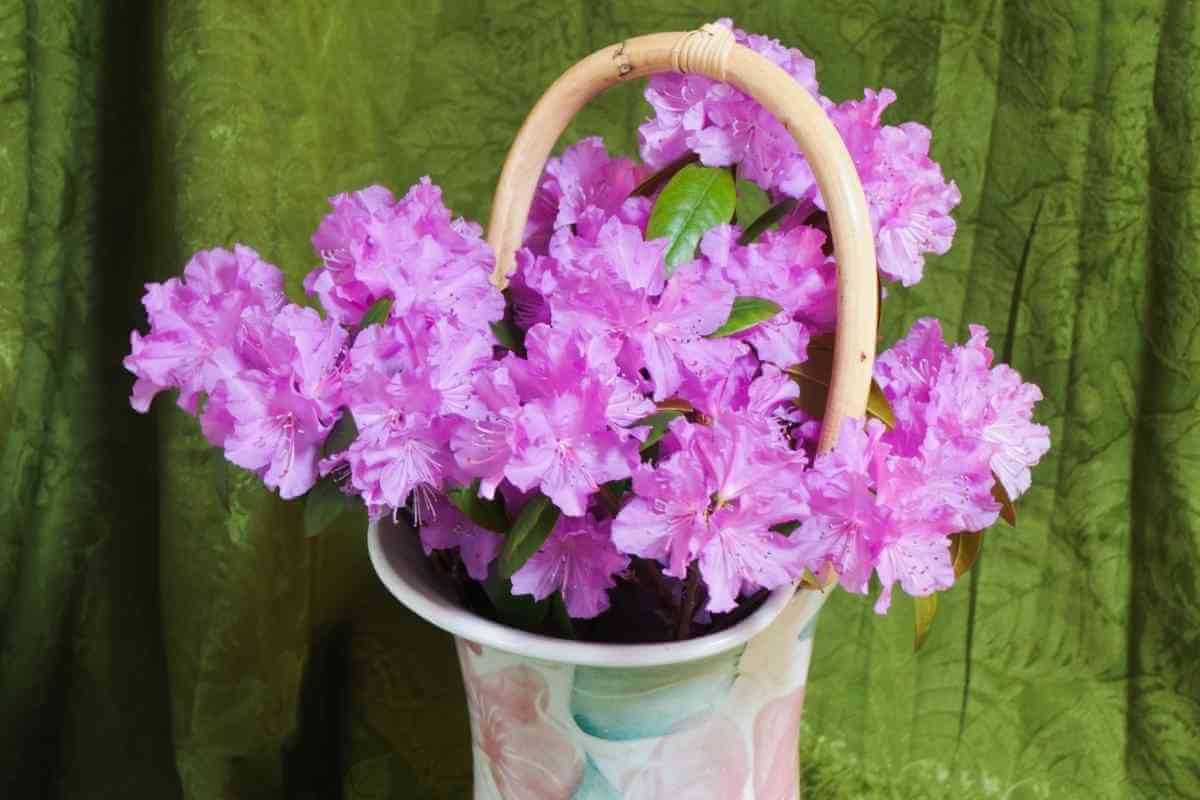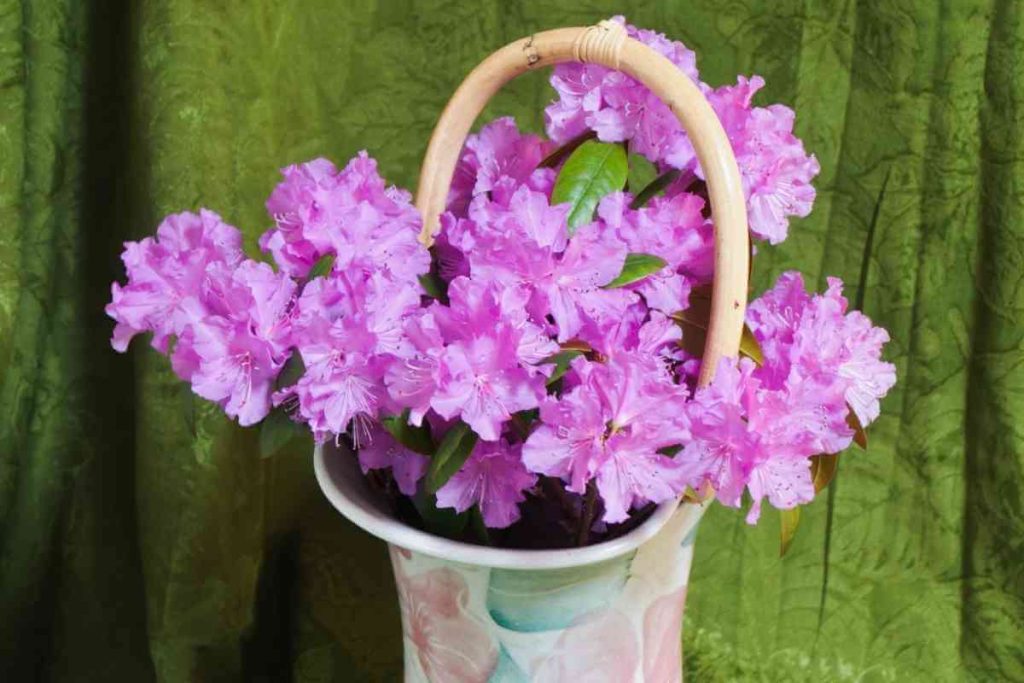 This particular rhododendron variety is one of the hardiest rhododendrons. It is so stubborn and tolerant that it can survive the heat, sunlight, as well as very cold temperature conditions, added to the fact that it is one of the most famously grown varieties.
The most interesting thing that made the rhododendron P.J.M an exciting prospect is the fact that it features bright lavender-purple flowers and dark green leaves.
It is also a very slow grower and can only grow as tall as 4ft. However, it still makes it perfect for rock gardens. It does best when you grow it in borders, containers or when you plant it in clusters.
11. Rhododendron Southgate Brandi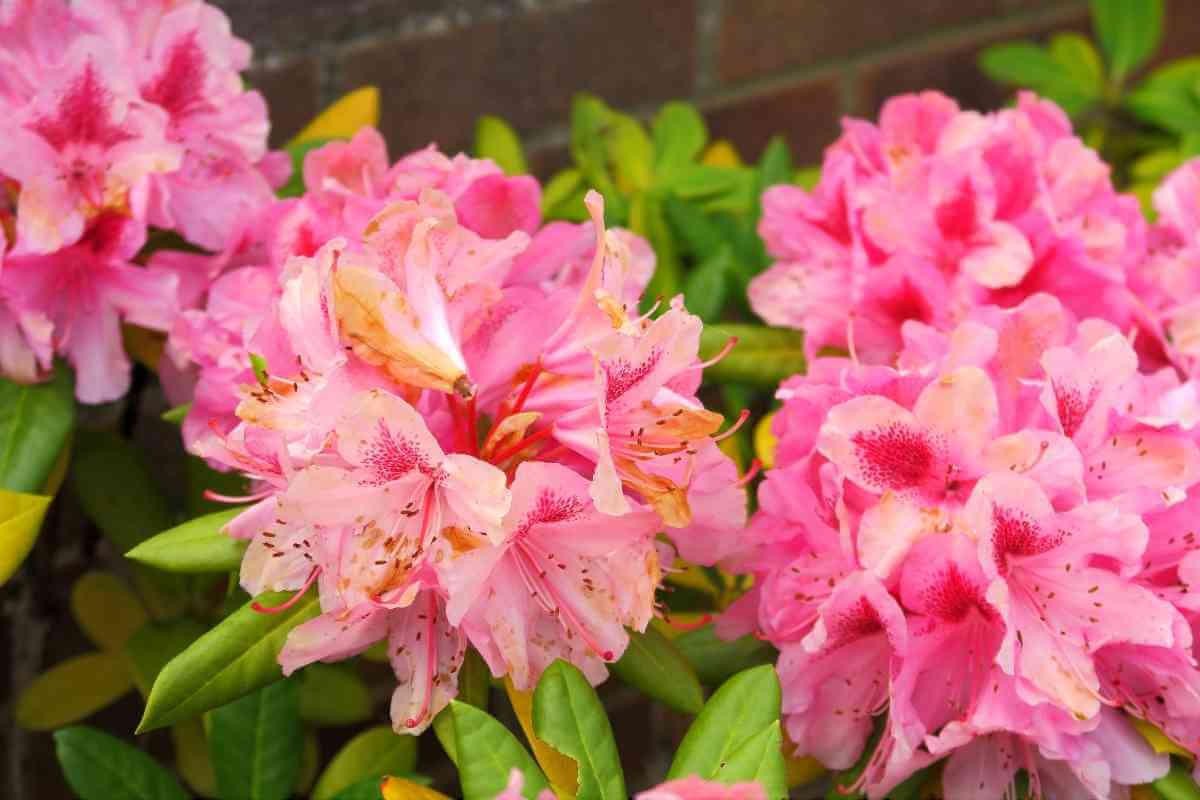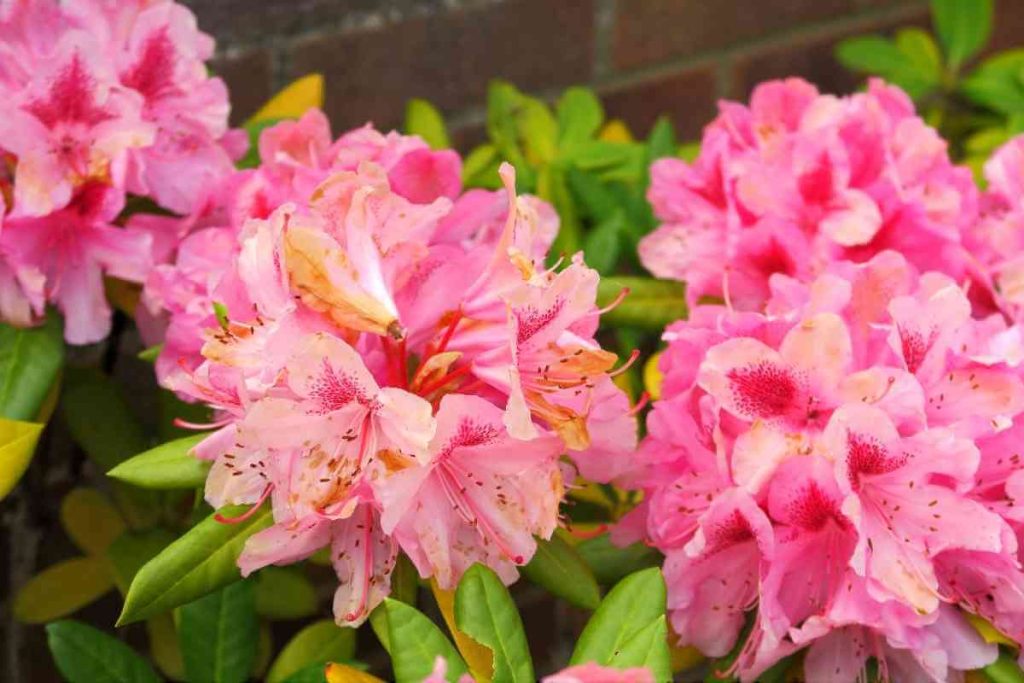 This type of rhododendron features pink buds that open to ruffled pink flowers. It can survive any heat and grows under zones 6 to 9.
The rhododendron Southgate Brandi variety is an evergreen shrub that is slow in growth and can only grow up to 4ft tall and 4ft wide, thereby making it an exciting prospect for containers or along the edge of a pathway.
The Southgate Brandi does best when kept in part sun to complete shade. It is a pest-resistant plant, and like we earlier mentioned, can survive the heat.
Its leaves stay on the plant and remain colorful during winter. It doesn't require excessive pruning, but if you feel like pruning, the best time for it is when the flowers have faded in spring.
12. Rhododendron Black Hat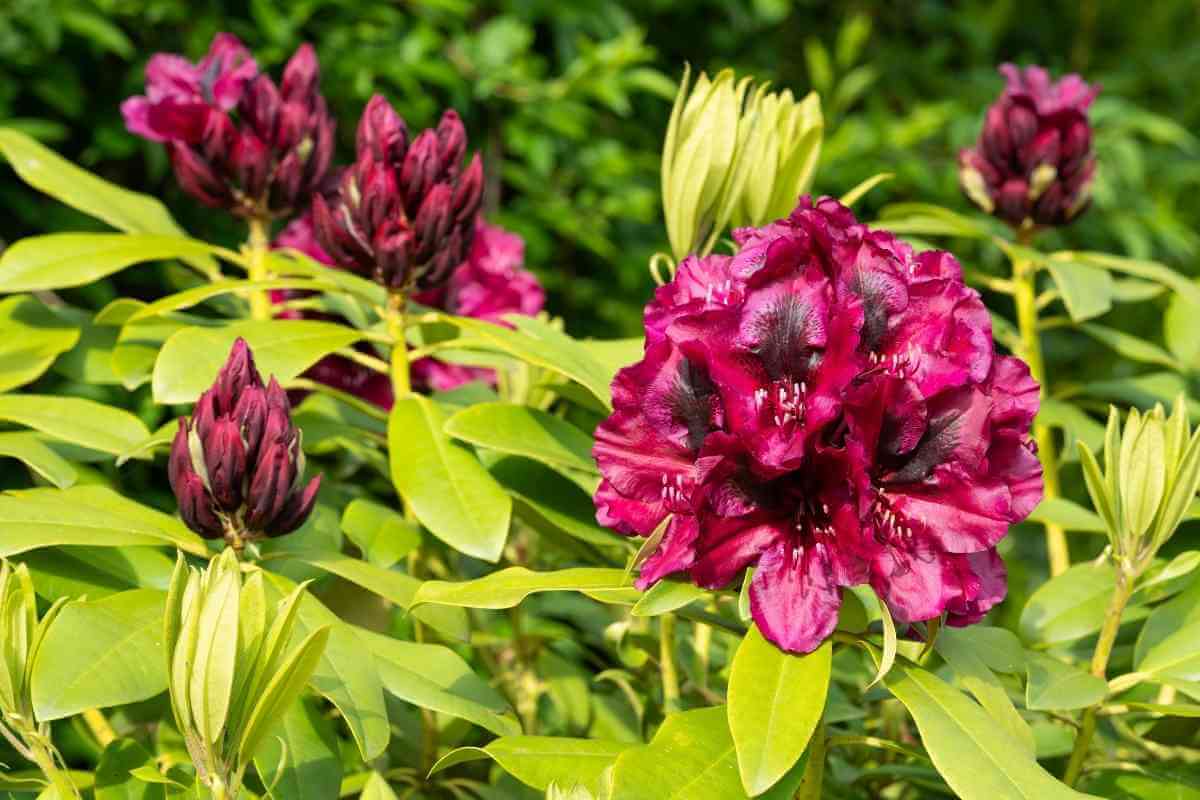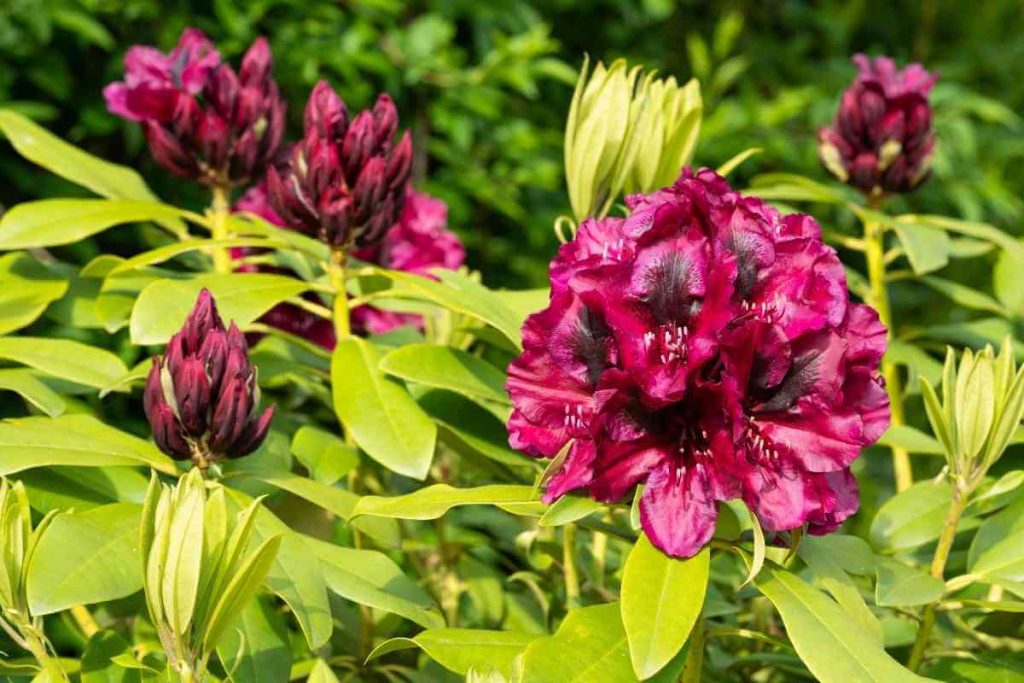 This variety is an early spring bloomer that features shiny purple ruffled blooms and dark purple-green leathery foliage. It maintains its leaves throughout the year and is hardy in zones 4 to 8.
Like other varieties, the rhododendron black hat is a slow grower and can grow as tall as 36 inches tall and wide, hence, a perfect prospect for containers or pots.
13. Rhododendron September Song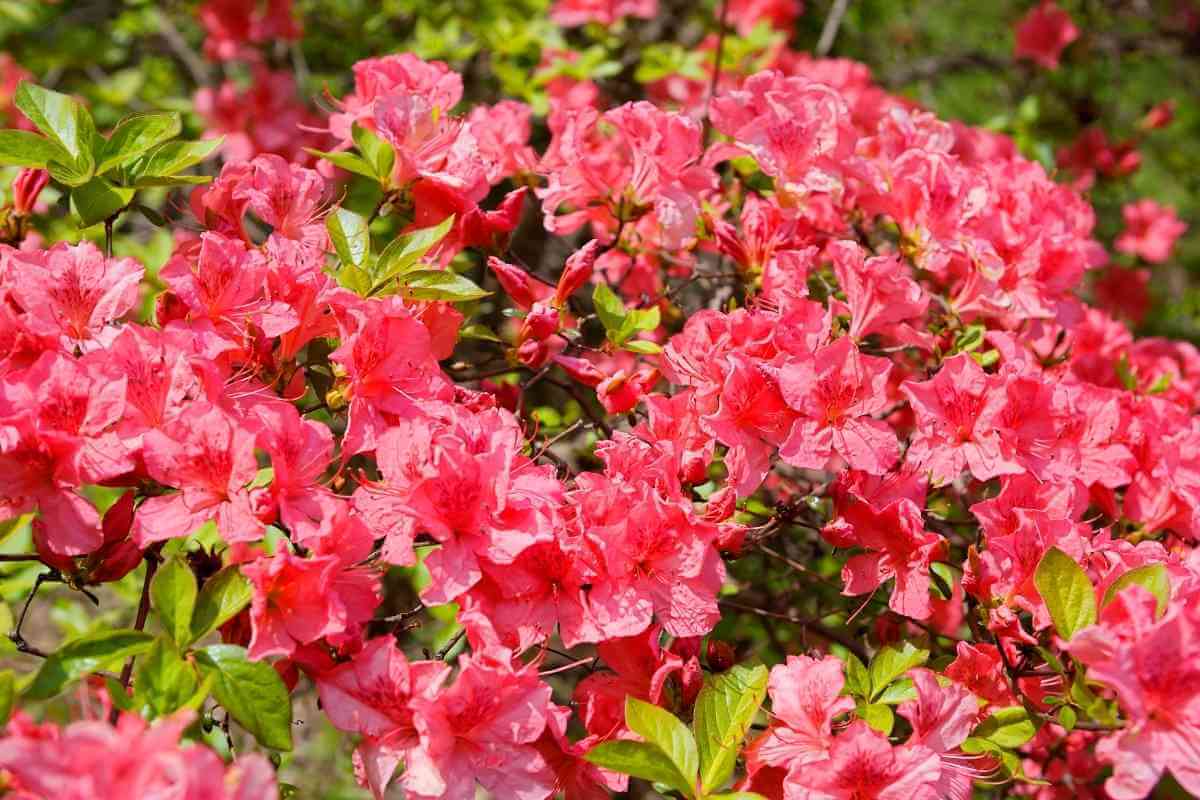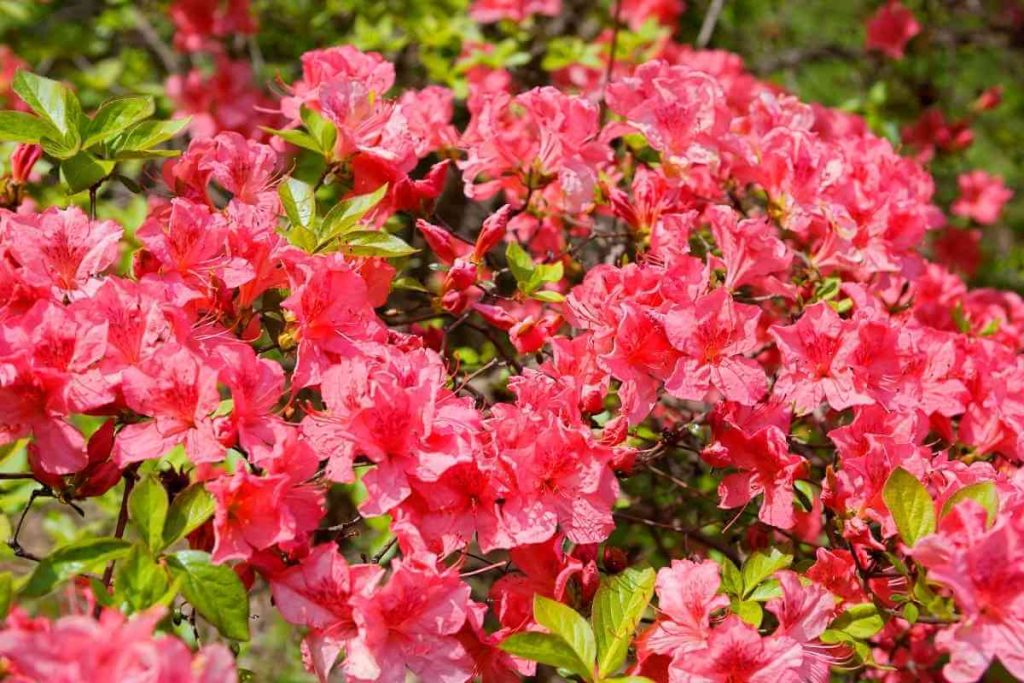 Contrary to its name, this rhododendron features loose, showy clusters of orange, pink, and yellow flowers during the spring. It thrives in zones 6 to 8 and can be utilized as a foundation plant for others or planted in a mixed border.
Rhododendron September song thrives under partial sunlight and requires frequent watering, especially if you live in a warmer region.
14. Rhododendron Gibraltar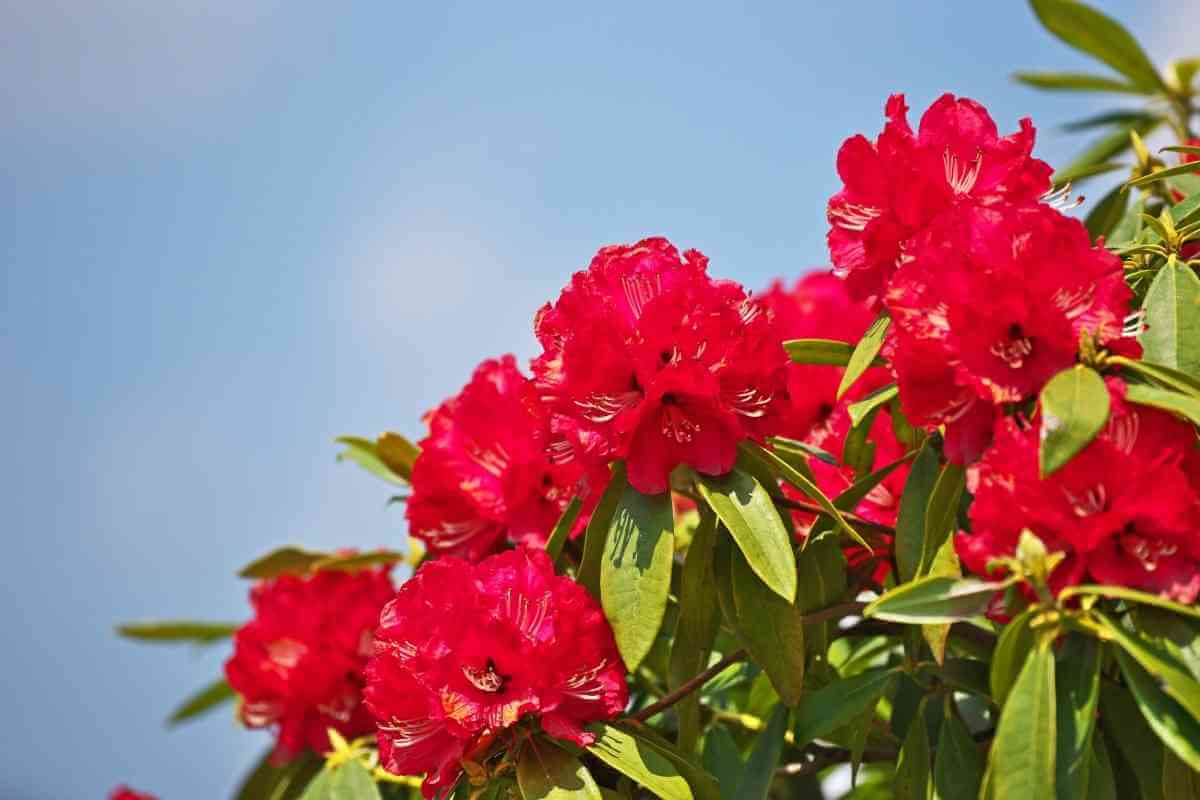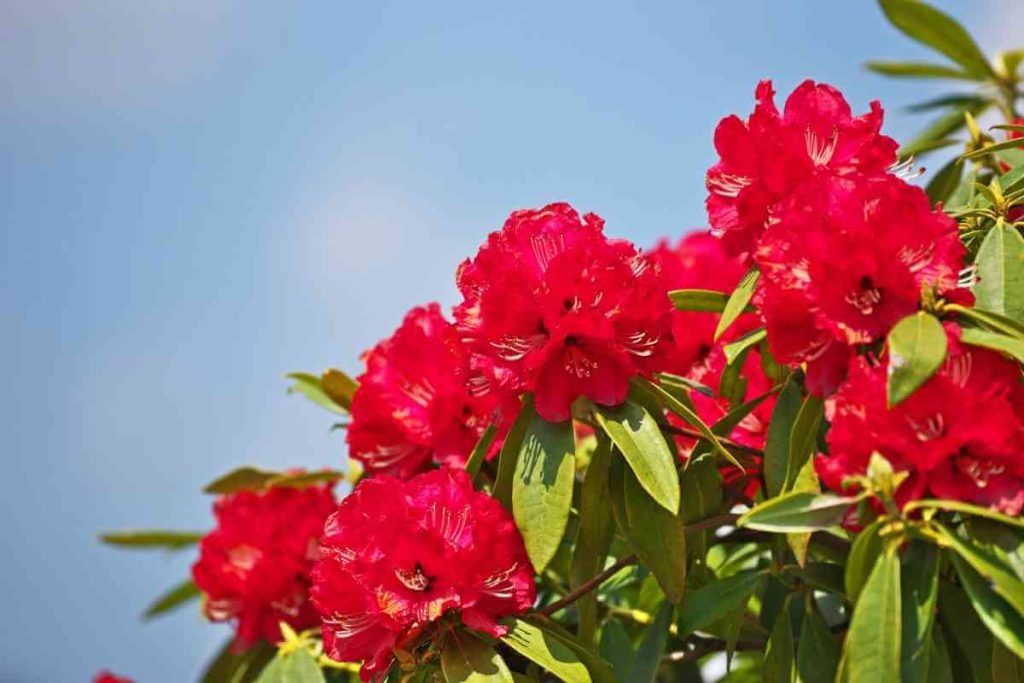 This variety is a bit of a slow grower that can only grow as tall as 6ft and as wide as 5ft. It produces vibrant, frill-lobed orange-color blooms that produce ball-shaped trusses.
It thrives in well-drained, acidic soil and does best under bright indirect sunlight. You can plant close to a building or fence with morning sun and against the effects of wind.
15. Rhododendron Amy Cotta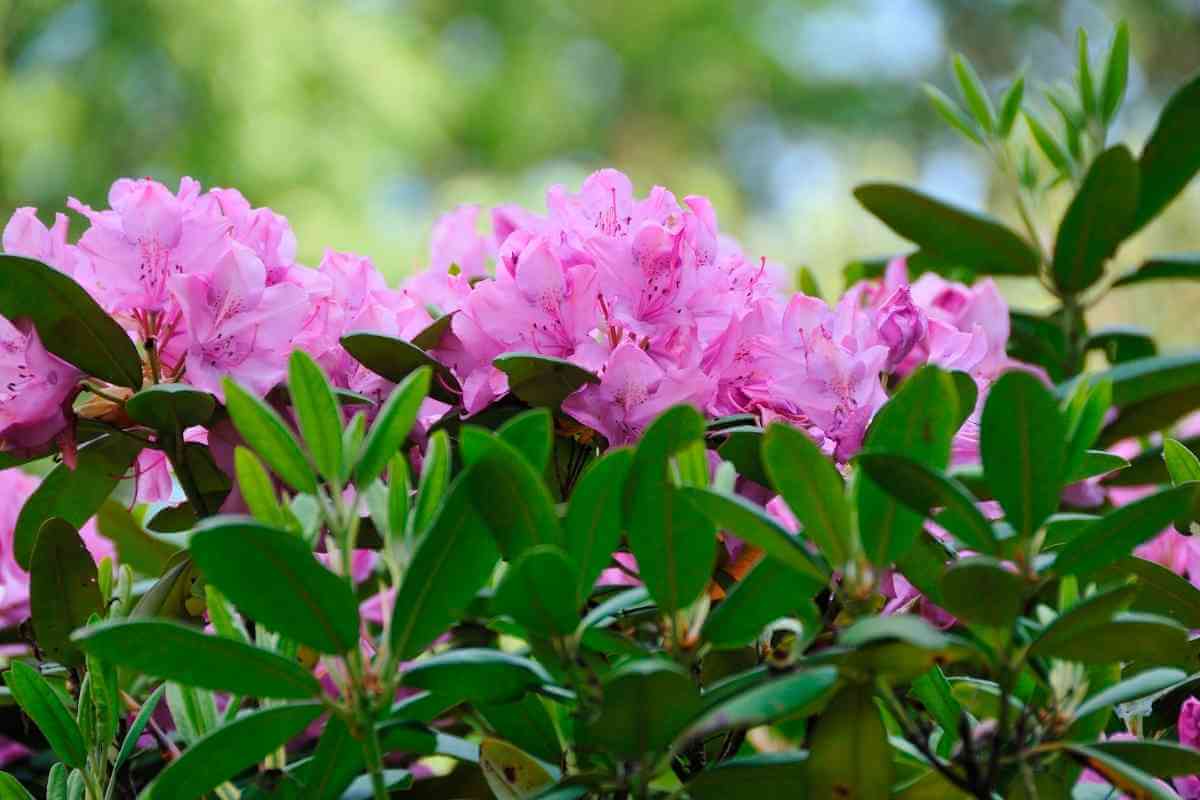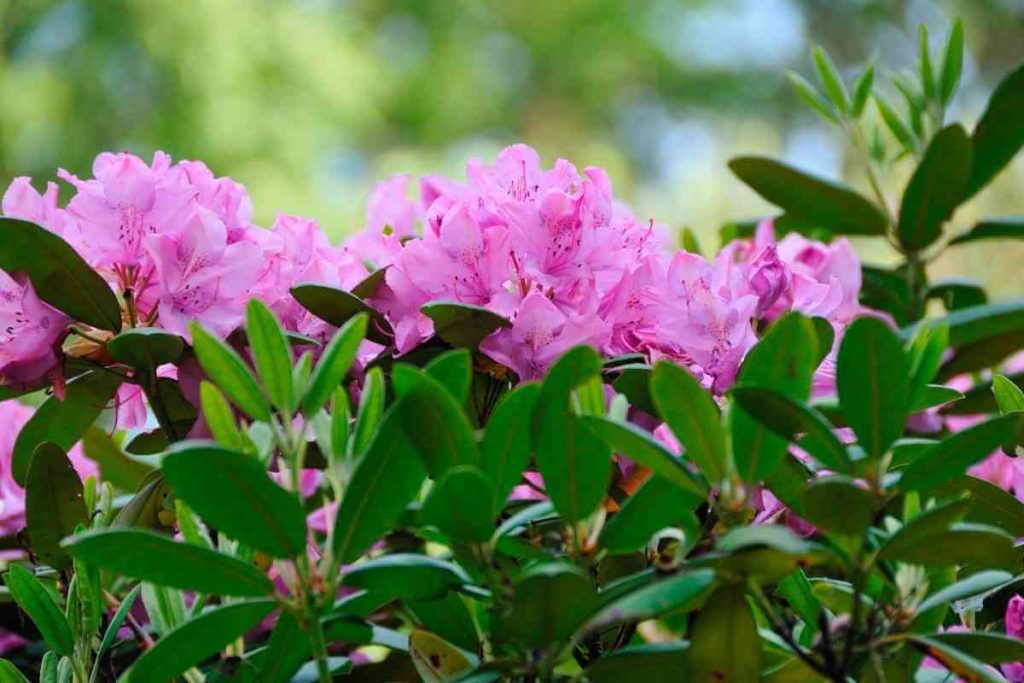 Are you looking for a flowering plant that you can use for a small space? We recommend Rhododendron Amy Cotta.
It is not an entirely dwarf plant but is also a slow grower that can grow up to 2 to 3ft tall and up to 4ft wide. It thrives under partial sunlight and is hardy zones 4 to 9. It grows azalea-like leaves and gradually grows in mounded form; hence, it is best in a mixed border or around foundations.