Are you looking for a flowering plant to beautify your garden, indoors or outdoors? You can trust rocket larkspur to provide you with beauty and a durable cut flower. It is a charming flower that sprouts straight up like a rocket at around 3 feet tall; hence the name, rocket larkspur.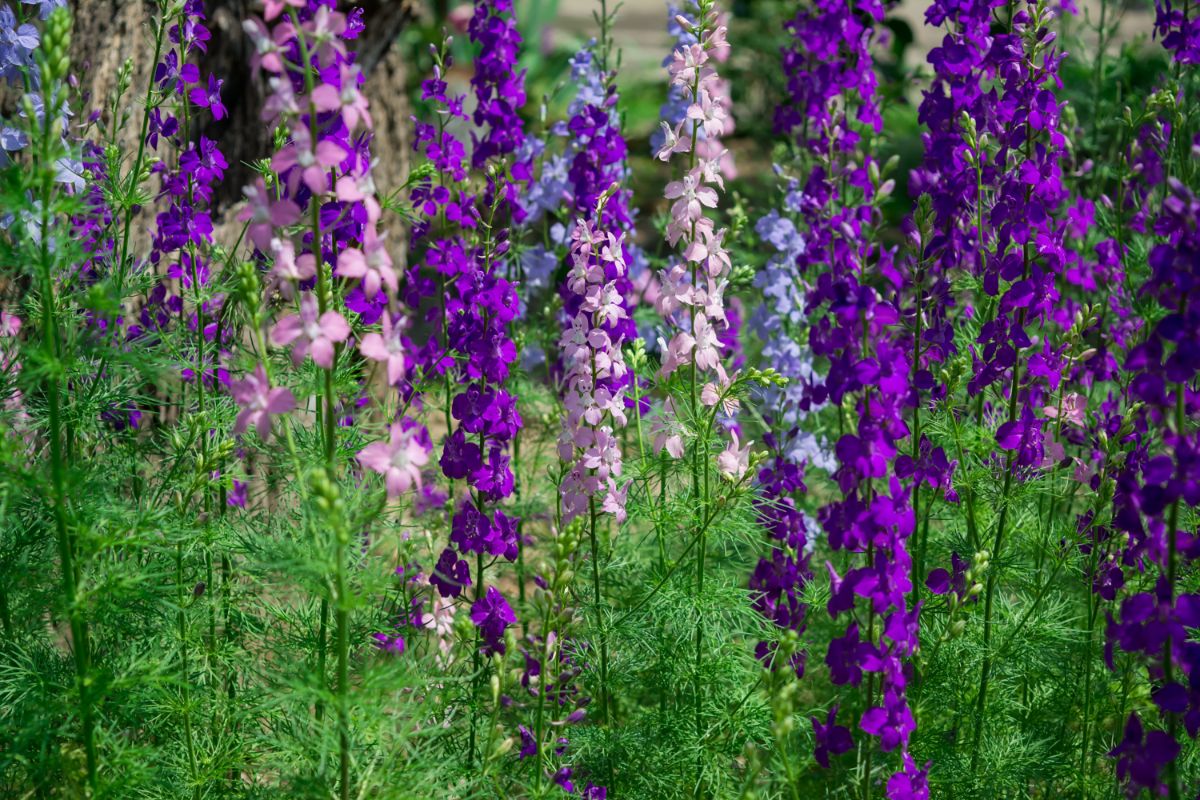 It produces beautiful spikes of white, pink, purple, and blue, which draw hummingbirds to any garden. However, even though it is easy to grow and has other fantastic features, you must provide rocket larkspur with the required growing conditions.
These conditions include full sun to part shade, rich, well-drained soil, moderate watering, etc., for optimal flower production.
Jump to:
Facts About Rocket Larkspur
| | |
| --- | --- |
| Common Names | White King, Rocket larkspur, Doubtful knight's spur, Wild delphinium |
| Scientific Name | Delphinium consolida |
| Family | Ranunculaceae |
| Plant Type | Flowering Annual |
| Mature Size | 3 to 4 feet tall and 12 inches spread |
| Sun Exposure | Full sun to part shade |
| Soil Type | Moderately Rich, well-drained soil |
| Soil pH | 5.7 to 7.0 |
| Bloom Time | Spring to Summer |
| Flower Color | A mixture of white, pink, purple, and blue |
| Hardiness Zones | 3 to 9 |
| Native Area | North Africa, Mediterranean, Northern Europe, Western Asia |
| Toxicity | Toxic to humans and pets |
Also known as Wild Delphinium, the rocket larkspur is a charming plant that is easy to grow and readily reseeds. Its color combinations include pink, blue, lavender, rose, and even white. You can grow imperial mixed rocket larkspur from fresh delphinium Consolida flower seeds.
This annual flowering plant is a rapidly growing plant that flowers heavily and subsequently withers with the first killing frost. Each of its stalks grows rows of fluffy flowers, approximately 1 to 1.5 inches. The plant can reach a height of around 3 to 4 feet and 12 inches spread.
Last update on 2023-09-24 / Affiliate links / Images from Amazon Product Advertising API
Rocket Larkspur has earned the name 'generous re-seeder' thanks to its ability to establish the following year from seeds dropping to the bare ground below.
Its attractive color combination adds beauty to the garden and has also continued to draw different beneficial insects, including hummingbirds, butterflies, bumblebees, and ladybugs.
You can use the Doubtful Knight's Spur, as it is fondly called, for several floral arrangements and bouquets since it makes a perfect cut flower.
It can reach a taller height and is ideally placed along fences, walls, and the back of borders. But it would be best if you gave them optimal growing conditions. Read on to find out how through our growing guide.
Rocket Larkspur Growing Guide
Light Needs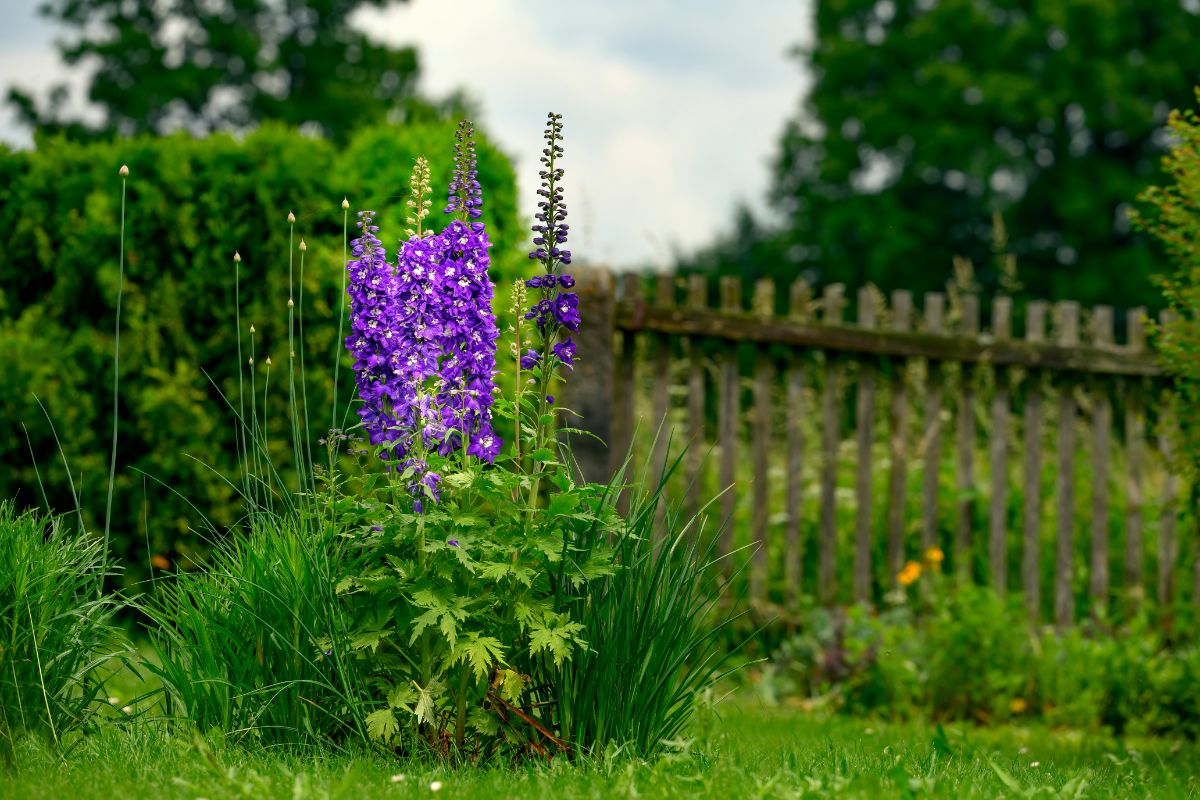 Rocket larkspur is a flowering plant that can do well in direct sunlight or full sun. However, it can also tolerate partial shade conditions, especially if you're living in a region with extreme heat during the summer. In other words, you should ensure it receives up to six to eight hours of bright direct sunlight.
In other words, in such climates where temperatures tend to reach around 90s and above for long periods, you must provide them with partial shade to enhance long-lasting flowers.
If you are growing indoors, keep your larkspur plant close to a south-facing window, where it can get sufficient direct light daily.
Soil Needs
Suppose you want to enhance the optimal production of your larkspur plants. In that case, you must grow them in moist, well-draining soil to avoid waterlogging and prevent various fungal diseases.
Rocket larkspur can survive under different soil types, but if you make plenty of blooms from it, it would be best to give it rich soil high in organic matter.
Growing larkspur seeds in soils that are amended with compost will enable them to produce flowers bountifully and enhance moisture retention. This plant can also do well in many soil pH, including slightly acidic soil down to a pH of 5. However, the most ideal should range between 5.7 to 7.0.
Watering Needs
Rocket larkspurs will produce little or no flowers in sweltering and dry garden conditions. Therefore, it would be best to grow them in moist soil through regular watering. Several larkspur species are relatively drought-tolerant plants and will not wither when given at least one inch of water weekly.
You can water rocket larkspur in the early morning or late afternoon periods. However, for varieties that produce tall purple flower spikes, you need to keep them well-watered during dry spells.
Endeavor to water them at the base to avoid inviting fungal issues via wetting the foliage, especially in humid climates.
Again, when growing larkspur and you discover that it has self-seeded, it would be best to stop watering at once. Give the seed pods time to dry on the plant, and then pick them gradually for the upcoming year.
Temperature/Humidity Needs
The best temperature range for rocket larkspur is around 65° to 75°F, but it can survive in USDA zones 2 to 10. Meanwhile, this flowering plant is frost tender; it would help if you grow it between your last and first frost date.
You can start larkspur flowers indoors if you live in a region with a short growing season. However, these plants develop deep taproots and don't survive extreme root stress.
So, another solution would be to start them in biodegradable containers, as it will help to maintain good root germination.
Fertilizing Needs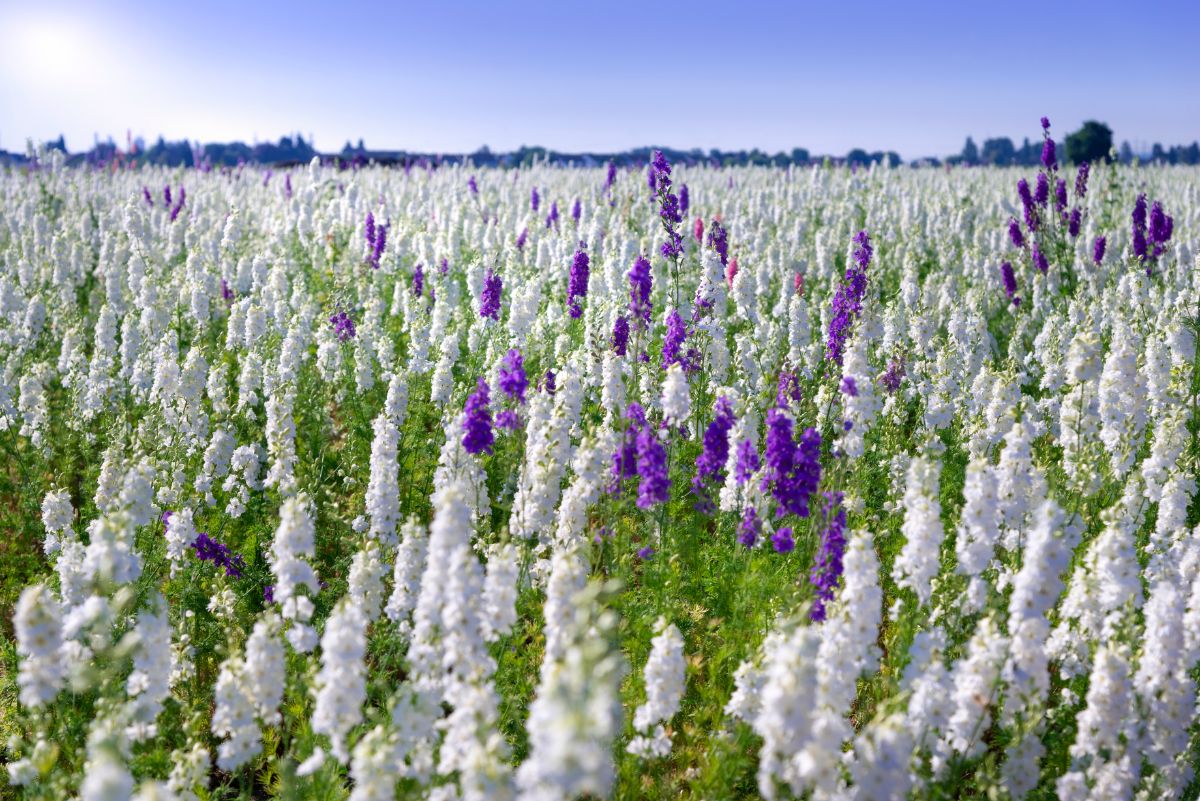 If you have already prepared your garden soil with rich compost, you won't need to fertilize your rocket larkspur flowers.
If you insist on fertilizing, you might also have to top dress with compost during early spring in their early growth. This activity will be enough to enhance the development of your annual larkspur.
Following the above, you can use organic fertilizer to help bloom productivity and enhance the plant's development. Before you plant, you must ensure you add an all-purpose balanced organic fertilizer such as Espoma Garden Tone to the planting location.
Pruning Needs
If you want to extend the flowering period of your plant, it would be best to cut faded flower spikes promptly using a sturdy pair of scissors or gardening shears.
If you discover any symptoms of pests and diseases on the stems, quickly remove them as far as possible from your blooming garden or even burn them.
Again, you can cut out a few spikes from each plant immediately after blooming and put the spikes in a pot indoors to thrive. Sometimes, pruning helps to scare pests from returning to your garden and will boost the growth of new larkspur spires.
If you want your rocket larkspur to reseed on its own, you must allow the blooms to go to seed toward the end of the summer. Once the seed pods unveil and release their seeds, remove every dead vegetation from the flower bed.
Propagation of Rocket Larkspur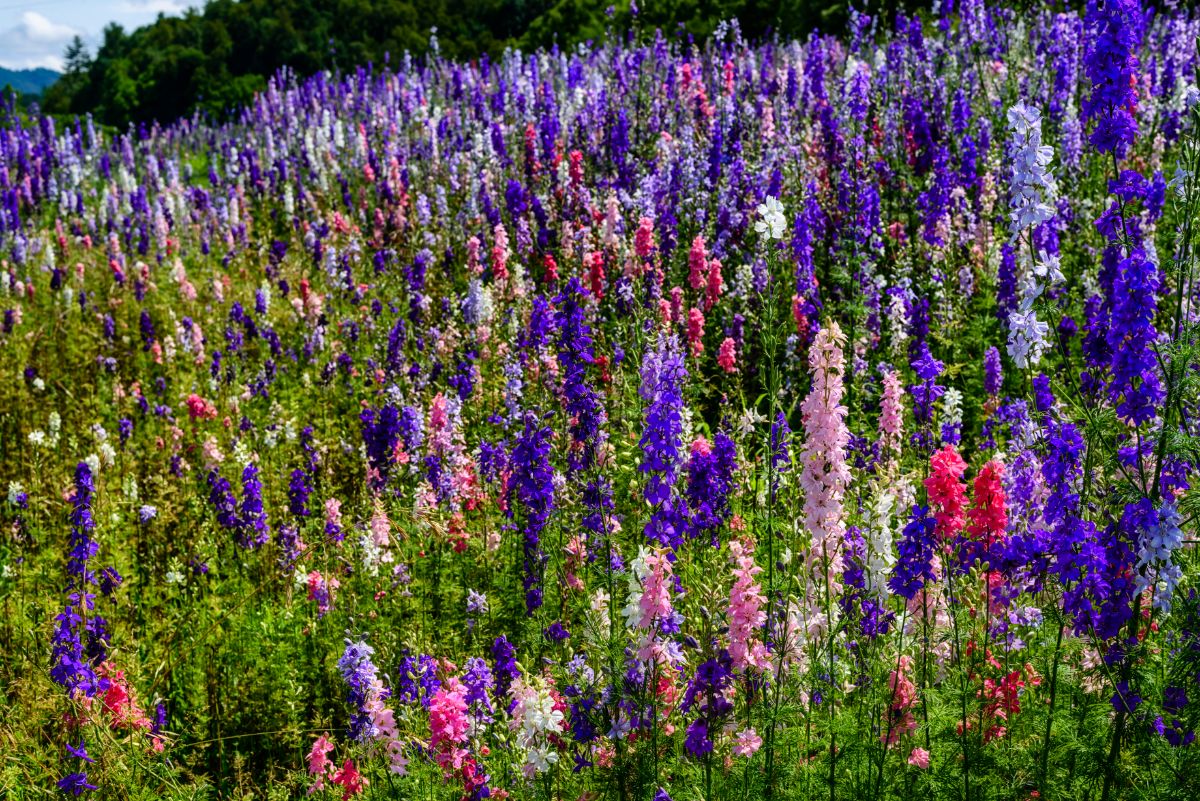 The best and most realistic way of propagating rocket larkspur is by growing its seeds immediately after a cold stratification period. Please ensure the seeds have gone through cool temperatures in the winter season to enable them to germinate appropriately during the spring.
Meanwhile, larkspur species that grow in the wild naturally undergo this process whenever seeds fall to the growth during autumn, lie dormant through the winter, and then sprout during early spring.
You can imitate this process by keeping seeds in a cold room or refrigerator for two weeks before your spring plants them.
However, larkspur seeds need light to sprout, so if you are sowing in the fall, you must cover seeds using a thin layer of damp perlite to keep them in place but let them be in such a way that light can filter through.
Even though larkspurs are annual flowering plants, they'll readily self-seed if you preserve them until the seed pods become dry and burst.
Another way to know if the seeds are due for harvest is by shaking the dried plant. The seeds tend to rattle in the pods with a sound of a maraca or a rattlesnake, and you'll be shocked at what you will see once you brush past the dried plant.
Common Pests and Diseases of Rocket Larkspur
As much as rocket larkspur is a charming plant known for its beautiful blend of colors, the constant menace of pests and diseases will minimize its bloom production and alter the plant's healthy development.
Therefore, you must beware of several pests and diseases that will trouble your plant. Below are the common pests and diseases you must control.
Pests
The most common pests that attack larkspur flowers are slugs and snails, especially when planted in humid or wet environments.
They are primarily active during early spring before the arrival of other insects. These pests tend to form large ragged holes in the foliage and mucous trail near the plants.
Controlling Pests
The best preventive and control measure is using a slug and nail bait produced from iron phosphate around wildlife and pets.
Again, you can also consider using snail traps by planting a cup or tin of beer at ground level. It attracts snails and slugs as they fall in and find it hard to climb back out.
Aphids
Are another common pest that attacks larkspur flowers, and you can control them by spraying them off using a blast of water once you spot them.
Grow several flowers that attract pollinators if you don't want the aphid to return, as these pollinators feed on aphids like ladybugs. Neem oil is another option to combat aphids.
Diseases
The most common diseases that trouble rocket larkspurs include powdery mildew and root rot, amongst others.
Controlling Diseases
For powdery mildew, you can bottom water your plants or apply neem oil to minimize the colonization of spores on their foliage. You can also get rid of infected plants in severe cases to avoid spreading diseases to healthy plants.
For crown or root rot, you can prevent it by avoiding overwatering. It is usually tough to control, but at its early rot stage, you can prune the rotted roots and place them inside a pot of dry well-draining soil to encourage root growth. Allow the seeds to dry out thoroughly before you re-water.
Frequently Asked Questions
Is rocket larkspur easy to grow from seed?
Yes, rocket larkspur plants are straightforward to grow from seeds, especially when the seeds have sprouted. The key to the successful growth of larkspur species is germinating the seeds through the proper stratification methods.
What months do rocket larkspur bloom?
Rocket larkspur produces flowers from early fall to the first frost. Fall-seeded larkspur species will germinate in the fall and stay green until the coldest winter weather, when they will lose their color and become dormant. At the return of warm weather, the plant will recover from dormancy and start growing.
What colors does rocket larkspur possess?
Rocket larkspur flowers come in different colors, including purple, blue, white, and even lavender. Sometimes, they can produce pink flowers and other colors you won't see often.
How many types of larkspur species are there?
There are approximately 3oo varieties of larkspur flowering plants around.
Is rocket larkspur poisonous to humans and pests?
Yes, every larkspur specie is toxic to both humans and pets. So, it would be best to keep them out of the reach of your kids and household pests.
Conclusion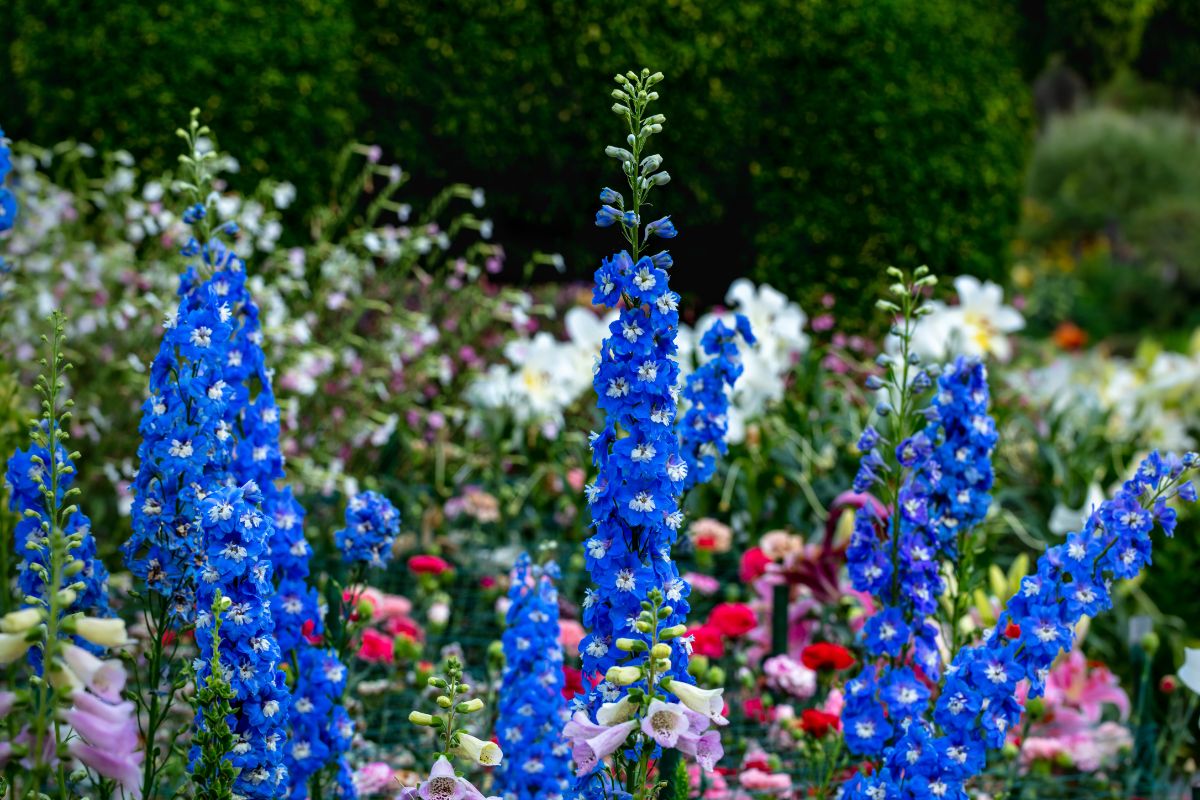 Rocket larkspur is one of the most beautiful flowering annuals around. It is very easy to grow and will beautify its surroundings with its lovely color blends.
All you need to do is provide the plant with the right growing conditions through the guides highlighted in this article.