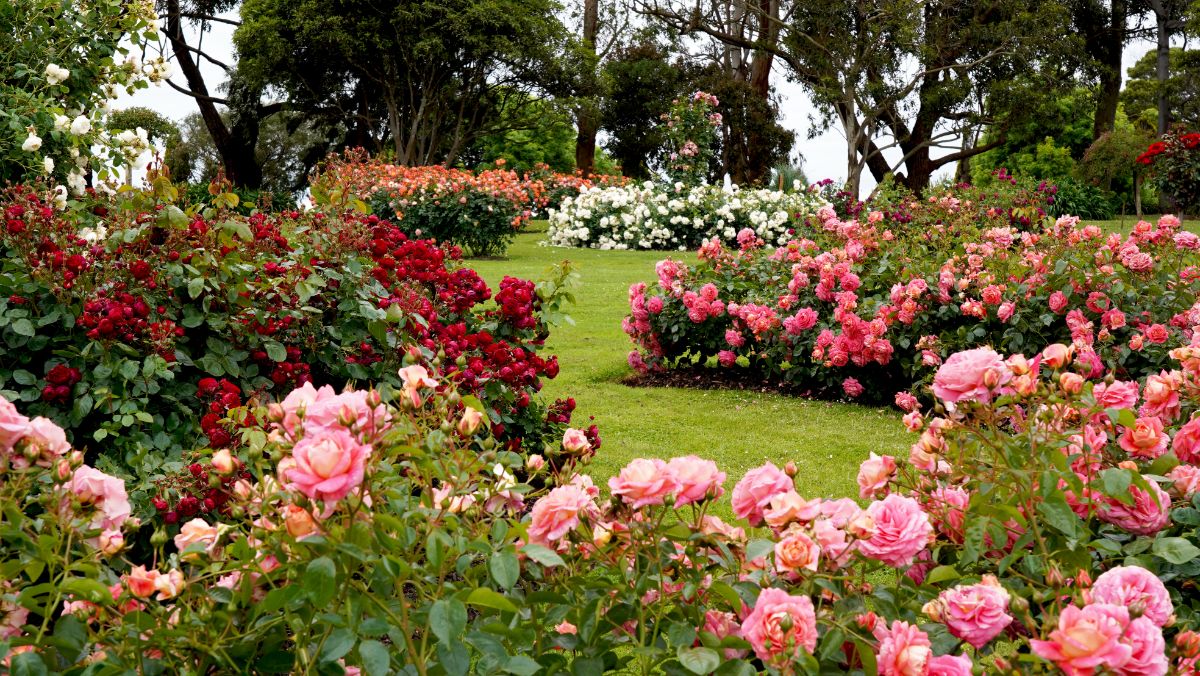 Roses are gorgeous plants, yet, experienced gardeners will tell you that growing them can be tricky, mainly if they must produce the striking flowers you desire. But then, roses are reputable for being problematic, as you can encounter some mistakes that will lead to problems.
We all know that roses are popularly known as "Queen of Flowers," yet even queens encounter issues and will require some outside assistance.
However, you can avoid these mistakes and subsequent problems with more precise care. We'd be highlighting some notable rose growing mistakes and common problems + how to fix them.
Jump to:
Common Rose Growing Mistakes
Everyone can grow roses, as it is effortless to grow, yet without proper care and attention, you are bound to encounter mistakes whether you are an expert or a beginner. Below are some of the most common mistakes associated with rose growing and measures to rectify them.
1. Choosing the Wrong Spot
It is one of the gardeners' most common mistakes in rose growing. Roses are of different varieties, including huge ramblers and mini shrubs; therefore, you must scrutinize the label before making a purchase.
If you regularly prune a naturally huge rose just to fit in a bit of space, it might not thrive. Again, roses are sun-loving plants; hence, they require full sun and will not do well in the shade. But gardeners tend to make this mistake which can result in subsequent problems.
How to Fix
Here are some of the corrective measures or things to keep in mind in rose growing.
Position your roses in an area where they will get adequate sunlight
Keep them as warm as they want to enable them to draw in the nutrients they need.
Do not plant them in boggy spots or areas with too much moisture
Roses do best in neutral soils, as it is the best and easiest way; they can get the nutrients they crave.
2. Skipping Soil Amendments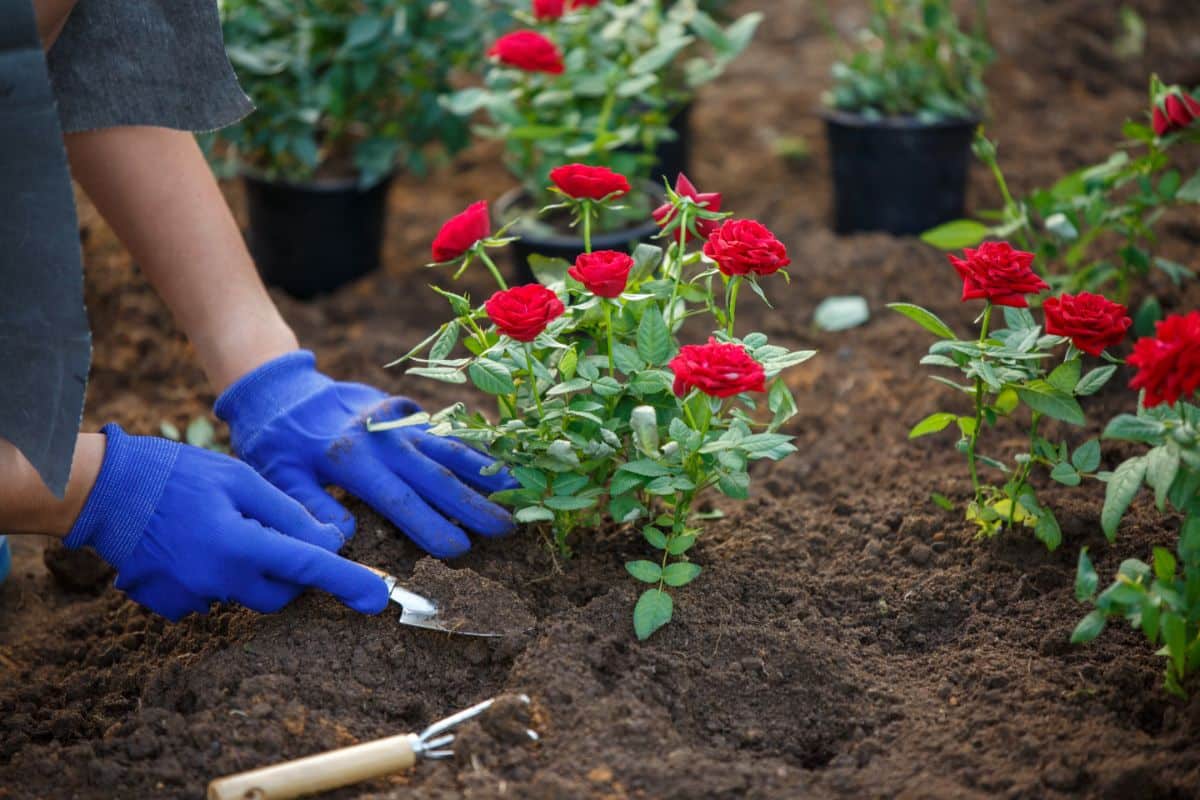 Choosing the right area is one thing, and improving the soil to enhance healthy growth is another. It is just about locating the right spot for your roses, as you must ensure you amend the ground when needed if you want them to stay healthy and produce stunning blooms.
How to Fix
For every rose, you must dig a hole of at least 2 feet round and deep
Apply about a bag of manure or organic compost. If your soil is heavy clay, then it would help if you loosen the ground 1 foot deeper and add ground bark or coir to enhance drainage and texture.
3. Lack of or Poor Summer Pruning
Another common mistake among gardeners is abandoning their important rose pruning duties, essential to keep them happy and blooming graciously. Even when they remember, some prune poorly. Don't forget that roses like to be pruned every summer if they must produce your desired result.
How to Fix
Eliminate spent blooms before they fall off, as they always think their mission is accomplished when they fall off.
Cut off blind shoots to enhance the production of flowers that these shoots cannot initially produce.
4. Neglecting the Wildlife Factor
You must note that as far as roses are concerned, they are attractive to deer. Even though they might not enjoy a mouthful of thorns, they'd be drawn to young rose stems, leaves, and flowers. Therefore, you must endeavor to factor in the deer effect in rose growing.
How to Fix
For those with plenty of roses, build a giant fence around your rose garden
For those with few roses, odor-based repellents can deter deer.
5. Growing Cuttings in Direct Hot Sun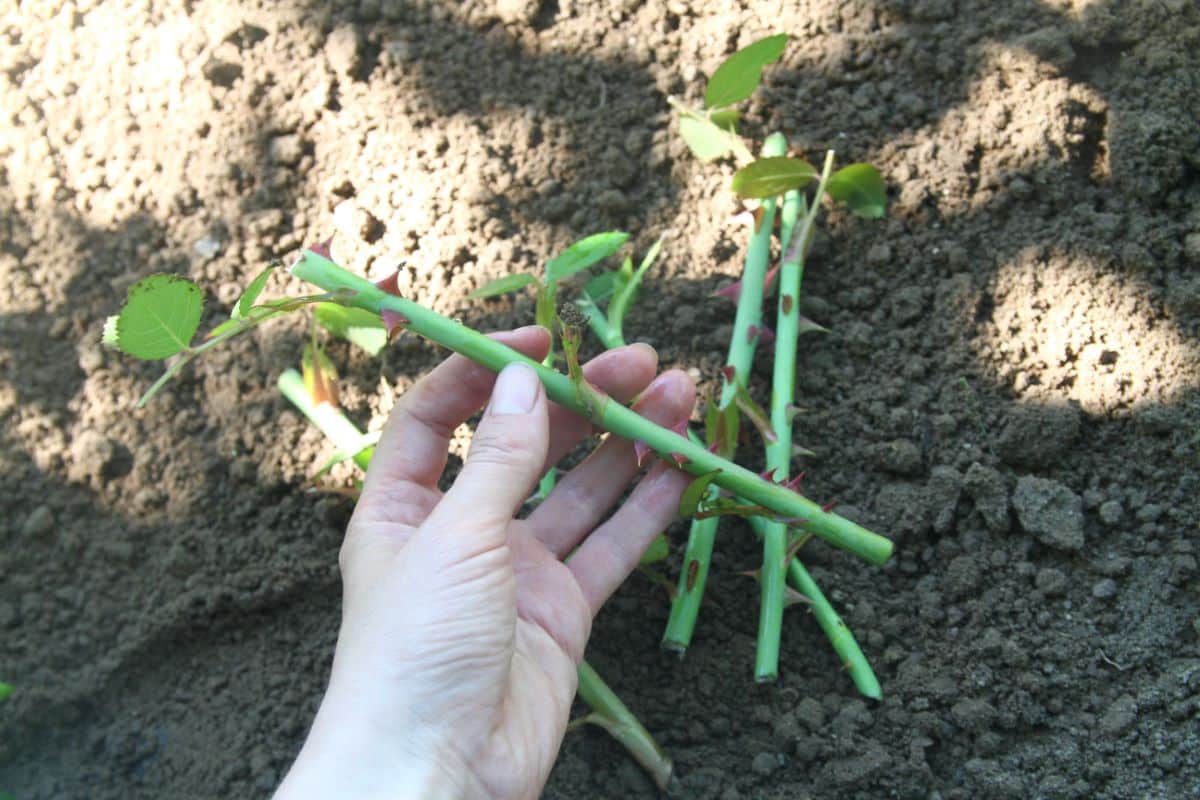 Most gardeners like propagating via the cutting method, as it offers the easiest and most fruitful way of growing without too much expense.
However, many tend to make the mistake of putting the cuttings in the direct hot sun, which will collaborate with the glass vase to produce a mini greenhouse effect and kill the rose cuttings.
How to Fix
After putting your rose cuttings in a vase to begin the propagation process, allow them to experience the morning sun. But endeavor to take them away to prevent them from dying from the hot afternoon sun.
6. Excessive Watering
Roses are of different varieties, and most of them like water but not soggy roots. Most gardeners tend to take advantage of roses watering needs to overwater, thereby making the roots sit in water, which is disastrous to the plants, especially causing the roots to suffer root rot.
How to Fix
Water at least once a week during dry weather using a hose, watering can, or drip irrigation method.
But, avoid getting the leaves wet to prevent certain diseases that can result in dropping foliage.
7. Inadequate Removal of Pest
Roses often attract many pests, most notably aphids, which can have unbearable consequences as they squeeze out every available nutrient.
Of course, you know what happens to a plant that lacks nutrients!!! It will not survive. Don't forget; these aphids hunt in packs.
How to Fix
Once you discover any aphid (small green, red, black, or whitish pear-shaped insects) on your plants, don't hesitate to get rid of it as quickly as possible to avoid signaling a mass of others.
8. Delaying Deadheading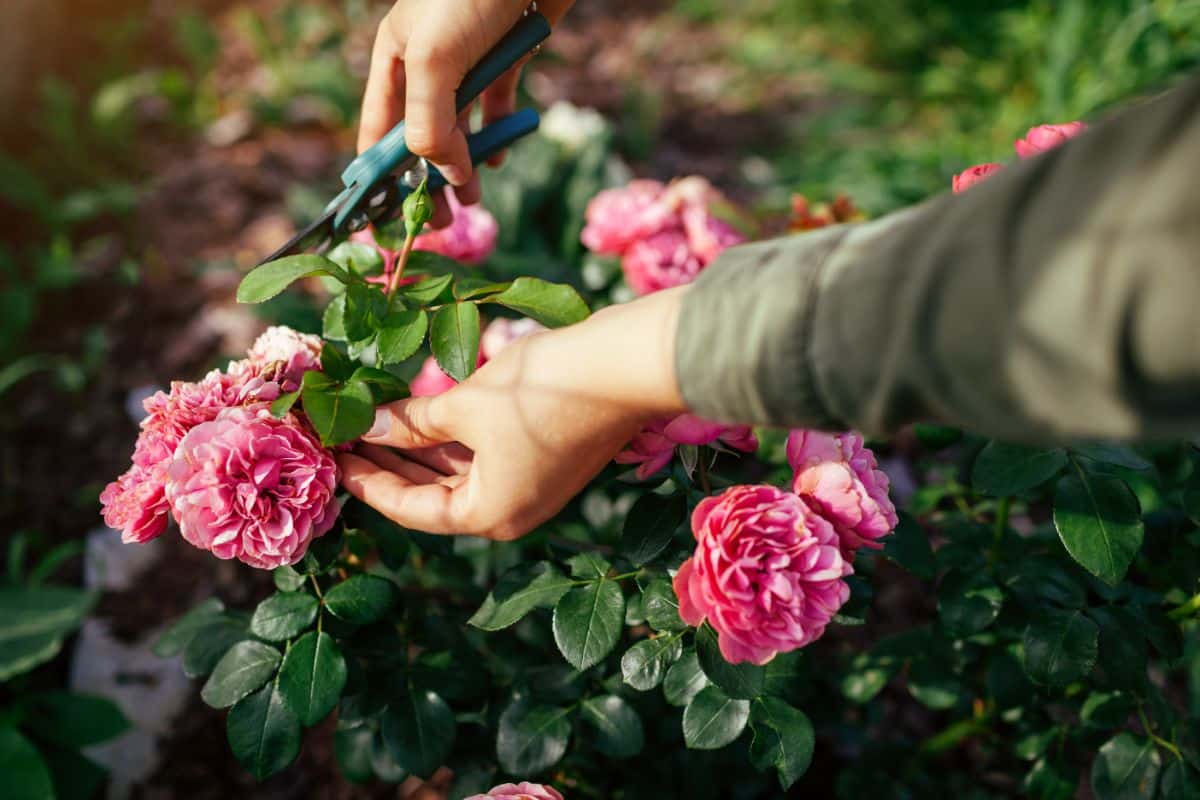 Deadheading means the removal of spent blooms from your plants, thus encouraging fresh flowers and maintaining a tidy appearance.
Deadheading faded roses blooms are crucial since many repeat flowers from spring to late fall. Yet, some gardeners often ignore deadheading details, which doesn't bode well for roses.
How to Fix
Twist off old blooms with your hand anytime you walk to the bush
If your rose blooms so densely, clip the entire plant back a few inches using shears once a good number of the flowers are faded. You'll see fresh bloom buds emerging.
9. Overcrowding of Rose Garden
Overcrowding is one notable mistake most rose gardeners often make. Probably, they might feel it means plenty of rose blooms, but it's not always like that.
Since roses are sun-loving plants and need enough airflow, overcrowding will do them no good, reducing their flowering capabilities.
How to Fix
Keep roses distant from walls, trees, fences, and other larger plants.
Space the roses out to give them enough room to grow freely.
Make sure you put them in areas they will receive full sun and enough room to bush out.
10. Overfertilizing or Lack of it
Some people often mistake feeding for yielding plenty of blooms or fruits. Under-fertilizing often causes malnourishment.
On the other hand, when you overfertilize, it can eliminate bacteria in the soil, resulting in a salt burn or other problems, which is disastrous to your roses. In other words, moderate fertilizing is required.
How to Fix
It will be best to plant your roses in organically rich soil with plenty of compost and natural, slow-release fertilizer.
Common Rose Problems & How to Fix
1. Aphids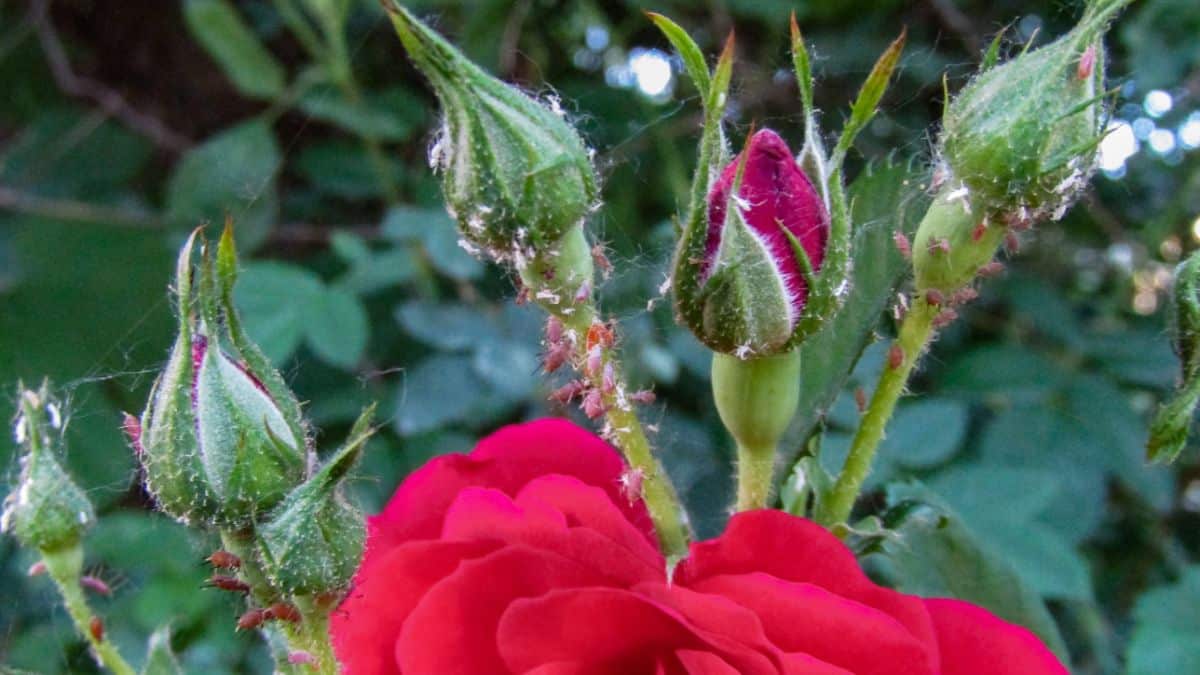 Roses encounter many problems, but the most common are aphids. They are small, pear-shaped, sucking insects of different color varieties of green, red, black, yellow, or white and sometimes called greenfly or blackfly, yet are not called flies.
Aphids are common threats to roses, primarily when they hunt in packs. They suck life out of plants so much that they will start to look puckered, brittle, and yellow while the plants gradually fade off.
How to Fix
Hose off the rose bush using a heavy blast of water and hit every area, which includes underneath the leaves, doing so more than once
You can also use a homemade spray solution to curb aphids.
If water cannot solve it, go for insecticidal soap, ensure the plant is fully coated, and let the soap touch the aphid.
You can try the organic, natural method by drawing lady beetles to your garden, as they feed heavily on aphids.
2. Sun Damage
One of the most common problems of rose growing is sun damage. They become stressed whenever their roots don't receive adequate moisture, particularly in extended periods of direct sunlight exposure and inadequate soil moisture.
How to Fix
Transplant the rose to a well-drained area. OR
Ensure it gets at least 3 to 4 inches of water weekly.
3. Black Spots on Roses
Black spot is a fungal disease that develops mostly from warm, wet, or humid weather. If black spots have initially infected your plants, then the spots are still there, and it will take just seven hours to see them germinate.
They will begin as tiny black spots on the leaves that broaden and become ringed with yellow, then turn the whole leaves to yellow, thus making the leaves fall off and completely defoliate.
How to Fix
Begin with a complete fall clean-up of fallen leaves and debris as the fungal spores tend to over-winter.
Since black spots are exacerbated by poor growing conditions and stressed plants, ensure your rose bushes get full sun, enough water, and proper air circulation. If you notice any sign of a black spot, spray with Bordeaux Mix, neem oil, or sulfur.
4. Powdery Mildew on Roses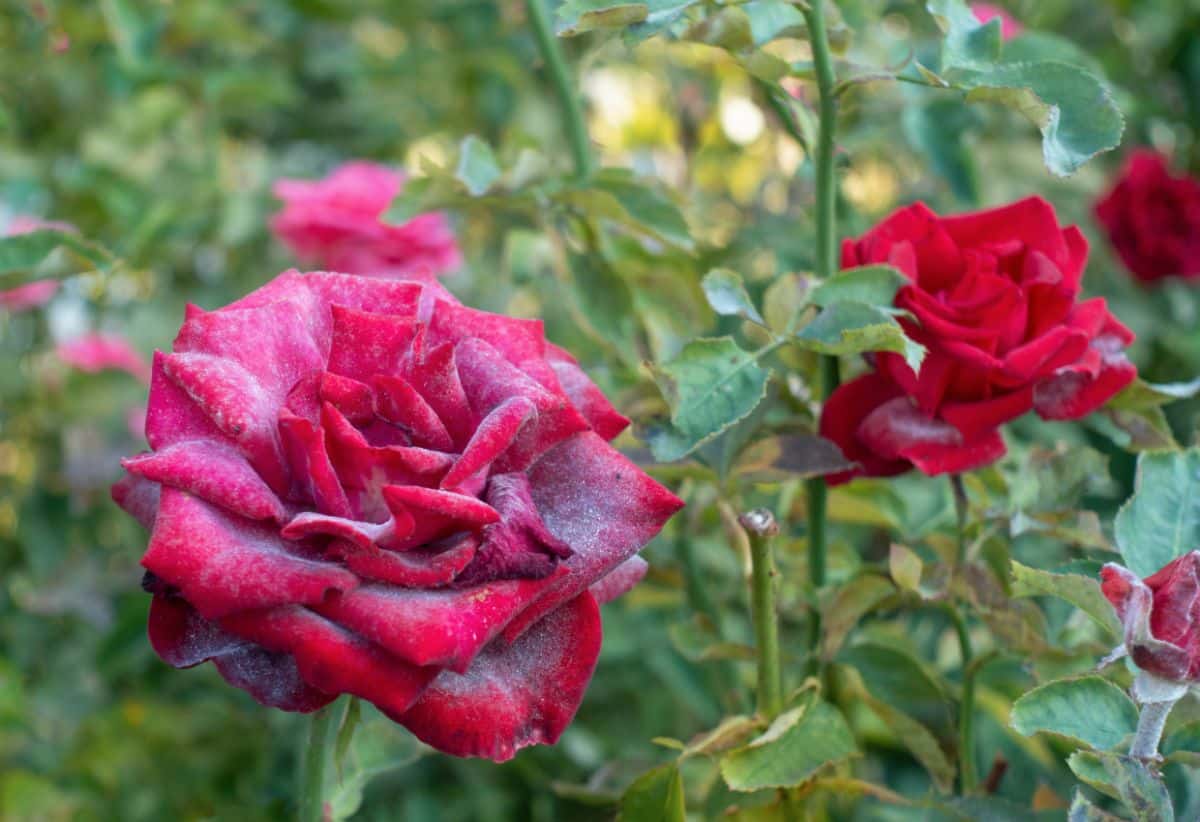 Like black spot disease, powdery mildew is a fungal disease lying dormant until the perfect conditions surface. However, this particular disease requires conditions of hot, dry days with cool, moist nights.
Tender leaves will start to pucker or crinkle before you start noticing mold forming on the leaves and stems, with a slender white coating that will start spreading throughout the rose bush.
How to Fix
Apply a homemade baking soda spray. However, this measure might not be as effective if your rose has already been infected with the disease.
If your plant's roses start displaying symptoms, the easiest way to curtail them is by spraying homemade milk spray, which is effective and can be applied on other mildew-susceptible edible plants like cucumbers and squash.
Ensure your roses are grown in an area with 6 to 8 hours of sunlight daily.
Again, ensure they are distanced from other plants and receive enough fresh air.
5. Root Rot
Root rot is a common problem among many plants, including roses. If you grow your rose in soil that is not well-drained, it will result in root rot and subsequently drooping of roses.
How to Fix
If you notice your rose leaves drooping or wilting, or your blooms are not ultimately blossoming, check the pH level of the soil in which roses are growing.
Try applying limestone to the soil around your rose if the soil's pH is not between 5.5 and 7.0.
6. Japanese Beetles on Roses
Japanese beetles are another common problem of rose. They tend to feast in packs and can result in severe damage quickly.
You can hardly miss these bronze and green metallic beetles, as they feast on the leaves of roses and skeletonize them, subsequently defoliating the whole plant. They devour and distort blooms and buds.
How to Fix
Hand-pick and drop them into a soapy bucket of water.
Failure to eliminate them while in their early stage on your lawn will cause fewer adults to appear and become problematic.
7. Crown Gall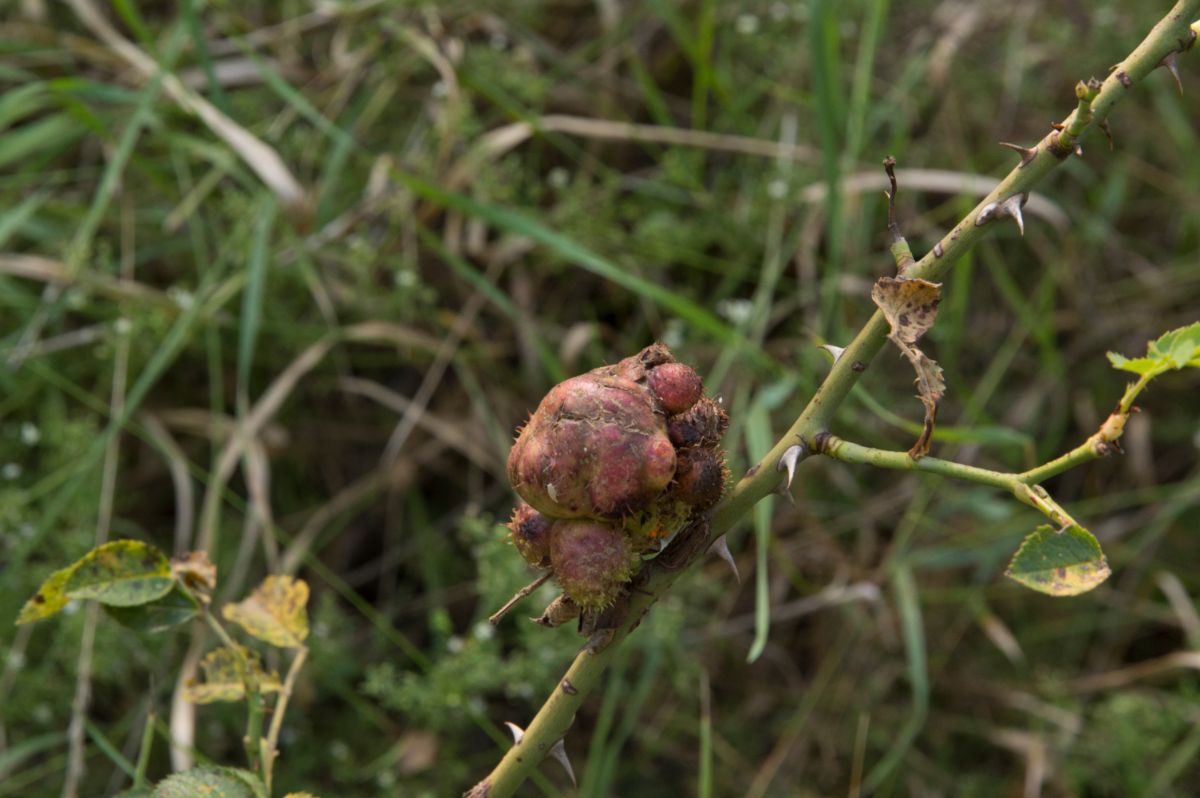 Crown Gall is caused by the bacterium called Agrobacterium tumefaciens, which interferes with the plant's ability to soak up water and nutrients, thus leading to poor growth and weak plants easily stressed and injured.
How to Fix
Unfortunately, there's no particular remedy for crown gall.
But try digging up the infected rose and get rid of it anywhere but the compost bin.
Do not replant roses in that area for around five years as crown gall can over-winter in the plant and soil
Also, be careful of the kind of soil you buy by going for certified disease-free roses.
Tidy the pruners between cuts using a dilute bleach treatment (1-part bleach to 9 parts for every single water) or rubbing alcohol.
8. Rust on Leaves
Rust on rose leaves is a rose problem that creates a unique mottling of leaves on the upper side of the leaves and orange spots on the underside, which turn black as they become established.
How to Fix
Trim and eliminate any rust leave and stems. Afford your roses enough space to enhance proper air circulation
Trim off any dense growth.
Conclusion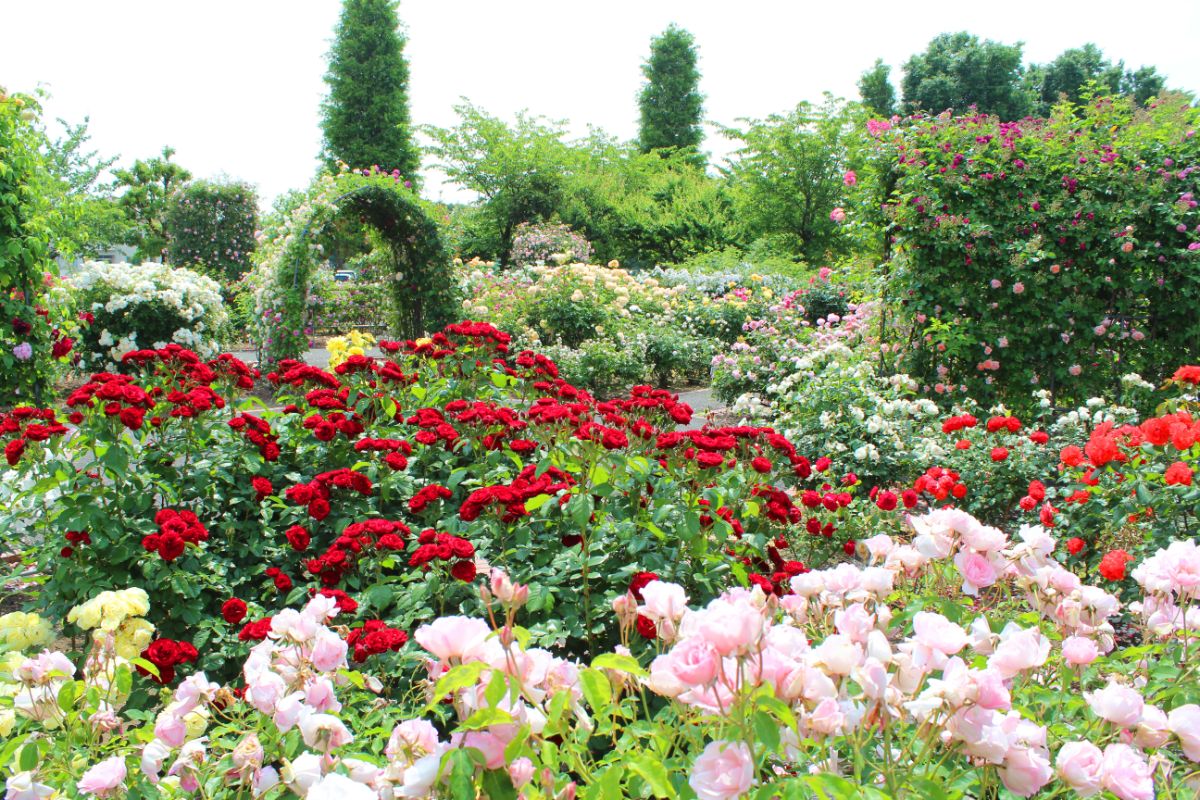 Every plant has its problems, which can sometimes seem overwhelming. However, you can solve them with more precise care, like placing the bushes and cuttings correctly, watering as required, fertilizing moderately, pruning effectively, and eliminating pests as needed throughout each season.
Applying the proper remedies above will produce the healthier, more beautiful roses you've ever desired in your garden.