Ruby rubber tree ficus is a stunning plant that tends to dominate wherever you see it, as it brings a unique, colorful look and feels to its space. It features enormous, variegated leaves and can grow up to a ceiling height, which makes it an excellent anchor plant for an indoor tropical garden.
Amongst other rubber plant types, the ruby rubber tree plant ficus is the most popular and requires surprisingly little return.
However, like other plants, this requires the right growing conditions to thrive, including medium, indirect light, slightly moist soil, moderate watering, adequate feeding, an average of 40 to 60% humidity, etc.
Jump to:
Facts About Ruby Rubber Tree Plant Ficus
| | |
| --- | --- |
| Common Names | Rubber Tree' Ruby', Rubber Fig, Indian Rubber Tree, Ficus Tineke Ruby |
| Scientific Name | Ficus elastica 'Ruby' |
| Family | Moraceae |
| Plant Type | Tropical, Evergreen Tree |
| Mature Size | 8 to 10 feet as a houseplant, 50 to 100 feet tall and wide outdoors |
| Sun Exposure | Bright, indirect sunlight |
| Soil Type | Rich, Fast-draining |
| Soil pH | 5.0 to 7.0 (mildly acidic to neutral) |
| Bloom Time | Rarely flowers indoors |
| Flower Color | Rarely flowers indoors |
| Hardiness Zones | 10 to 12 |
| Native Area | Asia, especially India & Malaysia |
| Toxicity | Mildly toxic to most humans and pets |
Also known as the ficus tineke ruby, the ruby rubber tree plant ficus is an evergreen tree and a hardy variegated version of the famous rubber tree. Several species of ficus elastica, including ficus elastica Tineke and ficus Elastica ruby, can all grow to incredible heights in their natural habitats.
Their indoor heights are somewhat manageable in size. However, the only feature differentiating the Ficus elastica 'Ruby' plant from the rest is its stunning deep pink, almost red, variegated leaves, which is why it is called 'Ruby.'
Last update on 2023-09-24 / Affiliate links / Images from Amazon Product Advertising API
Meanwhile, these stunning colors blend attractively with the different green colors on their oval leaves.
Unlike the creamy white variegation on the ficus tineke variety, the ruby rubber tree ficus variegation ranges from a pinky-tinged cream to almost glowing coral pink.
In some types, the green color is very dark, making it look almost like black, while in others, the green is more greenish. Meanwhile, new growth comes through a severe pinky-orange shelter.
Ruby Rubber Tree Plant Ficus Growing Guide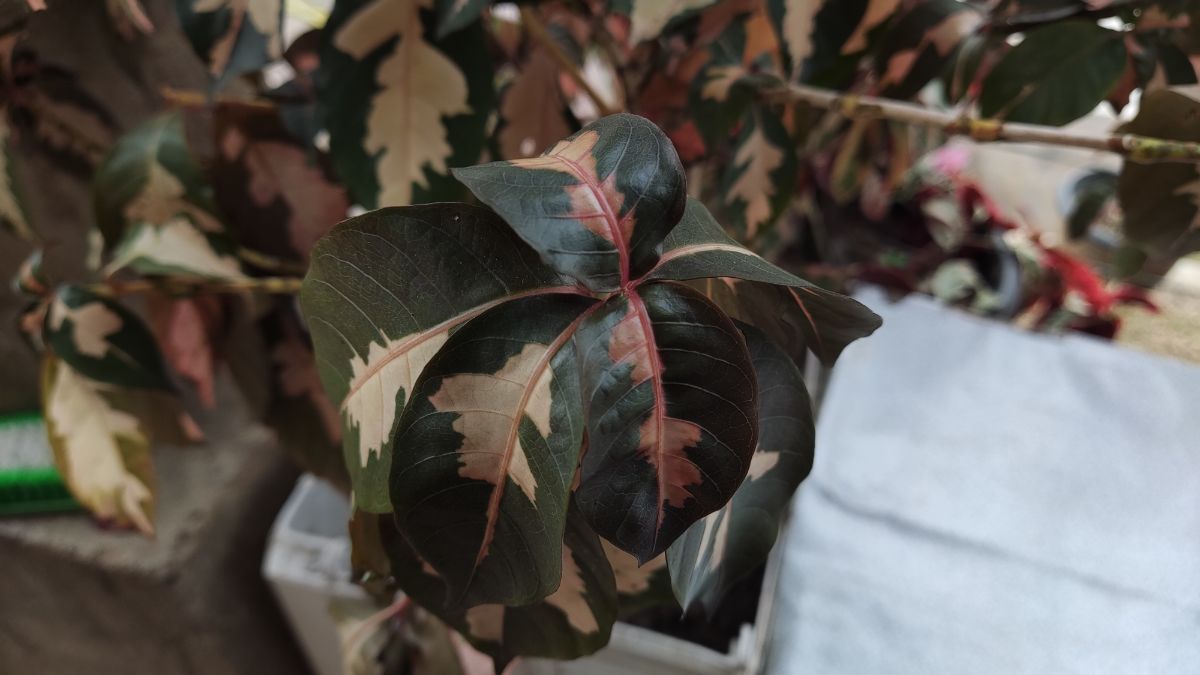 Generally, the ruby rubber tree plant ficus thrives in rich, well-draining soil. Ensure its soil stays evenly moist and only water when the topmost layer has dried. It requires bright, indirect light and temperatures above 60℉. Fertilize monthly from spring to summer. Let's quickly highlight the essential growing guides of this stunning cultivar.
Light Needs
Even though the ruby rubber tree ficus can survive low light conditions, it is not advisable. So, you must provide it with at least a few hours of early morning hours, direct sun, and dappled, indirect light for the rest of the day. Its leaves will display a ruby glow by exposing it to over 8 hours of filtered light daily.
However, you must be careful not to expose this rubber tree plant to the intense afternoon sun, as it will burn the leaves.
When growing indoors, keep the plant in a brightly lit room, and if it's doing fine there, there's no need to change its location, but you can occasionally rotate it to encourage equal growth.
Soil Needs
It would be best to use rich, moisture-retaining soil for your ficus Elastica ruby, but ensure the soil is porous and well-draining.
The ideal pH level for this plant is between 5.0 to 7.0, or slightly acidic to neutral soil. In other words, choose commercial cactus soil if available, and apply some compost to boost the nutrient level of the soil mix.
You can also amend a standard potting soil to produce the correct ficus Elastica ruby soil mix. You can go for one-part perlite, one-part potting soil, and a good scoop of compost for nutrient-rich, well-draining soil that keeps the soil evenly moist.
Water Needs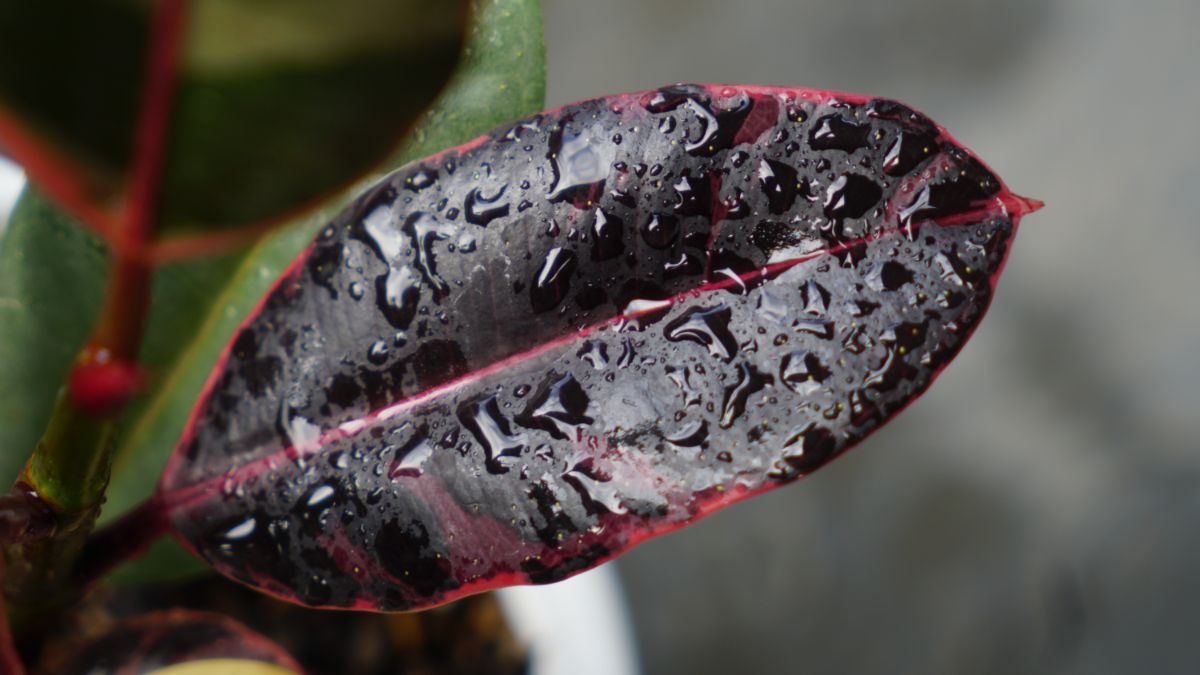 As long as your ficus Elastica ruby plant is concerned, it prefers staying steadily moist but will not do well in soggy soil. So, the best time to resume watering is when the top 2 to 4 inches of soil has become dry.
You can re-water your plant once a week and potentially more in the warm growing season. But reduce watering frequency during the winter season.
Temperature/Humidity Needs
Ruby rubber tree plant ficus thrives at room temperature between 60°F to 77°F. Anything below is not ideal, and cold temperatures don't work well with the plant.
The plant will also do well at normal humidity levels (around 40% to 60%) and can benefit from an occasional rise in humidity levels.
In other words, it will thrive in average household humidity. If your home or the air around the plant is too dry, you can enhance it by misting it. You can also increase humidity with a humidifier or pebble trays, which help keep your plant's surroundings moist.
Fertilizing Needs
You can only fertilize your ruby rubber tree plant ficus using a weak liquid fertilizer throughout the growing season.
This plant is a significantly heavy feeder in its healthy state. Therefore, several experts recommend light fertilizing indoor plants to avoid stretching and causing them to become rootbound since they possess rapid growth.
Potting & Repotting Tips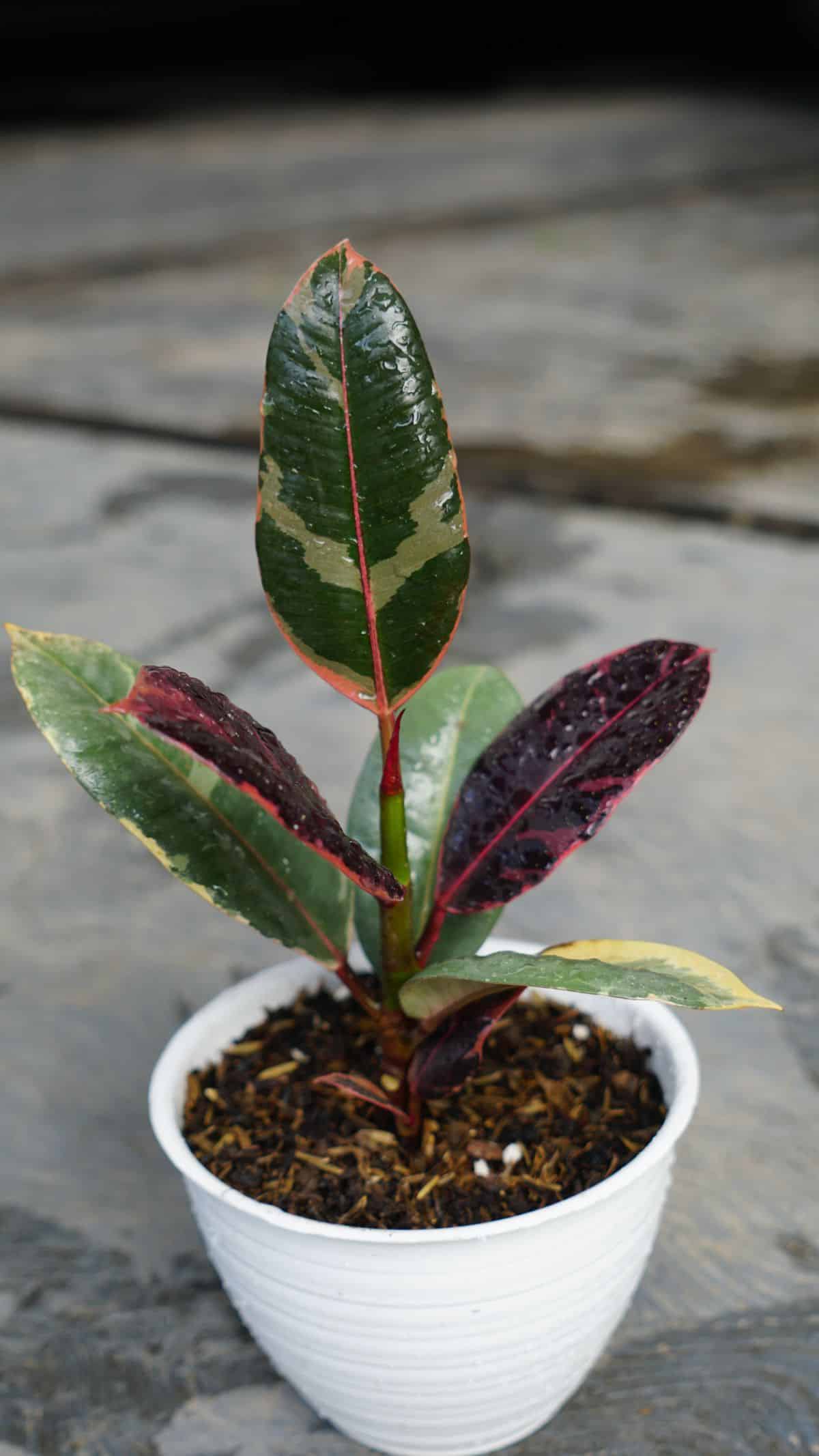 This Indian Rubber Tree plant can grow in pots but doesn't require regular repotting. In other words, you can only repot your plant every two to three years or when the roots have become too overgrown and rootbound.
Ensure the pot has drainage holes. Since you're growing it indoors, potting and repotting is unavoidable, but you can easily care to tend to it even when potted.
Pruning Needs
Generally, the ruby rubber tree plant ficus doesn't require much pruning. However, you'll need to cut off any dead or spent leaves that you find, as it helps to keep your plant healthy and attractive and discourage any possible disease.
But if you must shape this plant to fit into your space, it is best done in spring and summer. Once it reaches its ceiling height, trim the top of the main stem top to stop upward growth. Also, prune off side branches just above a node using sharp, sterilized scissors or knives.
Toxicity
All species from the ficus family are toxic to both humans and pets. The ficus species release saps that cause irritation to the skin and result in dermatitis.
It is harmful to humans and is not consumable, so you must keep it out of reach of kids. Wear gloves and wash your hands after handling these plants.
In addition, if the plant has an injury, it excretes milky sap that can cause contact dermatitis in humans. It is also toxic to pets and shouldn't be ingested. However, if your pets consume any portion of this plant, contact your veterinarian or animal poison control as fast as possible.
Propagation of Ruby Rubber Tree Plant Ficus
The easiest method of ruby rubber tree plant ficus propagation is stem cuttings. If you want to propagate ficus ruby through cuttings, pick healthy stems at least 6 inches long with four leaf nodes. Cut them using sharp, sterilized scissors just below a node.
Dip the cut ends in hormone powder (optional). Then, allow the leaf at the tip of the stem, and dip them in a moistened mix of peat moss and perlite. Ensure every node is underneath the surface. Covering the tray or pot using a plastic bag or dome will help to retain humidity.
Position it in a warm location away from the direct sun, and within a month or so, you should have rooted cuttings ready to pot up. Again, ensure you follow our detailed ruby rubber tree plant ficus growing guide for proper care tips.
Common Ruby Rubber Tree Plant Ficus Problems
Ficus elastica ruby is a stubborn plant that will hardly attract most pests and quickly recover from several issues with relative ease. However, they're not immune to common problems like curling, dropping, and yellowing of leaves.
1. Curling of Leaves
If your Ficus elastica ruby receives more light than required, it can curl its leaves. Low humidity, inconsistent watering, and pests can also cause this issue.
Therefore, be careful of the environment you grow your plants to give them adequate light and humidity, and watch out for signs of root instability or pests like brown spots on leaves or bumps on stems.
2. Dropping of Leaves
The focus Elastica ruby enjoys staying in the same position in your home and tends to drop leaves if you relocate it.
The primary cause of leaves dropping is unsteady lighting. Low humidity is also a factor. So, you must control this issue by spraying the plant daily, getting a humidifier, or keeping the plant on a pebble tray.
3. Yellowing of Leaves
If your ruby rubber tree starts developing yellow leaves, it signifies underwatering or excessing. Whenever you discover this problem, check the soil to know how moist it is and let it completely dry out, then re-water it. If the soil is dry, water thoroughly and mist the plant leaves.
Frequently Asked Questions
How long does it take ruby rubber tree plant ficus to mature?
It will take about 10 to 15 years for the ruby rubber tree plant ficus to grow to full maturity.
How fast does ficus Elastica ruby grow?
If given the right growing conditions, the ficus elastica grows as fast as 1 to 2 feet yearly. However, this rubber plant will only grow as fast with sunlight to help them grow. Yearly fertilization will enhance its speed by providing the minerals and nutrients the plants require to grow.
How big does a ficus ruby grow?
When you plant them indoors, the ficus ruby species will grow as big as 8 feet and as high as 40 feet when you plant them outdoors.
Are ruby focus slow growers?
Ruby focus is a relatively rapid-growing specie if you give it the perfect light and warmth it requires to excel.
Why is my ruby focus not growing?
The most realistic factor that hinders the growth of ruby focus is low light conditions. Like most other ficus species, ruby rubber tree plant ficus is significantly fickle about how much light you expose it to. Sometimes, a few inches closer or farther from a window can make a huge difference.
Conclusion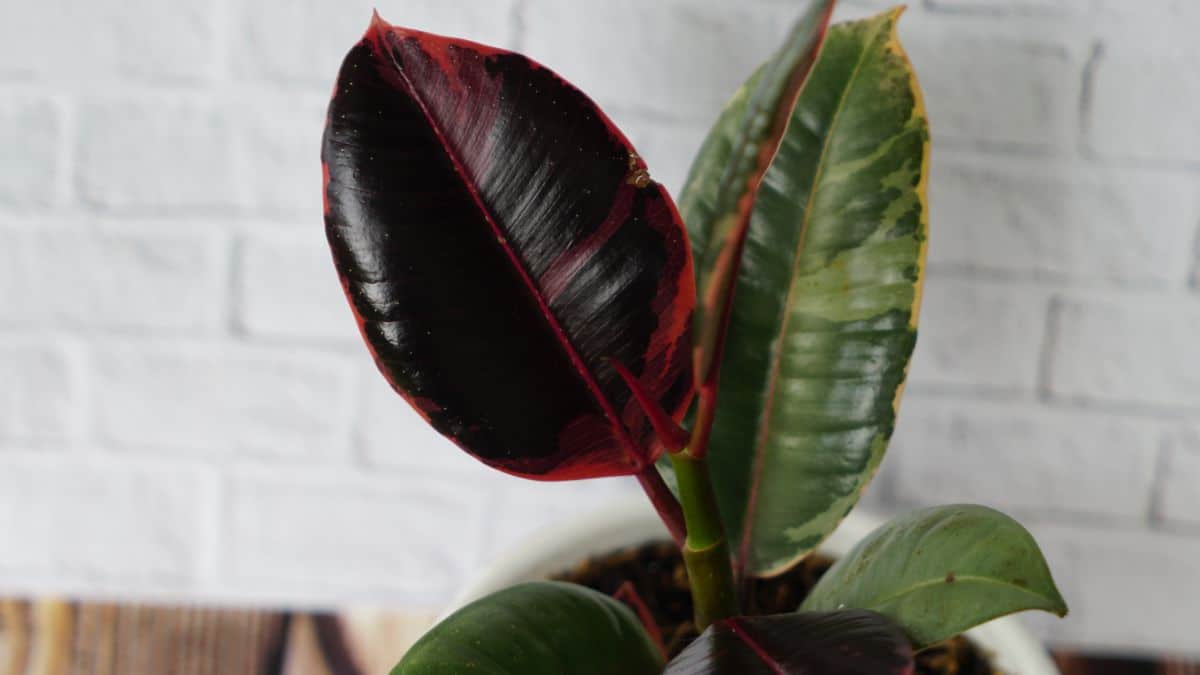 Ruby rubber tree plant ficus is a great plant that you can grow indoors or outdoors. It is increasingly becoming one of the favorite plants of all gardeners and plant lovers. And you will be satisfied if you provide it with the right growing conditions.