Are you looking for a giant, tropical plant that will require minimal effort with its low maintenance? Split-leaf philodendron should be among your top picks.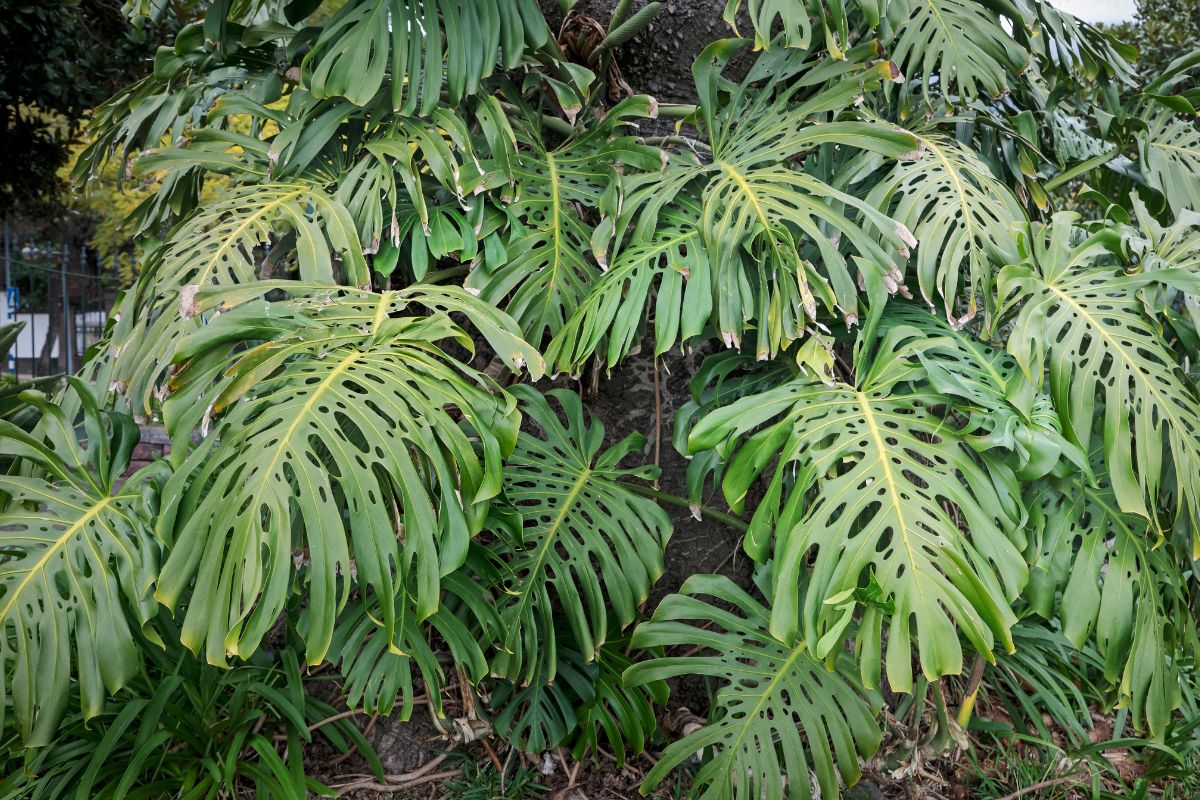 It is one of the most popular houseplants with glossy long-stemmed leaves, and you can find them in most homes, offices, and nurseries.
The split-leaf philodendron will add beauty to any indoor décor and offers a beautiful sight when moved in and out from its slit-like cuts to almost 3 feet long and 2 feet wide.
However, this plant has issues, especially without critical care, like regular watering, adequate sunlight, moderate temperature, proper soil care, etc.
Below is a complete split-leaf philodendron growing guide that will show you how to grow and care for the plant.
Jump to:
Facts About Split Leaf Philodendron
| | |
| --- | --- |
| Common Names | Split leaf philodendron, Lacy Tree Philodendron, Horsehead philodendron |
| Scientific Name | Philodendron bipinnatifidum |
| Family | Araceae |
| Plant Type | Perennial |
| Mature Size | 6 feet (1.8 m) indoors |
| Sun Exposure | Bright, indirect sunlight |
| Soil Type | Moisture-retentive, well-draining, and airy |
| Soil pH | 5.5 to 6.5 (slightly acidic) |
| Leaf Color | Dark, glossy green, long-stalked leaves |
| Hardiness Zones | 9 to 11 |
| Native Area | Brazil, Bolivia, Argentina, and Paraguay |
| Toxicity | Toxic to humans and pests if ingested |
Native to Argentina, Bolivia, Brazil, and Paraguay, the split-leaf philodendron is one of the most popular and trusted houseplants from the Araceae family. It is also one of the most beautiful plants that can create an impact anywhere you plant them and is easy to please indoors.
This unique plant is like highly humidified areas and can relatively survive in many homes. It is a tree-like shrub with stunning foliage and leaves that easily catch dust. During its early stage, this philodendron has glossy, heart-shaped leaves deeply indented but grow more deeply cut with maturity.
Its tender stage also comes with sturdy, upright stems, lying horizontally with age. Its deeply divided leaves can grow to about 3 feet (1m) long.
They will gradually sprawl to become twice wider than their height, which is why you must provide them with enough space to spread out. You can even give them support by staking them.
Split Leaf Philodendron Growing Guide
Light Needs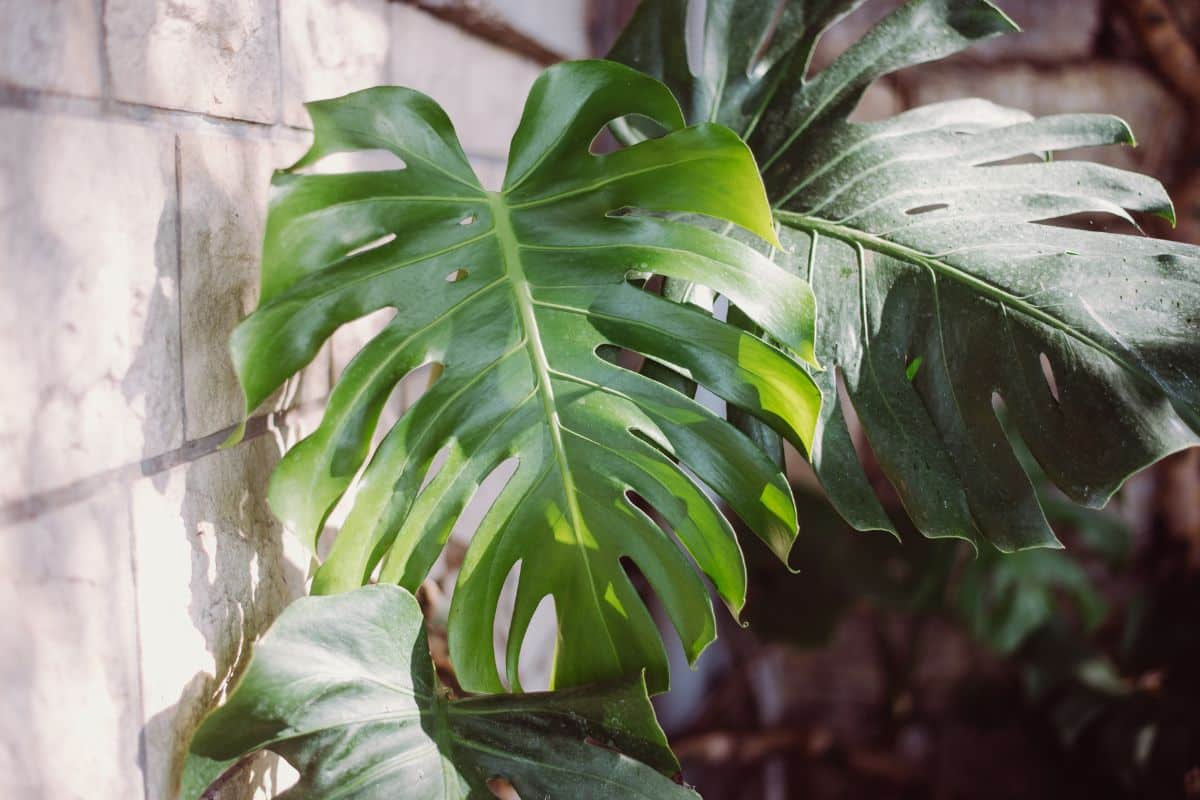 Significantly, split leaf philodendron plants thrive in bright, indirect light. It can scorch the plant's leaves if you allow them to contact hot, midday, and afternoon sunlight.
So, it would be best to place them within 3 feet of a south- or east-facing window protected by blinds.
Soil Needs
The split-leaf philodendron plant does not like soggy soil. It prefers a nutrient-dense, well-draining potting mix that can retain enough moisture. It would help if you provided a drainage tray and put gravel or rocks inside it to prevent water from logging after your watering routine.
Meanwhile, the split leaf philodendron plant thrives in rich soil containing a good amount of peat moss. You can mix perlite and peat moss (sphagnum moss) in a standard potting mix as it will help the soil retain moisture without hanging around.
Watering Needs
Split leaf philodendron prefers regular watering to keep its soil moist but not soggy. In other words, you must neither overwater nor underwater. Watering too much can cause root rot, while underwatering can change the color of leaves and even kill the whole plant.
The best time to water is when the soil's top inch or two feels dry. And make sure you water the plant thoroughly until you notice water draining out from underneath the pot. If you are using a saucer, drain out every water remaining inside it after one hour or two.
Temperature & Humidity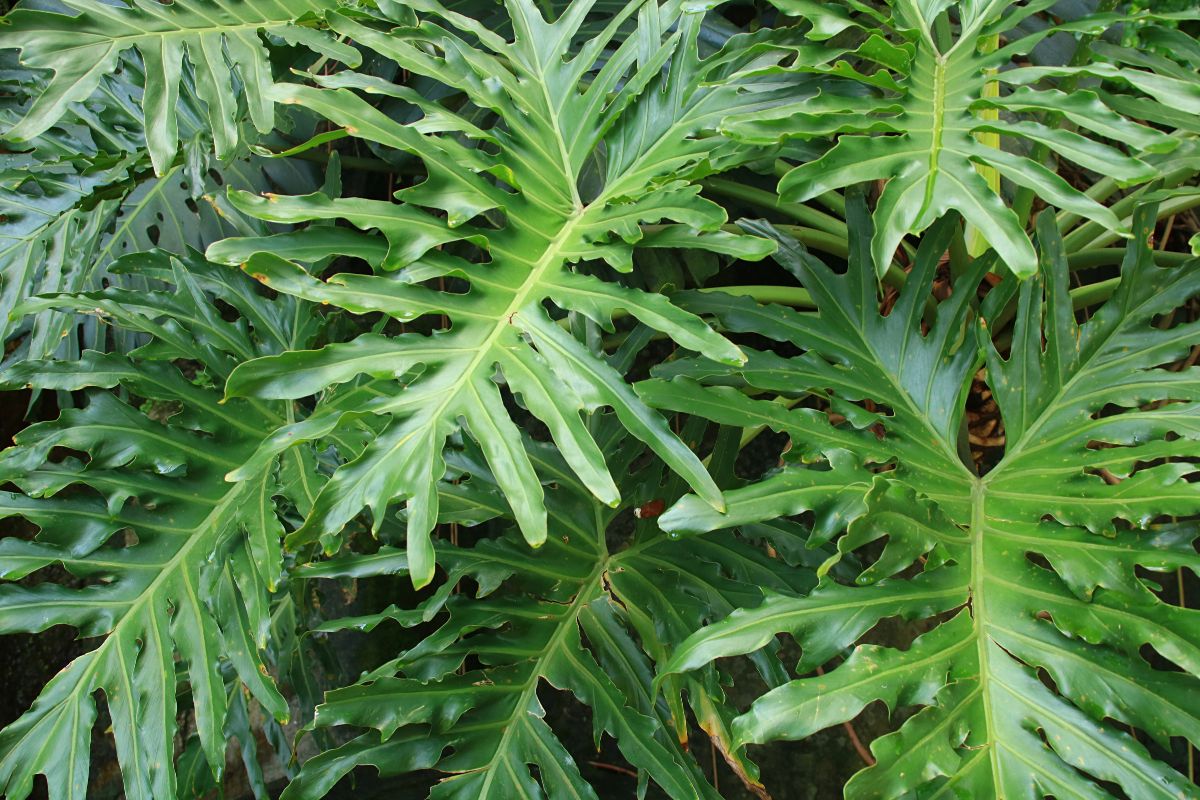 Given that the split leaf philodendron is a tropical plant, it will require temperatures of about 75°F. However, we are not saying it would always have to be in that range, but it can range between 65 to 85° F. Avoid any temperature less than 50°F.
Humidity-wise, the split-leaf philodendron is native to the rainforest zone and will thrive in an environment with high humidity. In other words, it would not tolerate humidity below 50%.
Fertilizing Needs
It is not a bad idea to fertilize your split-leaf philodendron, as it will help it to grow fast and healthy. However, it is not often necessary to fertilize during regular repotting.
The best time to feed your plant is once a month from spring to fall, using a balanced fertilizer (like 10:10:10 NPK), water-soluble fertilizer diluted by half. If your split leaf philodendron lacks nutrients, it can result in stunted growth and small leaves.
Whenever your plant starts displaying symptoms of requiring additional nutrition like yellow leaves or a marked reduction in growth rate, it shows that it needs fertilizer. Follow the instructions on the packet for proper application.
Planting (Potting & Repotting)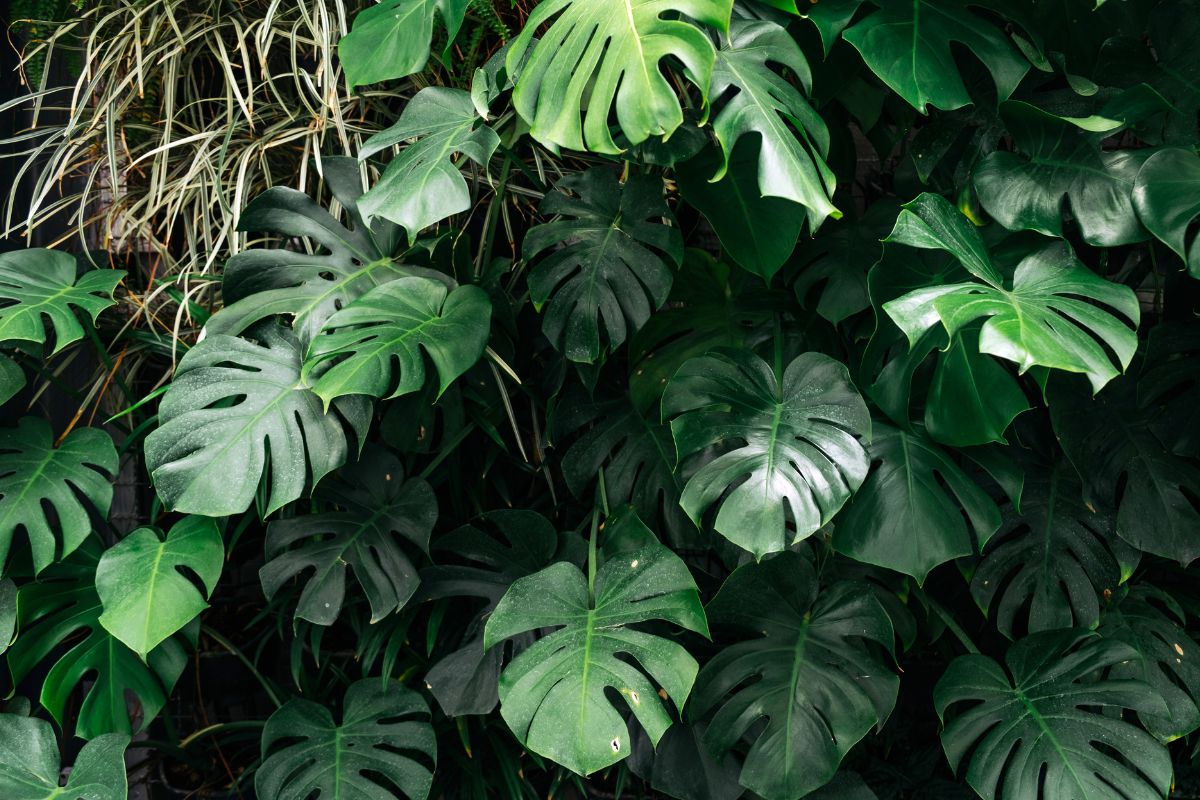 Given that the split leaf philodendron plant is a rapid grower, its roots can quickly occupy spaces in pots and needs repotting yearly. The best time to repot it is during the spring. Ensure the new pot is around 2 to 3 inches bigger than the initial one to give the root ball additional space for further growth.
Meanwhile, dip the plant into its new pot with fresh, well-draining soil to stabilize the root ball. Be patient and hold off fertilizing at least for about two months after repotting to avoid shock.
Pruning Needs
Regular pruning of split leaf philodendron is essential to keep the plant in shape. It will also prevent dead leaves from eventually causing disease and rot. When you discover smaller new leaves curled at the ends with brown spots, it signifies overwatering or root rot.
Pruning this stunning plant is also essential for the transition from the winter season to the summer season, as it is when plants often begin their seasonal changes.
For effective pruning, cut off the end of any leggy stems or branches using sharp shears before trimming back what's left. Ensure you tidy up every brown leaf and prune any dead branches.
The plant can become very large, so you have to trim the kit back annually to prevent the plant from outgrowing its pot. You can prune it back to the trunk.
Even though you must prune it, ensure it doesn't occupy your entire home; never cut off over one-third of the plant at any time since it can hamper its growth and result in shock.
Split Leaf Philodendron Propagation
You can propagate the split leaf philodendron plant by using three methods: seed, layering, and stem cuttings.
By seed
Cultivate the seed during spring, near the surface of your potting mix
Water thoroughly and put in a propagator, or cover with a plastic bag until it begins to sprout.
Keep your seeds at a moderate temperature of 66°-75°F (19°-24°C).
Immediately after the seedlings germinate, you can uncover the plastic bag/remove them from the propagator.
Place them inside individual pots after they have two sets of leaves.
By Layering
Find a soft stem to bend to soil level without breaking.
Pin an area of the stem with a node to the soil. You can use a wire peg or something heavy such as a rock, to hold it down to get the nodes to remain in contact with the soil.
Feel free to cover the stem area with compost or sphagnum moss, but it isn't usually necessary.
Allow them time at around a few months until roots form at the nodes.
Prune the rooted stem parts and pot them up individually.
By stem cutting
During spring, remove a part of the stem from the parent plant, cutting just above a node. The cut section should feature at least three nodes.
Prune your cutting just below the lowest node.
Put the cutting into a pot of propagating mix.
Water thoroughly and put into a propagator or cover with a plastic bag. If you are using the bag method, use sticks to hold the plastic away from the cuttings.
Let your cuttings be in a warm place, away from the impacts of direct sunlight, until you can see roots growing out at the holes from underneath the pot.
Split Leaf Philodendron Toxicity
The split leaf philodendron is made of oxalic acid, thus making it a poisonous plant. If you ingest it, you will be poisoned. Therefore, if you are planting indoors, you must be wary of this indoor plant. If you have pets and kids, you must not grow this houseplant.
This philodendron species can also cause vomiting, diarrhea, stomach pains, difficulty breathing, burning and irritation in the throat, and skin irritation. The split-leaf philodendron's sap is also irritating to the touch; therefore, it is best to wear gloves when handling it.
Common Split Leaf Philodendron Varieties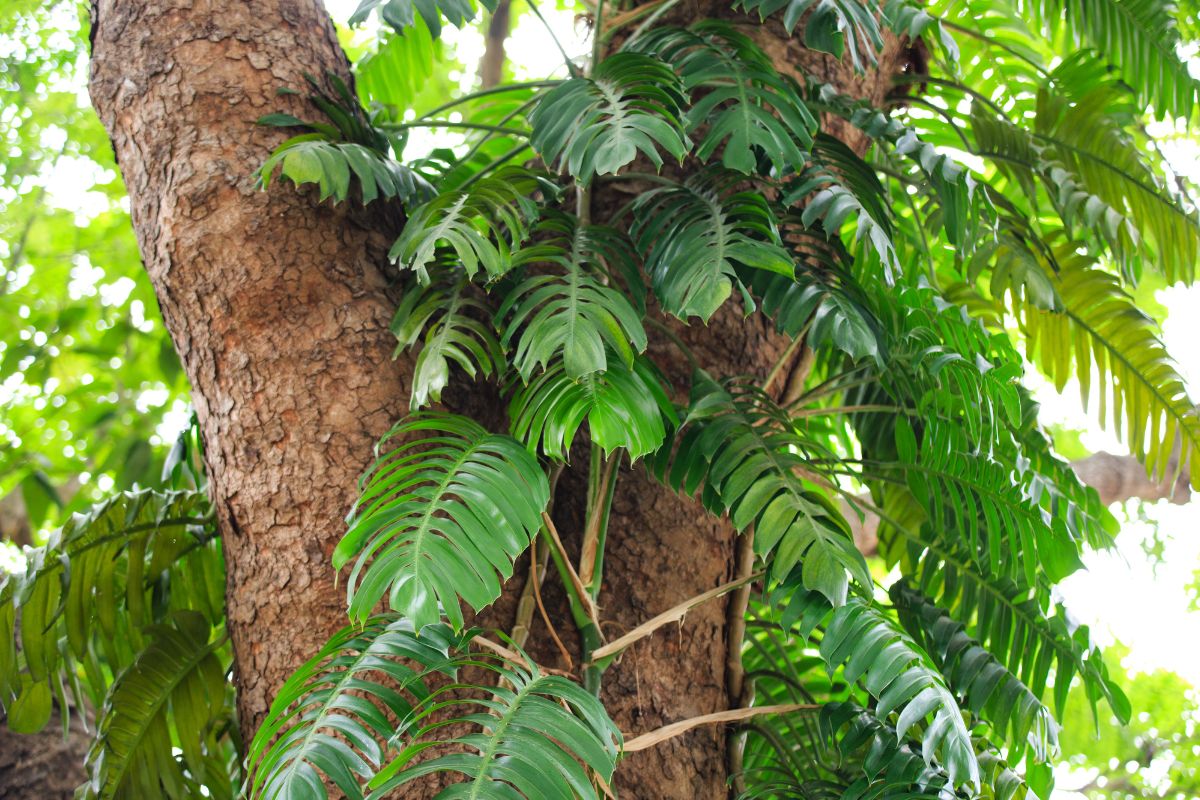 The split-leaf philodendron has wide varieties in the garden store. But the most common is Philodendron Xanadu.
Philodendron Xanadu also called bipinnatifidum 'Winterbourn'), this specie is a more compact cultivar with an ultimate height of around 3 to 4 feet (90 to 120cm).
Other varieties include;
Gold Satin with bright yellow leaves.
Little crunchy, a dwarf height of about 3 to feet
Lime Fiddle: it has variegated pattern leaves
Frequently Asked Questions
How fast does split leaf philodendron grow?
A split-leaf philodendron grows faster indoors, especially when you give them the right conditions like high humidity levels, and usually produces leaves that grow as big as 3 feet long and 2 feet wide. As a houseplant, it will take about 15 to 20 years for this plant to bloom.
Is a split leaf philodendron easy to grow?
Growing a split leaf philodendron is easy if you can provide it with a large enough pot and size up when growing. It also requires the right conditions like indirect sunlight, regular watering, etc.
How tall does split leaf philodendron grow?
This philodendron specie is a rapid-growing plant, and under the right conditions, it can grow up to 6 feet indoors. But the split leaf can reach around 15 feet tall and wide in a tropical region.
Do split leaf philodendrons climb?
In its natural habitat, the Central American jungles, the split-leaf philodendron climbs up the rainforest canopy, even as high as 70 feet. It grabs the trunks and branches of other trees with long tentacle-like aerial roots. However, indoors, it can hardly fruit.
How long does a split leaf philodendron live?
Split leaf philodendrons can live as long as ten years. But might not live as long when grown indoors.
Does split leaf philodendron like to get root bound?
Of course not. It prefers to be given enough space for its roots system to express itself. In other words, you might need to repot the plant at some point.