If you want to add some height to your garden, you can consider growing perennial flowers that will make your garden stand out. These plants come in different colors that blend well with other plant species to give your landscape a striking appearance.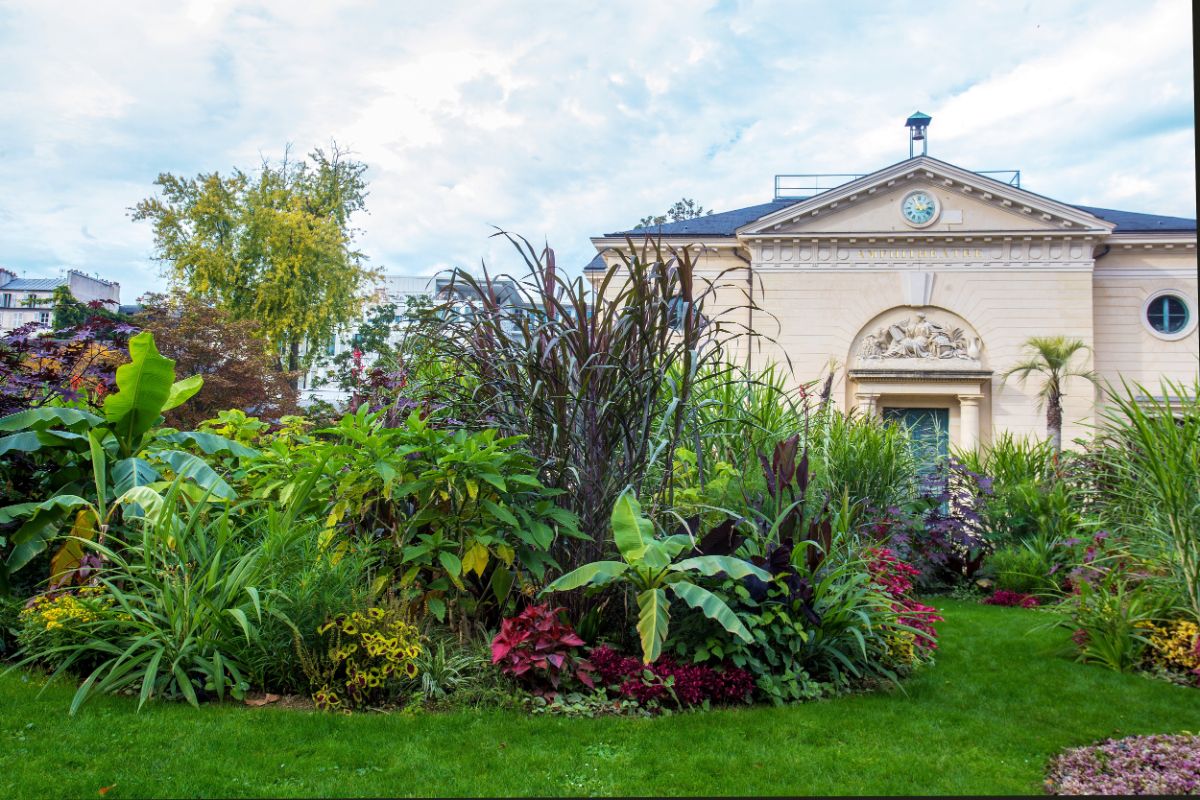 Some tall perennial flowers include perennial hibiscus, false Aster, oriental lily, red hot poker, Yarrow, Russian Sage, Delphinium, Joe Pye weed, etc.
These plants are giant species that stand tall in the garden to serve as great depth and texture addition while also serving as great backgrounds and centerpieces.
Jump to:
What are the Tallest Perennial Flowers?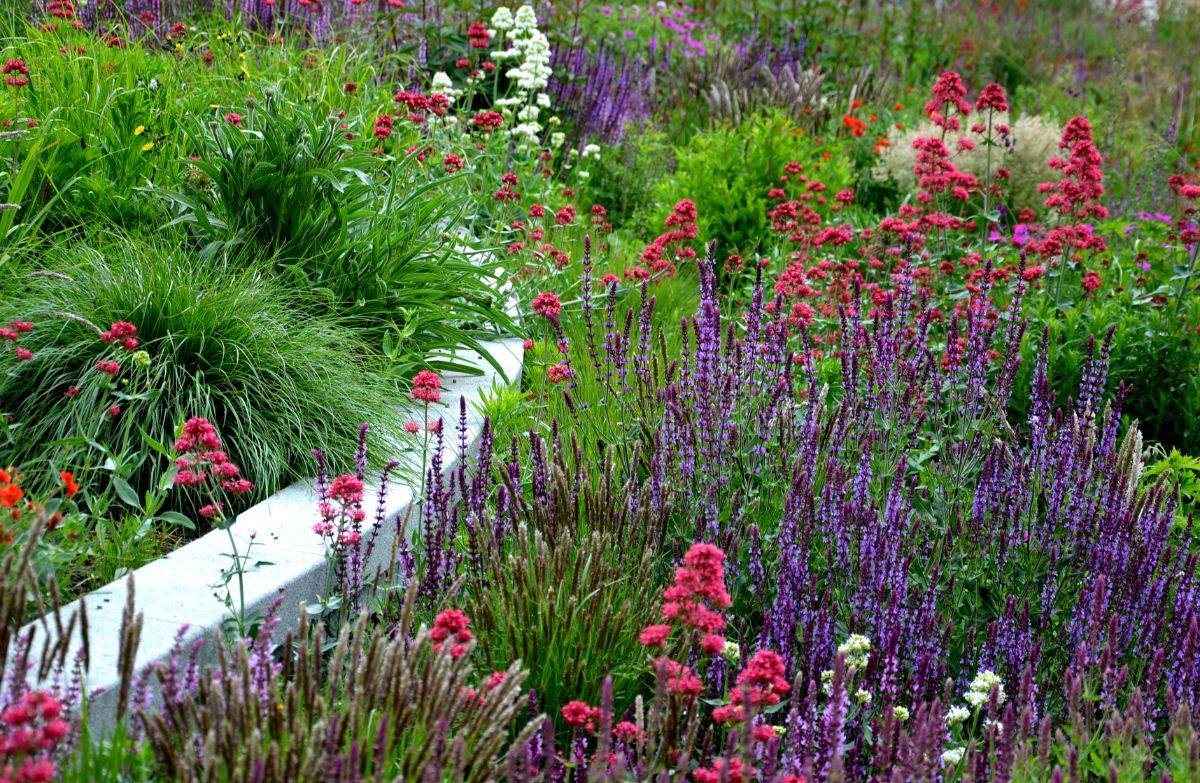 The tallest perennial flowers are flowering species much taller than other garden plants and are used to add valuable height to the center and behind the border. They also serve as screening and seasonal colors, adding more impact to tight spaces.
The tallest flowering perennials are not just great for adding depth to landscapes or giving gardens some extra valuable heights, but they are also perfect as camouflaging plants to things you wish to conceal, such as chainlink fences. These giant species help with some privacy, as most can reach over 5 feet in complete blooms.
The tallest perennial flowers also serve as layering in the flower bed and are mainly used as a central piece or to define edges and borders. Meanwhile, tall plants have annuals, biennials, and perennials. Annual species can only live for a single growing season, bear seeds, and then die.
Biennial varieties live for just two growing seasons, then they produce seeds and die. On the other hand, perennials are plants that can live more than two growing seasons, which is why they are gardeners' favorite.
Plus, they are attractive, bold, and versatile. It might not be easy to care for, but the tallest perennial flowers can transform any flower garden.
Consider our top picks of the best tallest perennial flowers to make your garden stand out.
Tallest Perennial Flowers to Make Your Garden Stand Out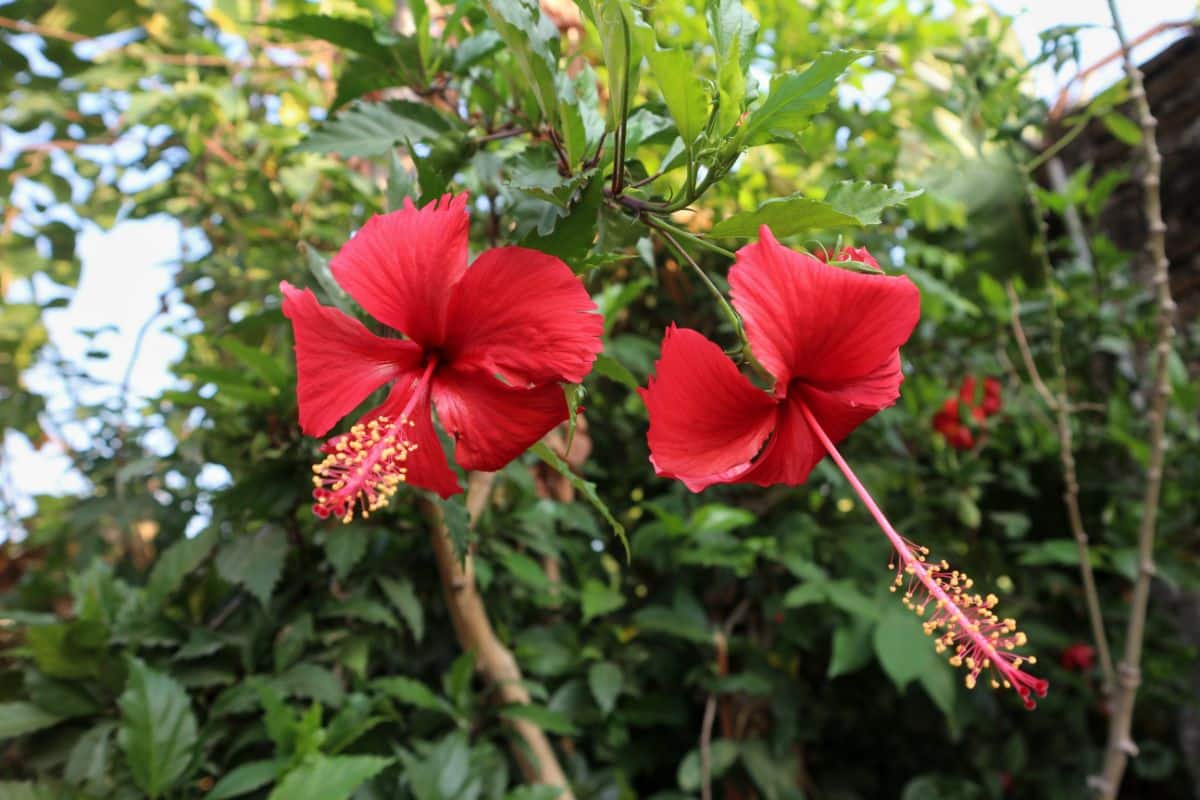 The perennial hibiscus is first on our list of tallest perennial flowers. Besides the fact that it can make your garden stand out, it can also give your garden some much-needed presence and stunning colors during its flowering in the spring.
Also known as Rose mallow, perennial hibiscus is a tender, dainty, and incredibly bold tropical flowering perennial, which looks soft yet very stubborn and can withstand frost. It produces 12-inch wide blooms in various colors like red, white, and pink, while the plant can grow up to 7 feet tall.
Meanwhile, the hibiscus rosa-Sinensis requires much sunlight and well-draining moist soil to fulfill its full potential of towering high in your landscape and giving lovely color splashes once it flowers in the spring. It is also hardy in zones 4 to 9 and draws pollinators but is resistant to deer.
2. False Aster (Boltonia asteroides)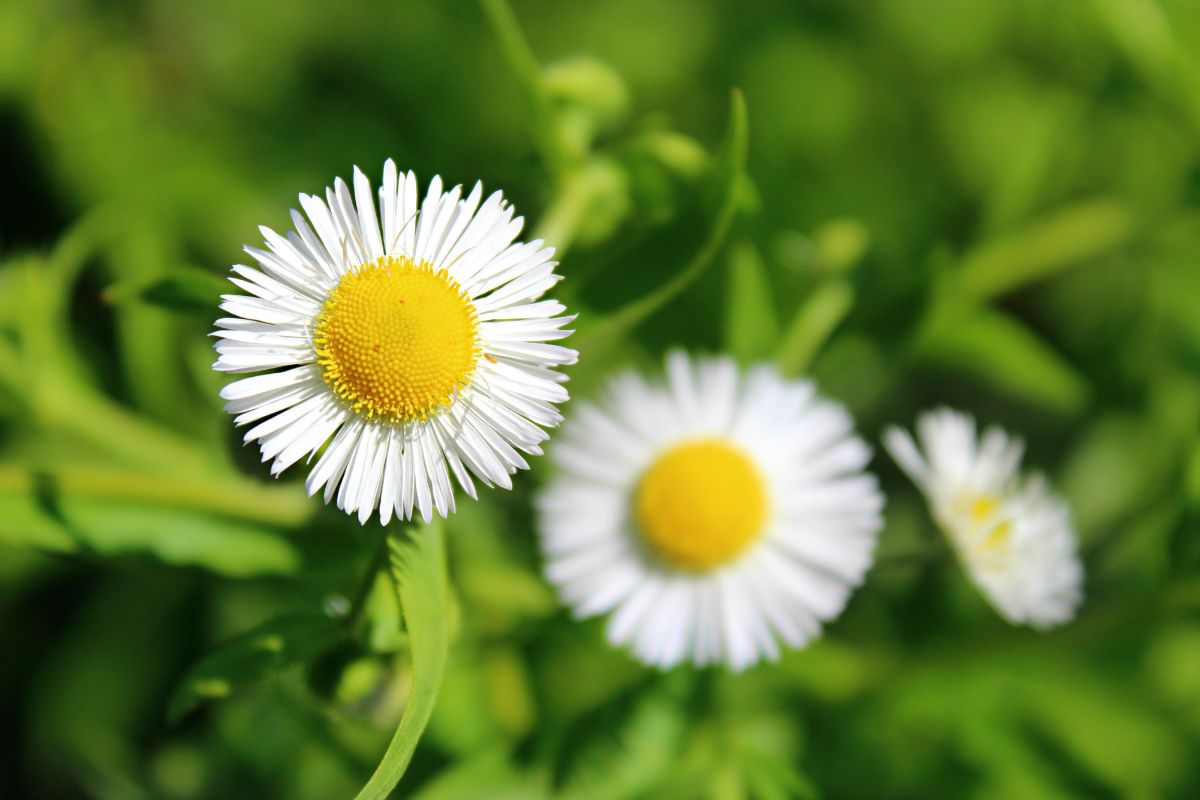 If you are looking for a perfect giant-framed perennial flower to make your garden stand out, then the ideal option should be False Aster.
Towering at 6 feet tall, the Boltonia asteroides, scientifically called, is an excellent late-season source of food for pollinators like bees and butterflies. It is hardy in zones 3 to 10.
This tall flowering perennial blooms in the late season and bears broad clusters of stunning white daisy-like flowers. Meanwhile, it can grow up to 6 feet tall, and once it starts flowering, blooms fill up the whole stem.
It produces a beautiful range of prolific small flowers in different colors, including pink, purple, blue, and white, which can brighten your garden.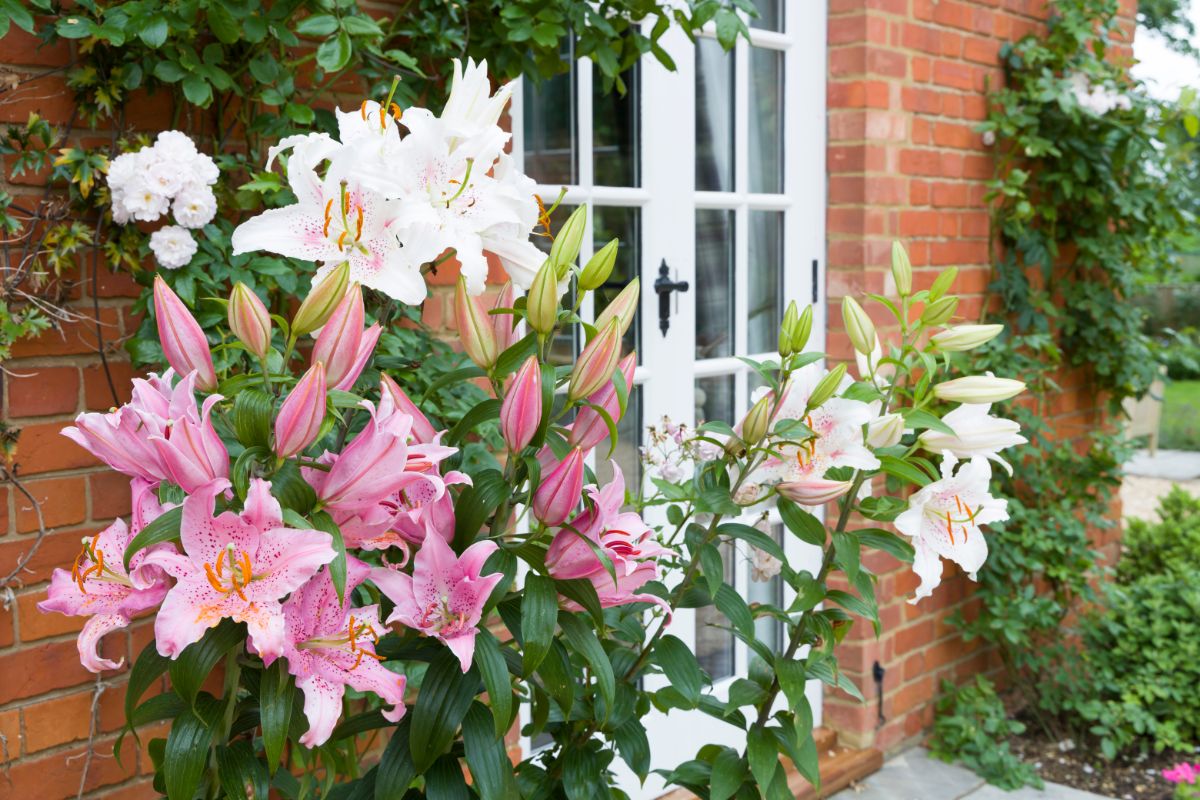 Are you searching for a tall camouflaging plant to hide things you wish to conceal? You can trust Oriental Lily to not just serve as camouflage but also make your garden stand out with its stunning colorful blooms. Hardy in zones 4 to 8, these flowering perennials can grow up to 4 to 6 feet tall or over.
Oriental lilies add color and fragrance to your garden space and produce big flowers of color varieties, including red, pink, and white.
You can also cut flowers to make bouquets more dramatic and stunning, as they have large, intricate flowers. It prefers full sun to partial shade conditions, moist, well-drained soil rich in organic matter.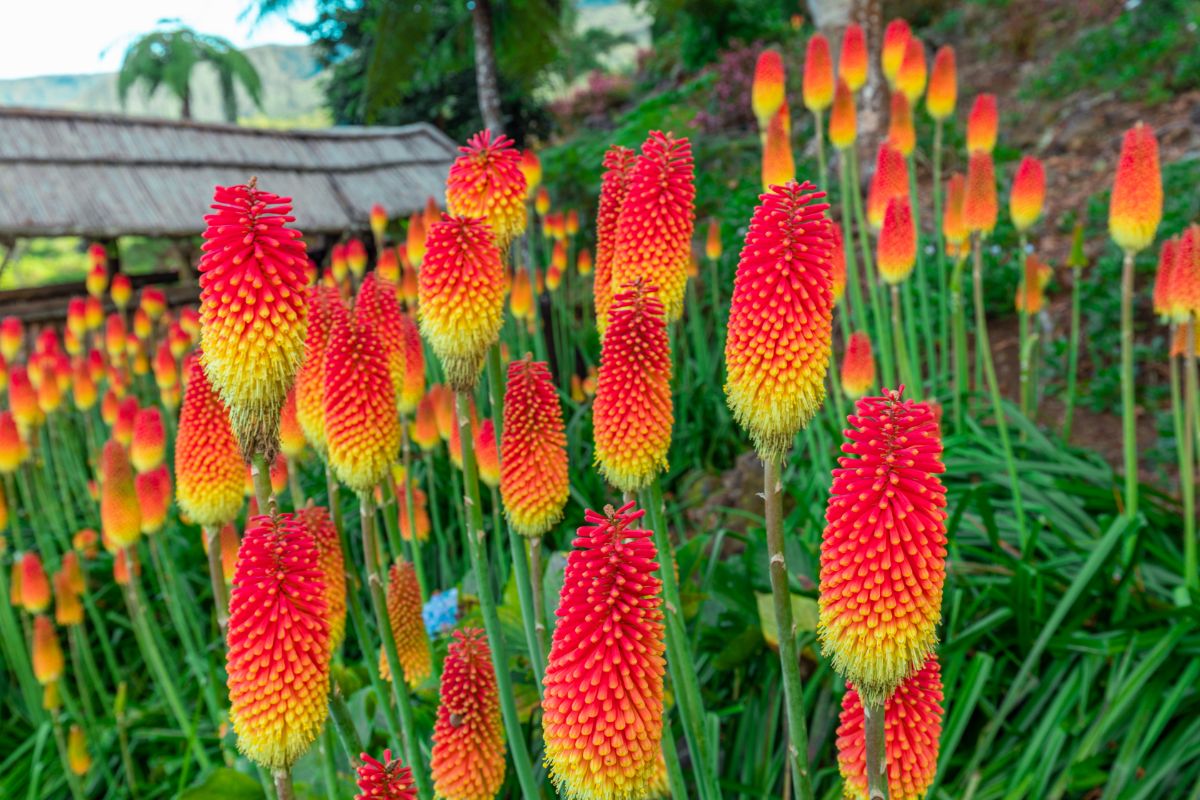 Another fantastic tall perennial flower to make your garden stand out is Red Hot Poker. Standing around 5 feet tall, this stunning plant provides an incredible burst of vibrant color that can brighten any garden. It is a low-maintenance plant that is hardy in zones 6.
Also known as Torch Lily, red hot poker is a deer- and rabbit-resistant flowering perennial that prefers full sun and well-drained soils (soggy soil can cause its root rot).
Again, it would be best if you positioned them in an area that will enable them to stand out. Meanwhile, you can deadhead flowers if you want to see them continuously bloom through the fall.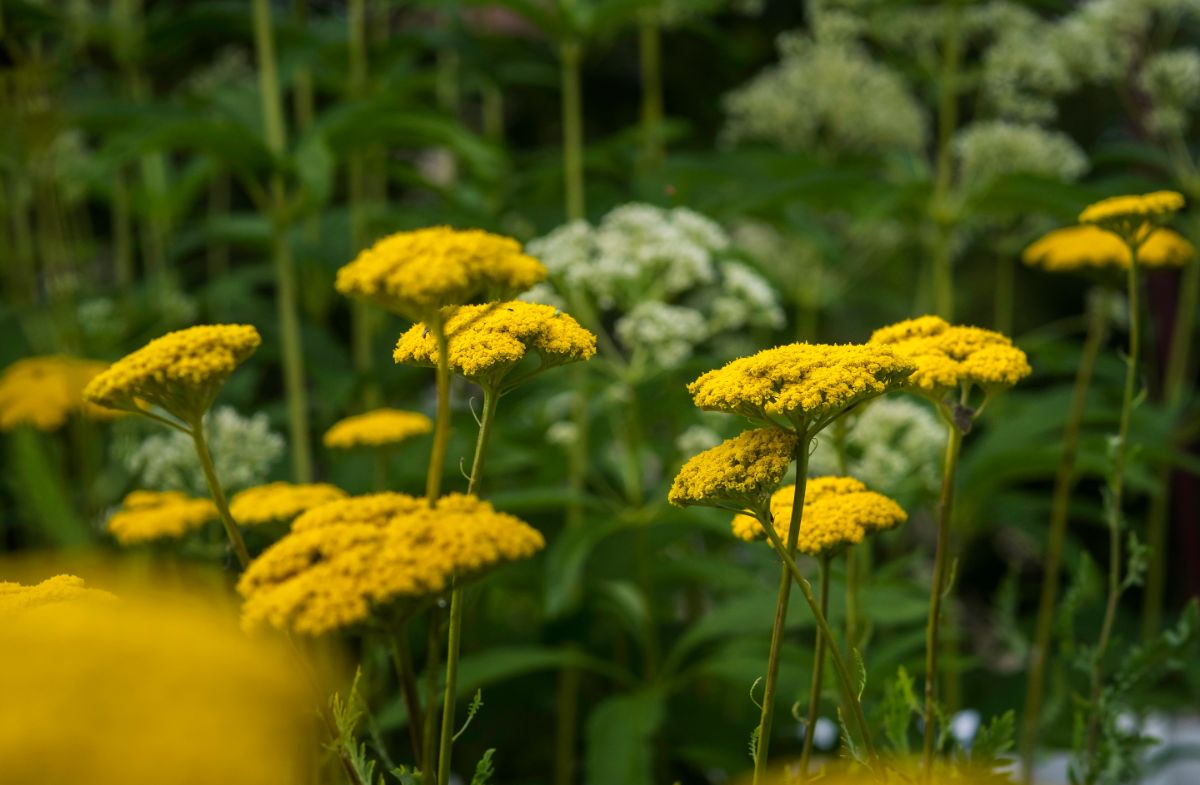 Most gardeners and plant enthusiasts love plants that can cover tight garden spaces with their giant frame and, at the same time, brighten up the entire garden area.
One such plant is Yarrow. It comes from the Sassy Summer Collection family, all taller perennials that can reach over 3 feet tall.
Also known as Achillea' Sassy Summer Lemon', Yarrow is an improved, stubborn flowering perennial that hates waterlogged areas and likes unveiling itself. It can grow as tall as 28 to 32 inches and prefer full sun. This plant is also hardy in USDA zones 3 to 8.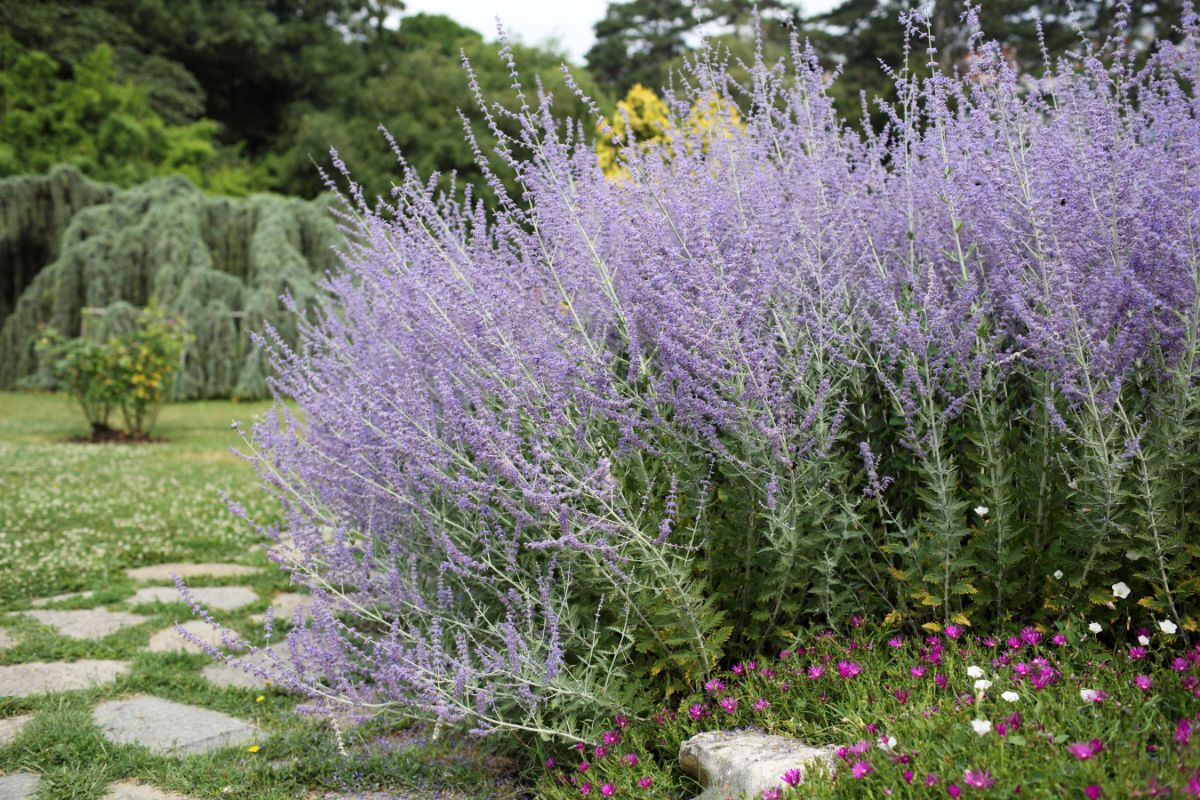 One of the tallest perennial flowers on our list is the Russian Sage. It is a giant-framed plant that stands 3 to 5 feet tall yet produces dwarf flowers that look similar to a lavender cloud floating in your landscape. As long as the Russian SageSage is concerned, it is an unfussy perennial.
Again, this flowering perennial is resistant to heat and drought, can survive in poorer soil, and produces flowers that can last for weeks.
It is a sweet-smelling plant that doesn't spread but has varieties that can grow over 2 feet wide; therefore, you need proper planning. Also, its flowers can bloom from mid-summer to mid-fall.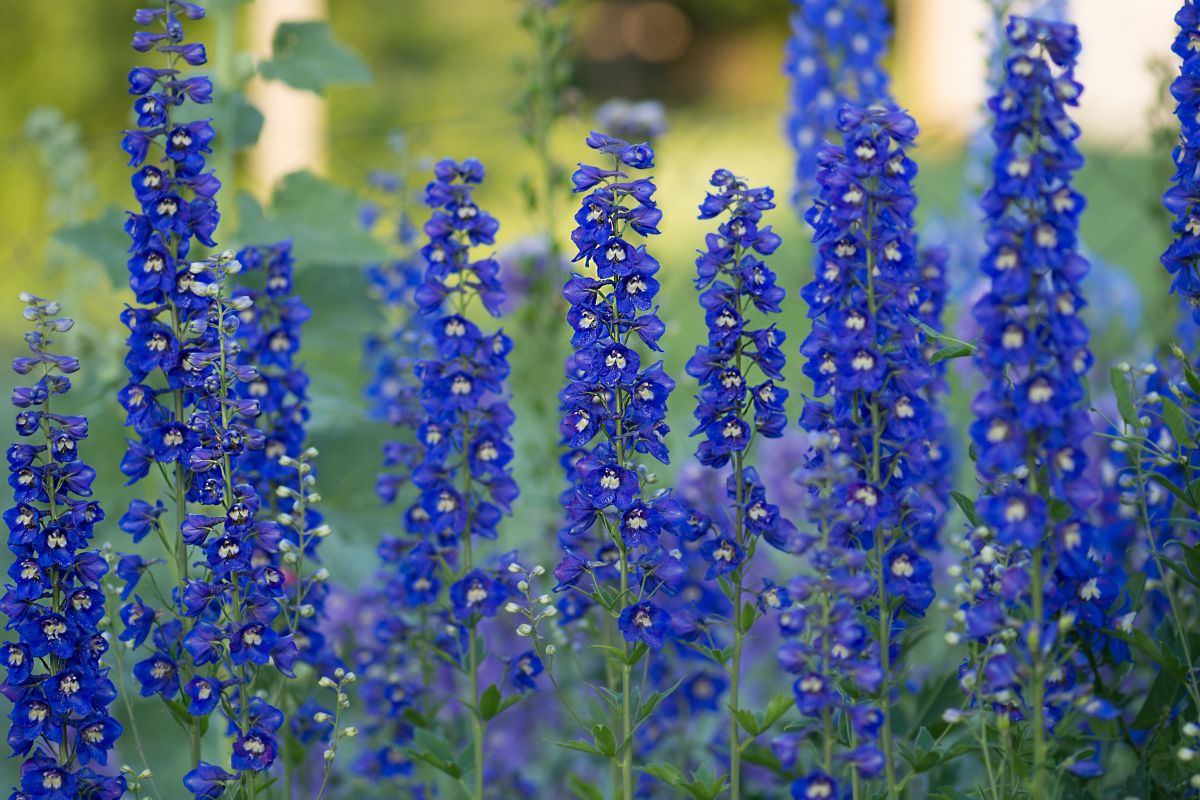 With the giant-framed Delphinium, you are sure of a tall perennial flower that will make your garden stand out and make a fantastic cut-flower arrangement.
Hardy in USDA zones 3 to 7 is a summer garden classic that produces spikes of highly-colored blooms in shades of purple, blue, pink, and white.
Delphinium comes in different varieties, but the tallest of them all can grow up to 6 feet tall. However, there are dwarf types for those with smaller gardens or flowerbeds. Meanwhile, it would help if you deadhead faded blooms to integrate another fresh flower set. This perennial prefers full sun to partial shade and rich, well-drained soil.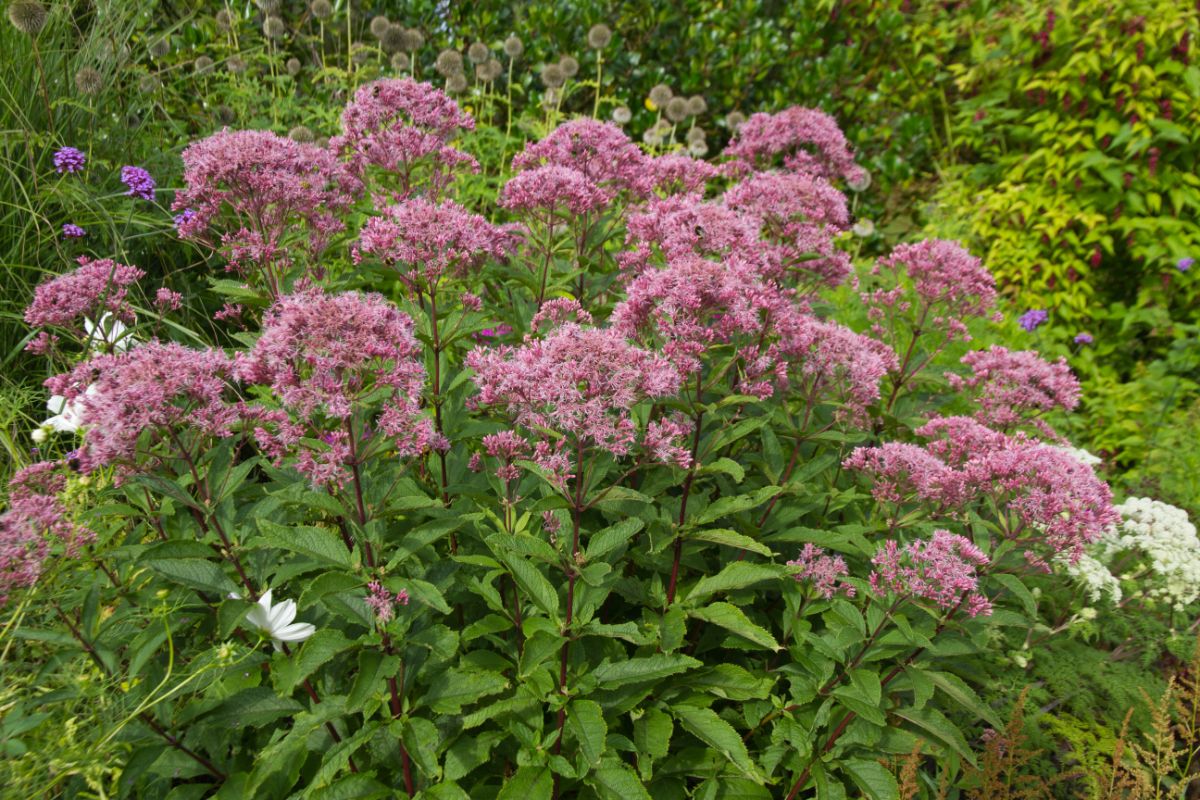 Sweet-scented Joe Pye Weed is one of the tallest perennial flowers to make your garden stand out. It is a tall 5 to 7 feet plant oozing sweet vanilla fragrance that draws pollinators.
Don't be deceived by its name, as Joe Pye weed is often covered with lovely clusters of slender pinkish-purple flowers once it blossoms.
It features deep-green foliage that is lance-shaped and serrated, thus looking attractive. But it is even more beautiful during flowering. Its stems grow over the foliage and bear tall domed collections of vanilla-smelling flowers attracting many butterflies and bees.
Joe Pye weed makes for an excellent border plant and is a perfect option for native or pollinator gardens. Scientifically called Eutrochium purpureum, this towering flowering perennial has lovely deep purple-colored stems. Hardy in zones 3 to 9 prefers well-drained soil and full sun to partial shade conditions.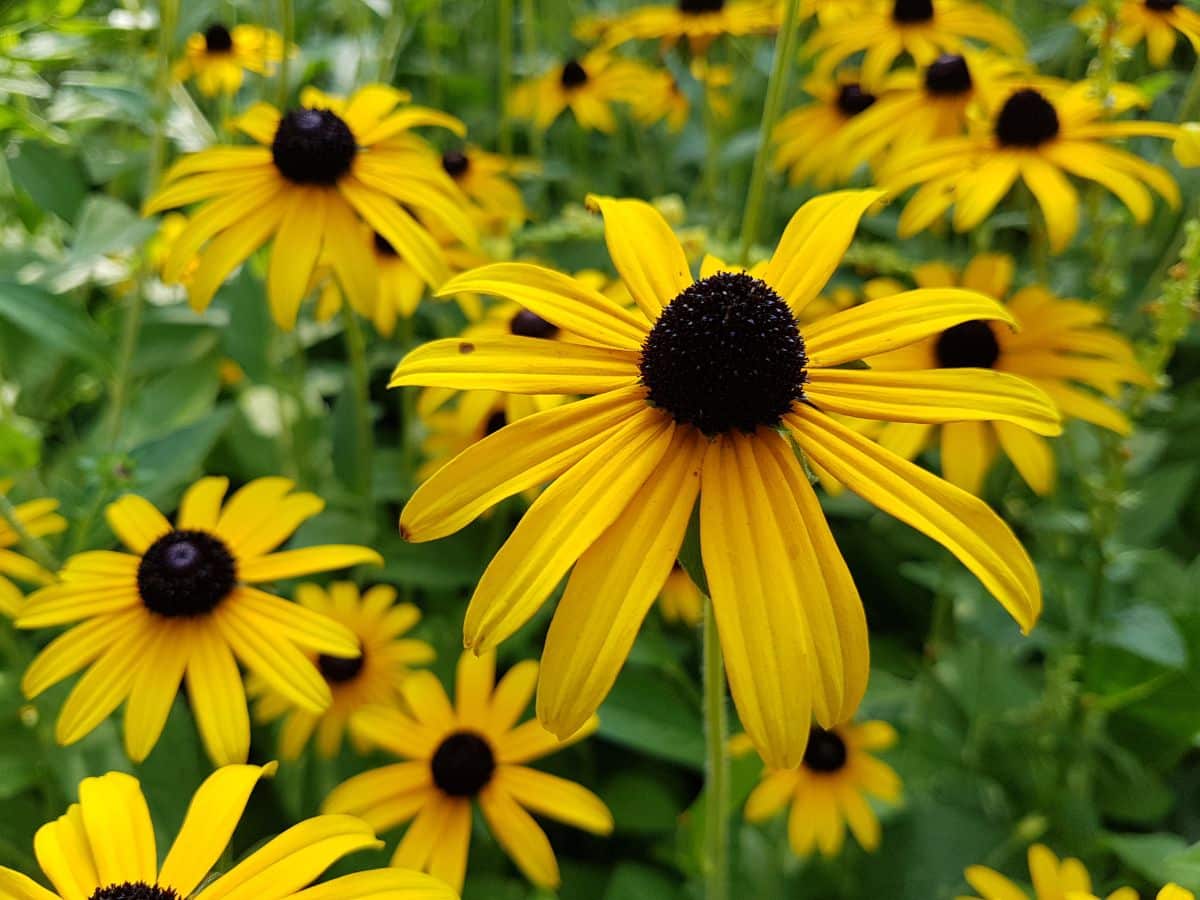 One of the most popular perennial plants on our list is Black-Eyed Susan. It is not just among the tallest perennial flower but also one of the most beautiful. It will surely make your garden stand out with its burst of cheerful bright yellow color that can reach up to 6 feet tall.
Scientifically called Rudbeckia hirta, the black-eyed Susan produces flowers in mid-summer to late fall and is tolerant to heat and drought. It is an easy-to-care-for plant that draws different pollinators like butterflies, bees and others. However, this flowering perennial is an aggressive and territorial plant.
In other words, it can overtake vegetation if you plant it close to other perennials, which is why most gardeners are often careful where they wish to grow black-eyed Susan.
If you are not careful, it will even cover a whole open field with its yellow flowers. It prefers full sun and thrives in moderately moist, well-drained soil.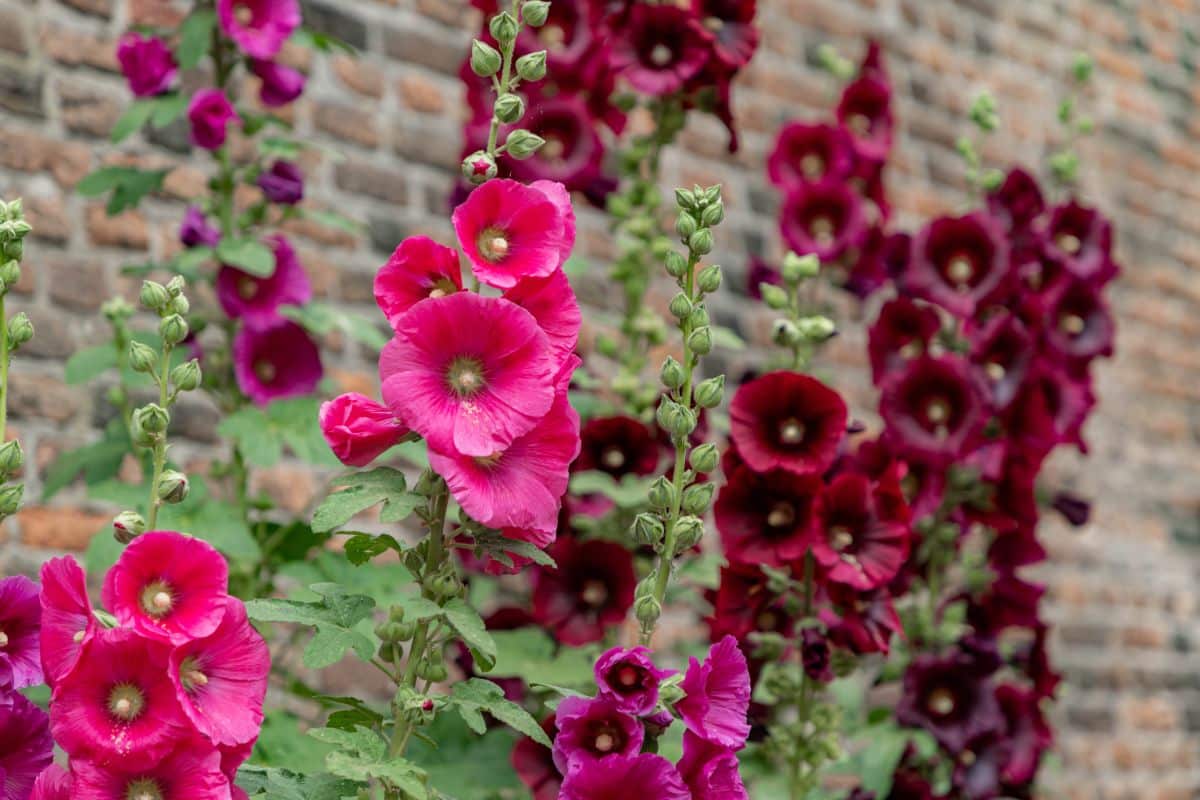 If you are looking for a perennial plant that will serve as a border to your garden fence, the best option is Hollyhock. It is a unique plant given that it is a short-lived perennial plant, which is why most gardeners see it as biennials since many of its species can only live for two years.
Meanwhile, hollyhock species are susceptible to fungal diseases such as rust and pests, so gardeners are often careful of these problems when performing regular care and maintenance of the plant. This tall plant can reach 8 feet tall and is perfect for any landscape or flowerbed.
Alcea rosea comes in different kinds of colors, which are all available in either single or double-cup blooms. Hardy in USDA zones 3 to 8, Hollyhock is crucial for the Painted Lady Butterfly and other pollinators. It prefers full sun to partial shade conditions and thrives in moderate, well-drained soil.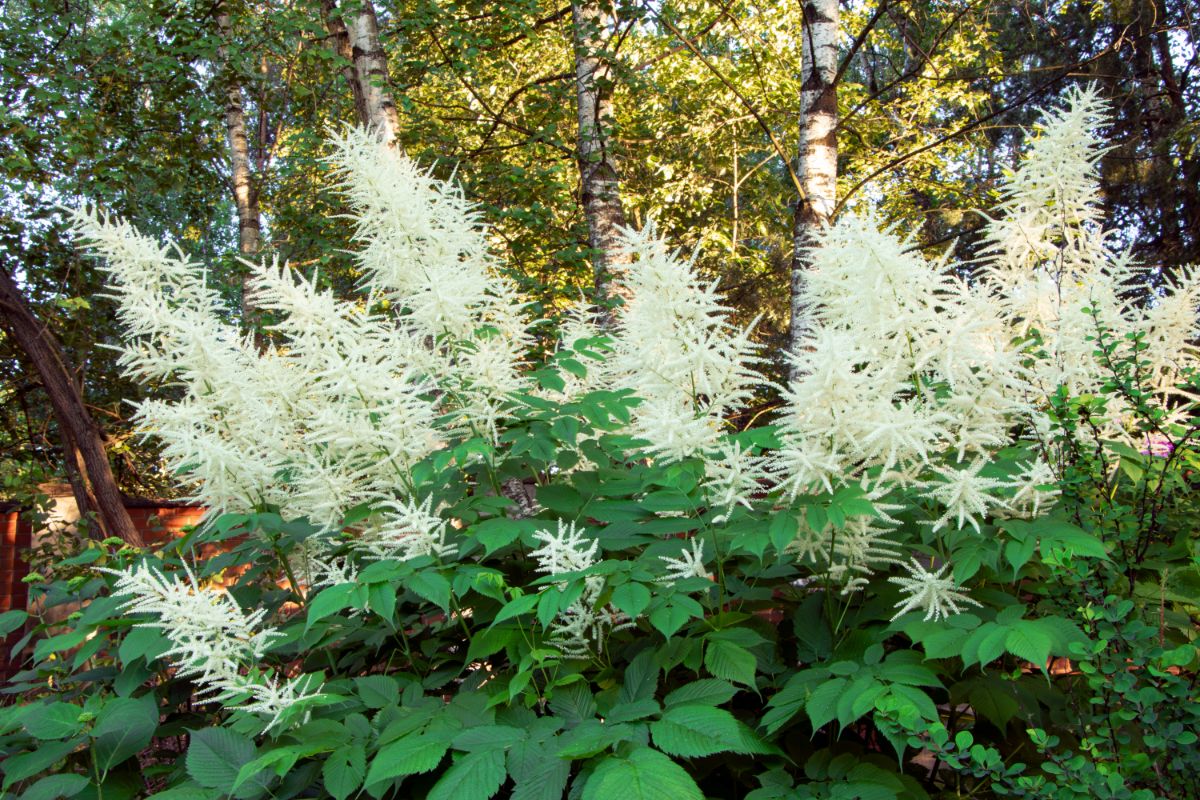 If you want a towering presence in your landscape, you must create a room for the giant, spreading Goat's Beard. It is a typical bushy perennial that can grow over 6 feet at complete maturity. This unique plant makes for an ideal attractive background or centerpiece plant.
It features tall and fern-like foliage and flower stalks with feathery plumes of small white flowers. Each slender bloom is star-shaped, and once it flowers, the stalk tops are filled with flowers resembling fur or a cake covered in rich icing.
Aruncus dioicus is a highly spreading plant; therefore, you must ensure enough space for it in your garden before planting. It produces beautiful flowers that attract pollinators like the Dusky Azure butterfly and bees. Meanwhile, it is hardy in USDA zones 3 to 9.
12. Giant Lily (Cardiocrinum gigantum)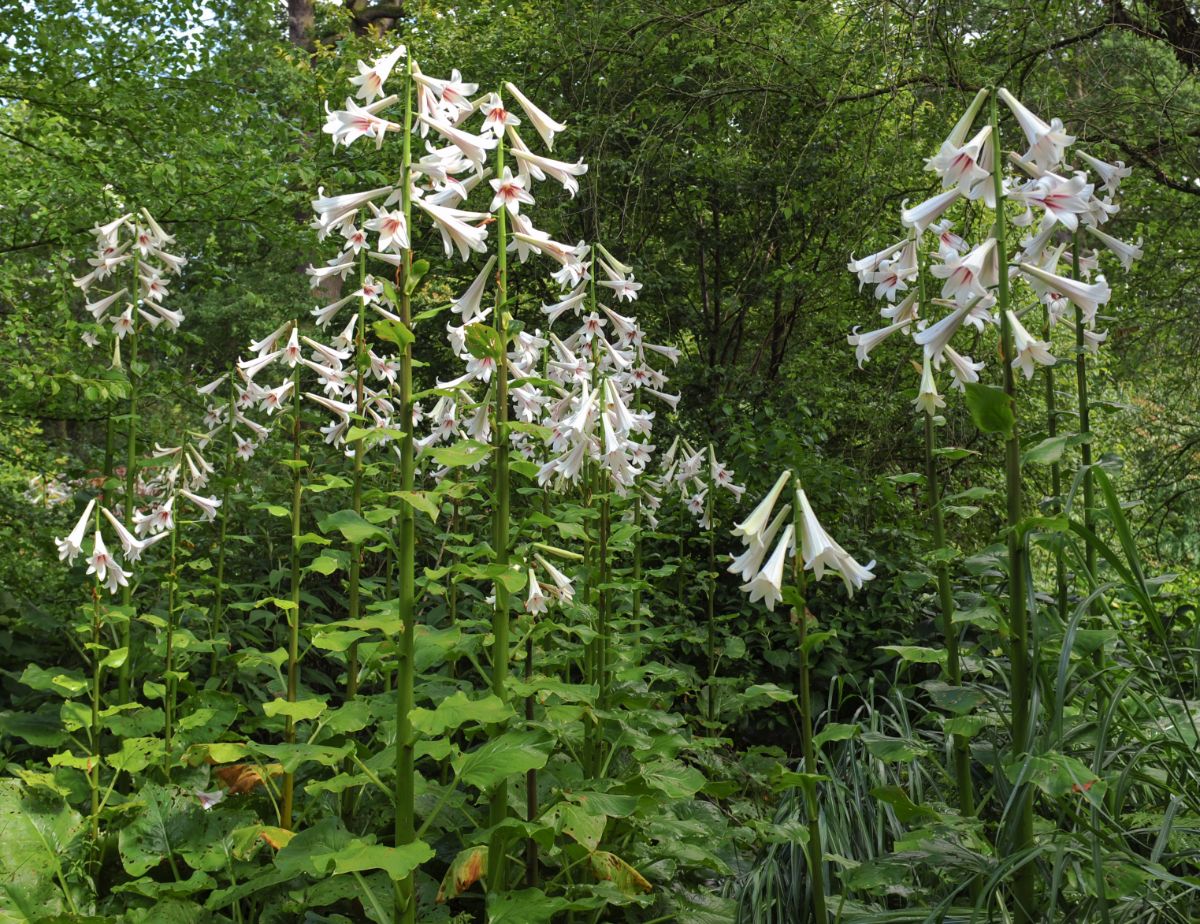 Are you looking for a perfect plant to make your garden stand out? Have you considered adding this giant perennial, otherwise known as Giant Lily? During the summer, this plant grows spikes of over 20 trumpet-shaped white blooms alongside maroon stripes and a strong scent.
Cardiocrinum gigantism specie, on its own, is a very tall plant that prefers partial shade conditions. It thrives in moist, well-drained soil and is hardy in zones 7 to 9. Meanwhile, this plant can grow as tall as 9 feet, which is why it is called Giant Lily.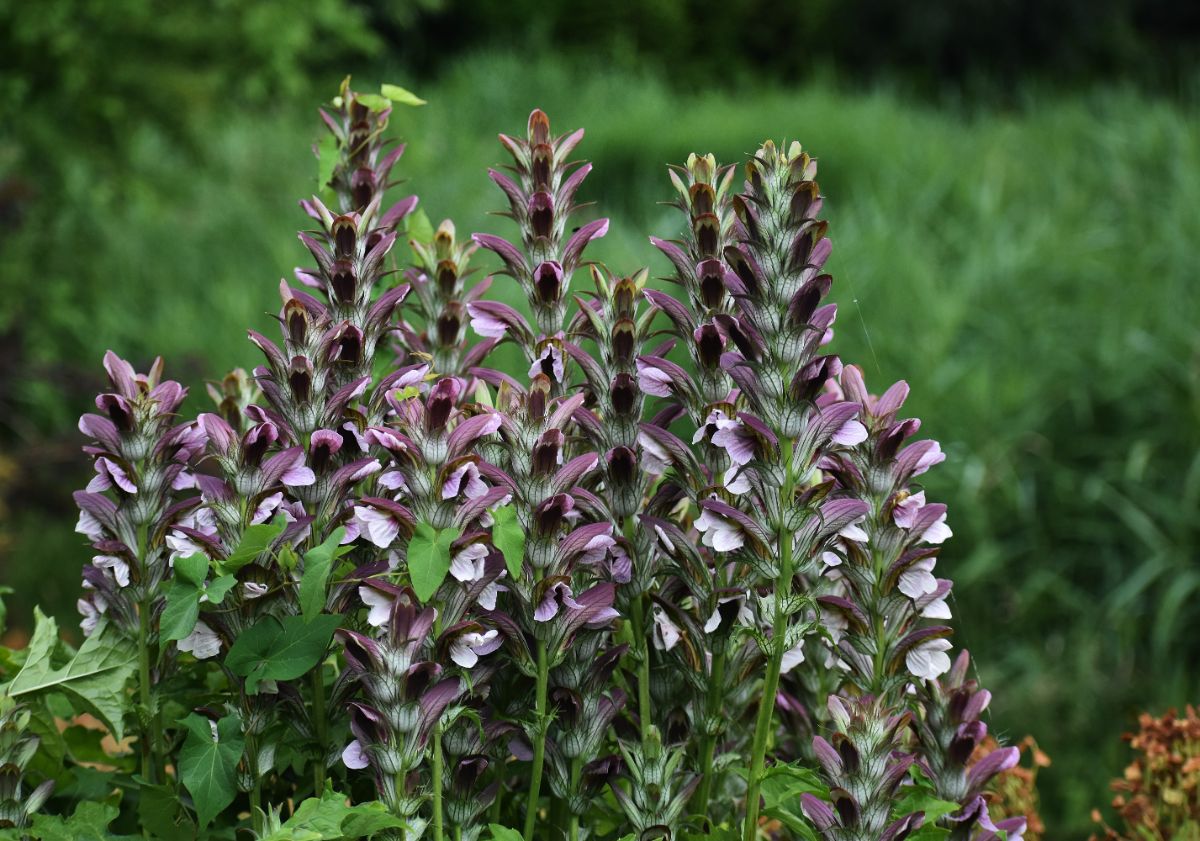 With a height of over 3 feet, you can consider Bear's Breeches one of the tallest perennial flowers that can make your garden stand out. Aside from its giant frame, this gorgeous plant is a hefty plant that produces colorful blooms capable of beautifying your garden.
Scientifically called Acanthus mollis, this plant features purple bracts or white flowers that desire more shelter than full sun and is hardy in USDA zones 5 to 6.
In other words, you can plant it in an area with full sun or partial shade and prefers well-draining soil. You can mulch to help the plant survive the winter, especially for gardeners in a lower zone.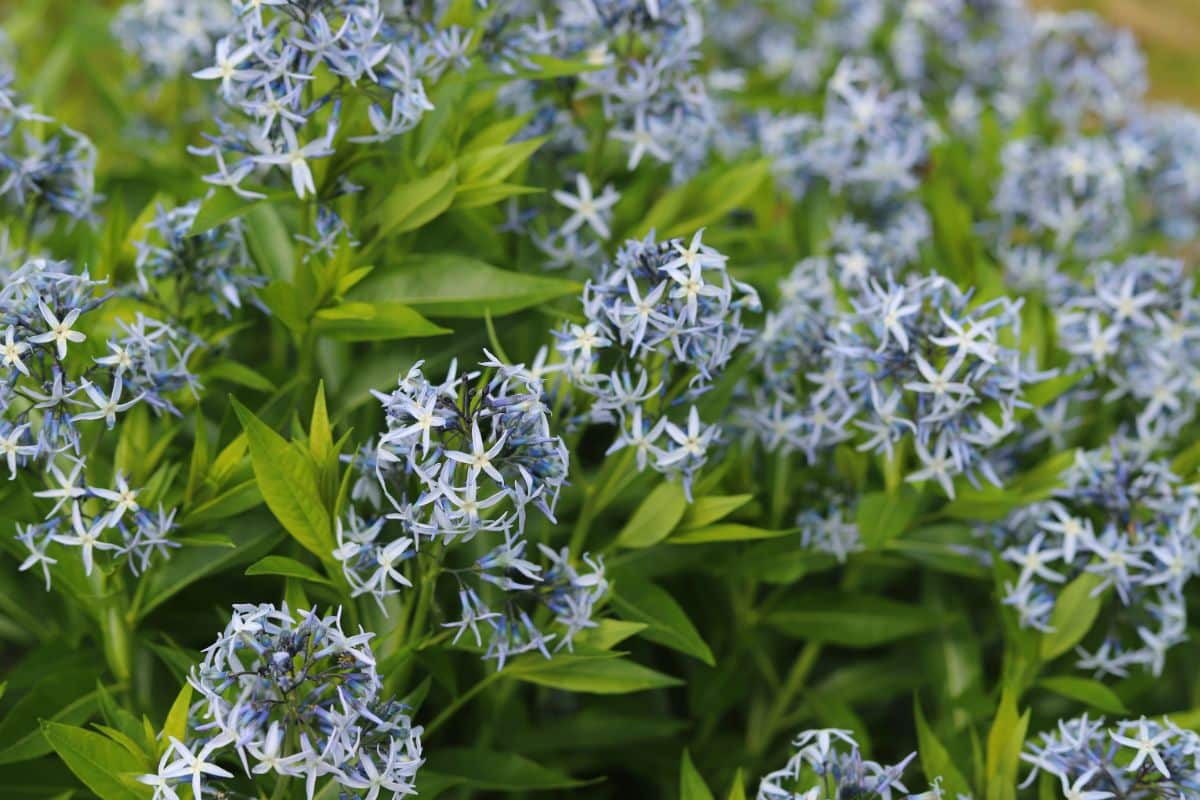 If you are looking for an ideal plant that will add some presence to your already flourishing garden, you mustn't look past Amsonia' Blue Star'. Native to North America, this big flowering perennial is a perfect prospect if you wish to add height to your landscape.
As long as the Amsonia tabernaemontana is concerned, it is among the earliest perennials to germinate in spring and is sometimes used in the place of a shrub in the landscape.
It can reach up to 24 to 30 inches tall, prefers well-drained soil, thrives in full to partial sun, and is hardy in USDA zones 4 to 9.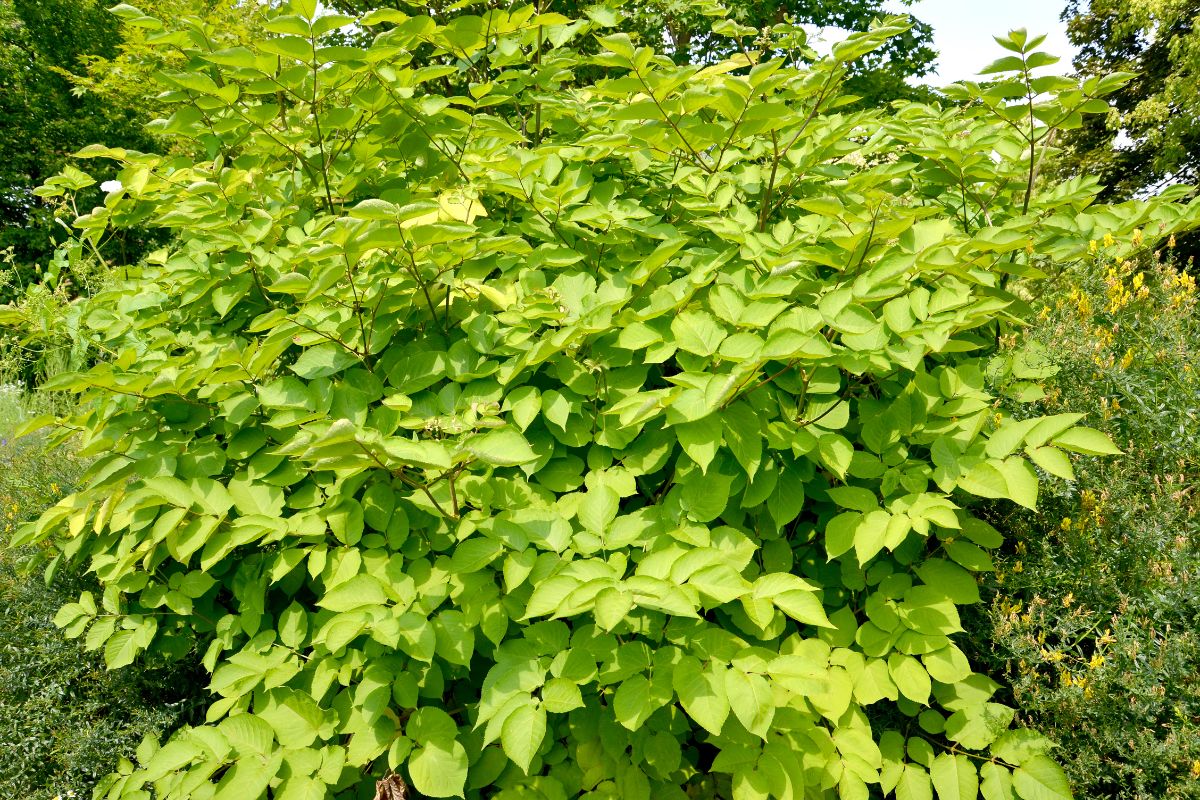 If you have the Japanese Spikenard, you can count yourself lucky to have gotten one of the tallest perennial flowers that love shady areas. It is a giant plant that reaches up to 3 feet tall, thus, offering your garden a towering presence.
Scientifically known as Aralia cordata 'Sun King', this plant is a drought-tolerant perennial that thrives in well-drained soil and is hardy in USDA zones 3 to 9.
Meanwhile, despite its nickname 'Sun King', the plant is one of the few perennial flowers on this list that prefers part sun to part shade.
If you want to give your garden a significant look and vibrant feel, you must go for Lupins. It is among the tallest perennial flowers, ranging from 1 to 4 feet tall. This lovely plant is seen as a weed and invasive plant in some regions, but in other areas, it is an essential English cottage garden flower.
Because of its stunning features, you can find it in many show gardens at the Chelsea Flower Show and other famous landscapes, as it is often grown with similar fantastic, wispy, showy foliage plants.
Meanwhile, lupins are sun-loving perennials that prefer full sun to partial shade and dislike heavy, wet soil. It is the perfect plant to recreate that English garden appearance.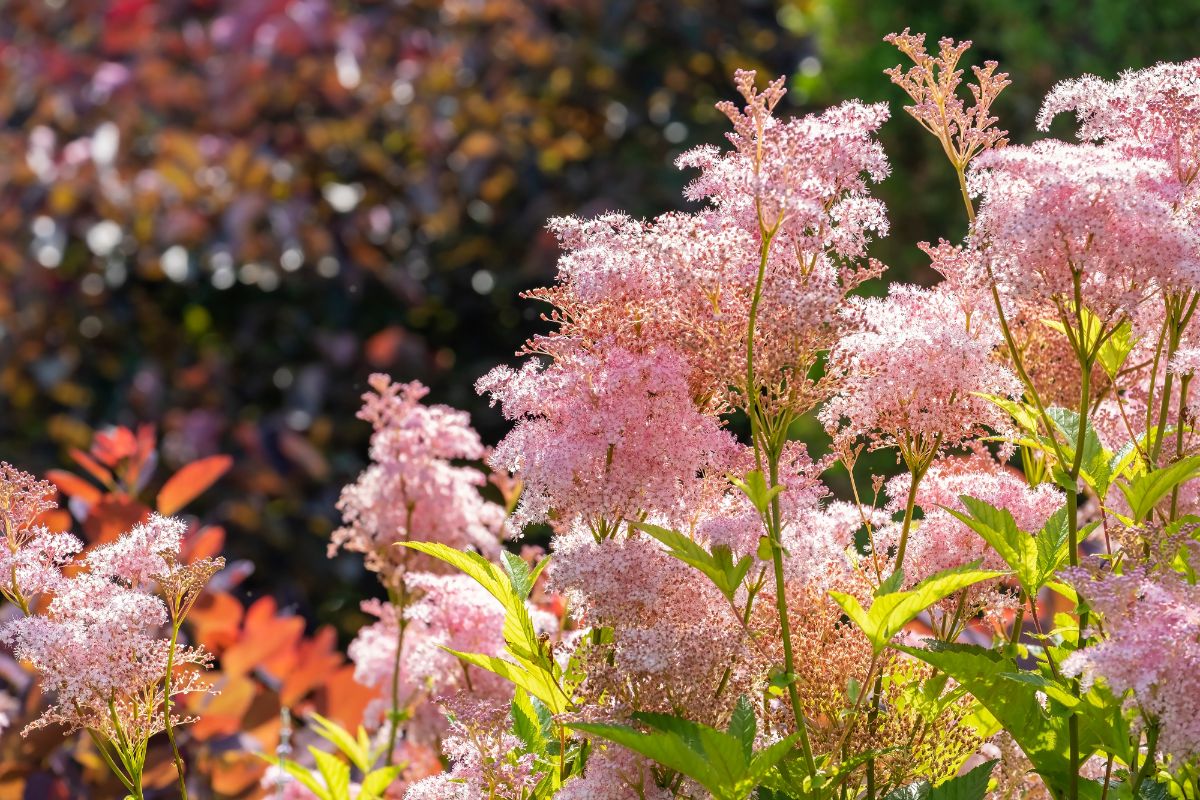 Amid other beautiful, more dwarfed-sized perennial plants, you can grow Queen of the Prairie to give your landscape a festive look. Hardy in USDA zones 3 to 9, this plant features fluffy, cotton-candylike heads of pink blooms with scent.
Meanwhile, Queen of the Prairie is an easy-to-grow native wildflower with toothed, dark-green foliage, which is a perfect accent to the flowers and a stunning backdrop for other perennials.
Also known as meadowsweet, this attractive flowering perennial is a giant 8 feet tall plant that prefers full sun to partial shade and moist, well-drained soil.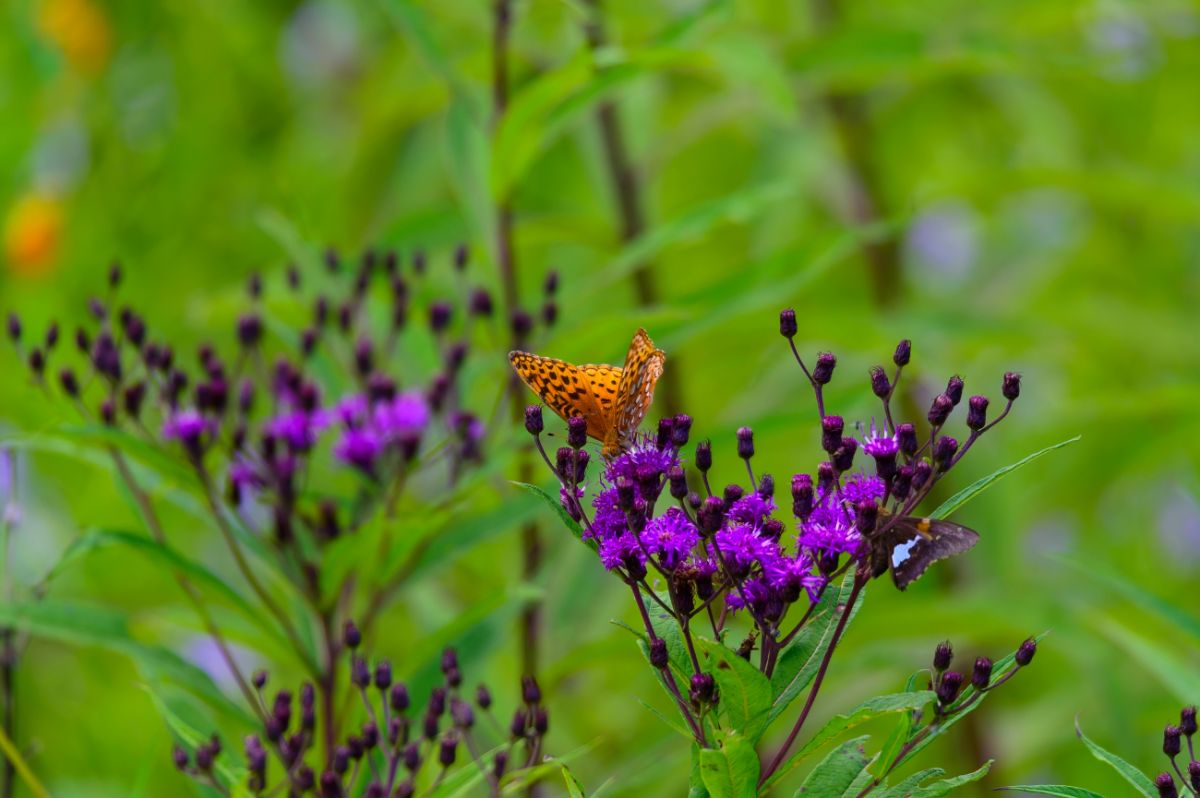 Have you considered what your garden will look like when you add this stunning giant perennial flower, otherwise known as ironweed? It is a towering 3 to 5 feet plant that blooms late, thus providing a perfect option for late-summer/fall pollinator feed space. It grows showy purple blooms that draw lots of bees and butterflies.
In other words, late summer and early fall bloomers serve as essential food for late-arriving pollinators like butterflies. It features enormous flower heads with flat clusters of several little stunning purple flowers growing on top of giant singular stalks with minimal green foliage.
This plant looks great in a native or wildflower garden or a natural meadow plant. The Vernonia species has several varieties, including western ironweed, prairie ironweed, Missouri ironweed, tall ironweed, giant ironweed, and New York ironweed, each adapting to its native range. This plant prefers full sun to partial shade and is hardy in zones 5 to 9.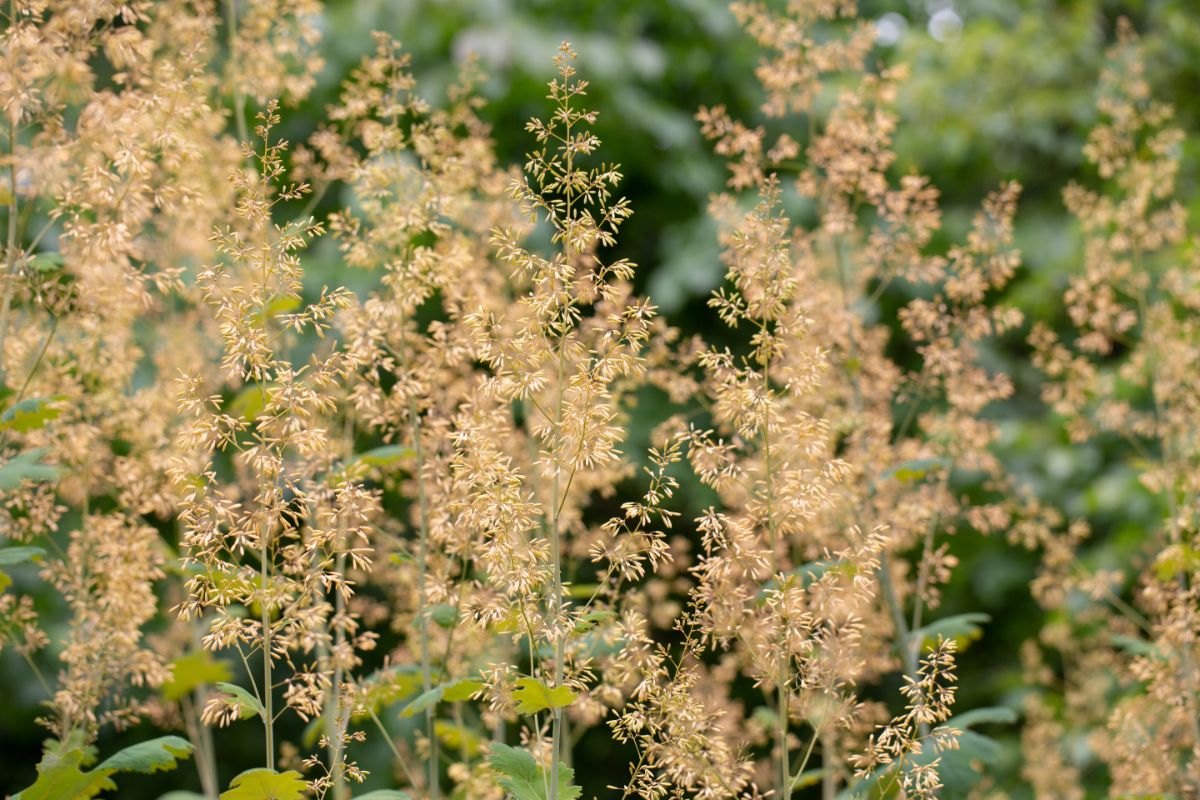 Plume Poppy is a flowering perennial that can reach over 7 to 8 feet tall, thus giving your garden the towering presence it desires. It is a tropical perennial flower that can quickly spread and occupy every area it is planted, courtesy of its rapid growth and spread.
However, a single plant can only spread up to 2 feet wide. The Macleaya cordata specie needs enough space to establish itself as an ornamental plant with its gorgeous accents and add a charming presence to your garden. Meanwhile, this plant is hardy in zones 3 to 8.
However, it can be invasive if you grow it properly. Plume poppy will require regular care and check-up to ensure it does not dominate your whole garden in warmer climates. It will thrive in full sun and desires moderately moist, well-draining soil.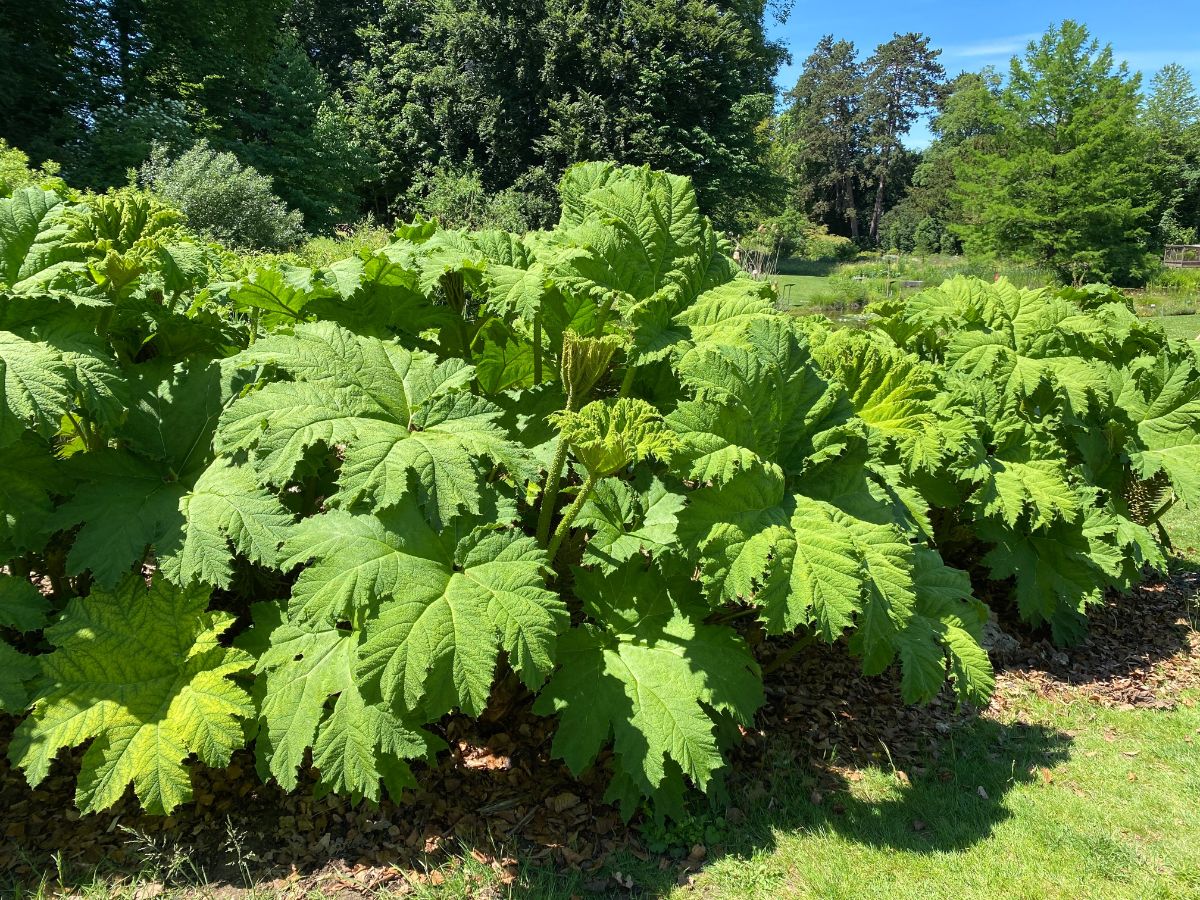 If you are planning to give your garden a bit of a wild outlook, then it would be the best option to plant Gunnera to offer an exotic twist to decorate your garden and provide it with magical flair. It is a giant plant with 10 feet tall and six feet wide leaves.
Gunnera is a stunning decorative perennial with deeply lobed leaves, commonly called Dinosaur Food. It thrives in wet boggy soil and does best in places where other plants will be susceptible to root rot.
Although it is a hardy perennial, it will need some maintenance and care to ensure the soil stays moist and will not give in to the long frost season.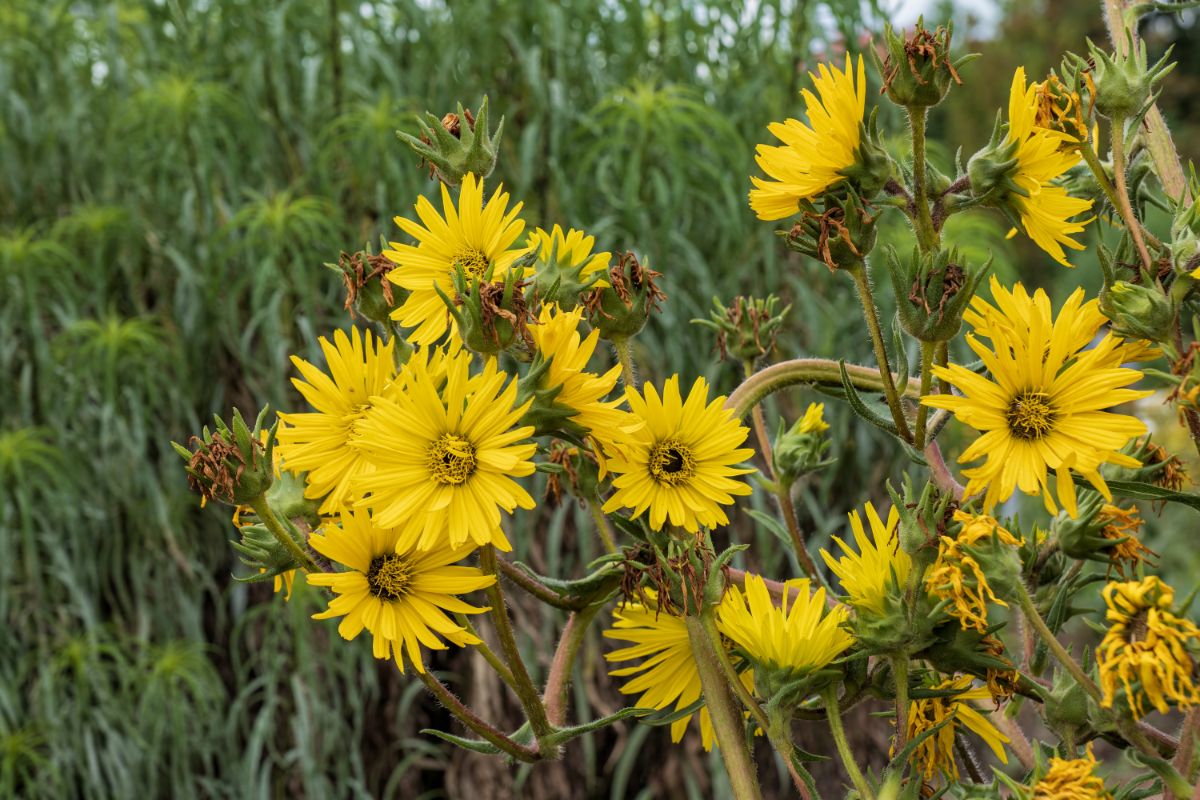 Compass Plant is a 9 feet tall plant that offers perfect privacy and backdrop for any garden or landscape. It is a tall plant that produces plenty of sunflower-looking blooms and serves as a showy and eye-catching specimen for your garden bed. It looks particularly significant if you grow it along a fence, wall, or camouflage to cover an unsightly view.
The Silphium laciniatum (as scientifically called) produces its blooms in staggered formation up the hardy green stalk.
It grows stunning bright yellow flowers that attract birds and butterflies and is perfect for a wildflower or butterfly garden. Hardy in zones 5 to 9, it also makes sense when used as a backdrop for vegetable gardens or grown in pathways.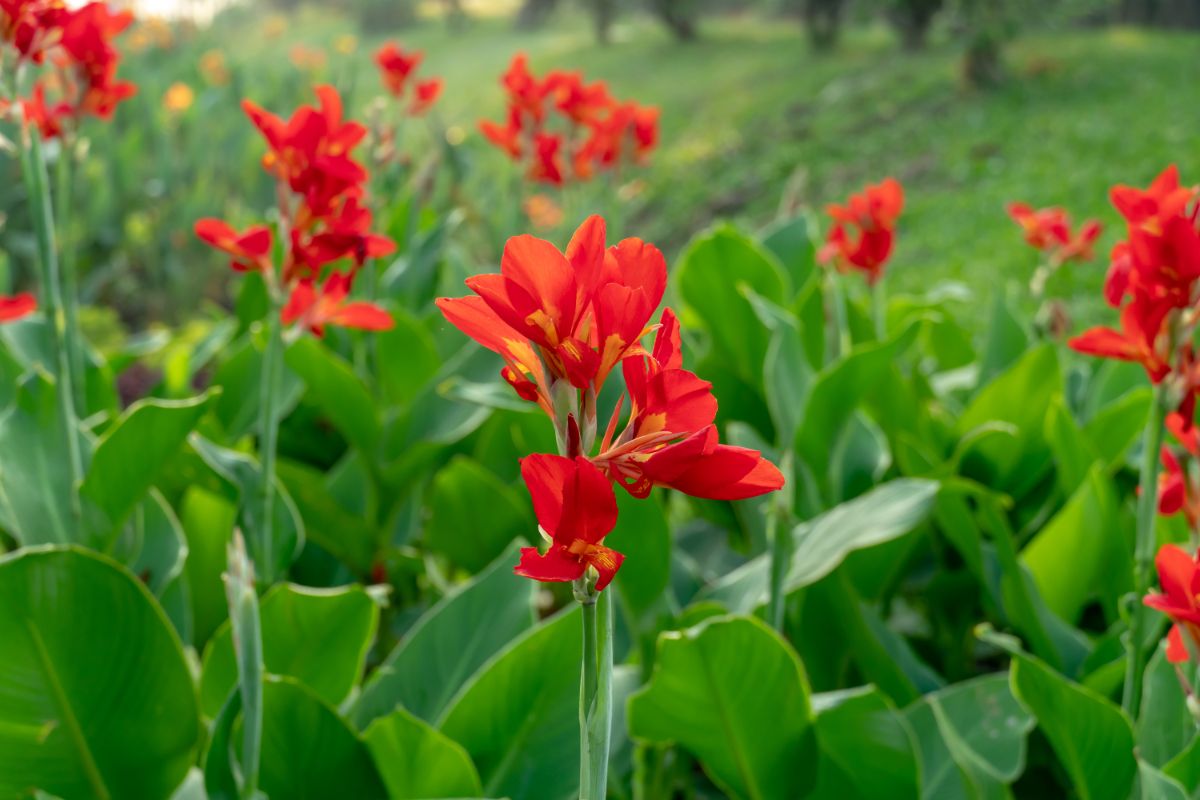 If you plan to make a statement in your garden, the perfect plant is the giant-framed Canna. It features large leaves and produces stunning colored flowers in different shades of yellow, orange, pink, and red, giving your garden a tropical presence.
It also has wild collections of variegated leaves that make for an even stellar-looking garden. It is so tall that its 3 feet tall varieties are considered dwarf, while the rest are giants at 4 to 8 feet tall.
Hardy in zones 7 to 10, the Canna indica prefers full sun to partial shade and continuous moist soil. In colder regions, tubers are dug and stored in a frost-free area for winter.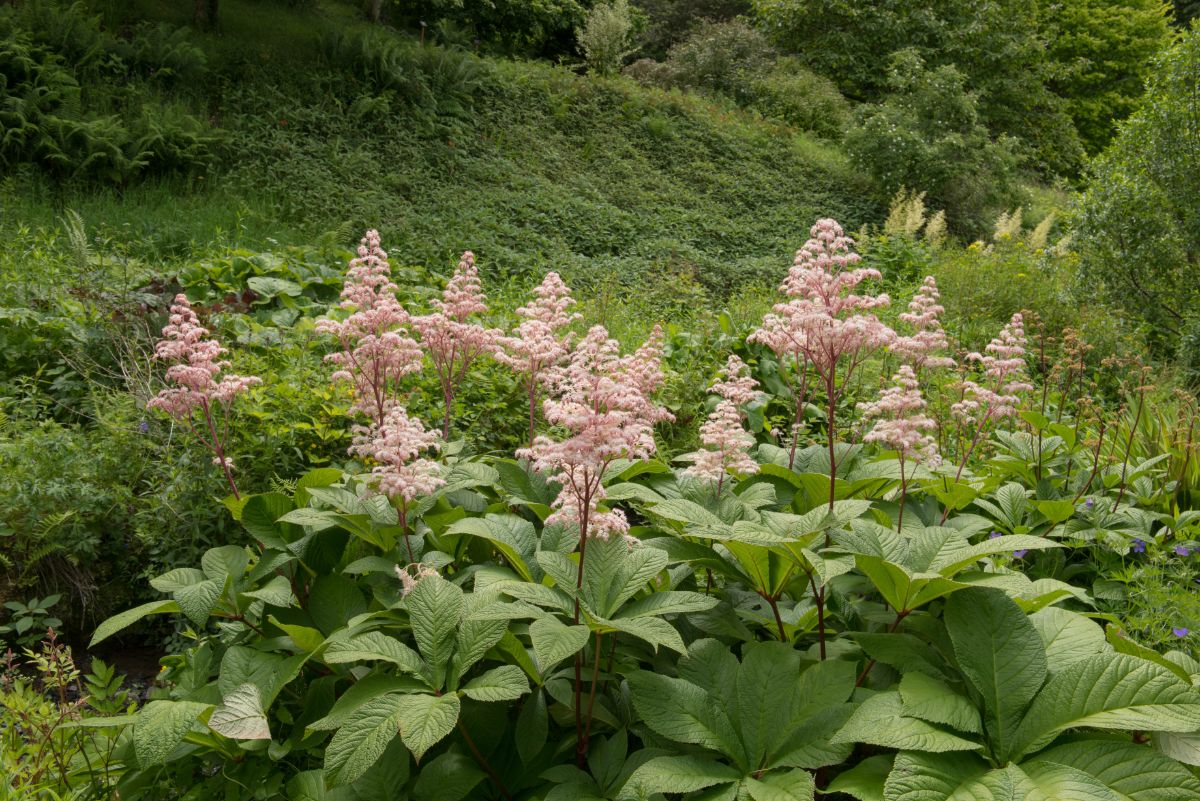 One of the tallest perennial flowers to make your garden stand out is Rodgersia. It is the best choice for those looking for tall perennials that thrive in wetter garden areas. Towering around 3 to 5 feet in height, this impressive perennial is among the few plants on this list that features bold leaves and bold flowers. It features foliage with a little bronze tinge to it.
Rodgersia has thick and very leathery leaves. It prefers full sun and moister soil, mostly seen growing at the edge of a pond or stream. It comes with different bloom colors of pink and white, depending on the variety. It is a trailing plant that can occupy large garden spaces; therefore, you must be wary of where you grow it.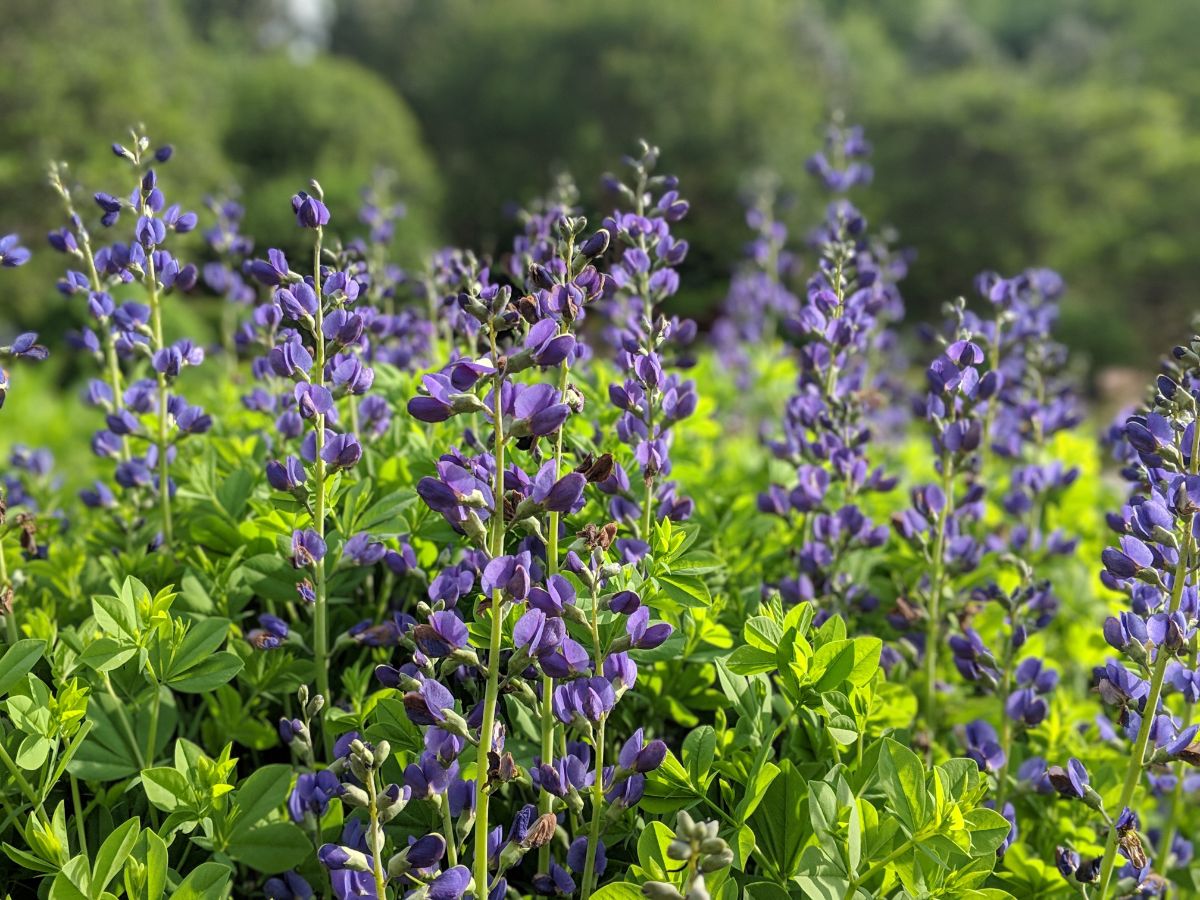 False Indigo is one of the tallest perennial flowers to make your garden stand out with its 3 to 5 feet touring presence. Like some other perennial flowers in this list, this specie features fantastic spires of flowers. It has different hybrids, and its modern hybrids are notable for their wide range of beautiful colors.
Also called wild Indigo, this specie is a hardy plant that is highly resistant to pests and diseases. However, it is highly tolerant to drought and features sturdy and shrub-like stems.
These stems remain healthy, upright and collected. False Indigo is hardy to USDA zones 5 and prefers full sun, moderately moist and well-drained soil.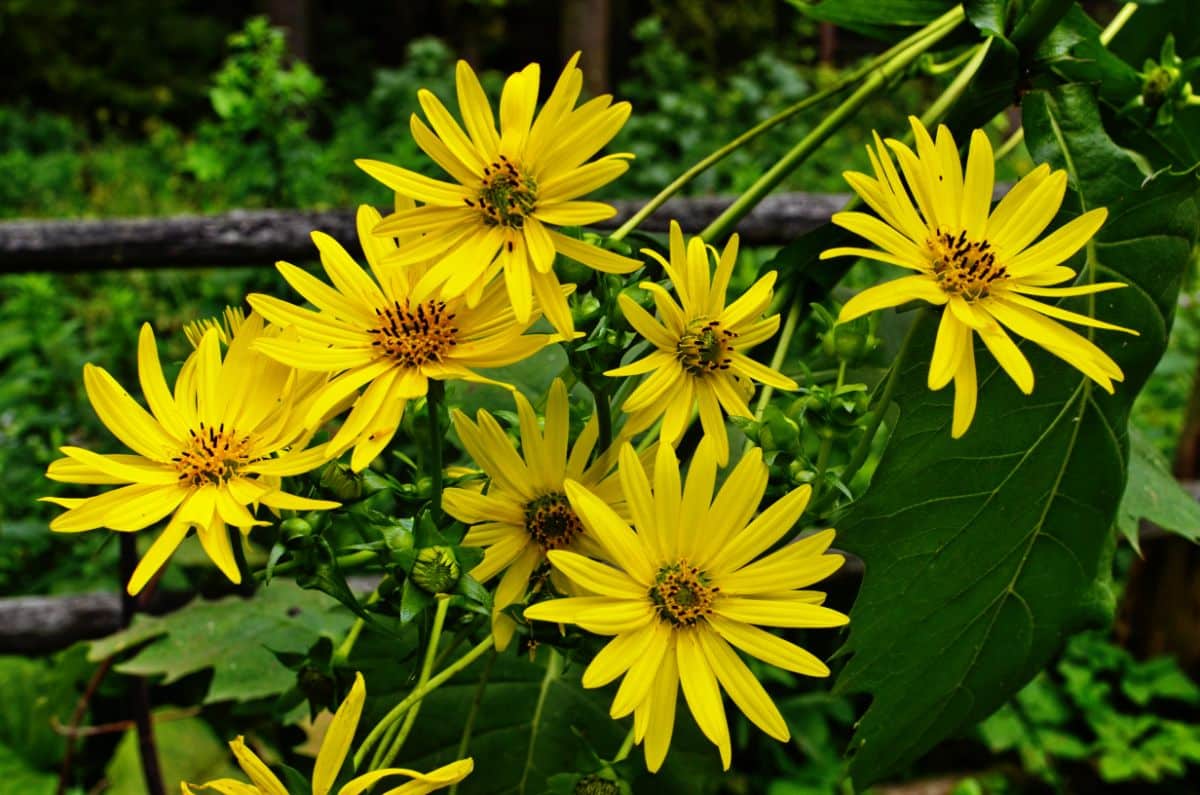 Cup Plant occupies the final spot on our list, yet it is among the tallest perennial flowers possible to make your garden stand out. It is a giant plant about 8 feet tall with a golden crown of beautiful blooms, thus becoming a favorite of both gardeners and plant enthusiasts.
It is a tremendous flowering perennial with upper leaves that grasp and clasp the stalk, thus producing a watering paradise for birds and insects.
Cup Plant has names like the Pilot Weed, Squareweed, and Carpenter's Weed. It is very hardy to cold temperatures and can hibernate in freezing winters and stay dormant until spring.
Essential Care Tips for Tallest Perennial Flowers
A close look at our list will tell you that almost every of our top 25 tallest perennial flowers is hardy plants or close to being hardy at the very least; therefore, they are low-maintenance plants that can tolerate neglect. They are drought and heat-resistant plants, and while some are resistant to deer and other animals, others attract deer.
But essentially, if you consider our key focus in the article, all these flowering perennials prefer full sun, which is why they are sun-loving plants. However, some can tolerate partial shade; the rest are like shady areas.
So, before you plant them, you must read their label during purchase to get acquainted with the perfect growing and care tips of anyone you choose.
Let's briefly highlight the essential care tips for the tallest perennial flowers to make your garden stand out.
Note: It is essential that almost all perennial flowers in our previous and present article share similar growing tips, so we'll only make a few changes where necessary.
Natural Habitat/Lighting Tips
As much as many perennial flowers, including towering varieties, have their natural habitat in the dry, sunny deserts of some parts of the world, it means that they can withstand the hot weather conditions of full sun from their native location or jungle.
Therefore, if you want to grow them outside their comfort zones or in your homes, they will only maintain their healthy state if you imitate their natural jungle conditions. In other words, you must grow them in an area that gets full sun, partial shade, or full shade (depending on the plant you're growing or your climate).
Soil Care Tips
Most tall perennial flowers can survive almost every soil, whether loamy, sandy, clay, etc., depending on the plant, but one thing to note about all perennial plants (whether those prefer soggy soil or dry soil) is that they must be well-drained.
However, you must ensure that the ground is a little moist, especially immediately after planting, to enable them to grow stronger.
Watering Care Tips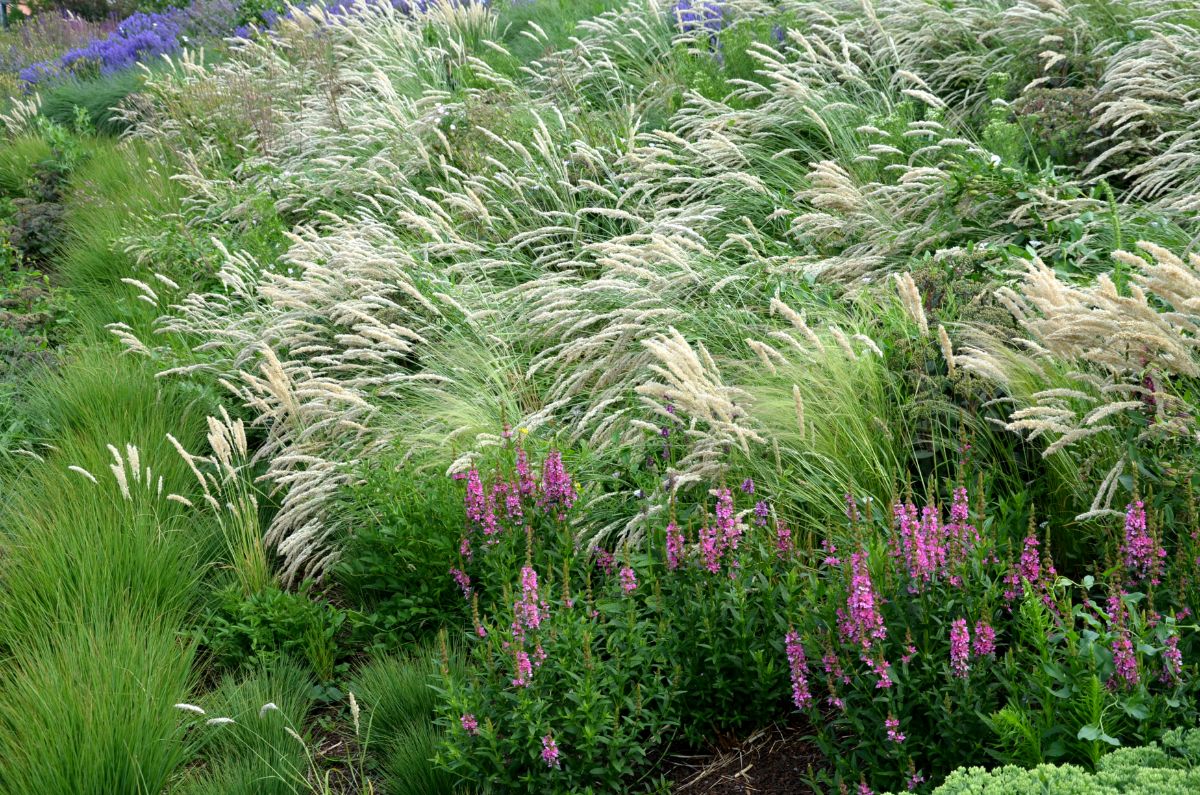 Again, most tall perennial flowers are drought-resistant plants and, therefore, do not necessarily require water for sustenance, primarily if grown in the ground, except for varieties like Gunnera, Canna, Rodgersia and a few others that are not mentioned on our list.
In their natural jungle, wild, or desert, most tall perennials tolerate extended periods without water, except for rare periods where they experience rainfall.
Therefore, if you must water them at all, then you must do so only sparingly, but for those that need constant watering, give them as required and follow due process.
Meanwhile, the best time to water most tall perennials is once after planting to help them grow well. However, after they are established, you must reduce your watering routine.
In an extended drought season, within April or May, water only moderately and use vases with well-draining holes to allow water to dry out and prevent waterlogging.
Temperature & Humidity Tips
Tall perennial flowers are known for their hardiness in their natural environment, so they can withstand extreme temperatures when the soil allows plenty of rainfall or snowmelt to drain out. However, the most suitable humidity for these species is in a dry area with good air circulation.
Temperature-wise, tall perennial flowers need temperatures of around 40 to 70 degrees Fahrenheit. In most cases, they will need cold temperate to help their roots to germinate well. So, anytime you discover some chill in the atmosphere during the fall season, it is the ideal time to plant your tall perennial flowers to enable them to bloom from spring to fall.
Fertilizing/Nutrient Tips
Almost every tall perennial flower does not need excess nutrients for survival because they find it hard to see any source of nutrients in the wild but survive, regardless. However, in the spring, you can fertilize sparingly with a low-nitrogen fertilizer (6-10-10) around the plants to help them grow well.
But it would be best if you avoided heavy feeding, whether nitrogen fertilizer or any other nutrient fertilizer, as these perennials, will only produce more foliage rather than bloom. Another good fertilizer for these tall perennials is bone meal.
Potting & Repotting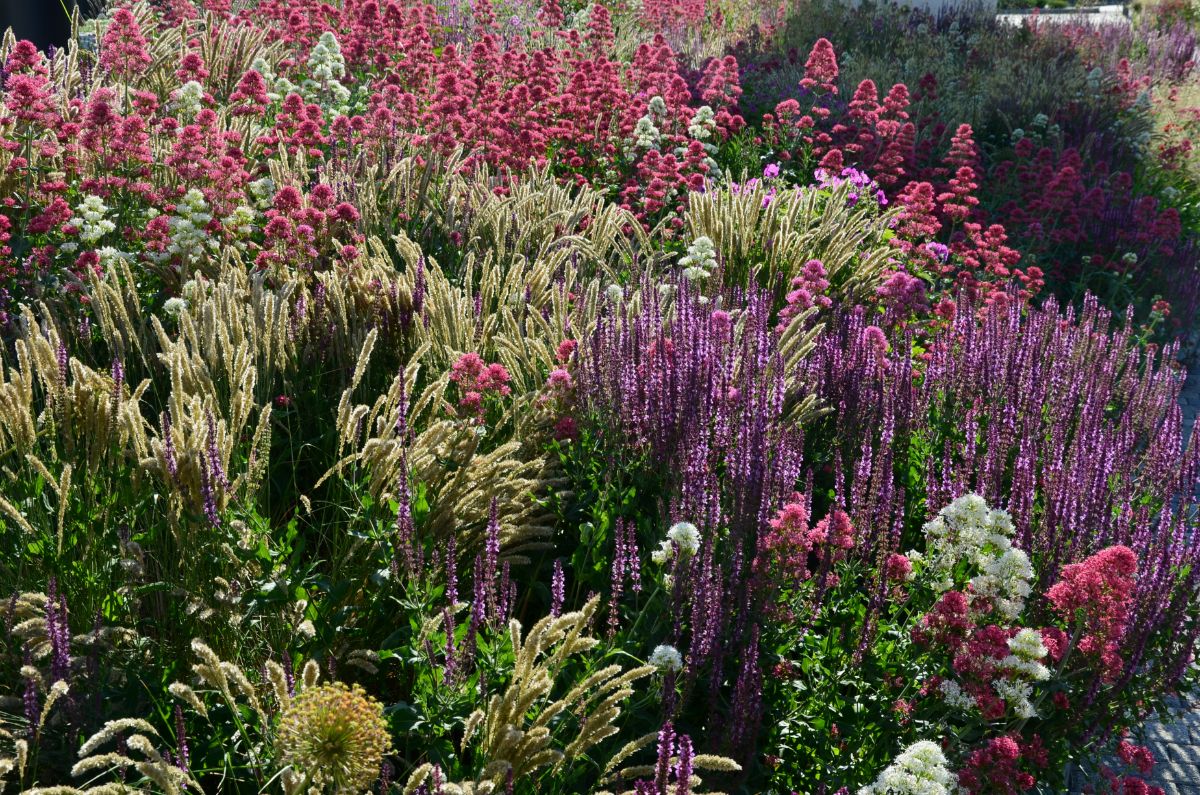 Generally, growing perennial flowers in vases is not a standard method, especially the taller ones on this list; however, there's nothing wrong with planting them in large pots, particularly considering how tall and massive this plant tends to grow; some even spread.
Again, you must use a loose, soil-free potting mix and leave the top of the rhizomes exposed. Most of these tallest perennial flowers do not need excessive watering in pots. Meanwhile, in colder regions or frost seasons, you must move the pots to a sheltered area for the winter to sustain their health.
But, (except for those that love water or thrive in winter seasons). Transplanting and dividing in such conditions need to be done more often (yearly) than those grown in landscapes.
Deadheading Tips
Deadheading is cutting the spent blooms off your plants to make them look tidy and better. It also prevents your plants from setting seeds to curtail the mess of perennial flowering seedlings popping up in your landscape.
Fortunately, most perennials react to deadheading by growing more flowers. Some examples of these rebloomers include threadleaf coreopsis, delphinium species, phlox, Yarrow, veronica, etc.
Dividing Tips
One of the fascinating features of perennial flowers, including the tallest perennials, is that they grow bigger and better every year. However, most will start crowding themselves out if they grow too large and spread.
Therefore, the best way to ensure that they stay tidy and continue performing well is by removing them from the ground and dividing them into fragments once in three to four years. Early spring is the best time to divide most of these tall flowering perennials.
But a few do not require deadheading in spring, like those that thrive in winter, including Gunnera, Canna, and Rodgersia, amongst others. These excluded varieties require deadheading during the summer if necessary.
Frequently Asked Questions
What flowers grow 6 ft tall?
Several flowers can grow as tall as 6 feet tall, but the most common of them is Cleome: Also called spider flowers, they are annuals with unique pink, white or purple blooms.
What tall perennials bloom all summer?
A few tall perennial flowers bloom all summer, including Blue lupine, Yellow hollyhocks, Stella de Ora' daylily', etc.
What is the tallest annual flower?
The tallest annual flower is Cosmos (Cosmos sulphureus, Cosmos bipinnatus). This species is one of the most undemanding tall flowers ever. It has various species that feature feathery foliage and daisy-like blooms with yellow centers, and some of its varieties can grow as tall as 4 feet.
Which flowers height may reach up to 12 feet?
The Titan arum has the tallest unbranched inflorescence of every blooming plant. It can grow as tall as 7 to 12 feet and weigh as much as 170 pounds!
What is the tallest wildflower?
There are several tall perennial wildflowers, but the tallest of them is probably Joe-Pye Weeds, which can grow as tall as 10 ft or over! They feature whorled leaf arrangements of 3 to 7 leaves and pinkish-purple inflorescences or clusters of smaller blooms.
Conclusion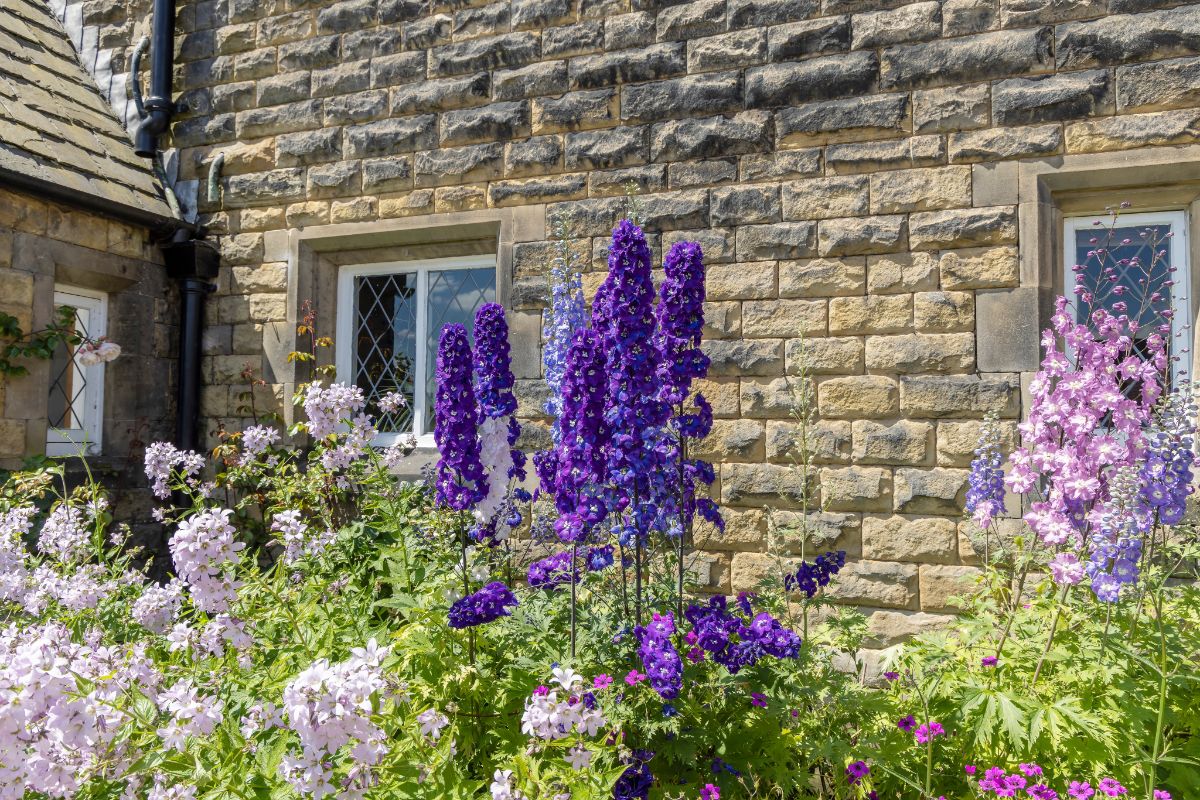 You can choose our tallest perennial flowers to make your garden stand out. But before you make your decision, you must consider the space you have, especially considering that most of them are large spreaders.
So, you must consider the height, variation, and beauty they will add to your garden. Other than these, the tallest perennial flowers are great options as background or a centerpiece to your flower garden.