Nothing replaces gardeners' fulfillment in seeing their plants bloom all year, significantly when they have invested their time and money to see the plants are in a healthy condition.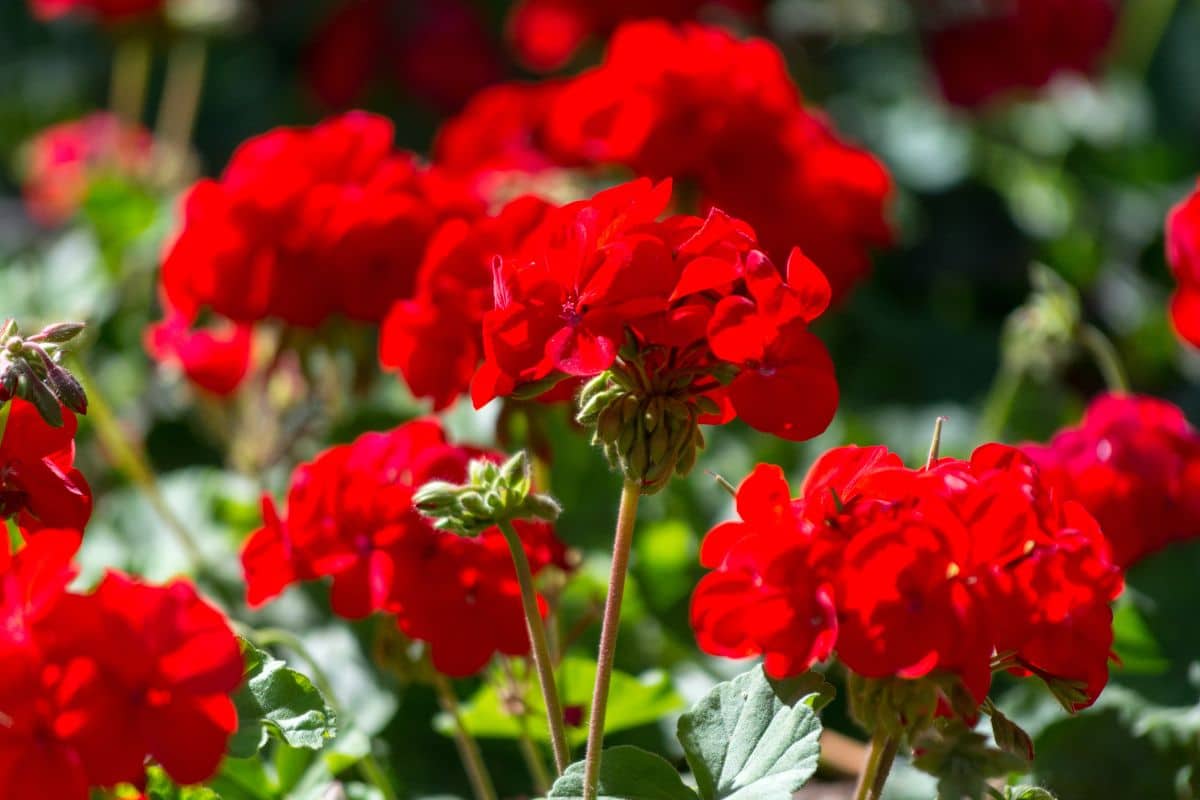 Geraniums are among the numerous plants that will reward you when you care for your plant. And like other plants, there are only a few tips that you must put into consideration for your geraniums to remain healthy.
In this post, we will discuss some of the best tips to make geraniums bloom all year. This guide guarantees a successful bloom all year long if you follow these.
But first, let's have a little knowledge about geraniums.
Jump to:
What You Need To Know About Geraniums
Geraniums plant is a flowering plant from the family of Geraniaceae. This plant can be tricky as it possesses the genus of cranesbills and pelargonium. However, people refer to them as geraniums.
Geraniums are sun-loving plants, and they can thrive in hot weather. But, this does not guarantee that it would survive in the scorching sun.
Geraniums have different colors, and many people refer to them as the sweetheart of the garden flower. These plants will reward you with endless blooms when you care for them correctly. It most times seems almost impossible for insects to attack geraniums.
Although it seems easily achievable, it could be difficult if you do not pay attention from the initial preparation to the finish.
However, fret not! You are about to learn the 13 tips to make your geraniums bloom all year long.
Best Tips To Make Geraniums Bloom All Year Long
1. Get rid of spent flowers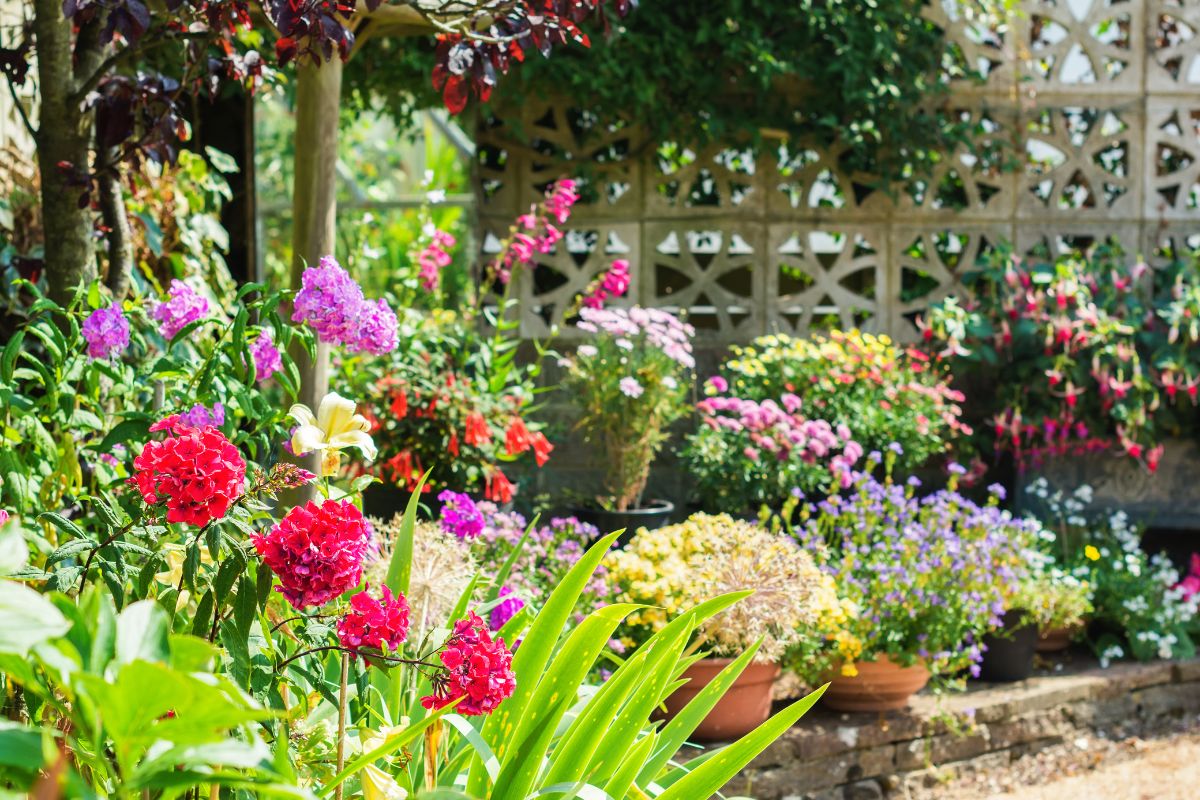 The first important tip you must implement is quickly getting rid of spent flowers. Spent flowers are flowers from the previous blooming season. To encourage your geraniums to bloom all year long, you must get rid of the earlier flowers so that the other flowers have enough energy to bloom.
If you do not get rid of spent flowers, the spent flowers might trick the plants into supplying energy to them. And it is sterile, providing energy to the flower until the blooming season has gone.
So, for the best result and for your geraniums to bloom all year, cut the spent flowers (this is also called deadhead)
2. Provide your soil with the nourishment that it needs to bloom
Another tip to make geraniums bloom all year long is adding some fertilizer. Fertilizer is an essential factor that you simply cannot skip.
Note: geraniums are not so good with fertilizers, but a little bit of it, when needed, can help grow the geranium plant.
Look out for cases where you are raising or growing your geraniums in the pot, and you would need to add some fertilizer to support the soil in supplying the nutrient to the plant. The soil on its own cannot provide the nutrient it needs. So, always settle for fertilizers.
Try to fertilize your soil every 21 to 28 days for the best results. Try not to use too many fertilizers on your plant. Please give it some room to thrive on its own too.
3. Make room for enough sunlight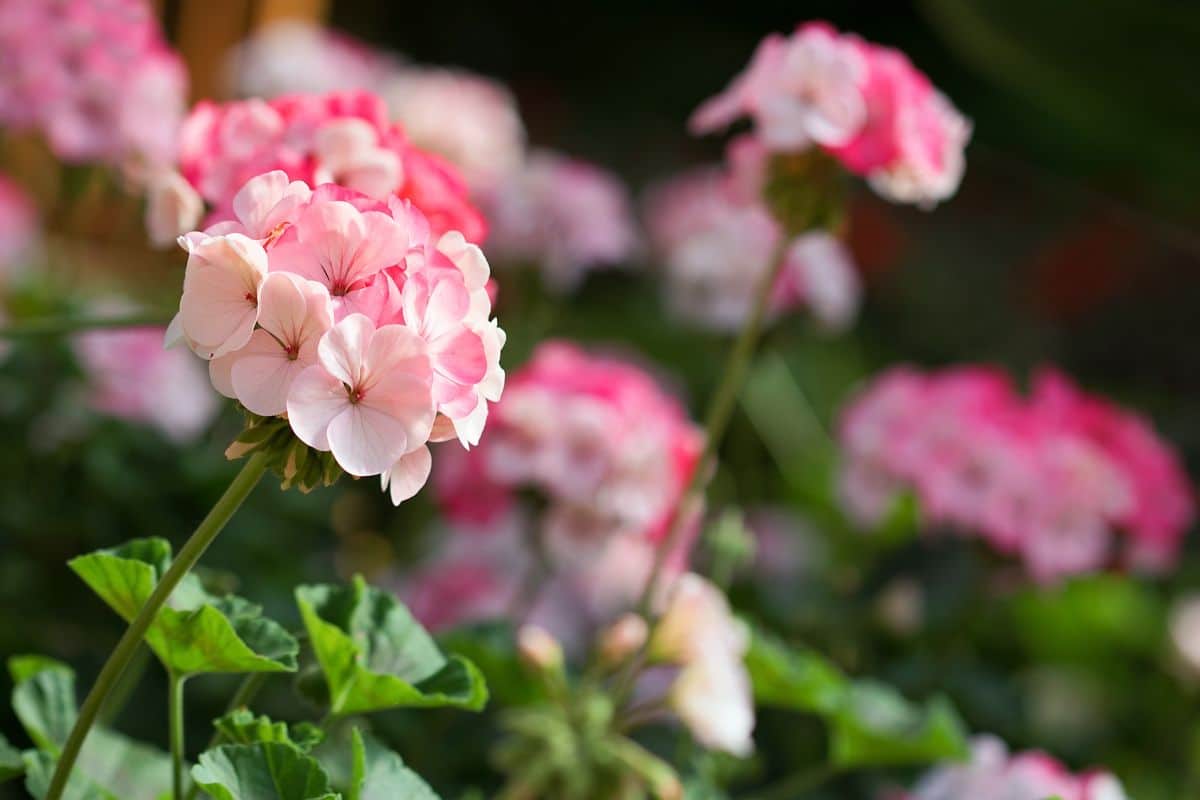 Remember, geraniums are sun-loving plants and will most certainly reward you with blooms all year round if you make room for enough sunlight.
We advise you to expose your geraniums to 4 to 6 hours of direct sunlight every day. Giving the geraniums enough sunlight will encourage the plant to bloom all year.
4. Trim back leggy growth
Geraniums look tacky when they grow on will. So always trim back the leggy growth to enable the plant to grow graciously and provide for mind-blowing blooms when the time comes.
How do you notice the leggy growth on geraniums? First, if the soil is limited, you will see some stems shoot outgrowth. And this makes them develop this leggy look. If you wish to stop this from happening, you must trim back the stems.
Trimming back the stem will encourage thicker growth. You can also pinch the stems anytime it produces more branches. You will end up making your geraniums bloom all year long.
5. Consistently water your geraniums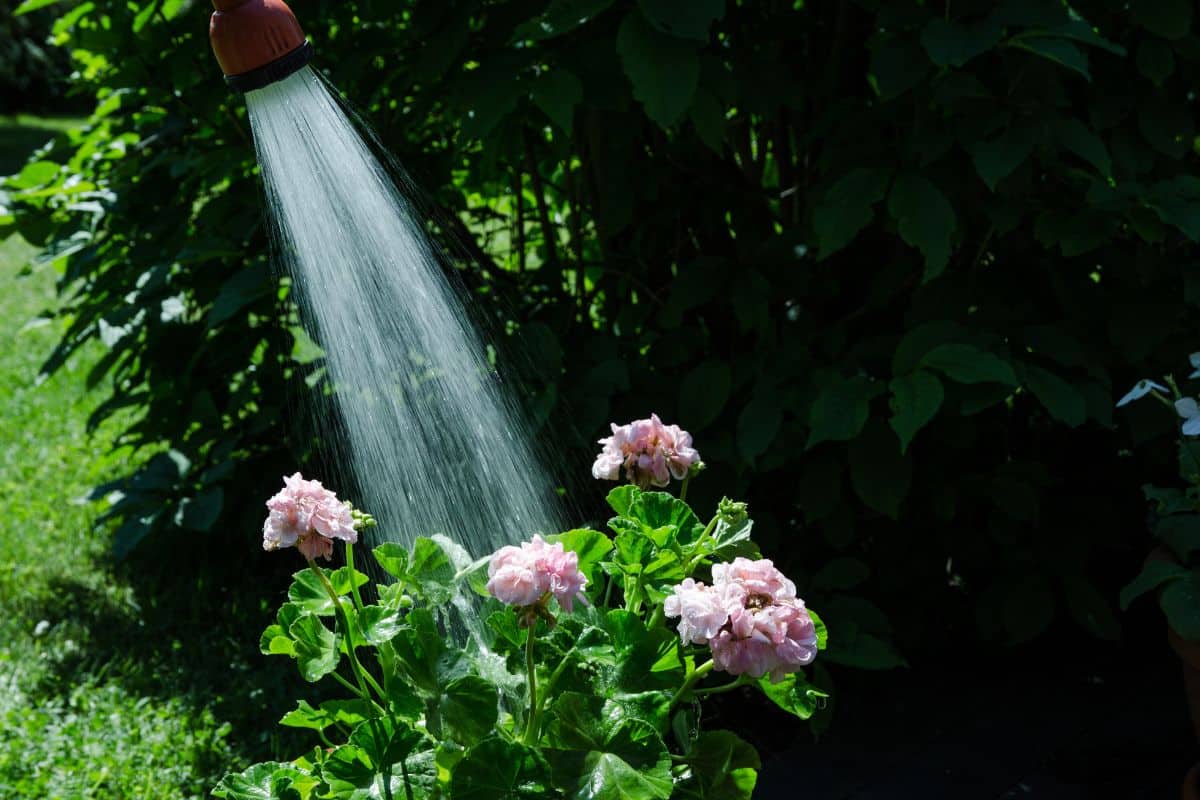 Watering plants is always a lead factor to consider if you want the plant to do well. So, it would be perfect if you water your geraniums consistently for them to bloom all year long.
If you do not water your geraniums when needed, the plants will become stressed out and might not do well.
Over-watering it would make the soil soggy, and if the soil contains moisture, it will affect the root of the plant. Generally, geraniums do not like wet feet, so be careful not to give them an overdose.
We advise you to always test the soil dryness before watering the soil. Slide your finger in the soil around 1 to 2 inches. If your soil is dry, water it; if it is wet, you can skip watering your geranium for that moment.
6. Take away dying leaves
You wouldn't want to end up with mixed-up leaves, especially when some parts of the leaves are unhealthy. So, always do away with the old leaves, so there is enough room for new leaves to grow well.
If you are not careful enough to get rid of the old leaves, it will affect the plant. The plant will always provide energy to the old plant, which will affect the growth of the new leaves.
If you want to remove the old leaves, use a sharp pruner to take away dead or already leaves. Getting rid of old leaves helps to make geranium bloom all year long.
7. Ensure the soil is of high-quality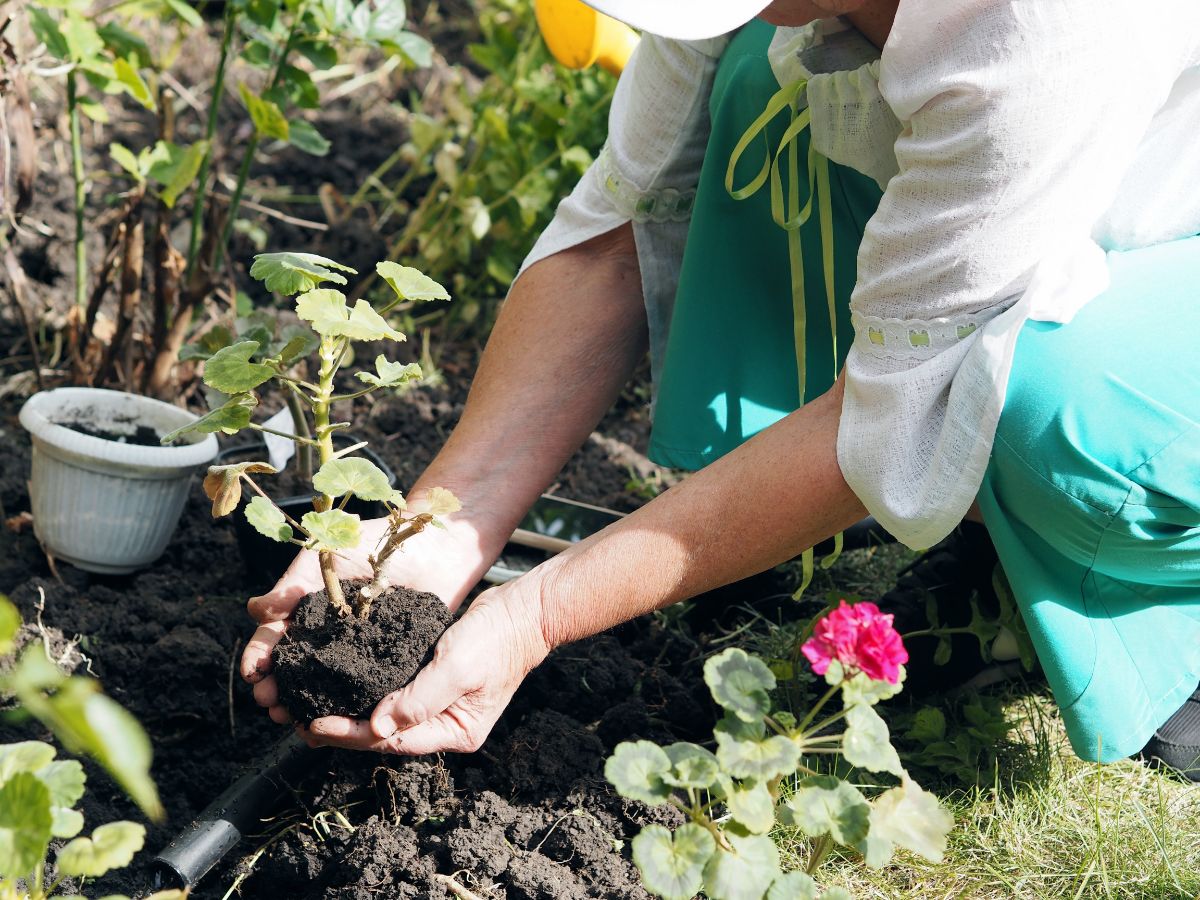 Soil is an essential factor when you are considering making your geranium bloom all year long. Try to provide your geranium plant with the ideal soil, and you will have a mind-blowing bloom all year long.
Do not use compact soil. Loose soil will make the soil remain moist, encouraging a sound drainage system for the geranium to grow graciously.
If you end up with heavy soil, you can mix it with perlite or any compost that is best for your plant. Good soil will offer your geranium plant a haven for growth.
8. Give your plant an acceptable temperature
Allow your geraniums to grow at a favorable temperature, and they will bloom all year long. Temperatures ranging from 45°F to 80°F are the ideal temperature for geraniums.
Geraniums prefer warmer temperatures. So if you do well in offering geraniums at warm and acceptable temperatures, they will reward your efforts in no time.
9. Always repot your geranium when they outgrow the pot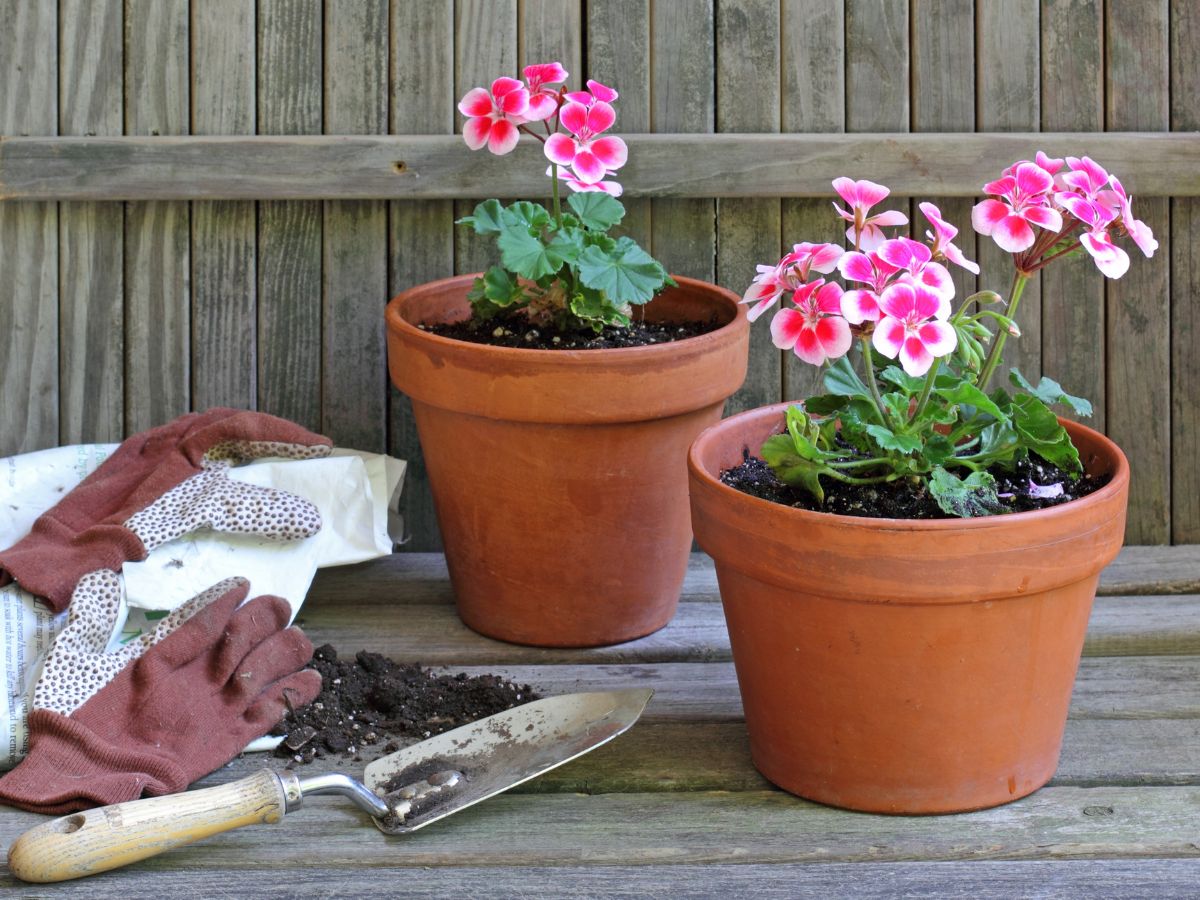 Leaving geraniums to continue in the container when they have outgrown it is not good. Ensure that you repot your geraniums when need be. If you do not repot the plants, the soil that the geranium is occupying will lose its nutritional value.
Tips: repotting your plant is the easiest way to divide your geraniums and position them for multiple collections.
10. Check for pests and diseases
It would help if you always look out for pests and diseases. Do not ignore the sight of pests or any diseases because this can shorten the lifespan of your geranium plant.
Geraniums are more susceptible to pests and diseases when you grow them indoors. Whiteflies, mites, and aphids are the insects most likely to affect the growth of your geranium plant.
But if you want to make geranium bloom all year long, you must keep the insects at bay.
11. Apply mulch to retain moisture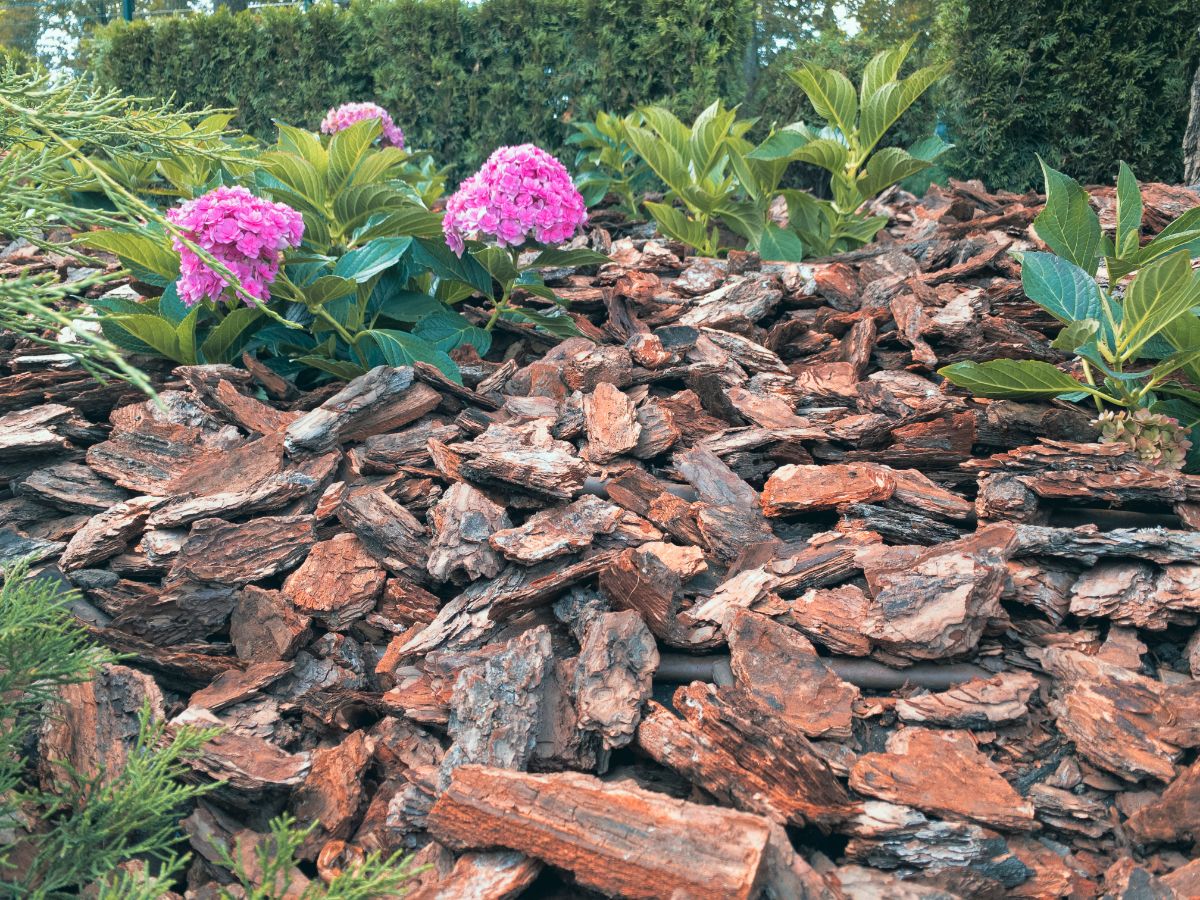 Mulch does wonders in rendering soil moisture. Mulch also helps the plant against frost, just in case you want to do what matters the most.
12. Always check on your plant
You must check on your plant at all times. This way, you can keep your geraniums in their best condition.
So, always check on your plants. Also, remove yellow and brown leaves regularly.