If you are looking for the perfect plant that will give your garden a vibrant look, you should consider growing yellow perennial flowers.
Besides, there's nothing wrong with stepping into your garden to behold bright yellow flowers spluttered all over the landscape, just like the brightness that accompanies sunlight in a garden.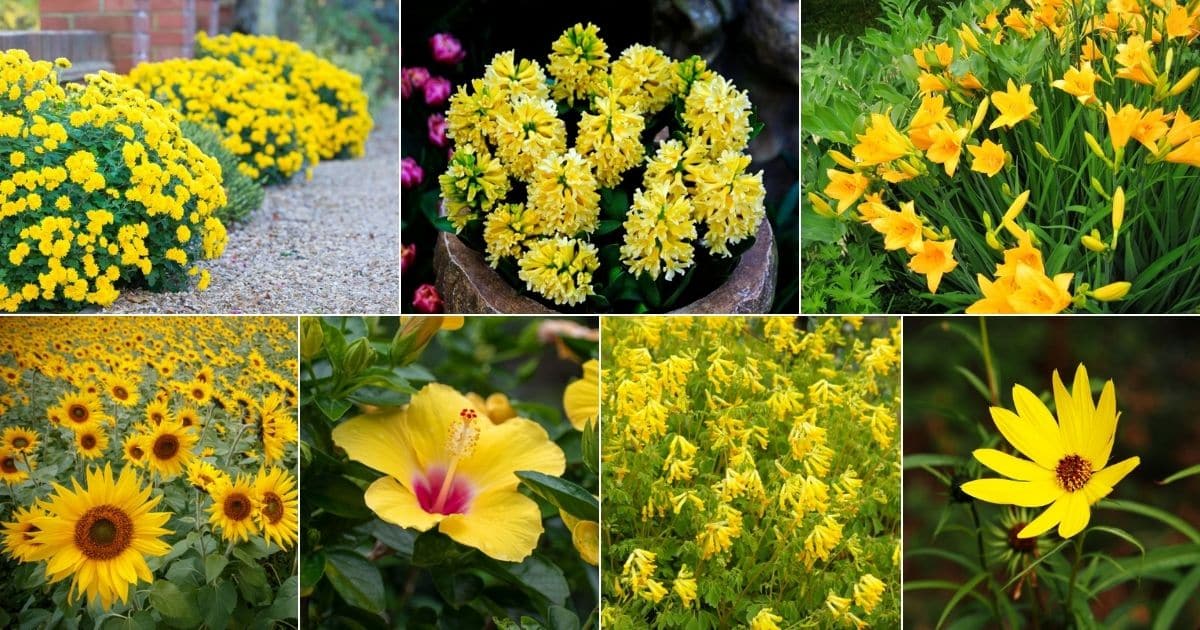 Amongst other lovely colors of perennial flowers, the yellow color is unique, stands out, and keeps the garden vibrant while making the gardener happy at all times.
Tickseed, Coneflower, Yarrow, Black-eyed Susan, etc., are among the best yellow perennial flowers for a vibrant garden that we will discuss today.
In the end, we will also talk about how to grow and care for these flowers!
Jump to:
What Are Yellow Perennial Flowers?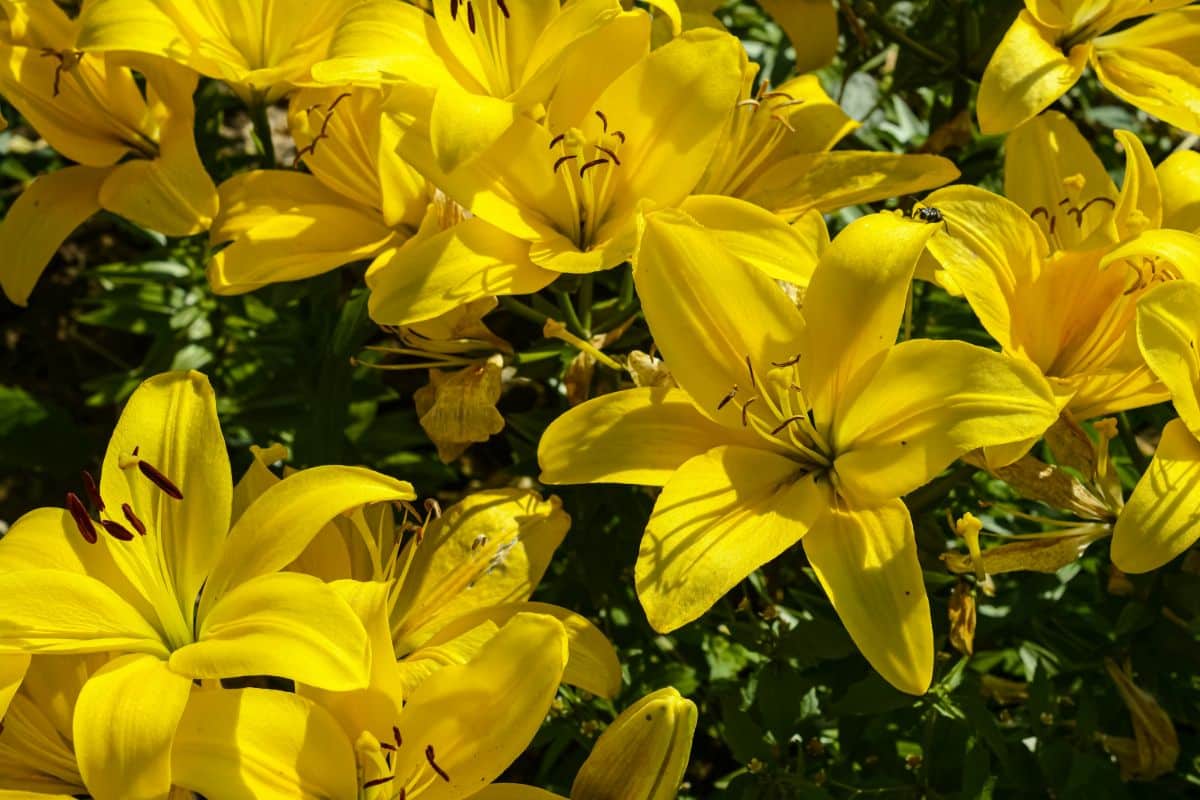 Yellow Perennial Flowers are among the best (if not the best) plants to grow in your garden. They are also popular prospects, not just because of the bright and vibrant appearance they offer the garden but also because they tend to return with more gracious blooms every year.
The uniqueness of yellow perennial flowers makes them favorites among gardeners who wish to give their gardens attractive and vibrant looks.
The most exciting part of it all is that these perennials do not necessarily need to be planted yearly; as we earlier mentioned, they will always return from their roots with the turn of each year to give your garden a very vibrant look, thanks to their bright flowers.
However, even though they might cost you some fortunes and a bit of your attention at first, you will surely be rewarded with great seasonal color at the turn of every year.
Yellow perennial flowers are often used to symbolize happiness and friendship and are used to enhance a sense of vibrancy in landscapes.
Meanwhile, yellow perennial flowers produce garden designs suited to even the most discerning gardener, including those looking for specific-colored plants and flowers.
However, picking the right plants is instrumental to the outlook of your garden as it will save you the stress of having to pull them out if their appearance is unsatisfactory.
Yellow Perennial Flowers for a Vibrant Garden
As we mentioned earlier, choosing the most ideal perennials for your garden is necessary to save you the stress of pulling them out if you don't like their looks.
Hence, if you want to pick the best perennials, you must begin by observing your garden closely to check the sun's movement over the ground to know if the plants require sun or shade.
If you are planning a yellow landscape, it would be best to pay attention to every plant's flowering period.
Now, let's look at some of the best yellow perennial flowers for a vibrant garden.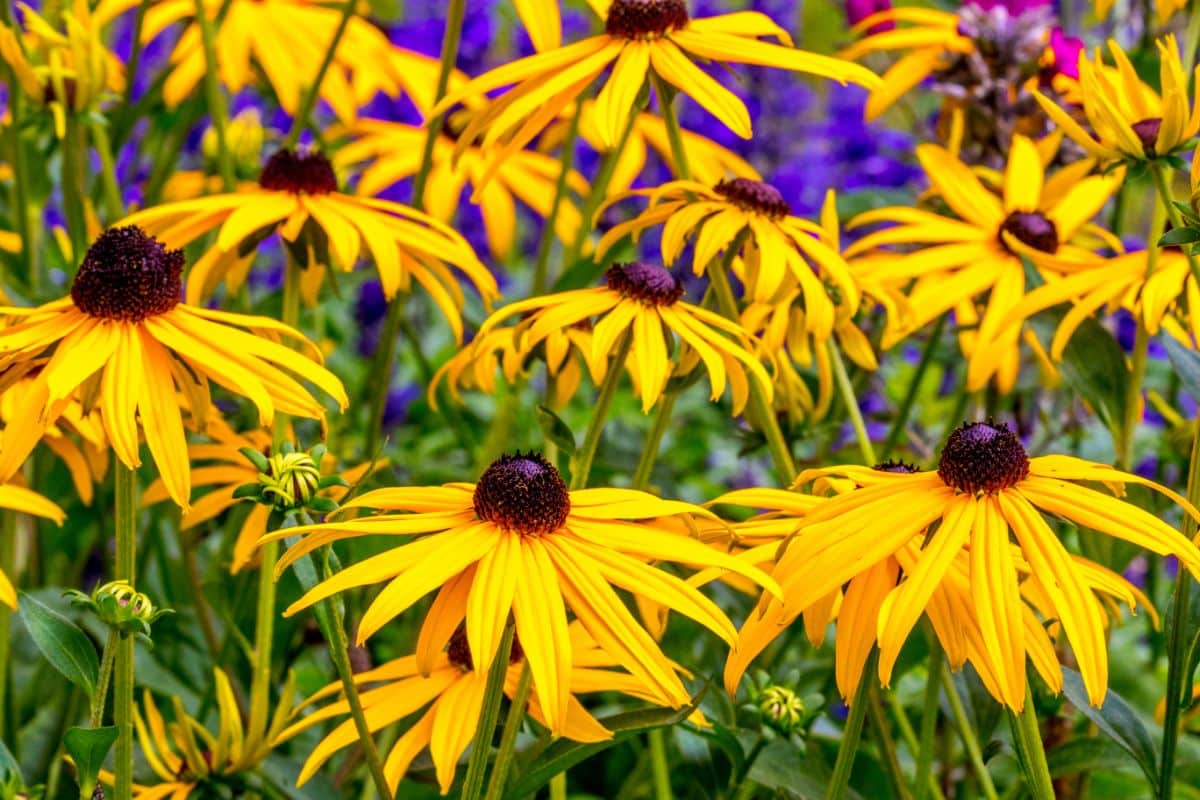 It is at the top of our list for a reason. Though Coneflower is of different types that come in color varieties, including brown, black center cones, and yellow, amongst other attractive colors, the yellow coneflower variety provides the most stunning brightness to any garden.
Even though the echinacea is most popular for its brown or black center and purple daisy-like rays, its yellow color variety (yellow coneflower) is the only species that grow yellow blooms.
The plant is native to the North American continent and still exists today as a medicinal plant, which is a suitable addition to pollinator gardens, wildflower gardens, meadows, etc.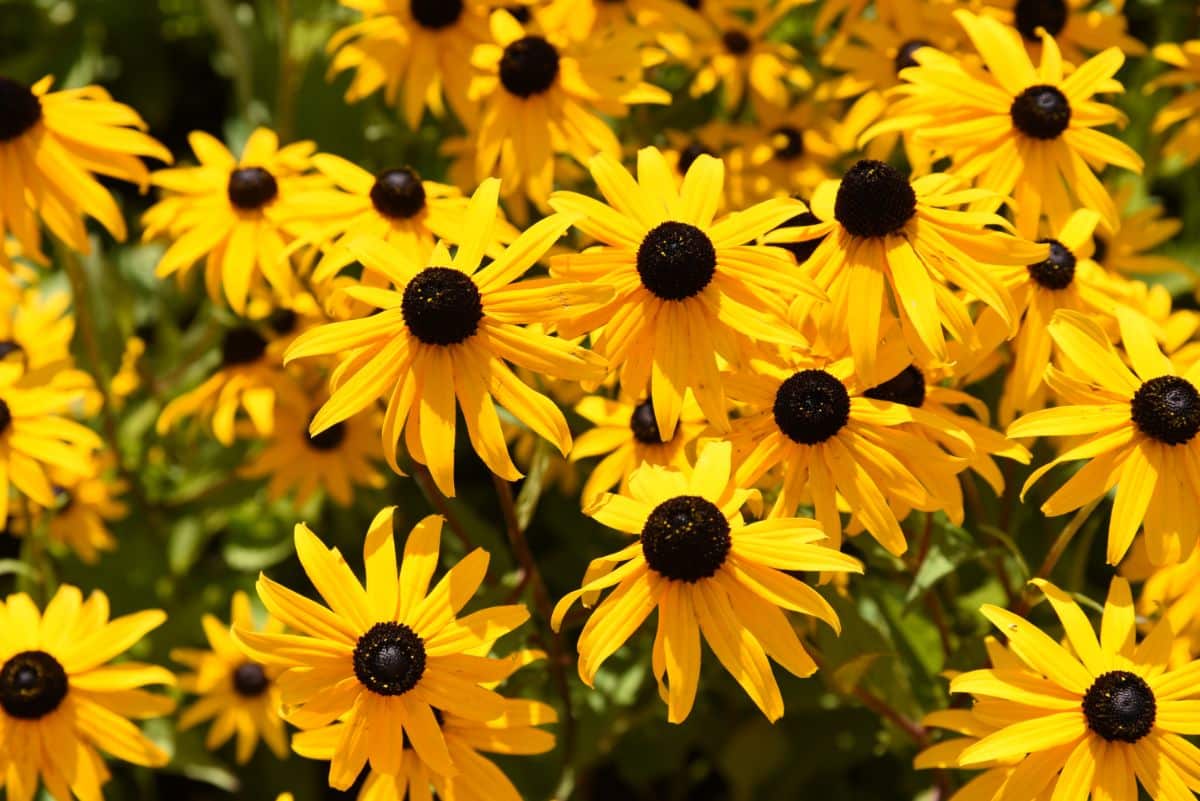 Native to the North American continent, the Black-eyed Susan is one of the perfect yellow perennial flowers that can give your garden the bright and vibrant look you desire.
The rudbeckia specie is a sun-loving perennial wildflower with a fantastic combination of black and yellow flowers to give your garden an audacious appearance.
This plant is hardy to zones 3 to 11 and can grow as high as 24 inches tall. Meanwhile, for the desired effects, you must go for well-drained, moist soil and make sure you get rid of its faded flower heads at least once a week. Rudbeckia thrives in landscaped beds, garden borders, and container gardens.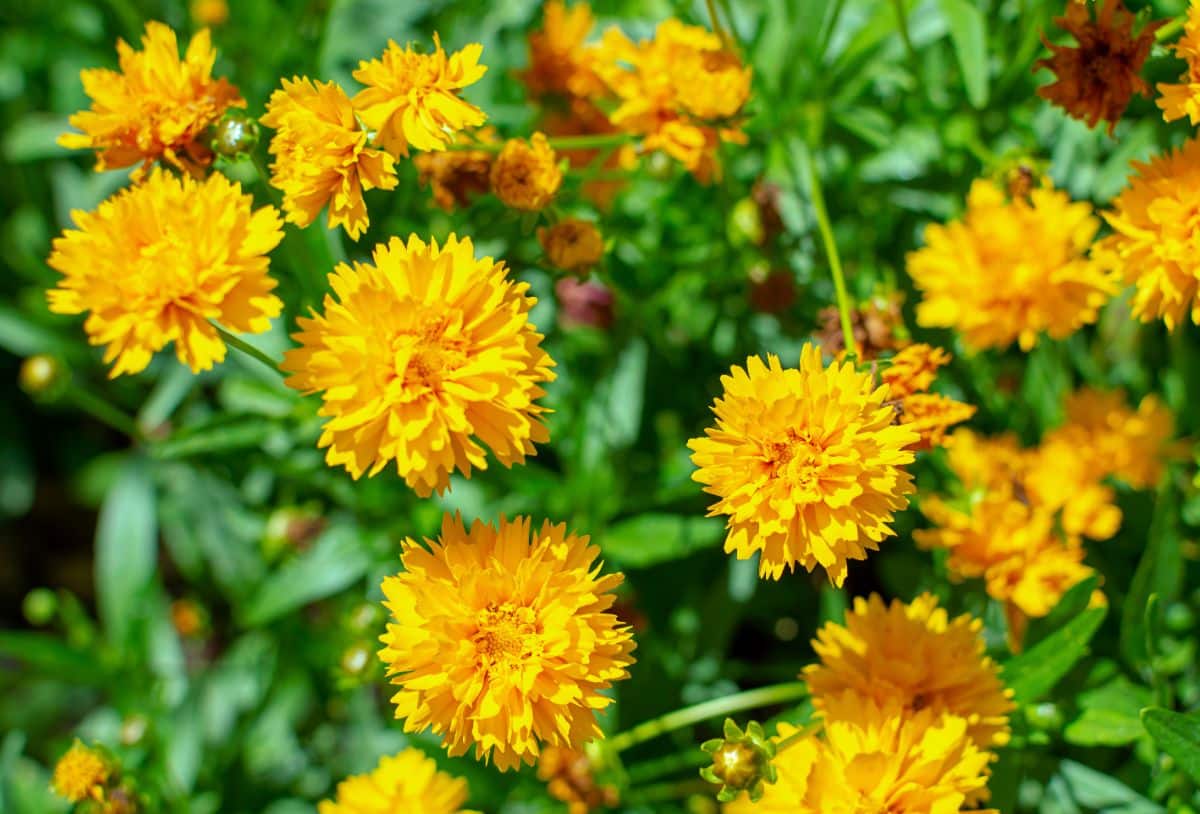 Are you looking to spice up your flower beds with some brightness of yellow color plants? Look no further than coreopsis Grandiflora specie.
The most exciting part is that it is easy to grow and suitable for inexperienced gardeners. Native to North America, the tickseed plant is a perennial that is a sun-loving perennial.
In other words, it grows best under full sun to part shade areas. It can rapidly grow from seed and flowers for more than three months while producing pink or yellow-colored blooms. It is a lovely perennial that is hardy to zones 4 to 9 and can grow as tall as 18 to 24 inches high.
You will never regret making tickseed your preferred yellow perennial flower for your flower bed, and it is also available in smaller versions that can only grow up to 6 to 12 inches high.
It thrives under full sun, well-drained rich soil, and is best grown during the spring immediately after the frost threat elapses. This plant produces its first flowers the second year after planting.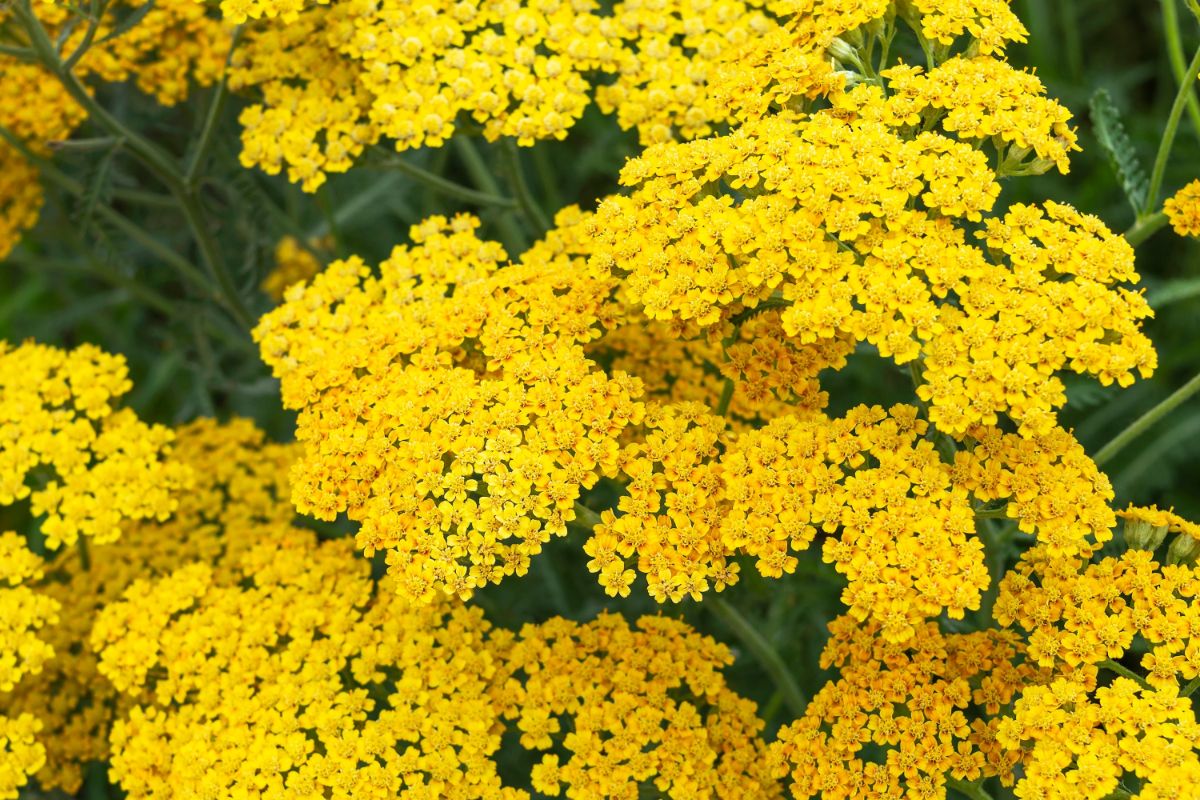 You can't have a top ten list of best yellow perennial flowers for a vibrant garden without including Achillea millefolium. It is the favorite of many gardeners because of the bright rays it brings to the garden, like the sunshine. No wonder it is popularly called Firefly Sunshine among growers.
One of the most interesting features of yarrow is the long-lasting color it brings all summer long. It produces bright yellow blooms that contrast with its dark gray-green foliage.
In other words, it produces many beautiful colors, but its yellow color stands out and gives the garden a very vibrant appearance and mood.
Native to North America, yarrow is a perennial most popular among pollinators, thrives under full sun, hardy to zones 3 to 8, and flowers from early to late summer. The achillea millefolium specie also grows best under well-drained loamy soil and can grow up to 24 to 48 inches tall.
In addition to its exciting features, this specie produces tiny, tightly-clustered flower heads rising over their clusters of ferny foliage.
Hence, when growing, place them about 1 to 2 feet apart, considering they are rapid growers and divide them every three to five years if you want to maintain their vigorous growth.
5. Corydalis (Pseudofumaria lutea)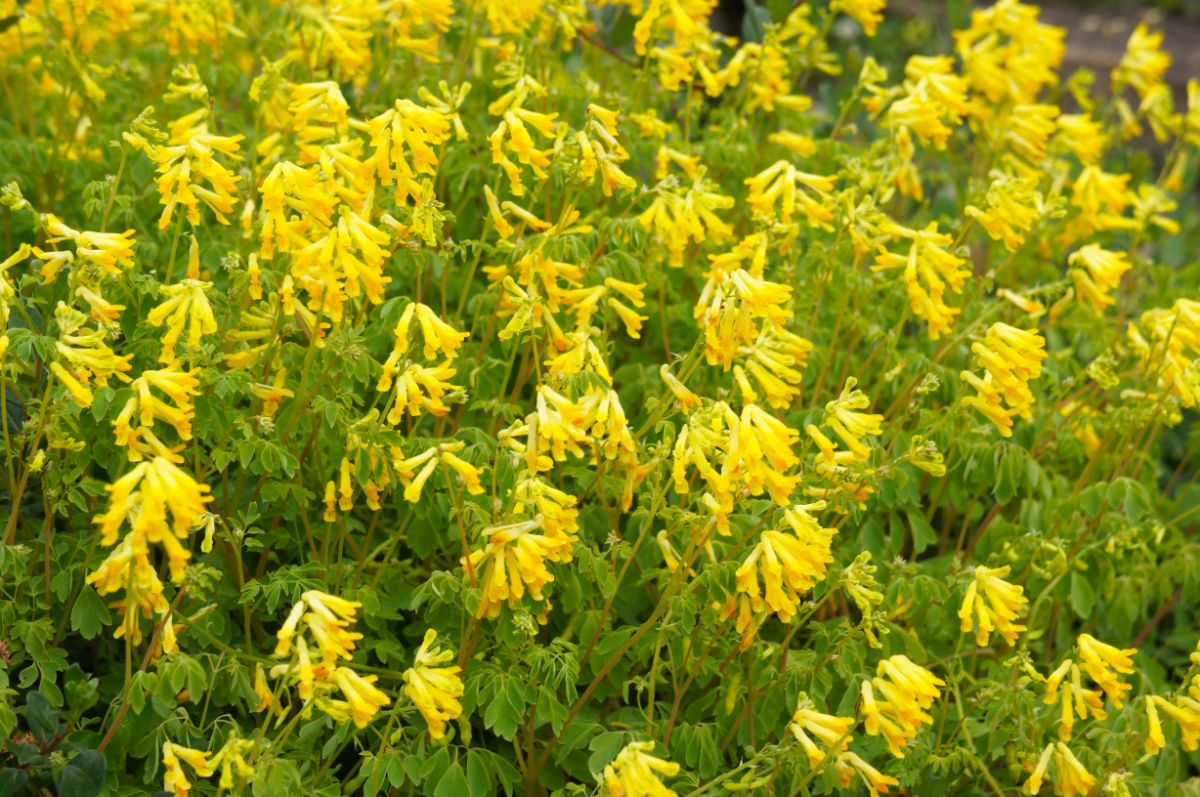 The Corydalis is a beautiful yellow perennial flower that deserves to be among the top of the plant itinerary for a vibrant garden.
This specie features unique features, including a long blooming period. It comes with bluish-green fern-like mounding foliage that offers a very gorgeous appearance even when it is not in bloom.
However, whenever it starts flowering, it produces many yellow blooms that dangle from the stem in impressive bright cascades. Its bright golden yellow tube-shaped blooms can grow up to 1 to 2-inch-long and has a spur on the back.
Every stem rising from the foliage carries 5 to 15 of these blooms in a delicate, exciting balance.
Meanwhile, the Pseudofumaria lutea is most suitable in walkways, paths, borders, and stone walls. However, its 18 inches height makes it perfect for most gardeners to use as an understory plant just beneath taller perennials such as daylilies and peonies and is hardy to zones 5 to 8.
6. Shasta Daisy (Leucanthemum superbum)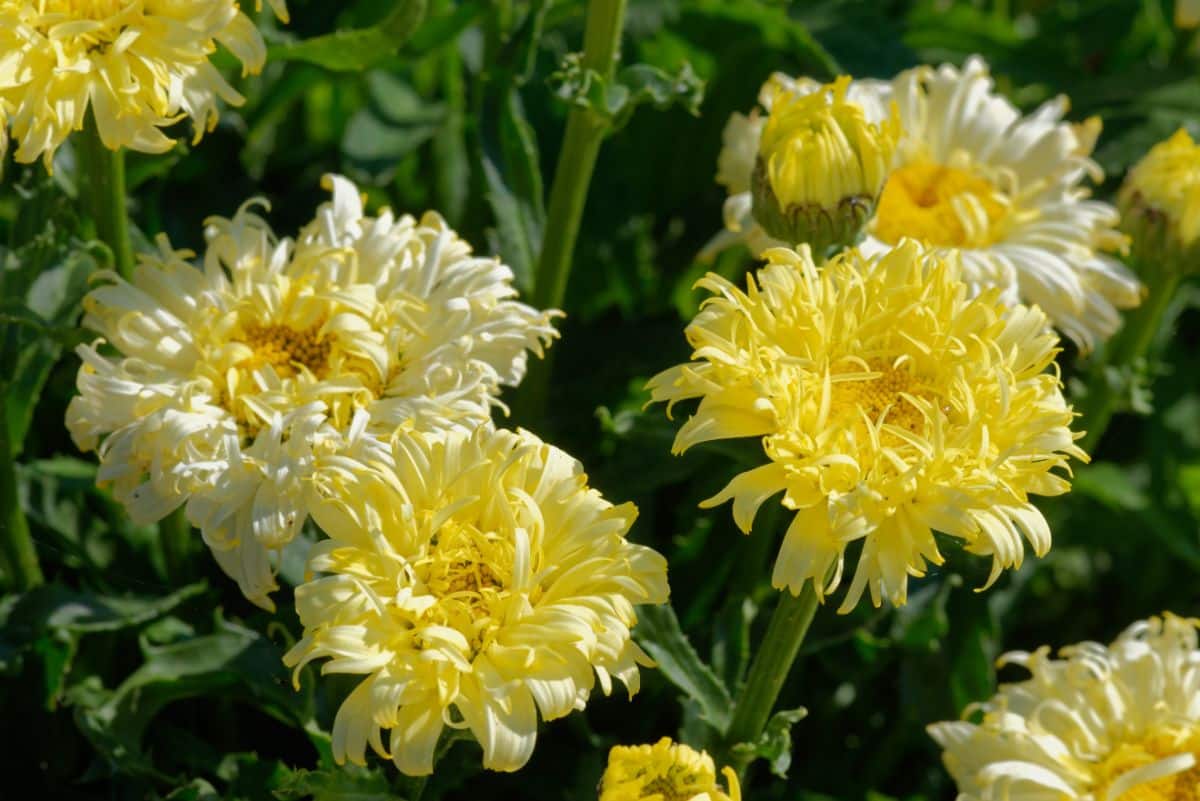 There are different varieties of Shasta Daisy, including its classic white specie with a yellow center. However, as long as it's a gorgeous yellow variety, "Banana Cream" is perfect for any vibrant garden. This variety comes with light buttery yellow flowers morphing to white while they mature.
These lovely species very much attract pollinators; hence, it would be best to grow them around the yard or in a pollinator garden.
Leucanthemum superbum are giant perennial flowers that can grow as tall as 3-feet in height while the blooms are seen on top of the stems. Meanwhile, its ability to change colors makes it attractive as it makes it look like you have two flowers in one plant.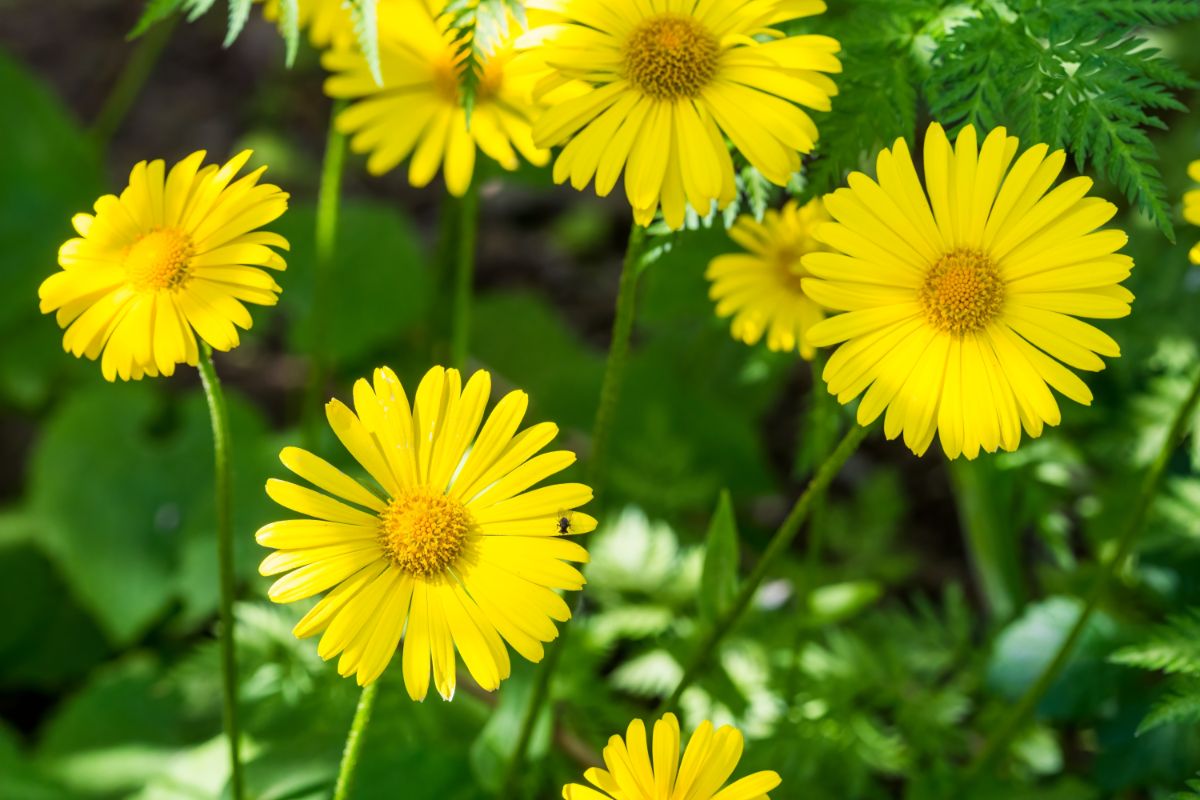 Scientifically known as anthemis, the Golden marguerite is a beautiful single-growing yellow flower featuring a wonderfully divided pungent foliage like that of a fern. These species are amongst the top yellow perennial flowers that will give your garden a vibrant feel.
They are rapid-growing blooms forming carpets of flowers, which serve as protection for a sloping hill. It produces lovely bright golden yellow flowers, which is why it is called Golden marguerite, and these blooms are said to last throughout the summer, added to the fact that it is pest-free.
Hardy to zones 4 to 10 and native to North America, the anthemis specie is an excellent long-blooming plant in a cottage garden setting.
It thrives under full sun and well-drained, evenly moist soil. You can begin planting seeds indoors 2 to 4 weeks before the last frost season. Meanwhile, the plant can grow as tall as 24 to 36 inches tall and wide.
8. Yellow Daylily (Hemerocallis lilioasphodelus)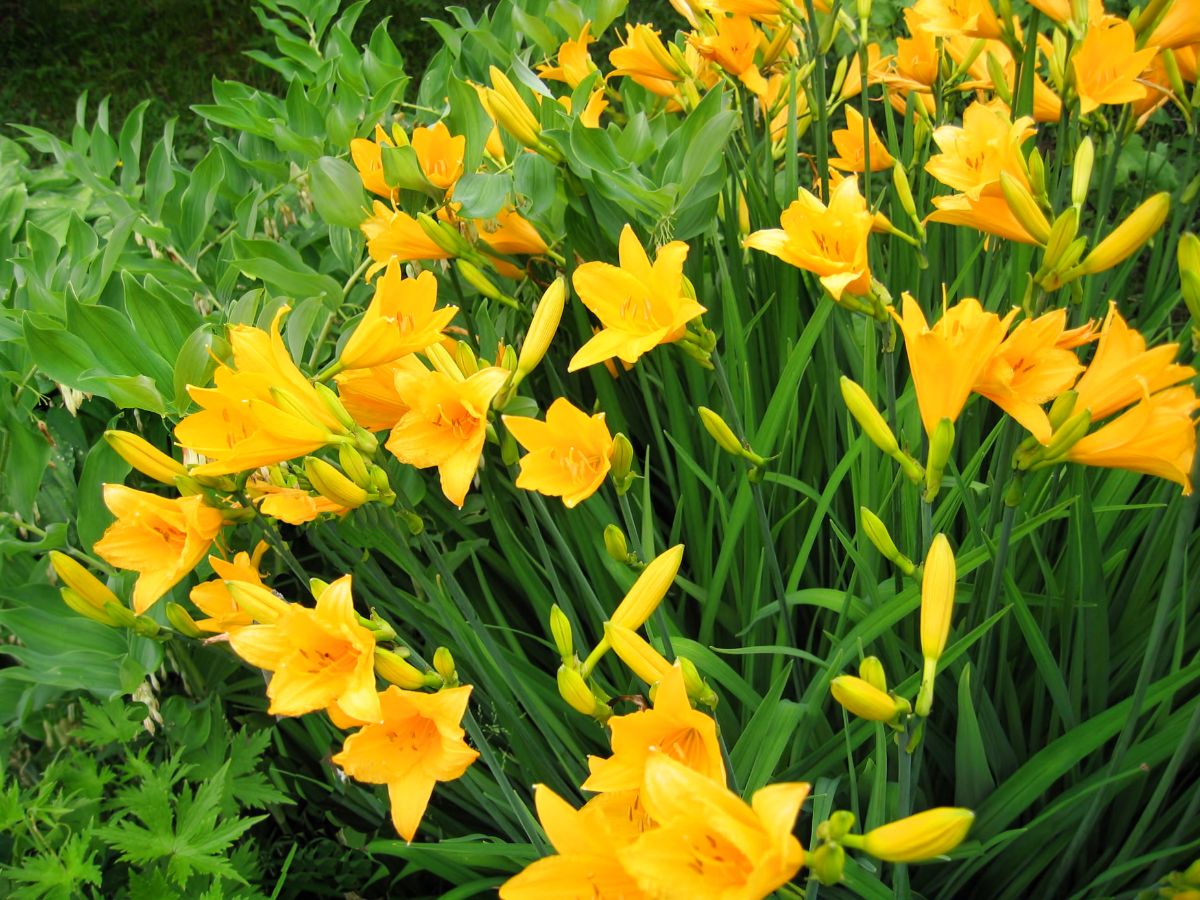 If you are looking for a perfect perennial flower that can give your garden a vibrant and befitting look, do not look past Yellow Daylily.
It is one of the best yellow perennial flowers you can ever grow in your flowerbed, as it produces the most attractive bright yellow blooms of medium size.
Hemerocallis lilioasphodelus is a medicinal perennial plant with long strap-like green leaves and flowers that can only last one day; hence its name "daylily."
However, each plant is capable of producing many flowers or buds you will hardly notice. Hardiness to zones 3 to 9; the yellow daylily prefers full sun.
This plant can grow up to 20 inches tall and prefers a more organic loam and well-drained soil. It is suitable for planting in containers, rock gardens, or borders and can be planted in clustered groups.
Make sure you remove the old or dulling flowers to help maintain your plant's healthy state and continuous flowering.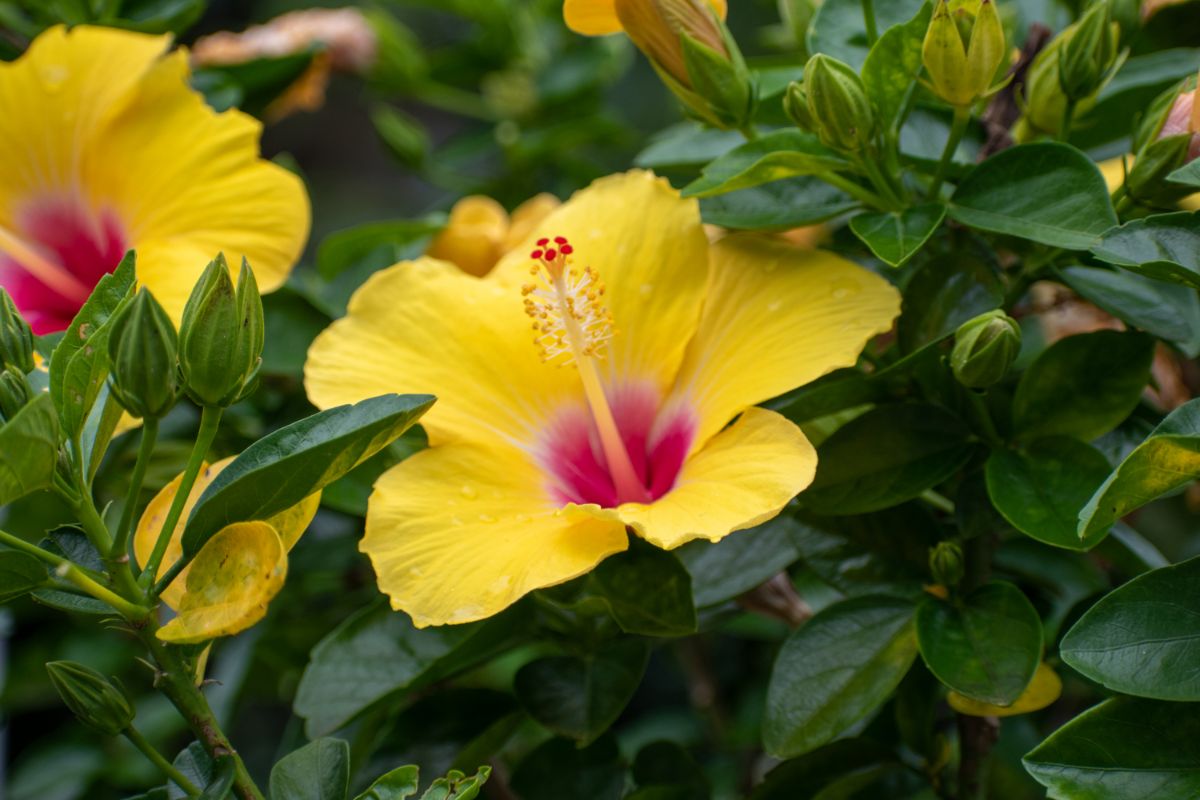 Another wonderful yellow perennial flowering addition to giving your garden a vibrant feel is the Hibiscus. Meanwhile, this specie has several varieties; therefore, you must ensure you get Hibiscus moscheutos specie for the cold-hardy perennial.
On the other hand, the hibiscus rose-Sinensis offers a perfect addition to the standard landscape; however, it is annual in several regions except for zones 10 to 12. Hibiscus species have just one yellow perennial variety called "Old Yella," which features pale yellow blooms that look white.
The most exciting part is that you must go closer to appreciate its uniqueness and beauty.
The center of the old yella specie is crimson red, which adds a fantastic contrast that only gives it a more attractive look. The flowers can grow up to 12 inches and is hardy to zones 5 to 9.
10. Climbing Rose (Rosa Graham Thomas)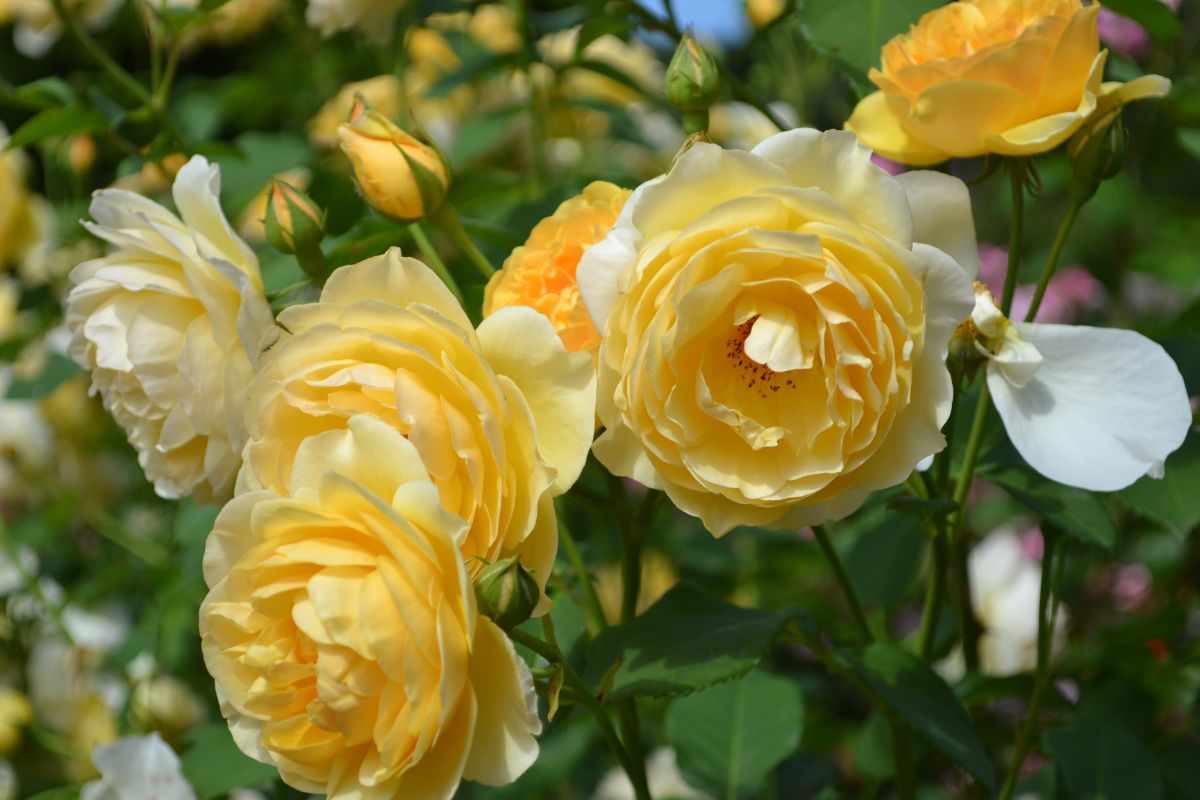 Few flowers are quite as gorgeous as a rose, especially when the rose is Rosa Graham Thomas. Also known as the Climbing Rose, this perennial is a beautiful yellow bloomer that grows in hardiness zones 5 to 9, thrives under full sun or partial shelter, and loves to grow best in well-drained, moist, and fertile soil.
Rosa Graham Thomas species has a height ranging from 36 to 72 inches and can be bred as a vining plant. It can be slightly pruned by reducing side shoots by a half or one-third.
This perennial is suitable to grow in hedges for perfect results, as companions in mixed borders, or as specimens.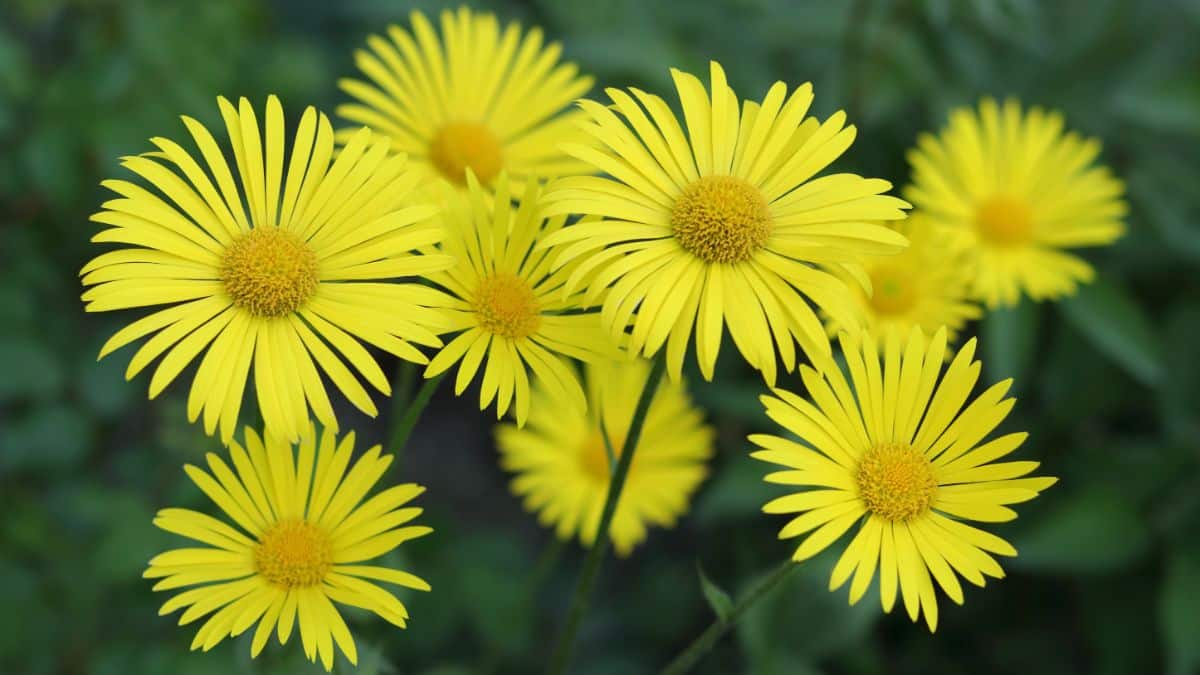 If you are looking to give your garden a vibrant feel, then you must consider adding this beautiful yellow perennial flower, otherwise known as Leopard's Bane, to your collections. This specie blooms from early spring to late spring and thrives under full sun to partial shade.
It is called Leopard's Bane because of its beautiful shades of colors like that of leopard, which help to give any garden a great appearance.
It can grow up to 1 to 3 feet in height and 2 feet wide. It stresses under a heat and humid atmosphere and thrives in cooler climates; hence a cooling mulch looks perfect. It is hardy to zones 3 to 9.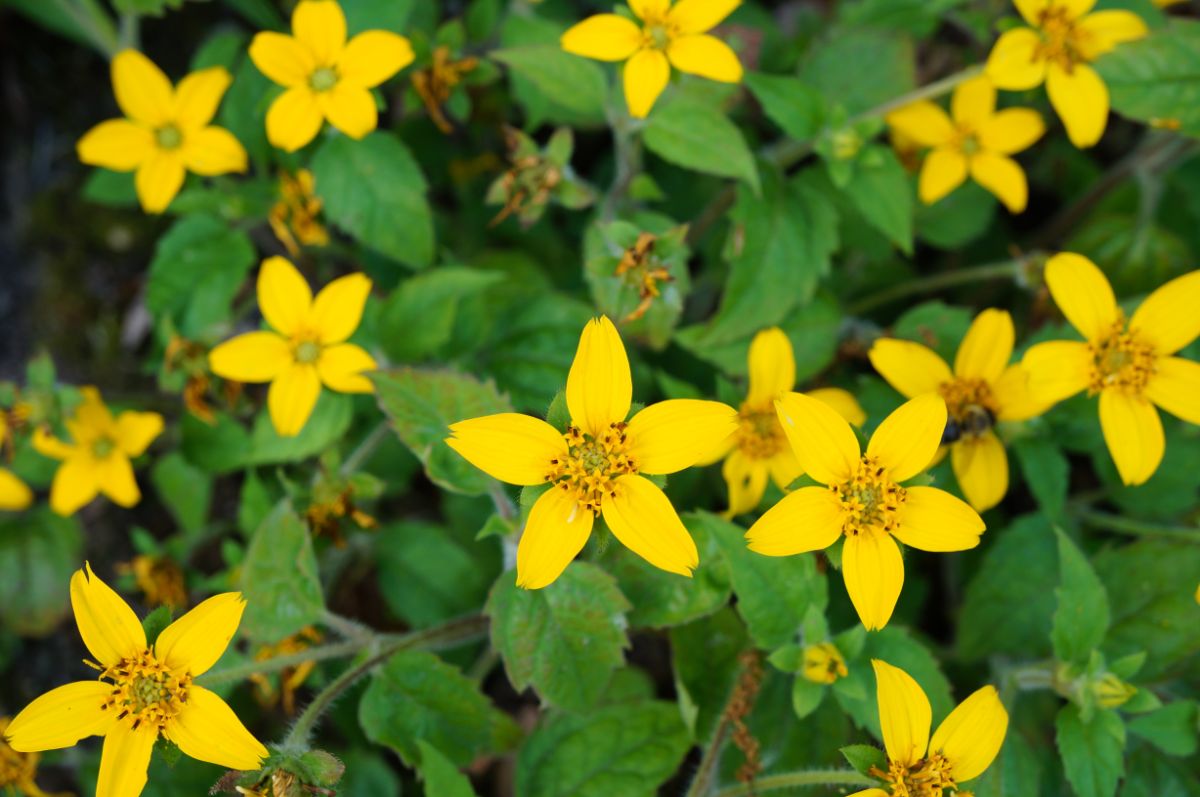 For a vibrant garden, don't look past this gorgeous blooming perennial, otherwise known as Golden Knee. It is a low-growing perennial plant usually planted as a groundcover and is the favorite for most yellow-loving gardeners.
Also known as Goldenstar, the chrysogonum virginianum features several bright golden daisy-like blooms, which can be found many inches above the grayish-green leaves that appear on tall hairy stems. It possesses abundant lovely blooms that will interest everyone that sets eyes on them.
The golden knee specie is suitable for growing in a shade garden, thrives alongside a border or in a pollinator garden, and is hardy to zones 5 to 9. Unlike some other perennials, it is not attractive to deer and hence will produce free-growing lovely yellow blooms.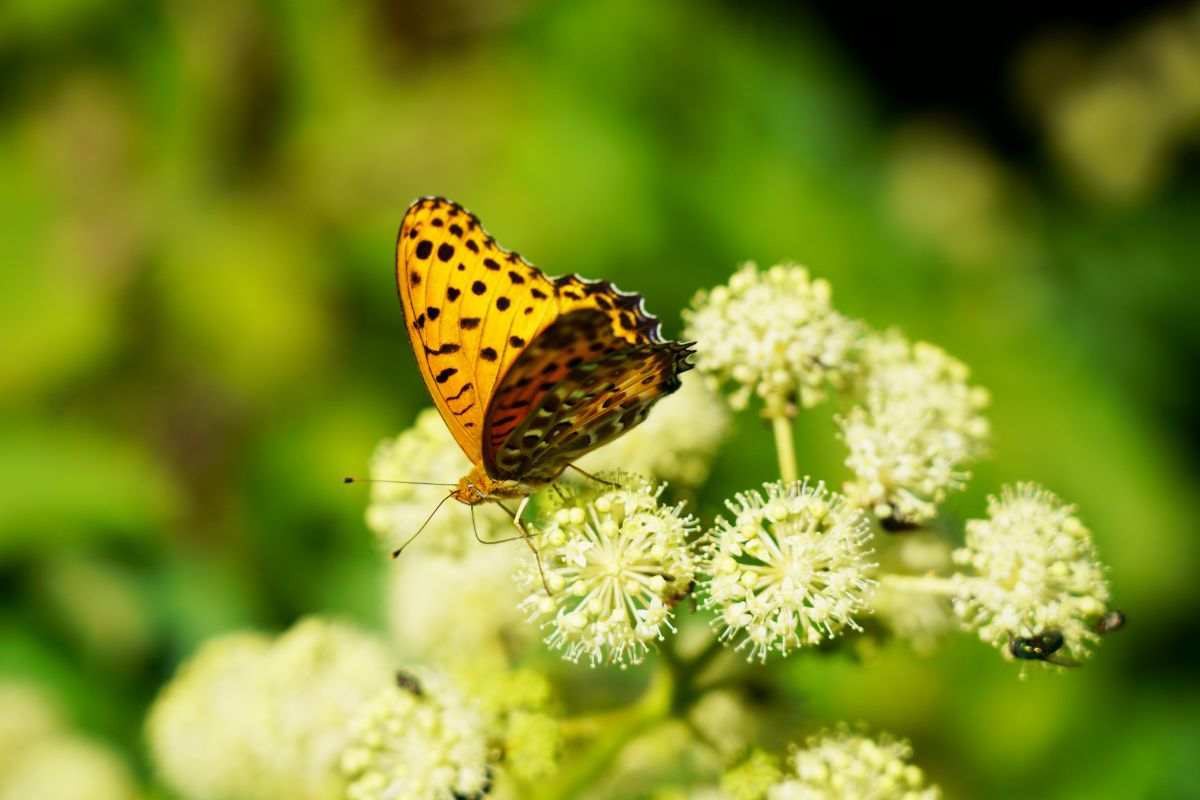 There is a reason why this beautiful yellow perennial flowering plant is called Sun King. It is a hardy, tropical-looking plant that produces glittering flower rays that brightens up the shade garden thanks to its big, compound, bright gold leaves.
It produces a greener color when you grow them in deep shade, but for the best brightness, you can grow them in a partially shaded area. Its tiny white blooms produce purple-black berries during the fall.
The Aralia cordata is hardy to zones 3 to 9 and flowers from mid to late summer. Try this perennial in your flower bed, and thank me later.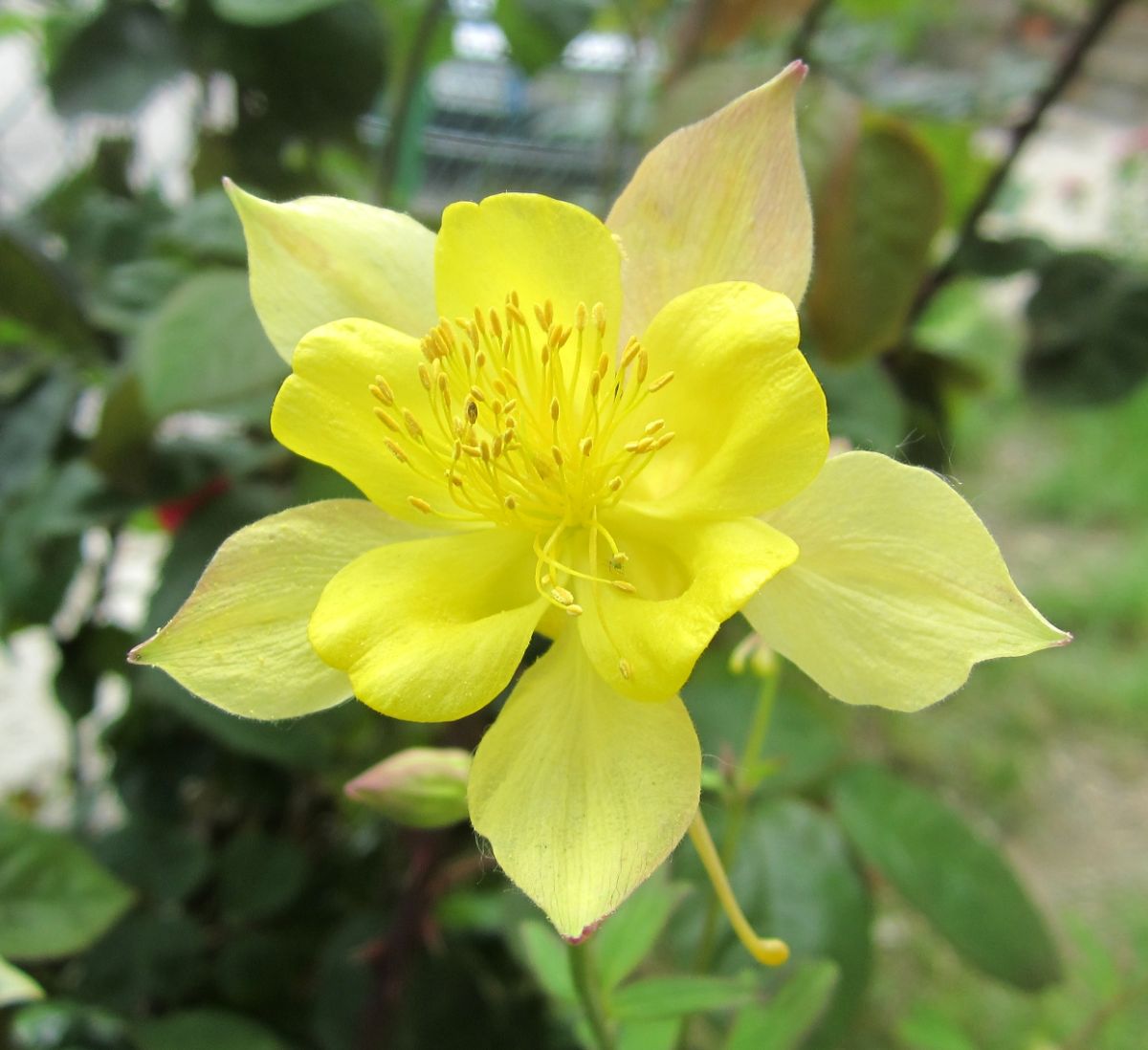 Have you considered adding Wild Columbine to your flowerbed? It will surely give your garden a vibrant feel with its gorgeous yellow perennial flowers and delicate looks.
Scientifically called Aquilegia canadensis, the wild columbine makes for a great addition to perennial borders and wild cottage-style gardens.
These perennial species produce bright blooms featuring five petals that spread about 1 to 2 inches wide.
The blooms are attractive to hummingbirds, hawkmoths, and pollinators like butterflies and bees. Hardiness to zones 3 to 8, the wild columbine thrives under full sun or partial shade, which prolongs their flowering season.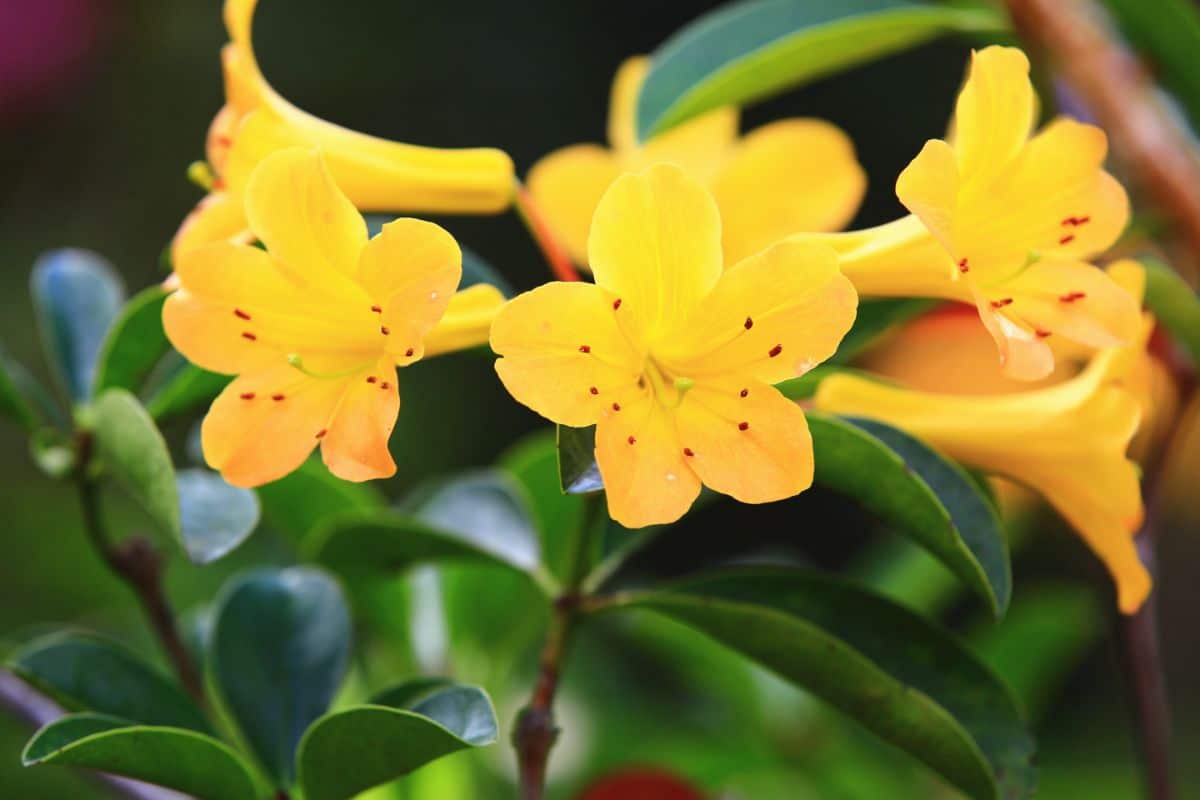 You must have heard of the Azalea species, among the most popular perennial plants you will ever find.
Rhododendron species are great yellow perennial flowers that give your garden a vibrant feel and appearance. Once the azalea begins to flower, it shows that the spring season has come.
The azalea comes in great clusters of beautiful flowers suitable for landscape designs; however, many gardens go for the pink or purple species.
Yet, azalea species has several incredible yellow cultivars that make for a stunning addition to a vibrant garden ranging from boldly yellow to creamy, mellow yellow.
Azalea varieties include the King's Wizard, which produces pure yellow-gold colors, and the Lemon Lush specie, producing light and creamy colors.
There are also the Canary Isles species with light-yellow colors and orange tips and Admiral Semmes with deep yellow trumpet-shaped blooms. These species are hardy to zones 6 to 10 and grow very large.
16. Dutch Hyacinth (Hyacinth orientalis)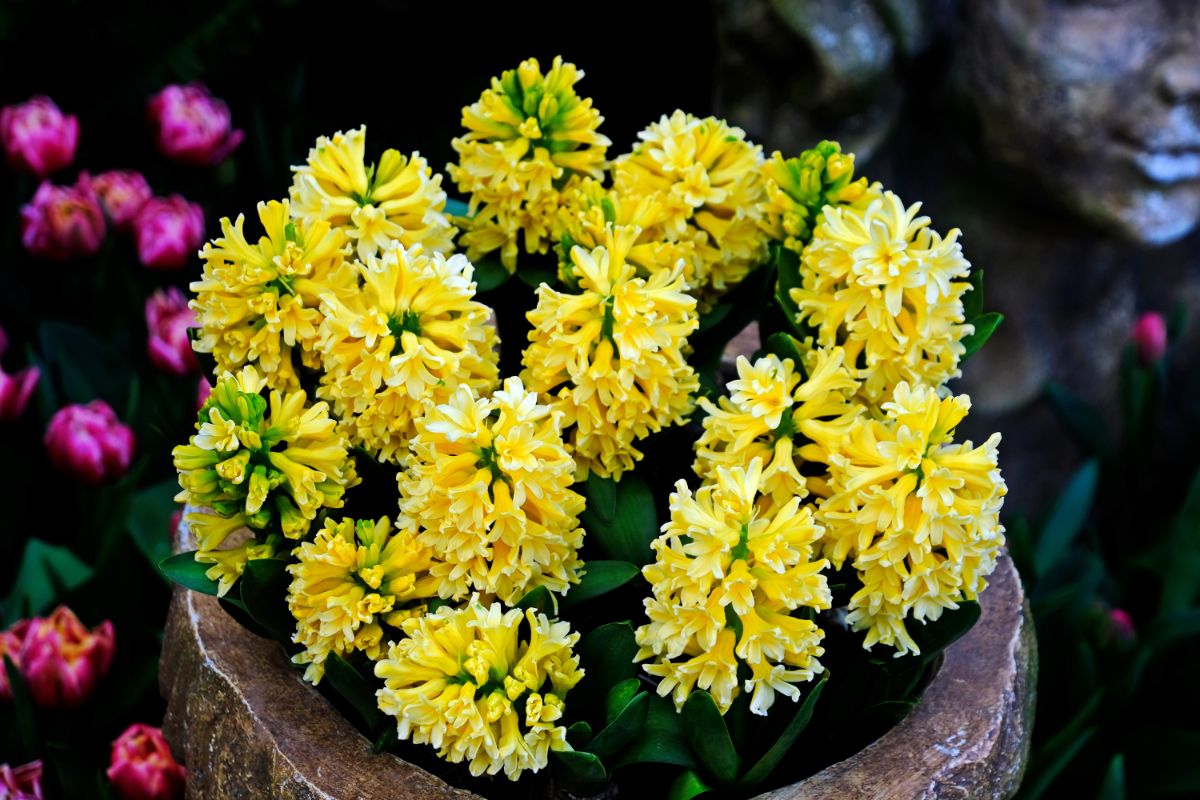 Unlike many other varieties, this yellow perennial specie offers a rarer color form yet is among the most gorgeous. Dutch Hyacinth produces blooms that resemble little bells almost floating atop their bright green, lance-shaped leaves.
Another exciting feature of Hyacinth Orientalis is that it oozes a great fragrance, making it a very enticing prospect to grow close to a doorway or along a footpath. Hardiness to zones 4 to 8, this specie will need to be protected during the winter months, especially in something less than zones 5.
Again, by applying straw mulch to the soil, you will be protecting the Dutch Hyacinth from any form of frost damage.
Meanwhile, this plant can grow as tall as 6 to 10 inches in height, thrive in well-drained, average, moist soil, and prefers full sun or slightly shaded area. It is best grown in groups of at least five in borders, beds, rock gardens, or even containers.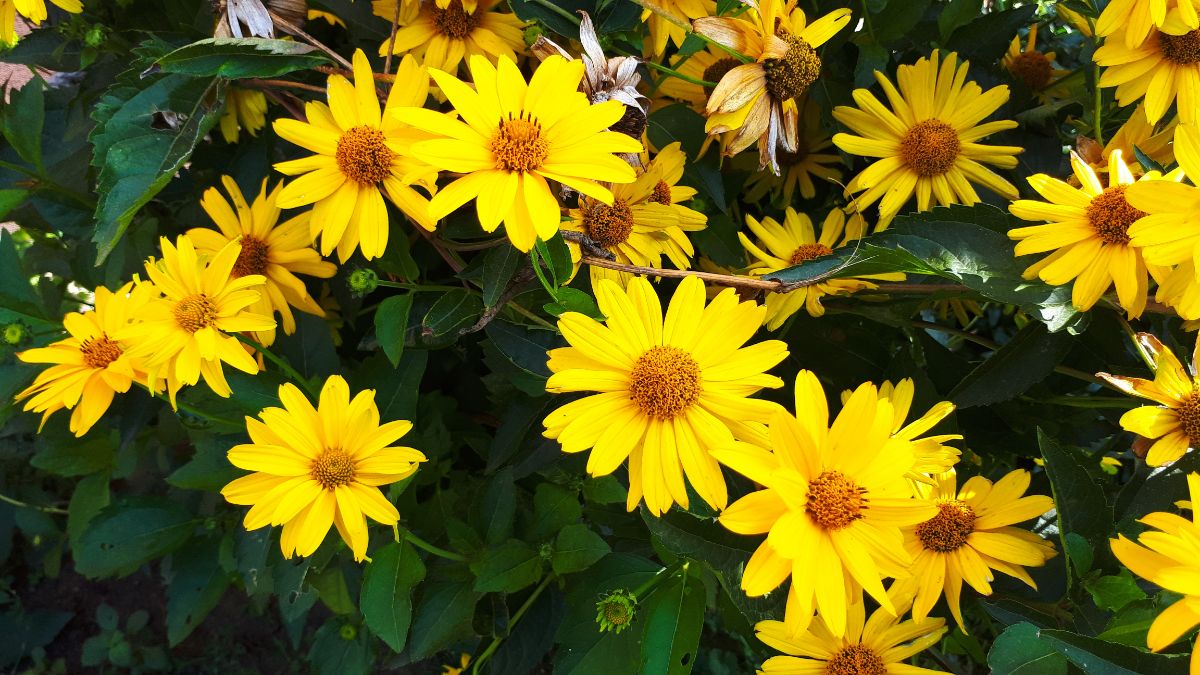 It will surely do your garden a whole lot of good if you add this fantastic specie, otherwise known as False Sunflower, to your flowerbed collections. It is a perennial that produces sunny yellow flowers featuring golden centers and matching eyes.
Heliopsis helianthoides are made up of Tuscan gold blooms that stay compact and grow uprightly in dark green leaves. It is resistant to powdery mildew and offers an excellent bloom for bouquets.
Offering more giant blooms than the Tuscan Sun variety, the false sunflower thrives under full to part sun, hardiness to zones 4 to 9, and blooms from mid to late summer.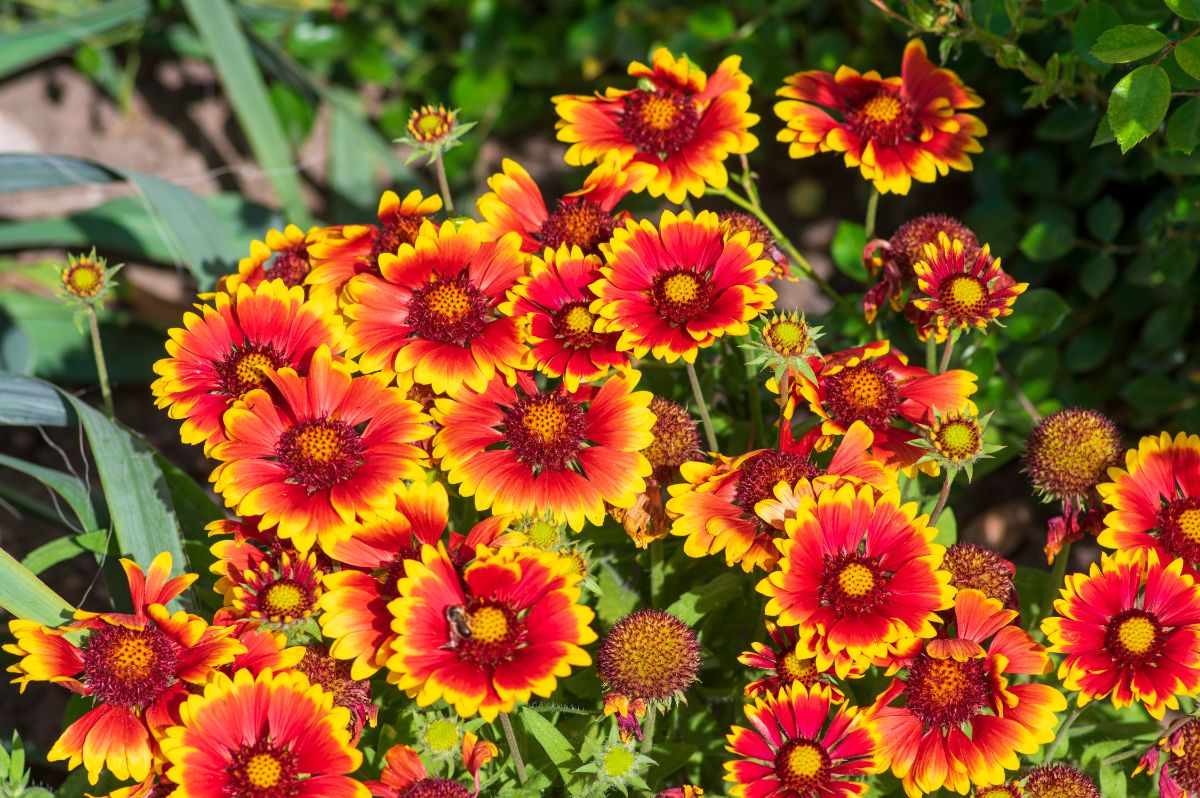 Some people tend to mistake this beautiful specie for the annual gaillardia. However, the blanket flower offers much more than that, as it will always return yearly.
This stunning perennial plant produces great combinations of yellow, red, and orange daisy-like flower heads. Meanwhile, it can grow as tall as 2 to 3 feet tall and 2 feet wide.
If you are among those that are not cut out for deadheading, then you can make this plant your favorite since it will keep producing flowers, whether deadheaded or not.
Gaillardia Grandiflora is hardy to zones 3 to 10, thrives under full sun, is drought tolerant, and demands extremely well-draining fertile soil.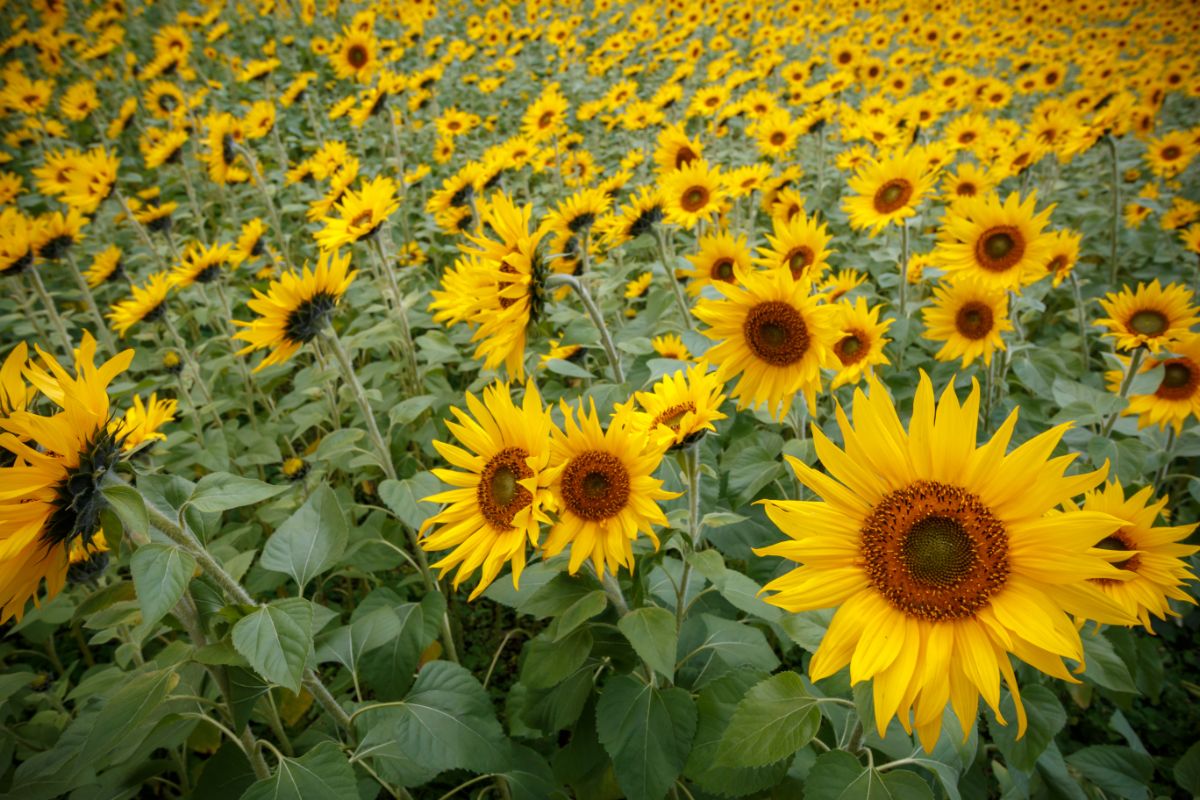 Behold! The almighty helianthus perennial specie. It is called sunflower for a reason. This is primarily because it produces blooms that brighten up its area like the sun gives light to the world.
Most sunflower species can grow as tall as 2 to 3 feet in height, while others can even grow taller than that.
The helianthus specie is a late summer bloomer that does best under full sun and flowers for four weeks and above.
Meanwhile, they can survive in virtually any kind of soil except for dry soil unless you water them as often as possible. The sunflower will surely give your garden a vibrant feel.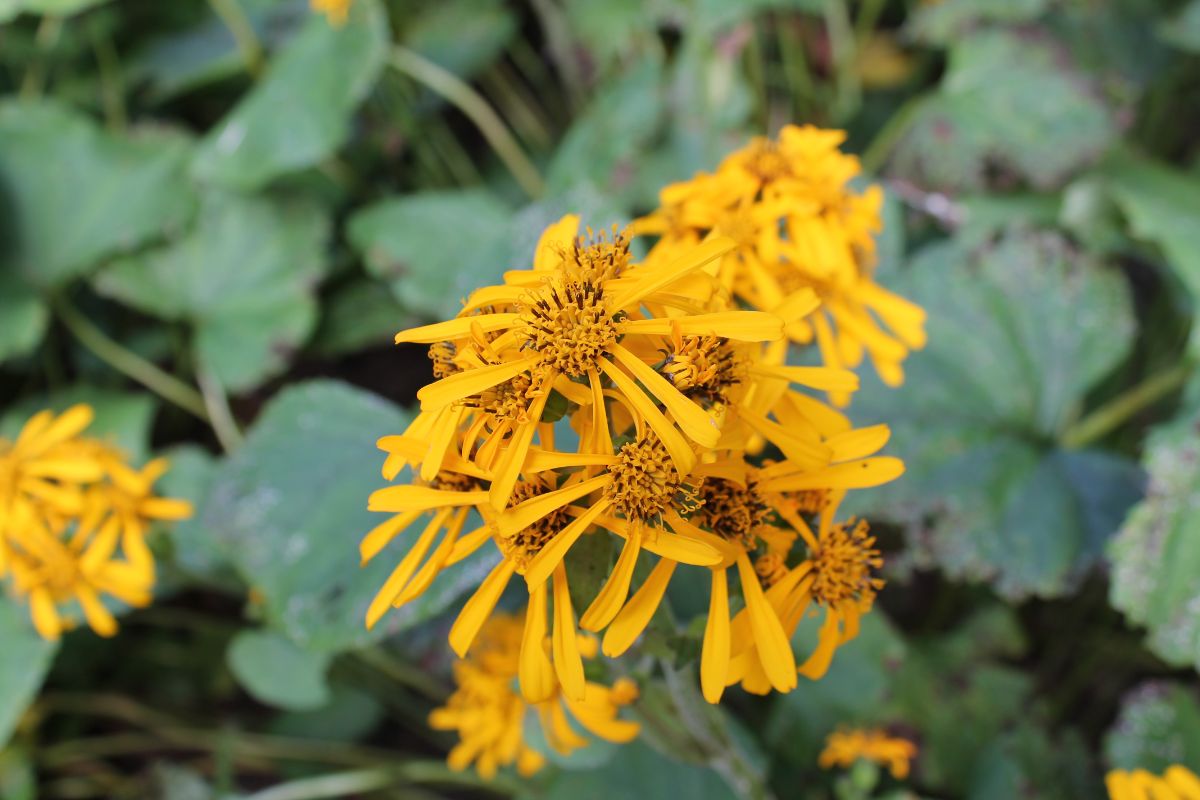 Are you searching for a plant that displays attractive foliage and flowers? Then you should look no further than Leopard Plant.
Scientifically known as Ligularia stenocephala, this beautiful yellow perennial species features large leaves that are toothed and heart-shaped. This plant is so unique that it looks attractive even when it is not producing flowers.
During the late spring, ligularia stenocephala glitters and produces five-foot-tall spikes of lemon blooms, which develop from the foliage, and vividly display themselves to the world.
Meanwhile, this specie features several colors, including the three most beautiful colors of the rocket, Osiris fantasie, and Desdemona. It is hardy to zones 3 to 9.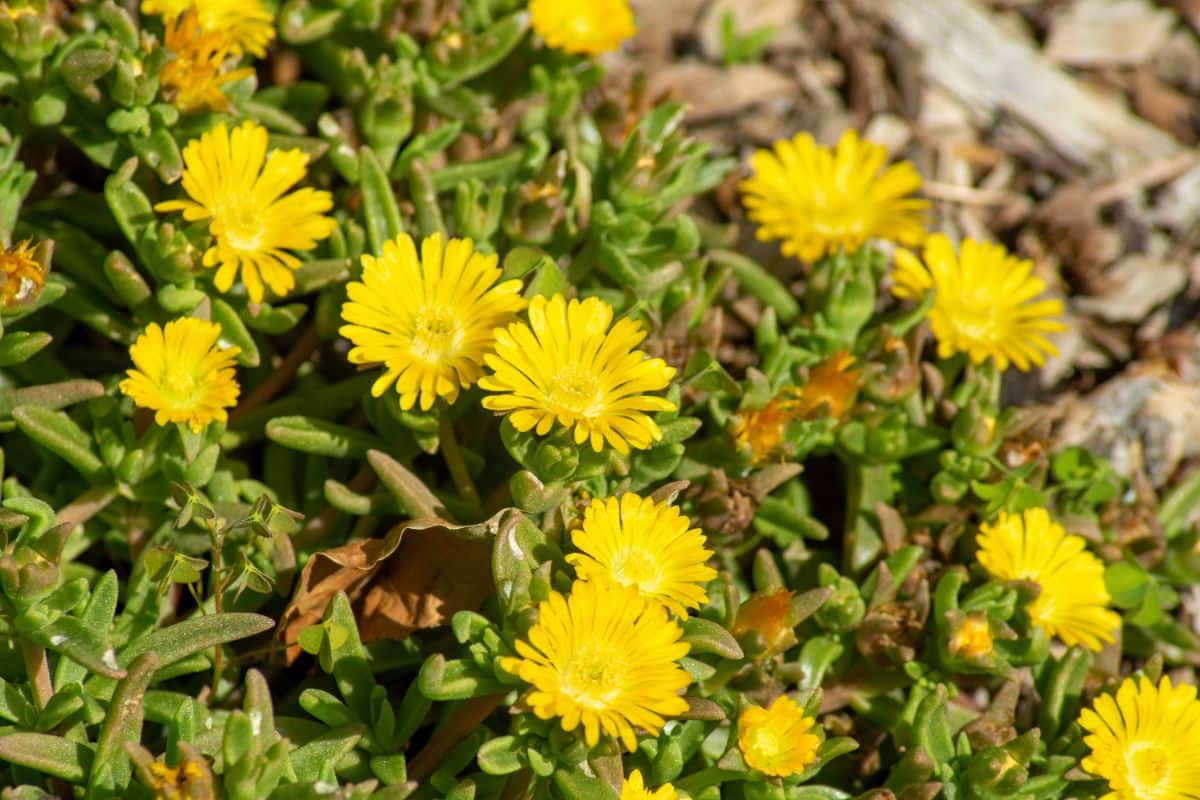 This is a beautiful drought resistant yellow perennial that will give your garden a vibrant feel and appearance with its colorful blooms and daisy-like flowers. Scientifically called Delosperma, the Hardy Ice Plant flowers in stunning shiny colors of purple and yellow, thus beautifying any garden.
Because of its attractive color combinations, it is regarded as an ornamental plant. Meanwhile, its blooming period is from 4 to 5 weeks, and it grows as tall as 2 to 6 inches in height.
It thrives under full sun and does best in moderately well-drained soil but won't survive in moist soil. As soon as they are matured, reduce the watering routine.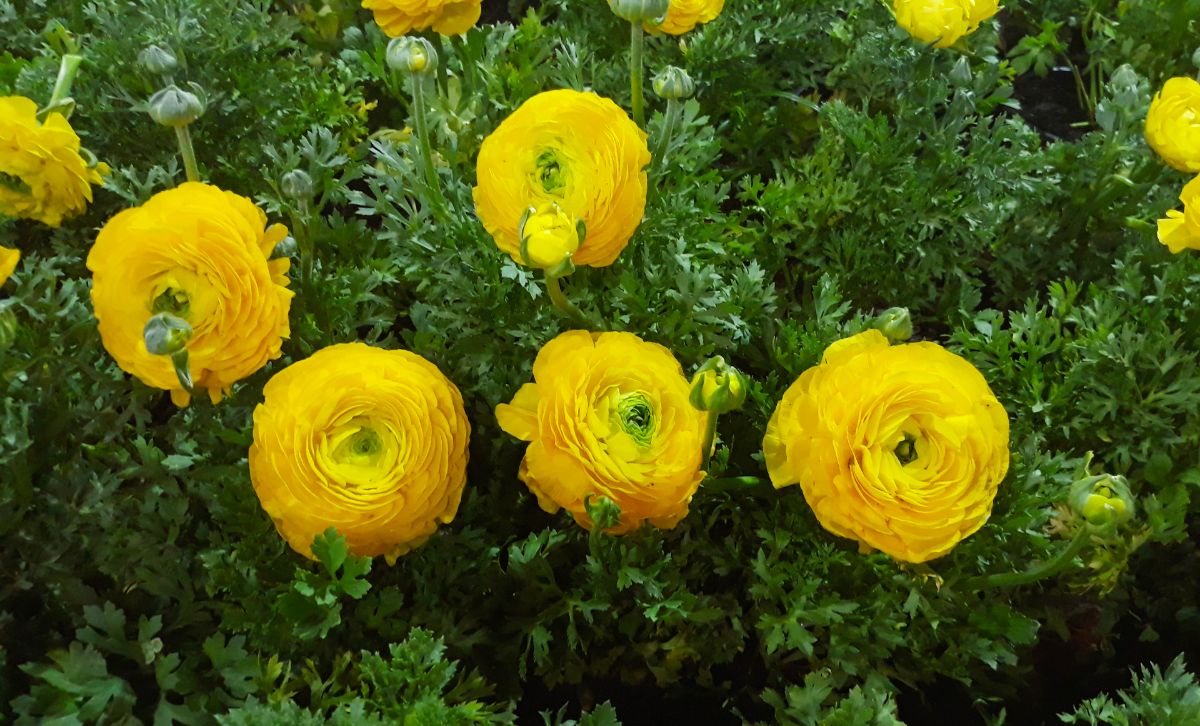 Consider making your garden a vibrant one by adding this outstanding perennial plant to your flowerbed. Persian Buttercup is a rapid and bountifully growing specie that is a super long bloomer, as it can last at least 6 weeks, as well as produces huge lovely yellow rose-like blooms.
It is a tuberous rooted plant featuring lush foliage and produces flowers during early to mid-summer. It can grow as tall as 12 inches high and prefers milder to colder climate regions of zones 8 to 11.
It does best in well-drained, average, moist soil and thrives in full sun. The Ranunculus specie is suitable for garden beds, borders, and even containers.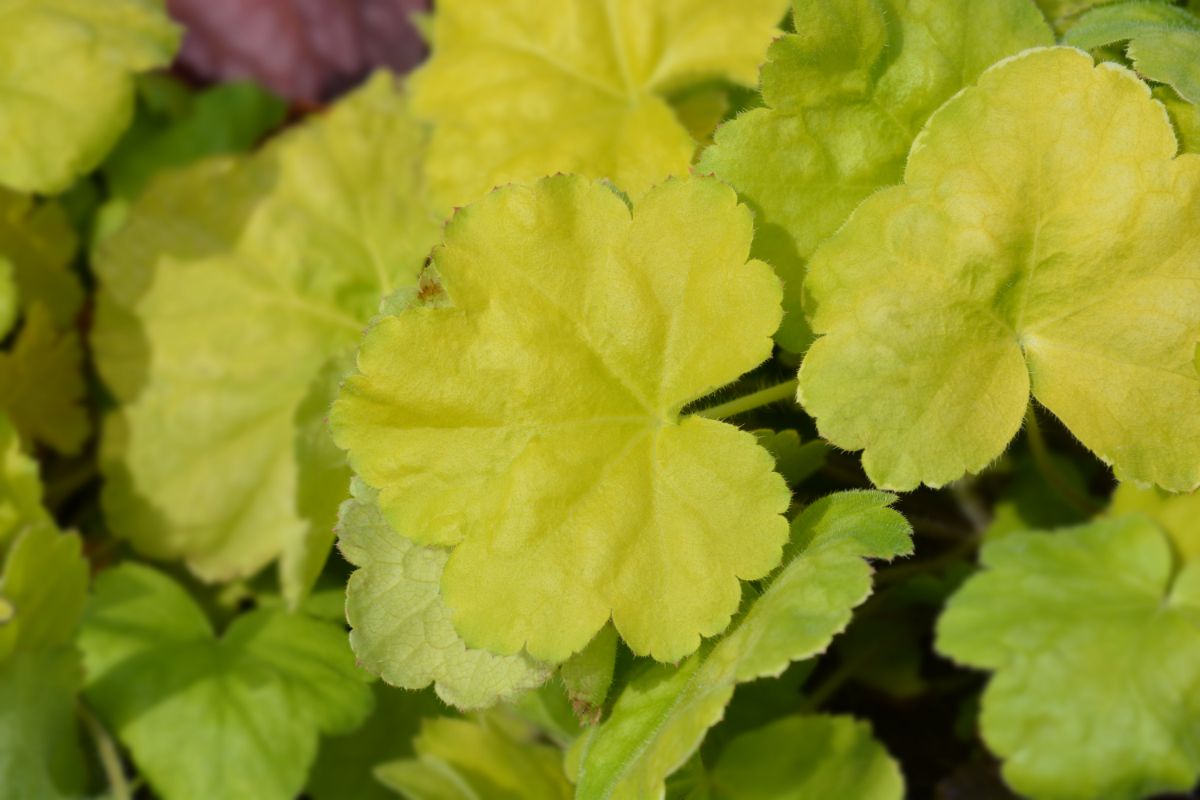 Also known as Coral Bells, the Apple Twist is yet another attractive yellow perennial flowering plant that you can add to your flowerbed for a vibrant garden.
The most exciting part of this specie is the fact that it changes color all season, and fresh developing leaves feature red veinings that shine brighter with age.
The Heuchera features very wavy, rippled chartreuse-yellow leaves that change to apple green with age. It produces bright, dense flowers with great vigor and prefers part sun to full shade. This species is hardy to zones 4 to 9 and primarily has flowers during the mid-summer.
24. Willow Leaf Sunflower (Helianthus salicifolius)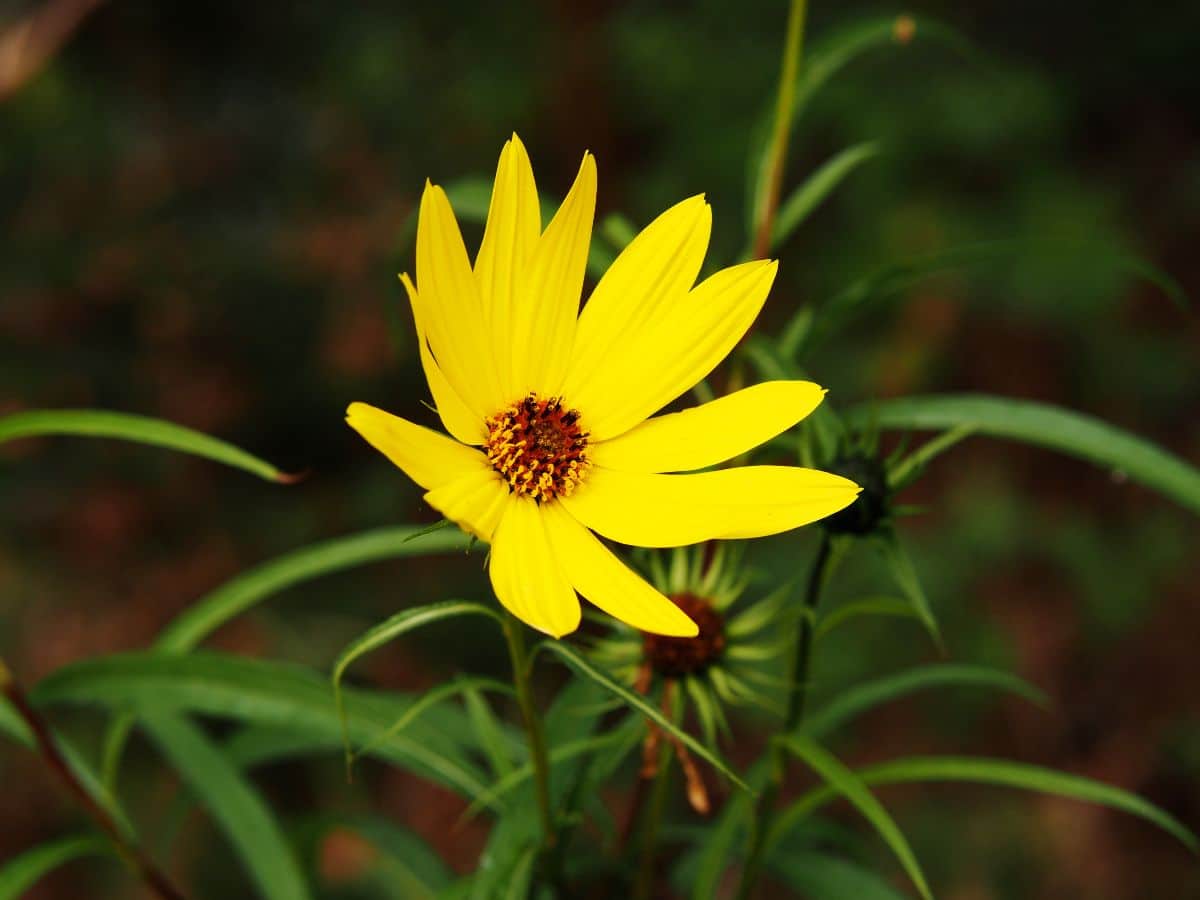 Yet another beautiful sunflower variety featuring yellow perennial flowers for a vibrant garden. The Helianthus salicifolius features a bright golden yellow, daisy-like flower head with long, narrow leaves. It produces large yellow perennial blooms, while only a plant can produce a fantastic display.
Willow Leaf Sunflower has attractive yellow petals that draw pollinators like bees and butterflies.
It is hardy to zones 4 to 9, thrives best under full sun, requires little water with maturity, and survives under moist, well-draining soil. Meanwhile, helianthus salicifolius can grow as tall as 5 to 6 feet tall and 3 feet wide.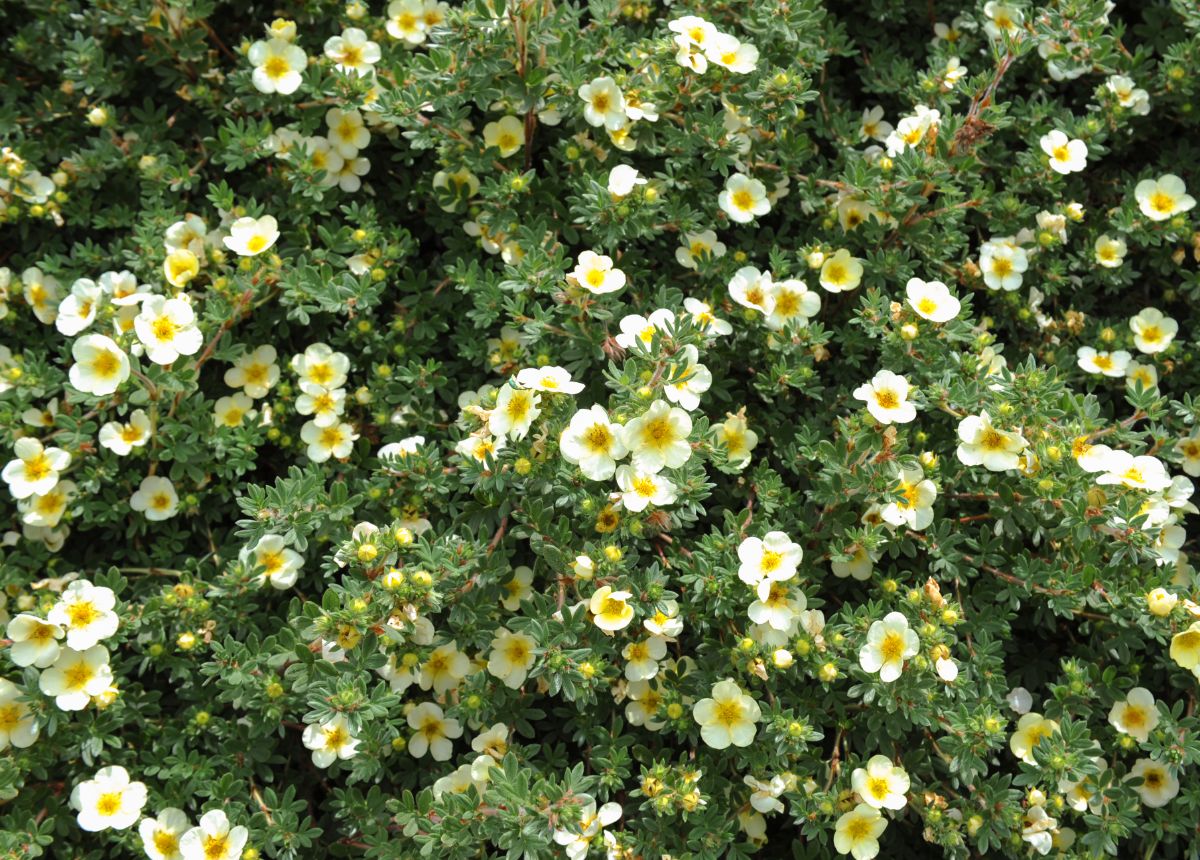 Among the top yellow perennial flowers for a vibrant garden is the Bush Cinquefoil specie, which is a shrub in the rose family.
This perennial is mostly unique for producing numerous amazing buttercup-like yellow flowers for many weeks or even months in the summer season.
Because of its prolific production of blooms, it came to be called Bush Cinquefoil. Meanwhile, its bushes can grow at about 2 to feet tall and possess tiny branches featuring deep green fingerlike leaves contrasting perfectly with the sweet yellow flowers. It is hardy to zones 2 to 8 and drought-hardy.
Potentilla fruticose is best planted in open mounds and is most suitable as a hedge or border plant. It is quite attractive to pollinators like bees, especially butterflies, which feed on the plant.
Bush cinquefoil is made up of two excellent cultivars that have golden yellow blooms, namely: Goldfinger and Gold Drop.
Yellow Perennial Flowers Key Care Guides
Almost every, if not all, yellow perennial flowering plants are very hardy plants and hence needs little attention.
They are resistant to drought and heat and even naturally resistant to deer and other animals. A closer look at our top picks of yellow perennial flowers above will tell you that they all thrive in sunny areas.
They also require alkaline soil if you want them to have your desired result. Again, since they are resistant to drought, these plants do not require excessive or constant watering.
They can even survive a little bit of neglect. In a nutshell, let's highlight the critical care guides for yellow perennial flowers to enhance a vibrant garden.
Natural Habitat/Lighting Requirements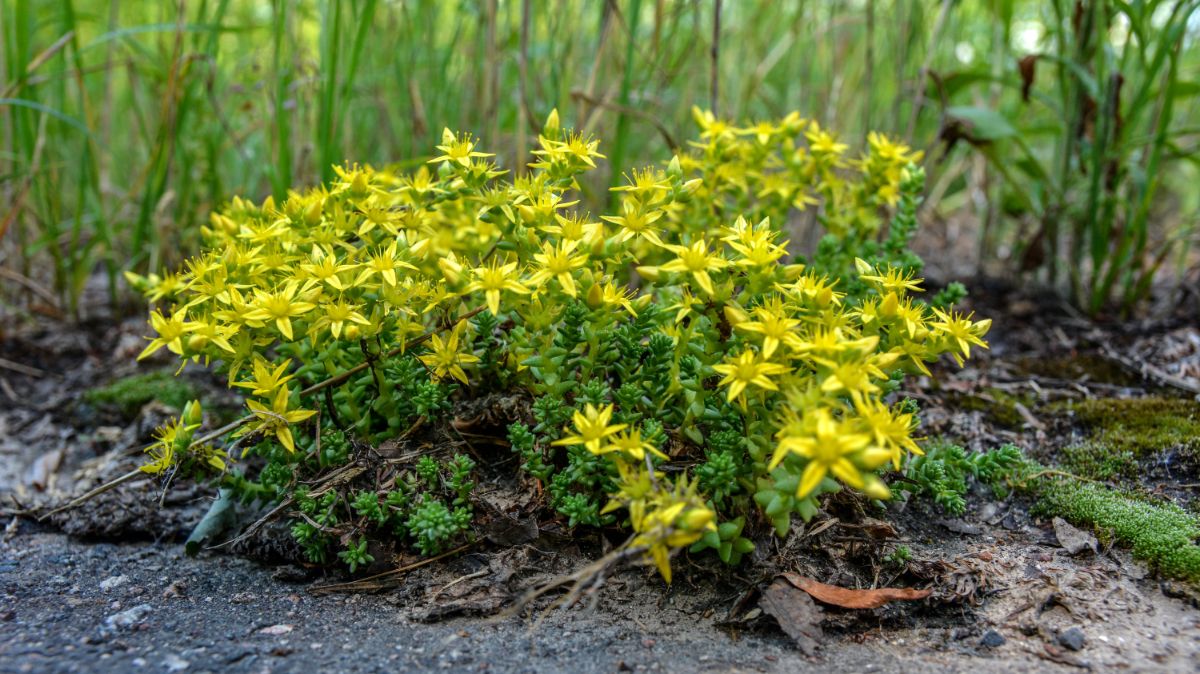 Yellow Perennial Flowers have their natural habitat in the jungle and tropical areas of North America, where they are used to the sun. You can even find some of them in the desert, where they survive long periods of drought.
Therefore if you want to get the best out of your plants or maintain their healthy state, you have to imitate their natural wildlife by planting them in the area of your home or garden where they can get full sun or partial shade (if the sun is too hot).
The best position could be on slopes, banks, beds, or borders within an informal garden setting. Some like golden marguerite look great when placed in a cottage garden setting.
However, you must note that yellow perennial flowers positioned in slightly shaded areas will not blossom as well as those kept under full sun.
So, since they have a history of being drought-tolerant, yellow perennial plants will surely do best under full sun. Hence, a garden spot with not less than 6 to 8 hours of direct sunlight daily will be perfect for them.
Soil Requirements
The best soil for yellow perennial flowers is alkaline soil. However, they can survive under different types of soil conditions. But how does it survive an extended period in its natural habitat, given that it is a place that is rife with long periods of drought and dry soil?
Well! Almost every yellow perennial features a deep taproot system, which helps them source for and has access to water deep in the soil for sustenance.
This is why they are hardy and tolerant of several kinds of soil, be it dry, porous, moist, or rich soil. They are stubborn plants, which is why they can survive independently.
Watering Requirements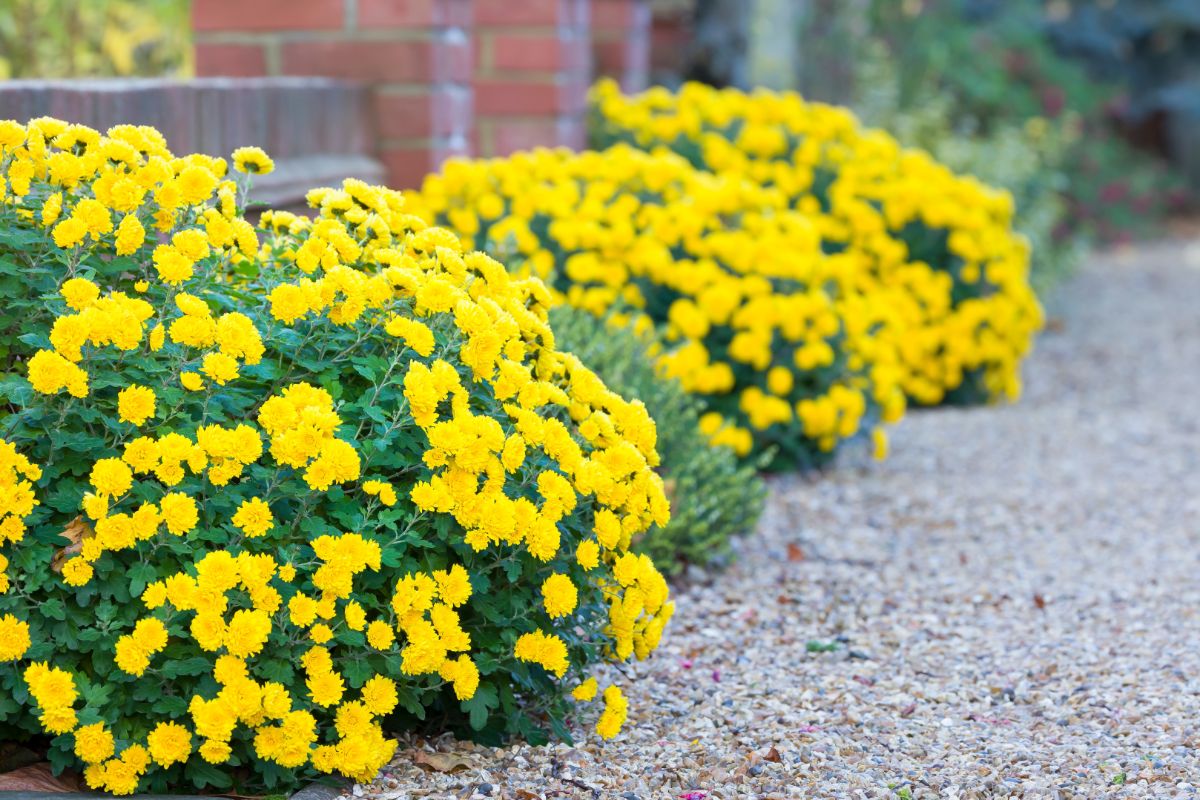 As we earlier mentioned, yellow perennial flowers are drought-tolerant; hence do not require regular watering. In other words, if you want to sustain its beauty, you must imitate its natural jungle life, where it survives long stretch without water.
The only time they require watering (yet not too often) is during drought seasons or extended periods without rainfall or when new plants are getting matured since these new plants need water to aid their growth.
In this case, you can liken this period to the time in their natural jungle when these plants source water deep in the soil with their deep taproot system.
Meanwhile, during your watering routine, you must ensure you water deeply to enable water to reach their taproots.
Most yellow perennials like coreopsis and others thrive best in well-drained, rich soil, so you must water them when the soil feels dry to the touch. Hence, the best planting season is during the spring, just after the threat of frost.
Temperature & Humidity Requirements
Temperature is an essential care factor for yellow perennial flowers as it is one of two areas (alongside humidity) where they display their hardiness.
In other words, these yellow beauties are heat-tolerant, and when frost season comes, it is best to add a layer of mulch to help protect them from the cold.
Again, most yellow perennials have fibrous roots that will absorb winter moisture and tolerate the harsh conditions, as long as the plants have been established during the summer season or spring with enough time to develop a substantial root system.
Fertilizing/Nutrient Requirements
As long as yellow perennial flowers are concerned, it doesn't necessarily require fertilizer, at least not often. When the soil gets too rich and nutritious, the plants can become leggy.
Therefore, the best soil condition is mixing compost or organic material into the soil to provide them with adequate nutrients without being too excessive.
Potting & Repotting Requirements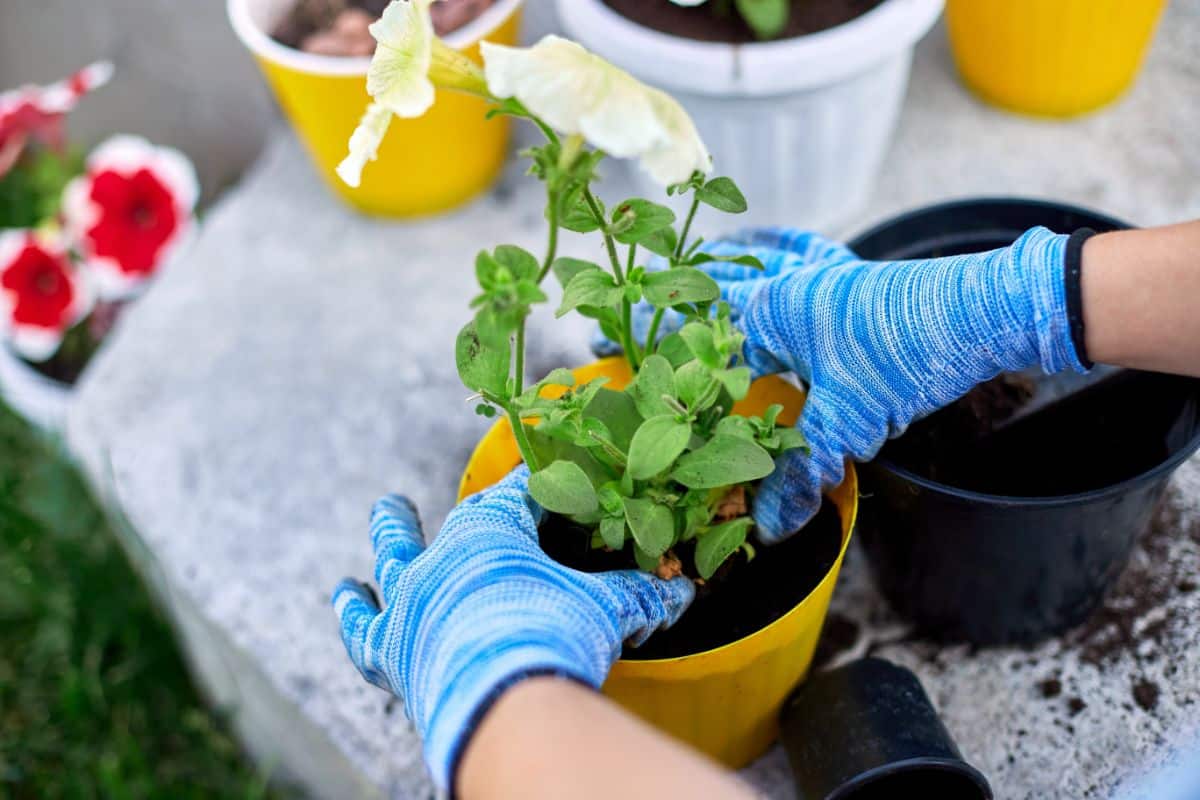 As long as yellow perennial flowers go, you grow them in containers, but you have to ensure that the pot is high enough to contain the plants' deep taproots. Also, check properly to see if the pot features proper drainage holes.
Make sure you let the soil dry between watering and dry to the touch at around 1 to 2 inches deep, then add water to it until you see it flowing from the pot's drainage holes.
Since container plants hardly access nutrients in garden bed soil, it would help if you fertilize your yellow perennials some more.
However, you must feed the plants with a well-balanced, water-soluble fertilizer every month. Again, if you plant these yellow plant varieties in tall pots with well-drainage systems, they will surely grow healthy and produce bountifully, as long as they get enough sunshine.
Propagation of Yellow Perennial Flowers
Generally, the best propagation method for every yellow perennial flower is from seed. In other words, it is not a good idea to grow them by division method as the plants' vitalities depend primarily on their taproot.
Not that you can't propagate yellow perennials by the division method, but by doing that, you risk damaging the plants even beyond regrowth.
Note: Yellow perennial flowering plants tend to self-seed readily. Therefore, it would be best to deadhead the flowers to avoid the plants from spreading.
Some yellow perennial flower seeds need a cold, moist stratification time to enhance their germination process.
This can be achieved by; planting seeds during the fall to make the process occur naturally over winter or even by mixing the seeds with damp sand or vermiculite in a secured plastic bag and keeping the bag in the refrigerator for at least one or two months.
Then, remove the seeds and begin to sow them indoors for 8 to 10 weeks before the final frost. You can choose to position them directly in the garden just after the heavy frost threat has elapsed.
However, with the steps below, you can ensure the successful propagation of yellow perennial plants by the seed method.
· First, you must prepare your soil by applying a healthy amount of compost or organic material.
· Then, plant the seeds, gradually pressing them into the soil.
· Make sure the soil maintains its moist condition while the seeds germinate and the seedlings become more mature.
However, while all these are going on, you must be patient, as these processes could take time. Besides, plants propagated from seed rarely flower until they are well into their second or third year.
Frequently Asked Questions
Is there a yellow perennial that blooms all summer?
Yes, there are a few of them, but the one we are sure of and the best among them is Black-Eyed Susan (Rudbeckia). The fact that it blooms all summer makes it more popular among yellow perennials.
It warms the yard and garden with its bright color and needs minimal care. The rudbeckia species blooms from June through September in most climates on plants that grow up to 2 to 3 feet tall.
Which plant has golden yellow flowers?
If you're looking for a perennial that produces golden yellow flowers, look no further than Forsythia (Forsythia spp.). This species is a deciduous shrub that is truly a herald of spring in several regions.
They can grow up to 2 to 10 feet tall, depending on variety, featuring upright arching stems, which become covered with yellow blooms in early spring.
What yellow flowers come back every year?
One of the best spring-blooming plants ever, Forsythia, is that bright burst of yellow we all need after the long winter days and comes back every year. And, once it starts flowering, it makes the bushes feel the impact of all its beautiful yellow flowers.
What is the most popular yellow spring flower?
The most famous yellow spring-blooming plant is Forsythia. It has woody stems which are bountifully covered by yellow flowers.
What yellow flower opens and closes?
The yellow perennial flower that opens and closes is the Water lily. It features flat leaves, which are sometimes referred to as pads floating on the surface of the water attached to the roots of the plant by long stems.
Hardy water lilies have varieties of colors, including pink, yellow, and white with yellow centers. The blooms close at night and reopen at dawn.
What yellow perennial flower blooms all spring and summer?
Coneflower (Echinacea)—is invariably one of the most popular yellow perennials. It produces large flowers with a long flowering time from summer to fall.
Conclusion
Yellow perennial flowers can give your garden a very vibrant feel and appearance. Moreover, once it becomes established, they will continue to return from their roots on a yearly basis to grace your small garden with their colorful flowers.
Therefore, ensure you choose the best perennials for your garden to avoid pulling them out if you dislike their looks.
Again, if you want to pick the most suitable perennials for your garden, you must observe your garden as close as possible to explore the movement of the sun over the ground. It will help you to know if you need plants that love the sun or ones that prefer shade.
But, with the above list of yellow perennial flowers for a vibrant garden, we have saved you the stress of having to choose the best plants most suitable for your flowerbed. We wish you the best of luck with your planting!