We independently research and recommend the best products here. This article contains affiliate links. If you make a purchase after clicking on a link, we may earn a little commission at no extra cost to you.
Deciding the best potato storage containers to keep your potatoes fresh for as long as you want them might be a drag If you do not know how potato storage works and the kinds that can preserve your potato over a longer period.
When stored properly, potatoes can last for months, staying fresh and hygienic for anytime use. It's by far the most economical kitchen vegetable and regardless of the variety you choose, which might include the sweet potato, russets, yam, or red potato, know that they can stay fresh when you know what to do.
Potatoes by nature are starch food and should be kept in a dark, well-ventilated area with a temperature above 4°C (39°F) for prolonged storage.
Some dos and don'ts also apply if you intend to maintain the taste and cooking quality of your potato.
Alongside showing you the perfect potato storage, you find in the market; we'd also show you how to store potatoes the right way and simple but effective DIY potato storage you could design yourself.
Shall we?
Best Potato Storage Containers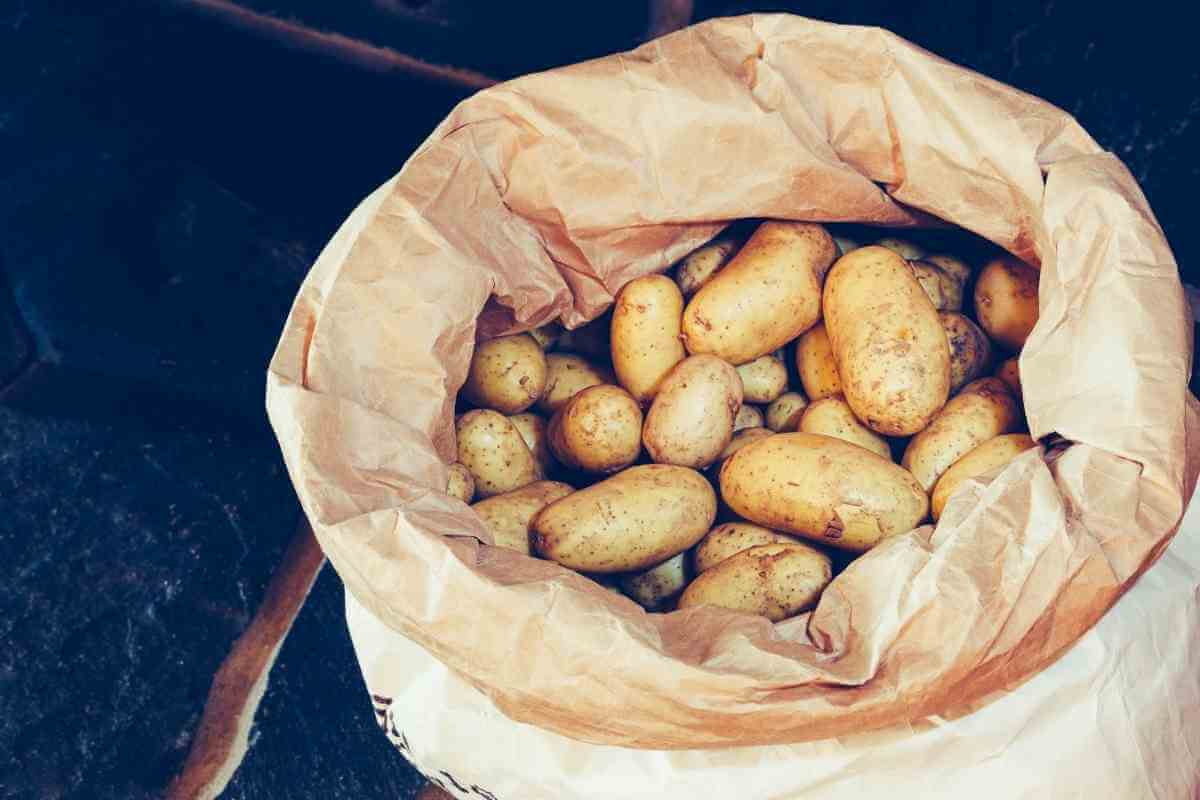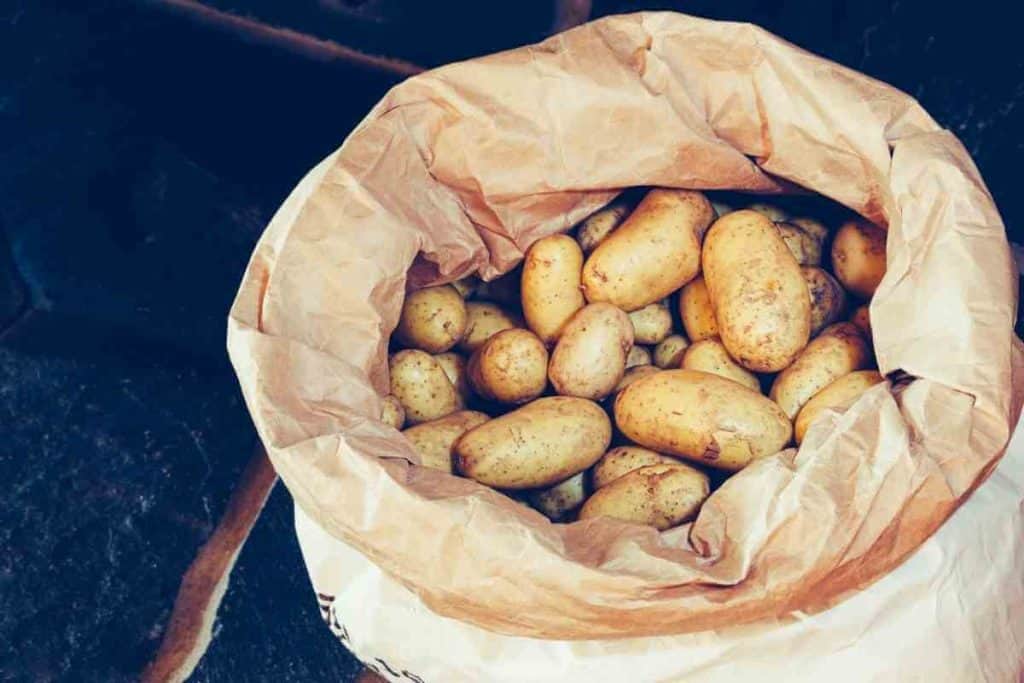 Don't like the hassle of looking for a suitable environment for storing your potatoes? Purchasing a ready-made potato storage option might just be the right way to go.
Read Also: Companion Plants For Sweet Potatoes
And here are my top 5 picks:
1. G.a Homefavor Potato Onion Kitchen Storage Container
G.a HOMEFAVOR Set of 2 Antique Cream Vintage Potato Onion Kitchen Storage Canisters Jars Pots Containers 2 Pack Set, Potatoe, Onion Bin Caddy, With Aerating Tin Storage Holes & Metal Lid
【PREMIUM QUALITY】This metal kitchen storage is made of high-quality powder-coated sheet steel, this potato storage container is durable and heavy, so your vegetables will be well protected.
【SUPERIOR DESIGN】The retro steel tin is very handsome and has a really unique charm to it. It is not only functional, but it also adds a nice design element to a kitchen. In addition, this vintage box also features ventilation holes, helping air to circulate, keeping your produce well protected and kept in the dark to keep them fresher longer.
【HIGH CAPACITY】With a deep storage area, the storage tin should have more than enough capacity to cater to your average home-cooked meals (The extra large potato bin: approx. 8 to 10 lbs, onion bin: approx. 3 to 5 lbs). Besides, this storage basket has a matching lid with two integral handles which are made for carrying in case of dropping, so you could carry it to any place at any time.
【WIDE APPLICATION】Potato onion canisters jars are perfect for any occasion, slow cooking, camping, picnics, and other outdoor activities, Which can store potatoes, onion, garlic, vegetables, fruit, etc.
【SPACE SAVER】Our potato storage set has a cute pattern on them for easy identification of what is inside. You can put them on your farmhouse kitchen, cabinet, countertop, and pantry room shelf, maximizing your storage space. It is an excellent home-warming gift, Christmas Gift, newlywed couple gift, 1st apartment gift, birthday gift, etc.
Last update on 2023-11-30 / Affiliate links / Images from Amazon Product Advertising API
The G.a Homefavor kitchen storage container is quality for less as it provides a perfect storage environment for less than $50. The container is made with a powdered coated metal sheet. Many of the storage quality contributes to the long-term protection of your vegetable.
It's got a functional design that contributes to the beautiful design and outlays your kitchen portrays.
While rotting might be the case with containers like these, the G.a homefavor kitchen container is designed with ventilation holes in it that aid proper circulation of air, leaving your potatoes tasty and fresh.
The Homefavor Potato storage container is also designed with two integral handles and a lid that keeps the potato protected and also makes lifting and carrying the container easier.
This storage container comes in 3 sets. But you can also opt for the 2 sets at a more affordable price.
---
2. Aesthetic farmhouse kitchen storage container
Granrosi Potato Storage For Pantry, Canister Sets for the Kitchen Counter, Garlic Keeper For Counter, Onion Keeper, Potato Bin, Potatoes Storage
✅ KEEP YOUR VEGGIES FRESH, LONGER - With first-class workmanship, these food storage canisters are polished and made of high-end sheet steel, ensuring all your potatoes, onions, garlic, and other vegetables keep fresh for long periods of time.
✅ ENJOY A CLUTTER-FREE COUNTERTOP - Add shelf space and keep everything tidy in your kitchen! Granrosi's large metal onion pot with a handle lid comes in an elegant retro look of the '40s, ideal for storing onions (2.6lbs), garlic (1.5lbs), and potatoes (8–9lbs).
✅ ONLY THE BEST FOR YOUR KITCHEN - This lovely vegetable tin is dazzlingly designed with small ventilation holes in the front to ensure air circulation while preventing moisture formation. The result is vegetables that are safe and fresh.
✅ TIMELESS DESIGN - Constructed with a stunning vintage retro design, these food pots are an absolute visual highlight and also provide more storage space in the refrigerator. Great as a stylish gift for friends and family for housewarmings or weddings.
✅ THE PERFECT SIZE - Very spacious without being intrusive in your kitchen and with plenty of space so you can easily store both large and small amounts of vegetables. Powder-coated in a pleasant vintage gray color with a size of 10.3 x 7.9 x 10.3 in (LxWxH).
Last update on 2023-11-30 / Affiliate links / Images from Amazon Product Advertising API
The Aesthetic Farmhouse Potato storage container is made with solid sheet steel powder-coated from inside-out. It comes in 3 sets.
It has sleek ventilation holes to regulate and keep humidity out, providing a dry environment for your potatoes, onions, and garlic. As such, you can always expect that your veggies are fresh and tasty.
Read Also: Are Potatoes Man Made?
This storage container has a vintage design. It's a beautiful design both on countertops and in a modern kitchen. The storage container has two practical handles, which make lifting from one place to another easy.
---
3. Bamboo storage Bins for pantry and kitchen cabinet
MobileVision Bamboo Storage Bins for Pantry & Kitchen Cabinet Organizer Multi-Purpose 2 PC Stackable Set for Canned Goods, Vegetables, Pouches, Boxed Meals & more
PLEASE NOTE THE DIMENSIONS SET INCLUDES: 1 Bamboo Bin (Dimensions: 12" x 7" x 5") and 1 Smaller Bamboo Bin (Dimensions: 6.25" x 7" x 4.5") For a larger unit, check out our XL Storage Bins ASIN: B08BG8W9LW.
STACKABLE STORAGE ORGANIZER - Space-saving and convenient to store your stuff. Choose to stack smaller bin on top of larger bin or use each bin side by side.
GREAT FOR ORGANIZING - Pantries, Cabinets, Canned Goods, Pouches, Boxed Meals, Baby Food, Pasta, Fruit and Vegetables.
STURDY & MULTIFUCTIONAL – Light weight and useful in multiple settings such as bathroom, bedroom, garage, laundry room or arts and crafts storage. Open design allows for easy viewing of items in each bin.
Last update on 2023-11-30 / Affiliate links / Images from Amazon Product Advertising API
This potato storage container has two stackable storage containers. With one bamboo bin dimensions of 12 × 7 × 5 inches and a much smaller bamboo bin dimensions of 6.25 × 7 × 4.5 inches sitting on of it.
Both of the containers can be stacked, with the smaller one sitting on top of the other. Or may also be placed side-by-side. It's very convenient to use a storage container. Lightweight and eco-friendly.
However, you might have to pay attention to where you place this container as it wouldn't be appropriate to place them in sunlight.
---
4. New Hessian Potato preserving bag sack
Sale
Natural Elements KitchenCraft Potato Bag with Blackout Lining, Hessian, Brown, 24 x 24cm
SAVE YOUR SPUDS: stop potatoes from sprouting and keep them fresh for longer with this potato bag
BLACKOUT LINING: light is the enemy of fresh potatoes, so this sack is lined with a special light-blocking material
INSPIRED BY NATURE: made of natural hessian, it will bring timeless, agrarian vibes to your kitchen or store cupboard
EASY TO STORE: the hessian sack has a drawstring for easy access, and will store easily on a shelf, or hung on a hook
USEFUL INFO: measures 24 x 24 cm (9½" x 9½") to hold a generous amount of potatoes; comes with KitchenCraft's 12 month guarantee
Last update on 2023-11-30 / Affiliate links / Images from Amazon Product Advertising API
The new Hessian Potato preserving bag sack has a unique design – and is made of sack but not your regular sack. It is the natural hessian sack.
The sack has a dack, breathable lining and is equipped with a drawstring top that serves as a lid for closing and opening the sack. It can also help prevent potatoes from sprouting.
Read Also: How To Grow Strawberries In Pots
The bag storage container has a special design that can hold up to 5kg of potatoes.
The sack has a lightweight of 7.9 ounces with a dimension of 9.84 × 9.84 × 9.45 inches. And it's pretty much affordable.
---
5. Tenkiu Wooden Potato Bin Storage for Kitchen
Potato Bins for Kitchen【100% Real Wood】Wooden Storage for Kitchen. Potato Bins for Pantry Floor Counter or Wall. Potato and Onion Storage Bin 13x8x17 inch
𝐋𝐎𝐍𝐆𝐄𝐑 𝐅𝐑𝐄𝐒𝐇𝐍𝐄𝐒𝐒: Potato storage for pantry. The wire front and peg board back allow for air circulation, keeping your veggies fresher longer. It's divided into two sections. Lower section can hold potatoes or root veggies. Potatoes storage top part features a hinged slanted top that pulls up to reveal storage for onions.
𝐒𝐓𝐔𝐑𝐃𝐘: Potato storage bin is pine wood build and quality craftsmanship is reflected in its durable feel and appearance and is put together with hinges and screws. You just have to assemble the top lid to the bin.
𝐃𝐄𝐂𝐎𝐑𝐀𝐓𝐈𝐕𝐄: Handcrafted potato bin for pantry is a beautiful solution for your kitchen at the same time while giving your kitchen a warm country feel. This potato bin wood has back hooks allowing you to hang it on the wall or put it on the counter. Handcrafted
𝐎𝐃𝐎𝐑 𝐅𝐑𝐄𝐄: In the drying process of the paint applied to veggie bin, the respective technical standards have been respected to avoid unpleasant subsequent odors.
𝐆𝐔𝐀𝐑𝐀𝐍𝐓𝐄𝐄𝐃 𝐏𝐔𝐑𝐂𝐇𝐀𝐒𝐄: We will refund you 100% if you have a single concern about anything. Just send it back and wait for a replacement or full refund.
Last update on 2023-11-30 / Affiliate links / Images from Amazon Product Advertising API
With this Potato storage container made with 100% real wood, you can keep your potato fresh for a more extended period with no hassle. One bonus factor is that it is also an eco-friendly storage bin.
The container features wire front and pegboard back holes that both enable proper air circulation, which in turn keeps your potatoes or other vegetables fresh.
For prolonged shelf lives, don't keep potatoes and onions together in one place. But if you run out of options of where to place them, the Tenkiu potato bin storage can be helpful as it's got two separated compartments that can host either of these vegetables separately.
This storage is crafted with hands and has a design that fits most kitchen countertops. One perk of buying this is that it comes with a 100% refund policy if you are not satisfied with the outcome.
---
How to Store Potatoes The Right Way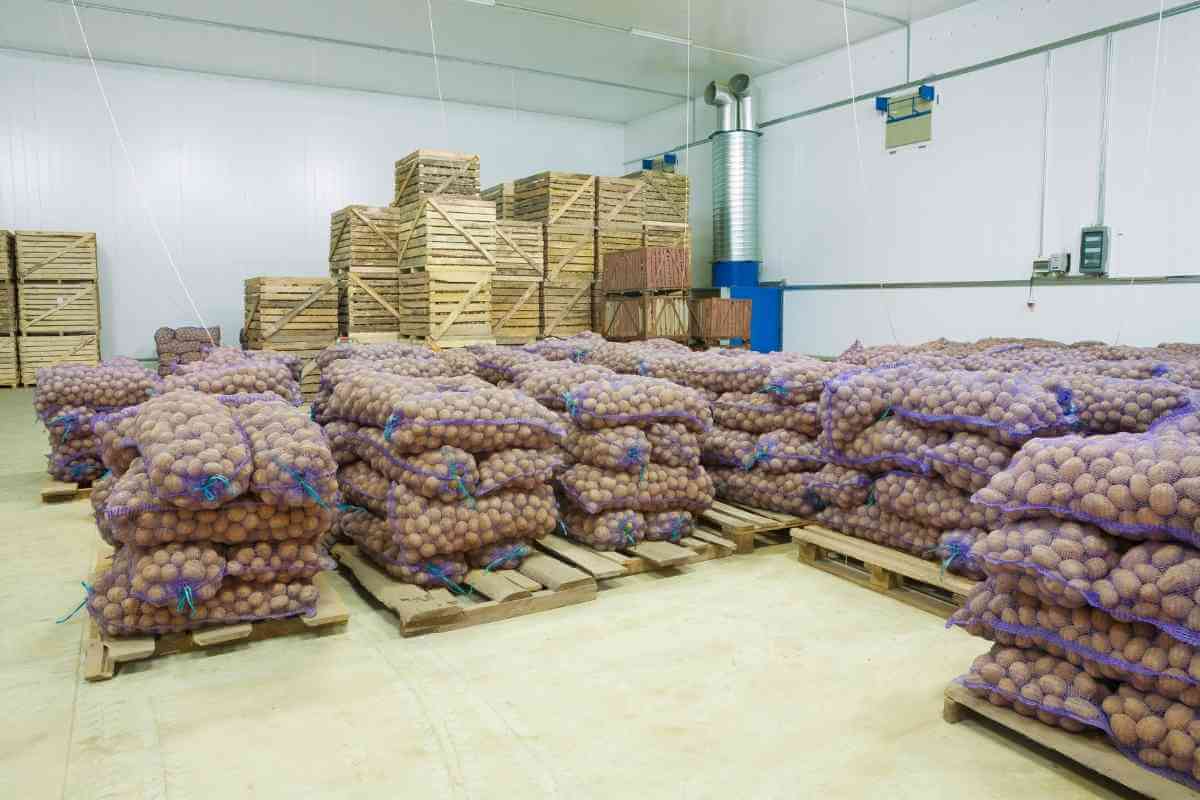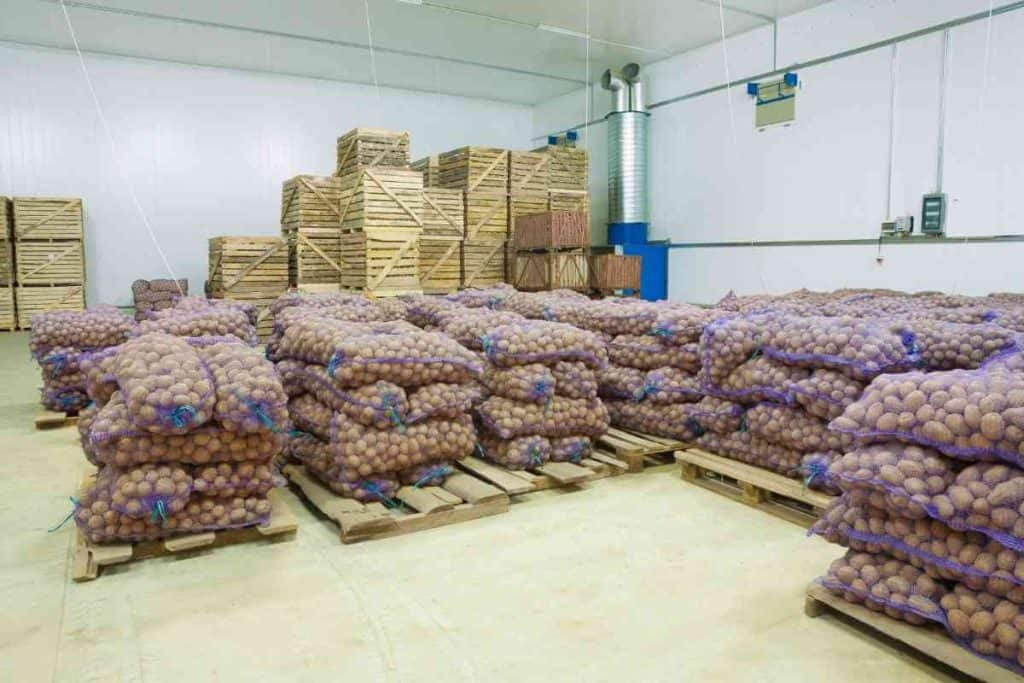 When asked where is the best place to store potatoes? Most people can't provide answers, and amongst the few that think they can, I've found some name fridge as one place where you can store potatoes. That's not only wrong but also taste-suicidal!
Potatoes do not thrive well in an atmosphere with temperatures below 4°C (39°F). It constitutes starch that is covert to complex sugars in an environment of temperature below 4°C.
And let's not get started on the aftermath sour taste and carcinogens poisons cooking potatoes like that exposes our bodies to.
Read Also: Best Mulch For Trees And Shrubs
Yes, temperature plays a vital role in storing potatoes. But how many people have the time to constantly monitor the temperature of where they store their potatoes? And in fact, room temperature isn't any good for the long-term storage of potatoes.
Now, it's a question of what and what should you pay attention to when storing your potatoes?
I'd answer that in a minute. For now, I'd like you to know there is such reliable storage practice that doesn't involve you sampling your storage temperature every minute.
When it comes to storing potatoes for personal kitchen consumption, you should keep the potatoes out of water. Keep them in a well-aerated area. And avoid placing them side-by-side with onion and apple.
Potatoes you intend to store for a long time should never be washed with water or any liquid at all. You can rub off the dirt with your hands or use a moisture-free cloth.
When that's done, and all that's left is where you can safely store your potato to protect them from critters or any rot that might ruin the quality of the potato – these best practices would feed you with just enough ideas to keep you rolling:
1. Store potatoes in a dark, dry and cool environment
Common characteristics of places suitable for storing potatoes include cool, dark, and dry. So if you choose to keep your potatoes in the kitchen, you should look for areas that have those characteristics.
As a rule of thumb, these should be places where the sun cannot touch, like your kitchen cupboard or protected areas in your kitchen.
Areas like these can help you preserve your potatoes for months on end. The warmer or moisturized temperatures could damage or make the potatoes sprout.
2. Don't even think of Plastic bags
A basket or paper bag is appropriate and provides more of a decent storage facility than plastic bags ever will.
Both options allow good ventilation and are well-aerated as opposed to a plastic bag. If you got your potatoes in a plastic bag or still have them in it, now would be the time to take them out!
Done?
Plastic bags are prone to trapping moisture. This means they create a damp area and environment that makes your potato spoil or rot easily. And that's not what you want.
3. Refrigerators Are a Bad Idea
You've got no reason to keep potatoes in a fridge. First, there's too much moisture, and then there's an environment that's way below 4°C, which would turn your potato starch into sugar.
These sugars are very harmful as they cause carcinogens which in turn increase the risk of cancer. All of which you can avoid if you keep these potato babies out of the refrigerators.
Related Post: Best Pruners for Arthritic Hands
4. Store your potatoes separately from onions, bananas, or apples
It's a great idea to store potatoes far away from other products, like onions, bananas, and apples.
These products emit ethylene gas, which catalyzes and speeds up the ripening process of nearby products. This means your potatoes ripen too quickly and spoil faster.
Simple DIY Potato Storage Container
If you are looking to try your hands on a simple Do-it-yourself potato storage container, you should pay attention to details on how the build might provide ventilation for the potatoes.
With that in mind, let's build a potato storage container for you!
Tools and Materials For Easy Potato Storage Bin
Here are the tools you'd need:
Hammer
3-inch nails
Hinges
Screwdrivers
2-inch Screws
Here are the materials needed:
2 pieces of 1 x 1 ft. lumber (2 inches thick)
4 pieces of 1 x 2 ft lumber (2 inches thick)
How To Build Your Potato Storage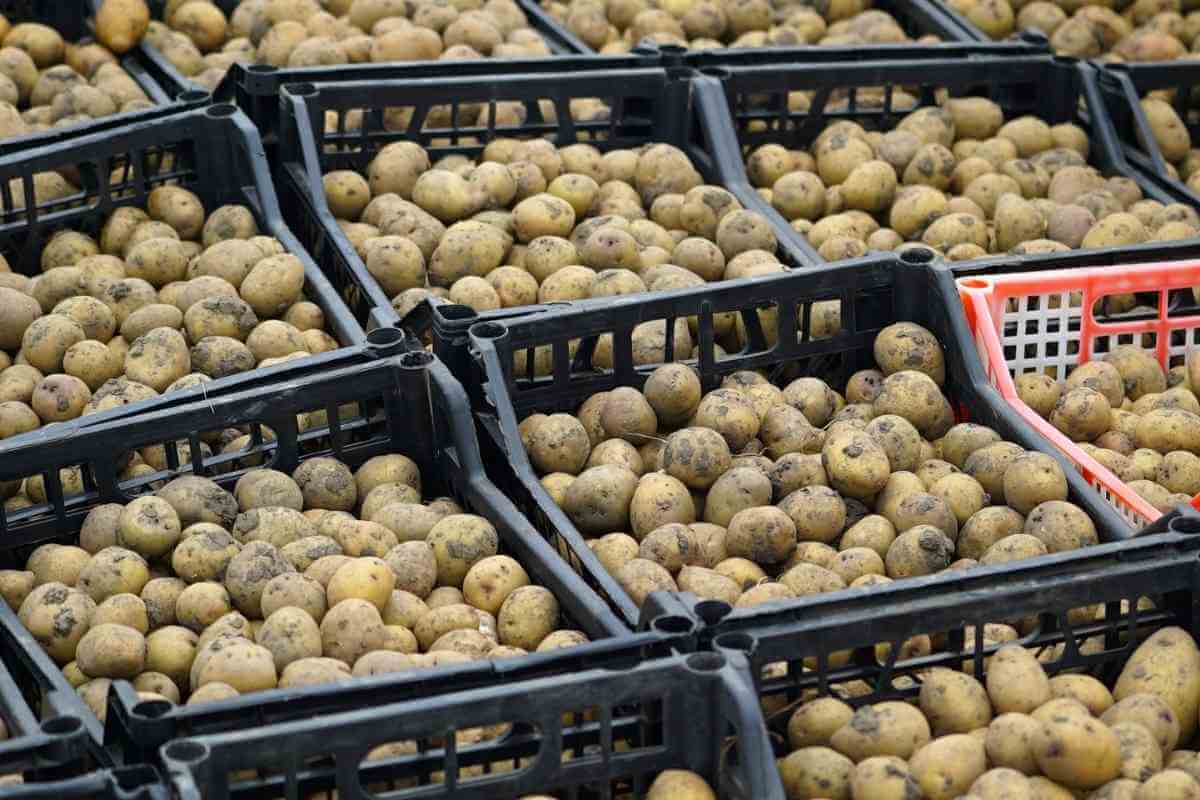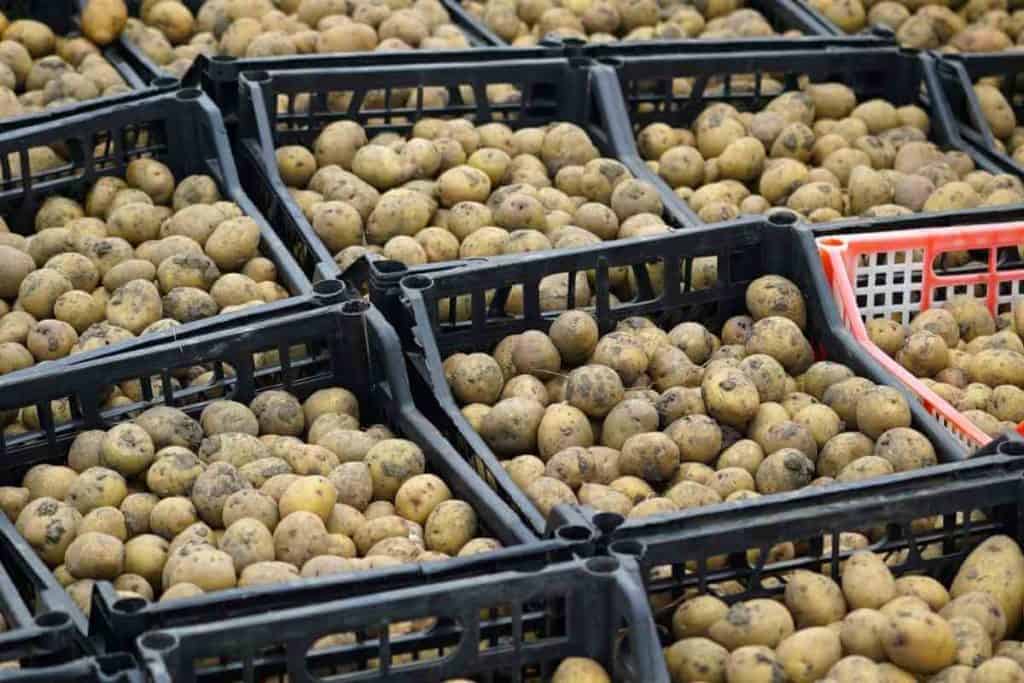 Step 1: Align the 2-inch edge of one of your 4-pieces lumber with the face of another 2-inch edge forming a right angle.
Step 2: Attach these two wood boards with 3-inch nails. Hammer the nail through the wood face edge of the 2-inch piece of lumber.
Step 3: Now, you have to form a U shape by attaching another piece of the 4 pieces to the L-shaped wood you have attached.
Step 4: Nail the new plank to the other two already attached planks.
Step 5: Close the open space at the top of the U-shaped wood with the finishing piece of your 4 pieces of lumber.
When done, you should now have an open box shape. Properly nail the woods together to give some degree of firmness.
Step 6: Place either of the two pieces of lumber at one open bottom portion of the build you've made.
Now, nails through the faces of the plank into the edges of the four structures.
Step 7: Attach three hinges to one open end of the structure using a screwdriver and a 2-inch longscrew.
Place one hinge at the extreme right, and another at the extreme left, and the third right in the middle.
Step 8: Now piece together the remaining piece of lumber to align with the already affixed hinges
Specialized Storage For Potatoes
The best kind of plug-in device for managing the ideal potato storage temperature of 45°F (7°C) is a beverage cooler.
They often come in different models that range in size from small, medium to large. Wine cooler under a low setting also works if you stay in a hot temperate region and cannot guarantee to meet the required breeding temperature for these potatoes.
Keep these temperatures as high as 11°C (52°F).
These sort of specialty coolers extends the storage life of veggies like potatoes, carrots, beets, apples, or pears.
Provided you make the right choices when purchasing your potatoes, you can be sure they'd last for months.
So,
Next time you intend to buy bags of potatoes, opt for potatoes that are firm when you feel them and don't show any tenderness at all when squeezed. Alternatively, you can check for soft spots signs as a bad sign.
Frequently Asked Questions
What kind of storage are best for storing potato?
The kinds you'd find in my recommendation are great examples of a suitable potato storage containers. If you have a potato storage container you can rely on, then try any of our recommendations.
What is the best way to store potatoes?
Putting your potato in a dry and well-aerated environment is by far one of the best ways you can actively store your potato long period.
What makes a good potato bin?
A suitable potato storage should always have openings that provides breathable air for your potatoes. But also, a good potato bin should protect your potatoes from moisture and sunlight. Check our complete article for more information on what you should look for in a good potato bin.
Do Potato bins work?
Yes! Potato bins are by far one of the most efficient ways to store and preserve your potatoes.
How do you make a potato storage bin?
I've added a complete section on how you can make a potato storage bin for yourself. So, check it out if you are a DIY fan.
Related Post: How Do You Get Rid Of White Fungus On Palm Trees?