For a student or someone new to gardening, it may be difficult to identify plants by merely looking at them. However, with free plant identification apps installed on your smartphone, identifying plants and vegetables becomes much easier.
Also, for professional gardeners, plant identification apps can still come in handy on different occasions.
Some of these apps focus on identifying just flowers, trees, vegetables, mushrooms, and others, while others can detect various types of plants.
Interestingly, you can get these apps installed on your iOS device or Android smartphone. Some of them have both Android and iOS versions.
Here's a comprehensive list of the best plant identifier apps for android and iOS operating systems.
What is The Best Plant Identifier App?
Below is a table representation of the plant identifier apps mentioned in this post so you can easily download and install them from the Android and iOS stores if you're in a haste.
Best Free Plant Identification Apps
While these plant identification apps are free to download, they support in-app purchases for their premium features and external tools.
1. LeafSnap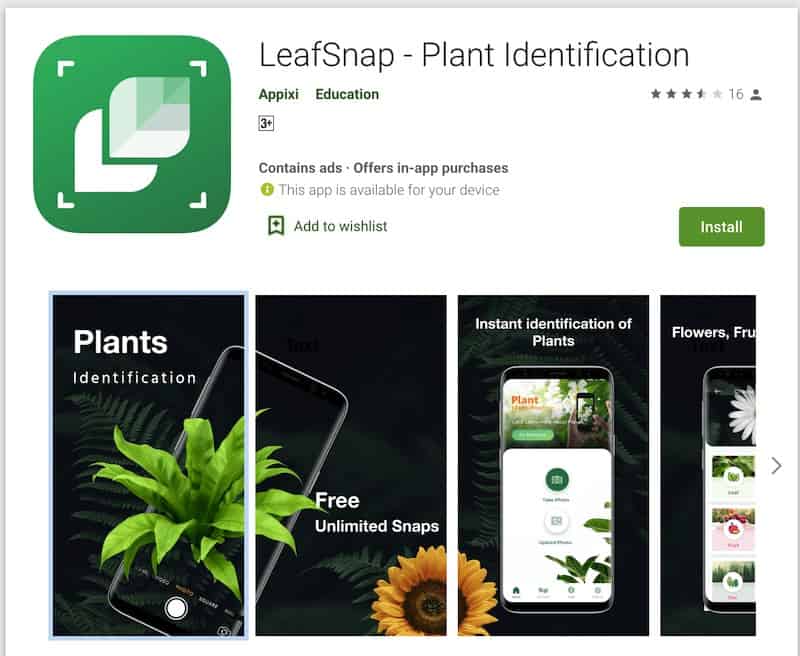 LeafSnap is a plant identification app capable of detecting wildflowers, shrubs, plants, and trees. This app can recognize up to 90% of all known plant and tree species.
It makes plant identification easier and faster for students and newbie gardeners. With LeafSnap, you only need to capture the leaf or plant, and the information will appear on your device's screen right away.
This mobile app runs smoothly on Android smartphones and Apple iPhones. The free version supports commercials, which implies that you'd get to view ads while using the app.
However, the premium version removes commercials (adverts) and unlocks more features of the app.
The LeafSnap app can help you learn more about plants and also view the varieties of the plant you just captured.
App Features Highlight:
Can easily identify different flowers, trees, plants, and a lot more
Very clean and user-friendly interface
Can recognize a plant from an image you take with your phone's camera a provided image
Massive database of plants, with artificial intelligence plant recognition ability
Pros
Clean interface
Easy to use
Large database of plants
Cons
An ad comes up after easy photo
Click below to download and install app:
---
2. PlantNet
PlantNet is the favorite plant identification app of many gardeners. The app features an intuitive interface that grants you instant access to all the app's features.
This mobile app can identify virtually any plant or flower you throw to it; all you need to do is to capture the plant with your device camera and import it into the PlantNet interface.
Furthermore, PlantNet can easily identify flowering plants, grasses, trees, conifers, ferns, wild salads, and vines.
It doesn't only identify plants, it also provides more useful information about the identified plant; thus, PlantNet helps you to learn about all the plants cultivated in your neighborhood.
Currently, the developers of PlantNet hint that the app can easily recognize 20,000+ plant species.
The app users are welcomed to join the PlantNet community where they can contribute to increasing the number of plant species the PlantNet app can recognize.
App Features Highlights:
You can examine the identified plant species by genus or family
Let's you easily navigate at varying category levels in picture galleries
You can re-identify shared observations both from other users and yours
Links to several factsheets
You can map your observations
Flora recognition lets you search for the photographed plant in the floras of the app
Differentiated data revision gives you more authority once you've shown you're experienced
Keep your favorite floras so you can easily access them
Pros
App is clean and very easy-to-use
Free and ad-free
There's also a web version
Cons
Somewhat limited plant database
Click below to download and install app:
---
3. PlantSnap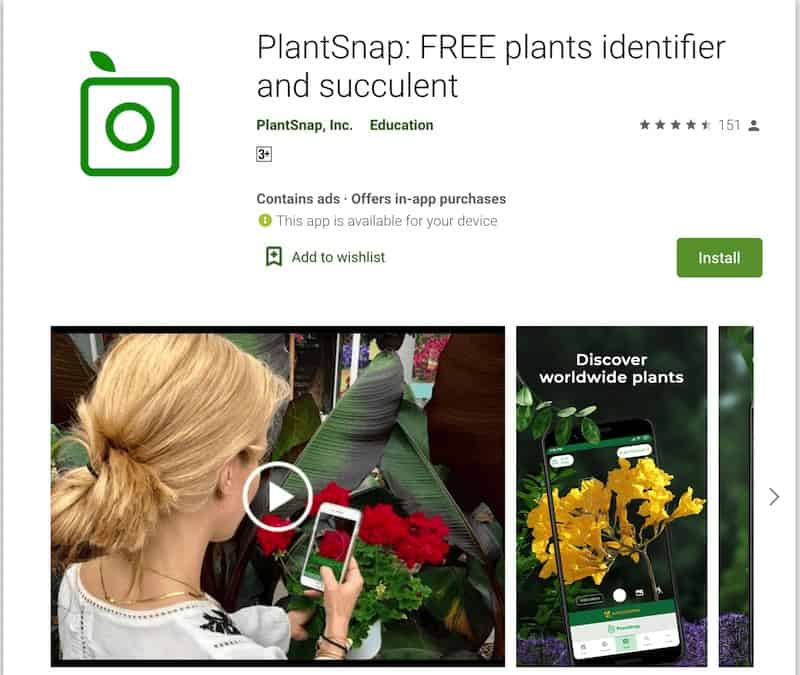 This plant identification app can instantly identify over 600,000 types of plants (according to the developer). PlantSnap is poised to be able to identify virtually all types of flowers, succulents, trees, mushrooms, and cacti.
Furthermore, the PlantSnap app also provides tips on how to care for plants, including gardening tips for thousands of plant species.
PlantSnap also has a Community (the PlantSnappers) - anyone using the app is free to join. This community has over 50 million participants across 200+ countries, globally.
It is more than just a plant identification app; PlantSnap lets you share photos of different plants with your plants, as well as allows you to connect with other nature lovers from around the world.
App Features Highlight:
About 2000 new plant species are added every month
You can identify plants easily by picture
Explore the plants worldwide or nearby
Use your smartphone to identify plants, and you can also access your collections on the web (laptop or desktop)
Easily build a huge library of every single plant you've photographed
Use PlantSnap's partnerships to valuate plant health
Pros
Very neat user interface
App is very user-friendly
Massive database of plants
Cons
It's not entirely free
You must register an account
Click below to download and install app:
---
4. PictureThis (Can Identify Plant, Weed, Flower, etc.)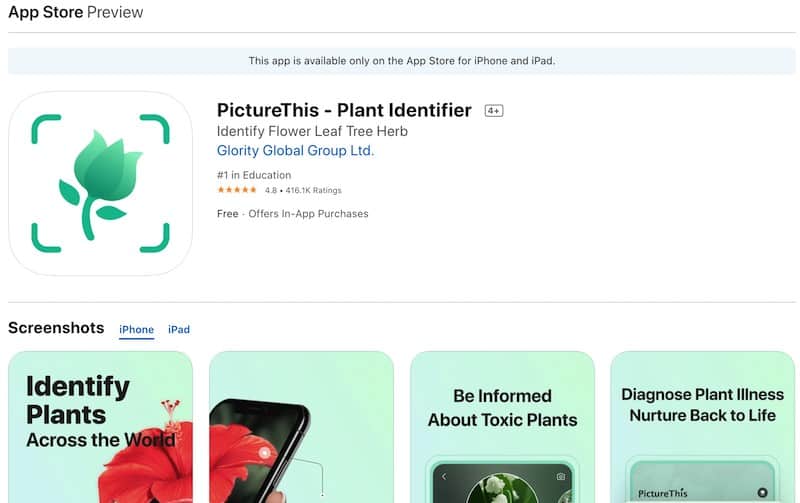 Let's say you found a beautiful plant in your neighbor's garden and you're curious to know what plant it is?
With the PictureThis app on your iOS or Android smartphone, all you need to do is to capture the plant and the app would provide you with detailed information about that plant. PictureThis can easily identify plants, trees, flowers, and weeds.
This app can recognize 17,000+ plant species with 98% accuracy. According to some users, the PictureThis app seems much better than most expert gardeners.
Not only would this app help you to identify the plants and flowers around you, but it also provides in-depth plant care tips after diagnosing the plant for possible problems, insect defects, and bugs.
PictureThis is free on both Apple and Google app stores for iOS and Android device users, respectively. The app features a simple-to-understand interface.
App Features Highlight
Very neat and user-friendly interface with quick-start guides
Teachers you new things about different plants worldwide
Identify and tells you how to kill weeds
Active community of friendly gardeners and horticulture professionals giving you tips
Easily recognize a litany of plants, flowers, and trees
Easily share your plant images with a growing and happy community of plant lovers
Effortlessly track all the plants you identify in your personal collection
Get quick and useful tips about plant care, water and fertilization reminders
Pros
Lots of helpful features
The interface is very easy to navigate
Easy access to a community of like-minded individuals
Cons
App is to completely free
Has a somewhat small database of plants
Click below to download and install app:
---
5. Google Lens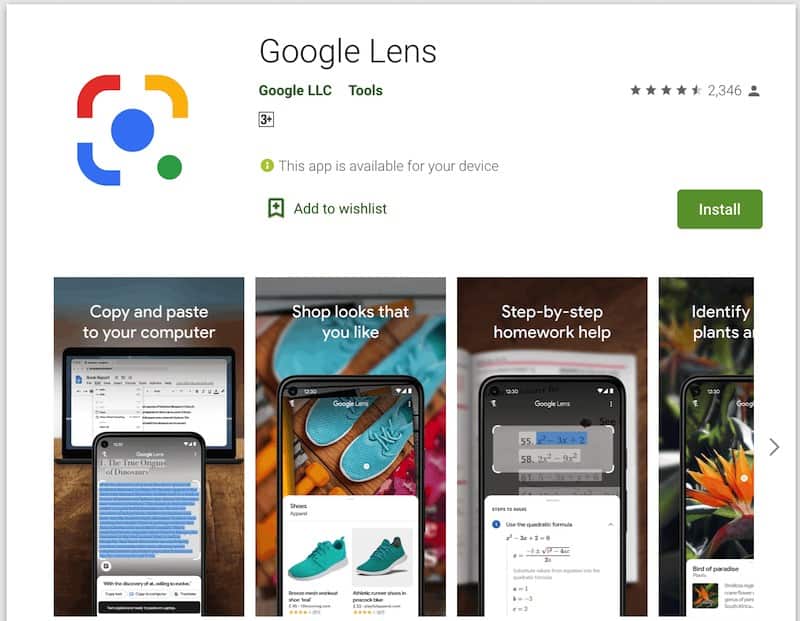 Apparently, the Google Lens app is worthy of mention in this list; it is a simple-to-use app that helps you identify several items, animals, and plants using your device's camera.
Google Lens is available for free for Android and iOS devices - more interestingly, it does not offer any in-app purchases, which implies that all features of the app are available for free.
Google Lens can help you identify most plants in your neighborhood; however, it does not provide very detailed plant analysis as with most other apps mentioned in the listicle.
There are other several functions of Google Lens - it is not basically a plant identification app. Some Android devices come with Google Lens pre-installed, but if it's not on your device, you can get it from Google Play Store.
App Features Highlight:
Ability to scan and translate the text easily from a photo
Examine nearby places
Easily and quickly identify any plant, flower, animal, etc.
Find similar furniture, clothes, or home decor products to the ones you like
Scan product barcodes and QR codes quickly
Pros
App is entirely free
Excellent plant identification abilities
Massive database
The app is updated and improved constantly
Cons
Does not provide enough information about plants directly
Click below to download and install app:
---
6. iNaturalist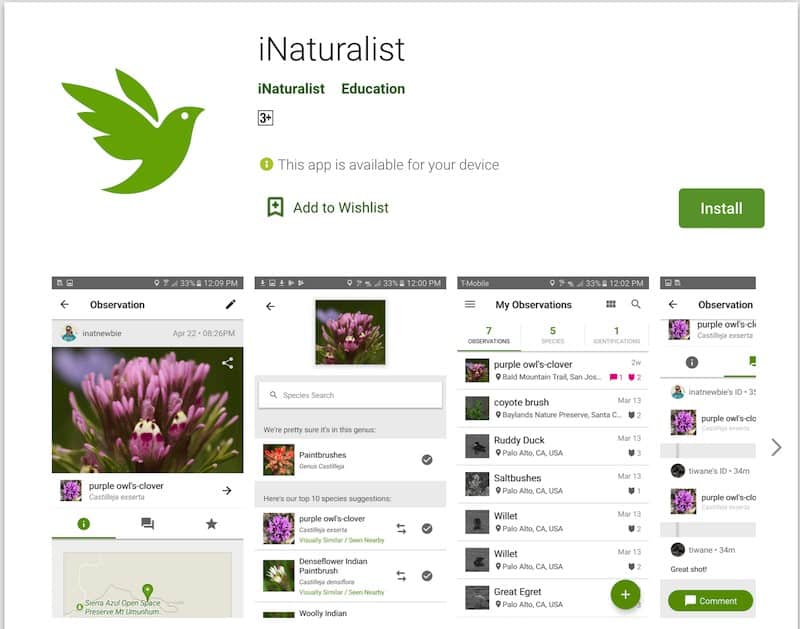 More like a social network for nature lovers, iNaturalist is a simple-to-use application that lets you share biodiversity information about plants and nature.
It also helps you to identify various plants, vegetables, and animals. iNaturalist shows you visually similar suggestions of a plant you captured; these suggestions are based on the contributions of other dedicated users of the app.
You can join the community and connect with over one million scientists and naturalists. Interesting features of this app include its ability to suggest up to 10 visually similar species of the plant you snapped.
The app is grounded in science and you could learn more about plants and animals directly on the iNaturalist app for Android or iOS.
App Features Highlight:
Let's you write and share your own findings with the community of ardent scientists and naturalists
Follow and monitor public projects of smaller communities of scientists that are passionate about specific species
Permit other users to assist you in identifying your observations
Examine new plant species and animals in your location or worldwide
Pros
App is completely free to install and use
Amazing image recognition abilities
Large plant and animal database
Cons
You're required to create a new observation to identify every new plant
Click below to download and install app:
---
7. Seek
When you launch the Seek Camera and point it to an unknown plant, it instantly provides you with detailed information about that plant.
Seek also works for identifying animals - let's say you saw a dog and you want to find out the breed, simply launch Seek and point your camera at the dog, the app would capture the dog and load the information you seek.
Interestingly, as you keep using this app, you'd keep earning badges. The Seek app helps to identify plants, wildlife, and fungi.
It features an intuitive interface that anyone could easily understand and you can participate in exciting in-app challenges. Actually Seek is developed by iNaturalist; however, it is a standalone app from the iNaturalist app mentioned above.
App Features Highlight:
Clean user-interface
Learn and discover facsinating facts about your environment and life forms
Easily identify plants and wildlife from images
Gets data from a huge database of plants and animals
Pros
App is 100% free to use
Very use to use
Large database of plants from iNaturalist
App is constantly updated and improved for performance
Cons
The app is relatively slow
The image recognition algorithm can be improved
Users cannot confirm the result
Click below to download and install app:
---
8. FlowerChecker (Plant Identify)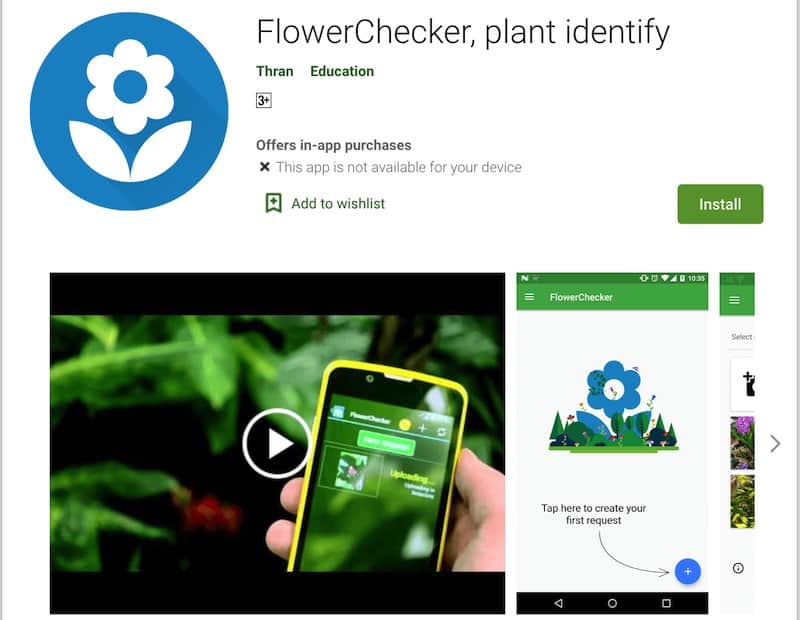 This plant identification app is recommended for professional gardeners because it is a paid app. With this app, you can only check for one plant for free, subsequent requests cost $1 or 0.7 EUR.
As expected of a premium plant identification app, FlowerChecker does not show any ad within the app. Plus, the interface is pretty easy to understand and use.
FlowerChecker works in a different way. Unlike other plant identification apps, when you use FlowerChecker, your plant pictures are examined by an international team of experts to provide you with accurate information about the plant.
This app does its plant identification manually and not computer-based. You can install FlowerChecker on iPhones, iPad, Android smartphones, and Tablet devices.
App Features Highlight:
Very and straightforward user-interface
Highly recommended for professional gardeners
It does not show ads within the app while performing your search
Plant images are always examined by an international team of experts, giving you accurate information about the plant
Pros
Ad free app
Very easy to use
Clean user-interface
Cons
Only the first search is free
Click below to download and install app:
---
9. NatureID: Plant Identification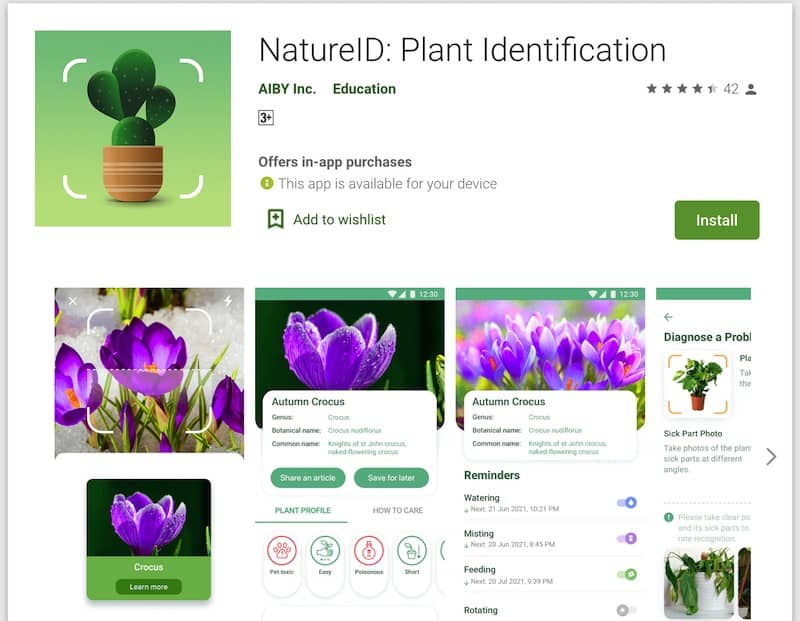 This plant identification app works similarly to the other ones mentioned above. It simply identifies any plant or flower you point your camera to.
NatureID makes you a personal botany expert by providing clear details of various plants. The app also comes with advanced features such as care reminders and plant disease identifiers.
More so, if you already had the plant's photo saved on your device, you can import it into the app's interface for identification. NatureID is free to install but supports in-app purchases for certain features and built-in tools.
Furthermore, you can use this app to diagnose various plants and vegetables; it is a comprehensive, handy mobile app for student gardeners and nutritionists.
App Features Highlight:
Easily identifies any plant or flower you point your camera to
Provides clear details of different plants
Care reminders and plant disease identifiers
Can diagnose different plants and vegetables
Pros
Neat user interface
Very user-friendly
Free to use
Cons
Free to install, but requires payment to use some features
Click below to download and install app:
---
10. Flora Incognita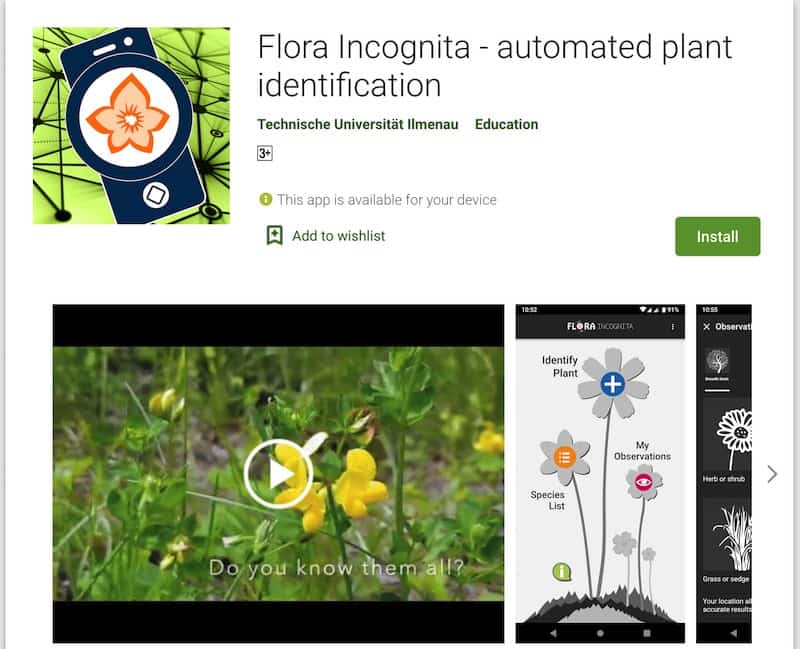 Flora Incognita is yet another plant identifier app with no support for in-app purchases, this implies that the app is entirely available for free. This app can instantly identify 4,800+ plant species without any long processes.
The identification is done automatically and all you need to do is to take a picture of the unknown flower using your smartphone's camera.
More interestingly, Flora Incognita does not only provide plant species names, but it also loads the species profile page so that you can learn more about the plant.
Information provided on the Flora Incognita app includes the identified plant's species characteristics, family, and pictures. Furthermore, there's an option to export or share your plant observations on social media platforms.
App Features Highlight:
Over 10,000 images of Central European plants
Provides different helpful information about plant distribution, toxicity, and protection status
Advanced search and filters for easily finding specific plant species
Identify over 4000 species of plant in the Central European wild flora
Easily creates list of observations
You can also export the observations
Pros
Ads-free interface
Very easy to use
Click below to download and install app:
---
11. JustHouseplants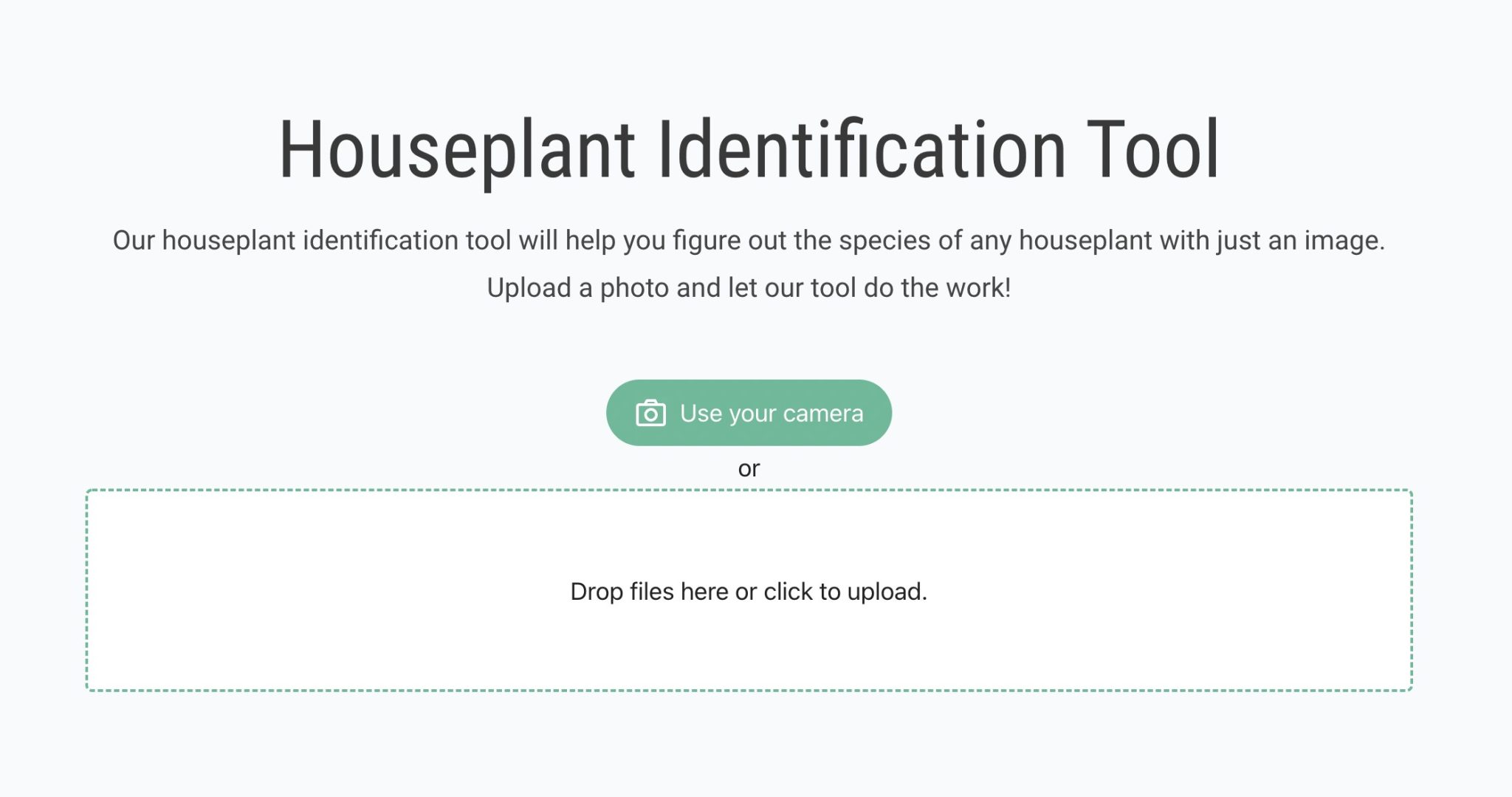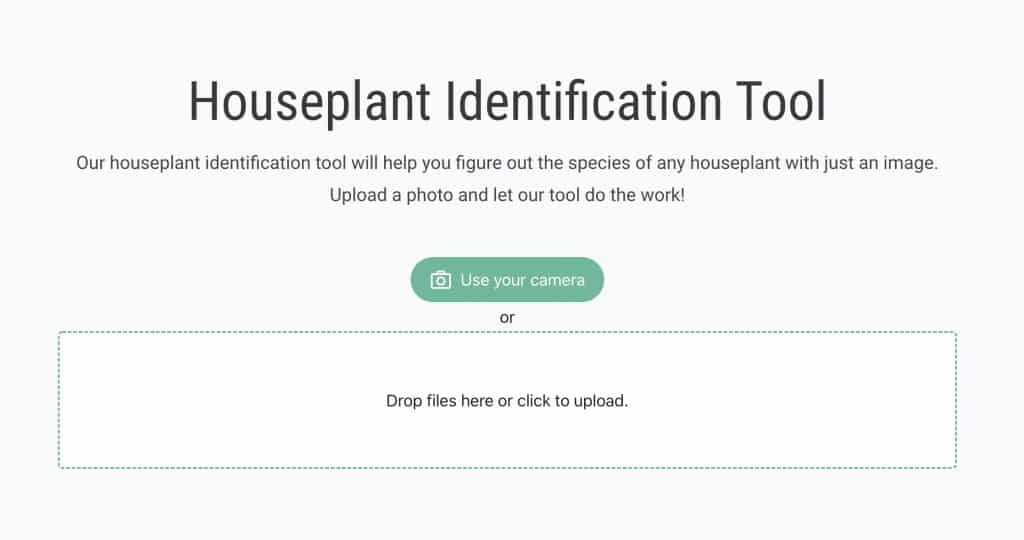 Don't let the name fool you - the plant identification tool on the. JustHouseplants website will recognize more than just houseplants. This tool can identify over 12,000 types of plants including trees, bushes, flowers, fruits, vegetables, and more.
According to their website, the JustHouseplant ID tool will also soon be able to give your plant a "health assessment". This health assessment will be able to identify over 100 different diseases and issues for a single picture of your plant.
This identification tool is completely free to use. Just upload a picture or your unknown plant and let their tool do the work.
App Features Highlight:
Can identify trees, bushes, fruits, vegetables, flowers and more.
Easy to use web interface
Database of 12,000+ plants
Provides a background of your plant after identification
Will soon include a health assessment tool that alerts you of any issues with your plant
Pros
Free and ad-free
Health assessment tool coming soon
Provides information about your plant after identification
Cons
Does not have a mobile app, but is available on the web through mobile devices
Click below to access this tool:
---
Conclusion | Best Plant Identifier App
Literally, these are not the only best free plant identification apps; however, they are simply the top options you should consider first.
Whether you're using an Apple iOS device or Google Android smartphone, these apps are available on both mobile OSes.
Furthermore, just like these plant identification apps, there are also "tree identifications apps." The tree identification apps help you to daily identify the trees in a forest or around your neighborhood.
Thanks to technology, a lot of things have been made readily available for everyone, including novices and experts.