If you want a delightful, colorful addition to your garden or home, then you should consider growing some lilies. The stereotype you have of lilies coming in only white colors is totally wrong.
There are thousands of lily species, and the 'white lily' called Madonna Lily (L. candidum) is just the tip of the iceberg.
There are dozens of lilies hybrid varieties that offer exciting color, elegance, and fragrance that will add the magic touch to your garden or home.
Lilies are graded into 9 divisions with different types of lilies like Enchantment lily, Marhan, Forza red, and so much more.
This post will cover everything you need to know about the best variety of lilies to grow in your garden and how to care for them.
The 9 Division of Lilies
This division is graded by the Royal Horticultural Society, the International Cultivar Registration Authority for lilies, and publishes the Lily Register. The register is useful in adding new hybrids, sorted species, and subspecies.
Lilies graded into a specific division share numerous similarities in terms of flower aspect and form, growth habits, parentage, and so on.
The care requirements for lilies in the same division is basically the same but with different bloom time.
Now, before we go into the different types of lilies, let's quickly look at the 9 division of lilies for a better understanding of the plant.
Division I: Asiatic Hybrids
Asiatic hybrids result from the crossbreeding of 12 different Asian species, mainly Asian species such as L. lancifolum (the Tiger Lily). They are smaller in size and come in a wide array of beautiful colors, shapes, and sizes.
Most Asiatic hybrids can grow up to 5 feet tall with up to 20 flowers per stem from mature bulbs.
They are also quite easy to care for and perfect for novice gardeners. They bloom in late spring to mid-summer and can thrive in beds, borders, and cutting gardens.
Some popular cultivars of the Asiatic hybrids are Heartstrings, Netty's Pride, Night Rider, Rosella's Dream, Starlette, Lilium 'Enchantment' (Enchantment Lily), Lilium 'Connecticut King,' and 13: Lilium Roma.
Division II: Martagon Hybrids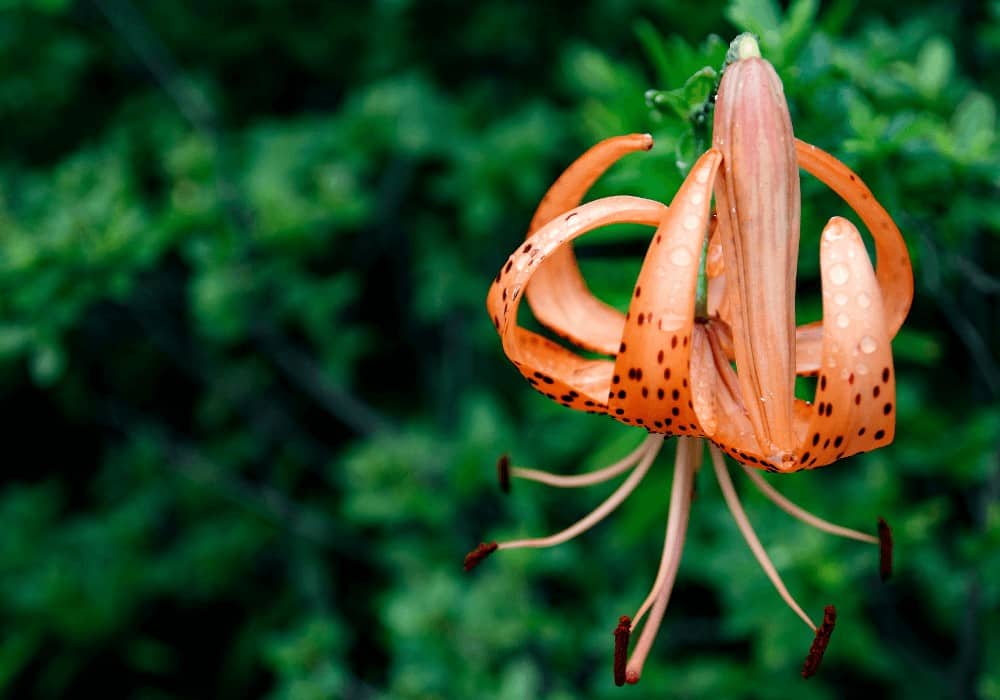 Martagon hybrids are usually the result of crossbreeding L. martagon and L. hansonii. This division is native to Europe and Asia, and are known for their tall stalks loaded with buds with over 40 per stem.
This hybrid is perfect if you're not exactly into showy lilies and will fit perfectly into a more natural-style garden.
Typical of most divisions, this division is easy to care for provided they have adequate drainage. They thrive best in a bit of shade and bloom from mid to late summer.
The most popular cultivars in the Martagon hybrids are Marhan and Martagon Mix. Cultivars like 'Orange Marmalade,'' Cranberry Dancer,' and 'Rose Tattoo' are rare and a bit difficult to obtain.
Division III: Candidum (Euro-Caucasian) Hybrids
This division is almost synonymous with the Madonna Lily, which is perhaps one of the most famous lilies in the world. The Madonna lily is loved for its pure white trumpets and sweet, intoxicating fragrance.
Most lilies in this division can grow 3 to 4 feet tall with 20 blooms per stem. They bloom in late spring to mid-summer.
There are not many lilies in this division, and very few bulbs are cultivated for the commercial market. The most popular cultivars are June Fragrance, Moonlight Madonna, and Nankeen.
Division IV: American Hybrids
This hybrid is a combination of L. pardalinum (also known as the Leopard Lily) and other species. Most lilies in this division have whorled foliage conspicuous freckles on the throats or petals with up to 5 to 20 buds per stem.
They usually come in deep hues of orange, red, or yellow and can grow up to 3 to 8 feet tall when left undisturbed.
This hybrid needs to be carefully propagated as it can be damaged by careless digging. They thrive best in light woodland conditions or when planted with shrubs and bloom in late spring to early summer.
The most popular cultivar of the Americana hybrid is Lilium Bellingham and Cherrywood.
Division V: Longiflorum Hybrids
This division is also called easter lilies, and they are native to Japan and Taiwan. They are characterized by long trumpets, pure white blooms, and delicious strong scents.
They can grow up to 2 to 3 feet high with 12 to 15 flowers per stem. Lilies in this division bloom mid to late summer and are a good addition to perennial beds, while dwarf varieties are ideal for containers.
Lilies in this division are not perfect for novice gardeners because they are tender and are unlikely to survive a frost. Popular cultivars in this division include White Heaven and White American.
Division VI: Trumpet and Aurelian Hybrids
This is by far the most popular and largest division of lilies. They are considered the pinnacle of the lily family as its classic funnel shape is what everyone pictures lilies to look like.
They are a hybrid of two Chinese species and are characterized by many narrow leaves along the stems.
They can grow 3 to 6 feet tall with up 25 large flowers per stem and bloom in mid-summer. Lilies in this division are perfect if you are keen on making bold and colorful statements.
Trumpet lilies are highly fragranced and will do well in containers and flower beds. They thrive on soil that has been enriched with lots of organic matter with little shade.
Popular cultivars in this division are African Queen, Regale, Golden Splendor, Lilium Pink Perfection Group, and Bright Star.
Division VII: Oriental Hybrids
The oriental hybrid is usually a combination of the Japanese L. auratum and L. speciosum species.
Most plants here are characterized by long stems, showy blooms that come in various shades of burgundy, pink, purple, or white, with noticeable freckles.
Oriental hybrids are highly fragranced and known for their beauty and robust nature. Most plants in this division can grow up to 7 feet tall, with each stem producing at least 8 blooms.
Oriental hybrids thrive best in soil with ericaceous compost and do well in containers and pots.
Popular cultivars in these hybrids are Casablanca, Dizzy, Dwarf Muscadet, Love Story, Magic Star, Playtime, Red Eye, Soft Music, Stargazer, Tiger Moon, Oriental Lily Acapulco, and Tom Pouce.
Division VIII: All Other Hybrids or Inter-divisional Hybrids
Before now, they were referred to as 'all other hybrids' because there were some challenges classifying them because they couldn't be crossed.
Thanks to scientific research, breeders have been able to introduce a wide range of new options for lily lovers in recent years.
Lilies in this division are characterized by high fragrance, bold colors, delicate pastels with contrasting color bars, or throats with or without freckles.
The LA hybrids in this division are a combination of L. longiflorum with Asiatic lily and the Orienpet hybrids, which cross Oriental lilies with Trumpet species.
Most lilies in this division thrive well in large containers, cottage and cutting gardens, perennial beds, and naturalized areas.
Popular cultivars in the LA hybrids are Forza Red and Heartstrings, with Lilium Black Beauty and Scheherazade being popular cultivars of the Orienpet hybrids.
Division IX: All True Species
This is the final division and contains species and their subspecies as well as their varieties and cultivars found in other divisions (excluding division V).
There is no specific size and form of lilies in this division, and while some are easy to tend to, others are difficult. Bloom time for species ranges from early to late summer.
Popular cultivars in this division are Flore Pleno and Splendens.
Types of Lilies
Now that you're familiar with the characteristic of each division, it's time to pick out a lily from each division that will make the perfect addition to your garden.
Here are the different lily plant varieties that you should know about:
1. Enchantment Lily (Lilium 'Enchantment')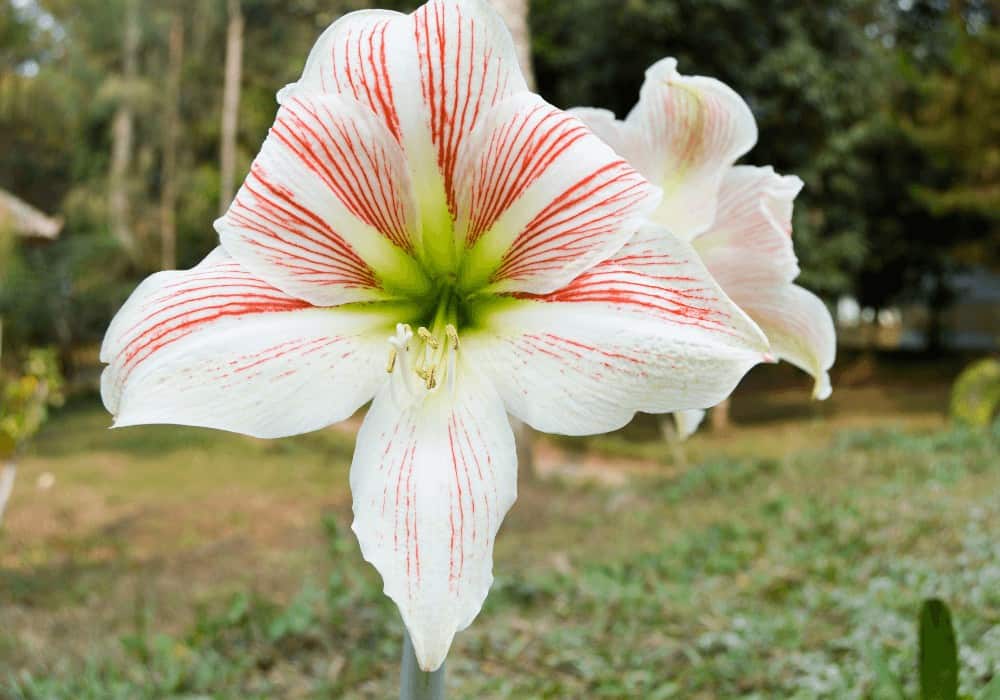 This hybrid is in the First Division of Asiatic hybrids and certainly lives up to its name. The lily is a complete showstopper with its vivid orange blooms and soft, black freckles.
This hybrid can thrive in full sun, ericaceous (lime-free) compost, and blooms in the summer. They can grow up to 3-4ft tall in zones 4-8.
While the term 'enchantment' might suggest the division flower is highly fragranced, that is not the case as it has no scent.
Enchantment is perfect for novice gardeners as it's easy to grow and makes excellent cut flowers.
---
2. Marhan Lily (Lilium candidum)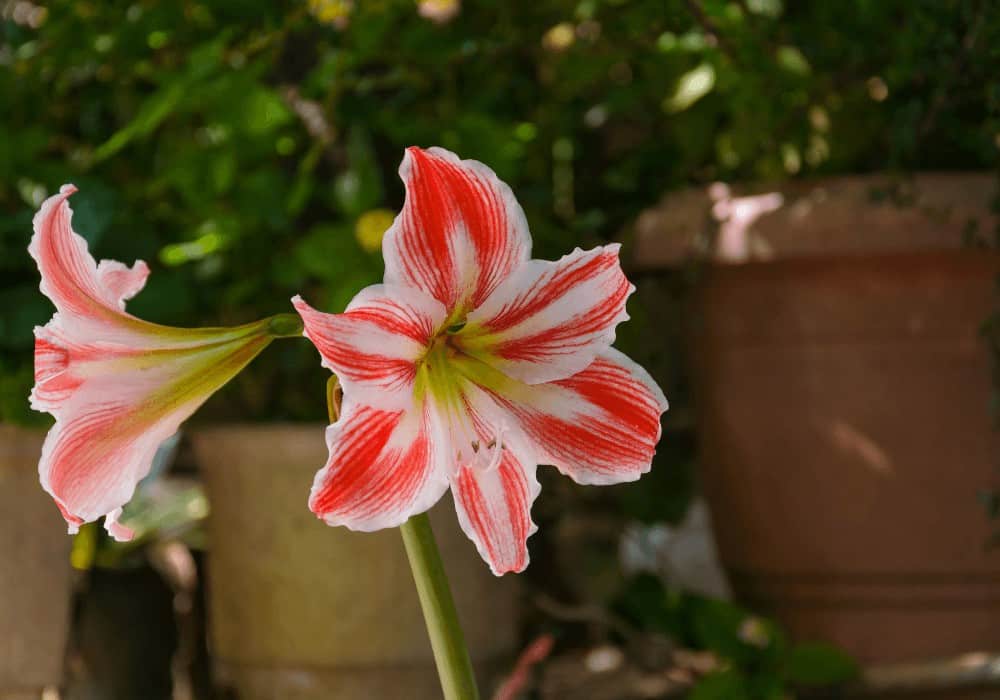 This is a popular cultivar in division 2 Martagon hybrids and has been around for over 100 years.
The petals of the Marhan are well curved with subtle colors that are heavily spotted and stand out against the dark green stems.
Marhan can grow up to 6ft tall and blooms in the early summer. It enjoys partial sun to light shade.
---
3. June Fragrance Lily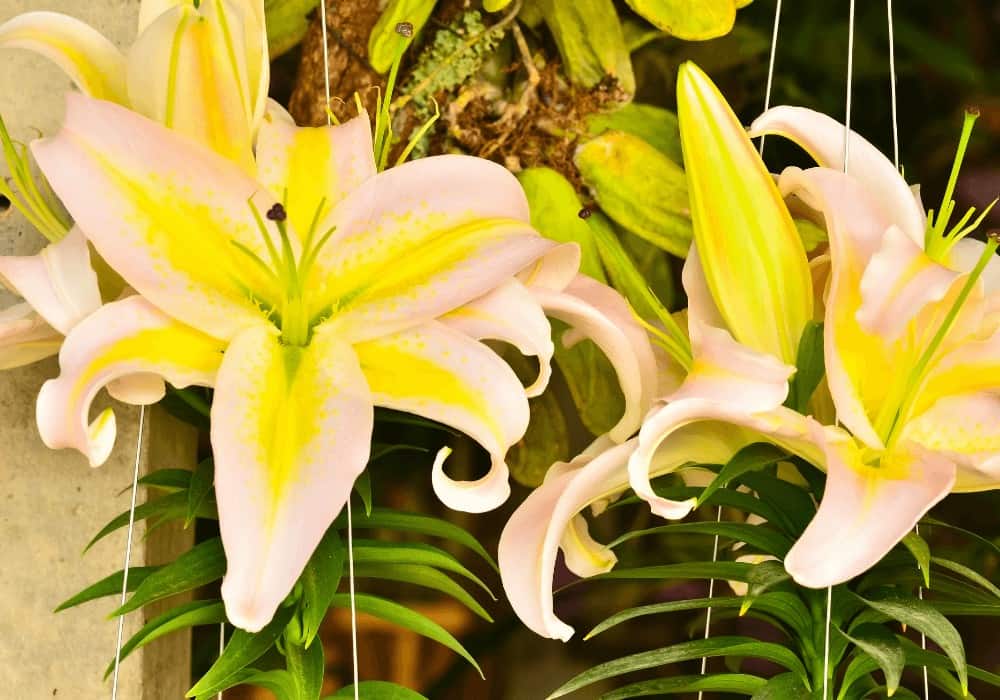 The June fragrance belongs in the same division as the Madonna lily, which is probably one of the most popular lilies and obviously the most popular in Division III of the Candidum (Euro-Caucasian) Hybrids.
As the name suggests, June Fragrance has a strong, sweet fragrance with creamy-white flowers in late spring. It has a long stem that can grow up to 4-feet tall.
---
4. Bellingham Lily (Lilium humboldtii)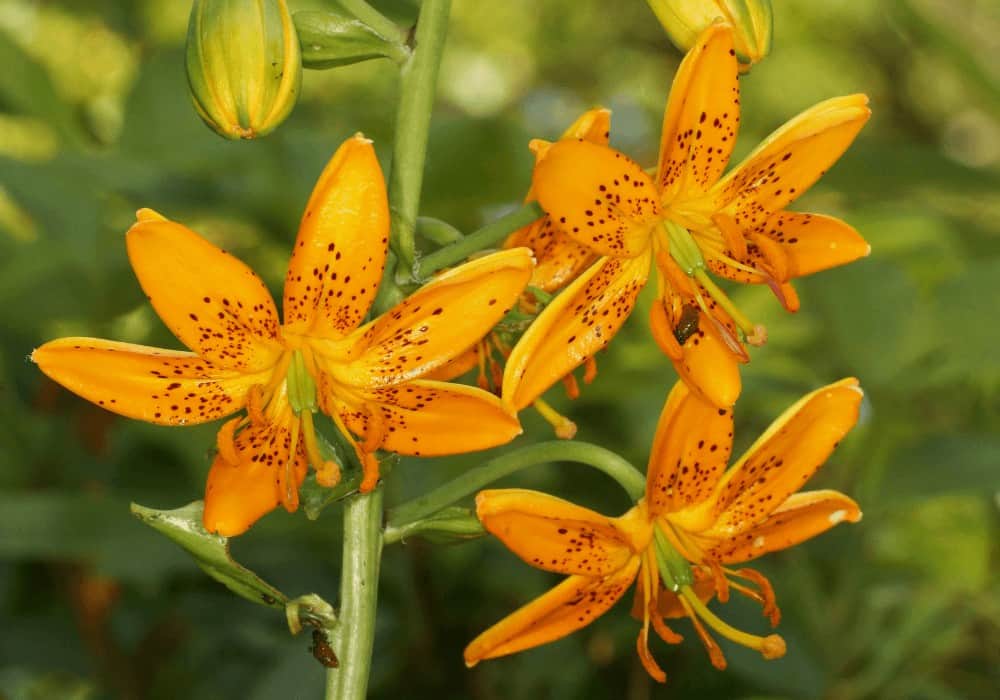 This belongs to division IV of American Hybrids, and it's characterized by tall spikes, decorated with whorls of bright green leaves and blooms in shades of red, orange, and yellow.
Bellingham can grow up to 5-6ft and usually blooms in midsummer. The flower thrives under full sun in soil mixed with compost.
---
5. White American Lily (Lilium longiflorum)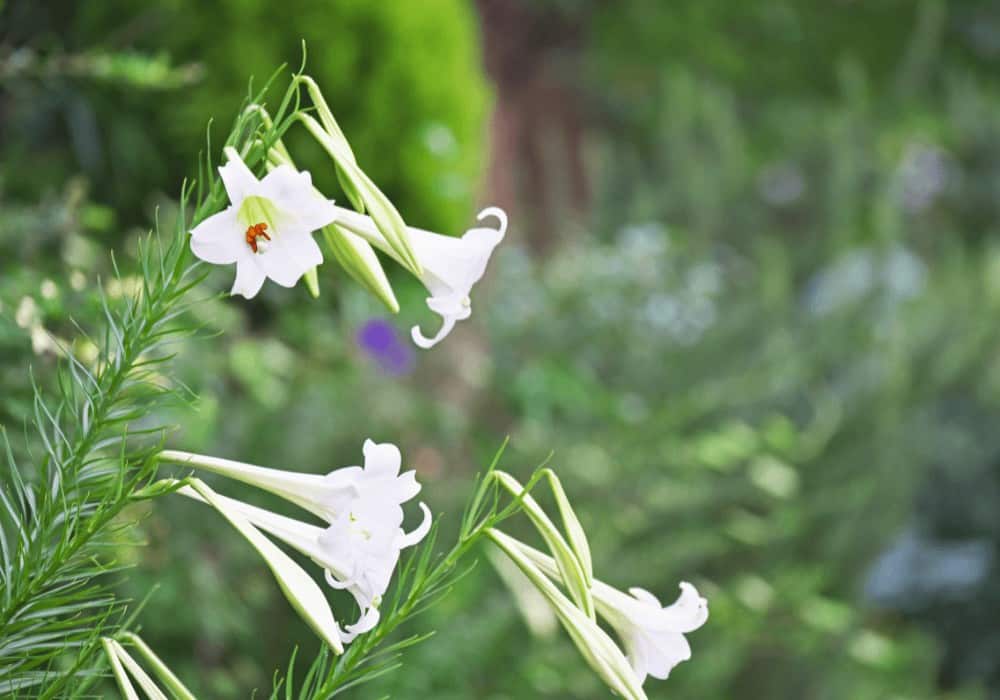 White American is a tough plant that grows rapidly in the right conditions. It is characterized by upright stems that bear dark green, lance-like leaves.
As the name suggests, it has pure white blooms, which are trumpet-shaped with green-tinged tips and the classic rust-orange anthers.
White Americans can grow up to 3-4ft tall and bloom in summer. The plant will thrive under full sun to partial shade.
---
6. African Queen Lily (Trumpet Lily)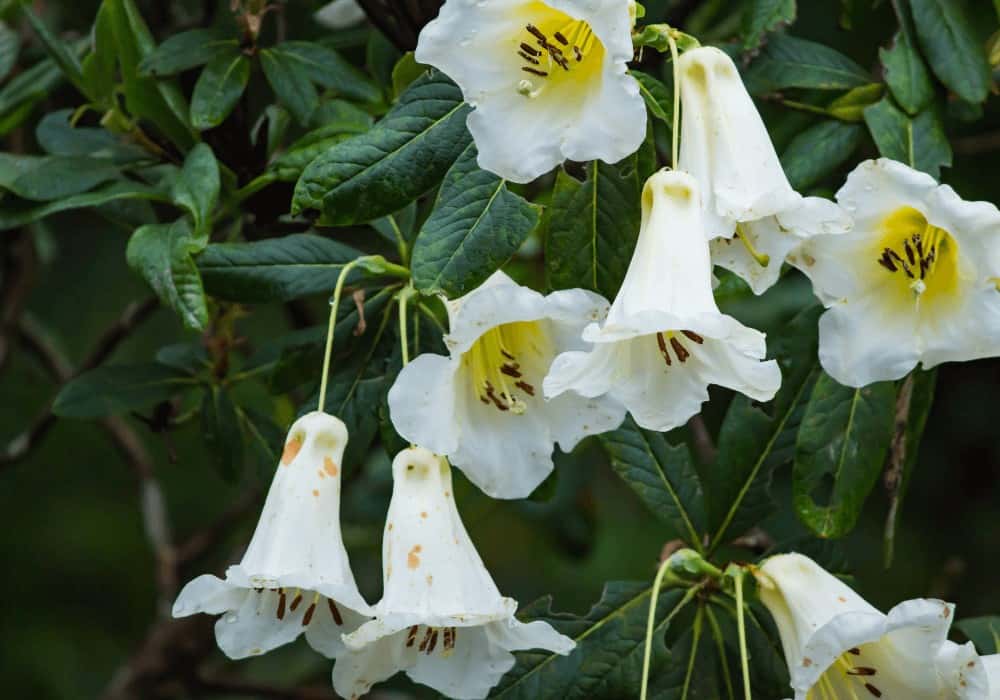 If you want a tropical feel to your garden, then African queen is the perfect lily for you.
This flower is characterized by a zesty orange color tinged with soft purple-pink shades on the outer petals. The African queen hybrid belongs to division VI of the Trumpet and Aurelian Hybrids.
African Queen has long stems that can grow up to 6ft tall with flowers facing outwards and slightly down.
This plant has a high tolerance and can survive well in most climates. They thrive best in a nice sunny location with well-drained soil and bloom from July to August.
---
7. Casa Blanca Lily (Lilium 'Casa Blanca')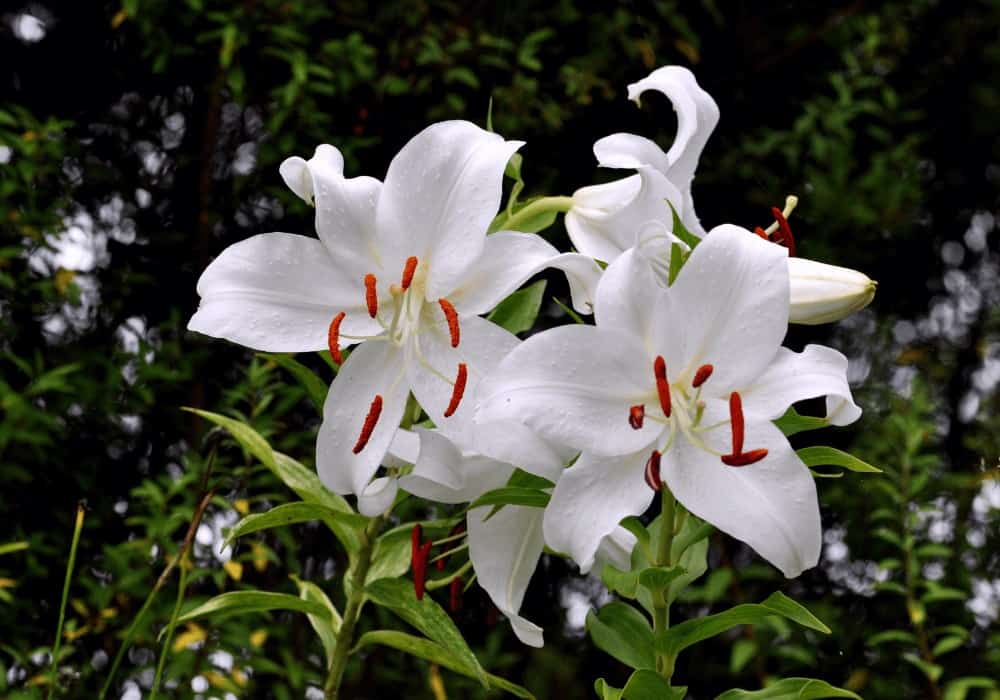 This hybrid is in Division VII of the Oriental Hybrids. Casa Blanca has enormous snow-white blooms with the center tinged with a delicate green, making it perfect for cut flowers.
Casa Blanca is an undeniably beautiful flower which has helped it gained popularity. This plant can grow up to 3-4ft and blooms in mid to late summer. It thrives under full sun and is highly fragranced.
---
8. Forza Red Lily (LA Lilium 'Forza Red')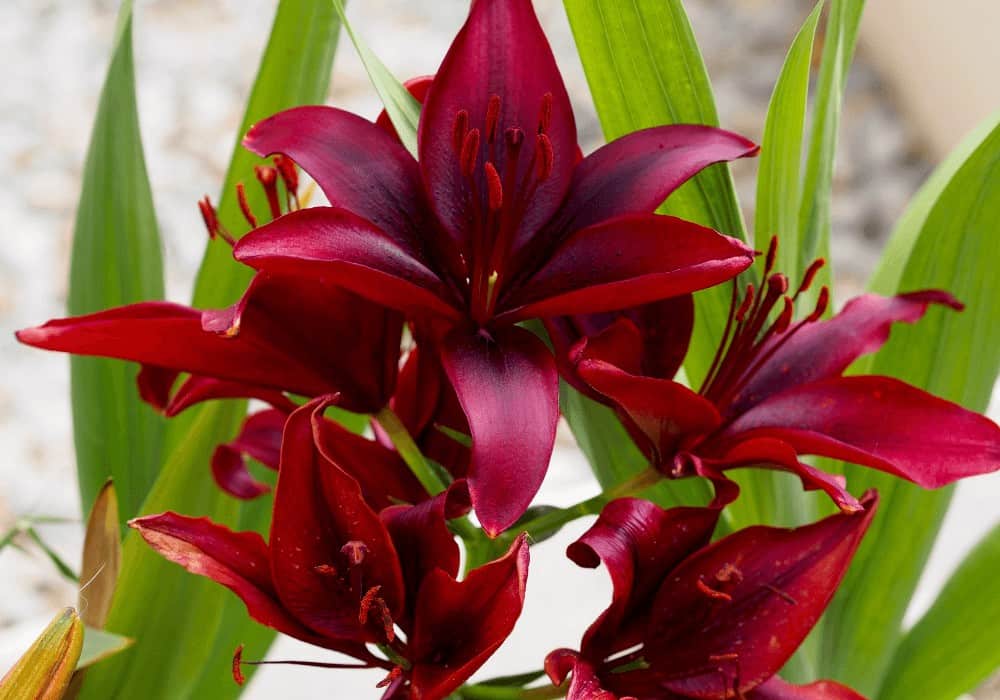 Remember that the intersectional hybrid is divided into two segments: the La hybrid and Orienpet Hybrid.
The Forza red is in the La hybrid. In Italian, Forza means 'power,' which relates to this beautiful flower with its solid shade of shimmering maroon.
Forza is characterized by impressively large blooms and can grow up to 3-4ft tall. The flower blooms in June and enjoys full sunlight.
---
9. Scheherazade Lily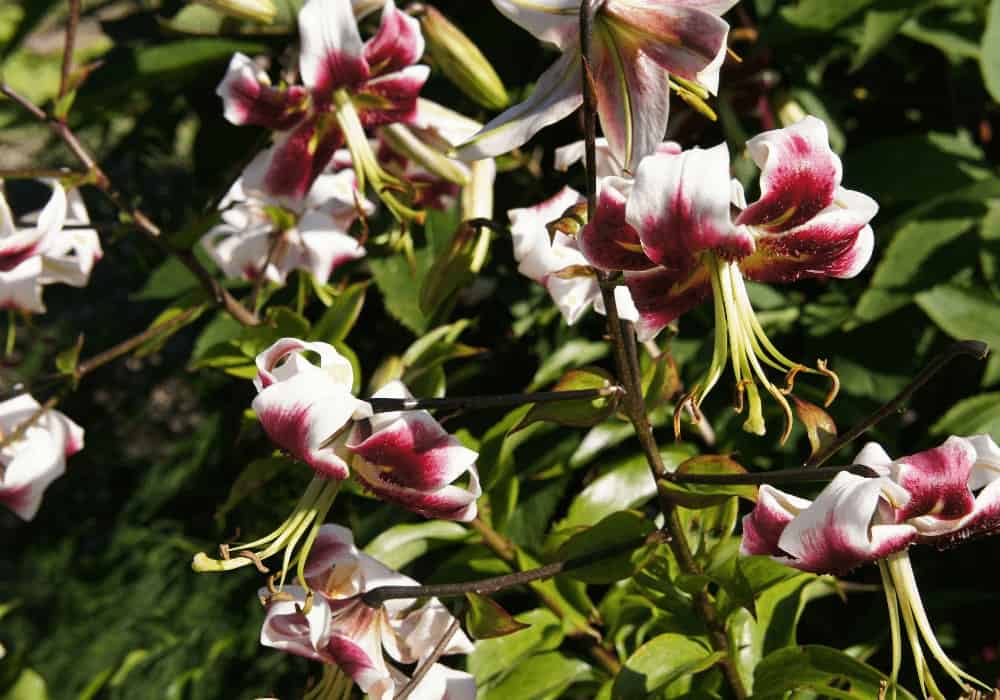 This hybrid is still in division VII of the intersectional hybrid of the Orienpet segment. This grand flower is characterized by long spikes, rich crimson color with a border of pale cream, and huge, dark anthers.
Scheherazade can reach up to 7 feet tall with 40 blooms on a single stem in the ideal condition.
This flower will definitely give your garden a glorious feel. Scheherazade blooms in mid to late summer and enjoys full sun to partial shade.
---
10. Flora Pleno Lily (Lilium lancifolium)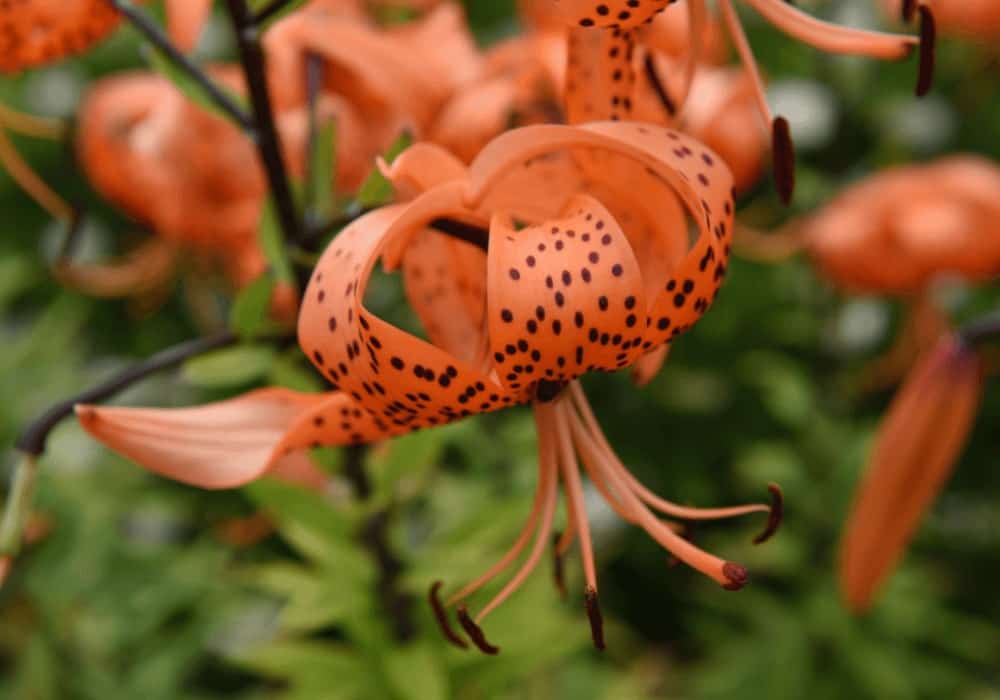 This belongs to Division 9, which is regarded as the true species of all hybrids. Flore Pleno will add a bit of drama to the garden.
This flower is characterized by orange coloring with dark freckles and double petals. It blooms in mid-to-late summer and can produce up to 25 flowers on 6-feet-tall stems.
---
Conclusion
If you're not so keen on gardening, you might associate all lilies with the Madonna lily, which is known for its white blooms and trumpeted shape.
Now, you know thousands of lilies can give your garden any type of ambiance you wish for.
Most importantly, these hybrids are quite easy to care for; thus, even a novice gardener can adequately take care of them. Also, most of these hybrids can be planted inside a pot or container indoors.
Read Also: