If you want to get a double appearance consisting of flowers and, at the same time, attractive, durable, berrylike fruits in your garden, the best plant to go for is an ornamental pepper.
Contrary to the larger vegetable garden varieties, most gardeners had preferred growing ornamental peppers for their attractiveness rather than flavor.
Some people often wonder whether ornamental peppers are as edible as the veggie varieties. Although they are not as edible, still, like all peppers, they are edible.
There are various types of ornamental peppers, including black pearl, calico, chilly chili, Capsicum annuum, Medusa ornamental pepper, etc., and with different shapes, sizes, and colors, they'll give your home amazing looks.
Different Types of Ornamental Peppers
Ornamental peppers come in different varieties, and like we earlier mentioned, even though they are consumable, they are most often grown for their aura of attraction rather than as edible fruits, which is why they are referred to as ornamental peppers.
Without further ado, what are the various types of ornamental peppers?
1. 'Black Pearl' Ornamental Pepper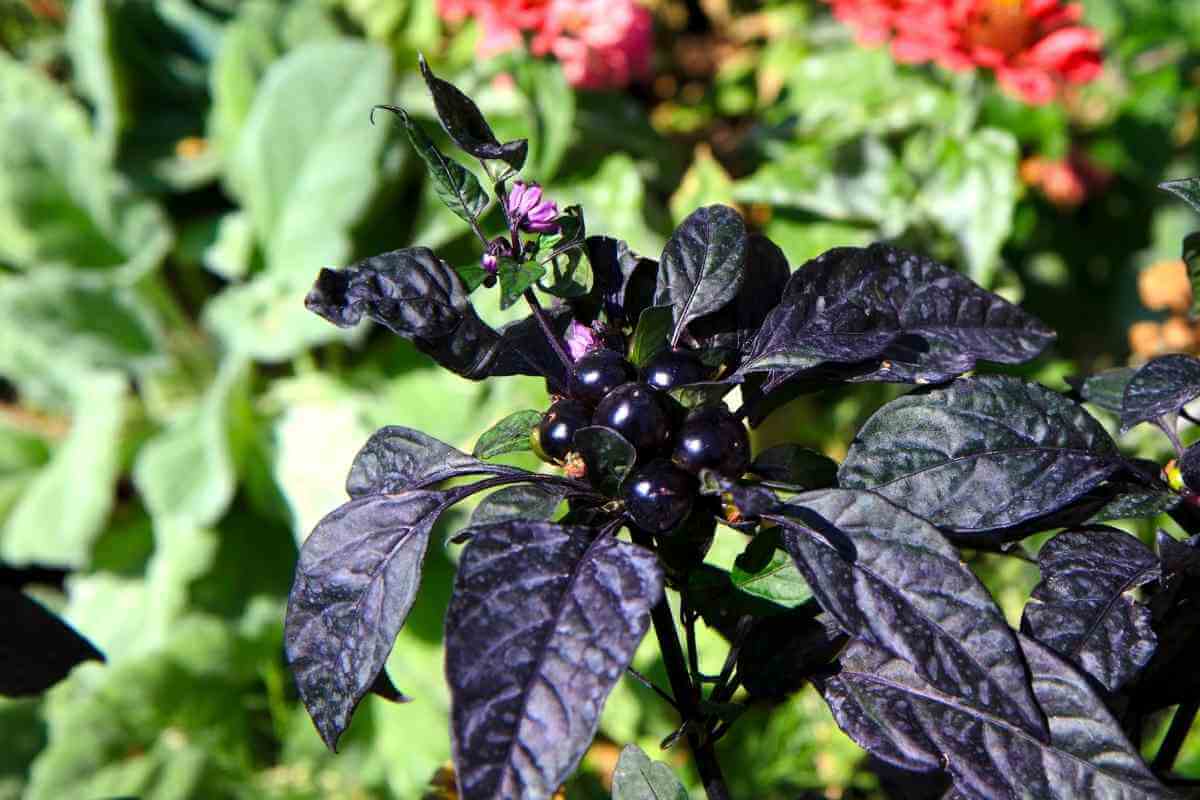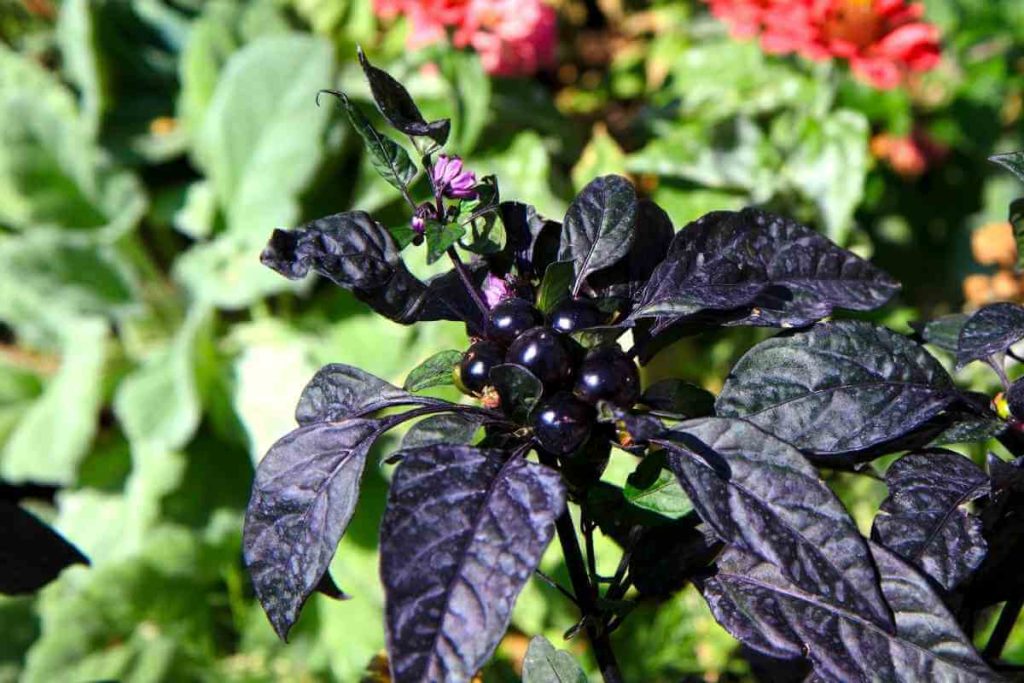 Also known as Foliage Ornamental Pepper, Garden, or Large Pot, the black pearl is a gorgeous plant that features dark foliage.
However, the most enticing and interesting thing about this type of ornamental pepper is that it often looks more beautiful with the summer season's progress.
The black pearl grows in such a way that it branches out and creates more clusters of black, pearl-like, shiny peppers; that is why it is not a surprise it was referred to as 'Black Pearl.'
The plant comes from the capsicum annum family. If you don't prune them, they tend to grow taller and wider, developing into a black pyramid shape.
Another notable fact about the black pearl is that it can survive under heat and doesn't need much watering and fertilizing.
The best way to grow it is from seed, but it is also easier to grow it from bedding plants or pot plants with fruit sets. With maturity, the black peppers turn red, generating additional color to the plant.
2. 'Medusa' Ornamental Pepper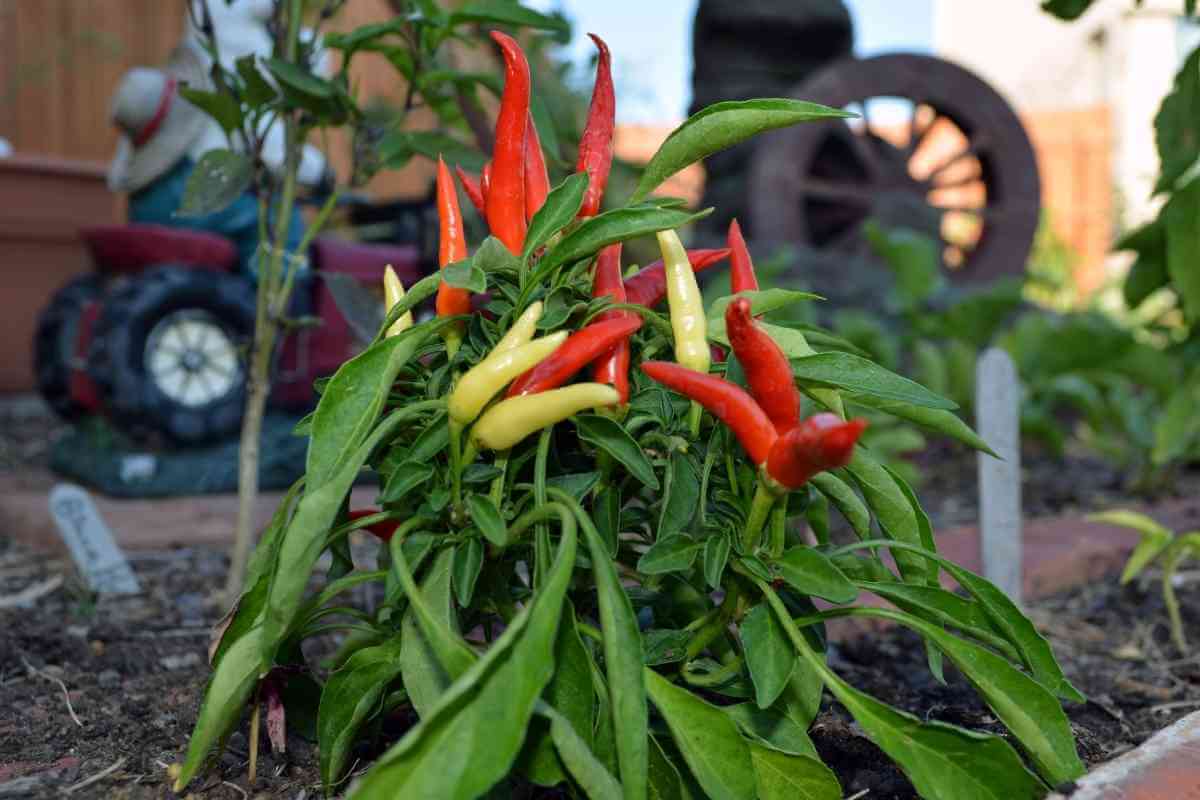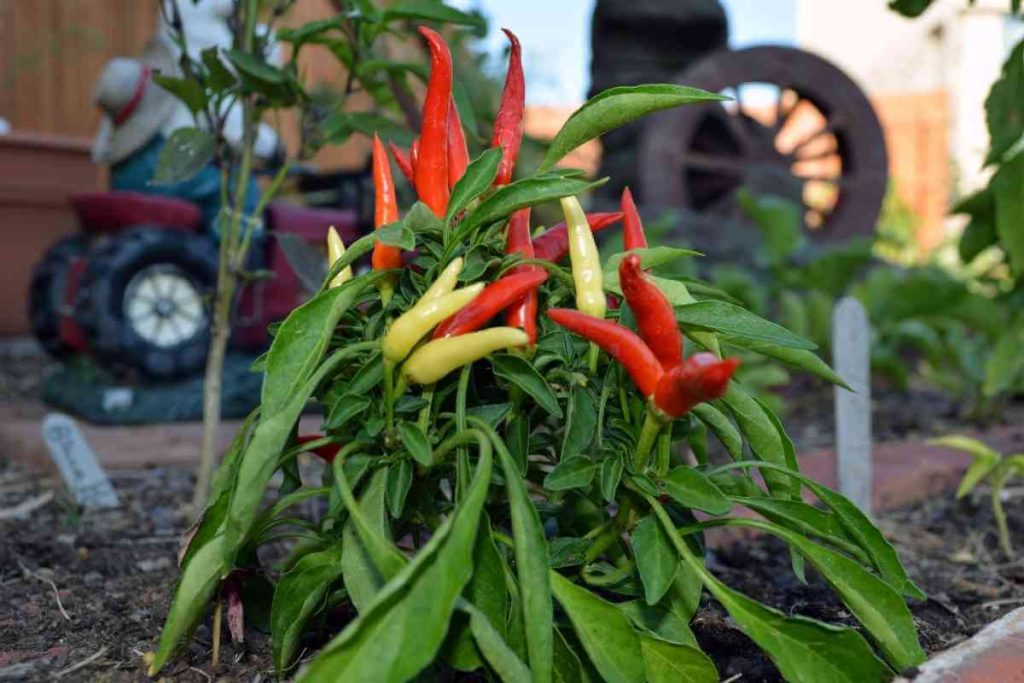 It is called 'Medusa' because its short yet long and thin appearance always twists and curls, like Medusa's hair. This kind of ornamental pepper is most regularly utilized as a potted plant, even though those in very temperate climates can utilize it as a border plant.
The medusa ornamental pepper features dark green foliage, which holds the peepers that grow upwards and mature from ivory to orange and red colors.
With the right conditions, such as the full sun (say 6+ hours), moist soil, weekly fertilizing, etc., you can always expect the best result from your Medusa ornamental pepper.
Again, this paper is not as dangerous as most other ornamental pepper types because it is never hot; therefore, you are free to grow it anywhere around your home. It can also be used as an ingredient to decorate salads or canned goods.
3. Masquerade Ornamental Pepper (Capsicum annuum)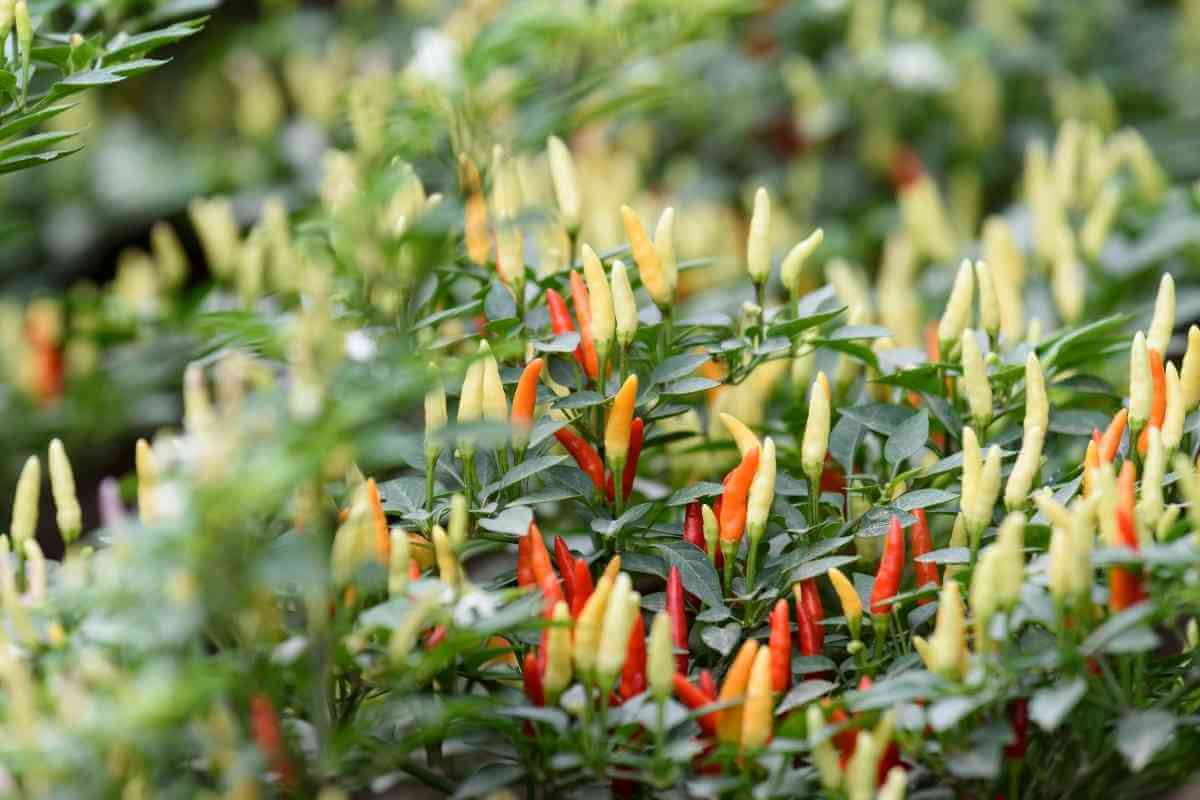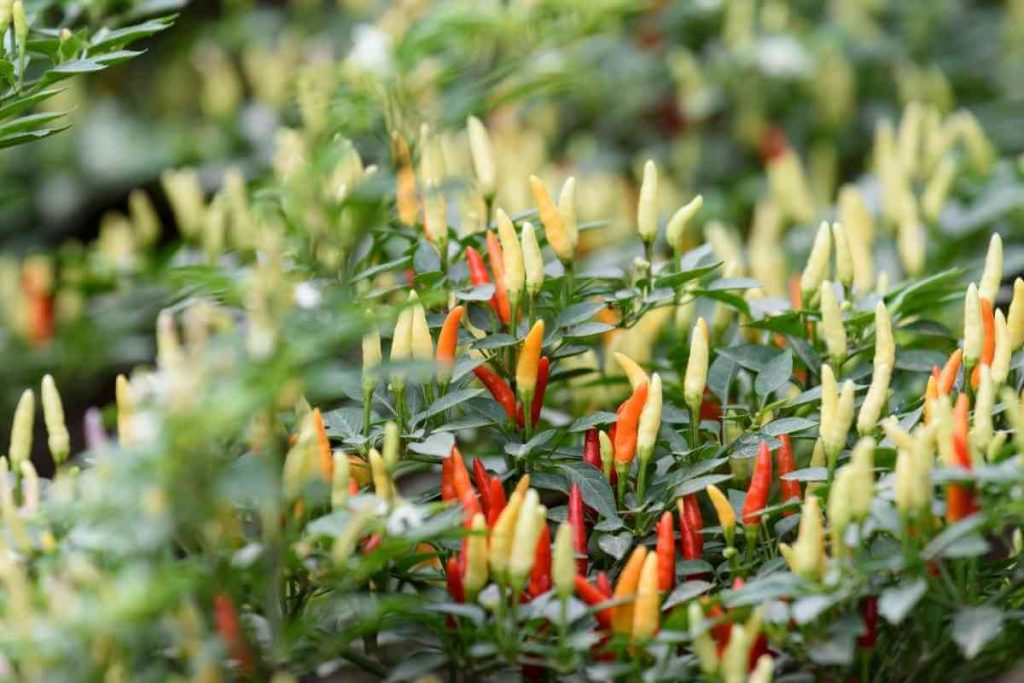 Originated from the Capsicum annuum family, the masquerade ornamental pepper is a type of ornamental pepper that develops dense upright clusters of very vivid flame fruit with the shape of a fruit.
It begins with green color when growing, before changing to purple, yellow, orange, and lastly red at its mature stage.
It is a summer (late summer) bloomer and is mainly cultivated because of its decorative fruits. It also has numerous purple berries with orange blush, which develops between Mid-summer to early Fall, but subsequently changes to red when fading.
Masquerade ornamental pepper features beautiful spear-like leaves that stay dark green throughout the season.
It also has fragile white flowers with the shape of a star and features a touch of creamy white color which dangles around the stem between late springs to mid-summer.
This type of ornamental pepper is an herbaceous annual plant that features an upright spreading growth habit. It has a texture that gets accustomed to any garden, yet, you can balance it using two or more strong plants to enhance the composition.
4. 'Chilly Chili' Ornamental Pepper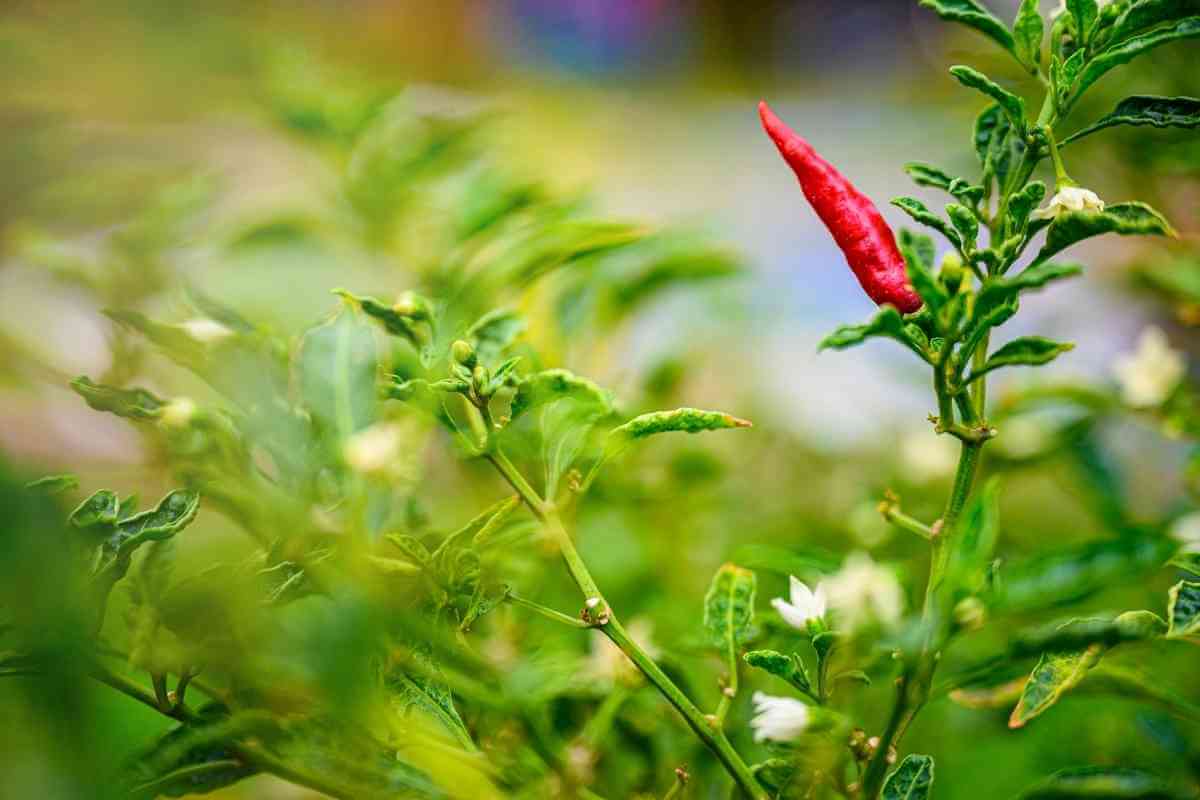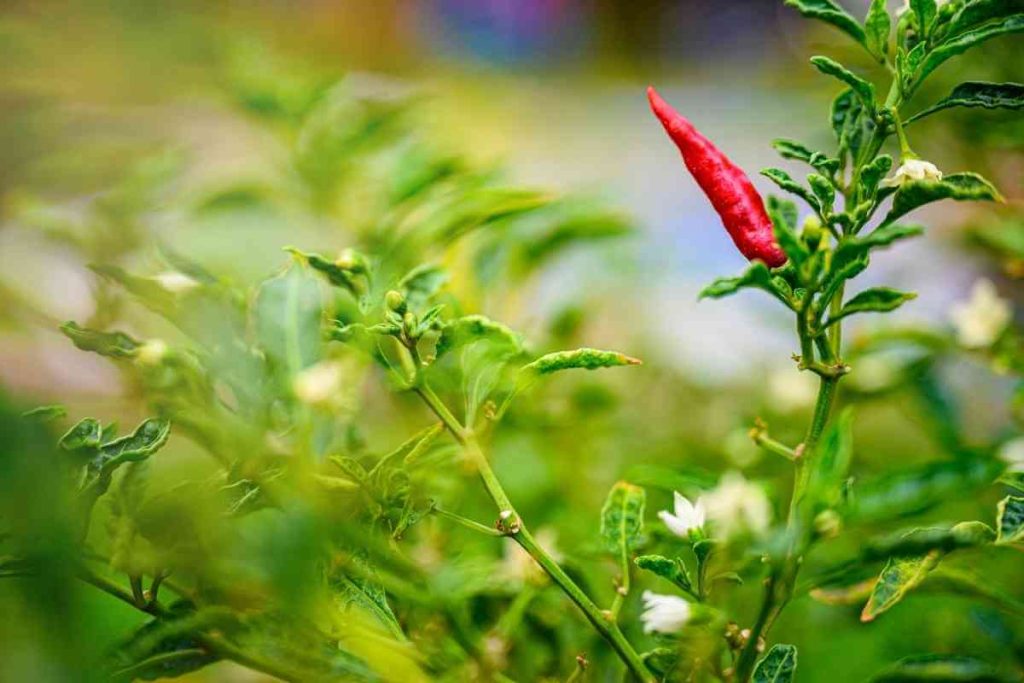 Just as its name implies, this type of ornamental pepper is best at giving any home a new look and chill, especially as it doesn't have a strong and acidic odor.
The chilly chili comes from the capsicum annuum family of Solanaceae, and like some other ornamental peppers, it's a late summer bloomer.
It produces ivory fruits originally yellow but changes to bright red during its maturity stage.
Talking about the maturity stage, the chilly chili can grow up to 10 inches tall and 14 inches wide. It is a very stubborn plant that can stand any degree of heat. Meanwhile, it can be used as an ingredient to spice up salads.
5. 'Purple Flash' Ornamental Pepper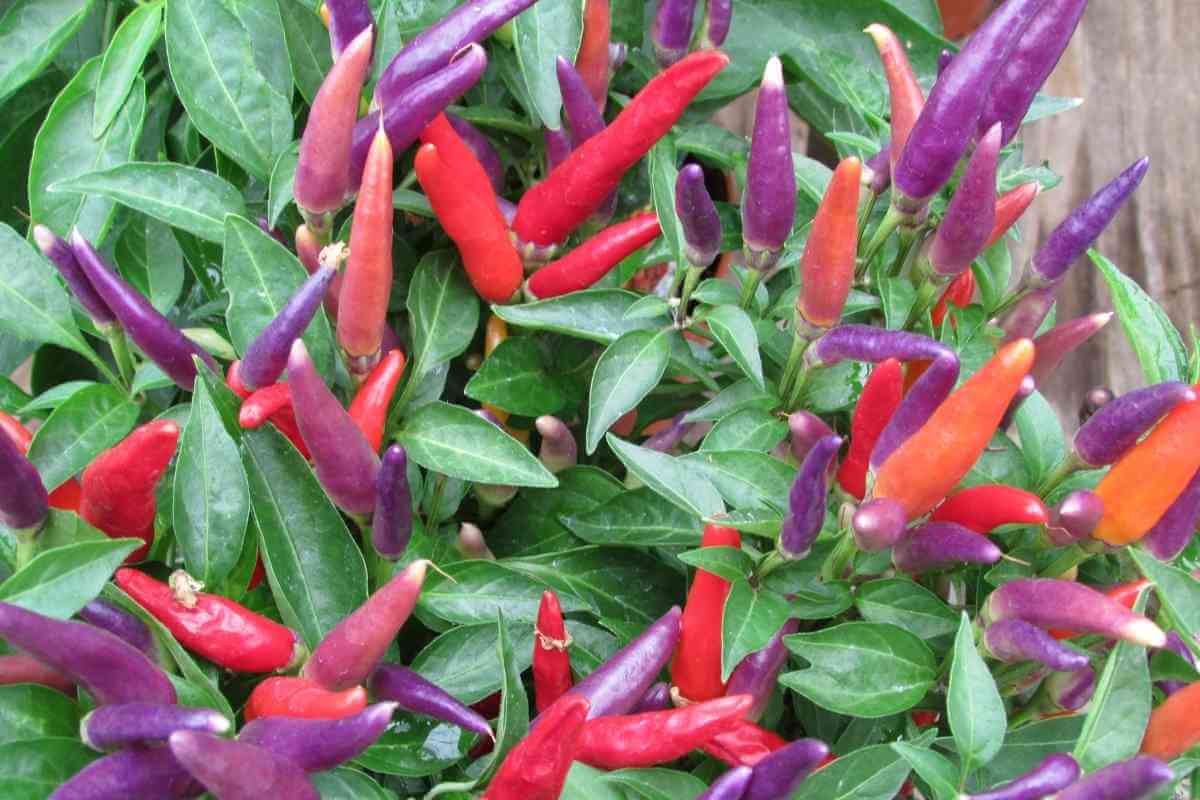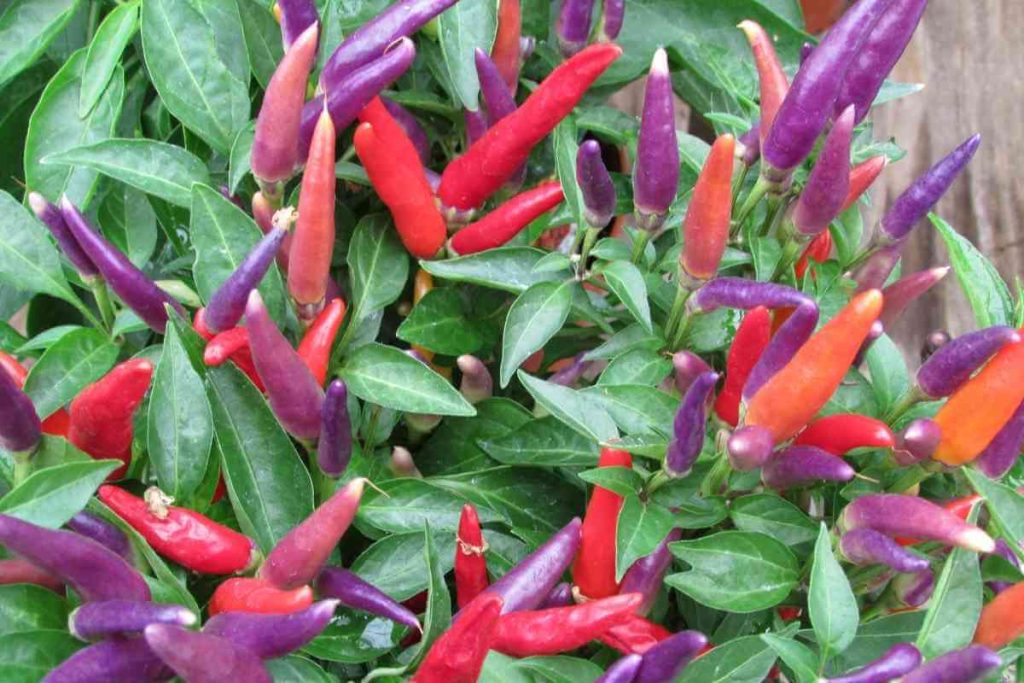 The purple flash ornamental pepper is an herbaceous perennial from the Solanaceae family. In some regions, it is referred to like chili pepper, as it is seen as one of three significant types, namely sweet peppers, hot peppers, or ornamental peppers.
It is important to note that some peppers are not called hot because they are extremely hot. In other words, most ornamental peppers, including the purple flash, are often for decorative purposes. Purple flash variety comes with dark foliage surrounded by bright purple or white touches.
It has leaves that keep their beautiful color throughout the growing season and produces little dark purple flowers that come in clusters during early summer, followed by little, round, glossy, jet-black fruits that are edible yet hot.
6. 'Tangerine Dream' Ornamental Pepper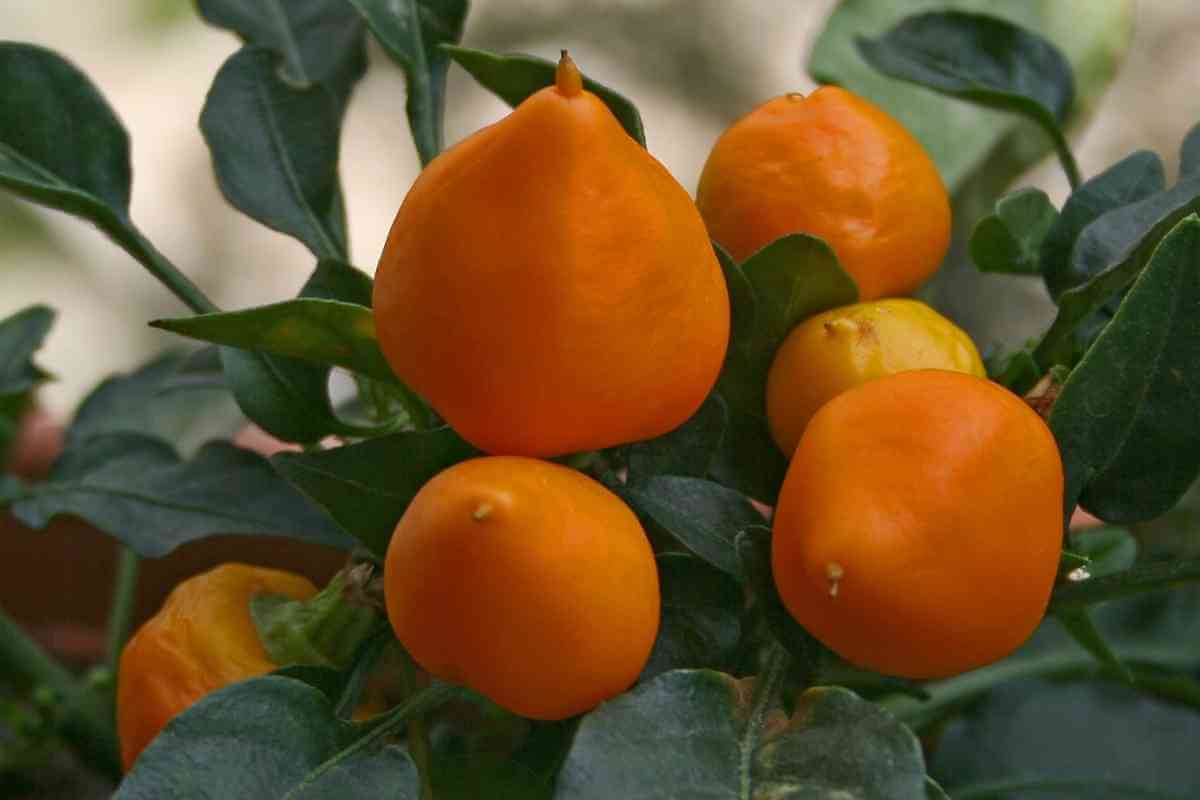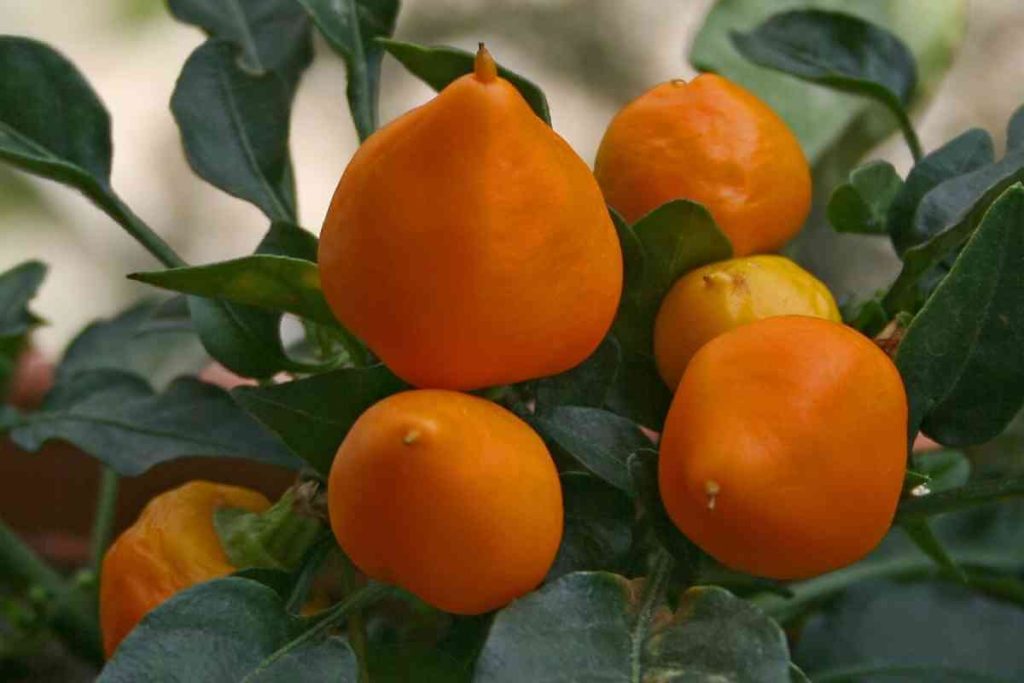 Orange-red in color, the tangerine dream is very attractive and appealing to the eyes, while they also possess a sweet taste. This type of ornamental plant has the shape of a rocket, and its mature stage develops into a vibrant orange that is ready for harvest.
Like we earlier stated, it has a very sweet flavor, yet its heat level is very low. The tangerine dream ornamental pepper is bushy when growing and tends to stay in clusters; hence it is best as potted plants.
Its growth stage can be up to 18 inches and needs to be harvested 70 days after cultivation. It requires full sun for the best growth.
7. 'Aurora' Ornamental Pepper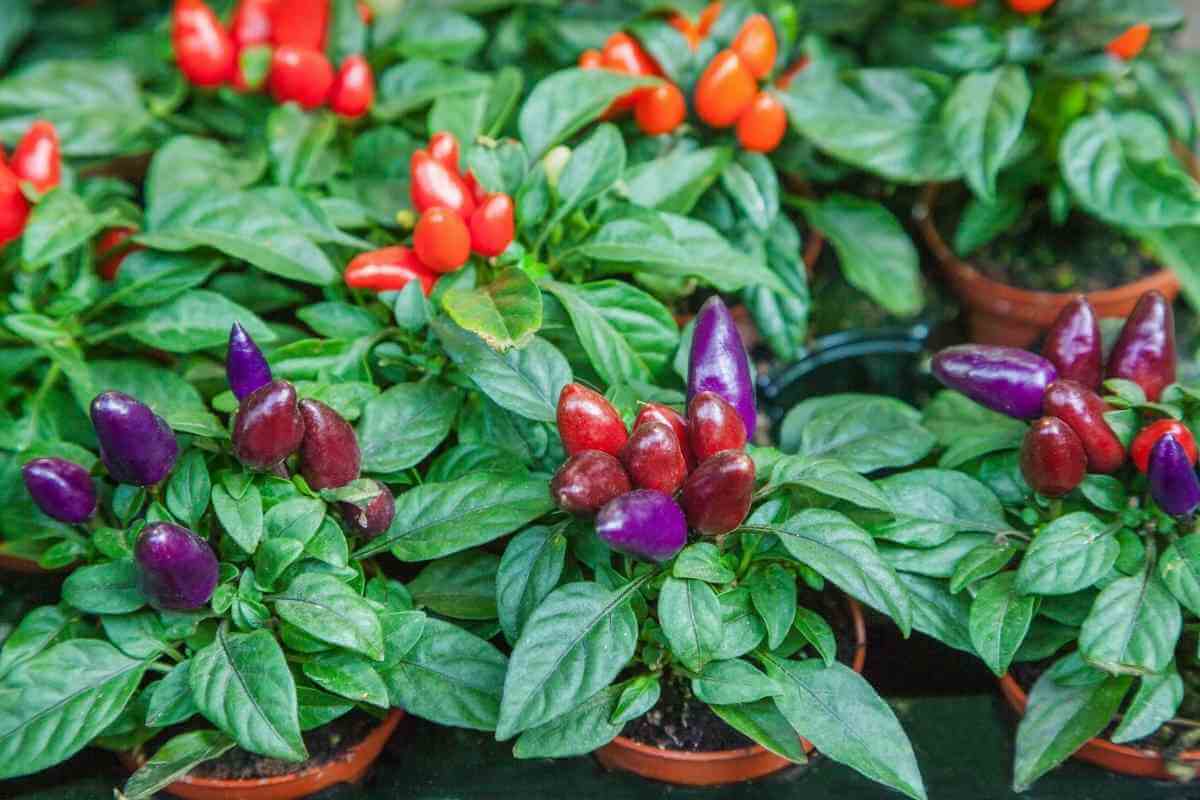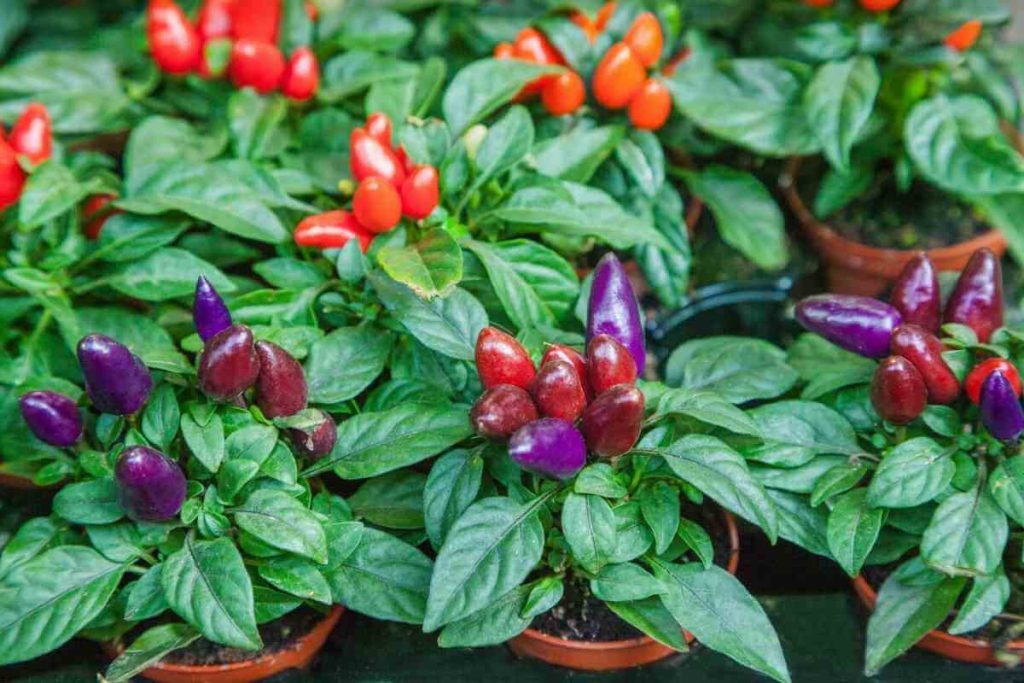 Aurora ornamental pepper is a medium-hot to hot pepper from the capsicum annuum family of the Solanaceae. It goes from green to lavender and dark purple; then it evolves to orange and red color.
This range of beautiful revolving colors makes it an attractive prospect for your porch, patio, or garden.
Most gardeners utilize them as vinegar and pickles, especially when they are edible. The aurora is resistant to a series of seasonal heat. You can only give it the basic maintenance it needs, which is why it is widely known as an easy maintenance plant, especially for beginners. It can grow up to 1.5ft long and 0.75ft wide.
8. 'Sangria' Ornamental Pepper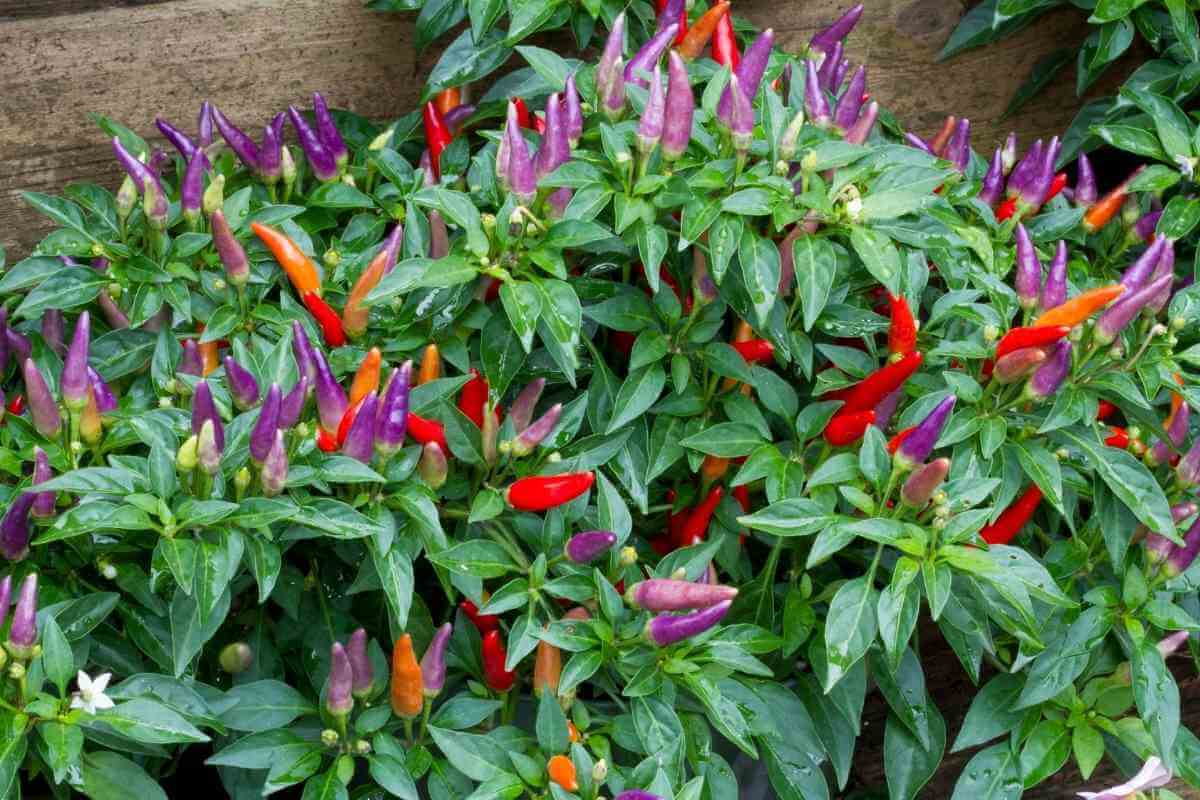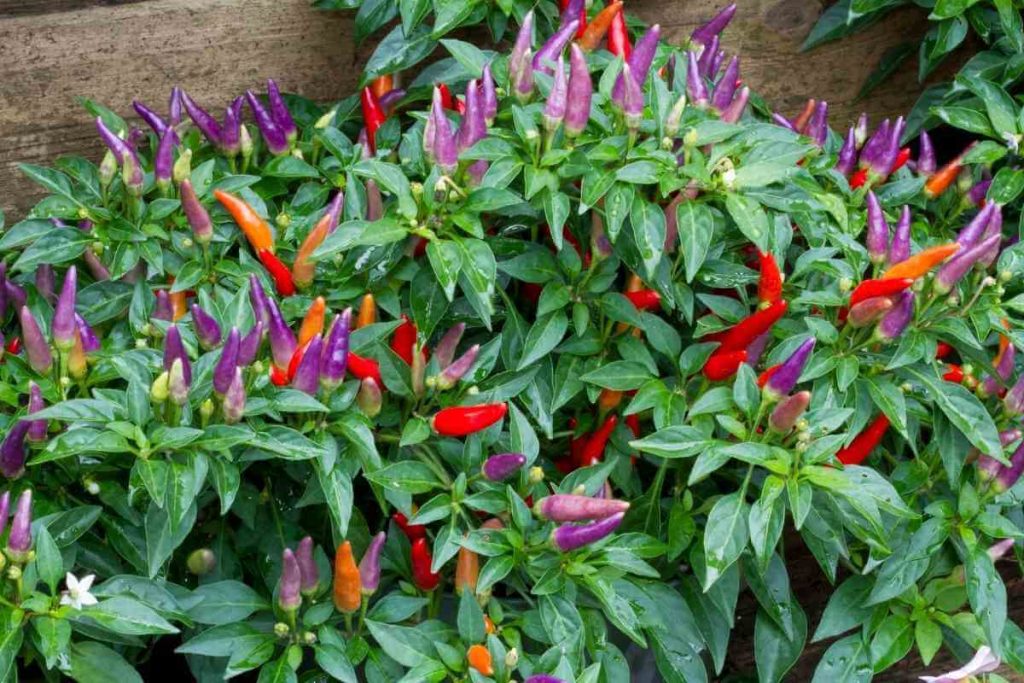 Even though it is widely regarded as hot pepper, the sangria possesses beautiful accessories that are decorative, thereby making it an ornamental pepper plant. It produces a 2 to 3-inch fruit that has a nice taste, thus compensating for the plant's brief 10 to 12-inch height.
The sangria ornamental pepper has various colors, ranging from whites, yellows, reds, and purples. It can tolerate the winter and thrives in hardiness zones 10 to 11; therefore, make sure you grow them in temperatures below 30 degrees Fahrenheit as a houseplant or overwinter it indoors.
The sangria requires enough winter sunlight to thrive; therefore, you must keep it under fluorescent light with two 40-watt bulbs.
The lights are not often hot, attracting the plant's foliage. Ensure the temperature is around 60 to 70 degrees Fahrenheit, avoid fertilizing during overwintering, and water only when the pot feels lighter.
9. 'Chinese 5-Color' pepper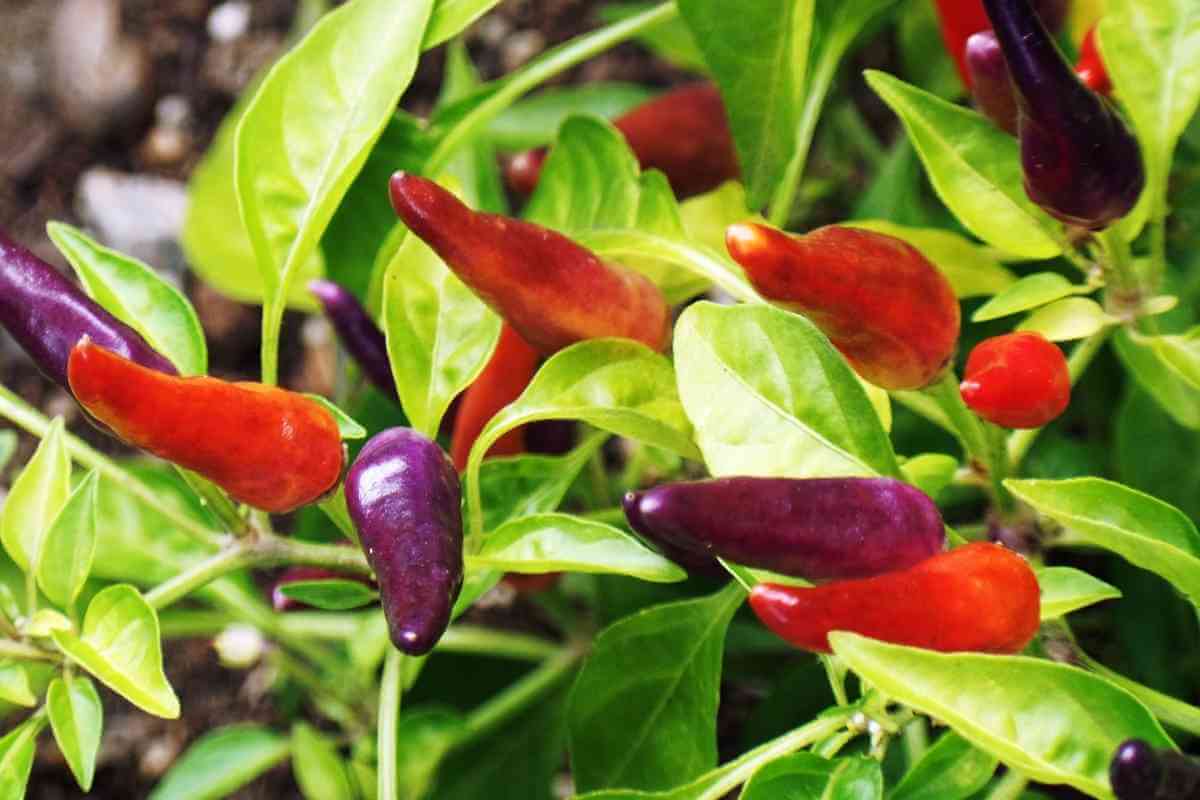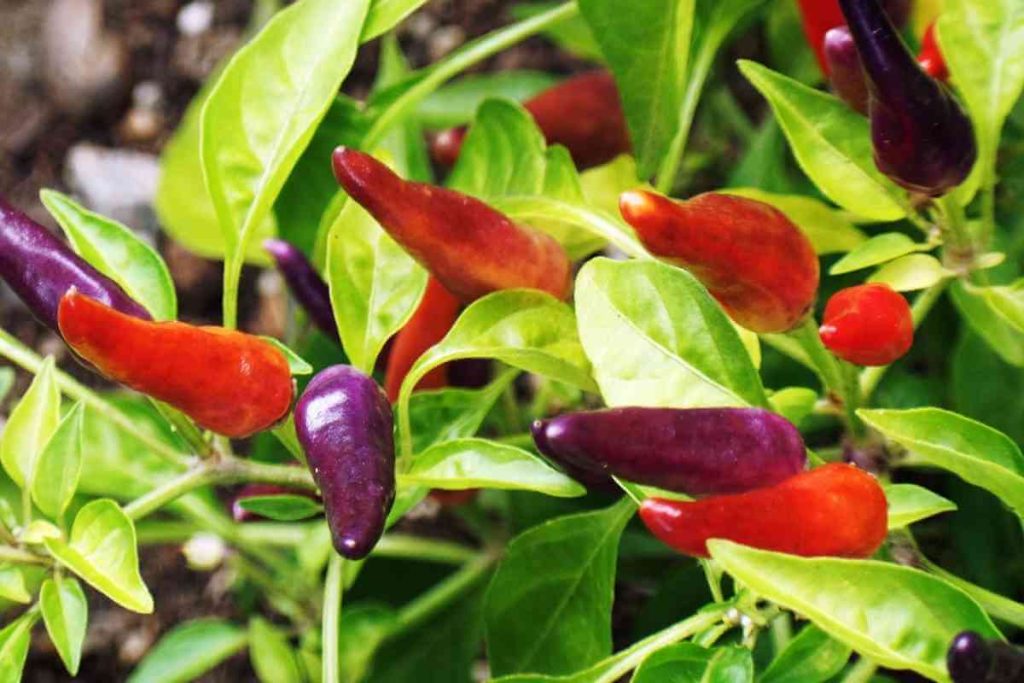 Just as its name implies, the Chinese 5-color pepper has its origin in China. It is one of the few ornamental peppers with many hues, featuring colors like purple and cream, thus making it an enticing prospect for beautifying homes and gardens.
It is an easy-to-grow plant that develops in clusters, and with its maturity, it shows rainbow-like colors of 5, ranging from cream, purple, yellow, orange, and red, and gains in heat as the colors evolve. This is why it is referred to as the Chinese 5-color pepper plant.
This type of ornamental pepper is made up of a little, round plant that grows up to 1 inch tall and produces a nice but bitter taste with an earthy aftertaste.
It can grow up to 5ft tall, and each plant produces approximately 100 fruits. Chinese 5-color pepper can be eaten raw and cooked either by boiling, frying or roasting.
10. 'Cajun Belle' Peppers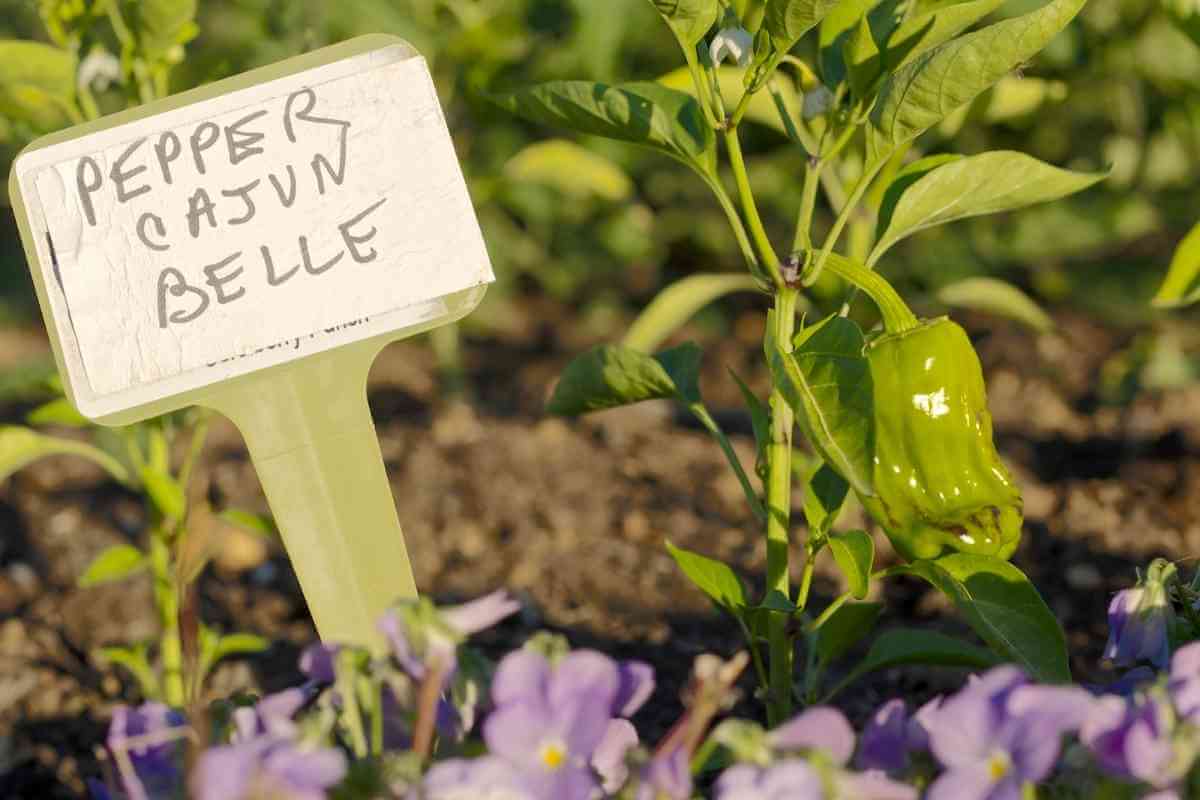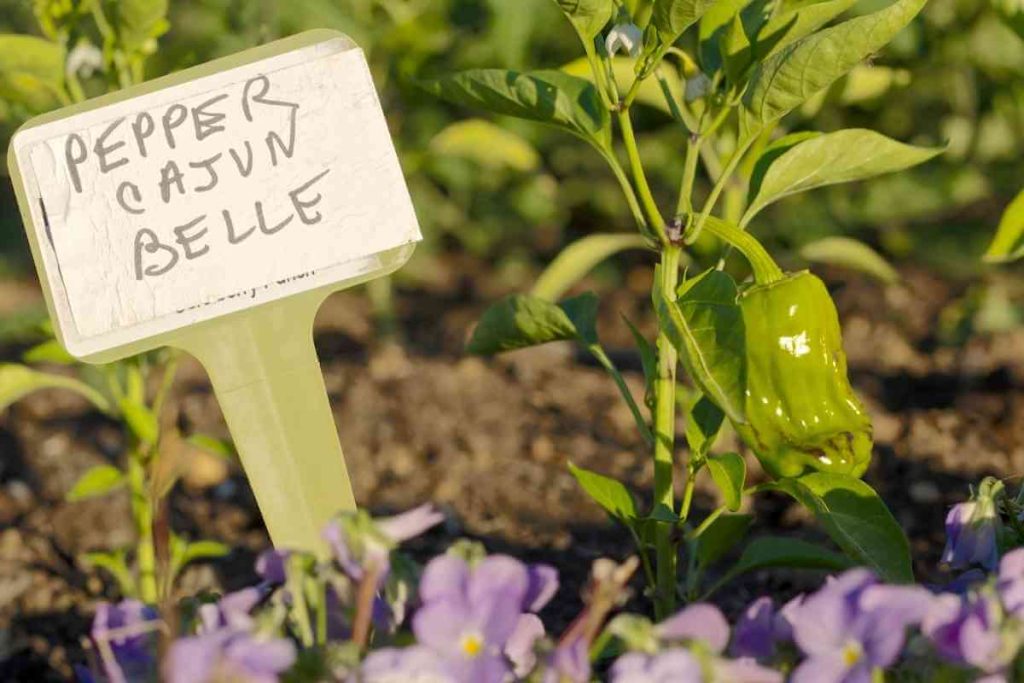 Commonly known as Bell Pepper and Mini Bell, the Cajun Belle Peppers is a type of ornamental pepper that provides every flavor of a tasty pepper with a blend of moderate but spicy heat that provides additional zip to any dish. It is one of the most popular peppers, as it is a winner of the 2010 All America award.
Its award-winning legacy is no fluke, as the Cajun Belle Pepper is a lovely plant featuring small pepper fruits that has a series of gorgeous colors ranging from lime green to orange and finally red at its mature stage. It can be consumed at any stage, but the more time they spend on the plant, the hotter they become.
This ornamental plant type is stubborn and can survive any kind of disease, yet it is a dwarf-sized plant that can only grow up to 2 feet tall and 2 feet wide.
Its smallish nature makes it an exciting prospect for pots or small gardens. None of its fruits is above 2 to 3 inches long, and with maturity, it turns glossy red in color and more flavorful.
Related Posts: