We independently research and recommend the best products here. This article contains affiliate links. If you make a purchase after clicking on a link, we may earn a little commission at no extra cost to you.
If you want to quietly cut down your tree trunks without having to wake up the entire neighborhood, then you would choose hand saws over chainsaws. Always! As you and I can tell, chainsaws are nasty noisemakers.
But what is the best hand saw for cutting tree trunks? How can you choose them? What should you look out for? And how can you effectively make use of them?
Well, I've got all the answers you need, and I'd share them with you in this article.
Hand Saws come in many shapes and sizes. Most are designed with particular objectives in mind. As such, their sizes and shape help determine what they can and cannot do!
Hand Saws are helpful when you plan to cut down only medium-sized or small trees. Firstly, they are lightweight and quite handy, providing premium handling and comfort when in use compared to chainsaws.
Depending on your choice of hand saw, you can cut through measurably sized tree trucks with sizeable diameters that are within the workload capacity of the hand saw.
Cut your way through any tree truck however you like. Nobody is stopping you! But first, let's show you how to make a good decision when purchasing handsaws.
What are Hand Saws?
First time using handsaws? Don't worry! I'd guide you through it; carefully!
Let's start by defining what handsaws are!
Usually, a hand saw refers to a saw that is usually worked with one hand. Saws that are assisted by electrical power don't qualify. Simply picture handsaw saw as a typical hand-driven saw. 100% natural human strength driving the saw to and fro through whatever truck.
See Also: Different Types of Hand Saws
Why You Need a Hand Saw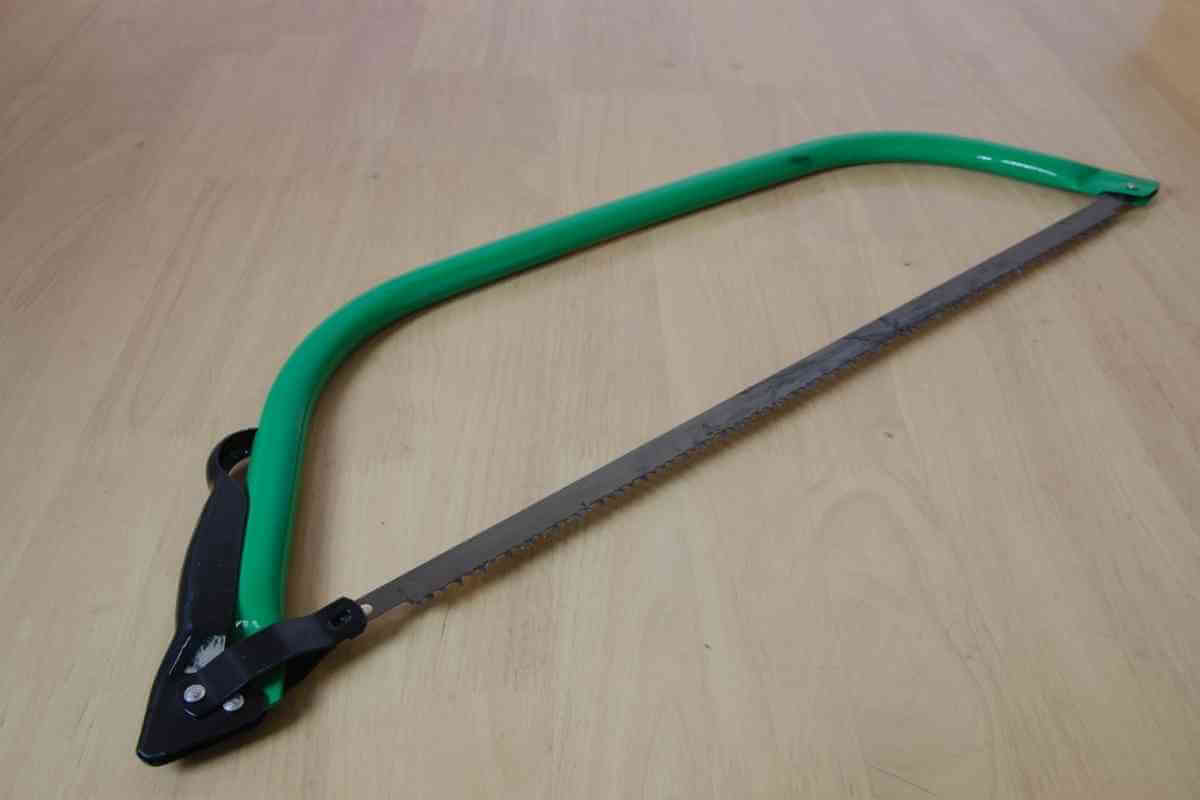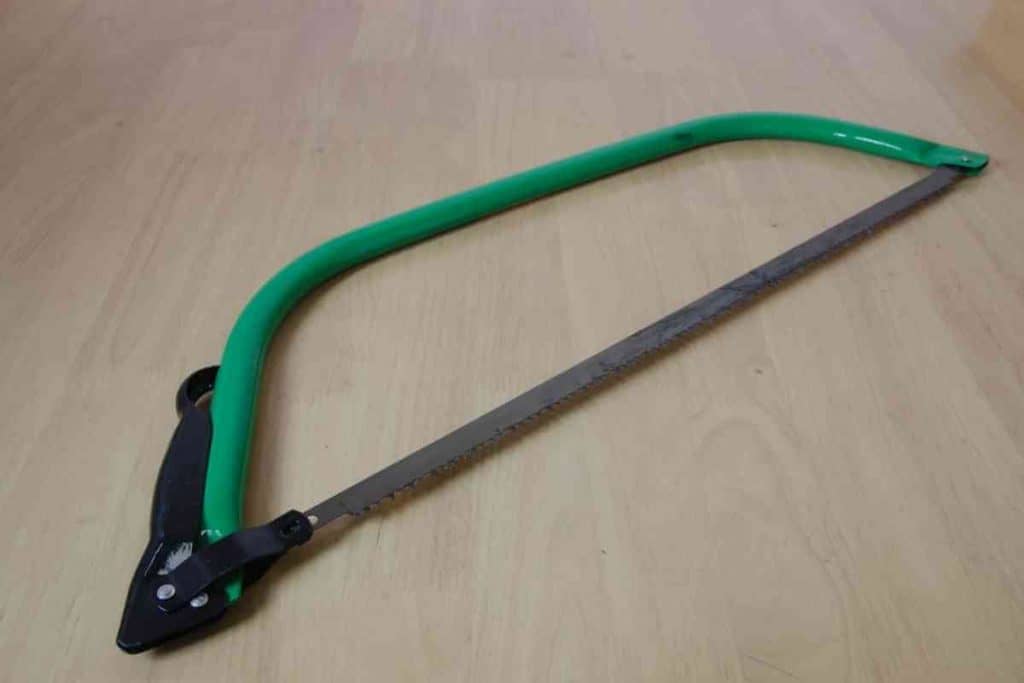 Most work tools available today come back with power that eases and makes working efficient. But the bandsaw takes you back to the basics old-school approach of doing things. So, why do you need them?
Chop! Chop!! Chop!!! Cutting wood may sound like that in your head.
Whether you use a chainsaw or handsaw, the objective to cut off the wood remains the same. But, when you've got to cut far-reaching tree trucks, you should consider comfort and efficiency, and the handsaw does it best.
Before purchase, wouldn't you instead learn about why you should choose a handsaw and what you stand to benefit from it? Yes?
Then here they are:
Handling
Handling is an essential factor to consider before purchasing a hand saw. Or isn't that why you opted for a bandsaw instead of a chain saw?
You don't always need the bulk power of a chainsaw to cut trees, especially not the tree within limited space around your house. Before you buy any chainsaw, you'd want to ensure they are easy to use and handle.
Affordability
Hand saws are 3X cheaper than chainsaws. But you'd still need to have a budget. How much can you afford to throw on a quality saw? And how much does either of these hand saws cost anyways?
Understanding these criteria helps you understand what fits into your scope of work and the planned budget for your bandsaw. The last thing you want is to dig a hole in your bank account for a bandsaw.
So, stick with the affordable option!
See Also: Different Between Bow Saw and Hacksaw
Safety
Safety first should be your mantra! And you should seek it above anything else in hand saws. Or would you rather lose a finger? Definitely No!
Fortunately, the hazards and mishaps of chainsaw isn't a problem as the handsaw offers lots of safety in comparison.
Most handsaws come with a knuckle protector and anti-slip handle. And as such deemed safe for everyday use as you intend.
Best Hand Saw for Cutting Tree Trunks
You can find handsaws almost everywhere. There's an overwhelming flood of it at almost every store you look at. This makes choosing an appropriate saw a tough call. And somehow, you've got to push that dial.
So, here's our Top 5 Handsaw recommendation to make it an easy choice for you:
1. Bahco 10-30-23 30-Inch Ergo Bow Saw for Green Wood
Bahco 10-30-23 30-Inch Ergo Bow Saw for Green Wood
30 inches long
Designed to cut through Green wood
Designed for demanding applications and tough environments of construction sites
Innovative tensioning mechanism for high blade tension and straight cutting
Made of lightweight, high quality steel tubing for durability and easy handling
Last update on 2023-12-08 / Affiliate links / Images from Amazon Product Advertising API
Bahco Ergo Bow saw it as our top match, and it was challenging. Just as it is perfect for everyday backyard usage, it also works excellent on camping sites. And it is by far one of the best saws for cutting tree trucks right away.
It has a pointed nose design that grants better access to far and tricky reach areas on your tree.
The Banco 10-30-23 has a more significant hold and size compared to a regular saw. But don't let the enormous size fool you, as this hand saw is surprisingly light regardless of its big size. The Banco hand saw is made from lightweight and high-quality steel.
The Bahco hand saw is coated with orange enamel paint that covers the entire frame preventing the saw from rusting.
The handle of this saw has an ergonomic design to make the saw as easy to use as possible. Also, this saw has a knuckle protector that assures more safety.
You wouldn't have to worry about the blade's flexibility and durability as it can comfortably handle high tensioning force with the help of an innovative mechanism.
Pros
Bahco is a multi-purpose hand saw
It works for cutting all types of trees trucks
Its blade is made of tempered steel, making the saw extra durable.
Has a removable blade cover.
The Bahco saw has many blade options, like the pegged tooth that works best for dry wood and the raker tooth that works well for greenwood
Cons
While the tensioning screw is a great addition, it tends to wear off quickly after a long usage time
---
2. Bahco Bow Saw #9 All Purpose – ¾″ x 36″ blade
Sale
Last update on 2023-12-08 / Affiliate links / Images from Amazon Product Advertising API
This is another variation of the Bahco hand saw. It has a sturdy steel frame with sharp steel blades for cutting trucks as you please.
It's got a jaw-dropping design, just like our first recommendation. Not so distinct but quite bigger than number 1 Bahco hand saw recommendation.
This saw is not as heavy as you imagined. And although it seems more significant than most of its colleagues, it's very lightweight, suitable for around the house usage, and it's safe.
The handle of this saw has an ergonomic design to make the saw as easy to use as possible. Also, this saw has a knuckle protector that assures more safety.
The blade is pliable and durable as it can comfortably handle high tensioning force with the help of an innovative mechanism.
The blades are sharp and wouldn't need reshaping after years of usage.
Read Also: Why Chainsaw Was Invented
Pros
Bahco is a multi-purpose hand saw
It works for cutting all types of trees branches
Blades are long enough to keep tree cutting efficient and energy conservation
It has a simple but robust design
It's undoubtedly an excellent value for money
Cons
Some might need time to get used to maneuvering it due to its size
---
3. Irwin 218HP300 12-Inch Combi-Saw with Wood Cutting and Hacksaw Blades
Sale
Last update on 2023-12-08 / Affiliate links / Images from Amazon Product Advertising API
The Irwin Combi-saw has a compact and robust frame. And it also has 2 different choice blades with different capacities and capabilities. So, your choice would be longer than what you intend to use the saw for. One of these saw blades works for cutting metal while the other fits for cutting wood.
Irwin 218HP300 seems small, but it is suitable for regular use, camping, and cutting tree trucks.
Irwin is equipped with safety features like the knuckle guard and anti-slip handle.
Pros
It's very affordable and the best value for your money
It has a dual-functioning blade that is attached to the frame
It has a cutting blade that is tight, stiff, and does not flex or twist while in use
The blade can be replaced easily and quickly
Cons
Has wing nuts that can easily fall off while sawing
It takes a long time to cut a giant tree trunk due to its short blade
---
4. Truper 30255 Steel Handle Bow Saw, 21-Inch Blade
Sale
Truper 30255 / AJT-21 - 21" Bow Saw Tubular Steel Frame
Ajt-21, 21" handy bow saw for larger branches
Cam-lever tension system keeps the blade perfectly tight while you're working in the field
Clean equipment after each use and oil for years of trouble free use
A must have tool in any gardeners shed or garage
Truper 30255, stock up on quality Truper tools for other projects today
Last update on 2023-12-08 / Affiliate links / Images from Amazon Product Advertising API
The Truper 30255 steel handle is the perfect hand saw for people who like lots of hands-on saw action experience. And it cuts way more than just tree trucks.
The saw is best for medium-sized tree trunks and tree branches.
It has a ductile frame that helps keep the blade rigid, firm, and tight when you see it. It does that with the help of a cam lever tension system.
The saw was made from very durable material. If properly maintained, managed, oiled, and cleaned, it can last up to 4 years of use.
This saw is also equipped with a finger guard and a proper non-slip handle that contributes significantly to the safety feature of the saw.
Pros
The saw is handy to use and works multi-purpose.
Easily cuts down tree trunks with
It has a cam lever system that serves as additional support for blade rigidity
Has a safe blade replacement been equipped with a locking system
Cons
Wingnuts tend to fall off while the saw is in use
It takes a long time to cut a more giant tree truck due to its short blade
---
5. Fiskars 24" Bow Saw SW31, Fixed blade
Fiskars 24" Bow Saw SW31, Fixed blade, Length: 70 cm, Plastic blade guard included, High quality steel, Black/Orange, 1000615
Log saw for soft wood, Ideal for logs and large branches, For right- and left-handed users
Firm and comfortable grip thanks to ergonomic handle with finger guard
Efficient sawing and clean cutting thanks to special teeth, Pull and push cut, Blade guard included for secure storage
Long life product thanks to high quality steel blade and durable plastic handle, Easy blade replacement (available under reference number 1001707), Finnish design
Contents: 1x Fiskars 24" Bow Saw SW31, Plastic blade guard included, Total Length: 70 cm, Weight: 700 g, Material: High quality steel/Plastic, Colour: Black/Orange, 1000615
Last update on 2023-12-08 / Affiliate links / Images from Amazon Product Advertising API
The Fiskars 24" Bow Saw is very affordable. And that serves as an extra advantage as it has all the advantages of a regular hand saw.
However, the Fiskars 24 is not designed to cut big tree trunks. It's handy and well optimized for smaller tree trucks, and it works for clearing brushes and some certain branches.
The blade is made of ductile solid steel. It's sharp and would last for a long time. It is also coated with rust-resisting material to keep the steel good as new!
The blade has a tension lever to control that eases the cutting process.
The frame is made of tubular steel. As such, it's lightweight and easy to grip and use.
Pros
Lightweight and easy to use
Safety tension lever for better sewing control
Blade uses a rust inhibitor as coating protection
It comes with a lifetime warranty
Cons
It has a flimsy look
The rivets are not very strong enough hence susceptible to damage
---
What to Look For When Buying a Hand Saw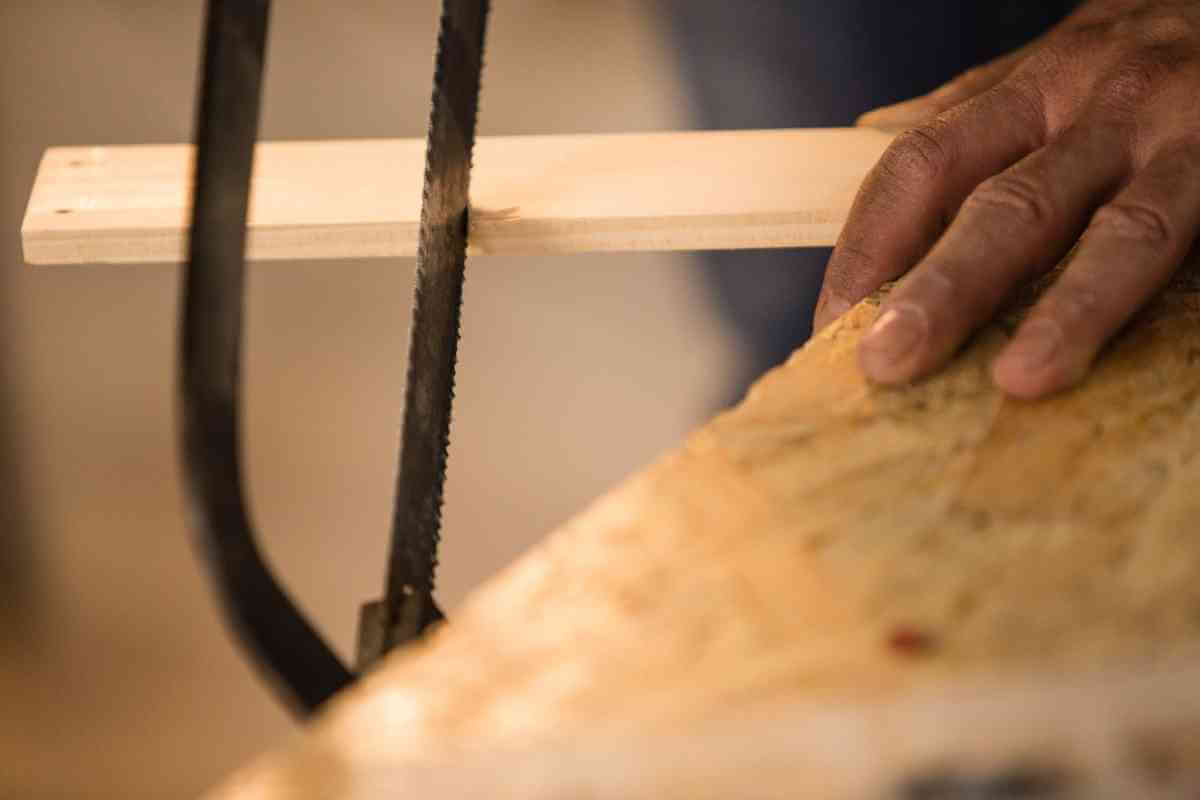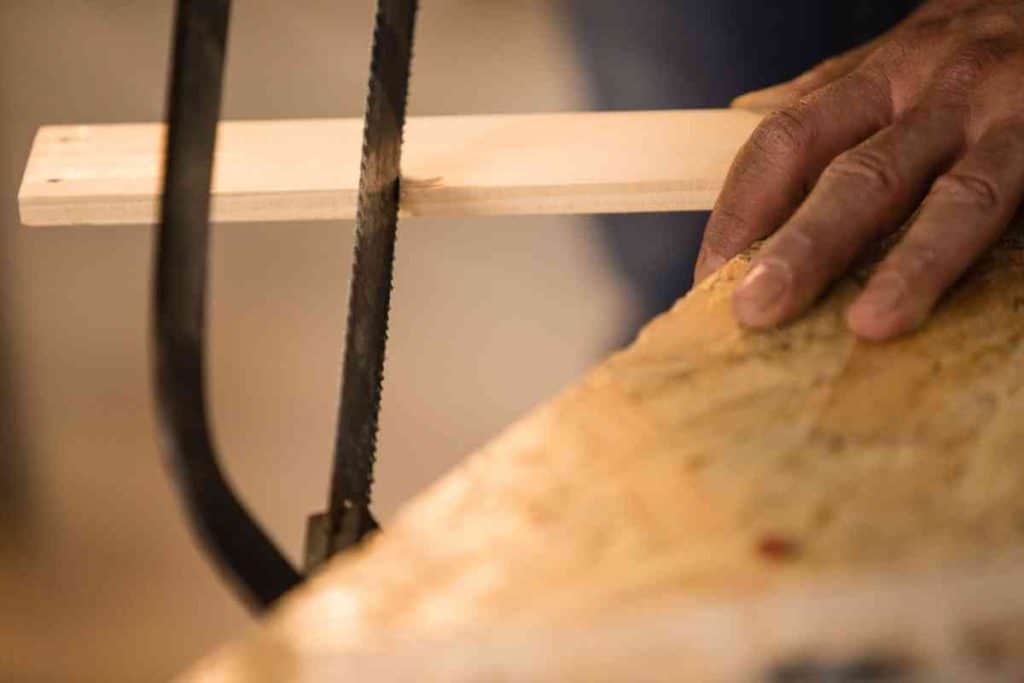 Still not sure if hand saws are ideal for you? Or maybe you'd like more details on features that can best adapt to individual requirements and guarantee satisfaction.
Blade Change Efficiency
Most hand saws come with a replaceable blade, and while these blades can last for years under proper management. But when it's not managed correctly, you might have to change the blade for a newer one.
Read Also: Different Between Hacksaw and Handsaw
Replacing should never be a problem if you've got a hand saw with blade change efficiency. It should be designed to make changing the hand saw blades a lot easier.
How to Use a Hand Saw
To cut any wood using a hand saw, firstly, Mark out the area on the wood where you intend to cut the wood. Then, carefully place the close edge of your saw on the marked area of the wood and gently pull the saw towards you to make a notch.
Afterward, continue to and fro until each end of the world comes apart.
Frequently Asked Questions
Can you cut a tree trunk with a hand saw?
Of course! That's what bandsaws are made for. You can use a hand saw for cutting tree trunks, wood, or whatever into such categories.
What hand saw is used for tough cutting?
If what you mean by tough cutting is: wood material of any sort, then use our recommended handsaw for your ordeal.
How do you saw through a tree trunk?
For starters, it's best to saw tree trunks from angles. Tilting the saw a bit while cutting the tree trunk would do the trick. And make cutting a lot easier.
What saw is used to cut down trees?
Some of the best examples include; Bahco, Fiskars, and many others. Check the article for all our recommendations on the best saws you can use.
What hand saw is used for rough cutting?
Most hand saws can cut rough materials or structures. But they are usually restricted to cutting only woods.
Read Also: Ratchet Pruning Shear Reviews