Looking for some beautiful flowers that start with I to plant in your garden? We have compiled just a few of the most popular names of flowering plants starting with the letter "I" that will add royalty, elegance, and fragrance to your environment.
Some of the most beautiful and popular flowers whose names start with the letter I include the Ivy plant, Iris plant, Ice plant, etc.
When choosing which to plant, ensure that it can thrive in your location. Without any further ado, let us take a look at them.
List of Flowers That Start With I
1. Ivy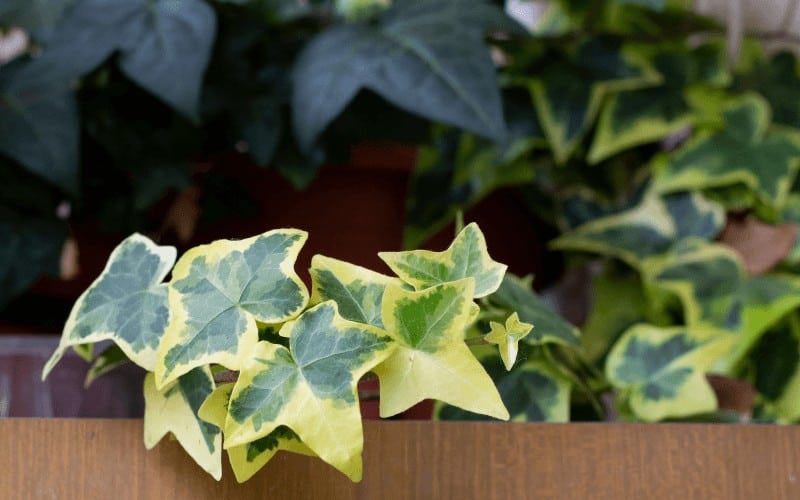 Ivy is an evergreen plant that blooms in spring; bring beautiful greenish-white or greenish-yellow flowers.
Growth is fast, you would start experiencing blooming from the second year of cultivation. Ivy is a climbing plant, so to have the best of it, you must be ready to provide some type of support for it to climb.
It will be a great natural option to decorate your walls. Ivy grows to a height of 20 – 80 feet and spreads as wide as 50 feet.
Ivy does best in moist, well-draining soil in partial shade.
---
2. Iris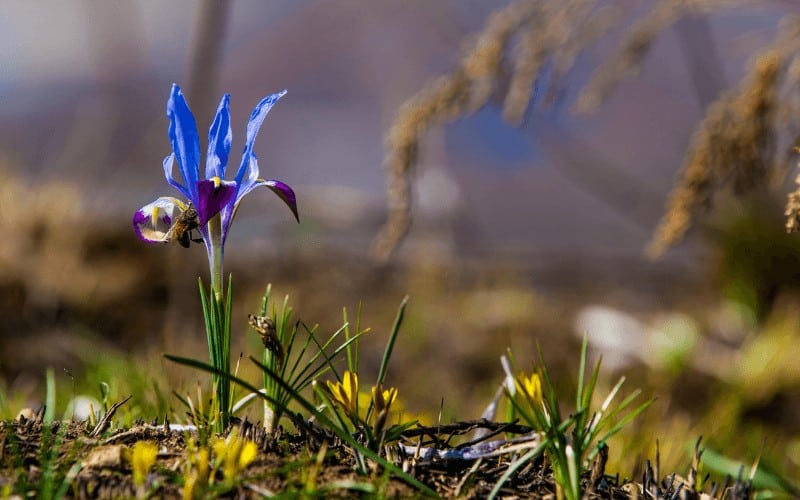 Iris plant produces beautiful and lovely flowers. They are perennial plants that are easy to grow and require less maintenance and attention.
Depending n your color preference you would find an iris plant that will produce the best color of flowers when it blooms because iris consists of 260–300 species of flowering plants with showy flowers.
The time of blooming depends on the species; however, for most of them, they will produce flowers from spring to early summer.
---
3. Ice plant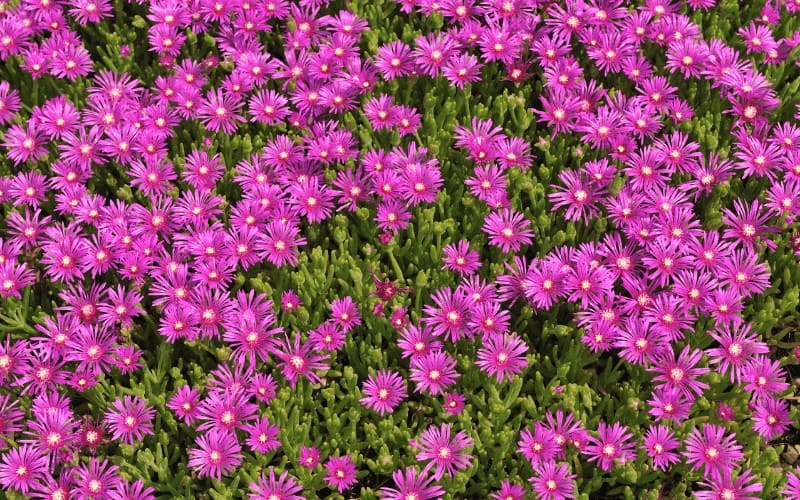 The beautiful flowers produced by the ice plant will definitely leave you astonished. They are called ice plant because the flowers and leaves appear to shimmer as though covered in frost or ice crystals.
Ice plant is a type of succulent that adds life and color to the dry part of your garden. They are drought-tolerant and will do well with minimum care and attention.
Ice plant grows expanding to about 3 to 6 inches tall and 2 to 4 feet wide.
Their foliage is mostly evergreen, so they will give life and color to your garden almost all year round. Ice plant thrives in USDA plant hardiness zones 5-9 and will bloom for most of the summer and fall.
---
4. Ilex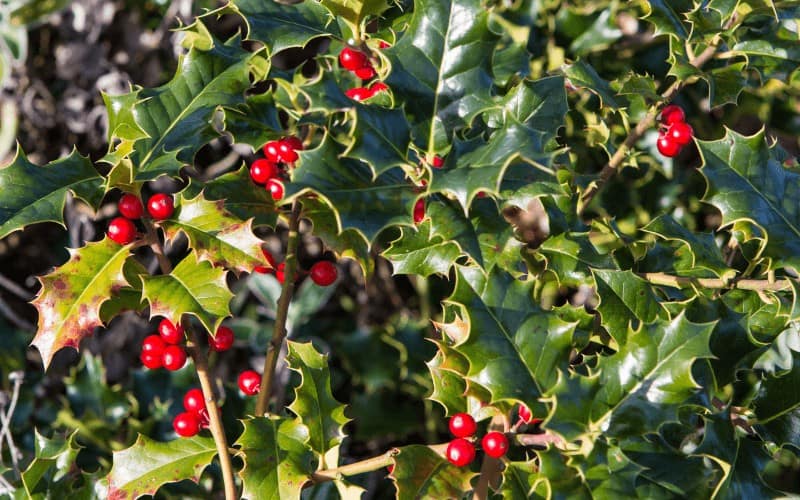 Ilex which is nicknamed fever bush originates from the eastern part of North America and southeast of Canada. Native American has used the berries for medical purpose. This is where it derived its nickname from.
Ilex has got over 400 flowering plants out of the holy family (Aquifoliaceae). Apart from the usual red berries produced by this plant, they are other species with different colors of berries. Typically, the berries bloom from October to January when other flowers are dormant for the winter.
The berry branches can be cut and put in a flower vase. This gives a winter warm feeling at home during the Christmas season.
5. Indian Blanket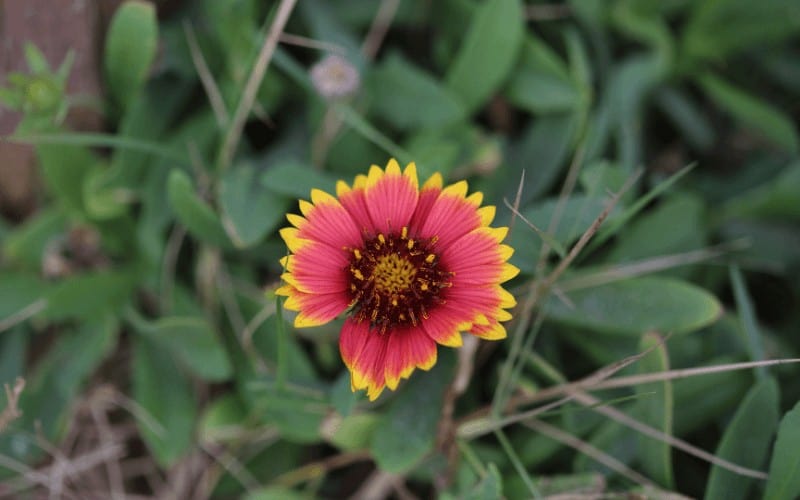 When this plant blooms, it covers the entire area with its beautiful multi-color flowers, thus attracting beautiful butterflies and birds, including fireflies at night.
There are several Native American tales concerning the origins of the flower, but one major aspect is the valuable medical importance that has been used to cure lots of ailments.
Indian blanket prefers a hot dry climate in full sun. They grow in mounds ranging from 12 to 24 inches and spreads to about 12 inches.
Expect the flowers to bloom from April to frost. The colors of flowers produced differ with environment and soil.
The colors range from coral with yellow scallops, coral with peach scallops, red with white scallops, and peach with yellow scallops.
---
6. Impatiens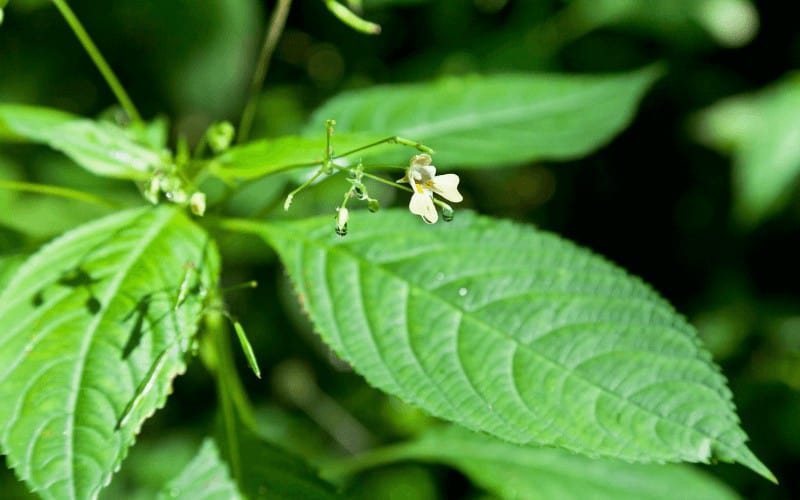 Impatiens gives bright and colorful flowers. They are quite easy to care for, but they are very responsive to lack of water. They will quickly wilt away with the absence of water especially during the early stage of propagation.
When matured, they prefer moist but well-drained soil under a partially shaded area. The matured plant can grow as tall as 36 feet and spreads to 3 feet wide.
Impatiens will bloom from spring through summer. You should be careful with impatiens because while they seem no-toxic to humans, they may the opposite to pets.
---
7. Iceland Poppy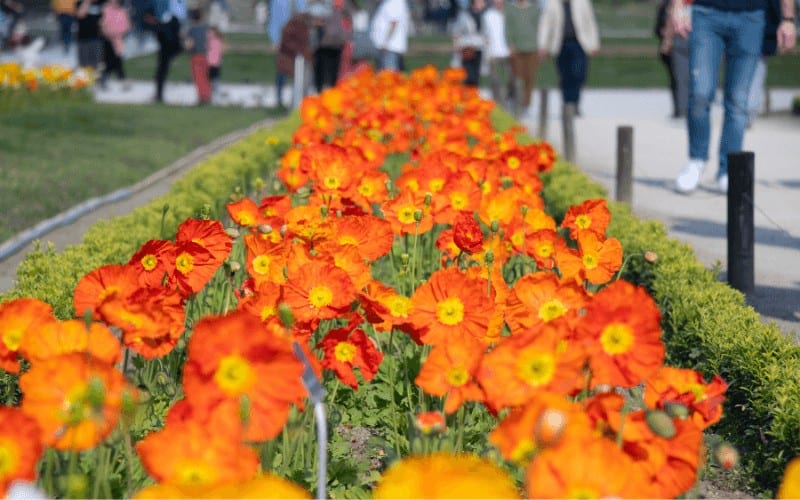 Iceland poppy is known for its bright and colorful flowers that get the attention of beautiful colored butterflies, birds, and bees. The usual color is mostly orange.
However, other colors such as white, yellow and red are available in more than 80 varieties. When planted under the favorable and right conditions, it will bloom from May until July or late spring through early summer.
Iceland poppy can be propagated using seeds. It is said to thrive in full sunlight and well-drained soil.
They would not need much care and attention to do well, but you should water them frequently during times of limited rainfall especially during their early stage.
---
8. Iberis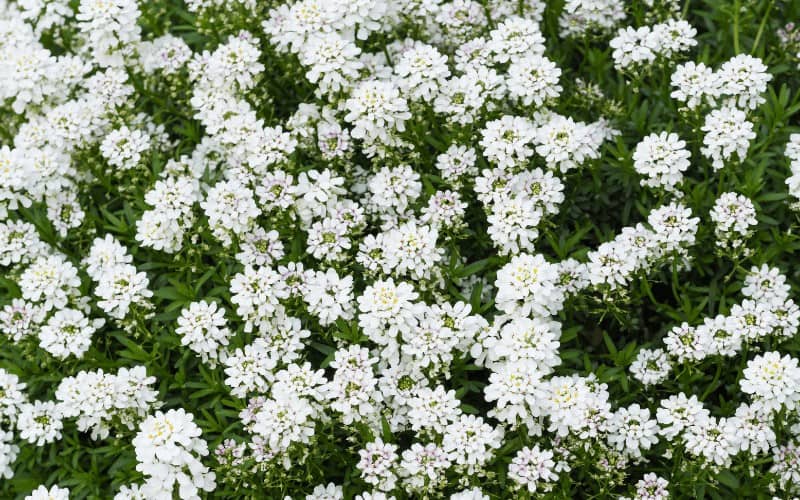 Iberis is an evergreen perennial plant that produces clusters of gorgeous white flowers from late spring through early summer or from April through to June.
Iberis, commonly called candytuft, would require full sun for optimum blooming. However, some few varieties will require shady areas for maximum productivity during the blooming period.
Talking about the soil type for this plant, it is best in light, sandy, well-draining, slightly alkaline soil.
Apart from the beauty it adds to your garden, Iberis is also useful in making edging for borders, paths or walkways, and for creating ground cover for small, sunny areas.
---
Conclusion
There are hundreds of plants and flowers that with I. You can do more research to add to your list.
You would find the majority if not all the plants listed on this page in your local flower store. They are also available in some online shops in case you do not find them around your local shops.
Before deciding on which shrub to include in your garden, you must ensure that the plant will thrive in your location which is determinant of the weather, temperature, and soil type.
Also, you must consider the compatibility with your pets or children as some poses to be poisonous.