Cucumbers are (amongst many other) vegetables you can grow in small containers on the porch, backyard, or even inside with some added light.
Not only do they hold just enough potting soil for roots to thrive, but they don't take up a lot of room, unlike some other vegetables.
Using 5-gallon buckets, you can grow your cucumber plant. But the question remains, how many cucumber plants per 5 gallon bucket will flourish entirely? Two or three cucumber plants will fit in a 5-gallon bucket.
This post will cover all you need to know about growing cucumbers in a 5-gallon bucket.
How Many Cucumber Plants Per 5 Gallon Bucket?
5-gallon buckets are not a bad idea when growing plants, especially vegetables. Not only do they hold enough space for the roots to thrive, but they also don't take up a lot of room on a crowded patio or deck.
Each bucket is home to one vegetable plant and even one or smaller herbs.
Using a 5-gallon bucket, you can grow as many different vegetables as you like. This is because they can easily support two or more plants.
They also have little or no problem moving around the deck or patio concerning sunlight, as they also share some plant nutrients.
In the case of cucumber plants, it's best to plant 2 cucumber plants in a 5-gallon bucket to make space for the plants to flourish optimally.
How To Grow Cucumber Plants Per 5-Gallon Bucket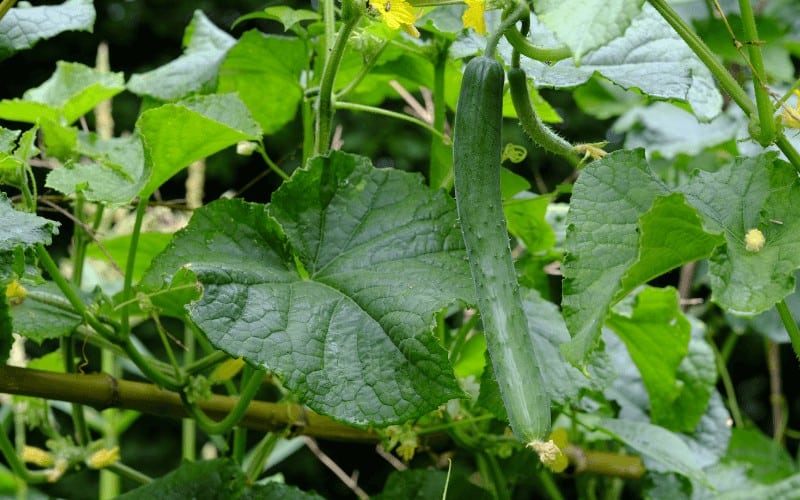 Cucumbers may seem like an unlikely plant to grow in a pot. But the good news is that cucumber makes an excellent container plant.
All you need is a warm and sunny spot and the right gallon bucket to grow the plant. Below are the steps in growing cucumber plants in a 5-gallon bucket:
Drill a few holes at the bottom of your 5-gallon bucket to allow water to drain.
Place the bucket in a sunny or warm location after filling the bucket with your rich potting soil.
Plant or place your cucumber seeds and cover them with the soil.
When the seeds reach 3 to 4 inches tall (likely in three to four days), sniff off all but two seedlings per pot with scissors or hand pruner.
Add a cup of water to each plant every 10 -14 days.
Watch for beetles, slugs, snails, or other vegetable pests. Your monitoring should be preferably in the morning. This is so that whatever method is used to send the pests away, the leaves are left to dry or rest for the day.
Ensure that the temperature of the plant is always below 90 degrees Fahrenheit.
Pick your cucumbers as soon as they begin to ripe. This generally happens between 55 to 65 days after sowing.
Other Vegetables to Grow In 5-Gallon Buckets
Other vegetables that will thrive in a 5-gallon bucket are:
Chili peppers
Kale
Lettuce
Onions
Tomatoes
Spinach
Radishes
Sweet peppers etc.
 How Much Soil Do I Need for A 5-Gallon Bucket?
The fact is when it comes to filling any container with soil, the amount of soil needed for planting is usually estimated. That being stated, the following should be noted for a 5-gallon bucket.
Often, the quantity of the soil is measured in liquid quarts for every regular purchase.
The soil volume should only vary or increase depending on the number of seeds required to be planted.
In order words, you will have a realistic estimate of how much soil you will need to purchase when potting plants.
Recommended Posts:
Conclusion
Growing cucumbers is as easy and comfortable as eating them. People who do not own gardens can use 5-gallon buckets to plant and harvest cucumbers conveniently for them.
Now, you can comfortably grow and harvest your cucumbers at the comfort of your home without having to employ gardeners. And just like most other vegetables, cucumbers yield best in 5-gallon buckets.
This post has successfully answered the question of how many cucumber plants per 5-gallon bucket? Know you know it's best to plant two cucumber plants in a 5-gallon bucket for optimal results.