Let's say you're conducting a research and you're faced with many unfamiliar trees, the best way to identify these trees would be to use tree identification apps.
Other methods of identification may take a longer time, and thus, delay your research. In the same way, there could be many other reasons why someone may need a tree identifier app.
Interestingly, apart from identifying trees, most of these apps can also identify regular garden plants; they can come in handy for study and research purposes.
While you can download these apps for free on various app stores, they typically support in-app purchases to unlock premium features and built-in tools.
What is the Best Tree Identifier App?
Best Tree Identification Apps
It is quite impressive that these apps are available across popular mobile operating systems, Android and iOS. Thus, you can get them on your iPhone, iPad, Smartphone, or Tablet.
1. Tree ID - British trees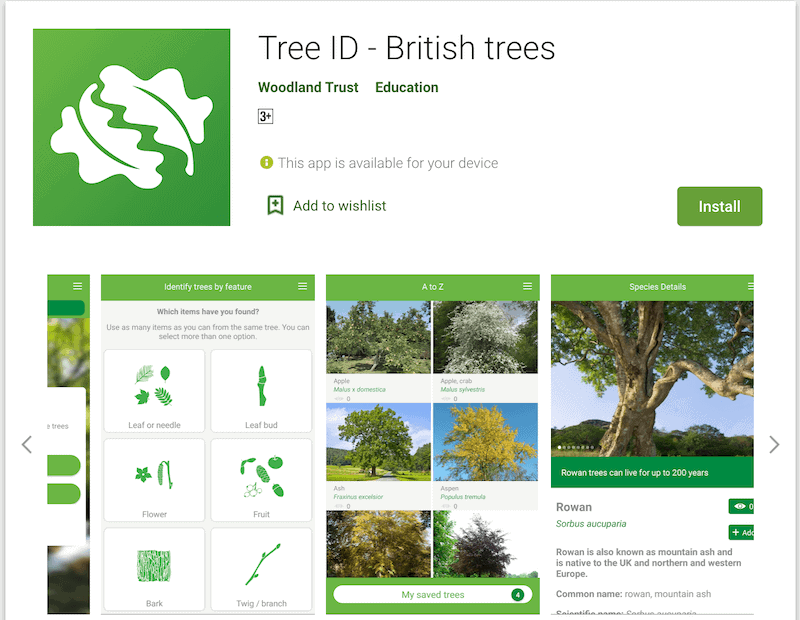 Tree ID is a British tree identification app; it features a clean interface and is capable of identifying virtually any native tree in the UK.
The Tree ID app is developed by Woodland Trust, UK's largest woodland conservation charity. This app can also identify common non-native trees in the UK, in any season.
It is a handy app for everyone that wishes to know more about various trees they see every day.
With Tree ID, what you need is to capture the unknown tree's bark, buds, twigs, leaves, flowers, or even the fruits, this app would analyze the picture and provide you with stunning, clear images of that tree.
Its accuracy is higher when you look up native British trees. Furthermore, this app provides more relevant information about any tree you look up.
It shows you fascinating facts, history, folklore, and uses of various trees. Tree ID can easily recognize trees in summer, spring, autumn, or winter, even when the tree leaves are all gone (dried up).
There are many other features of this app you'd find useful and willing to explore.
Click below to download and install app:
---
2. NatureID Tree Identifier App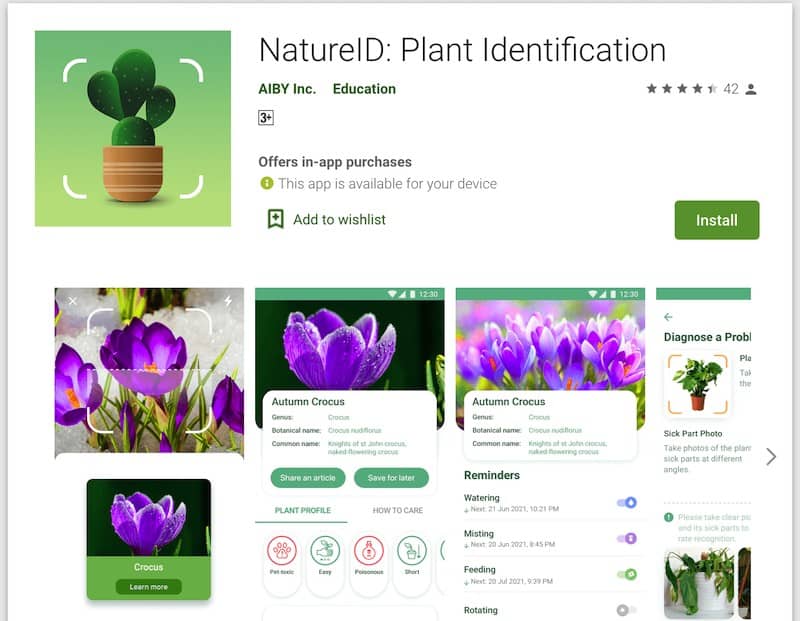 NatureID is basically a plant identification app, but it can also detect many types of trees.
This mobile app comes with a bunch of advanced features, which makes it stand out from many other alternatives out there.
For example, NatureID comes with a feature called "Care Reminder;" this feature is for gardeners, it helps to remind you of several activities such as watering your garden, rotating your crops, and every other thing.
With the NatureID app, you will easily identify plants, flowers, and trees of various species.
This app is available for free on Android Play Store and Apple's App Store; however, some of its features require that you upgrade to the Pro version to unlock them. NatureID supports in-app purchases and the free version shows adverts.
Click below to download and install app:
---
3. Garden Answers Plant Id
This tree identification app is compatible with almost all Android smartphones running Android 5.0 or later versions.
It is a free, yet professional app that allows anyone to quickly discover relevant information about the various trees around them.
Garden Answers can instantly identify 20,000+ plants and trees, as well as provide you with detailed information about the detected tree.
As with other similar apps, all you need to do is to record a picture of the tree and submit it on the app, the identification will be by garden and horticulture experts.
This app goes on to support a dedicated section where you can find answers to 200,000+ common questions about plants and trees. The simple interface makes it very easy to use and it identifies within seconds.
Click below to download and install app:
---
4. PictureThis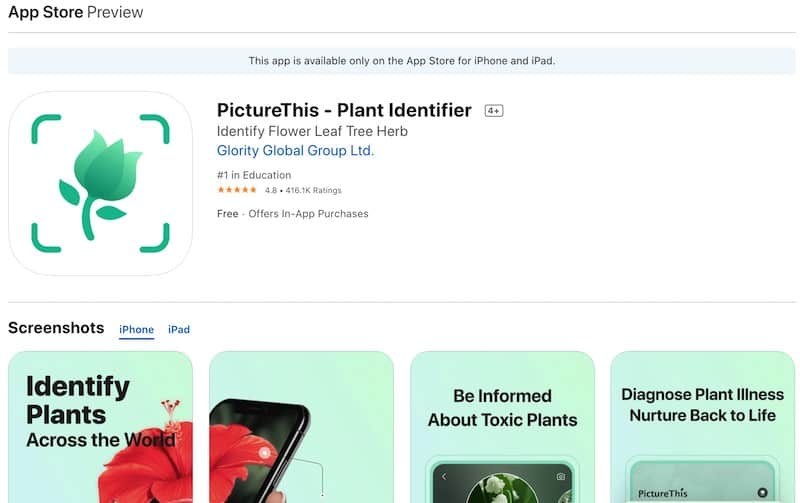 PictureThis works for identifying trees, plants, flowers, and herbs. It is an ideal tree identification app to use across devices.
This app is packed with a ton of features and it works very fast. The database boasts hundreds of thousands of plants/tree species.
According to the developer, PictureThis "identifies 1,000,000+ plants every day with 98% accuracy."
Not all human experts can easily recognize trees and remember their distinct characters as fast as PictureThis does.
More so, as you keep using the app, you get closer to becoming a "green thumb." Furthermore, this plant/tree identification app is built with a revolutionary AI that constantly learns from experts and specialists.
PictureThis can also help to diagnose plant problems automatically and provide treatment suggestions.
There's a "Plant guide" section that provides various handy tips on how to grow healthy plants. You can also set reminders and monitor your plants' growth from the app.
Click below to download and install app:
---
5. Google Lens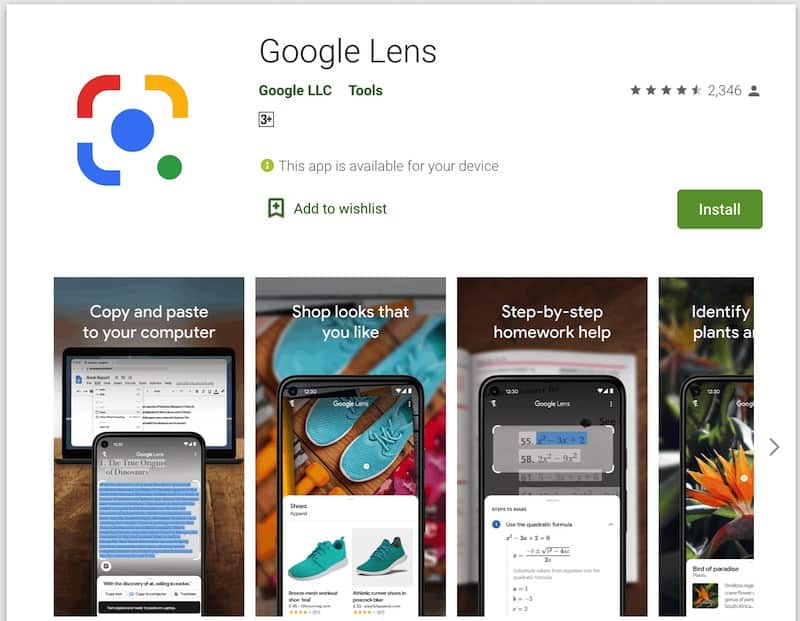 There are so many functions of the Google Lens app. This app helps you to identify various items, objects, and living things such as trees and animals. Google Lens works as a plant identification app and also a tree identification app.
Developed by the global tech giant, Google, this app is pre-installed on most new Android smartphones, and fortunately, it also has an iOS version for iPhone and iPad users.
Google Lens works with your device camera and it is quite accurate in its identification.
However, unlike typical tree identification apps, Google Lens does not instantly provide you with detailed information about a tree; instead, it shows you many similar images of the tree and the tree's name.
More so, it would provide you with web links on where to find more information about the detected tree.
This app is reliable because Google has a massive database of images and works with revolutionary artificial intelligence algorithms.
Furthermore, this app is entirely free for Android and iOS users with no support for in-app purchases.
Click below to download and install app:
---
6. PlantNet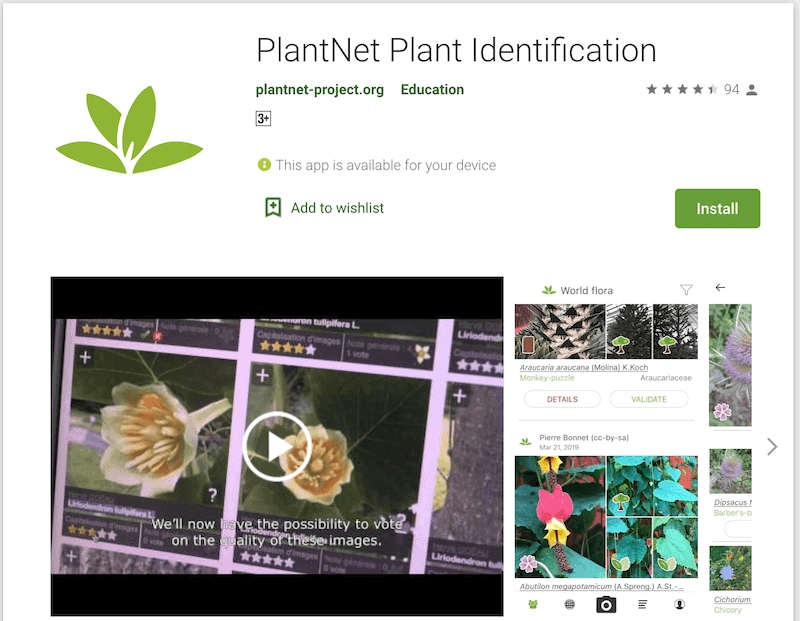 The PlantNet mobile app has received over one hundred and fifty thousand positive reviews on Google Play Store and over five thousand on Apple's app store.
It is inarguably one of the best apps for identifying trees and plants. PlantNet is more than just a nature identification app, it allows you to join in projects, share your observations and contribute to its ever-growing community.
With the PlantNet app, you'd easily identify plants and trees in a matter of seconds. The app works pretty fast and supports a bunch of useful features.
PlantNet lets you filter recognized tree species by genus and family, as well as provide you with links to many factsheets. This app is entirely available for free and does not support any in-app purchases.
Click below to download and install app:
---
7. Seek by iNaturalist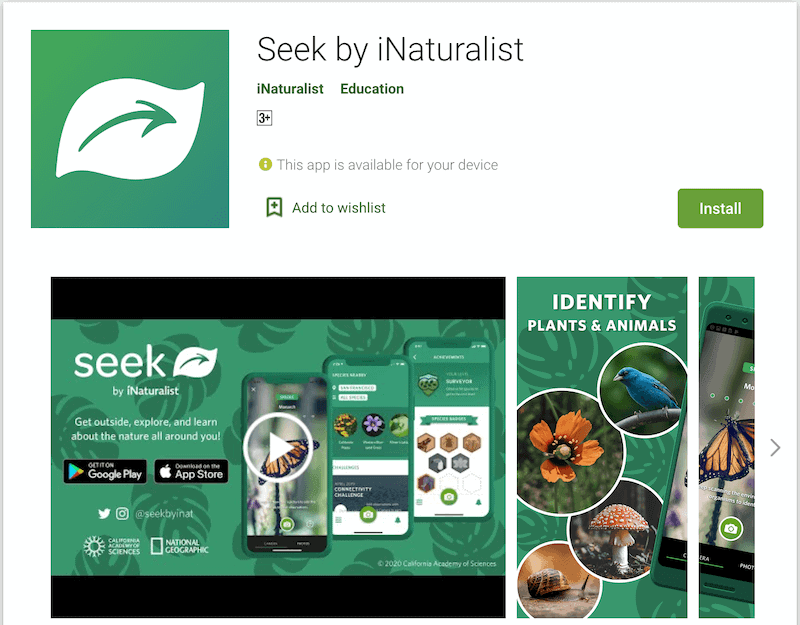 Seek is an app from iNaturalist, and it is one of the few apps that helps you to identify trees and plants.
The app is developed with super-intelligent image recognition technology, which works very fast and the accuracy is very high.
One interesting thing about using Seek is that you'd earn badges when you keep looking up different new trees and plants.
Of course, it works with your camera; you have to launch the app and point your camera to a tree for Seek to detect the tree's species and information.
You can also participate in challenges and enjoy other exciting in-app offers available on the Seek mobile app.
Furthermore, Seek is available for Android and iOS devices and it features a clear-cut interface anyone could easily understand.
Seek has 20k+ positive reviews across Google Play Store and App Store (iOS). It is undoubtedly one of the best free tree identification apps out there.
Click below to download and install app:
---
8. iNaturalist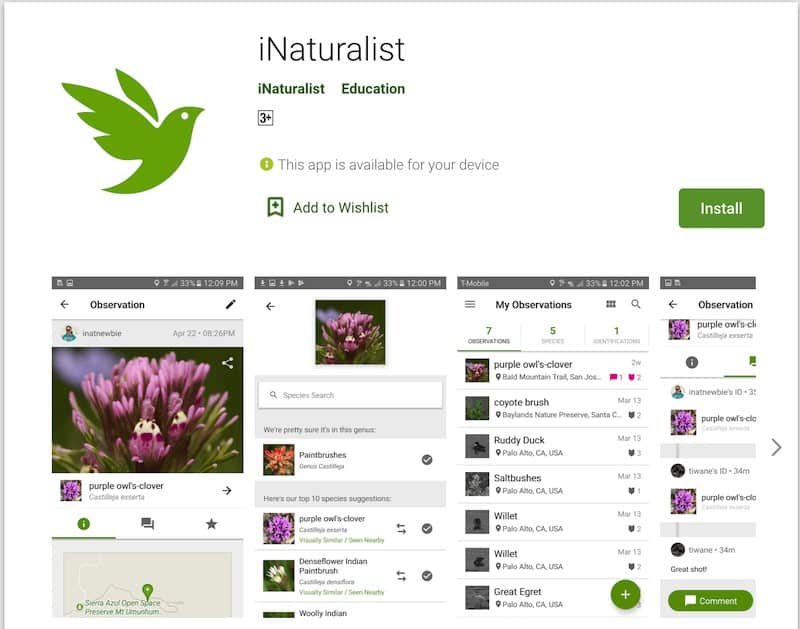 This is the official iNaturalist mobile app, and it is more than just a plant/tree identification app. The iNaturalist app is one of the world's most popular nature identification apps.
The app has a community of over 400,000 scientists and naturalists, and new users are also welcomed.
With the iNaturalist app, there are a lot of things to do, asides from taking pictures of unknown trees to identify them, you can also share your observations or research about nature.
Interestingly, this app helps you to identify species that are both near and far. You can join discussions and follow projects launched by scientists and other passionate users.
Click below to download and install app:
---
Conclusion
Actually, there are not too many apps out there that help to identify trees that are new to you. These few ones mentioned in this article are free to install and you can use them on Android devices or iPhones.
They also feature intuitive interfaces and work for many other purposes. The features of these apps differ, and some of them support in-app purchases for premium features and items.
It is advisable to download these apps directly from your device's app store as most APK hosting sites do publish APK files with viruses and malware.
Related Posts: