The billbergia nutans plant, also known as queen tears, is a tropical plant.
Billbergia blooms year after year depending on the species and condition and can thrive even when neglected. It grows in well-mixed and drained soil and can thrive in rocks and trees too.
The plant was attributed to a Swedish botanist Gustaf Johanne Billberg hence the name - Billbergia, It is also known as a friendship plant because it is willing to be shared by friends.
In today's post, we will be showing you everything you need to know about the billbergia nutans plant and how best you can grow it.
Billbergia Nutans Overview
It's worth mentioning that billbergia nutans have over 65 species which might make it hard to identify. Here's a highlighted description of billbergia Nutan:
| | |
| --- | --- |
| Origin: | South America, Brazil, Uruguay, Mexico, Argentina |
| Botanical name: | Billbergia nutans |
| Other names: | Queen tears friendship plant |
| Family: | Bromeliad |
| Hardiness: | 10a to 11b: from 30 °F (−1.1 °C) to 50 °F (+10 °C) |
| Category: | Tropical and tender perennials |
| Height: | 18-24cm |
| Spacing: | (9-12inches) |
| Water requirement: | Consistent watering preferably distilled water |
| Humidity: | High |
| Sun exposure: | Indirect light, partial shade |
| Best grown: | Containers, soil, rock, and trees |
| Color: | Pink, rose, mauve, purple, green |
| Soil pH: | 5.6 to 6.0(acidic), 6.1 to 6.5(mildly), 6.6 to 7.5(neutral) |
| Fertilizer: | Little, compost tea |
| Propagation: | Divided the bulbs rhizomes, tubes, and offset |
How to Grow Billbergia Nutans Plant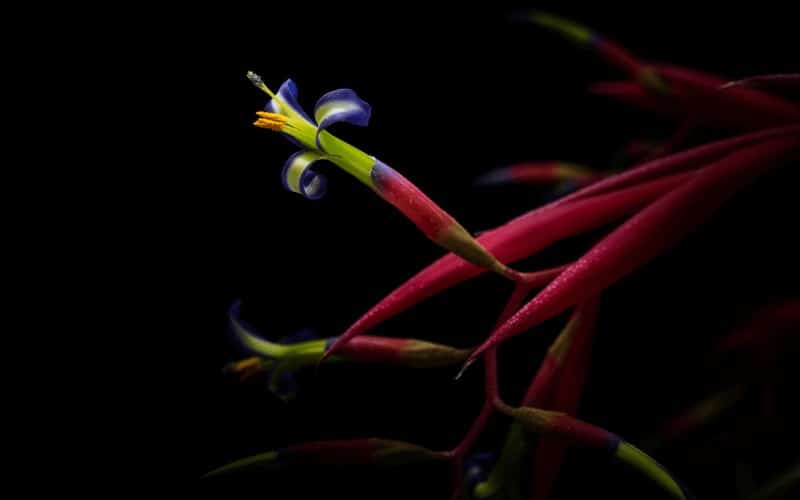 Billbergia Nutan is an ornamental plant that is preferred by most gardeners because of its flowery nature. Its name "queen tear" is a result of the drops of the nectar that week from the flowers in response to stimuli.
This loving plant is one of the easiest to grow in the bromeliad family and can be grown by anybody with little or no experience.
You're assured of a great experience if you follow this guide.
Cultivation
Billbergia's unique adaptation makes it appropriate for outdoor landscape plants in a moderate climate.
It can be planted outdoors as an epiphyte (plants that are tree-dwelling and mostly get nutrients from the host).
Billbergia can be planted indoors preferably within a pot with a proper mixture of the soil and peat, The loam, sand, and the pH level- slightly acidic and neutral. The plant may also be grown in rocks.
Billbergia Nutans Temperature requirement
Your Billbergia plant prefers temperatures ranging from 45-65°F at night and could thrive in normal room temperatures of 70 to 75°F during the day. But has to be 10-15°F lower than the daytime temperature for its best growth.
Though the subgenera Helicodea can be less tolerant of low temperature; temperatures as low as 26°F can be tolerated and at a short period.
Extremely low temperature can cause damage to the plant and high temperature- 120 degrees, will bleach out the plant but if readjusted it regains balance and all these become but a tale.
Lighting needs
(Queen Tears) likes indirect to full sunlight, too much light can only be accommodated by the mature plant to enhance leaf coloration and markings.
Note: it can only be left for some hours, preferably 3-4 hours on a good watch, so it doesn't burn.
If your Billbergia is grown indoor, position it at the window where it receives bright indirect sunlight, so it gets enough to let it grow and bloom when the time comes.
It can be left at partial shade, provided it gets enough nitrogen, it can grow and produce pups.
Billbergia Nutans Plant Care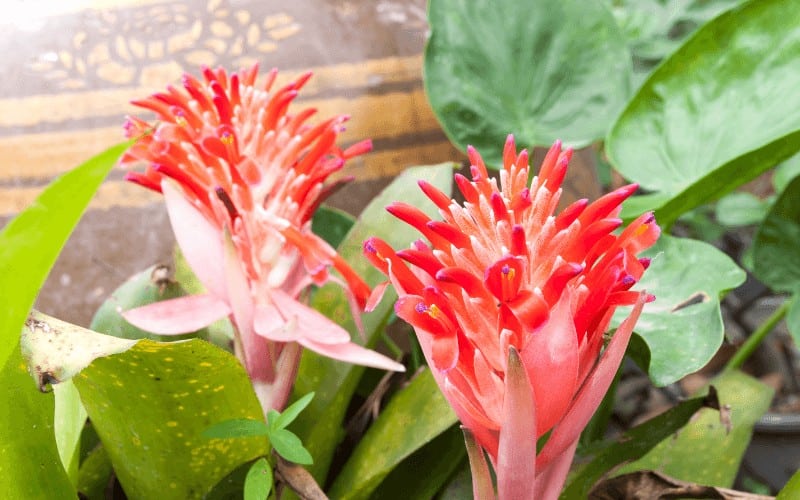 Billbergia Nutan plant is highly tolerable and can thrive even when neglected (so many people testifies of this.)
Its ability to adapt to changes and enhance its growth when taken care of after neglected grants you the chance to yourself. But do not ignore it too long.
Watering requirement
The plant can live without overwatering, but be sure to water your plant regularly with distilled water or rainwater.
The water should be free of minerals as they might build upon the leaves and encourage bacteria infestation. You also want to avoid tap water as it's not always safe for plants.
When watering, water the center of the rosette, the key is to keep the roots barely moist.
Keep the water fresh in the pot at most times; however, do not let the pot accommodate stagnant water, this breeds insects and causes root rot.
Remember not to overwater the plant and if your plant is planted outdoors, you can use mulch if you doubt your ability to stay off watering the plant.
More so, try to keep the soil slightly dry during fall or winter.
Fertilizer needs
If you have planted your billbergia in a pot, it most times would require little or no fertilizer, so the plant doesn't overgrow the expected size.
In other words, you are in charge of its growth and to remain so think little of fertilizer.
However, to encourage its growth at an early stage add a pinch of Epsom salt (magnesium sulfate) to the fertilizer or water.
And when your plant is fully grown and in a good environment, you can fertilize it monthly with the right proportion (¼ strength). Remember over fertilizing can lead to overgrowth.
Container needs
You can choose to pot according to the size of the plant.
If your billbergia is allowed to clump, then it requires a 6inches pot, Azalea pots can be nice for it depending on your choice.
The billbergia has two root system;
Having your plant potted in a mix would require it forms a root system that is capable of consuming water and nutrients from the soil.
If hanged on wood or bark, it would form a strong root system but can only feed or rely on rain and air for its nutrients.
Space
Your billbergia requires enough space for its growth, good air and a ventilated area enhance the growth.
Having billbergia clustered might not just suffocate the plant but also invite unwanted.
Propagation
In most cases, mature billbergia goes into a slow decline after blooming, but the small plants – pups are most likely to develop at the base of the plant.
Propagate when the pups are the half size of the mature plant, usually when that are 4-6 inch long and has assumed the characteristics of the parent (pups can grow and become of the replica of the parent).
You can divide the bulbs, rhizomes, tubers and offset them during propagation.
After propagating it can either be planted as an epiphyte or potted on its own.
How Long Would it Take Billbergia Pups to Grow?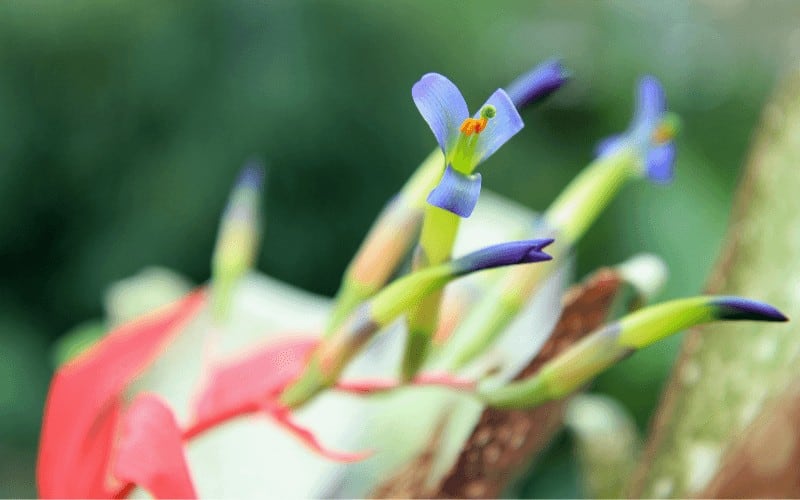 Generally, the plant blooms when they are 2 to 3 years old in spring. They also root quickly in spring and will mostly bloom in 1-3 years.
Additionally; the billbergia plant would normally take three to six months to flower.
Problems that may arise when growing billbergia nutans:
Though it would occasionally attract fungus. The plant is usually free of insects when grown in a ventilated environment, but when treated earlier with fungicide, you keep it at bay.
If your plant is clustered it brings about scale infestation which is a common problem with billbergia.
Brown soft-bodied scale- some insecticides can easily wave this type of scale infestation.
Black tea scale- it is much harder to destroy this type, you can treat it with the appropriate insecticide but if the problem persists call o. Local garden center.
Hopefully, these basic requirements and procedures have answered the majority of the questions you are curious to ask.
Can You Grow Billbergia Nutans?
Probably you are prompted to ask with this long requirement and procedure "are you equal to the task."
Remember the billbergia plant is a friendship plant and above all a forgiving plant and the easiest to grow in the family of bromeliad.
So Yes, you can grow billbergia Nutan without any experience, but you just have to make your first attempt count and a memorable experience.
More so, your experience with the plant grants you the chance to master and have fun with the plant learning its other characteristics while planting it.
Further tips
Remember the plant does not enjoy direct sunlight, especially for the matured billbergia Nutan.
Watering the plant does not involve overwatering it, if you have overwatered or have left the pot with stagnant water then repot your billbergia so it doesn't have to deal with root rot.
Yes, be sure to repot your plant once in a year or when your fearsome threats
Note: you can replace the water monthly but make sure to water to keep the soil barely moist.
Spray your billbergia with water free of lime, from time to time.
The plant is sensitive to chlorine and fluoride, try to avoid them.
Careful when handling the plant it could be dangerous because of its sharp edge, do well to wear a protective; glove, to ensure you don't get hurt.
Since the plants are great tree climbers you can hang them in a good basket.
Don't worry the plant is not lethal to pets, surprisingly your pets might hover around it because it's ornamental.
Conclusion | Queen Tears Tree Care
Now you know it's not such a difficult feat, this might seem like a long procedure but it contains all you need to know for billbergia nutans care.
And it makes it worthwhile because you would achieve your best result, once you follow the procedures.
More so, avoid worrying yourself if the plant is yet to bloom after the said years, you only have to give it the right amount of light to see it bloom. While your plant requires the least of your attention do well to check on it.
Have a good time caring for your billbergia Nutan!
Related Posts: