We independently research and recommend the best products here. This article contains affiliate links. If you make a purchase after clicking on a link, we may earn a little commission at no extra cost to you.
Winter can be fun with its holiday undertone, but it can be worrisome at the same time. You wake in the morning to go somewhere with your friends only to find a humungous pile of snow some feet after your garage door.
Sometimes, the snow does not just block the path of your car, it can also block your footpath.
In this case, you have two options, go back to your house and chill or make an effort to clear your path using a snow blower. In this article, we will review the best 3 stage snow blowers available now.
Let's get started!
Read Also: Detailed Garden Tractor Reviews
What Is A 3-Stage Snowblower?
A 3 stage snowblower uses an impeller, auger, and dicing auger to break the ice and snow. It is the best tool to have when winter hits hard. The performance and speed of the 3-stage blower will cost you only minimal energy and time.
It will clear large piles of snow in no time. The 3-stage snowblower is powered by gas much unlike other snow blowers that could be powered by electricity or gas.
The snowblower consists of three major parts: the auger, the impeller rotor, and two extra augers for dicing. The first auger is located in front of the machine siphons the snow, forcing it into a discharge conduit that will dump the snow in whatever place you choose. It can send the snow even up to fifty feet away.
The impeller rotor shifts the heavy snowfalls. The rotor's clearing width is between twenty to thirty inches. The extra augers serve to break up heavy ice and snow. The augers do this quickly and efficiently.
Using the 3-stage blower is way faster and less energy-consuming than using a shovel. They can clear snow in jagged terrain and can work even over gravel.  You can use the 3-stage snow blower as well on terrains with moderate inclines.
Benefits of Using A 3-stage Snowblower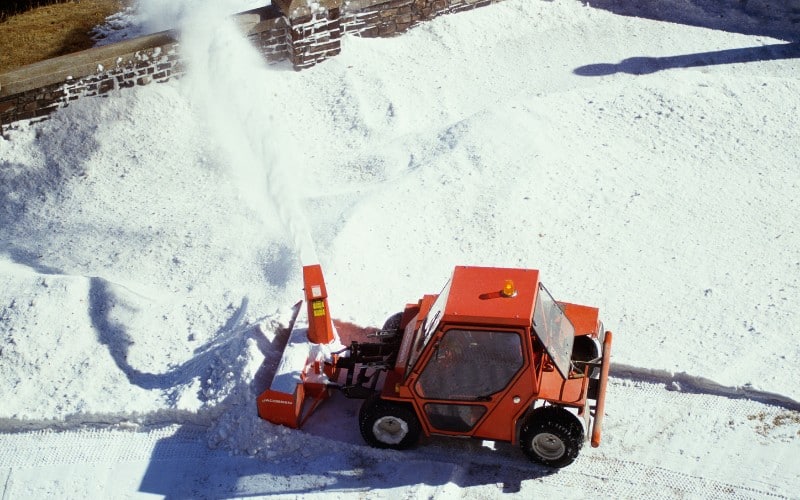 Many people say they can do with a 2-stage snow blower what the 3-stage snowblower does and so there is no point getting a 3-stage snowblower. Is this true? We think not. Let us highlight the few benefits of the 3 stage snowblower.
Unique and Efficient Design
Unlike the 2-stage snowblower with just one auger, the 3 stage snowblower has three, one in front and two in support. These augers are efficient in breaking up, siphoning snow, and sending then to the impeller rotor, which can haul the snow fifty feet away.
50% More Throughput (Efficient)
In snow blowing, throughput means the quantity of snow which can be pushed by the blower at a given time. The 3-stage snowblower moves snow 50 % more than the 2-stage snowblower. This results in better snow blowing efficiency and little snow remnant.
Faster Service
Due to the fact that the 3-stage snowblower has more throughput, it can deal with more snow quantity in a given time.
Neater Service
Owing to the way the machine is designed, it doesn't leave much snow behind. This means you do not have to redo a driveway like you do when you use a two-stage snowblower.
Easier Service
For some snowblowers, you have to break the ice or snow before shifting them. For the 3-stage snowblower, you have a machine that will do both and at a faster rate.
Added Accessories for Comfort
Three-stage snow blowers come with accessories that will make your work easier. They also come with aluminum gearboxes, hydrostatic transmissions, headlights, and hand warmers that can prevent frostbites on your hands.
Read Also: Difference Between Pruning Saw and Bow Saw
Best 3-Stage Snow Blowers
1. Cub Cadet 3X 24-Inch 3-Stage Snow Blower
CUB CADET 3X (26") 357cc Track Drive Three-Stage Snow Blower
357cc Cub Cadet OHV 4-Cycle engine
Innovative 3-stage system with electric start
Easy Control Chute Rotation & Deflector, also has a track drive system
26-Inch Three Stage w/ Dual LED Head lights and heated hand grips
3 year consumer warranty, 1 year commercial warranty
Last update on 2023-12-08 / Affiliate links / Images from Amazon Product Advertising API
This is compact and lightweight, which makes it easy for one to store it. The engine is powerful and can crush compact snow to fine dust.
This machine has new skid shoes that do not scratch the surface of your yard. It comes with warm handles to prevent frostbites.

Pros
The machine is easy to handle
It comes with powerful headlamps for lighting
The parts can be assembled easily
Cons
Even though it is useful in clearing snow, the 24 inch from Cub Cadet leaves trails of snow when it is working
Sometimes, the engines fail when you use them for the first time
2. Cub Cadet 3526SWE - 3X (26") Three-Stage Snow Blower
This is one of the most convenient 3-stage snow blowers available. This machine has a zero-turn setting on its steering, which means you can turn the steering without pressure. The engine is a powerful 357cc OHV engine which supplies a massive amount of power to the snowblower.
Even though 3-stage snowblowers usually come with just a gas-powered engine, 26 inches engine can be powered by gas and electricity. It also possesses a four-directional joystick, which controls the deflector and chute.
This makes it relatively easy to control the movement of the deflector and the chute. This machine is undoubtedly one that has lived up to its hype.

Pros
The 26-inch 3-stage snowblower is reliable and has high quality
It is easy to use and master
The system generates enormous power and clears snow efficiently
The ripcord of the 26 inches is durable and does not break easily
Cons
The price of the machine is relatively high
The machine is too heavy
Maneuvering the machine generally would be hard for older adults
The augur's clutch is tightened too much and has to be readjusted before use
3. Troy-Bilt Vortex 2490 3 Stage Snowblowers
This is the cheapest and most famous model on the list. The manufacturers of this product were focused on the features required to get rid of the hard ice and snow.
No extra accessories were added. This is why this is the cheapest; you don't get to spend money on some features you may not need or use.
The troy bilt snowblower has six acceleration speeds and two speeds for reverse. It comes with a strong engine that cuts through even the strongest of snow. It also has headlamps that can light your way if it is still snowing, and you are having issues with visibility.

Pros
The troy-bilt snowblower bucket is the largest of all snowblower models
It has a four-directional joystick, which makes it easy to control every function in the machine
The wheels of the machine are complete to provide a firmer grip on the snow
Cons
The troy-bilt snowblower does not perform well if the snow is still wet
The machine does not create sufficient heat
4. Cub Cadet 3X 28-Inch 3-Stage Snow Blower
This product is an improvement on Cub Cadet's 26-inch 3-stage snowblower. It takes away more snow even though its engine and power remain the same with the 26-inch. What does this mean? It means that you get an improved service without sacrificing more fuel.
The tires are X-Tac with firm control and grip, so you don't slip on the snow. This model also has an LED headlamp that can pierce through any snowstorm.

Pros
The machine is easy to assemble
The control and drive are easy to handle
The 28 inches is built for better efficiency than other models with similar engine power
Cons
Many users have reported that this model has problematic drive belts
As is the norm with most cub cadets, the machine is cumbersome
5. Cub Cadet 3X 30-Inch 3-Stage Snow Blower
You can be certain that this is the most powerful and as well the most expensive model of the Cub Cadet brand. It is your last stop for all things heavy duty. It is the most massive machine on the list.
This machine will deal appropriately with any kind of snow, no matter how hard. Excellent value for your cash. It can keep working without a stoppage even in the hardest of conditions. The 14-inch inbuilt accelerator prevents any form of jams inside the impeller rotor.

Pros
This is the most powerful 3-stage snowblower available
It has a giant bucket for collecting snow
It has no problem working on wet and snowy terrain
Cons
This machine is too heavy
Many users have reported issues with the drive belt
What to Look for When Choosing a 3-Stage Snowblower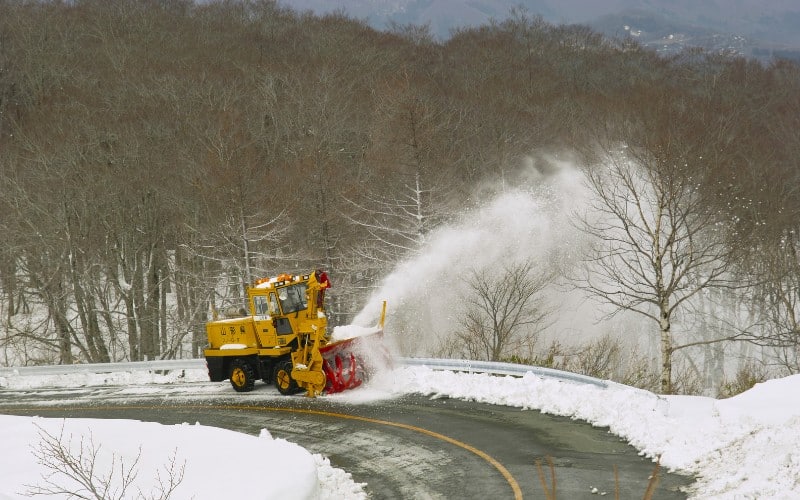 Here is the thing, most 3-stage snow blowers are expensive. This means that for every dime you spend, you have to get the total value for it. When you are about to get the snowblower, here are a few things you should keep in mind.
Price
On top of the list of things to consider is the price of the snowblower. You have to get something within your budget. Snowblowers usually come at different prices, from cheap to the more expensive ones. Keep this in mind while making your plan.
Check the Storage and Workspace
3-stage snow blowers are heavy and oversized. Do you have storage space for such large equipment? If you do not have much storage space, you can go for the 24-inch instead of the 30.
Again, where would you use the 3-stage snowblower? If your place does not get a massive amount of snow, like 18 inches and above, there is no need to get a 3-stage snowblower.
Ease of Use
Snowblowers usually are heavy equipment. You have to get one that is easy to maneuver. Else you'll be stuck with a giant machine that you find hard to operate.
Track or Wheel
Many snow blowers are wheeled, and some are placed on tracks. The tracks are faster and can handle steeps and hills, but they can be hard to turn on level ground.
Features
Some features MUST be present in the snowblower before you purchase. Here are some of those features:
Heated handgrips
Easy chute control
Powerful accelerator
Single hand operation
Multiple speeds
Read Also: Difference Between Trenching Shovel Vs Drain Spage
How to Use a 3-stage Snowblower
The 3-stage snowblower is relatively easy to use. To turn it on, press the power button. There is a joystick located on the snowblower. It is the joystick that controls every function of the snowblower. You can accelerate, reverse, adjust chute direction, and control the augers all from the joystick.
The joystick is four-directional. When you move it up or down, you control the movement of the chute. When you move to the right and the left, you own the augers.
Many 3 stage snow blowers can move forward themselves. This means there is no need for you to push them.
How to Maintain Your 3-Stage Snowblower
Always replace worn out parts of the snowblower
Leave repairs for authorized personnel
Be sure to follow the manufacturer's instructions
Check oil before each use
Change the spark plug after every winter season or after 100 hours of usage
Always ensure fasteners are in place
Engage control levers properly before using and disengage after using
Maintain correct tire pressure
Store the snowblower properly after winter
Frequently Asked Questions
How Long Do 3-Stage Snowblowers Last?
If you take proper care of your machine, you can be sure it can last for ten to twenty-five years. This is also dependent on the quality of the machine you are getting. If you get a quality product, you can expect 2 to 5 years.
When Is the Best Time to Buy A 3-Stage Snowblower?
It is best to buy a 3-stage snowblower around May and June. This is usually when new products are manufactured. You can pre-order a new one at a cheap rate.
Can I Buy A 3-Stage Snowblower Without Heated Grips?
This is dependent on the prevalent temperature where you live. If it is too low that your hands could freeze, do not buy it.
Read Also: Expandable Garden Hose Reviews
Conclusion
Winter can be fun; winter can be tiring. Do not let the snow wear you down. Use a snowblower to clear your path. The 3-stage snowblower is best for removing snowfalls that are too large.
We have listed above the best 3 stage snowblowers. You can make your choice and be sure you will enjoy those products. Make sure you are confident that every part of the snowblower is in perfect condition. Do not buy the cheapest ones or the most expensive ones. We hope this guide helps to make a wise decision.