If you are making a list of amazing and beautiful flowers or just want to add some to your garden collection, you would find a bulk of them in this article as we're going to be showing you some of the most beautiful flowers that start with N.
These flowers are super stunning and inviting and will definitelty add a touch of beauty wherever they're being kept.
Are you ready to have a look at them?
Let's ride.
Flowers That Start With N
1. Narcissus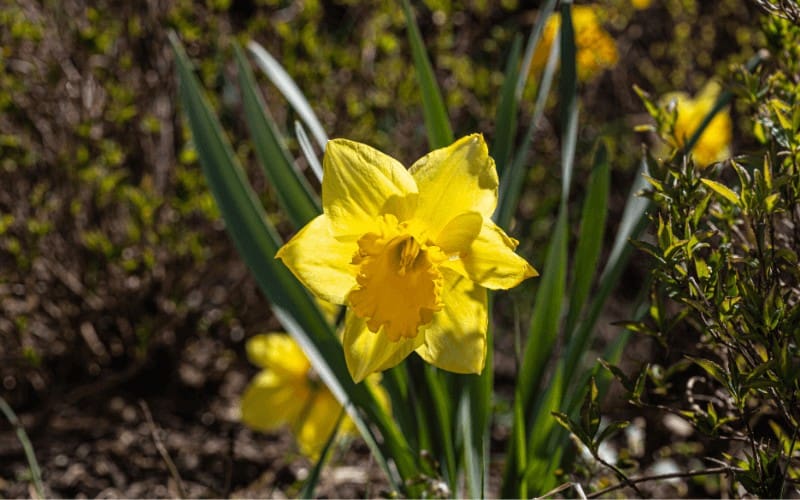 So the first on our list is the Narcissus, also known as paperwhite. Narcissus symbolizes rebirth and renewal. This is because it is probably one of the earliest bulbs that you would find during spring.
It has conspicuous petal-like flowers with 6 edges. The flowers are white with a yellow center.
The name is traced to a Greek word and myths describing a youth who fell in love with his reflection.
Depending on the species, majority of them comes with lovely fragrance to give your garden appealing scents. And just like most plants with fragrance, Narcissus is poisonous to your pets and yourself as well.
Talking about the growing condition, this plant thrives best in moderately fertile, well-drained soil. Bulbs tend to rot if planted in waterlogged soil especially during winter.
---
2. Nigella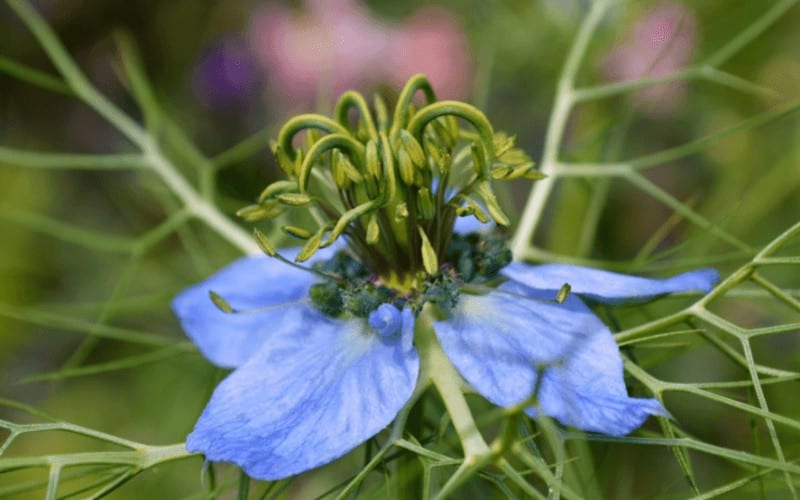 There are many names associated with this plant including love in a mist, ragged lady, and the devil in the bush.
The plant is an annual flowering plant that blooms in early summer, brings forth lovely different shades of blue. However, sometimes the flowers can be white, pink, or pale purple.
Nigella is easy to cultivate. It can be grown anywhere throughout the temperate world. Typically, Nigella will try to grow on any soil type, however, it prefers rich and fertile soil.
The plants spread wide, reaching up to 30 cm wide and 24 inches in height.
Whether on a field or in a container, Nigella will do just fine. Do well to plant amid other annual flowering plants.
---
3. Nolana
Nolana Chilean which resembles the morning glory bloom is a desert plant that gives your garden a unique look throughout summer. The plants bloom in early summer with trumpet-like shaped flowers.
The plant is perennial in USDA Zones 9 and 10. It can also be grown as annuals in colder climates.
Nolana is best cultivated by seed. It is best to plant after the frost if you prefer outdoors. However, it is preferred to be cultivated indoors before transplanting outdoors.
The plant is not selective on the type of soil. Whether sandy, gravel, or poor dry soil, so long that the soil is well-drained, the plant will thrive.
Nolana prefers full sunlight. Although the plant is drought tolerant, it is important to keep the soil slightly moist during the early stage.
---
4. Nymphea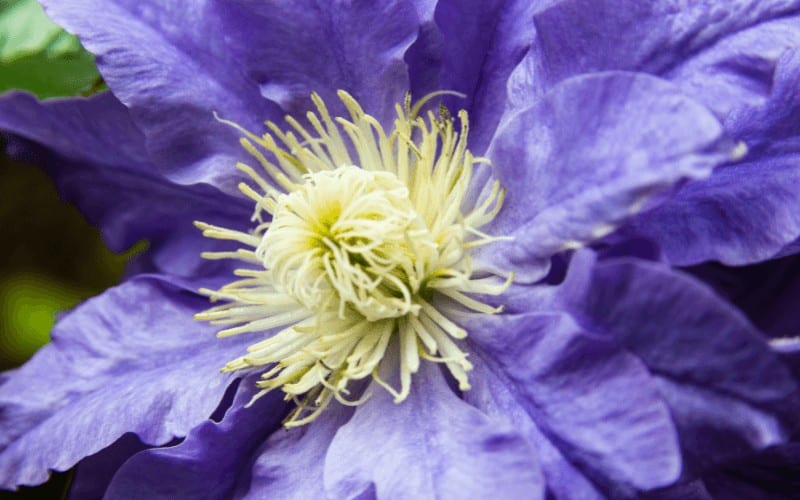 This is a popular plant, but you may not be conversant with the name except we tell you that it is a genus of water lilies.
Generally, the genus Nymphaea makes up the water lilies proper, or water nymphs with over 46 species.
Of course, you already know that water lilies only thrive in water-logged areas. So this will be an option if you have a pond. The plant is often found in the ocean too.
Because of the variety of species, it is almost difficult to describe them in general. However, most species of water lilies have rounded and waxy-coated leaves on long stalks containing many air spaces for the adaptation to float on water.
Aquatic plants play a lot of roles in our ponds. They clarify the water as well as producing beautiful flowers.
---
5. Nierembergia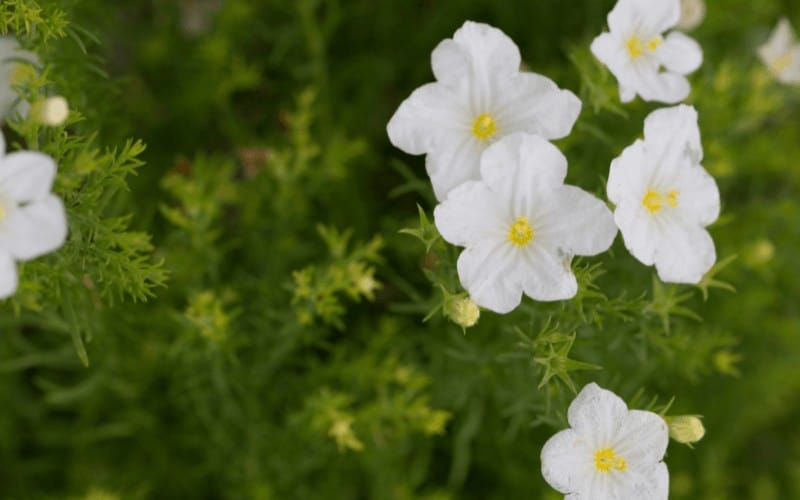 If you are not familiar with the name, "Nierembergia", you may relate with the popular name "cupcake".
Cupcake is a native of South America, however, it can be planted throughout the USDA planting zones 9 through 11.
If you are considering cultivating this plant, containers and hanging baskets would just be a perfect style as it allows the flowers and feathery foliage to trail over the side of the container.
Nierembergia can be found in your local garden shops, it can be easily cultivated using seed. Note that it requires rich, well-drained soil to thrive. Ensure that you water regularly especially during the early stage.
Cupcake blooms during summer, producing beautiful white flowers.
---
6. Nepeta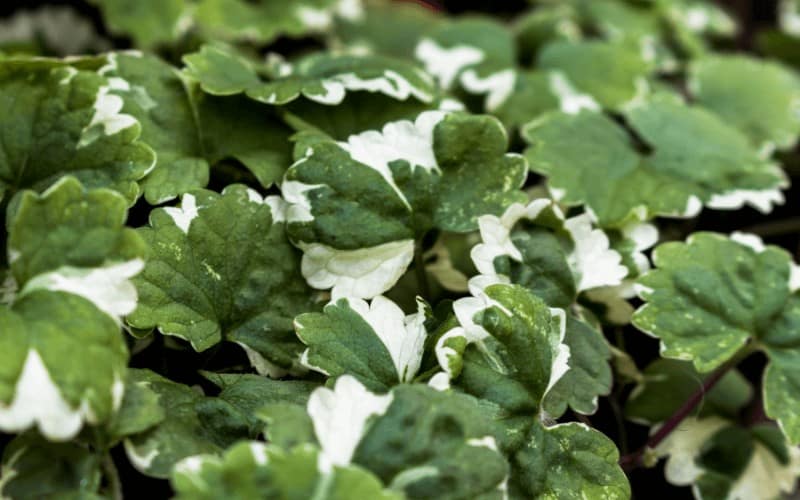 If you love the scent of mint around your garden, you may need to check out Nepeta which is also called catmint.
Nepeta is a perennial herb that is a member of the mint family. It is one easy plant to grow, with almost no pest/disease problem.
Consider using Nepeta for running along paths and edging planting areas since they have a sprawling growth pattern.
Depending on the variety you plant, the flowers which bloom from early summer can either be white, pink, or lavender-blue.
Talking about the requirements for cultivation,catmint is not demanding. It can thrive on neglect. However, planting under a sunny spot and in well-drained soil will make a noticeable difference.
---
7. Nerine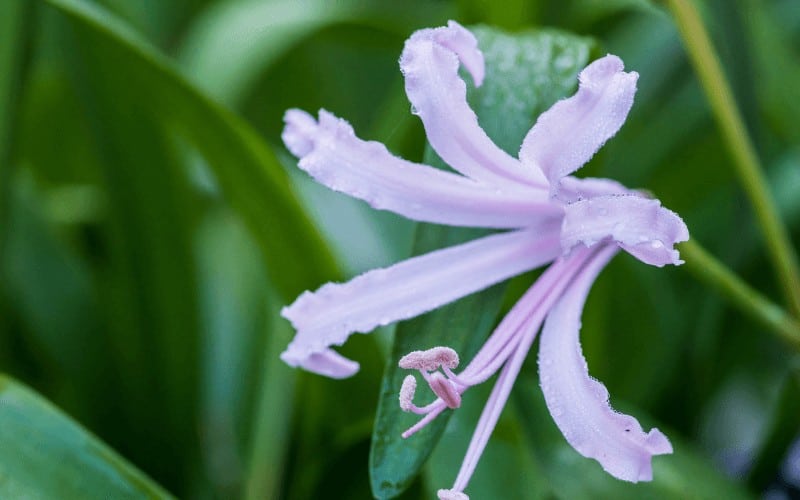 The tiny beautiful flowers from Nerine don't only beautify your garden, it also gives it elegance and style.
If you love your garden to still be active with blooms during fall when most flowers start to go into dormancy, you should probably consider planting Nerine.
It is one flowering plant that can do well in just the worst condition. Nerine is happy under a sunny spot and dry soil.
For the best result with this plant, grow outdoors in well-drained soil, under full sunlight. We stress the emphasis on "full sunlight" because it will hardly bloom in a shaded spot
They will also do well in containers, but do well to place them at the window that gets the most light.
---
Related Posts:
Conclusion
Looking for flowers that start with N? The few listed above are some of the best you could think of planting and adding to your flower collection.
The list is almost endless. We are sure you do have some lovely flowers you'd wished we included on our list. You can let us know about them, we'd love to learn more and add more to our list.