We independently research and recommend the best products here. This article contains affiliate links. If you make a purchase after clicking on a link, we may earn a little commission at no extra cost to you.
Hydroponics is a farming method whereby you grow plants on water or other nutrient high media instead of in the soil. To run a successful hydroponics system, you must maintain good water chemistry and pH levels. Hence, the need to get the best pH meter for hydroponics.
Getting a good pH meter for your hydroponics system is not as easy as you would think. You must get one that serves its purpose and monitors every detail.
If this sounds like what you are looking for, you are in for a good surprise. This article covers everything you need to know about the best pH meters for hydroponics. Keep scrolling!
Best pH Meters For Hydroponics
What is a pH Meter for Hydroponics?
A good pH meter will help you to monitor the growing process of your plants. It also maintains or adjusts pH levels and temperatures of your hydroponics system.
This measurement ensures that your plants get the needed minerals or nutrients and adequate temperature for growth.
How Does a pH Meter For Hydroponics Work?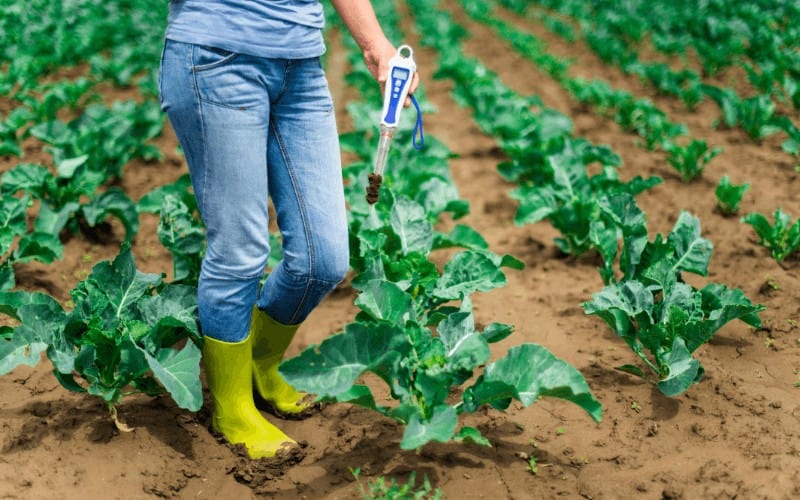 Ideally, tepid water contains an equal number of hydrogen and hydroxide ions. When other factors or materials are introduced to the water, it changes the pH levels. The hydrogen ions either increase, thereby making it more acidic or more alkaline because of increase in hydroxide ions.
A pH meter for hydroponics has a tube for reference and a glass sensor. The probe generates a nominal voltage across the reference tube and sensor by measuring hydrogen ions activity. Then, it converts the voltage to the pH value. This value is displayed on the digital screen.
Most pH meters have an in-built thermometer that detects and automatically adjust any difference in the baseline temperature of 22oC or 77oF. This function is called automatic temperature compensation (ATC).
Why Is Measuring pH In Hydroponics Important?
Measuring pH levels in hydroponics is very important. There are frequent abrupt changes in pH levels because of the process involved in metabolizing nutrients in plants. These changes can block the absorption of nutrient in some elements.
These changes can affect the health, flavor, and appearance of the plants. In some cases, it can result in stunted growth leading to plant death. PH levels must be kept at its optimum between 5.5 and 6.5.
Although this varies from one plant to the other, a fluctuation in pH values and poor nutrient concentrations can predispose your plants to diseases and pest attacks.
PH Meters for Hydroponics Reviews
1. Vivosun pH And TDS Meter Combo
Sale
VIVOSUN pH and TDS Meter Combo, 0.05ph High Accuracy Pen Type pH Meter ± 2% Readout Accuracy 3-in-1 TDS EC Temperature Meter for Hydroponics, Household Drinking, and Aquarium, UL Certified
Application: Great for all home and laboratory TDS & pH testing applications including aquariums, swimming pools
PH Meter: Full measurement range of pH 0 - 14, reliable and quick readings
3-in-1 TDS Meter: Measurement Range 0-9990ppm, 0-9990µs/cm; Accuracy ± 2%, 0.1- 80.0°C, 32.0-176.0°F; Note: This meter can't test sea water
Features: Comes with protective case; Lightweight, handheld design for portability and convenience
Included: PH meter, 3-in-1 TDS meter, 3 calibration buffers
Last update on 2023-09-24 / Affiliate links / Images from Amazon Product Advertising API
The Vivosun pH and TDS meter combo is reliable, accurate and very easy to use. It has a pH meter that can measure pH levels and a TDS meter that includes TDS, temperature, and EC function. Hence, it is referred to as a 3-in-1 designed tester meter.
It has other features such as a protective case and a lock function that makes it very easy to read the pH value. This pH meter also has a 9 minutes automatic shut off feature.

Pros
It is portable
Made with high-quality materials and so it's durable
Easy usage
Cons
The battery runs down quickly
2. Digital pH Meter and Water Quality Tester
PH Meter, Digital PH Meter for Water, 0.01 High Accuracy PH Tester with 0-14 PH Measurement Range for Hydroponics, Household Drinking, Pool and Aquarium
✔𝗘𝗔𝗦𝗬 𝗧𝗢 𝗨𝗦𝗘: Simply press "ON", It only takes a few seconds for your result to appear on LED screen, and accurate measurement and clear display. Backlights function ensures you can use the product in a dimly lit working environment.
✔𝗛𝗜𝗚𝗛 𝗔𝗖𝗖𝗨𝗥𝗔𝗖𝗬: High-accuracy electrode chip and lab quality glass probe ensure accurate and fast response. Measures 0 ~ 14 pH range with a high 0.01 pH resolution.
✔𝗘𝗔𝗦𝗬 𝗧𝗢 𝗖𝗔𝗟𝗜𝗕𝗥𝗔𝗧𝗘: Press "CAL" for 5 seconds to enter the calibration mode, press in turn to select the powders corresponding to 6.86, 4.00, and 9.18 to complete the calibration
✔𝗔𝗨𝗧𝗢𝗠𝗔𝗧𝗜𝗖 𝗧𝗘𝗠𝗣𝗘𝗥𝗔𝗧𝗨𝗥𝗘 𝗖𝗢𝗠𝗣𝗘𝗡𝗦𝗔𝗧𝗜𝗢𝗡: The pH tester has ATC function, so it can be adjusted according to water temperature to give pH readings almost instantly.
✔𝗪𝗜𝗗𝗘 𝗨𝗦𝗘: PH Meters to measure the pH in your pool and spa; Ideal for residential or commercial use, drinking water, aquarium, liquid food, brewing, RO system and hydroponics.
Last update on 2023-09-24 / Affiliate links / Images from Amazon Product Advertising API
The digital pH meter and water quality tester have two built-in 1.5V button cells and three pH buffer powders.
It has high accuracy, auto-calibration and an ATC feature that adjusts temperature and quality of water giving pH values almost immediately. It can read pH value at any temperature between 32oF-176oF (0oC-80oC).
This pH meter is easy to use. Remove the protective cap and insert the meter's electrode in the water you want to test. Then turn it on.

Pros
It is fast and gives reliable readings
Very easy to use
Cons
Difficult to calibrate for first-time users
3. Apera Instruments AI311 Premium Series PH60 Waterproof pH Pocket Tester Kit
Sale
Apera Instruments AI311 Premium Series PH60 Waterproof pH Pocket Tester Kit, Replaceable Probe, ±0.01 pH Accuracy
NOTE: A few drops of water are added to the electrode cap before the product leaves the factory. This is to maintain the sensitivity of the electrode. Therefore, when you use it for the first time, it is normal to find water droplets in the electrode cap
Accuracy: 0.01 pH; range: -2.00 to 16.00 pH, 32 to 122˚F (0 to 50˚C); Auto. Power-Off: 8 minutes without operation
Easy 1-3 points auto. calibration, recognizes 5 types of solutions (1.68, 4.00, 7.00, 10.01, 12.46); Auto Temp. Compensation (ATC) ensures accuracy in various temperatures (32-122˚F)
High quality replaceable glass pH probe, suitable for regular water solutions e.g. pools&spas, hydroponics, environmental monitoring, cooling towers, beverage, etc.
Large LCD with 3 backlit colors (indicating different modes), dual display of temp./pH, and reminders of completed calibrations and stable readings
Last update on 2023-09-24 / Affiliate links / Images from Amazon Product Advertising API
This pH meter is specially designed for professional pH value measurements. Its self-diagnostic feature signals you when you wrongly calibrate it and show you how to fix it. It has a high-sensitive replaceable pH probe with a sensor shield at the top.
Additionally, it has an ATC feature that ensures accurate temperature readings. Other features include reading alarm, a battery operation up to 2000 hours and an automatic reading lock (optional).

Pros
Easy to install replaceable glass probe
Easy usage
Gives stable readings
It has three large color backlit screens
Fully waterproof
Cons
It takes some minutes before the temperature probe warms up for measurement
It can be affected by freezing conditions
Replaceable glass probes can be expensive
4. Bluelab PENPH pH Pen Fully Waterproof Pocket Tester
Sale
bluelab pH Pen-Digital pH Tester - Reliable & Accurate for High Yield Crops - Hand-Held Meter - Measures pH & Temperature in Solutions and Soil Solutions - Optimize Plant Health & Performance,White
Measures pH in nutrient solution (acid or alkaline) for precise up and down adjustment with lab quality glass probe; General uses include growing tent, swimming pool, drinking water, aquarium, fish tank, and brewing.Operating temperature : 0 - 50 °C, 32 - 122 °F.
This hydroponics tester has ATC that provides consistent reading regardless of any fluctuations in temperature; Calibration reminder; Durable design for repeated uses; Fully waterproof and floats in solutions
Double junction electrode has a longer lifespan compared to standard probes due to less contamination and is more accurate and reliable than comparable pens, test strips, drops, and more
Combine with ppm meters for full indoor garden nutrients monitoring in water and soil;
Fully waterproof - not just water resistant; Automatic temperature compensation for accurate readings everywhere
Last update on 2023-09-24 / Affiliate links / Images from Amazon Product Advertising API
It measures pH for acidic or alkaline conditions in the water. The Bluelab PENPH meter has a 2-point calibration system with ATC feature, calibration reminders, and backlit display which makes it handy. Its double junction glass probe improves the lifespan, reliability, and accuracy.
Other unique features of this pH meter include battery indicator, auto-off function, temperature units as well as a Kit (contains lanyard, AAA battery and calibration solution).

Pros
It is fully waterproof
Inclusion of an ATC feature for reading accuracy
2-point calibration process
It has a double junction probe
5. pH Meter with Automatic Calibration
PH Meter with Automatic Calibration | 7Pros Digital Water Tester, Built-in ATC, 6 pH Calibration Packets, Great Tool to Test PH of Hydroponics, Kombucha, Wine, Drinking Water (Blue)
EASY MEASUREMENT AND ACCURATE RESULTS – no more time consuming paper strips or other inaccurate pH test chemicals, our device is a digital pH tester which will allow you to test your liquid quickly and accurately within ±0.01 pH - no matter what your liquid is or whether you are a new or experienced user
AUTOMATIC CALIBRATION – our 7Pros PH meter comes factory calibrated, but recalibration is required in case of long period of inactivity or after a frequent use. For a proper calibration you get 2 sets of calibration powder (6 packets), no need of any kind of screwdrivers to calibrate, you just have to push the auto-calibration button. Easy Instructions manual is included
IDEAL FOR ANY HOUSEHOLD- You can use this small, but powerful, device to measure your aquarium, pool, pond in a garden, bath tub to test the levels of alkalinity in your drinking water, urine, RO System, spa, soap mixtures, food, wine, beer or any other liquids. Do you Travel a lot? Make sure the water you drinking abroad is good enough - take your 7Pros pH meter with you and test the water before drinking. Along with a tds meter it will form a perfect travel kit.
FAST RESULTS, CONVENIENT SIZE - it only takes a few seconds for your result to appear on screen. Simply press "ON", stir gently and the reading will stabilize on the display in moments. This portable size instrument allows you to carry it around easily in your pocket and do your measuring anywhere. Its special plastic case will protect it whether you take it to the pool, on a trip, to the beach, camping or a picnic
AUTOMATIC TEMPERATURE COMPENSATION - no more need to take care about the temperature of testing liquid, as 7Pros meter has built in (ATC) automatic temperature compensation, so that it can accurately determine pH value of the sample at any temperature in a range of 0°C - 80°C (32°F - 176°F)
Last update on 2023-09-24 / Affiliate links / Images from Amazon Product Advertising API
This pH meter comes with two sets (6 packets) of powder for calibration and gives accurate readings. It is easy to use and very portable. Also, it has a built-in ATC that can determine pH levels at any temperature ranging from 0oC to 80oC.

Pros
It is portable, durable, and easy to use
Easy to read
It does not require any storage fluid
Cons
It does not have an auto-lock reading feature
6. Water Quality Tester
Sale
Water Quality Tester, Accurate and Reliable, HoneForest TDS Meter, EC Meter & Temperature Meter 3 in 1, 0-9990ppm, Ideal Water Test Meter for Drinking Water, Aquariums, etc.
✔ACCURATE AND RELIABLE: To achieve high accuracy, the TDS water tester is equipped with a premium quality titanium alloy probe, and an efficient intelligent chip that not only ensures stable performance but also contributes to exceptional accuracy, making it a trustworthy water quality tester.
✔MULTIFUNCTIONAL AND UPGRADED: Professional TDS (Total Dissolved Solids), EC (Electrical Conductivity) and Temperature Meter 3 in 1. Upgraded with big backlit LCD for easier reading, and auto-lock function for easier use. These enhancements make it a user-friendly tds meter digital water tester for a variety of applications.
✔EASY AND INSTANTLY: Just turn TDS meter on and stir water gently, then stabilized readings will be auto-locked on LCD in seconds, and the tds ppm meter will shut off automatically if without operation over 2 minutes.
✔MULTIPURPOSE TDS TESTER: Test the purity of drinking water to ensure it's healthy, monitor if Reverse Osmosis (RO)/DI System works properly, whether filter need replaced, maintenance aquarium, hydroponics(test nutrients), pool and spa, etc.
✔3 YEARS WARRANTY. And we offer 90 days Money Back Guarantee if not totally happy with the digital TDS water tester meter.
Last update on 2023-09-24 / Affiliate links / Images from Amazon Product Advertising API
This specially designed meter pen has an advanced microprocessor technology, TDS (total dissolved solids), EC (electrical conductivity), and ATC (temperature) meters.
It is equipped with backlit LCD for easy reading, hold, and auto-lock function for easy read and record.

Pros
Factory calibrated
Auto-off feature (2 minutes) to conserve battery
It comes with a protective case
Cons
It does not measure pH levels
7. Bluelab MONGUA Guardian Monitor for pH
Sale
Bluelab MONGUA Guardian Monitor for pH, Temperature, and Conductivity (TDS) Measurements in Water with Easy Calibration, 3 in 1 Digital Nutrient Meter for Hydroponic System and Indoor Plant Grow White
Monitor pH up and down, temperature, nutrient (TDS) level in water to maximize your grow and ensure plants get a balanced feed; General uses includes growing tent and reservoir; Selectable conductivity units include TDS, EC, ppm 500, ppm 700 and CF
This hydroponics tester has ATC that provides consistent reading regardless of any fluctuations in temperature; High and low alarm when outside parameters, selectable units include TDS, EC, ppm 500, ppm 700 and CF
Lab quality glass pH probe with easy two point calibration; Conductivity / temperature probe comes factory calibrated so it's ready to be used; Double junction probe is more accurate than test strips and drops
Combine with Bluelab pen and meter for full garden nutrients monitoring in water and soil; Other features: International power supply, water resistant design; KIT INCLUDES: Calibration solution, EC probe and pH probe, probe care kit is sold separately
Made in New Zealand and manufactured by Bluelab, the industry leader in hydroponic testing equipment, built for growers; 2-Year Limited Warranty with proof of purchase (6-month warranty for pH probe)
Last update on 2023-09-24 / Affiliate links / Images from Amazon Product Advertising API
The Bluelab MONGUA guardian monitor has a 2-point calibration. Once the pH probe of the monitor is calibrated, you don't need to calibrate it for temperature and conductivity.
A unique feature of this pH meter is that it can be hung on the support or fixed on the wall, which makes it suitable for indoor use.
It is also temperature compensated and always give accurate readings. The best part is that you don't have to worry about your meter getting damaged on exposure to water. The Bluelab MONGUA Guardian meter is water-resistant and has green LED lights that are safe for your plants.

Pros
Requires no calibration for temperature and conductivity
It is water-resistant
Large displays
Presence of flashing alarms
Cons
The probes can be burnt without proper calibration and care
The digital displays can bug out
8. Apera Instruments AI209 Value Series PH20 Waterproof pH Tester Kit
Sale
APERA INSTRUMENTS AI209 Value Series PH20 Waterproof pH Tester Kit, ±0.1 pH Accuracy
Easy auto. calibration with buffer recognition; auto. temp. compensation (ATC) ensures accuracy in various temperatures (32 to 122F)
Backed by Apera quality pH sensor with low impedance, ensuring high response rate
Comes in a rugged carrying case with pH 4&7 buffers and a lanyard
Auto recognition of stable values improves consistency, so you don't have to guess when to manually hold measurement
Up to 2000 hours' continuous operation, powered by AAA batteries
Last update on 2023-09-24 / Affiliate links / Images from Amazon Product Advertising API
This high-quality pH meter has an easy calibration system with high buffer recognition and ATC. The ATC feature gives accurate results in different temperature ranging between 32-122OF. Its sensors also have low impedance. This feature ensures there is a high response rate.
Also, it has the pH buffers 4 and 7 as well as a lanyard. Its auto-recognition of balanced values contributes to its consistency. So that you know, the Apera Instruments AI209 Value Series is powered by AAA batteries and can run for 2000 hours non-stop.

Pros
Calibration is easy
It comes with calibration solutions and cleaning brush for the probe
Fully dust and waterproof
Displays pH level and temperature of the water
Cons
It takes approximately 30 seconds longer before it displays readings
Bubbles can form inside the probe sensor
What to Consider When Buying A pH Meter for Hydroponics
The following are factors to consider when buying a pH meter for hydroponics:
Portability
Taking samples to the lab for testing can compromise your pH readings. So, you should collect your samples and test their acidity at the point of usage. Portable pH meters help to get correct readings of the pH levels of your hydroponics system.
Precision
When managing a large hydroponic farm, there is more risk of damage involved resulting from fluctuations in pH levels compared to smaller farms. This fluctuation is as a result of lots of biological processes involved in big hydroponics farm.
In this case, the need to get accurate results cannot be overemphasized. So, get a pH meter that can balance the pH levels at all time.
Temperature
Temperature is a key factor in measuring pH levels. So, it must be put into consideration when you are getting a pH meter for hydroponics.
Intended Usage
The purpose of usage should be considered first before buying a pH meter. There are different pH meter products available today, each built with specific features to meet your needs.
How to Calibrate a Hydroponic pH Meter
Before calibrating your hydroponics pH meter, make sure you read the product manual to know the best way to clean your model. Here's a general method of calibrating most hydroponics pH meter below.
What you will need
PH meter calibration buffer solutions.
2 Plastic containers.
Flathead screwdriver (for manual calibrations).
Step 1
Pour a small quantity of buffer solutions into the plastic containers.
Step 2
Clean or rinse the pH meter probe.
Step 3
For electrical calibrations, turn the pH meter on and press hold on the button marked 'set/hold' or 'mode' on the pH meter. For manual calibrations, turn the screw using the screwdriver until the pH value is 7.
Step 4
Place the pH meter in the container containing a pH buffer solution wiggling it a little.
Step 5
Press and hold the 'set/hold' or 'mode' button on the pH meter for electrical calibrations. Place the meter in the buffer solution of pH value 4.
Caring for Your pH Meter for Hydroponics
To care for your pH meter for hydroponics, do the following:
Calibrate the pH meter frequently
Maintain the pH sensor
Store reference tubes and glass sensors in the right solution
Rinse pH sensors in distilled or deionized water before storing in its solution
Take proper care of the electrodes
Note: There are different methods of caring for your pH meters, read the manufacturers manual for specific instructions.
Frequently Asked Questions
How Often Should pH Meter for Hydroponics Be Calibrated?
PH for hydroponics should be calibrated as often as you use it. If it is used daily, the meter should be calibrated once every week. If you usually use the pH meter weekly, endeavor to calibrate it monthly.
How Do You Maintain pH Balance in Hydroponics?
To maintain a pH balance in hydroponics, always use products specially formulated for this system. You can use weak acids like citric acid or vinegar for a small hydroponics system. Preferably, use automatic pH controllers that can keep the pH level balanced.
Why does pH Go Up in Hydroponics?
PH goes up in hydroponics because nutrients added to the system are acidic. When your plants consume these nutrients, the pH level increases; this leads to a natural pH swing from 5.5 to 6.2. It can be brought back to a pH value of 5.5 and then allowed to drift up slowly for optimal plant growth.
What is pH Water Best for Plants?
The best pH water for plants is a pH value between 5.5 – 6.5.
Conclusion
Using a pH meter for hydroponics is the easiest way to measure the pH, nutrient levels and temperatures of plants in your farm.
However, you must ensure you calibrate it often to get the right readings always. Besides, you must take proper care of the meter and store it properly to prevent total damage.
Always remember that the pH meter is a sensitive instrument and must be treated as such. Also, read the manufacturer's manual carefully before use. Hope you found this best pH meter for hydroponics review helpful and that it has put all your doubts to rest.